March 8, 2016
This morning was the first day we set an alarm clock that we didn't wake up before (Our jet lag is gone! Finally..) (Tim: I woke up before the alarm clock…).  Tim planned out our Tainan day trip last night and said we needed to catch the train at 8:48am.
We got ready and went downstairs for free breakfast at the hotel. I had read on Trip Advisor that the breakfast wasn't good, so my expectations were pretty low.  We looked inside and the dining area was full of a Mainland Chinese tour groups rushing to finish their breakfast.  None of the food was very appetizing, I took a scoop of congee and a boiled egg and that was about it.  The combination of being surrounded by rude Mainlanders and bright lighting made me feel like I was in China. I didn't write about our breakfast experience yesterday at the CityInn in Taichung – but I guess I should've because it was actually really good.  It had a good mix of Taiwanese and western options and large platters of fresh fruit (I had a plate of strawberry, papaya and guava). Anyway, I digress, Trip Advisor reviews for these two hotels were pretty spot on.
After breakfast, we headed to the train station to buy our tickets. The reason why we were so particular about making sure we caught the 8:48am train was because we needed to go to Yongkang Station; this station is only available on local trains and the next one wouldn't depart until noon.  This stop was the closest train stop to the National Museum of Taiwan History. Tim was interested in this museum since it only opened in 2011 and wasn't around the last time he was in Tainan.
The train ride was long since the local train stopped at every station, it took about an hour to get to YongKang Station.  I passed the time by watching the Amazing Race on Tim's tablet – he downloads shows whenever we have WiFi so we're caught up with all our shows while we're here. When we finally arrived and walked out of the station, it definitely felt like we were in the rural countryside.  The museum was about a 45 minute walk from the station or if we had waited for the bus it would take an hour to get there.  Since there was no bus, we decided to walk.
I thought the walk would be more interesting and that we would possibly get a snack or have a real breakfast along the way, but unfortunately there was nothing to see (Tim: Not nothing, just too interesting). We had to walk through a lot of industrial looking streets with non-existent sidewalks.  Then for about 15 minutes, we were walking on a shoulder of a highway.  I wasn't too pleased with how the morning was turning out.  I was warm, hungry and not enjoying walking like hitch hikers (there were no pedestrians in sight).
Then finally, we see a juice stand (Tim: Actually, the juice stand was pretty early on the walk). Hurray! They had all fruit juices for sale but we saw a pile of watermelons behind the counter so we just ordered watermelon juice.  It was nice and refreshing to have on our long walk.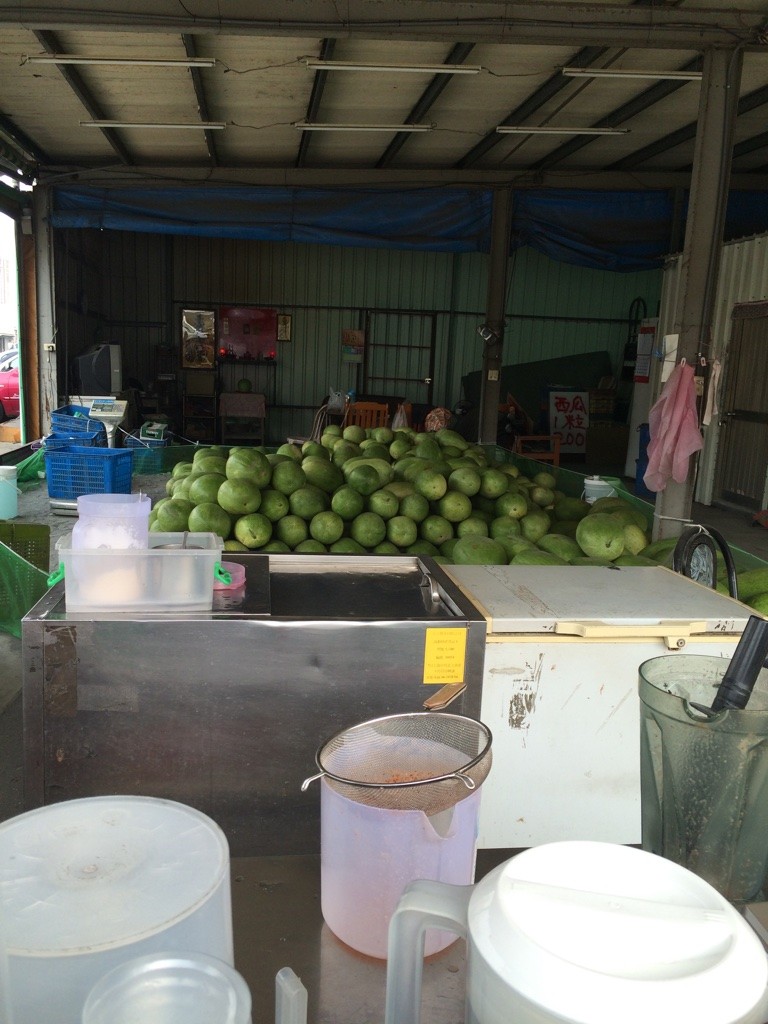 Finally, after about an hour we arrived at the National Museum of Taiwan History. The museum is basically in the middle of no where.
There weren't too many people in the museum besides groups of elementary school kids on field trips.  It was nice the museum was quiet, at least there weren't hoards of Mainland tourists there.  They probably wouldn't want to visit this museum any how (Tim: or wouldn't be allowed to).
The permanent exhibit of the museum is on the second floor where you learn about the history of humans in Taiwan – from prehistory to post WWII. The exhibit is easy to follow and the displays were well done. There is English written on about 90% of the displays, but if you go to the exhibits that are seasonal you won't be able to read anything if you can't read Chinese.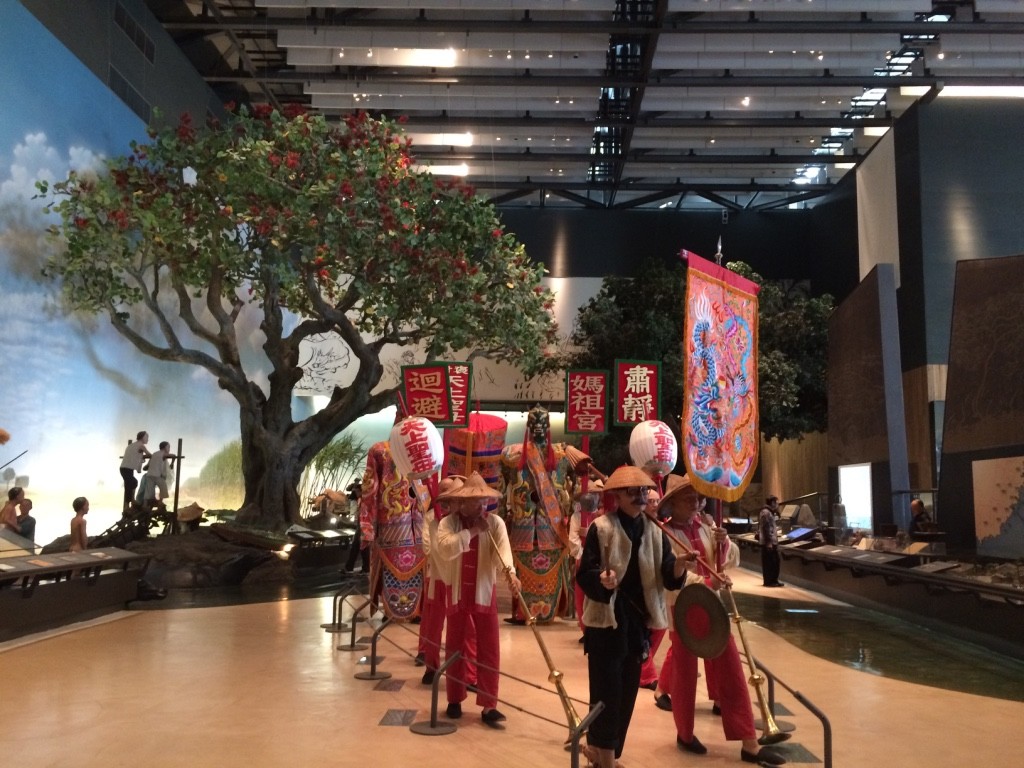 This museum clearly shows how much pride and love Taiwanese people have for their country. Before meeting Tim, I honestly knew very little about Taiwan so I appreciate him sharing his own family stories with me. This made going through the museum more important to me on a personal level. I feel like the Taiwan pride thing is a bit contagious, but at the same time I'm not Taiwanese so it also feel likes I'm turning my back on being Chinese.  Although I didn't know that much about Taiwan, I did know that most Taiwanese people do not like China (and love Japan) and I didn't know why (but now I know). And contrary to that, a lot of Chinese people do not like Japan. It's complicated.
I'm ethnically Han Chinese and proud to be. I'm proud of my Great Grandpa for having the courage to leave China to a foreign land to only face harsh racism and inequality while working on the railroads.  But I'm far from Chinese in a lot of people's eyes, but then I'm also not "white" enough to other's. It's something that I think about a lot and I'm sure a lot of other 2nd or 3rd geners do as well. I'm Chinese, but I guess more importantly, I'm Chinese Canadian, and I do have a lot of Chinese Canadian pride.  I'll probably reflect on this more as the trip goes on.
Any way, back to our day in Tainan.  After the museum, we took a bus to Tainan's train station.  We then caught another bus to the historical district of Anping (Tainan is Taiwan's oldest city and first capital) to check out the old Dutch Fortress, Fort Zeelandia.
We walked around the old town of Anping, which is geared towards tourists.  There are a lot of food souvenir shops that sell shrimp chips. We went to a couple and they all gave us samples.  I felt a bit bad we didn't buy anything.
Besides the museum, Tim wanted to come to Tainan for their danzi noodles (or they're often referred to as "slack season tan tsi noodles"). Tim had two places starred as options in the city.  While we were walking around Anping, we decided to check out a place called "Chou's Shrimp Roll".  It had a good amount of people inside so we decided to try their shrimp roll (which is shrimp paste fried with a batter).  Tim noticed they had danzi noodles as well so we shared a bowl.  Both dishes were really tasty (Tim: The noodles were just okay) but we knew that we would still have to go to one of the better places for it later on.
We caught another bus from the Anping district back to the city centre. Tim did research last night on danzi noodles and decided he wanted to try "Tu Hsiao Yueh".  It did not disappoint! These noodles were a lot better than Chou's and were the same price.  The fried oysters were very fresh and perfectly cooked. (Tim: After seeing this place, I realized it was the same place I had these noodles back in 2009 when I was last in Tainan).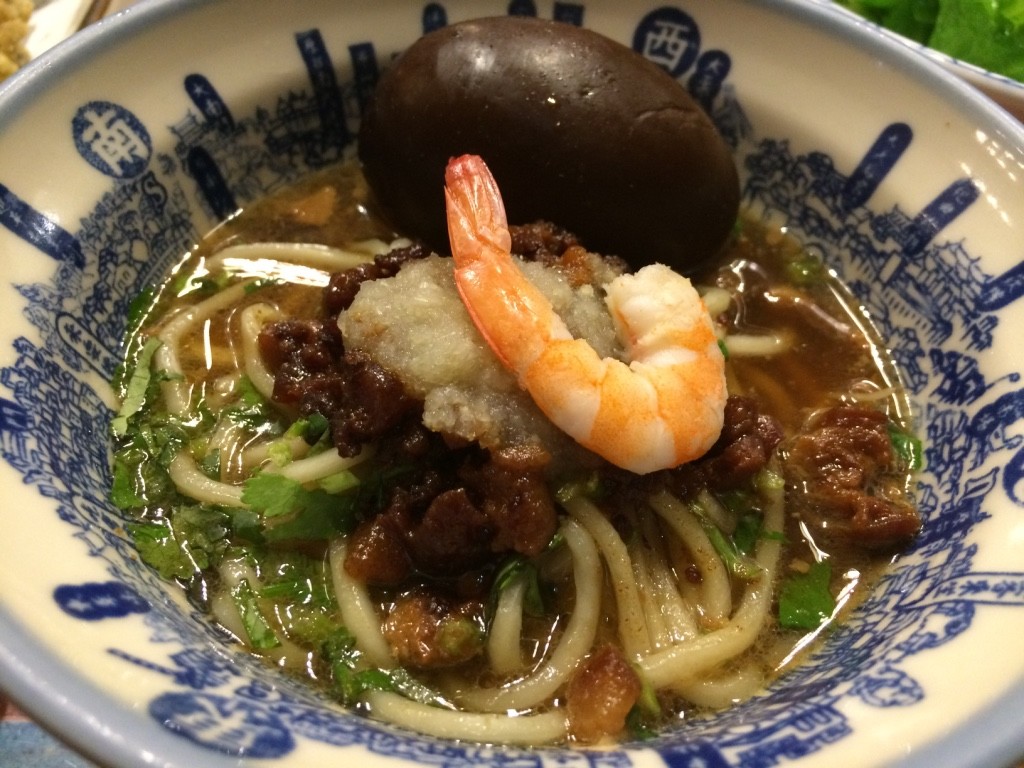 We caught the train back to Kaohsiung and this ride only took about 35 minutes (an express train).  It was another long day and it was nice to call it an early night. Tonight was the first night we didn't go to a night market!
Tomorrow we're heading to Taitung, which is on the east coast of Taiwan. Tim has relatives there and we're looking forward to taking it easy in a smaller town. Tim says it's his favourite place in Taiwan, so I can't wait to see it for myself.
Today, our steps today was 22,500 steps. Not too shabby considering we rode a lot of busses today.