July 17, 2016
Our long travel day began when our alarms went off at 2:30am, Saigon time. We tried to go to sleep earlier but didn't really fall asleep until 10pm. We woke up, brushed our teeth, and went downstairs to check out. When we went downstairs, the 24-hour reception turned out to be two guys who were sleeping in the lobby on the couch and a cot. The lights were all off and they didn't hear us standing there until we dropped our bags (not that subtlety). We eventually checked out and our car was waiting outside (the driver was also sleeping too). With no traffic at 3am, we got to the airport in only about 15 minutes!
We were flying to Hong Kong on United for our first flight of the day. There were a lot of people already at the airport checking in for the flight. The majority of people on our flight were connecting to other North American cities – our flight actually continued on to Newark (different plane, same flight number). At such an early hour there was only a cafe and one souvenir stand open (surprisingly). The plane ride went smoothly and 2.5 hours later, we arrived in Hong Kong.
When we landed in Hong Kong and walked through the HSBC sponsored gangways into the terminal, we already felt like we were back in a first world country. I went to the washroom and felt thankful that it was so clean AND had soap. I've been to Hong Kong four times in my life and three of them have been with Tim (first time was a family trip). They were usually just layover trips (2-3 days) on our way to somewhere else in Asia. We both have friends in Hong Kong so those trips are mainly just to visit. We had a 5 hour layover in Hong Kong so our plan was to train into Central HK, have lunch with a couple of friends, and come back for our second flight to Tokyo.
When we passed through customs and went to buy our train ticket into town it felt like we were just there because it's been less than a year since our last time in Hong Kong enroute to the Maldives for our honeymoon. Since we were coming back to the airport in a couple of hours, we bought the same day return trip ticket for 100 HKD = $16.75 CAD. The same day return train ticket is the same price as a one way ticket. The Hong Kong train into town is one of the best and most efficient airport transfers. Hong Kong Station is around 35km away from the airport on Hong Kong Island and the train only takes 24 minutes. I wish all cities had something so efficient, especially if the airport is far from the city centre.
We got to Hong Kong Station shortly after 10am, a lot quicker than we anticipated. We were meeting at Crystal Jade in IFC Mall (which is literally above Hong Kong Station) for lunch, so we didn't even have to walk outside if we didn't want to. One of our favourite dim sum places is Tim Ho Wan, which has a location just above the Airport Express Hall in Hong Kong Station, but it's more of a quick eats type of place and since we were visiting with friends and a baby was going to be with us, Tim Ho Wan wouldn't work. It also has crazy line ups at all times of the day (next trip to HK we'll go!). Tim and I walked around IFC to kill time since we weren't meeting at Crystal Jade until it opened at 11am.
While walking around IFC (International Finance Centre) Mall, I forgot how many stores and brands Hong Kong has. They have everything! After being in SE Asia for so long, going to Hong Kong is such a 180 degree change – especially being in IFC. We walked outside to take a quick selfie and boy was it hot out! It was so humid (felt worse than Saigon) so we quickly took a photo and went back inside the mall.
We got to Crystal Jade ten minutes before it opened and there was already a line up for a table. Howard, Tim's childhood friend, met us outside while we were waiting and we got a table for four plus a baby. Vicki came shortly after and she made quite the trek to come meet us. She drove to Kowloon and then took the train to Hong Kong with a stroller. Her husband couldn't make it last minute so I felt bad for her because babies are so much work. Vicki is a university friend of mine who moved to Hong Kong after graduating, and has been there since. She's now married and a new Mom. This was the main reason for having a stopover in Hong Kong. I wanted to meet baby Ashton, who is 7 months old now. Last time we saw Vicki she was 7 months pregnant.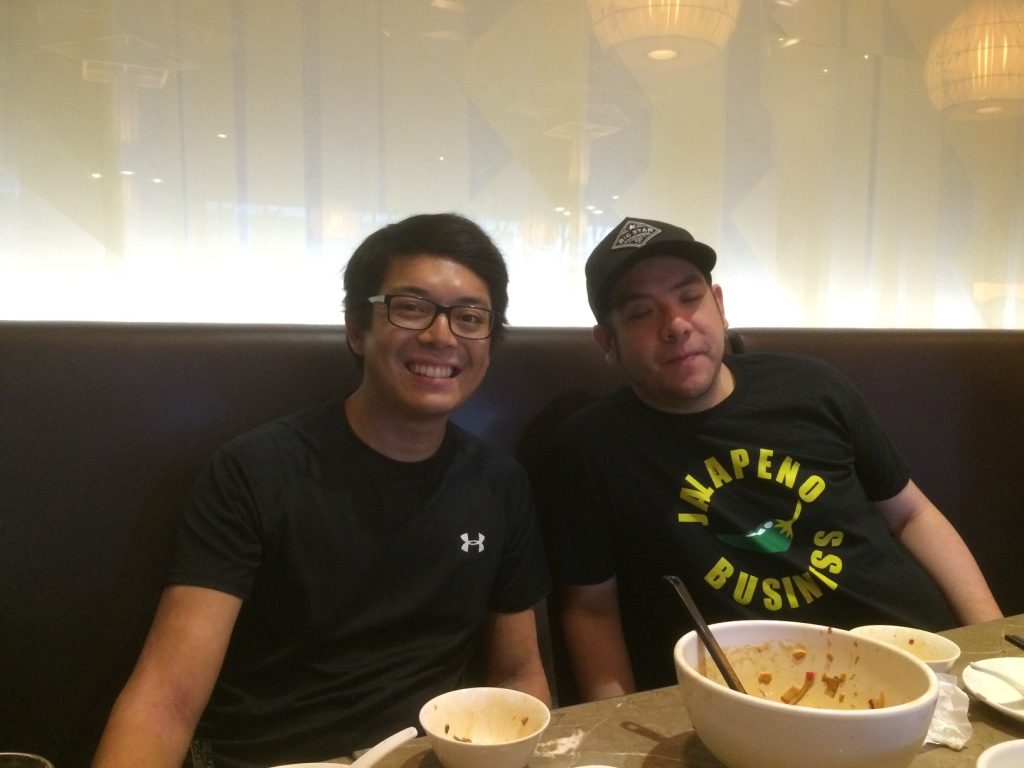 I didn't take any photos of the food but we had a few orders of xiao long baos, hot and sour soup noodles, fried Shanghai noodles, green beans, spicy wonton, and pan fried dumplings. It was basically just the 3 of us eating while Vicki took care of Ashton. I think he was teething because he kept rubbing his mouth and was quite upset. Poor guy. Time flew by so quickly and it was already time for us to go back to the airport. Howard was really kind and treated us for lunch. He is part owner of a sandwich shop in New West that just opened recently called Big Star Sandwich. I'm looking forward to trying it out while we're back in Vancouver!
We said bye to everyone and jumped back on to the train. When we got back to the airport, we went through security and exit customs. We had half an hour before our flight boarded so we walked around quickly and went to our gate. The flight boarded a bit late and we ended up being delayed about 45 minutes. Luckily we had a 2.5 hour buffer in Tokyo (Haneda) before our final flight home. The flight to Tokyo was a little less than 4 hours – you don't realize how far north Japan is until you fly within Asia. They served us drinks and a small meal on the plane. I had grilled chicken teriyaki and Tim had stewed pork. The food on ANA is pretty decent, but I think Cathay and Singapore Airlines has better food. We both watched Zootopia, which was a really good Disney movie. We were both pretty impressed with it and the (not so subtle) message/lessons about race discrimination.
We finally landed in Tokyo, at Haneda Airport, around 8pm. We had an hour to do our (my) last minute shopping before we boarded our final flight to Vancouver. To get to our connecting gates we had to go through security again, which Tim thinks basically means that they don't trust the security from other countries. The international terminal had a lot of high end stores, your typical duty free stores, and a food court. I was most interested in buying snacks to bring back home. The selection was alright. I bought some Royce chocolate covered chips, mochi, fried mini crabs, matcha cakes, and yubari melon Pocky. I didn't really hold back since we didn't have to worry about capacity because our shopping bags were our carry on. We were hoping they would have a cosmetic/drug store like they did in the domestic terminal, where they had all the Biore sunscreen and your everyday Japanese candies. We did see the sunscreen but it was double the price of what we saw at the domestic terminal so we passed. Even just being in the airport, I was really happy to be back in Japan. *Sigh* I miss Japan and can't wait to go back one day.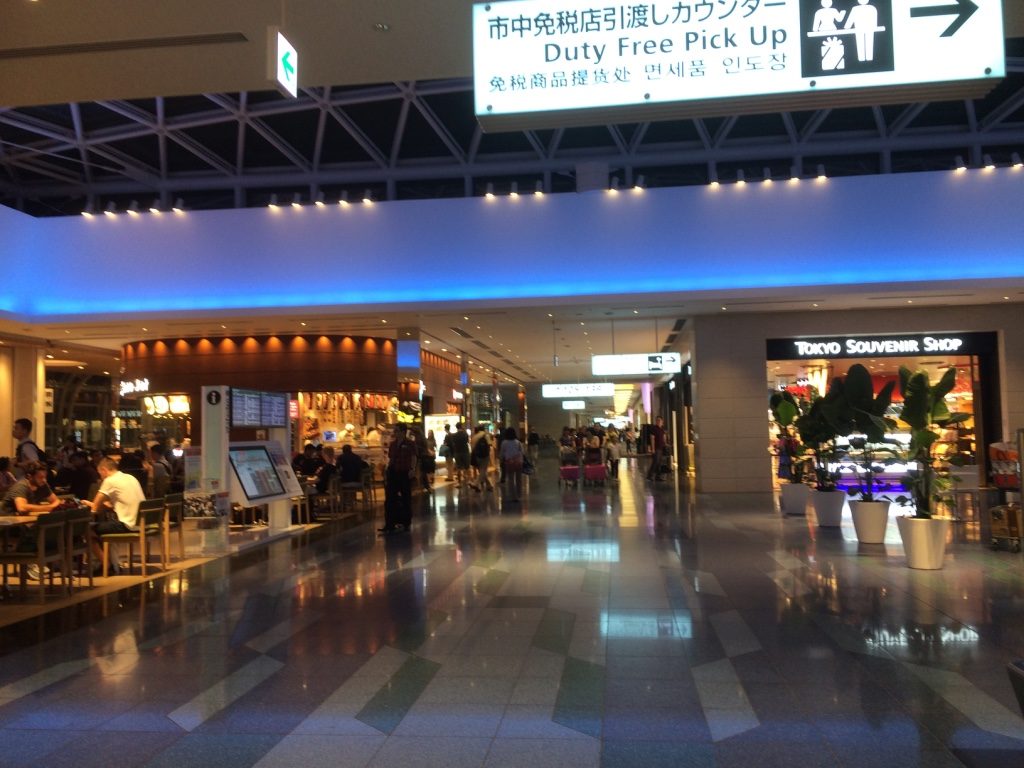 Our flight left on time and we were on our way home! The flight was fairly full and filled with more Japanese tourists than Canadians. The flight time was just under 9 hours – which is a pretty short flight compared to flying home from Hong Kong (14 hours!). We were flying on a Boeing 787, Dreamliner, so the windows were nice and big. There wasn't much turbulence which made it a pretty relaxing flight for me. The food on this flight was better than the previous flight. I had unagi rice and Tim had a tomato hamburger steak. They came around with Haagen Daz vanilla ice cream after dinner. A couple of hours before landing they gave everyone breakfast boxes that had yogurt and 3 sandwiches (they looked like high tea sandwiches). If they had an egg salad sandwich it would've tasted like the ones at Family Mart.
After getting a little bit of sleep, we finally landed in Vancouver! As we were descending on the city, Vancouver looked beautiful and the suburbs looked so orderly and nicely groomed from the air. We got through customs and picked up our bags without any issues. My Mom was waiting for us when we got out and my Dad picked us up upstairs. Feels nice to be home.
We unpacked, showered, and then our family came over for a family dinner. It was good that we got to visit with everyone when we got home because I think we would've ended up napping. I didn't take any pictures but we had a lot of my favourite food – a good green salad, smokies, lasagna, Cantonese BBQed meats, and my Grandma's soup. It was a mishmash of things but it was delicious. For dessert we had fruits and I opened all my Japanese and Vietnamese snacks to share. I wasn't going to eat all those snacks myself so I was happy to share them with everyone.
After 11 countries, 49 cities, 30 flights, and sleeping in 44 different beds, we're home! We'll see where our next adventure takes us, but for now we'll be enjoying beautiful Vancouver and spending time with our family and friends.
Steps today: 4,500