April 18, 2016
Today was our first full day in Tokyo and I was ready to explore. We decided to go to Akihabara, the Imperial Palace, and Ginza. We took our time waking up and getting ready. It was a sunny and warm morning in Tokyo, so it was nice to just sit and have breakfast at the apartment before heading out.
For lunch we decided to go to a place around the corner from our apartment. We had passed by yesterday and it looked like Marukame Udon in Honolulu (one of my family's favourite restaurants). There was no English signage but everything inside looked exactly the same (after googling, it turns out it is a Marugame Udon but in the US they call it Marukame). They make their udon fresh in house and also serve tempura, onigiris (no spam masubis here), and inari cafeteria style.
After we sat down, I looked down at my tray and looked around. I had way more tempura on my plate than any of the other Japanese men in the restaurant. Most people only had their bowl of udon and one piece of tempura. I loaded my plate North American style.
After lunch we made our way to Akihabara, which is an area most known for their many electronic stores. But more recently, it's also become a place where die-hard anime, manga and gaming fans congregate.
The first large building you see from the train station is Yodobashi Camera, which basically sells everything and anything electronic. We spent around an hour there circling each floor to see what they had. If you're looking for a tripod, they probably have every tripod ever made for you to choose from. Sometimes I think with so much selection in Japan, it makes shopping a lot more difficult (Tim: see "The Paradox of Choice", by Barry Schwartz). How many choices of electric shavers do you need?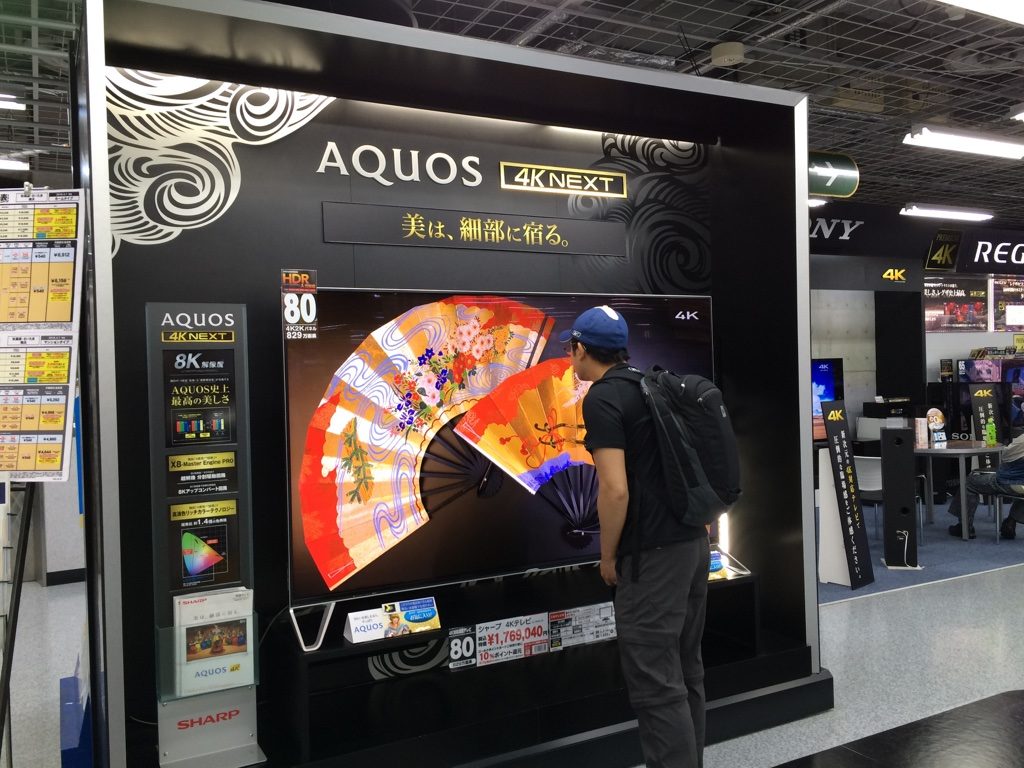 Along with being the electronic area in Tokyo, it's also referred to as the "hobby" area. We found a store called Mandarake, which is a 7 floor building filled with anime, comics, and toys – both new and second hand. We started on the top floor and worked our way down. There was quite a collection of expensive vintage toys that were interesting to see.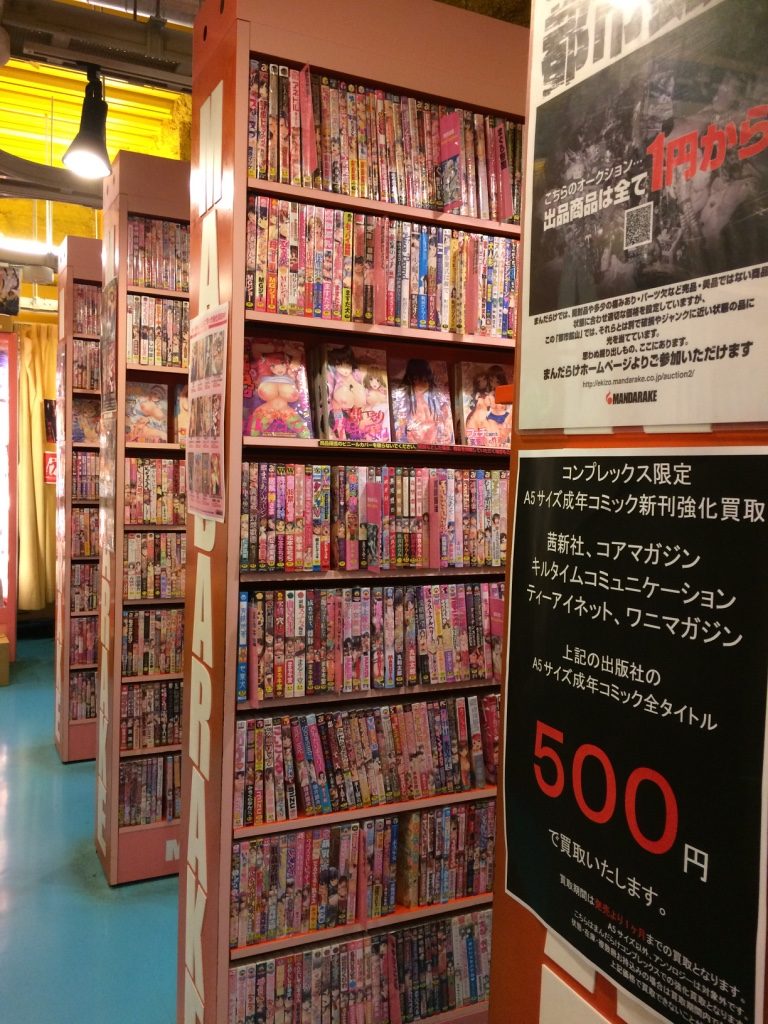 After browsing around for a couple of hours, we made our way towards the Imperial Palace. The Imperial Palace Park is near Tokyo Station in the Chiyoda District and its total area is 3.41 square kilometres. The park is made up of large gravel walkways and green grass patches with perfectly manicured trees. Unfortunately, you aren't allowed to go on the grass, which makes this park a "no fun park" in my opinion.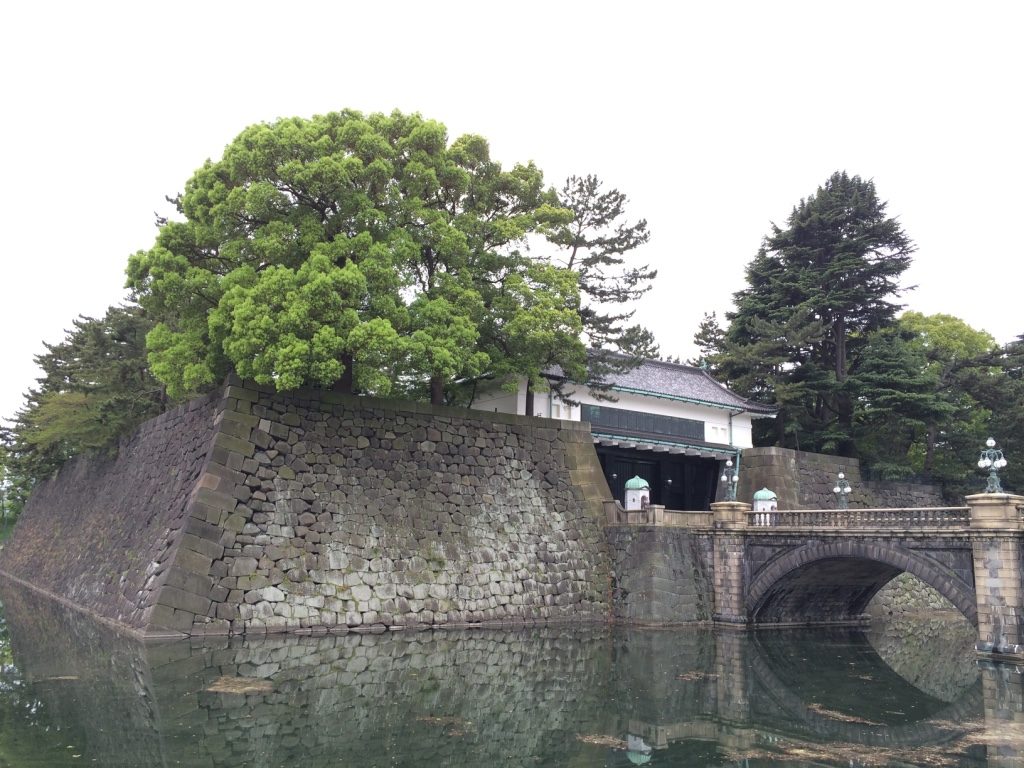 After walking through the park we made our way to Ginza, a shopping district. It is home to many high end brands, department stores, and more importantly, the world's largest Uniqlo (its flagship store). The streets were busier with tourists, some very loud and obnoxious ones (I had to push and shove a bit). Once we found the Uniqlo, we realized that groups of tour buses drop off bus loads of people right in front of Uniqlo (great…).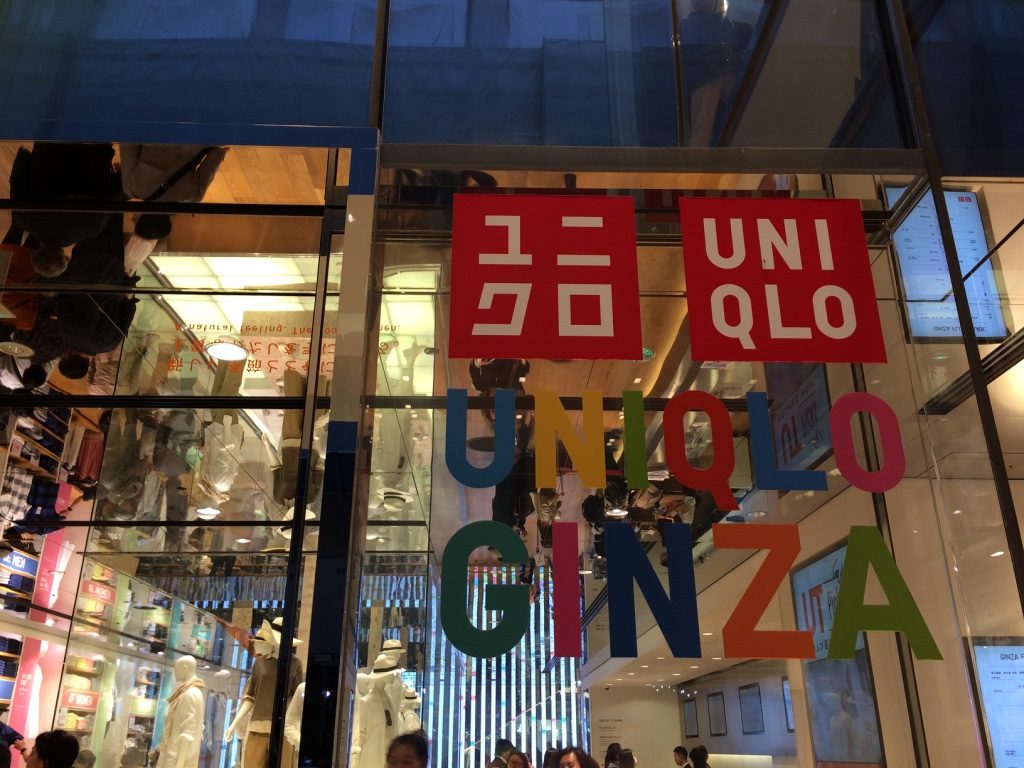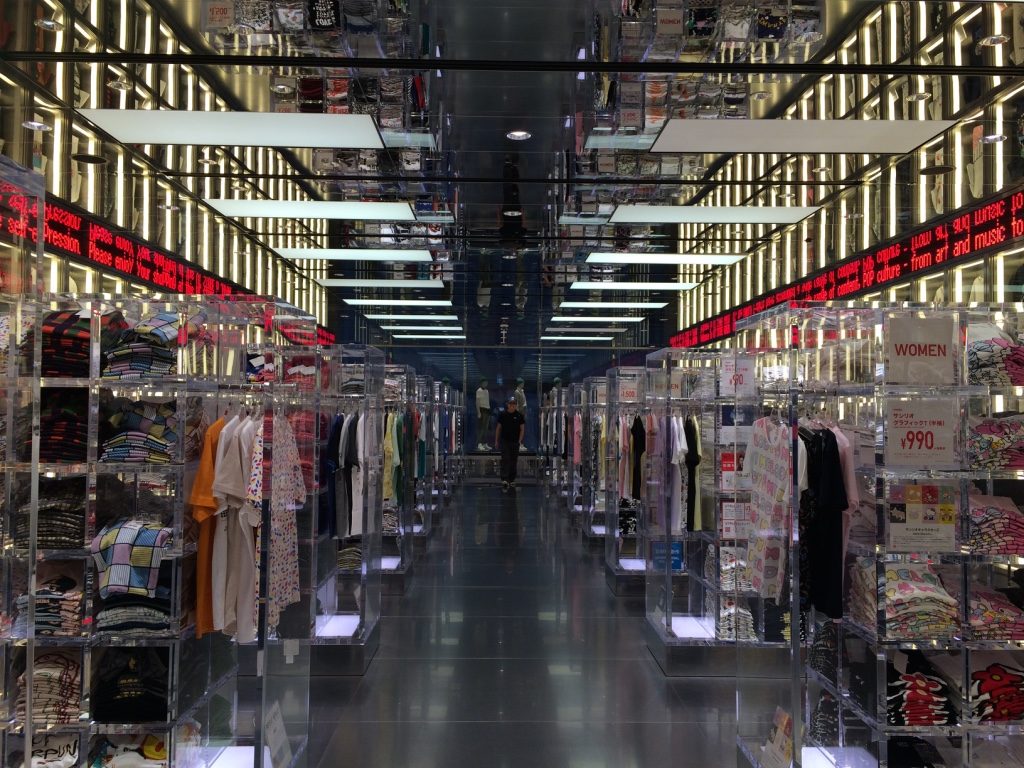 After going through each floor, we ended up just buying small umbrellas. Most of the clothing we had seen in our many trips to Uniqlos in the last 48 days (Tim: who would have though different Uniqlo locations sell the same thing?) and their sales sections were severely over picked since there's obviously more people who shop at this location.
When we left Uniqlo, it was raining so we made our way back to Shinjuku for dinner. While lining up for sushi last night, Tim noticed a yakitori (grilled skewer) place beside it with fairly decent prices. We decided to give it a try since we hadn't had yakiori on this trip yet. The restaurant was on the 2nd floor of the building beside Numakuzo, and when we entered we were surprised to see that the restaurant was quite large inside and full of (mainly) Japanese people.
We ordered a variety of yakitoris: chicken & leek, pork belly, chicken skin, and quail eggs. Besides the skewers, two dishes that I thought were very well done were the "Yokohoma croquette", which was a mixture of beef and potato (180 JPY each = $2.10 CAD) and their chicken karaage, which was very tender and the batter was very light (380 JPY = $4.45 CAD) . I didn't take pictures of a lot of our food because the skewers just came as they were cooked and we were really hungry.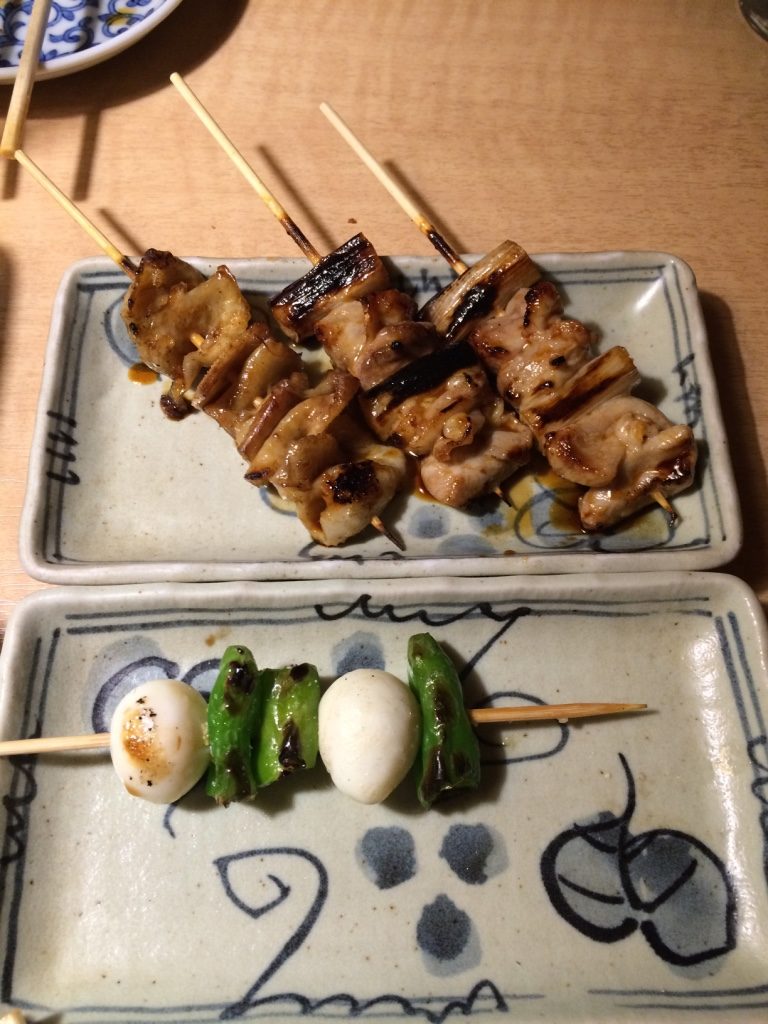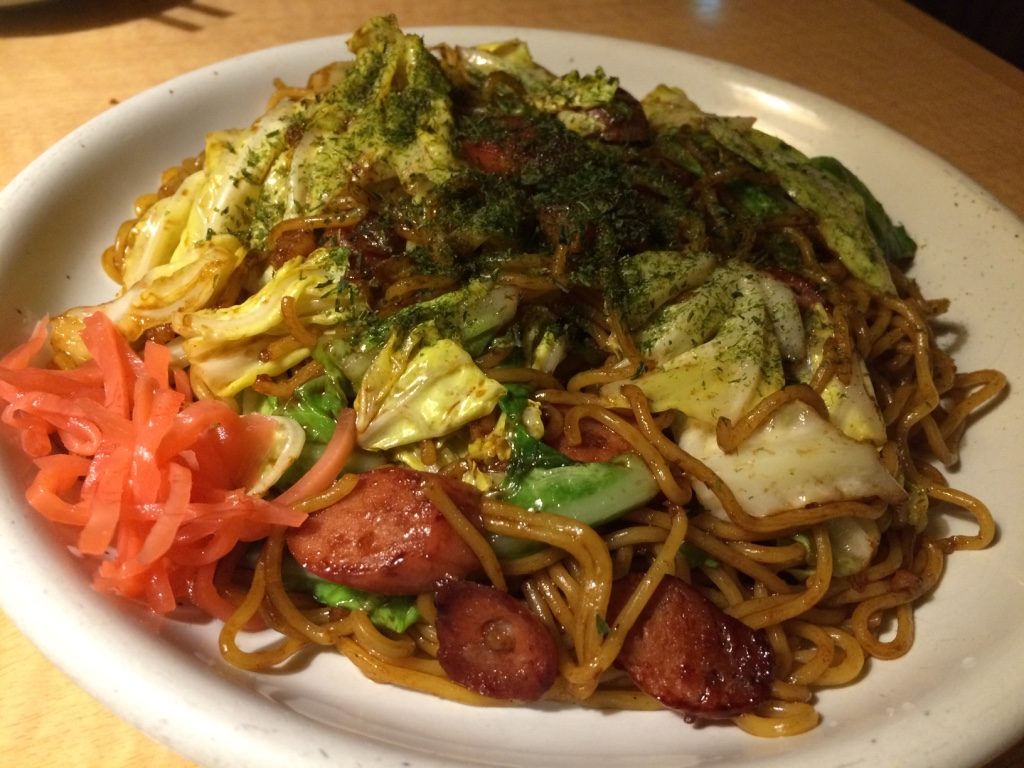 We ordered quite a bit of food and everything was delicious. I would go back again if we have a chance. For two drinks, chicken karaage, 2 croquettes, yaki soba and 16 skewers, the bill came to 4,122 JPY after tax ($48 CAD).
After dinner we walked back to the apartment using a different route than usual and ended up walking through where a bunch of clubs and host bars are in Shinjuku. If you've watched Anthony Bourdain's Parts Unknown Tokyo episode, you will probably recognize some of the sights. We passed by the Robot Show which is supposed to be really interesting and very random. But the price per ticket is 8,000 JPY = $93 CAD, which is higher than what we would value watching that show. I think I would watch it for $20 CAD. We also walked past a lot of male host bars with their pictures all over the front of the buildings. Male hosts in Tokyo basically just sit and talk/flatter you while you're eating dinner or having a drink.
We saw a lot more signage like the ones above on our way home. Tim asked if I learned anything about Tokyo today. I said I didn't learn anything new because these were all things that I had heard about before coming here. But of course it's different seeing it first hand. From the octopus porn anime (and other questionable comic books) to countless male host bars, I don't understand Tokyo's culture. I feel like if you put a male host bar in Vancouver with similar signage, people would see it as a joke and not take it seriously, but here it's normal. The first word that comes to mind when I see all these things is that it's so "weird", but Tim corrects me and says it's not weird, it's just different (Tim's the culturally empathetic one in our relationship). But to me, different is having to take off your shoes when you try clothes on at a store. Weird/wrong is having multiple comic books entitled "Rape All Girls" in stores (there is no apparent translation error).
Japan's culture is just different and I don't think I'll ever understand it. Specifically, the fact that they have a whole other underbelly of anime porn, lots of prostitution, and hundreds of host bars makes it seem a bit counterintuitive as they want to present you with a certain polite image.
I think most westerners visiting Japan will tell you that Japanese people are extremely polite, everything is orderly and clean. But I also feel like everything is very surface level. A blog Tim reads regularly, called Wait But Why, talks about his experience in Japan (he just stayed in Tokyo) and how as a foreigner (or basically anyone not of 100% Japanese ancestry), there's an impenetrable wall you can't get past. Tim showed his cousin, who lived in Tokyo for 7 years this article and he agreed with it. We've only been here for 2 weeks and although people are super "nice" and polite, it does feel a bit empty. We both feel that people in Thailand were genuinely nicer and it wasn't just surface level like it is here. Sure, not everyone in Thailand is super nice but that feels a bit more real, doesn't it? Not everyone is happy 24/7. They took interest in you as a foreigner and it felt genuine. I guess that's why Thailand is called "the land of smiles".
But don't get me wrong, I'm really enjoying my time in Japan, I appreciate how pleasant everything is, which makes visiting nice. Japan is very nice and pleasant.
Steps today: 22, 500