April 20, 2016
Today we woke up pretty excited. We were going to Tokyo Disney! When Tim and I first met, we discovered during our first date that we both had a very soft spot for anything Disney, and in particular, Disneyland.
My love for Disney started at an early age, it was a popular summer vacation spot for my family (Tim: How magical!) and by the time I was 12, I had been to Disneyland six times. I loved everything about those trips. But as my sister and I got older, the Disneyland trips ended and we went on family trips to more "mature places" – like Europe and China.
Tim has been to more Disney theme parks as an adult more than anyone I know (besides people who live in a city with a Disneyland or have an annual pass). As I got to know Tim, I was so excited to have found someone who shared the same enthusiasm for Disneyland that I had. One of our first trips together in April 2013 was going to Disneyland Park in California. We only spent one day at the Disneyland and California Adventures but it brought back so many good memories of my childhood. Having someone who was just as giddy  about being there as me was awesome.
Now back to this morning, we woke up early eager to get going. We did a bit of research online about Tokyo Disney and found out they had two parks – Disneyland and DisneySea. Disneyland is said to be very similar to Disneyland Park in California (except a bit smaller) and DisneySea is unique to Tokyo. We read countless rave reviews about DisneySea and since it was only in Tokyo, we decided to spend our day there.
We left our apartment around 7:45am and made our way towards Shinjuku Station. It was my first time experiencing Tokyo rush hour. Let's just say I've never been that squished from all directions in my life.
Once we got to Tokyo Station, we had to transfer to the Keiyo Line to get to Disneyland. The Keiyo Line at Tokyo Station seems like it is the farthest line away from the Chuo line. We walked about 8 minutes and walked down and up multiple sets of stairs to reach the platform. After 15 minutes on the train, we finally made it to Tokyo Disney Resort!
When we arrived, we still had to walk about 10 minutes to DisneySea's entrance gates. There is a Disney train but the ride costed 240 JPY = $2.75 CAD per person, so we just walked.
When we arrived at the gate, we bought our tickets for the day. Recommendations online tell you to try to get tickets beforehand (either online or from a Disney Store) in order to skip the long queues and avoid tickets selling out for the day (I didn't know that happened). Luckily, we didn't have any issues and waited less than 5 minutes to buy our tickets. The day pass for DisneySea (same for Disneyland) is 7,400 JPY = $86 CAD per person. This is cheaper than Disneyland in California as their one day pass is $93 USD = $118 CAD. Unfortunately there's no "one day hopper" like in California, so we had to choose one park only (Tim: which was fine, having never been to DisneySea before, I wanted to spend the whole day there). There is, however, cheap entrance after 6pm at both parks for 4,200 JPY = $48 CAD. I guess that's good if you lived close by.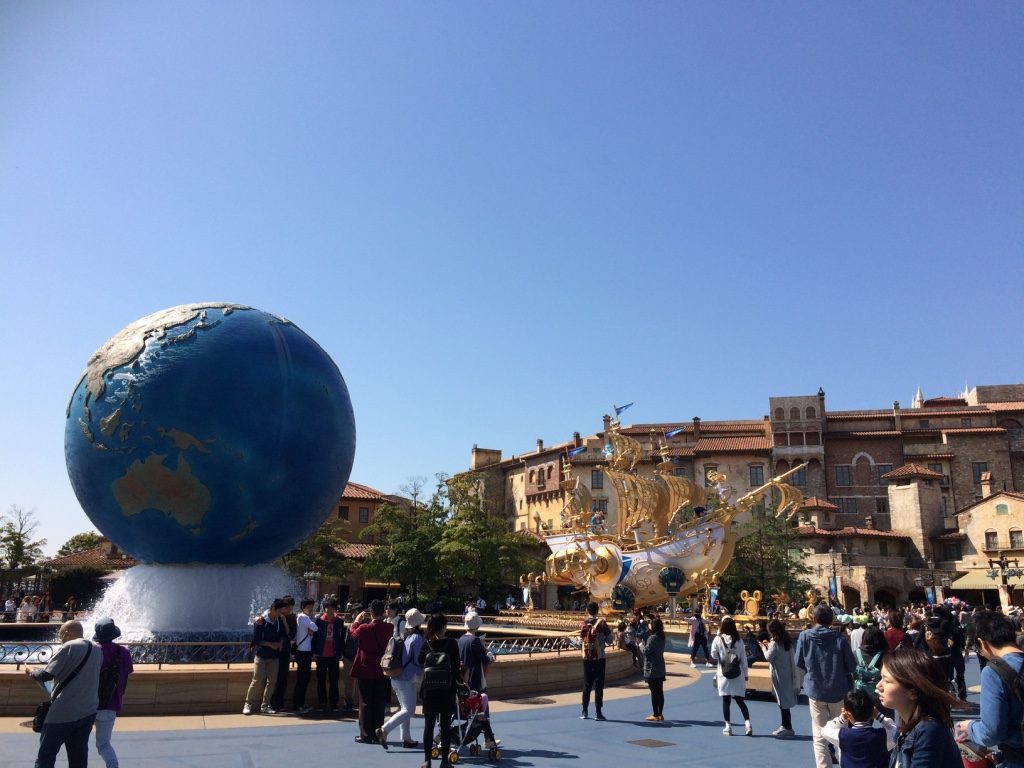 There are seven different themed areas within DisneySea:
7. Mermaid's Lagoon
We spent the least amount of time in this area since it was filled with little kid rides and theatre shows.
The park is pretty big and I can see why they don't do a one day hopper here. Tim was really good at organizing our day and scheduling out all our FastPasses with the most popular rides. There's a live app that tells you the wait times for each ride and the FastPass times available. We went on every ride we wanted to and even got to go on Indiana Jones twice (had two FPs during the day). For April, the park was fairly busy and even stayed busy until closing. In California during down season, at night you can go on rides over and over again (especially during the fireworks) since there's no line up – but not in Tokyo.
What did we eat?
For the most part, there wasn't much Japanese food in the park. There was a fancy Japanese restaurant, but all the food was still mostly American-"esque" theme park food. We tried to find items that seemed unique and then found some Disney favourites. Here's some pictures of what we had (we shared everything so we could try more). The only thing that we missed getting were green mochi balls that were supposed to look like the aliens from Toy Story. By the time we got back to the area the stand had already closed. Oh well, next time!
What we found most interesting about the popcorn wasn't the popcorn flavours themselves, it was the different popcorn buckets that each stand had. Each stand had a different popcorn bucket and apparently they change them all the time (so people actually collect them all). I would estimate that 70% of people we saw had popcorn buckets around their necks of were carrying them cross-body like a purse (Tim: I would estimate 15%).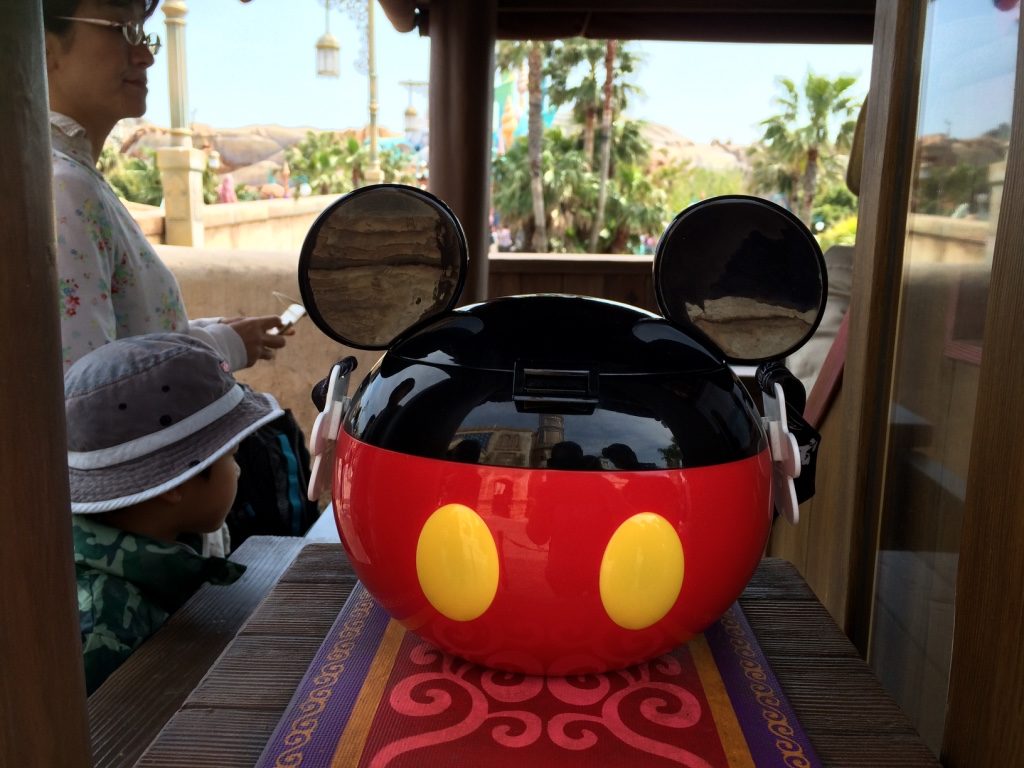 Overall, everything felt the same (in terms of that magical Disney feel) as Disney in North America. It makes me really happy to see how much Japanese people love Disney. There were more people decked out in Disney gear than I'd ever seen in the American parks. People would even carry stuffed animals they brought from home to the park, I guess so their stuffed animal could experience a fun day at Disney (Tim: apparently it's a thing to bring your stuffed toys to take pictures with around the park in Tokyo). Dressing up and wearing Disney accessories doesn't stop at little kids and women, guys do it too, and they do it proudly.
The crowd at Tokyo DisneySea seemed like it was 90% Japanese and 10% Foreigners. Of the 90%, I'm sure a lot of them are from outside the Tokyo area (Tim: I'm sure some of them are, not sure about 90% though). In the evening, we saw a lot of men with black suits on. It seems like some people go to Disney after work is over to just spend the evening.
We stayed at the park until closing (which was at 10pm) and made our way back to Tokyo. Considering it was close to 11pm when we were heading home there was a lot of businessmen on the train. They were all going home either from work or from dinner/drinks with coworkers. The amount of people on the train was like 6pm on the Canada Line for us.
It was a long day, we spent around 13 hours inside the park and about 2 hours of round trip travel time door to door. Although it was a long day, it was an awesome one.  It was nice to experience something new and unique. I can see how it's been reviewed as one of the best Disney Parks in the world as the detailing and themes are all very well done. Next time we come to Tokyo, I want to visit the Tokyo Disneyland. Although it's nice to see new things, Disney is Disneyland to me because of the nostalgia and warm fuzzy feeling you get when you hear "When you Wish Upon a Star".
Steps today: 36,000! (No wonder our legs are tired)
(Tim: And with the 36,000 steps today, we reached 1,000,000 steps on our trip so far! Couldn't have been a better day for us to reach that milestone.)