April 19, 2016
I guess we were really tired last night because we went to bed relatively early and slept in. Being on the go is very tiring, so it's nice to have a day to just relax. I feel like we haven't had a day where we kind of just did nothing since Taipei.
Before getting to Tokyo, we planned on doing a couple of day trips out of the city, to Mount Fuji and Yokohama, to maximize our JR Pass before it expired on April 21st. Now, we both agreed that we're going to scrap those plans and just take it easy in Tokyo. There's so much to see and so many different neighbourhoods to explore, I think I'll enjoy that more on this trip. It's my first time in Tokyo (Tim's 5th time), and I don't want to feel rushed. If we don't see everything (which we won't), it's not a big deal. I know we'll have other opportunities in the future to come back.
That being said, our morning/early afternoon was spent at the apartment working on our blog posts and catching up with things we haven't had much time for. We started to get hungry and headed out for a late lunch. Tim was craving curry again (when isn't he?) and wanted to try another Japanese chain called "Go!Go! Curry" that we've seen and heard about. Go! Go! Curry is named after a former Japanese baseball player, Hideki Matsui, whose jersey number was 55. The number 5 in Japanese is "Go", so that's why it's called "Go! Go!". Their hours are also a bit weird too, opening at 10:55 – 21:55 and their birthday is May 5th. They love the 5 theme. Go!Go! Curry has a few locations in NYC as well (what doesn't NYC have?).
We walked to the Shinjuku location for lunch and had a pork cutlet and chicken cutlet curry (680 JPY $7.90 CAD each). Their curry was a bit different than CoCo's. The curry was much darker and it had a bit more spice than CoCo's. Overall, we both enjoyed it and I liked how they give you cabbage. Tim felt like he was cheating on CoCo a bit, especially when we passed by a CoCo close to our apartment on our way home from lunch.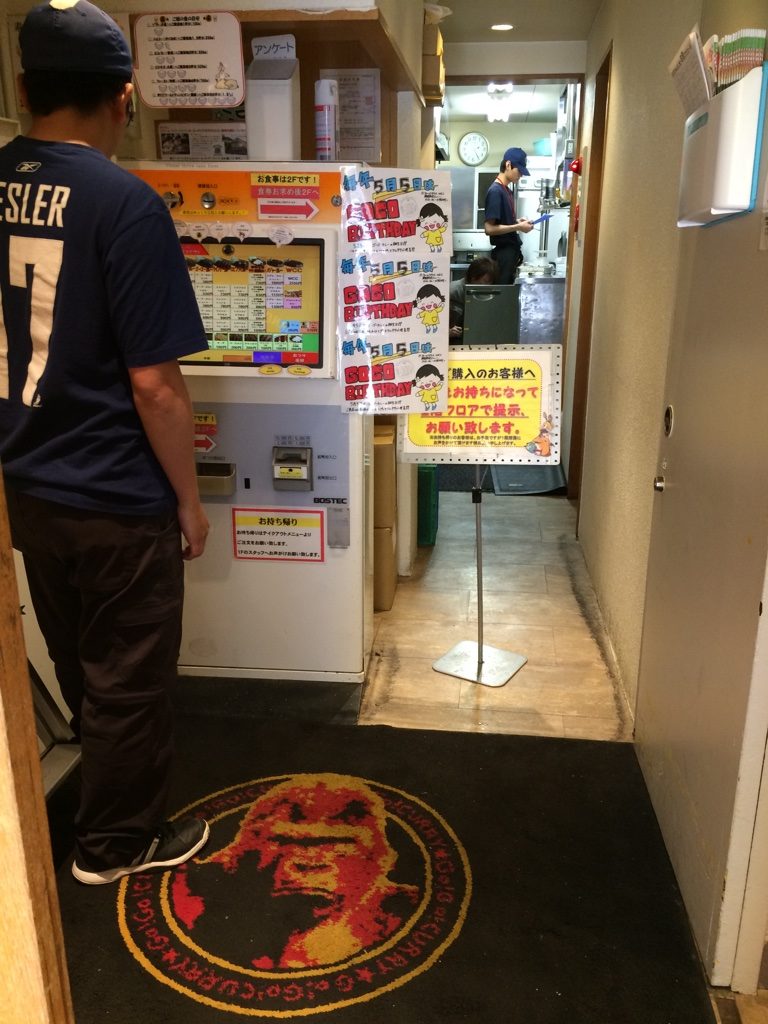 After lunch we headed back to the apartment to finish up our posts. We decided to check out the Tokyo Metropolitan Government Building (TMGB) observatory and go to Shibuya. We didn't end up heading back out until close to 5pm.
We walked to the TMGB which is about a 10 minute walk from our apartment. The observatory on the 45th floor of the building is free for visitors and gives pretty decent views of Tokyo. When we got to the building, there was a line up to go on the elevator. We waited about 10 minutes before taking the elevator up. When we got to the 45th floor, the floor was filled with souvenir stands and a restaurant took up almost half the floor (which blocked one side of the building's views).
We arrived at a good time since the sun was started to go behind the mountains and we stayed and watched the sun set. While walking around, I spotted a familiar face. It was William! Even though the observatory is a popular tourist sight, what are the chances of running into him in such a large city like Tokyo. We ended up making dinner plans with him and left the observatory once dusk fell on the city.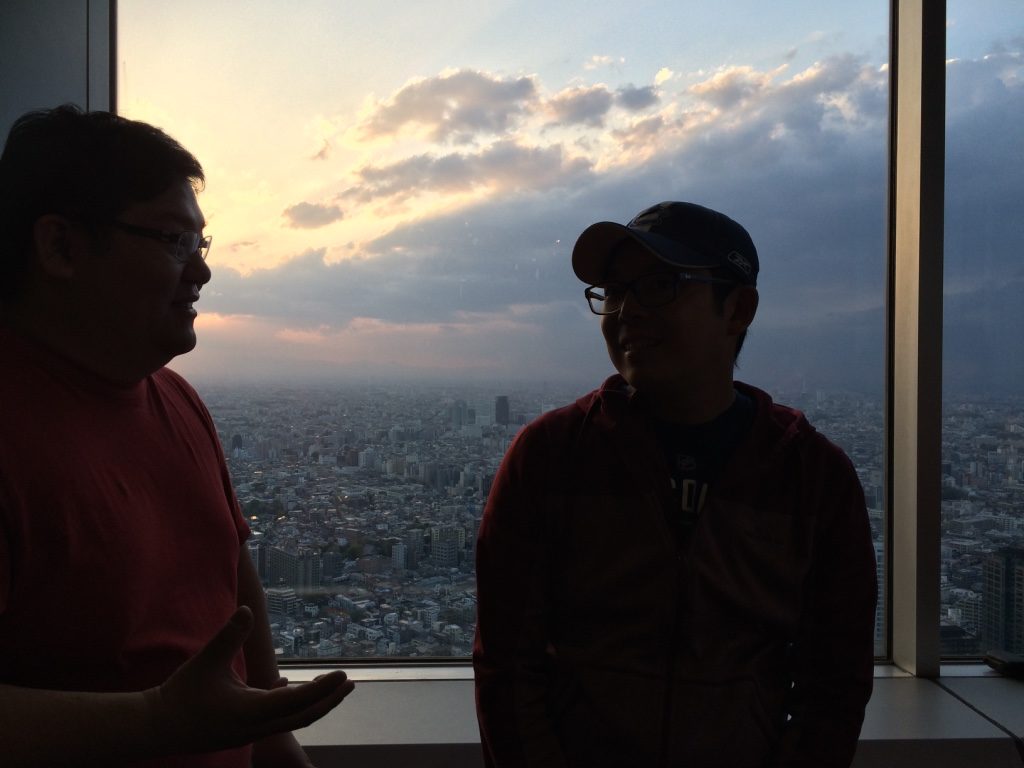 After taking pictures, we made our way towards Shinjuku Station and headed to Shibuya. The plan was to go to Ippudo for Ramen since Tim and Will were both craving it. According to Google, there were a couple of locations around Shibuya so it was perfect because I wanted to go see the famous Shibuya crossing and see the statute of Hachiko.
When we arrived in Shibuya, the place was crazy busy. It was filled with tourists but it was also rush hour so there were black suits everywhere! Right outside Shibuya Station is a statue of a dog named, Hachiko. His story is that he waited for his owner each day outside of Shibuya Station, and even after his owner passed away, he would still go every day for the next 9 years. This story makes me tear up…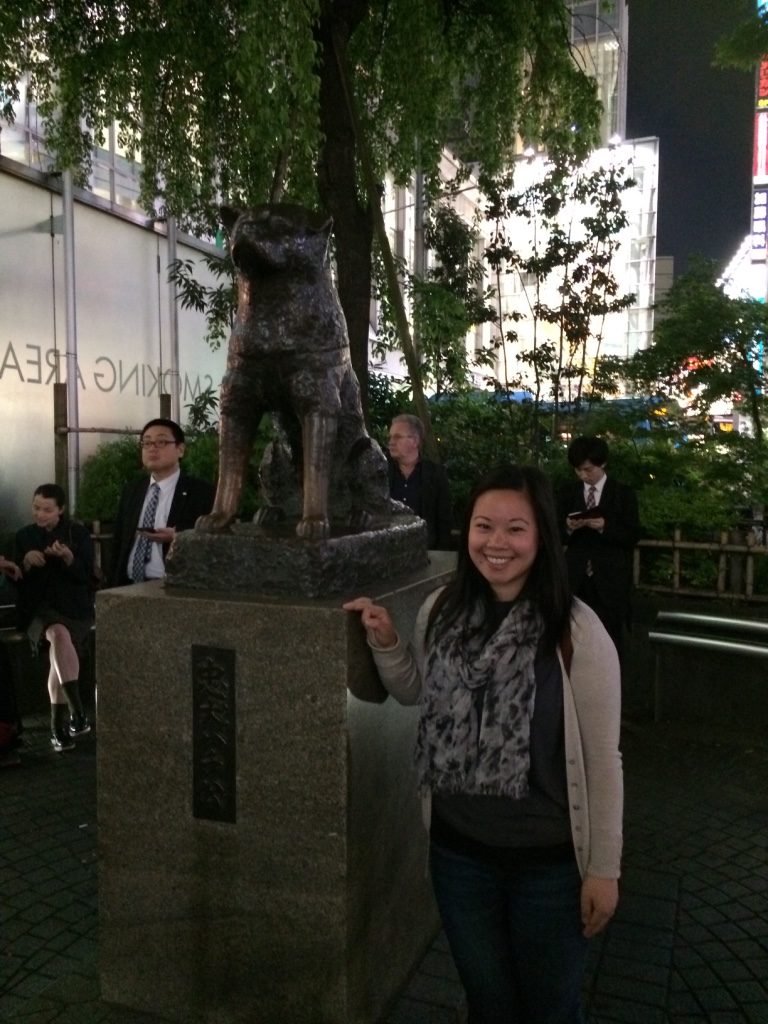 As many of you know, I really wanted a dog while growing up and when I was younger I knew a lot about all the different breeds. SoftBank has a company mascot of a dog that Tim thinks is a good looking dog. I told him that it's a Japanese dog called an Akita. After reading about Hachiko, it turns out he's an Akita too. Maybe if we get a dog in the future, it'll be an Akita and we'll have to name it Hachiko.
We walked through the crossing twice on our search for the Ippudo in Shibuya. After two failed attempts (thanks, Google Maps), we decided to go to the Ippudo in Ebisu. This is the first Ippudo both Tim and William had ever been to. It's the location that changed Tim's life (Tim: hardly Kait: You said it did!). We'll have to go back to Shibuya to spend more time and look around the stores.
We took the Yamanote line to Ebisu Station (one station from Shibuya) and walked a few minutes to Ippudo. The neighbourhood around Ippudo seemed very residential and quiet and lucky for us there was no line up. Our dinner was nostalgic for both Tim and William and it definitely hit the spot. I really enjoyed the gyoza and the soft boiled egg was cooked perfectly and was really good in the soup. In Fukuoka we got a stamp card because Tim thought we'd be going back to Ippudo more to claim our free bowl of ramen before leaving Japan. I'm not sure if that will actually happen.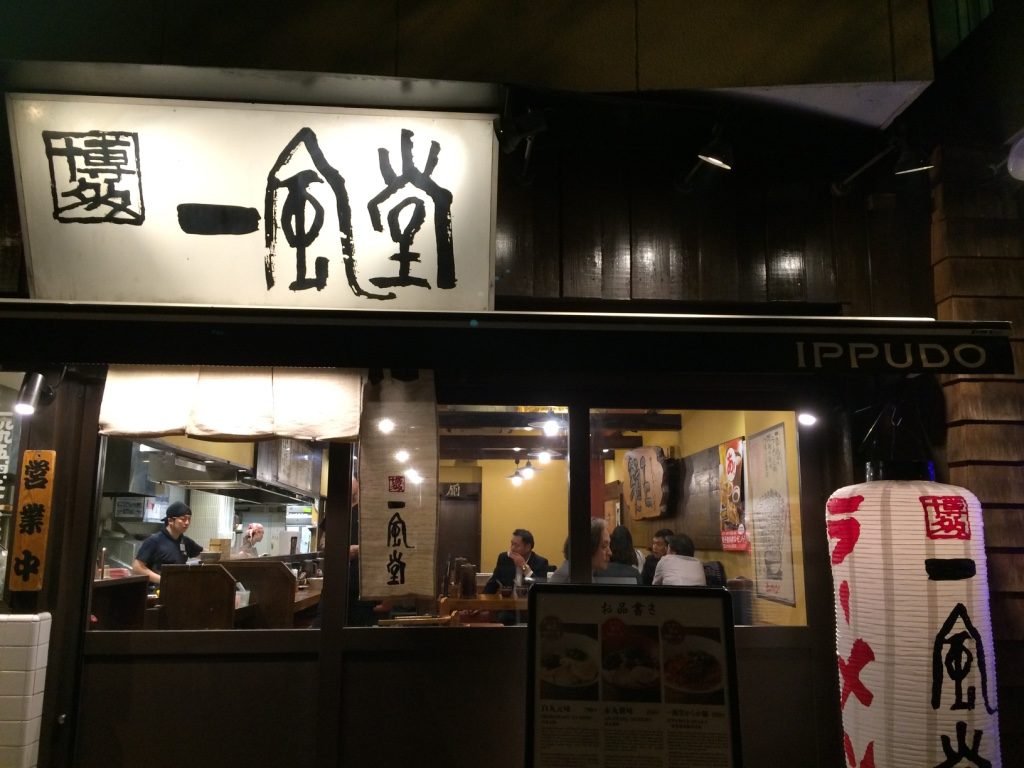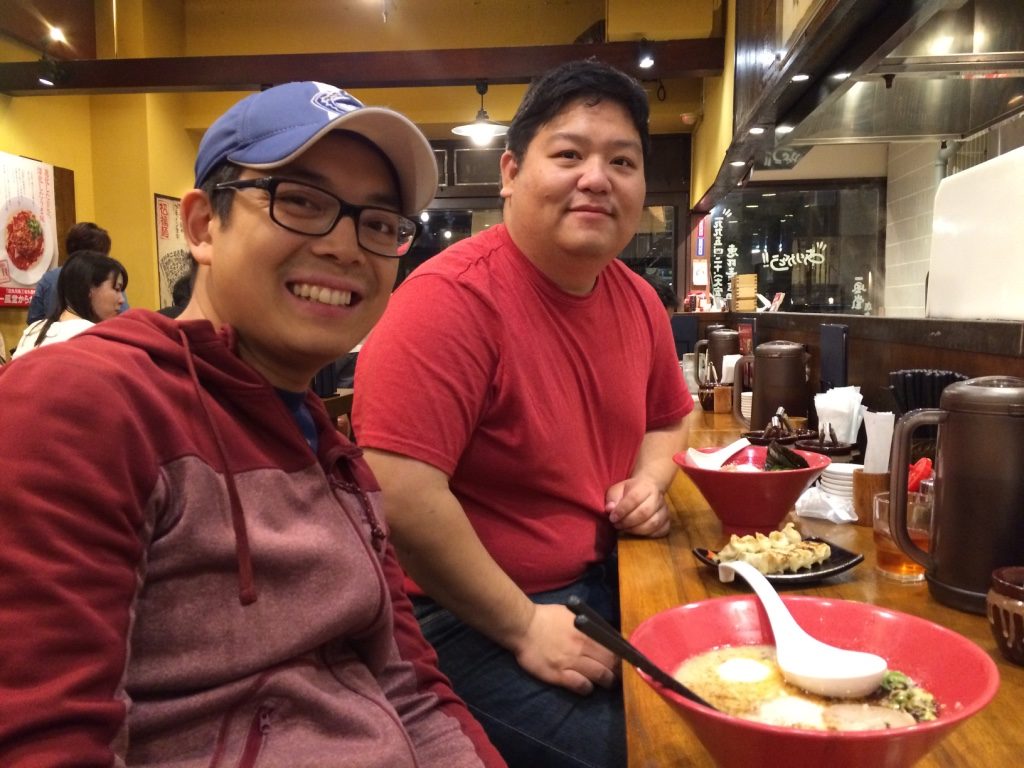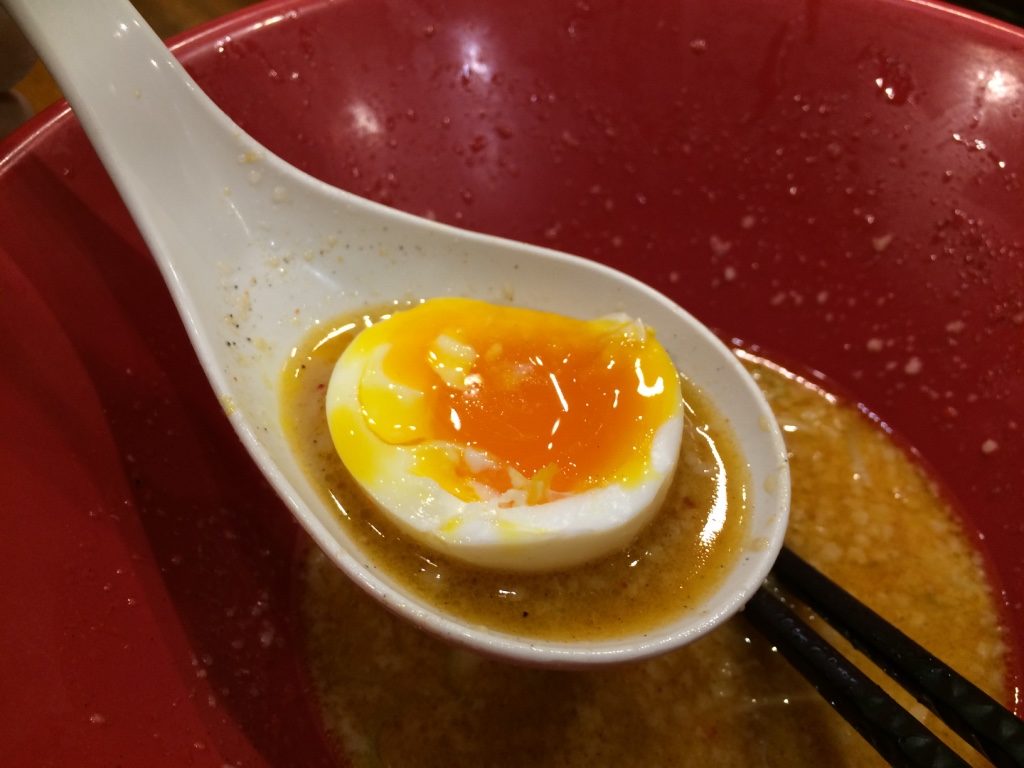 After dinner we thought about going back to Shibuya to spend more time, but decided to just save that for another night since it started to get really windy and the breeze was quite cold. We planned on seeing William again on Thursday, when we'll go to Tsukiji Fish Market in the morning.
We took the train back to the apartment and started planning on going to Tokyo Disneyland tomorrow! This is the only trip "outside of Tokyo" that we kept in our schedule. We both really love Disney, so it'll be a good day tomorrow.
Steps today: 14,000