April 23, 2016
Today was our last full day in Tokyo. I can see how you can easily spend more than week in Tokyo really exploring the city. Even after a week I feel like we only scraped the surface, barely.
We planned on going to Yoyogi Park, Harajuku, and Shibuya today. The weather was a lot better than yesterday night so we decided to walk instead of taking the train. When we have the time (and I'm not carrying my 32 pound backpack), I prefer to walk to destinations rather than taking the subway (especially if we have to walk longer than 5 minutes to go to a station). In Tokyo, the train stations are very busy and there are usually multiple lines, so more often than not you have to travel deep underground to get to your train.
We left the apartment around noon and decided to go to a Japanese Italian restaurant chain called, Saizeriya. I know, this isn't what most people eat when they come to Tokyo (Tim: their loss) but we had seen it in each city in Japan we've visited and they were always full of diners. There is a location down the street from our apartment so we decided to give it a shot. During weekdays, they have a good lunch special for 500 JPY, which includes salad, soup, an entrée and a drink (refillable fountain drinks (Tim: A rarity in Japan!)). Since this was a Saturday, we weren't able to get that lunch special but after looking at the menu, everything was very cheap so we understood why it's always busy.
I think eating at Saizeriya is equivalent to eating at the Olive Garden but cheaper. We ordered a side salad, a spaghetti carbonara and a baked dish called a "Doria". The baked Doria dish had a "No.1" sign beside it so we decided to try it. When in Rome right? Except, I didn't notice any Dorias while in Rome.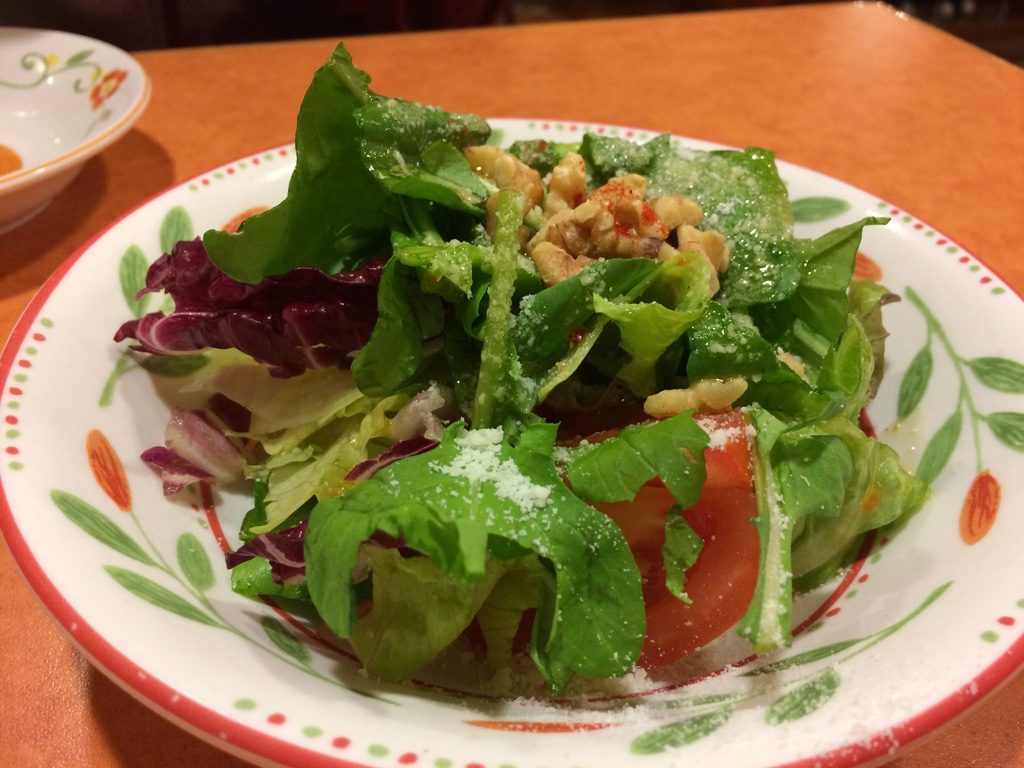 The salad was good (I really appreciate fresh vegetables and fruits while traveling), carbonara was good (though you could tell it is suited for Japanese tastes), but the star for us was the Doria. We ordered it with focaccia bread because we thought it was just a baked dish of tomato sauce and cheese, but when I dug my spoon into it, I found out there was rice. It reminded of Hong Kong style café baked rice dishes with tomato sauce. It was piping hot and very tasty. The focaccia bread was also very hot and you can tell they bake them fresh throughout the day.
I was pretty impressed by Saizeriya and I'm glad we gave it a shot. We were definitely the only tourists in the place. I know people don't like eating in chain restaurants while they're traveling (Tim: again, their loss), but more often than not, chain restaurants are where a lot of locals eat on a daily basis so if you want to experience a city like a local, sometimes it's good to eat at chains.
Yoyogi Park was only about a 15-20 minute walk from our apartment and since Tokyo is very dense, there were things to see along the way. We waited to go to Yoyogi Park on a weekend because we wanted to see more locals out and about at the park. There are usually a lot of people dressed up in unique outfits and an abundance of street performers on Sundays. Unfortunately, Saturday wasn't the same as Sunday with regards to the eccentric outfits, but there were still numerous street performers. We would have gone on a Sunday, but since we didn't have a full Sunday in Tokyo, this was our only option.
Yoyogi Park is like Tokyo's "Central Park" in that it's a huge park in the middle of a large and dense city. We entered the park at the Meiji Shrine gates. That opened up to a beautiful tree lined path that lead to the Meiji Shrine. It was starting to get pretty warm out so being shaded by the trees was perfect.
When we got to the Meiji Temple area, there were multiple weddings going on. I always feel awkward for the couple and their family when hundreds of strangers are taking pictures of them and watching them during such a personal event. But at the same time, they are fully aware this will happen as the temple is a public place and isn't booked out for private events. There was a family taking group wedding portraits in the forested area of the Meiji grounds and everyone was taking pictures of them. I tried to as well but by the time I was able to get a spot to take a picture they were starting to get up and leave.
After walking through Meiji-Jingu, we headed towards the main park area of Yoyogi where Tim was hoping for me to see people decked out in their unique outfits. But to our slight disappointment, there was no one dressed up. Instead, the park was filled with families having picnics. I suppose Saturday is family day and Sunday is cosplay/entertainment day at Yoyogi. Throughout Japan we've noticed that any opportunity Japanese people get, they picnic. I guess a lot of it may have to do with the fact that many of them live in apartments and even if they do have a house, there aren't many backyards to play in. We saw different groups of people dancing, playing badminton, playing soccer, and doing yoga (yogis in Yoyogi!)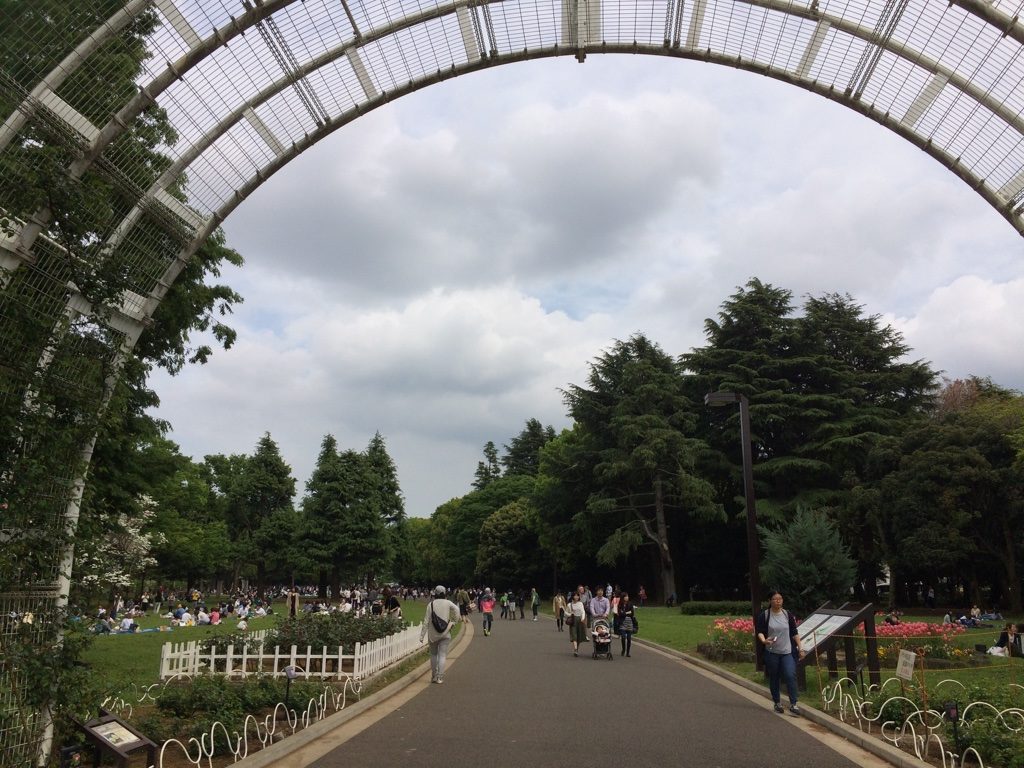 We exited the park towards Harajuku. Harajuku is an area that's popular among young people making it a more fashion forward/trendy area of Tokyo. You may also be familiar with it as Gwen Stefani had a song and album dedicated to "Harajuku Girls" in the early 2000s (Tim: which probably wouldn't really feel very politically correct if done today). Because of Gwen Stefani, I first learned about Harajuku. But unlike her Harajuku Girls music video, we did not see anyone dressed up like a typical Harajuku Girl. The only ones that we saw dressed up were clearly tourists, which was a bit disappointing.
I think I had Harajuku hyped up in my head but instead, it was the most crowded area of tourists we went to in the city. The upside of Harajuku was seeing some pretty good live performances near the train station, before you enter Takeshita Street. The shopping in Harajuku reminded me a bit of Myeongdong-esque shopping with a lot of cute accessory stores, socks and they even had an Etude House (Korean cosmetic shop). The main different though was that these trendy/cheap accessories and clothes were a lot more expensive than the prices in Seoul. For example, I saw a pair of earrings I had bought in Seoul for 3 times the price, and it wasn't like the quality was any different.
The Harajuku area was also very busy because there was a large group of people (many women) gathered outside Yoyogi National Stadium (which was built for the Tokyo Summer Olympics in 1964) for a concert. At first we weren't sure what the large crowds were for, we just saw a huge billboard that said "Sexy Zone". Later we put together that this was a boy (Tim: emphasis on "boy") band from seeing thousands of girls (Tim: and women) with band memorabilia and tote bags with tour dates.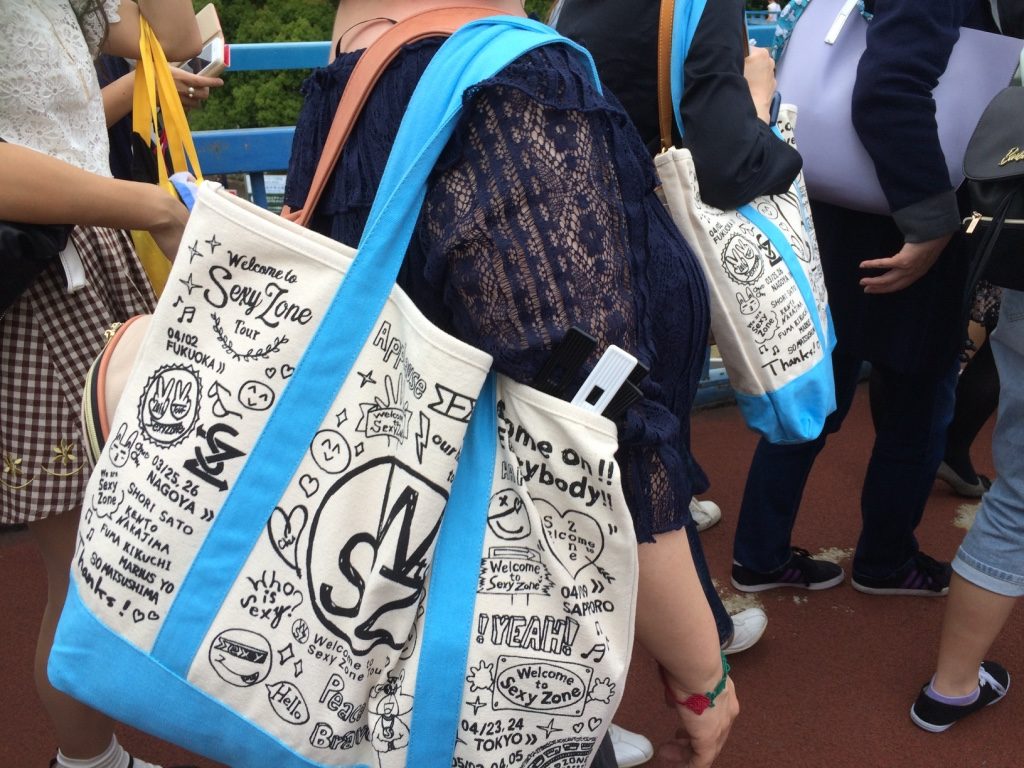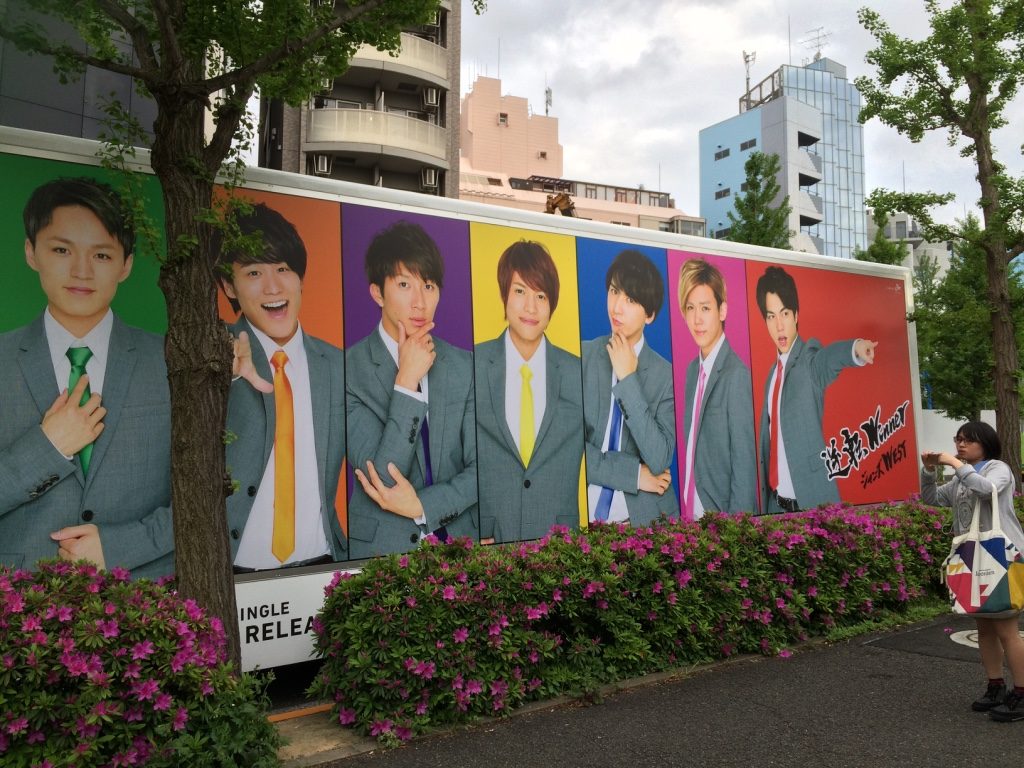 Once we got through the crowds, we were on our way towards Shibuya. But before we got there, we stumbled upon Tokyo's Earth Day celebrations. We stopped in and listened to a live band play and browse around at all the organic food and observe all the Japanese hippies. It was interesting that we stopped by an Earth Day fair where their initiative is sustainability and zero waste on the way to one of the main consumerism centres of Tokyo.
Shibuya was crowded as always. We took our time and perused Muji, Disney, Shibuya 109, and some department stores. Shibuya 109 is a multi-level mall that has independent boutique stores on each floor (each floor has about 6-8 different shops). These stores are very popular among young women in Tokyo for being on the leading edge of most recent trends (Tim: or you might say they're trendsetters). I walked around each floor of Shibuya 109 and saw some nice clothes, but a lot of it was not my style. Perhaps I'm not very trendy and maybe in a few years these trends will blow up in North America, but for now the styles are very Japanese.
I found that stores were either very cutesy – lots of floral and pastels with lots of ruffles, very street – think stereotypical Brooklyn (not the hipster part), very California – wannabe Hollister look, or very dark – lots of black and grey. I was looking for some nice/cute summer dresses but wasn't able to find anything I liked. There were some items that I thought were long maxi dresses that I liked but then when I looked closer they were wide legged jump suits. I've also noticed that Japanese girls like to wear very very wide legged pants – like gaucho pants that were in 15 years ago in North America except in every form possible (eg: like the jump suits).
Another thing I noticed while browsing around Shibuya 109 was that the girls working in the stores were all very tall, leggy, and had dyed hair (usually blonde or a caramel colour) and had brown/orange tanned skin. Having tanned skin in Asian countries is usually not something you see, but according to Tim (and Google Image), I've basically described a "Shibuya Girl".
After shopping, we went to the train station and stood inside on an overpass to take pictures and videos of the busy crossing just outside Shibuya station. It's so crazy how many people are in Shibuya at one time as each time the light changes it's like a new set of hundreds of people cross the street.
As it was our last meal in Tokyo, we weren't sure what type of Japanese food we wanted. I was leaning towards sushi again and Tim wanted curry (he always wants curry). We decided to meet up with William for dinner back in Shinjuku and decided on going to CoCo Ichibanya (Tim's favourite). But since I wanted a bit of sushi, Tim and I had a little snack in Shibuya at Sushizanmai first and ordered a few pieces of our favourites before heading to Shinjuku. I could probably eat sushi every day here. We were pretty much in and out of Sushizanmai within 15 minutes of sitting down.
We met William at the CoCo Curry near Shinjuku Station. This location is smaller than others and has a lot of foot traffic so we had to wait a bit before being seated. We sat at the counter and watched them prepare the dishes. I was actually pretty impressed that they cook each order's curry in an individual pot. The curry was good and it hit the spot for Tim.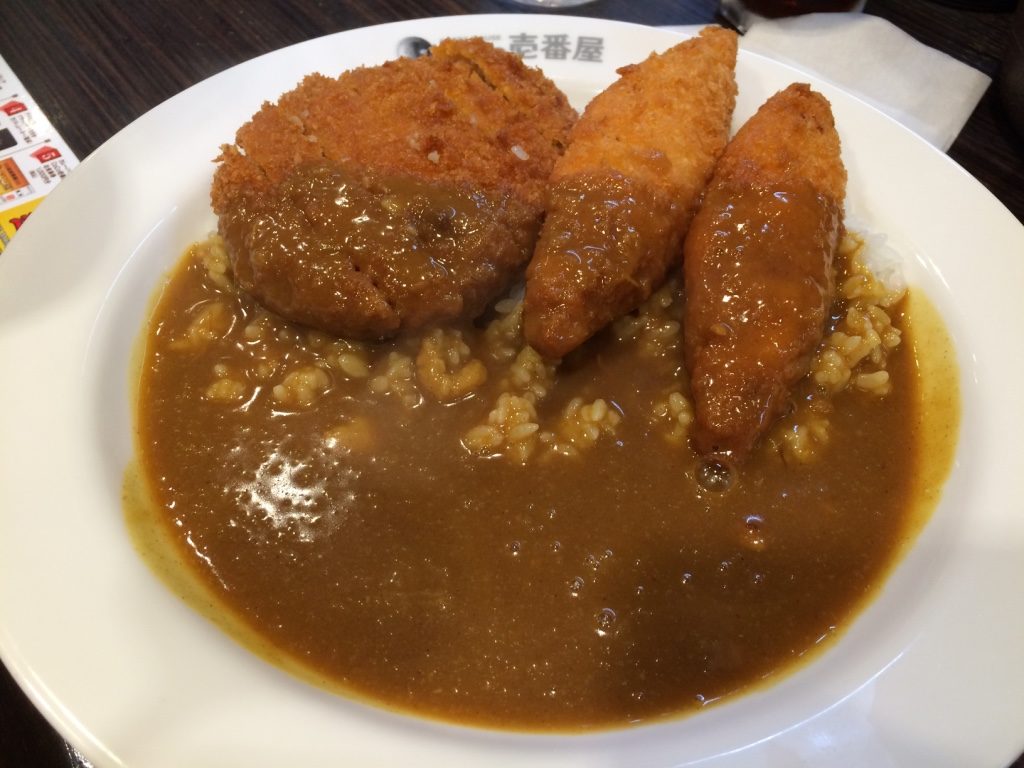 I can't believe how fast a week went by in Tokyo. There's so much to see in Tokyo as each neighbourhood is almost like visiting a different city. Luckily for Vancouverites, flying to Tokyo is not THAT far away and there's multiple direct flights on several airlines making it very accessible to us. I would like to come back and see more as a week was definitely not long enough.
Steps today: 24,000