March 10, 2016
Today was our first full day in Taitung.  The weather didn't really improve much from yesterday, it was still overcast with no sun in sight (Tim's going to say, "stop complaining about it being overcast!").  The reason why I wished the sun would come out is because I know that Taitung would be amazingly beautiful with the lush green mountains and ocean on either side of the city. But with an overcast sky, the city wasn't able to really shine through. I suppose I had high hopes for Taitung because it is Tim's favourite Taiwanese city. I wanted to love it here like he did, but I didn't. I would like to come back when the weather is nicer (which is usually 90% of the time), to experience the city the way it should be.
We started off our day with a nice and hearty breakfast… at McDonald's. We like to try different McDonald's around the world because they always have unique menu items and Taiwan was no exception to that. We ordered a chicken and egg breakfast sandwich meal (which is like a McChicken with an egg in a muffin (Tim: and without lettuce)) and an extra sausage and egg McMuffin. The meal came with a hash brown and instead of coffee we ordered corn soup. I enjoyed everything in the breakfast – especially the corn soup (Tim: I love how corn soup is a substitute beverage choice).
After our breakfast we picked up bikes from the apartment and started a trail that wrapped around the city. We headed towards the mountains and the bike path was pretty clear. It felt good to ride and feel the breeze – it was refreshing and freeing! (Tim: It wouldn't be as refreshing if it was sunny and hot… Thankfully it was overcast). After we passed the 2km mark, the bike trail emptied and we were the only ones on it. It was nice that was it just us, fresh air, (away from all the scooter exhaust) and some small low flying birds.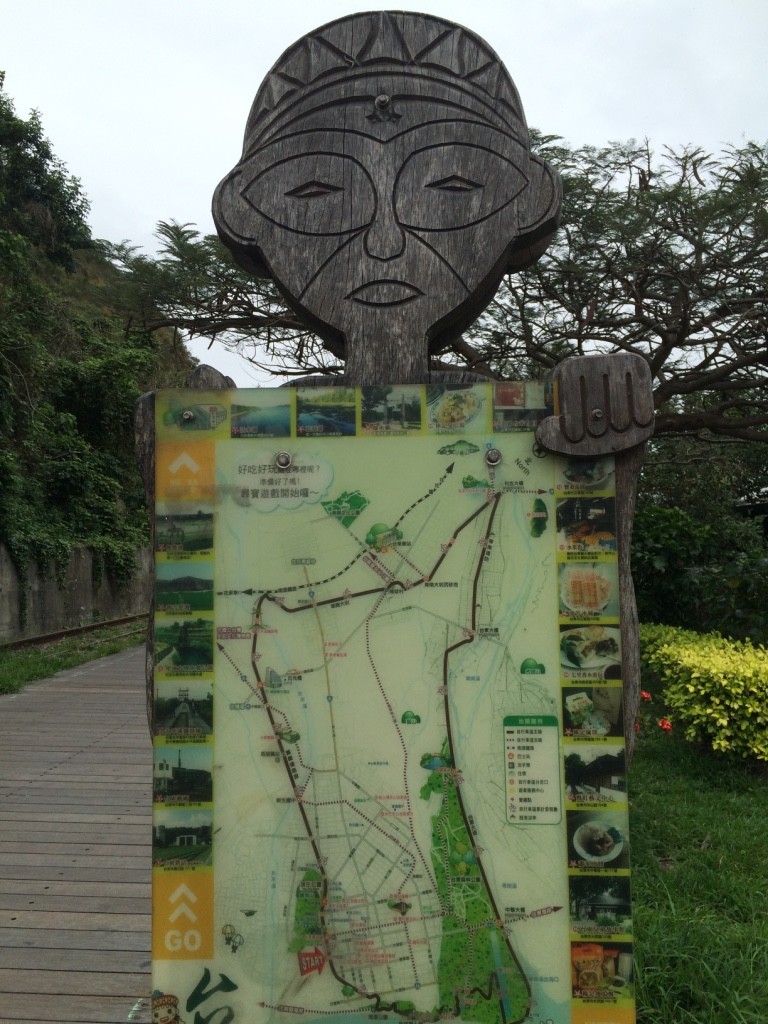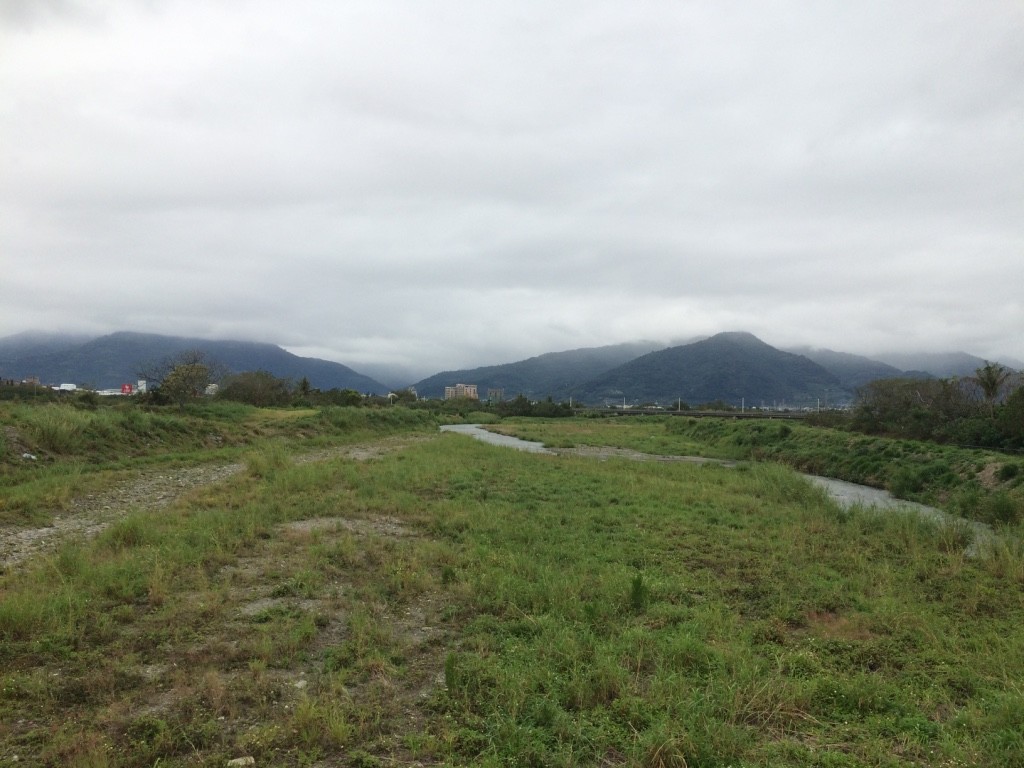 Tim has fond memories of the time he spent in Taitung in 2009. He likes to recount how while biking along this same trail, a stray puppy rode along side him for a couple of kilometres until he got to a larger street intersection that he needed to cross. The puppy was too scared to the cross the street and Tim never saw it again. When he thinks about it, he gets a bit sad. (I think he regrets not keeping the puppy). I make it worse when I tell him that the puppy chose him (just like how elephants choose their mahouts (owners) in Thailand) and he just left him. Later on at the beach, a stray dog was attracted to Tim and followed him around while he took pictures. I thought it would make for a pretty epic story if that dog turned out to be the same dog from 7 years ago (too bad this dog was brown and not black).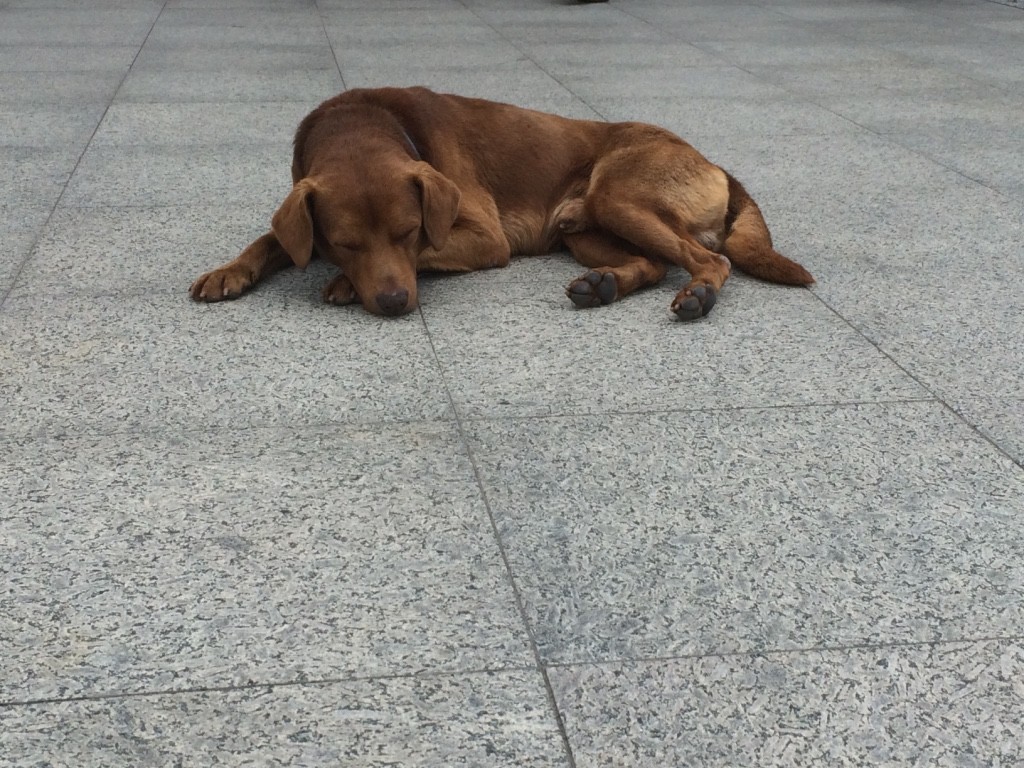 When we reached a split in the trail we decided to head back so we could go back towards the beach. We ended up walking to the beach instead because I was too scared to ride on the street alongside all the scooters and cars. I get a bit anxious when I'm on a bike or scooter in traffic and I feel like in Asia it's even more chaotic (although, it's likely more of an organized chaos).
After dropping our bikes off, we stopped to get bubble tea a "Presotea" which advertised a "Panda" bubble (black and white pearls!). We also attempted to Facetime my family for my Mom's birthday. Taitung County has free wifi (TT-Free) throughout the city if you register your phone number. Unfortunately, my family was only able to hear us, but we were able to hear and see them.
We walked to the beach area that we visited shortly yesterday. This time we walked down to the actual beach and watched the waves crash on to shore for a while. The east coast of Taiwan is very beautiful. In the summer, Taitung has a hot air balloon festival that looks awesome, maybe next time we'll come for that.  Although, I'm sure then I'll probably wished the weather were like how it was now- mild rather than really hot.
After the beach we headed back to the apartment to grab our bags that we left there. We were moving to another place to stay because the apartment was booked for tonight. We walked down the street and checked into our hotel, "Traveller's Hotel". We read good reviews about it for being a clean and friendly hotel. The room is very basic and clean (the only important thing), which works for us! The only "bad" thing is that the internet is a bit slow.
Once we checked in, we headed to grab a late lunch and walked to the Taitung Forest Park to wander around. We thought that on our way to the park we would pass by a lot of food options, but that didn't happen. I think we underestimated the effects of a small town/city. I kept thinking, there's got to be a lot of places surrounding the park or even a snack stand inside the park. We were wrong, there's no vendors inside the park. It was about 3:30pm and we were both pretty hungry (Tim: Kaitlyn was pretty hungry). We walked around the park for like 15 minutes and then left to find something to eat.
We decided to walk down a different street on our way back. There were a few bento lunch options and we decided on "Woo Ricebox". We've seen a bunch of these types of Taiwanese fast food restaurants around, mainly at train stations. The wooden bentos are filled with rice, pickled vegetables, cabbage, sausage, chopped bok choy and a meat of your choice. I had a pork chop and Tim got pork belly. They were a good lunch option and I can see why people would order them to take with them on a train.
After lunch we headed back to the hotel to settle in and get ourselves organized for tomorrow. We booked our train tickets from Taitung to Hualien (we're heading north on the east coast). This was our first time booking the train ticket online – we didn't want to risk the train we wanted to be sold out. We also booked our hotel for two nights in Hualien – "East Town 26". The hotel has really good reviews on Trip Advisor so I'm looking forward to it (hopefully I won't be disappointed).
Tonight for dinner, we met with Tim's relatives at "Showtime Plaza". This mall was built a few years ago and is one of the newer building complexes in the city. It has a movie theatre, a couple of clothing stores (Uniqlo and Nike) and a few restaurants. Tim's relatives made reservations at a Japanese Tonkatsu restaurant (I couldn't find the translated English name). It's always nice to meet with family and friends while traveling. It's a nice familiarity and comfort knowing that loved ones are close by. The tonkatsu set meal and was delicious – it was my first time having tonkatsu where you have to crush the sesame seeds with a mortar to make the sauce. (Tim says now we don't have to go to one in Japan…). Tim's relatives are in the middle of moving so we caught them at a hectic time. They were very hospitable to us despite this and I'm glad I had the opportunity to meet them on this trip.
After dinner, Tim and I decided to check out the night market, which was down the street from where we were staying. The night market here is only opened from Thursday-Sunday (the majority of night markets in Taiwan are 7 days a week). Tonight it started to rain, and apparently when it rains no one in Taitung goes out. This was evident in passing by the night market. This was the saddest night market we had seen so far. Many of the vendors were closing down and some didn't even set up. There were no crowds at all. See? This is what happens when the weather isn't good in Taitung.
Now we're back at the hotel, getting ready for tomorrow. Tim's aunt is going to pick us up tomorrow morning to drive us to the train station at 8:30am, our train to Hualien leaves at 9:39am.
There's still a lot more of Taitung that we haven't seen, but we know we'll be back one day.
Steps walked: 24,300 steps
Biked: 11 km