May 5, 2016
Our three nights in Taipei went by really quickly. We were flying out later in the afternoon and going to Singapore. We woke up pretty late and took our time packing up. Mom went to get us breakfast and made us some milk tea (which was really yummy). She had to go out for lunch with some old friends, so Tim and I were on our own.
Before we knew it, it was already 1pm! Originally we thought we'd go for beef noodle, but the places we had in mind weren't that close to the apartment. We decided to go back to Tonghua Street to go for a quick lunch at Formosa Chang's and grab bubble tea for later. We headed out without checking the weather, a jacket, or an umbrella (Tim: foreshadowing). While we were walking we felt a couple of heavy rain drops and knew it was going to be a huge down pour. We quickly got undercover and into Formosa Chang's for lunch.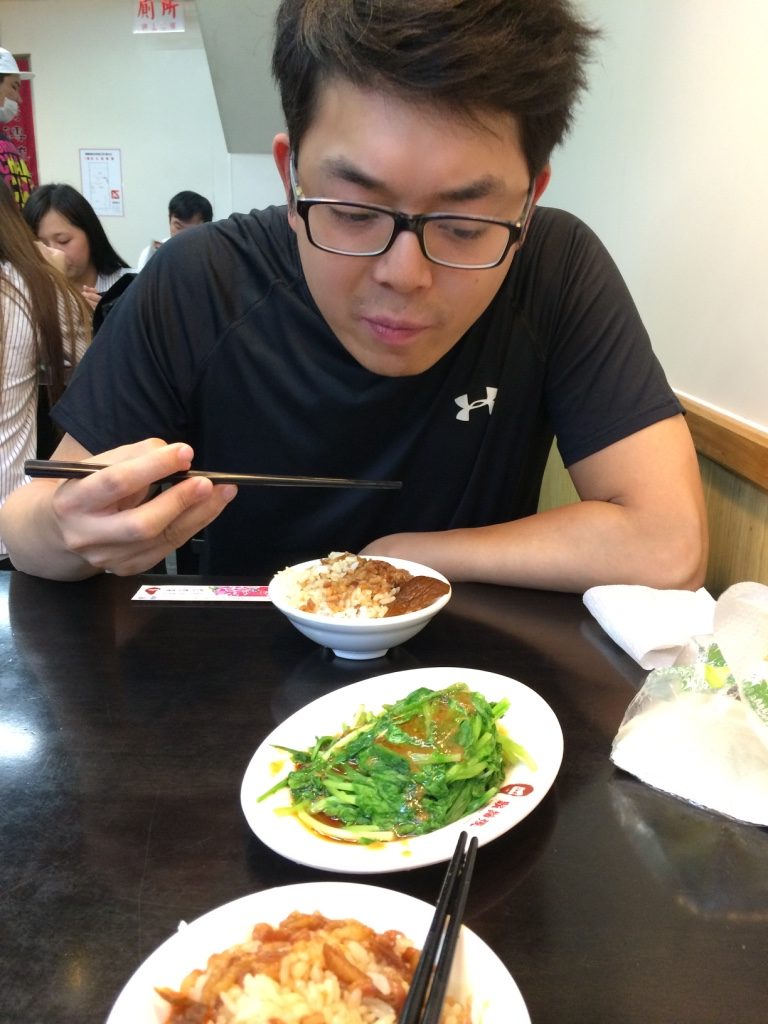 We walked really quickly back to the apartment to try to stay as dry as possible. Luckily we were both wearing clothes that would dry quickly since everything else was packed. We got back to the apartment and did the final pack up and waited for Mom to get back from lunch before heading down to meet Uncle Albert.
As mentioned in my last post, I'm a sentimental person so it was sad leaving Taipei. It has become the closest place we had to a home this trip. We have had a lot of good memories here with family and friends, so when we said bye, I obviously cried (but tried to hide it as best as possible…). Tim is touched that I showed so much emotion to his Motherland.
The drive out to Taoyuan Airport is around an hour from the city. It's extremely kind of Uncle Albert to drive us back and forth from the airport so many times this trip. They are building an airport train line out from Taipei Main Station to the airport, but it's completion has been delayed quite a bit. Hopefully the next time we visit it will be done.
We were flying Singapore Airlines (both for the first time) and we left out of Terminal 2 of the International Terminal. This was the first time we have been to this terminal and it's really nice. They had a good selection of luxury brands, Taiwanese souvenirs, and duty free shops. Comparing the prices of Longchamps back at Taoyuan and Incheon, they are about the same. If the USD was stronger (like it was a few months back), than Taoyuan would be cheaper since their prices are in NT.
I was looking forward to flying with Singapore Airlines since I've always heard good things about it and it's consistently ranked one of the best airlines in the world. After my first flight with them, I would have to agree, it's probably the best airline I've flown. The flight attendants were all very friendly (and pretty), they gave you a hot towel when you sat down to wipe your hands/face (and we were in economy), they came around with drinks (great drink selection) more than 5 times on a 4 hour flight and their meals were good (you get Haagen Daaz ice cream).
The movie selection was also great – they had over 150 movies (those are just the Hollywood movies) to watch, including some really recent releases. I ended up watching "The Intern" with Anne Hathaway and Robert De Niro (I liked it!), 3 episodes of the "New Girl", and Anthony Bourdain in Tanzania. There was no turbulence on this flight so it was more enjoyable than the flight a few days ago.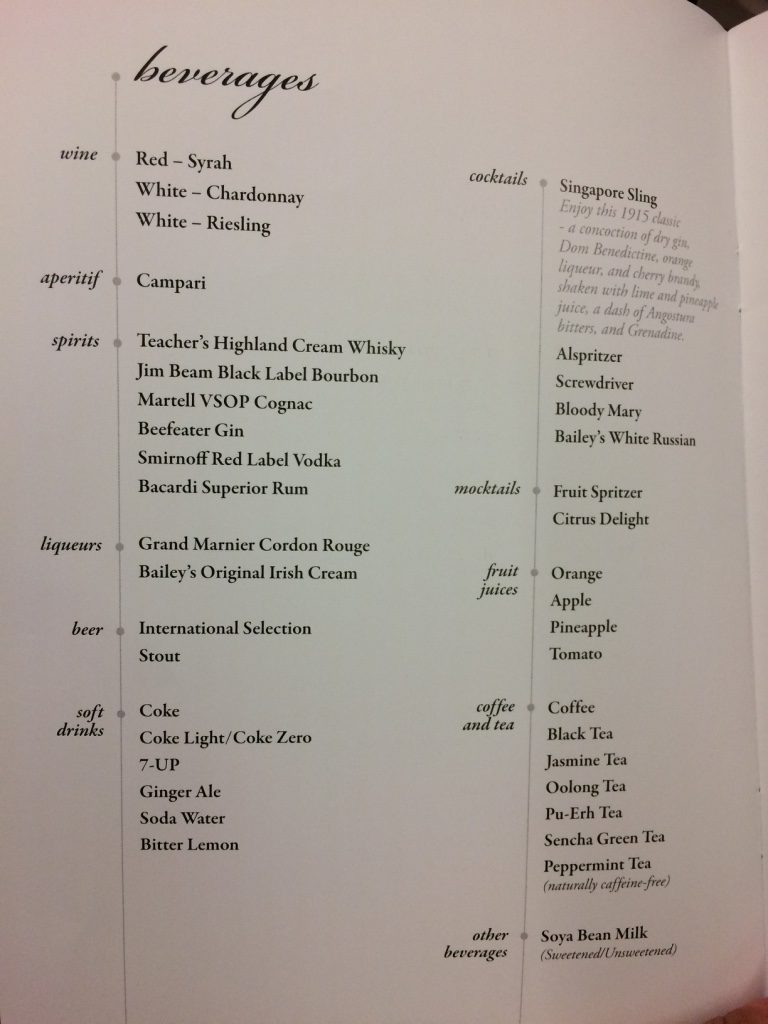 We finally landed at Singapore's Changi Airport after what felt like a long flight. It was 10:20pm when we landed, we went through customs and headed for the SMRT to get us into the city. We packed an overnight day pack so we didn't have to pick up our backpacks (they're going straight to Melbourne) (Tim: fingers crossed).
We booked a hotel near the Chinatown SMRT stop through Expedia. It was $139 CAD a night and is in a relatively good location – about an 8 minute walk to a couple of the hawker food markets I wanted to go to. After a couple of transfers, it took us about 35 minutes to get to our hotel. We arrived at our hotel just before midnight. We checked in, washed up and relaxed. The hotel room is quite nice – clean, rainfall shower head, and a large bed.
Tomorrow we'll have until about 7pm until we have to go back to Changi for our flight to Melbourne at 9:30pm.
Steps today: 8,000