May 20, 2016
Today was the reason why we came to Cairns. It was our Great Barrier Reef day! We booked a tour with Seastar Cruises  which was recommended by Chloe and it's also rated #1 on Trip Advisor (we use Trip Advisor a lot). Our full day tour was $200 AUD = $189 CAD per person (which is the average price of full day tours).
We arrived at the marina at 7:30am and they began to board. The majority of the other passengers were from Australia and the US, we were the only ones from Canada. There were two couples (they looked like they were in their 20s) from China in front of us in the line up to board. One of the couples asked twice if they were allowed to smoke on the boat or on one of the cays we were going to (the answer was obviously no). Then they said they didn't want to go in the water either. From that moment on, that girl looked like she would not have a very fun day. Tim said on the boat she kept saying that she wanted to go home (Tim: she only said it once). It's a pretty expensive day out to be miserable!
The boat ride there was pretty rocky because it was quite windy out. I'm actually quite proud of myself for not getting sick on the boat ride (usually, I'm prone to getting sea sick). The crew was really good at taking care of people who were feeling sick. Tim and I sat on the upper deck so I think it helped that we were getting fresh air even though it was probably rockier being on the top deck.
Our first stop was about an hour and half away from Cairns. Michaelmas Cay is the largest uninhabited coral cay in the Cairns area, but it is full of birds (apparently 35 different species). We pulled up to the cay and some crew members went off on the rescue boat to get the glass bottom boat to bring us to the sandy beach. They gave us stinger suits to wear to protect us from jelly fish stings (although they said right now it's not jelly fish season) and the sun. The water's temperature was 28 degrees celsius, warmer than the current air temperature! There were two snorkel guides who took us around the reefs for about 30 minutes and then we had about an hour to go around on our own. When we went on our own we saw a turtle! We followed it for a while and probably swam quite a ways out because one of the crew members came out with the rescue boat and told us to swim back towards the boat since we were pretty far away.
We took some pictures with the GoPro but most of our better footage are videos (including the turtle and reef shark spotting). Here's some of the better photos we have from each of the snorkeling spots. Michaelmas Cay didn't have great photos since it was overcast and more murky as it was more shallow than Hastings Reef.
When we got back on the boat they had lunch ready for us. They had a selection of salads, deli meat, fruits and gave us a scoop of vegetable bake and two chicken wings. As we were eating, the boat was rocking back and forth. This was the only time on the boat that I felt a bit uneasy (Tim: me too). I'd rather the boat be moving quickly and be rocking than just sitting on the water that's rocky. After we were done lunch, we made our way to the next and last stop, Hastings Reef.
At Hastings Reef, the boat stopped in the middle of the ocean and we jumped out to snorkel. There was another 30 minute snorkel tour with a guide and then we got about an hour and a half to snorkel around on our own. We both liked Hastings Reef a lot better than Michaelmas Cay. There was a lot more to see and the reefs were more beautiful and we saw a larger variety of fish. We even spotted a reef shark and we followed it for a while (actually Tim followed it longer). We saw a reef shark last year in the Maldives while snorkeling as well but this one was a darker grey and a bit larger. After we got back up to the boat we went on the glass bottom boat and went around the reefs with a crew member.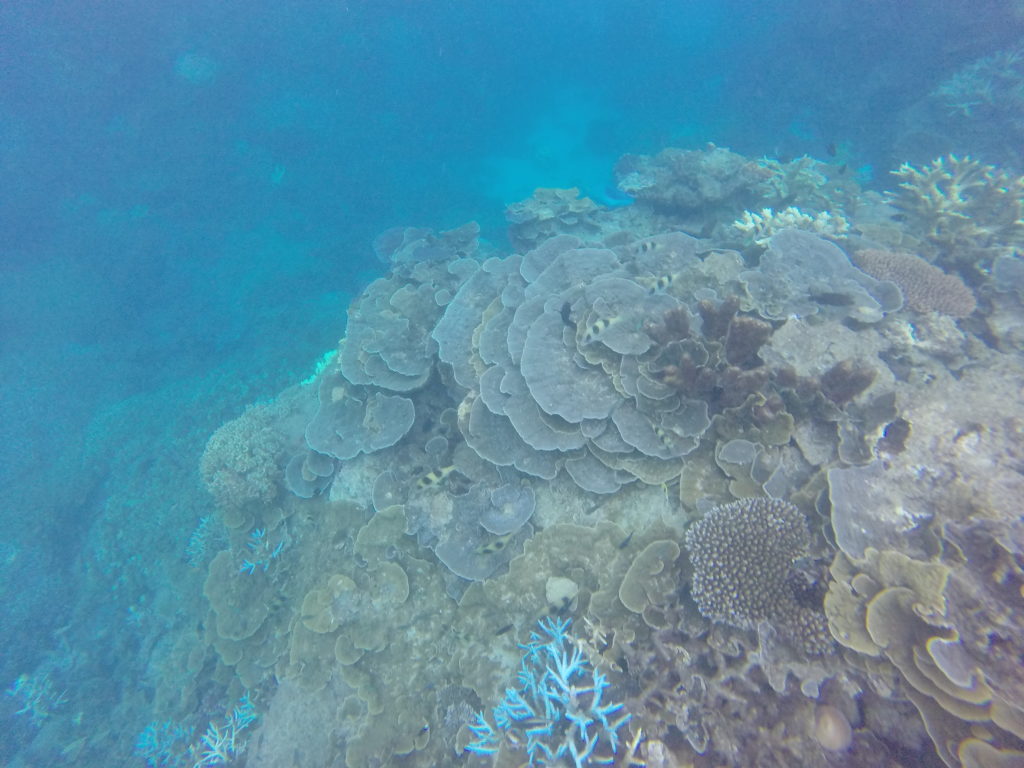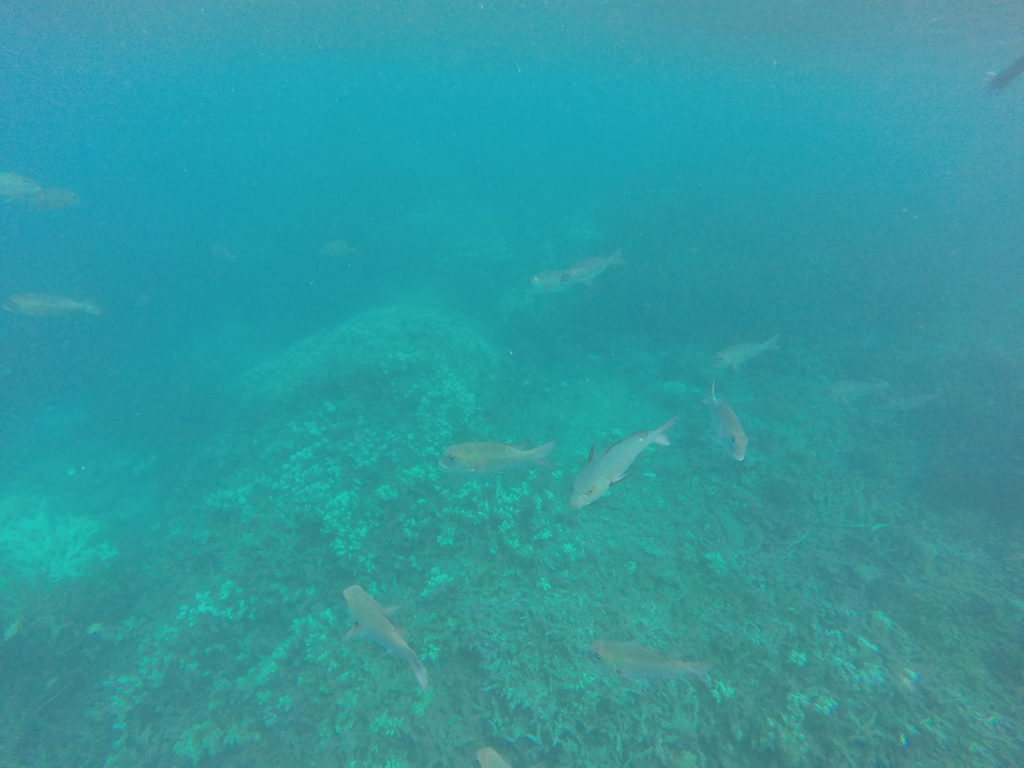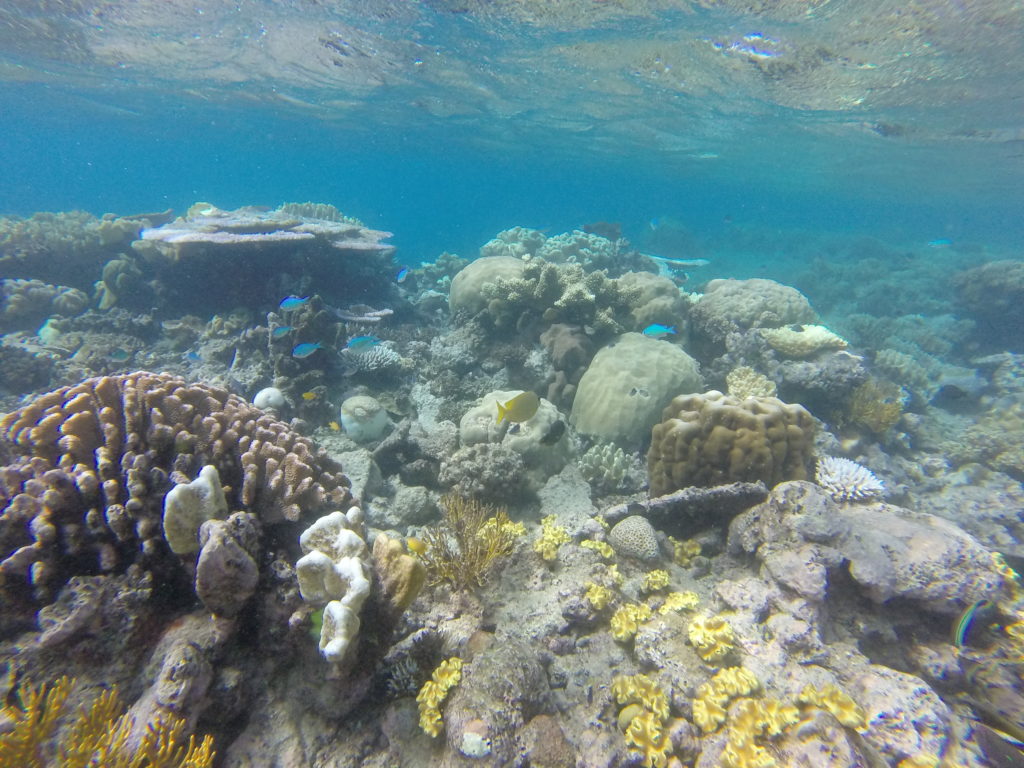 The boat ride back was an hour and 45 minutes and was even more rough because we were going against the waves. I was so happy when we got back to the marina and was actually very surprised I didn't get sick on the boat. It was awesome to see the Great Barrier Reef with my own eyes and to experience with Tim. We took pictures with the Go Pro but looking through them the pictures don't do the reef justice with all the different colours and things we saw down there.
We walked back to the hotel, washed up and headed down to the restaurant in the lobby. Tim got some vouchers for free drinks and an appetizer from the restaurant so we went down to redeem them. We shared two pieces of fried barramundi, coke, and a beer. The fried barramundi was very good with light crisp batter and the fish was nice and moist. It sort of satisfied Tim's fish and chip craving.
We walked down to the Cairns night market to see what they had to offer. It was basically a Chinese food court with stalls of cheap souvenirs and massages. I often crave westernized Chinese food so this was actually perfect for me. All the Chinese food stalls were the same. You pay for what size plate you wanted and you can put as much food on it as you can. Since we had a small appetizer, we just shared a medium plate ($13.50 AUD = $12.75 CAD) and I went through and piled as much as I could too (so Chinese of me. Tim didn't want any part of it).
After we finished eating we walked around a bit and headed for Gelocchio (of course) for dessert. This time we got two scoops, strawberry and passionfruit, in a cup. Two scoops are supposed to be $5.80 AUD but the guy only charged us for one $4.80 AUD = $4.50 CAD. I'm really enjoying all the fresh and delicious gelato.
It started to rain so we went back to the hotel and watched the much anticipated 2 hour finale of Survivor. This already aired back at home but we haven't been able to download and watch it until we got to Cairns. It was a nice chill night and we planned to just take it easy tomorrow. We originally thought of going to the Daintree Rainforest but we're both feeling pretty tired and it's going to rain all tomorrow. So we'll be taking tomorrow to catch up on blog entries and future trip bookings.
Steps today: 7,000