May 29, 2016
Being two hours ahead, we were all clearly jetlagged as we woke up at around 10:45am. By the time we got ready to go, it was around 11:30am and Howard had already gone out and come back home. He had a good start to his day as we were just starting ours. He had recommended a French Market to us yesterday, so we thought we'd start our day there.
The French Market is in a suburb called, Parnell, which is located just outside the CBD and is apparently Auckland's oldest suburb. The market is called, La Cigale French Market and is only opened on weekends. The market is a food market that was filled with a lot of delicious food options. The prices at most of the stalls were very good/reasonable and a lot less than what we thought they would be. Tim and Robin got sausages in French bread and Jess and I got a Turkish gozleme (like a quesadilla). Inside the market there was a French bakery which had fresh croissants coming out so we got a chocolate croissant since it was piping out. It was awesome!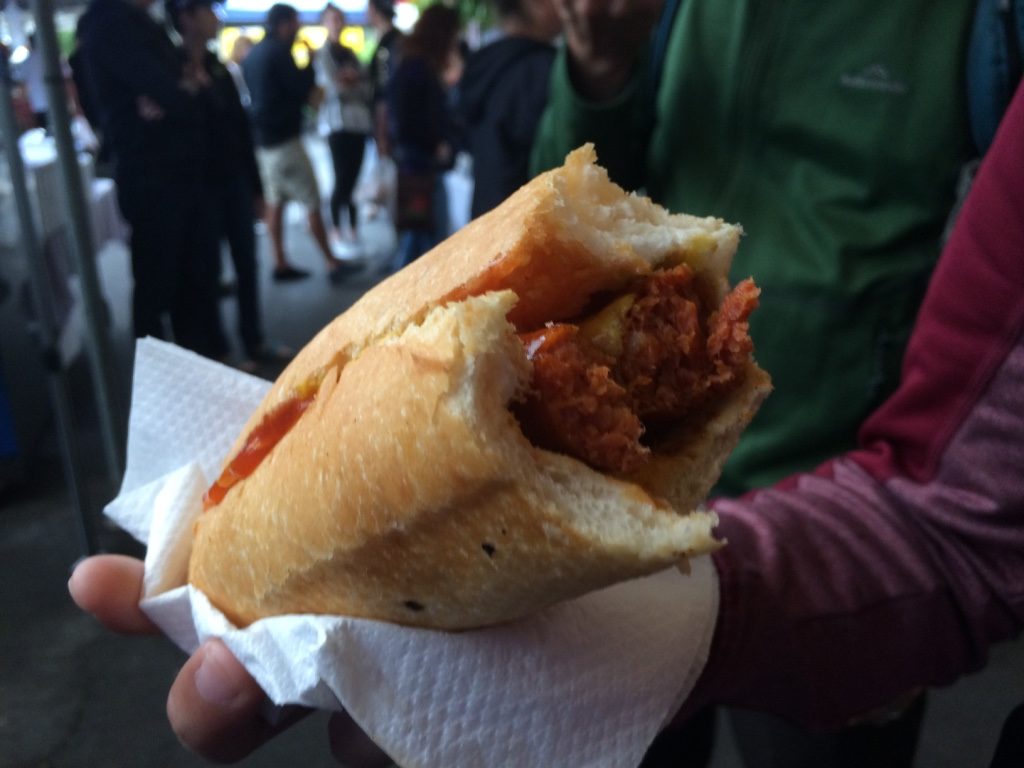 While at the market, the rain started coming down pretty hard. Luckily, all the vendors had tents up so we didn't get wet. After we finished lunch, we headed to the Auckland War Memorial Museum which was close by. The museum is free for Aucklanders, by donation for New Zealanders and $25 NZD ($21.80 CAD) for everyone else. Tim asked if there was a Commonwealth country discount, but unfortunately there wasn't (Tim: I was joking, but the guy seemed apologetic that they didn't).
The museum was quite large and you could easily spend a long time there. The museum includes exhibits about New Zealand's history (Maori and Pacific Islander), military history, natural history, geology, etc. There was an event going on in the WWII Memorial Hall for American Memorial Day (Tim: note the American flag on top of the building in the picture above. I asked and they said it was up only for Memorial Day). I thought the Maori exhibits were the most interesting since they were uniquely New Zealand. New Zealand is the coldest place that Pacific Islanders live, so when they brought their own plants and vegetation from other islands, they didn't grow well here. So, it was actually beneficial (Tim: from one specific perspective) when the Europeans came because they brought over plants that grew better in New Zealand.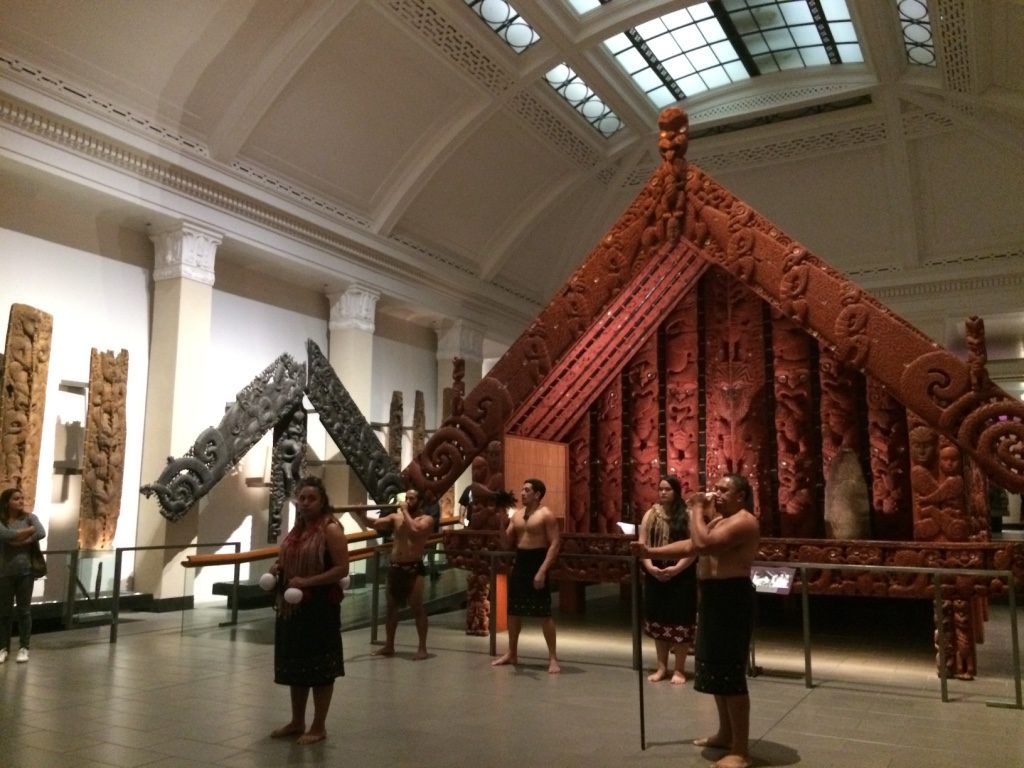 We stayed at the museum for about two hours before making our way to Auckland's CBD. The rain started to come down quite hard as we were driving around. There wasn't much parking available and the parking signage in Auckland is a bit confusing. After driving around Queen St. (which is like their Robson) and around the wharf we decided to just pull into one of the 15 minute free street parking and take a couple of pictures of the Sky Tower and walk up Queen St. for a bit. Overall the CBD wasn't too lively because of the weather and most locals probably don't live in the CBD.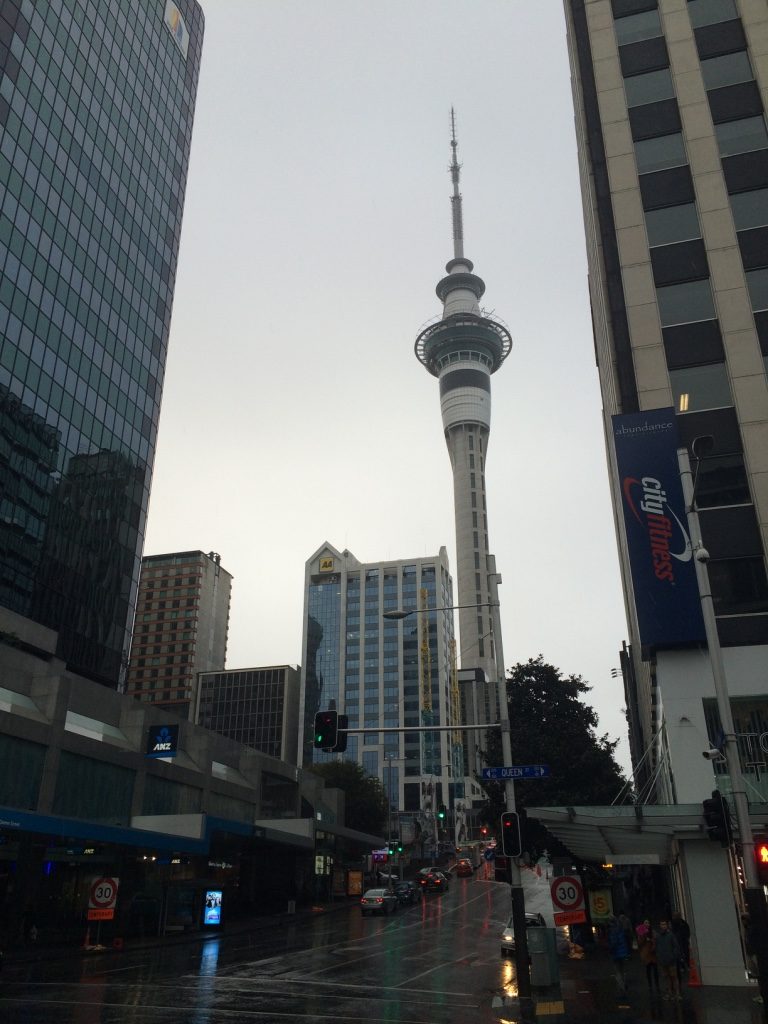 We got back into the car and went to Mount Eden, whose summit is the highest natural point in Auckland so it has great 360 views of the city. Mount Eden is also a dormant volcano so it was neat to see the crater, which is now covered in lush green grass. When we got to Mount Eden, we had to walk about 10 minutes to the summit. Before January of this year cars were able to drive to the top and park but now cars are only allowed to park below and you have to walk up. I think it's much nicer that cars are not allowed to go up any way and the walk isn't really that hard/far. We were lucky because as we were driving to Mount Eden the sun started to come out, so when we arrived we had clear skies and even saw a rainbow.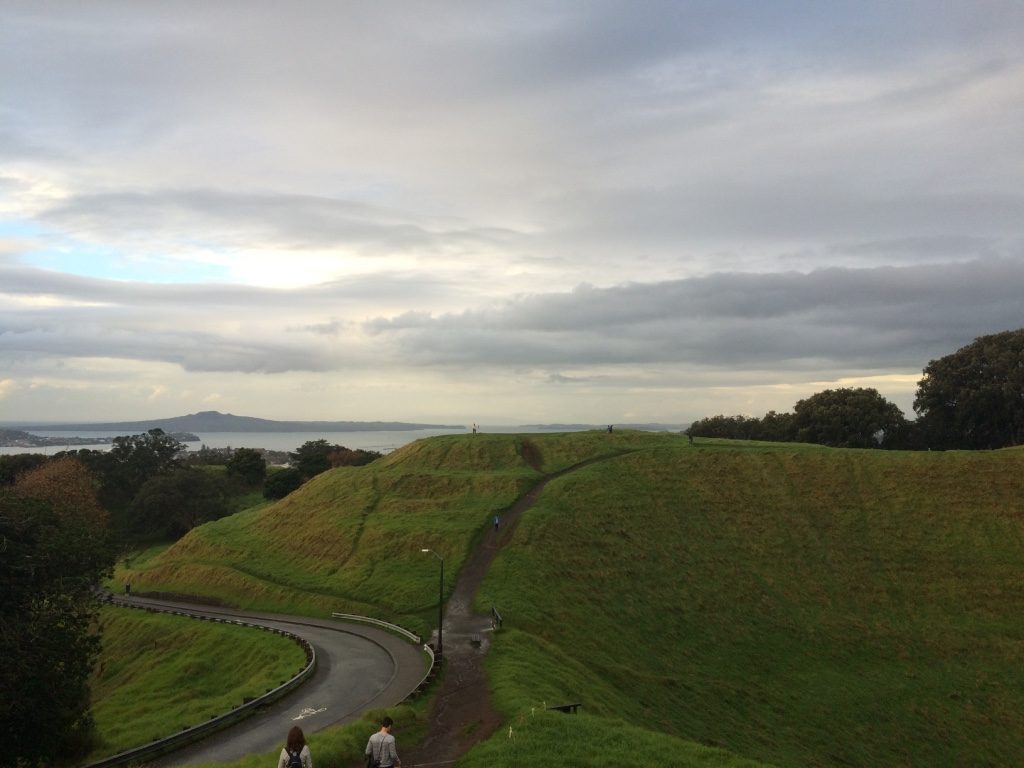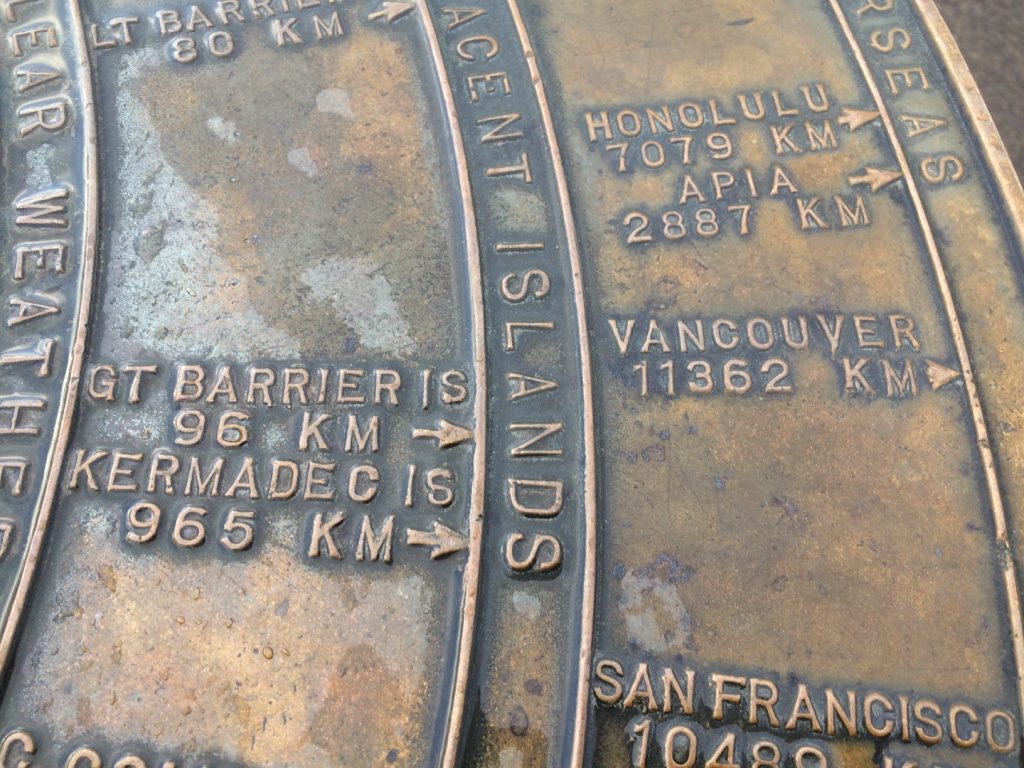 Mount Eden was my favourite part of Auckland, it was really beautiful up there and I loved how vibrantly green everything was. It's been a while since we've seen such lush greenery like this. As mentioned yesterday, I expressed how much New Zealand reminded us of home and seeing Auckland from the summit of Mount Eden reconfirmed that.
We saw some pretty cool clouds in the distance that made for some really awesome pictures but we also knew that those clouds were headed for us. Unfortunately, we were too slow and we were caught in the downpour. Luckily we all had our rain jackets and we had our umbrellas too. Vancouverites are always prepared for rain!
We headed back to the house to rest up and change for dinner. We all sat around for about 30 minutes looking up restaurants to go to. It's hard to decide when there are too many options. We wanted to have seafood since the green lipped New Zealand mussels we had yesterday were really good. Robin found a place called Swashbucklers, near the Auckland Fish Market close to the CBD. The menu and reviews were good so we decided to give it a shot.
Swashbucklers  is located in a pretty industrial looking area. It reminded us of the trek to get to the Cannery in Vancouver (before it closed). It's located close to the water and a few blocks from Auckland's Fish Market. Tim and I shared a seafood platter for two ($70 NZD = $61 CAD), which had green lipped mussels, oysters, battered fish, king prawns, shrimp, smoked salmon, and breaded scallops. I was super hungry so I was really excited to eat. Everything was really tasty and it was the perfect amount. New Zealand mussels are very plump and sweet. I'm sure I'll be having more before we leave.
On the way home, we stopped by a grocery store to get some snacks for our road trip tomorrow and dessert for tonight. While looking up restaurants, Tim found a list of New Zealand only snacks. So when we got to the grocery store he was on the look out for a bunch of snacks. We managed to get the majority of them.
We got back to the house and had the Hokey Pokey ice cream we bought. Hokey Pokey is a flavour which is basically just vanilla ice cream with crunchy honey comb chunks. It was actually really tasty, I enjoyed the crunchy bits. We ate our ice cream while we watched the season finale of "Fresh Off the Boat" together. We're planning on leaving Auckland by 9am tomorrow, so we set our alarms. We're heading to a town called Coromandel for some hiking and some beautiful scenery.
Steps today: 11,000