June 25, 2016
We set our alarms for 5am so we could catch the 5:30am shuttle into town to watch the Monk's Almsgiving ritual. Unfortunately, when we went to the reception to ask for the shuttle, the guy said the driver is out taking another couple and we had missed it. That was a bit annoying since we got there right on time and it was so early! I'm not a morning person at all.
The guy told us in pretty broken English that there were monks on the street around the corner from us so we took a look since we were up already. Sure enough there was a large procession of monks walking down the street from our hotel! This was actually really cool to see because it was the same ritual in town but without all the tourists (Tim: participating inappropriately). Tim and I were the only non locals around (taking pictures from across the street and being respectful). People (mostly women and children) set up stools along the street where the monks would pass by and they would give the monks handfuls of sticky rice as they walked past. We watched for about half an hour until the last monk walked down the street and people began to clean up. It's amazing to see such a traditional ritual in person and how each morning at 5:30am people wake up to give alms to the monks.
We have one last chance to go into town tomorrow to see the Almsgiving, but I think what we saw today was special. There are signs all around town about how to act during the rituals and how you shouldn't try to touch a monk or take pictures while you give them food (why would people even try to do that?). I think if I saw tourists acting stupid it would annoy me. Laotian people are very polite and don't seem to actively get upset if someone is breaking the rules, they just put signs up and hope people will follow them. Apparently it's gotten so bad with some tourists that the government is considering ending the traditional ritual in the city centre. That would be a shame if they did that. I think they just need to rope off the area so people don't go so close to the monks and not let tourists participate in the Almsgiving.
After our eventful morning, we went back to sleep for a couple more hours then went for breakfast. Today there wasn't any hot foods and no eggs were available. It seemed like there was no chef in the kitchen today, which was fine. I think since it's down season, there's less than 20 people staying in our hotel as it seems fairly dead. We ate some fruits and then made our way into town. We were planning on finding a tuk tuk to take us to Kuang Si Falls.
We had to cross the Old Bridge again. I know in my last post I said I wouldn't cross it again but I did. I didn't want to pay 5,000 LAK to go over the Bamboo Bridge so I sucked it up and crossed it. As we were crossing, a bunch of young boys happily passed by us. It helped seeing that they weren't scared at all.
As we walked towards the city centre, we came across tuk tuks along the way all asking if we wanted to go to Kuang Si (of course today we did!). We asked how much and bargained them down to 150,000 LAK = $24 CAD which is the going rate for a private ride there and back (with a 2.5 hour visit). We got into the tuk tuk and made our way to Kuang Si, which was about 40 minutes from the city.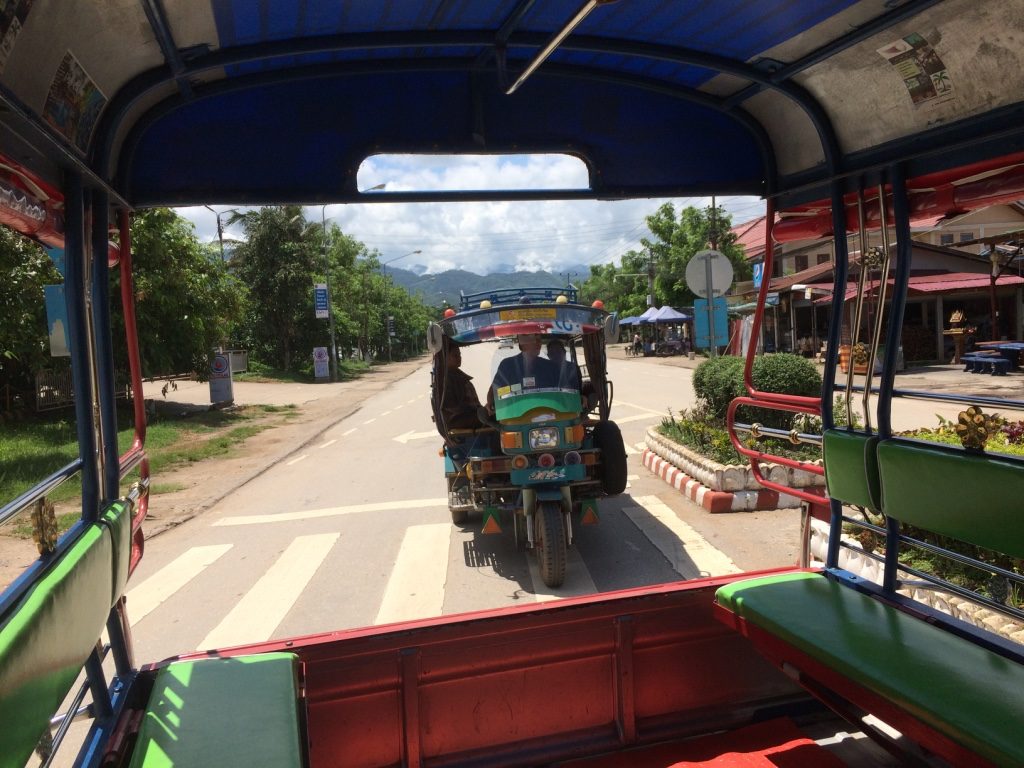 Once we arrived at the falls, we had about 2.5 hours before we had to come back to the tuk tuk. The entrance fee was 20,000 LAK = $3.18 CAD pp. On the trail to the falls, there's an Asiatic bear rescue area that houses about 10 bears that have been rescued in Laos. Unfortunately, bears are killed in Laos for their bile which is a key ingredient in a lot of traditional medicine, so organizations like this are trying to save them. The bears were cute and different from the bears we have in North America.
We started at the base of the falls, which is where you can go swimming. 95% of people swimming were all tourists. There were a lot of locals at the falls too since it was Saturday, but they were all there for picnicking. We didn't bring our swimsuits with us because I read there are a lot of leeches in the water and that freaked me out. I just wanted to dip my feet in the water. The water was pretty cold but felt so good at the same time since I was sweating like crazy. The path way up to the falls was also very muddy and slippery so dipping my feet into the water was more to clean my flip flops off.
The falls themselves were very beautiful. My favourite area was half way up the mountain before we got to the main falls. There were smaller pools that feed into each other and I thought it was so beautiful. It also helped that this area was not a swimming area.
Behind the main falls, there were stairs that went up to the fall's origin basin. At first we weren't going to go up because we were wearing flip flops and the path wasn't very easy to climb – it was fairly steep and muddy. Since we still had about an hour and a half, we decided to do it. We hiked up for about 30 minutes and got to the top. There was only a view of the mountain ranges and not of the waterfall, which was pretty disappointing. I knew going back down would be more challenging since it was so slippery. Sure enough, I fell and slide down a portion of a hill. Luckily I didn't twist my ankle and it was just a straight slide down on my bum. Thank goodness for the fresh water, I cleaned my legs and feet off on the way down.
Kuang Si Falls is one of the main attractions when visiting Luang Prabang and I can see why. You can easily spend a whole afternoon there hanging out in the water. The water did look very inviting, especially after our hike up and down the mountain. We went back to our tuk tuk driver and headed back into town.
For lunch we found a place on the main street that was pretty well priced. Tim wanted to try Laotian kao soy because it was his favourite dish while we were in Thailand so he wanted to compare the two. I ordered fried noodles with chicken and vegetables. Both dishes were good. My noodles were noodles that I've never had before. They were really wide and flat pieces of rice noodle with scrambled eggs inside. It was Laos homestyle cooking and each of our dishes were only 15,000 LAK = $2.38 CAD each.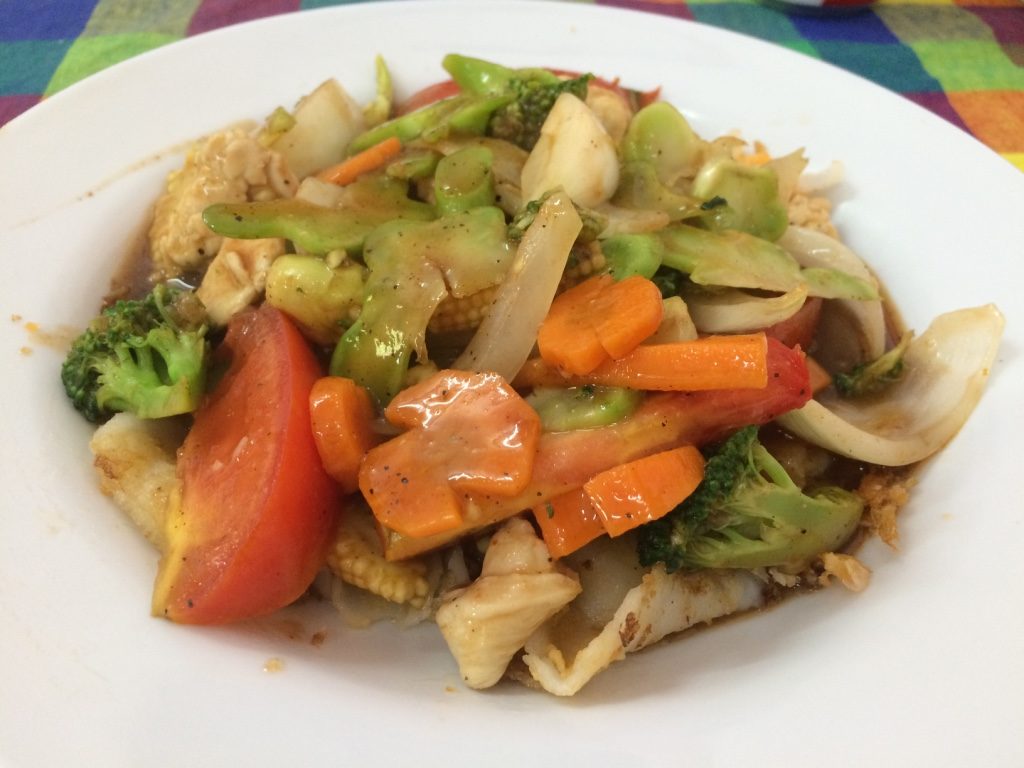 After lunch, while walking down the street, we saw store vendors all getting ice cream from a lady pushing her cart down the street. We went to see what she had to offer and it looked really good. It was a "Laos Sundae" with scoops of taro and coconut ice cream, tapioca, coconut meat, and some jelly. It was really delicious and was perfect for a hot afternoon, and it was only 5,000 LAK = $0.80 CAD.
After lunch we walked back to our hotel (over the Old Bridge!!). We wanted to go back, clean up a bit, and book our hotel in Vientiane. The internet at this hotel was pretty bad, so it had been hard to research much or keep up with blog posts. We spent about half an hour booking the hotel and then rushing out to catch the 5pm shuttle into town since I didn't want to cross the Old Bridge again.
When we got back into town, we walked down the a French bakery that was supposed to have the best croissants in town. The bakery was called Le Banneton and has a lot of delicious looking pastries, quiches, and crepes. I found out after that there's also a location in Vientiane and it's supposed to be the best French bakery in Laos. I got a plain croissant to go for 9,000 LAK = $1.45 CAD.
We went back to our smoothie lady from yesterday and we each got a smoothie (lemon and mango) and sat down for a bit. Same routine as yesterday. I sat and watched people eat at the satay stall. Since we wanted to catch the 7pm shuttle back to the hotel, we only had about an hour before we had to go back to the pick up area.
We walked down the block towards the night market again and looked to buy a Lao blanket. Some of the stalls had signs and stickers on their blankets and scarves that said they were hand made in Luang Prabang, which worked on us. Seeing how Laotians are, I wouldn't think they would actually put that sign up unless it were true, which is why only some stalls had them. Laos has numerous ethnic groups and you can see it in the merchandise that is sold.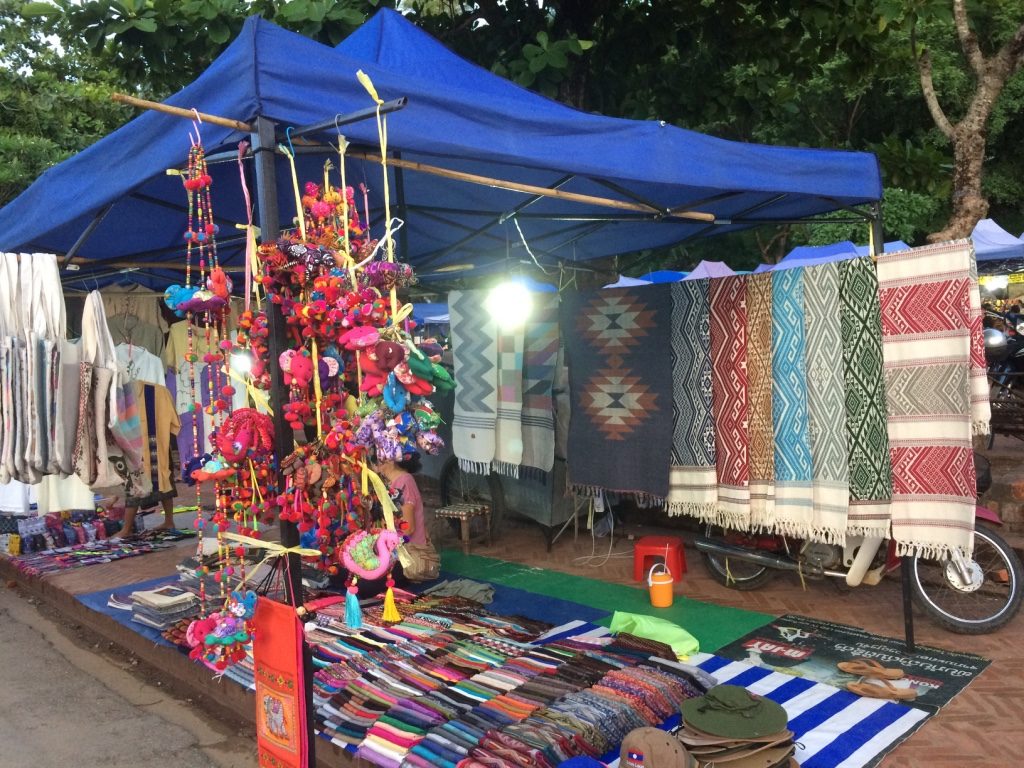 After we got the blanket we wanted, we headed down to the BBQ stall we went to yesterday for dinner. We ordered a pork belly, chicken skin, and chicken thigh. Our dinner with two drinks came out to be 49,000 LAK = $7.80 CAD. We really enjoyed eating Lao BBQ, maybe we'll find some in Vientiane.
We walked through the market again and then took the free shuttle back to the hotel for an early night. Lucky we went back when we did because it started to pour really hard and we heard some pretty serious thunder. Later on in the evening as we were watching TV, we heard a really loud crack and all of a sudden the power went out. Less than a second later, the loudest thunder we'd ever heard shook the entire room. It was very dramatic. I've never been so close to lightning before. Within a few minutes the power went back on, but the internet stopped working (Tim: And was still down throughout the resort when we checked out and left the next day).
We'll be flying to Vientiane tomorrow to explore another Lao city. Hopefully their internet will be better so we can start booking more hotels for upcoming cities.
Steps today: 20,000