April 13, 2016
Today's plan was to go to Kyoto for the day to do a bit of sightseeing and meet up with one of Tim's friends from Vancouver, William, who is also visiting Japan and has been in Kyoto for about two weeks.
Out of everywhere we've been to in Japan so far, Kyoto has the most tourist attractions (mostly temples and shrines). You could easily spend weeks there going to each sight at a leisurely pace. While doing a bit of research on what to see in Kyoto, I really only wanted to see two sights: Arashiyama Bamboo Forest and Fushimi-Inari-Taisha.
We took the JR train from Osaka Station to Kyoto Station, which took about 20 minutes. I didn't realize Kyoto and Osaka were that close, it's like taking the skytrain to Burnaby. Kyoto Station is large and bustling with hundreds of tourists. We decided to grab lunch before heading to Arashiyama. After looking through all the restaurants on the basement level of the station, we decided to just get something quick and easy at Lotteria. We thought that we could have a cheaper lunch since we would likely have a bigger dinner when meeting up with William.
After lunch we took another JR local train to Arashiyama to visit the Bamboo Forest. I've always seen pictures of it online and thought it looked so mystical. When we arrived, it was very crowded in the main area and it was hard to get a good picture of just the bamboo or a pathway with no one around, which obviously detracted from the mystical nature of the forest. We were able to get some better shots around the pathway, but it was less dense in that area. I was a bit underwhelmed by the forest overall as I think I had it hyped up in my head. Don't get me wrong, the forest is very nice but I think my expectations were very high. While walking through the pathways, you could see the bamboo starting to sway in the wind, which was neat. The signs around the forest said to be quiet so you could hear the bamboo sway in the wind, but it was hard to hear with so many Mainlanders around.
After spending some time in the forest we walked back towards the Arashiyama train station and headed back to Kyoto Station. The two sights I wanted to see happen to be on opposite ends of town. This was okay though because we were able to go back to Kyoto Station and try a green tea soft serve that was highly recommended by William.
When we got back to Kyoto Station, we went straight to the ice cream place. We shared a twist cone (vanilla and green tea) and it came with sweet red bean and mochi balls. This was totally worth our trip back to Kyoto Station.
After our delicious waffle cone, we caught another JR train towards Fushimi-Inari-Taisha. This the number one sight in Kyoto, according to Trip Advisor, and one of the most photographed places. When we arrived at the entrance, like many other tourist sights in Japan, it was packed with tour groups. I read on Conde Naste Traveler that Japan wants to double the number of tourists from 20 million a year to 40 million by 2020. I already think it's too crazy in the tourist areas.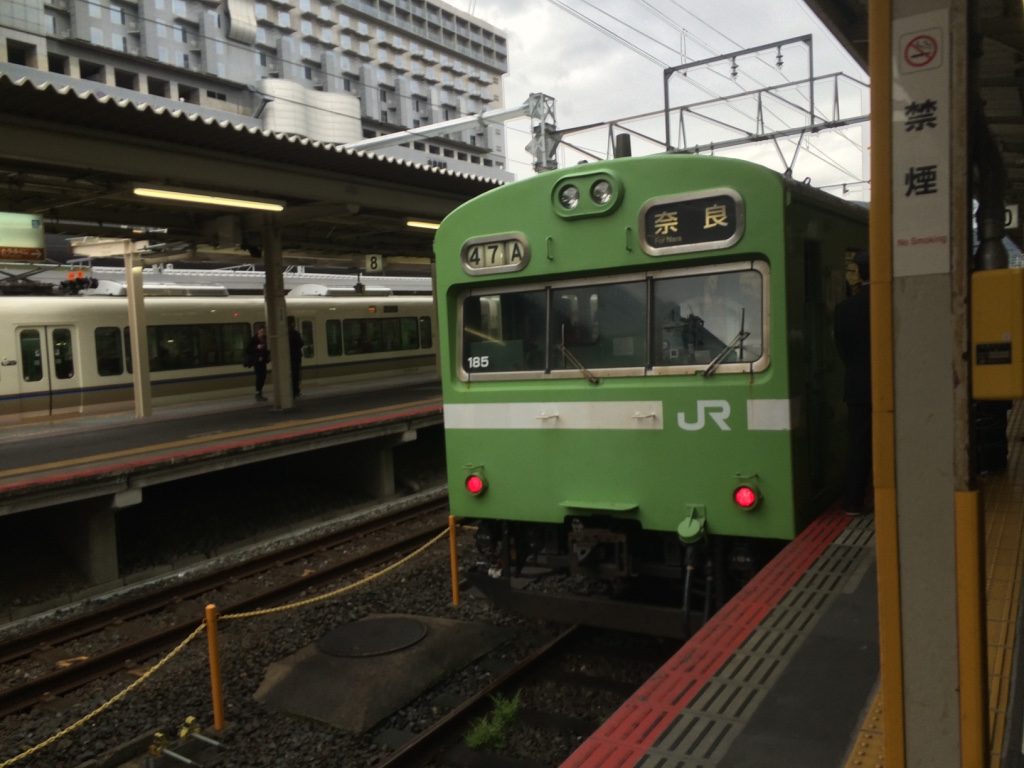 We started along the pathway under all the red torii gates and aimed to make it to the top of Mount Inari. As soon as we began to walk, about every few seconds people in front of us would stop to take pictures, which made the walk a bit annoying. Like the Bamboo Forest, it was hard to get a picture without anyone in the background (Tim: but we're sharing pictures without anyone in the background anyways). Since we planned to walk up to the top, Tim was right in thinking that if we walked even about 10 minutes from the entrance there will be less tourists (Tim: especially since it's uphill). I think most people, especially those on a tour bus, only have time to go to the first section of the torii gates, take their pictures and turn around. I'm glad we walked up the whole mountain to get some peace and quiet and to see some nice views of Kyoto.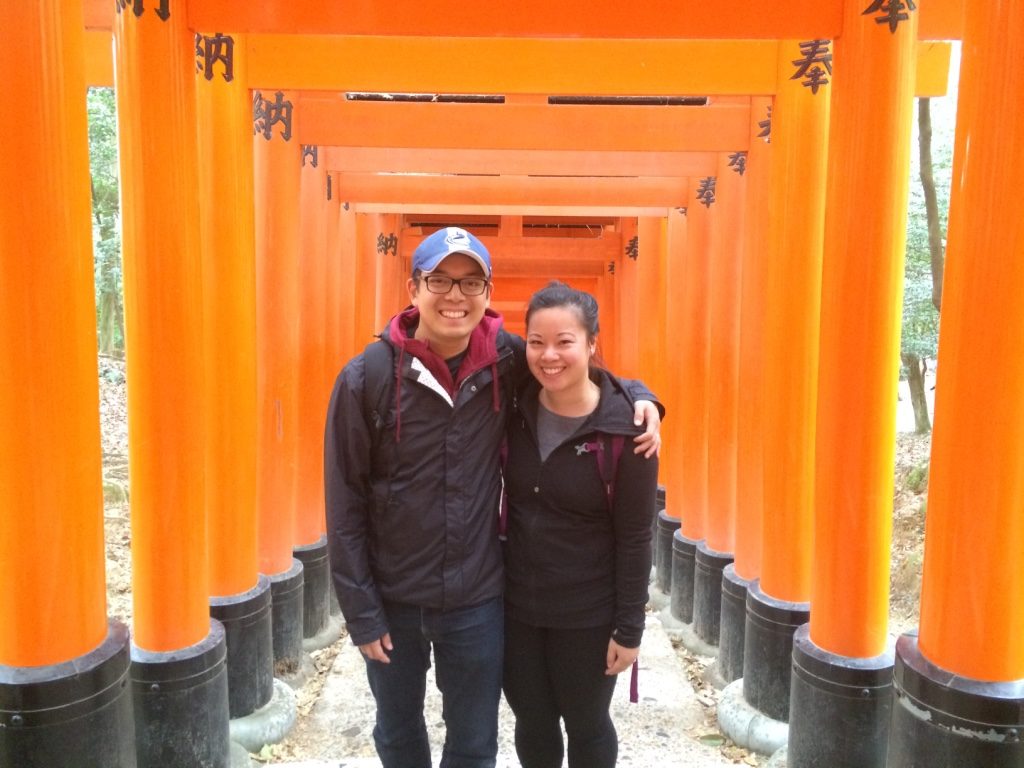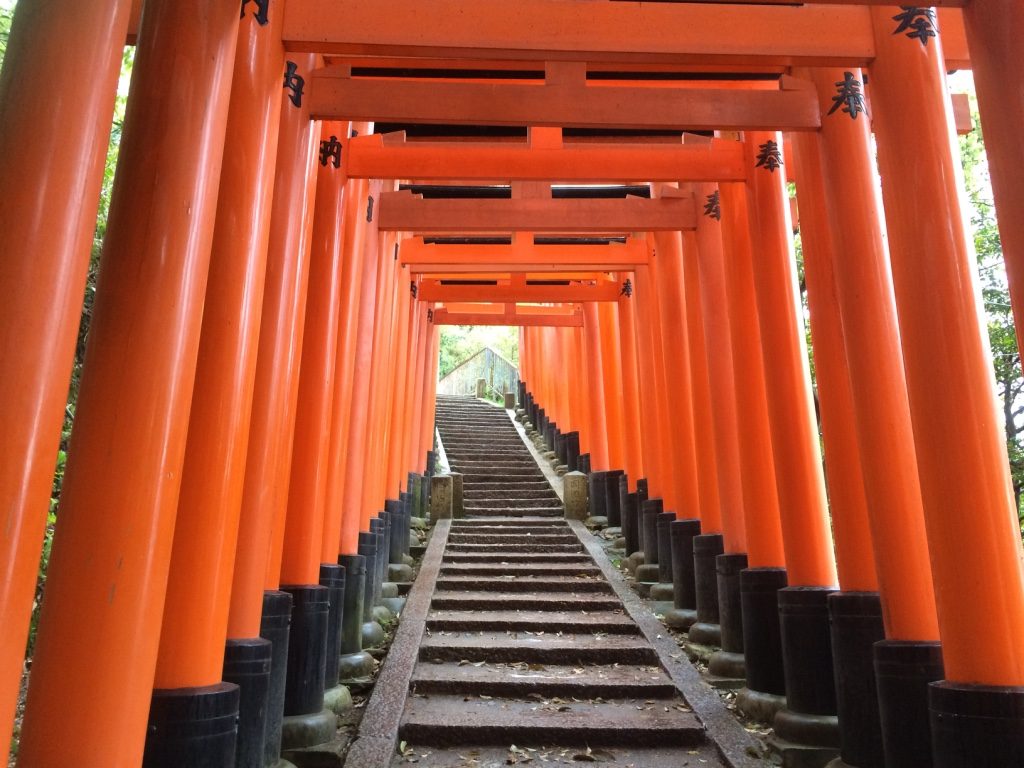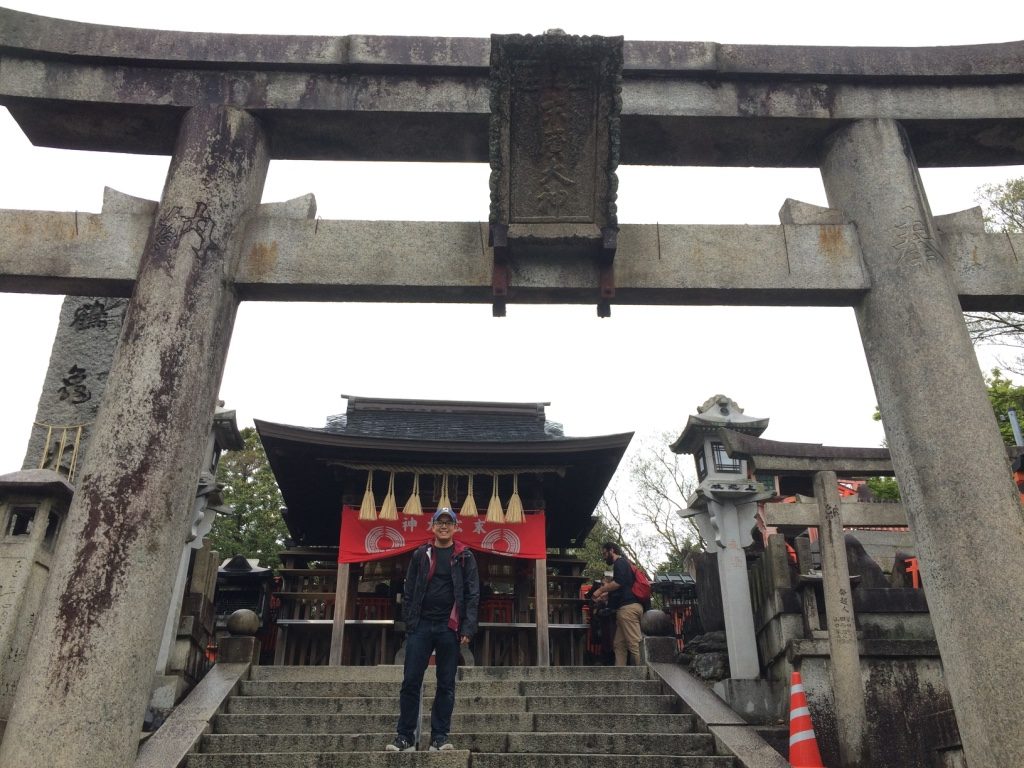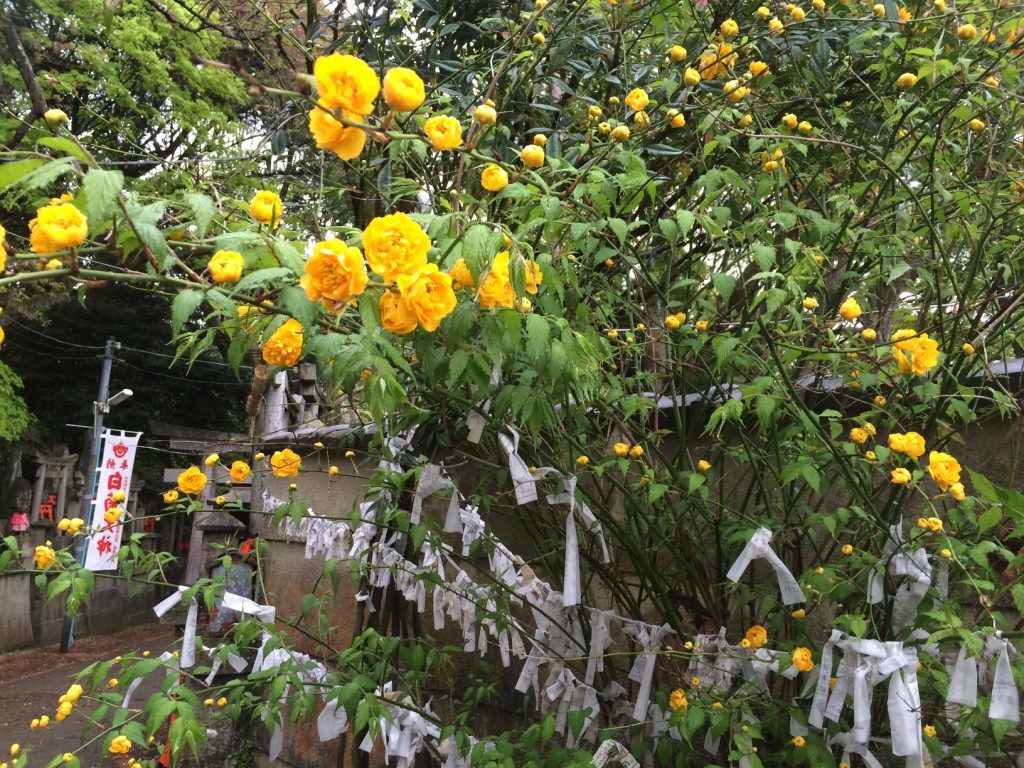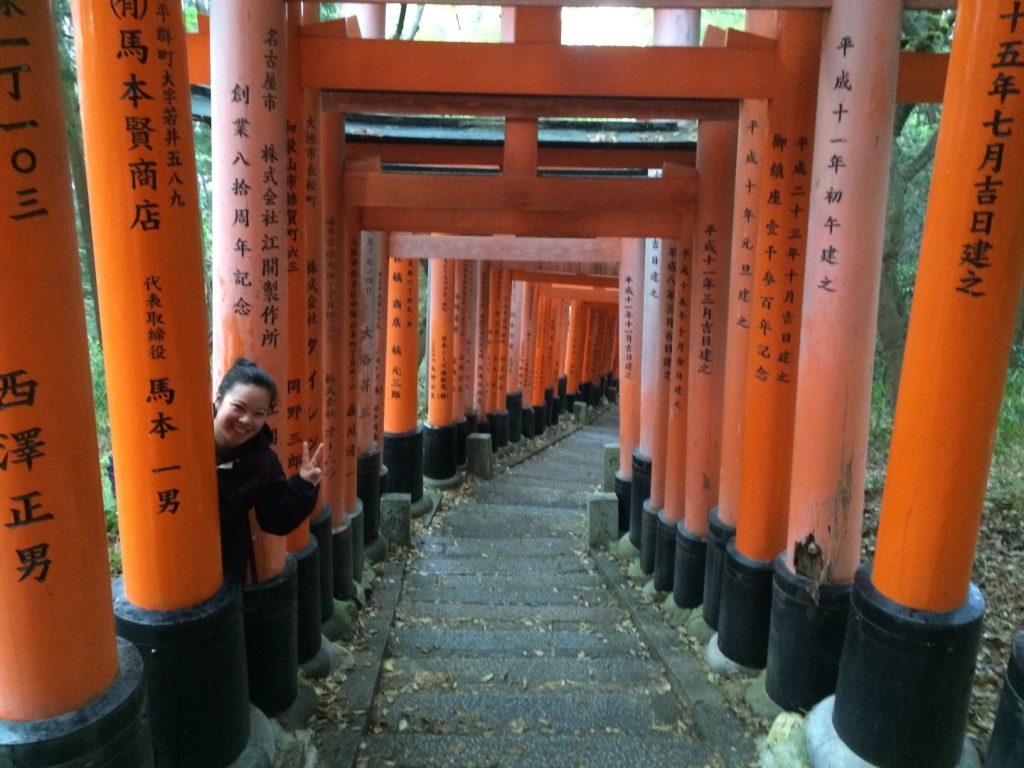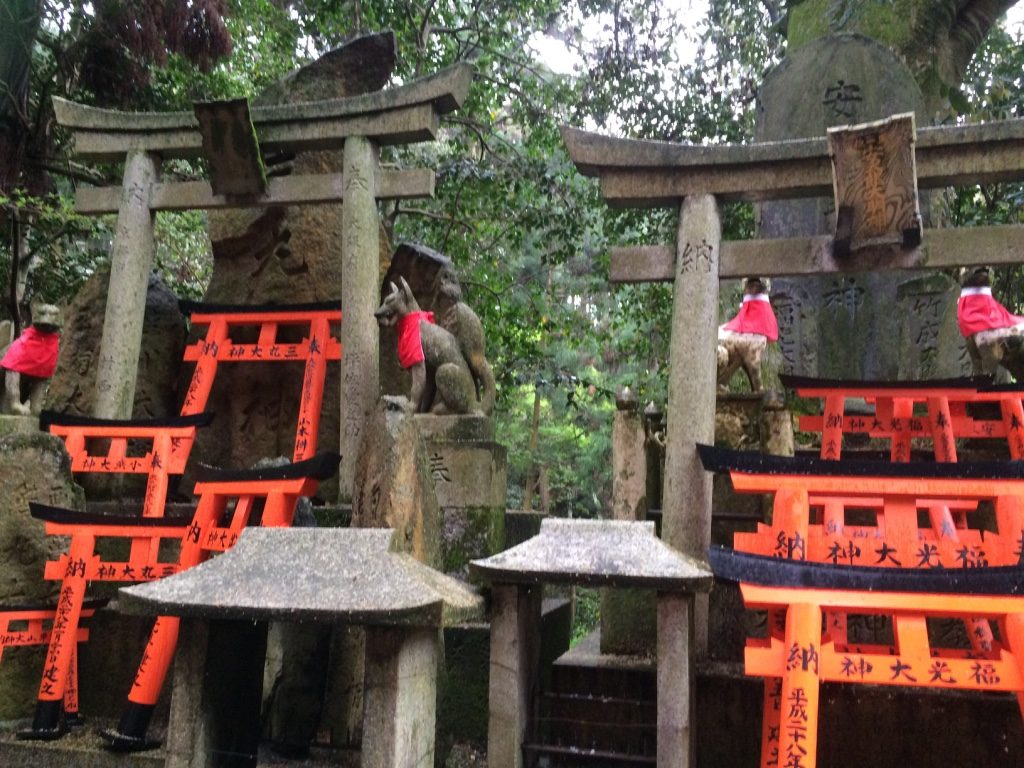 We spent about an hour and half at Fushimi Inari enjoying the peace and quiet (and very fresh air). It rained a bit while we walked up (quite hard at some points) so we had to wear our rain jackets and luckily we brought our umbrella or else we would have gotten drenched (Tim: lucky in the sense that we looked at the weather forecast and planned accordingly). But since we were walking up hill for about 45 minutes, we were both really warm/sweaty.
We made our way back to the train station to catch the subway to the Gion area to meet William for dinner. We ended up getting there a bit early so we walked around Nishiki Market. Since we got there around 6pm and the market is mainly food, more than half the stalls were closed for the day (Tim: We had similar issues in Korea, where we really got used to "Markets" being "Night Markets" in Taiwan, and had to get used to the fact that typical markets are actually early in the morning or day time affairs).
When we met William, we decided to go for an izakaya type place. It was more casual and the type of izakaya we were hoping to have with Mable and Keith in Osaka the day before (not a fancy place). William mentioned the izakaya was a chain from Nagoya and are most known for their pepper fried chicken wings. Knowing us, you know we both love fried chicken, so he didn't need to convince us any more.
The izakaya is called Yamachan and is in a basement on one of the major shopping streets in Kyoto. I'm happy we met William for dinner, as he knew where to go and showed us places that we would have likely passed by. We got a table in the non-smoking section of the restaurant. Being from Vancouver, where you can't even smoke a few feet away from any building entrance, it's a bit foreign to me (still) that you can smoke inside restaurants in Japan (Tim: the key to a long life?).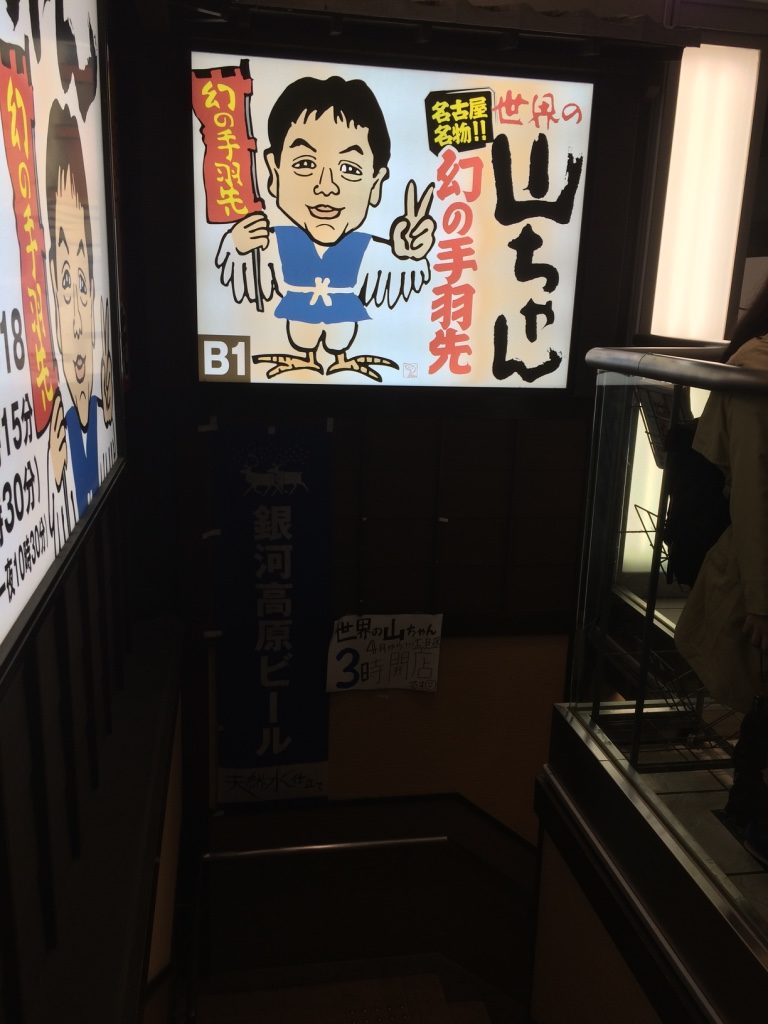 This was probably one of my favourite and most satisfying meals in Japan. The food was good, prices were very attractive and the atmosphere of the izakaya was casual and friendly. We ordered 14 dishes, 4 orders of wings and 4 drinks (2 of them alcoholic) for 8,866 JPY = $104 CAD ($35 CAD per person). This is about the same price I would expect to pay per person at Guu in Vancouver (an izakaya restaurant) but we got probably double the amount of food I would expect to get back at home. The food came as it was cooked, so it was hard to get pictures of everything since it would often come one at a time. That and I think I was too hungry to care about taking photos of every dish.
After dinner, we decided to walk around the Gion area, which is Kyoto's most famous geisha district. When we got out of the restaurant, the rain was coming down really hard. Luckily, along the shopping area in Kyoto, you can walk undercover all the way until you get to an intersection. The awnings cover the entire sidewalk, which was perfect for a night like tonight.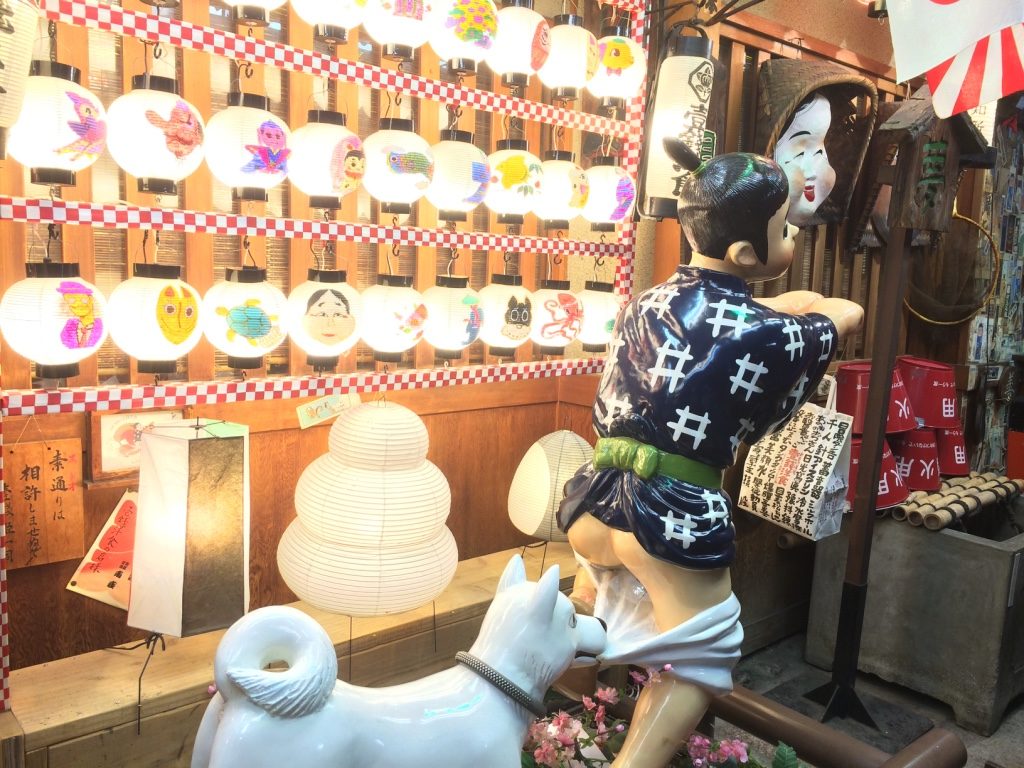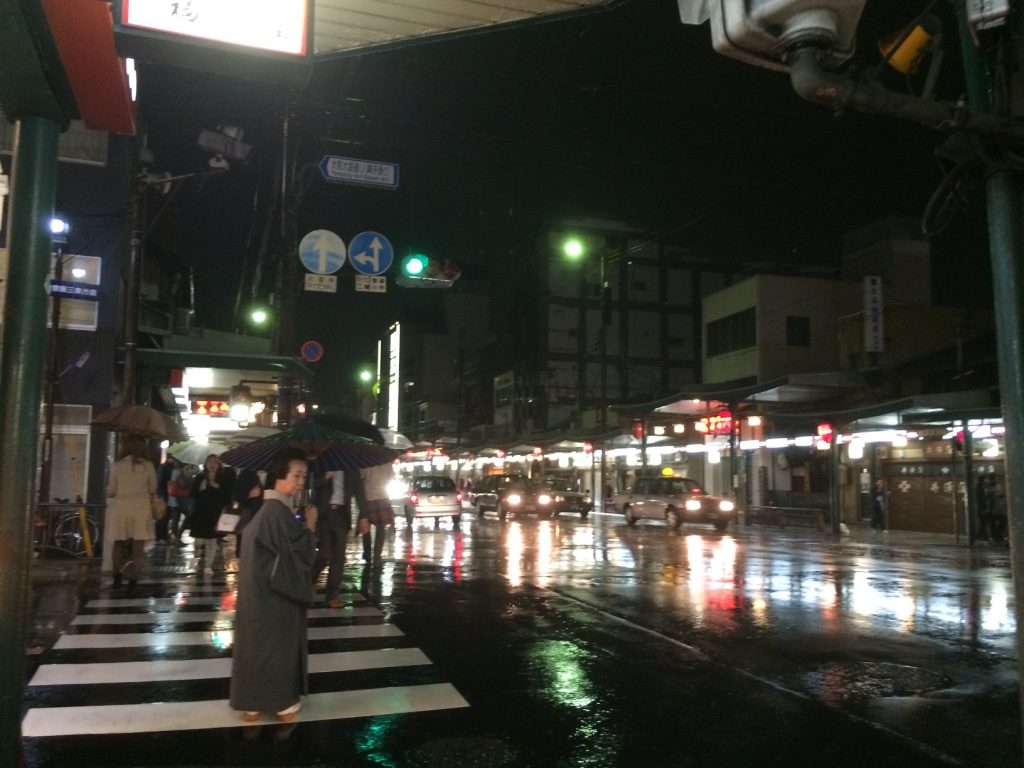 It was around 9pm and most of the stores leading up to Gion were closed. When we go to the Gion area, we saw five different geisha being dropped off by taxis and rushing into restaurants to meet their clients. I felt like a paparazzi trying to get photos of them as they hurried down the street with their umbrellas. Considering they are wearing traditional Japanese wooden sandals, they walk really quickly. A common western misconception is that geishas are escorts/prostitutes. But a traditional geisha is just hired to accompany male clients to dinner, serve them food and entertain them in some way (singing and/or dancing). I know, it sounds a bit weird.
It was getting late and raining harder, so we decided to head back to Osaka. We said our goodbyes to William and said we'd probably see him again either in Osaka (if he ends up coming down on Friday) or Tokyo (as we have overlap with him there as well).
We made our back to our hotel after a relatively long day out and about. I always fall asleep on trains, which is good, it makes the train rides go really quickly. I think I was just really tired from the day, so it felt heavenly washing up and getting into a nice cozy bed.
Steps for today: 32,000