March 6, 2016
Today we planned on heading south to Taichung in the early afternoon. We still woke up really early at 5:30am (I'm always the first to get up) so we started to pack up our things and clean up the apartment before we left for the week.
It was early and we wanted breakfast, guess where we went? Back to 永和豆漿大王 (King of Soy Milk).  We've been there three times on this trip so far but it's been both of our favourite meals of the day and it's within a 10 minute walk from the apartment!  I know there's supposedly a better place for breakfast in Taipei called, Fu Hang Dou Jiang, but it's farther away and would require riding the MRT or walking 55 minutes (it wouldn't have the same neighbourhood feel to it) (Tim: I'm also not convinced Fu Hang Dou Jiang could possibly be so much better that it justifies taking transit and lining up for it. I think sometimes people are just obsessed with having whatever is "the best" without concern for what marginal difference the best is actually better by, and at what additional cost you incur to have "the best"… I fall victim to this sometimes too). We'll try it out eventually but for now, we're feeling like the King of Soy Milk is our go to breakfast joint while staying in the area. We can't wait for my sister and Noel to come, it's 24 hours and their flight from Vancouver arrives at 5:30am, so we know where we'll be going.
I was going to post a picture of what we ate, but I realize I didn't take any pictures today.  I guess we are transitioning into becoming more like locals.  But I guess that's wishful thinking, we both scream tourist when you look at us.  Tim has a Vancouver Canucks t-shirt on and I'm wearing yoga/gym wear with a backpack 90% of the time.
We made our way to Taipei Main Station to catch our train to Taichung, which is about 175km south of Taipei. We took the regular (express) train versus the high speed "bullet" train to save some money and the location of the regular train stations are usually right in the city and the high speed train stations are usually at the edge of town. The tickets were 375 NT = $15.50 per person and the train ride was just under two hours.
When we bought our tickets from the machine, we were assigned seats and the only ones left weren't together, but were close to each other on aisles.  I was seated next to a 50-60 year old man and Tim was sitting next to a 20 something year old girl.  My row mate fell asleep as soon as he sat down and was snoring the whole way.  I decided to join him (I don't know if was snoring, but if I was he was probably overshadowing me).
We arrived at Taichung Main Station and immediately saw our hotel from the platform, which made it easy to find.  We're staying at the "CityInn Hotel Plus Taichung Station Branch" for the night.  The location is perfect for us since we'll be leaving tomorrow for Kaohsiung. The room is small but clean, staff is friendly, they provide free bottled water and snacks in the room and even have free laundry machines to use downstairs.  If Tim didn't already do some laundry yesterday, this would be perfect for us!
After checking in, we walked down the block around the hotel and saw there were a lot of food and bubble tea options.  We decided to have ramen at this place that translates to "One Heart Ramen". It was a recommendation in Taipei by our Airbnb host but we saw it here so we decided to give it a try.  Tim loves ramen (Tim: Sort of… I love noodle soup, and I love pork fat, so ramen is often a good fit… But in the world of noodle soup, it's top 5, maybe top 3… "love" might be too strong a word) so this was a good late lunch option. The ramen was good but not amazing, Tim drank both all our soups still.
We got our bearings and narrowed down what we wanted to do here. We decided to check out Miyahara (Daniel's suggestion) and Fengjia Night Market, which got glowing reviews on Trip Advisor.  When we googled where the night market was in relation to our hotel, it was 7.5 km away or an hour and a half walk.  Taichung doesn't have a very good transit system – there's no MRT here, just local buses. We decided to just walk to the night market and just see the city on the way there.
The streets outside the front of the train station (our hotel is at the back of it) was crazy busy.  The sidewalks were congested and there were people sprawled all over the open spaces loitering. It felt like we were in SE Asia, which was a very different vibe from Taipei. But as we got further and further from the train station, the streets were much quieter, sometimes a bit eerily quiet.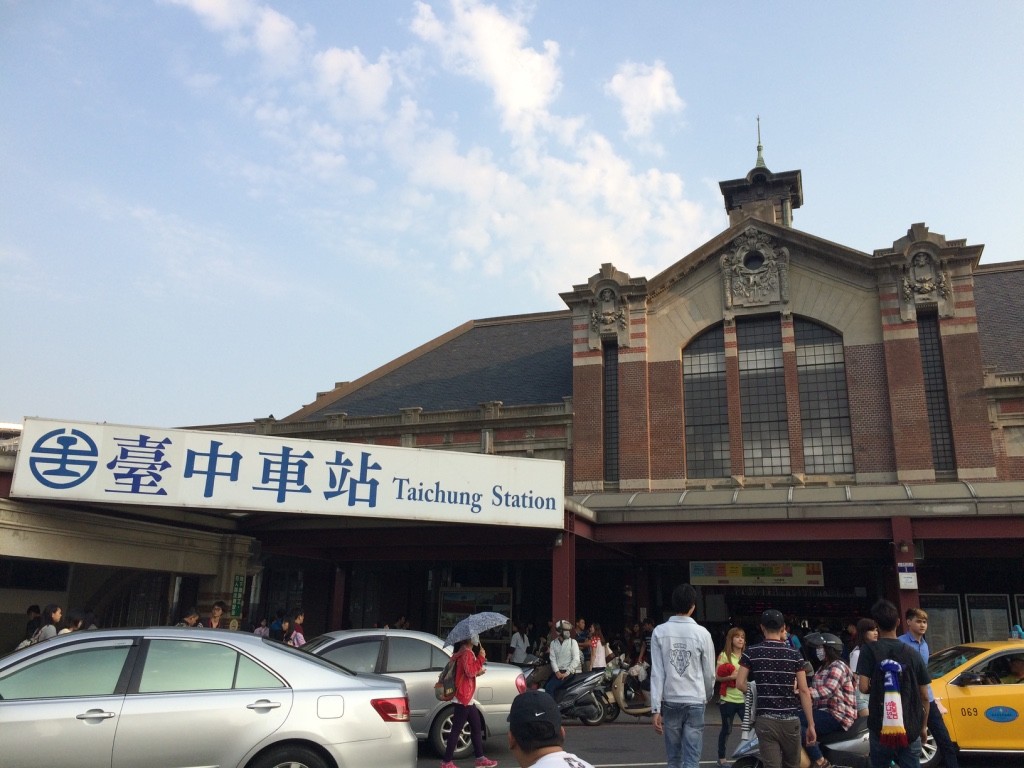 Our first stop was the store, Miyahara.  This store was recommended to us by our friend, Daniel.  It's such a nice looking store with lots of yummy things to buy (pineapple cake, cheesecake, chocolate, jellies, tea).  We'll likely go back tomorrow morning to buy a few things to try and to send back home.  I love all the packaging, it's so pretty!  The busiest part of the store was their ice cream parlour.  They're known for making crazy sundaes, maybe we'll try one tomorrow.  They had like eight different chocolate ice creams – based on cocoa percentages.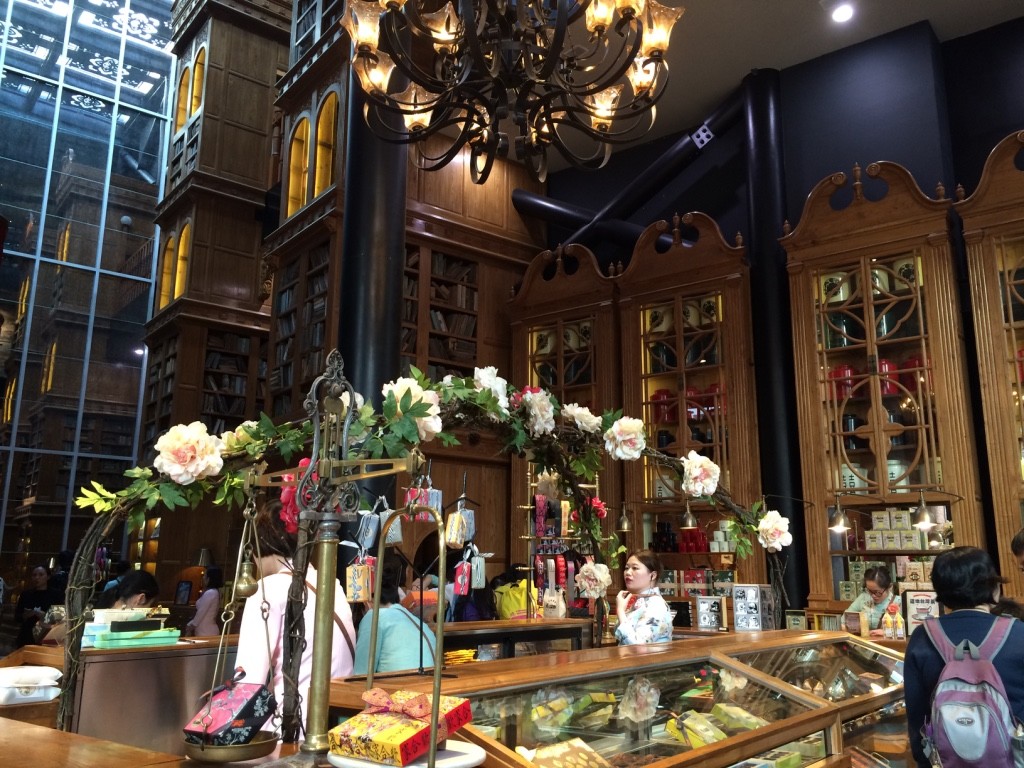 After Miyahara, we walked in the direction of the night market. Taichung has a different feel from Taipei, a bit older and more rough around the edges. I was more scared for my life while crossing the street than I was in Taipei.  We even saw our first scooter and car collision (well, the aftermath).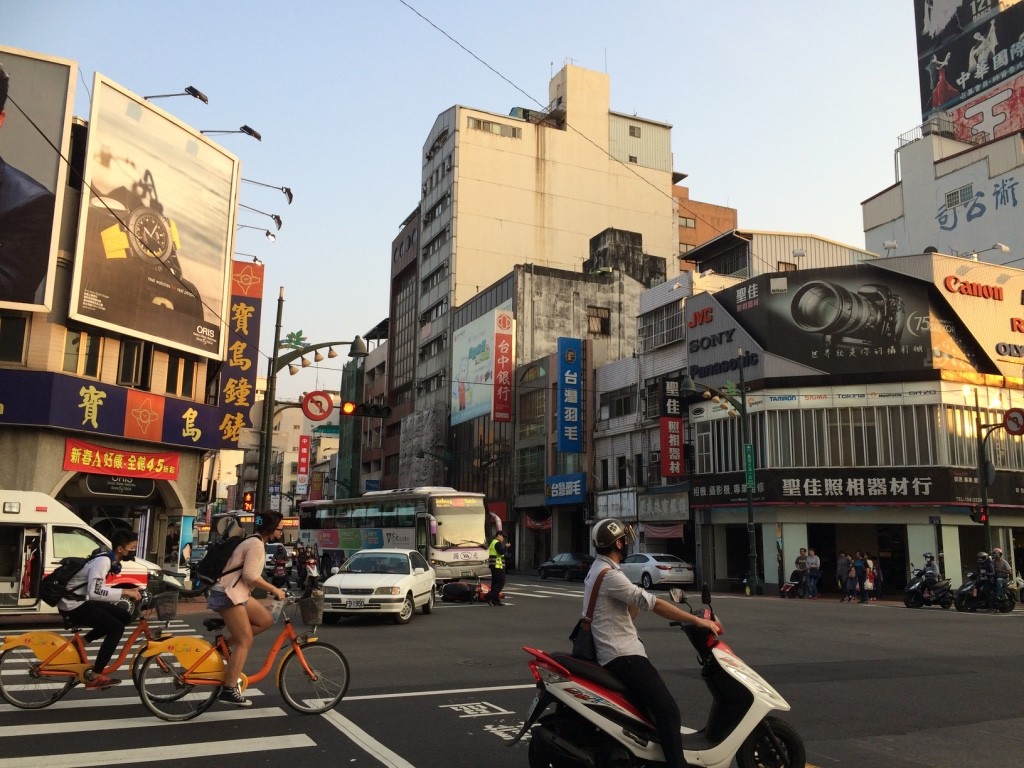 While walking along Taiwan Boulevard (for an hour), we noticed there were a ton of pineapple cake shops and wedding shops.  Actually, the wedding stores dominated.  They weren't just all clustered together (although some were), but they were throughout the whole city.  I guess the wedding industry is hot in Taichung!  I'll just share some pictures of what we saw along the way.
After passing by these monkeys we were more than half way to the night market.  Thank goodness!
The first thing we wanted was something to drink.  We had finished all the water in our backpacks on the way there (Tim: actually we had 1.5 full bottles still, Kaitlyn just wanted a fancier drink). We saw a whole street full of bubble tea shops in a row. So many choices! I read that Taichung was the birth place of bubble tea, which is also why I like Taichung.  The prices for food and beverages are a bit cheaper than Taipei. We decided to get a passion fruit "QQ" drink (it had pearls, coconut jelly as well as passion fruit seeds).  It was super refreshing, we sat down for the first time and it felt good.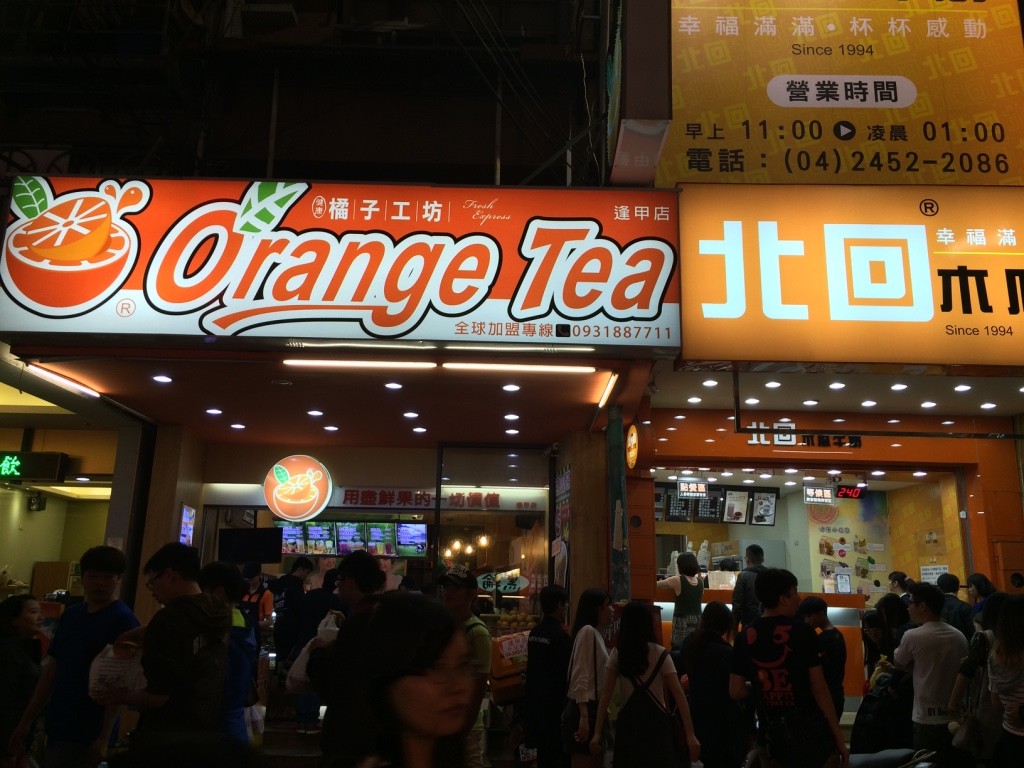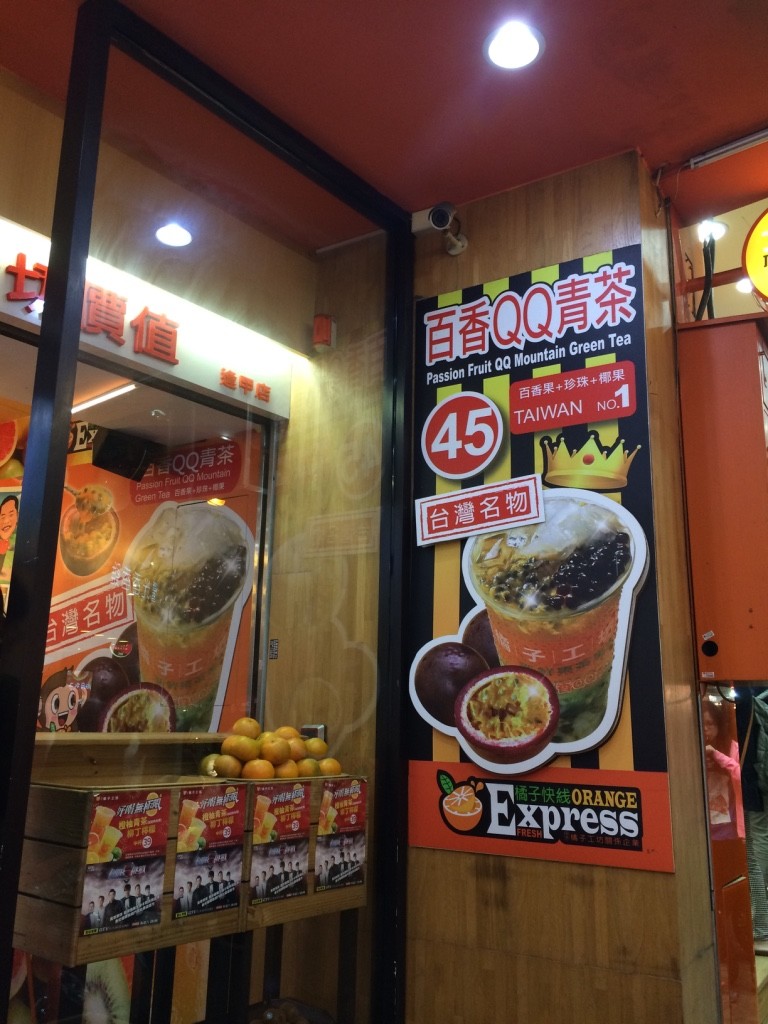 After we rested for a few minutes and devoured the bubble tea, we headed out into the crowds.  The Fengjia night market is right beside Feng Chia University, so the crowds were definitely very young.  At first glance while walking through rows and rows of food stalls, we noticed there was more selection and more appetizing looking food than what we saw in the last few night markets we've been to.  Basically anywhere with a long line up we wanted to try (Tim: Kaitlyn wanted to try. I prefer no lineups).  But going to a night market with just the two of us isn't ideal because we could only eat so much. We saw a long line up for this chicken place and decided to try it out. Not only did it have a long line up, but they had a TV screen blaring footage of the stand from local channels and testimonials from customers.
We didn't know exactly how they were preparing it, but it looked good and the university students seemed to love it.  We ordered the cheaper of the two options, not sure what the 85 NT option was.  Tim said he would figure it out when we got back to the hotel when he google translated.
When we got the chicken, it wasn't deep fried, which was actually surprising (Tim: Actually it was deep fried, just not battered). It wasn't what we had thought it would be but when we tasted it was pretty darn good.  Both of us don't like white meat, but this was different.  It's hard to describe and the picture doesn't do it any justice – actually the picture makes it look not that appetizing.  The stall owner was a very nice chubbier man, he asked if we were from Hong Kong and then we told him we were from Canada. He thanked us coming to try his chicken.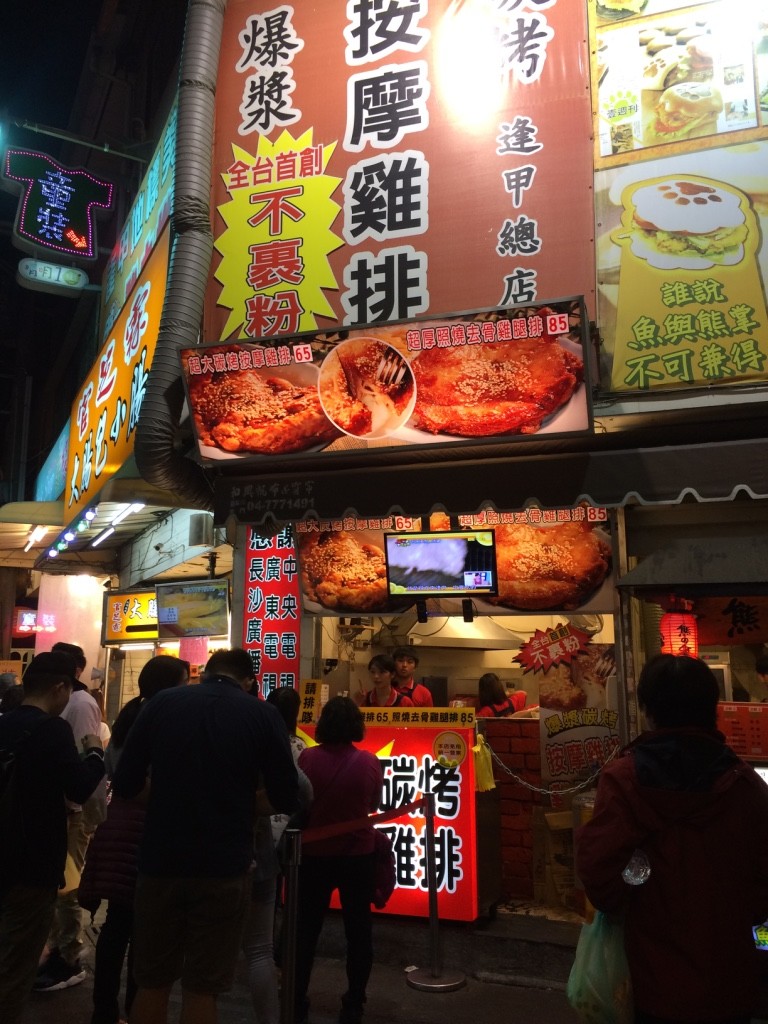 After eating the chicken, we both looked at each other and we were full. Night market fail, we only got to try one thing! Behind the chicken stall was a gua bao (Taiwanese "burger") stall, which is Tim's favourite. The stall didn't have any line up but Tim wanted to try one any way.  Having no line up at a night market has been pretty accurate so far in terms of if the food is good or not.  The gua bao wasn't bad, but it wasn't good mostly due to the fact that the fatty pork belly in it, wasn't pork belly at all, it was just slices of pork (Okay, so maybe short lines > no lines > long lines).
We walked around some more and I finally got to try the candied fruit on a skewer.  The stall for this at this night market looked legit.  It, along with most of the popular stalls had pictures of happy customers, write ups in newspapers, and TV appearances.  This one also had a long line, so I decided if I'm going to have it, may as well be from here.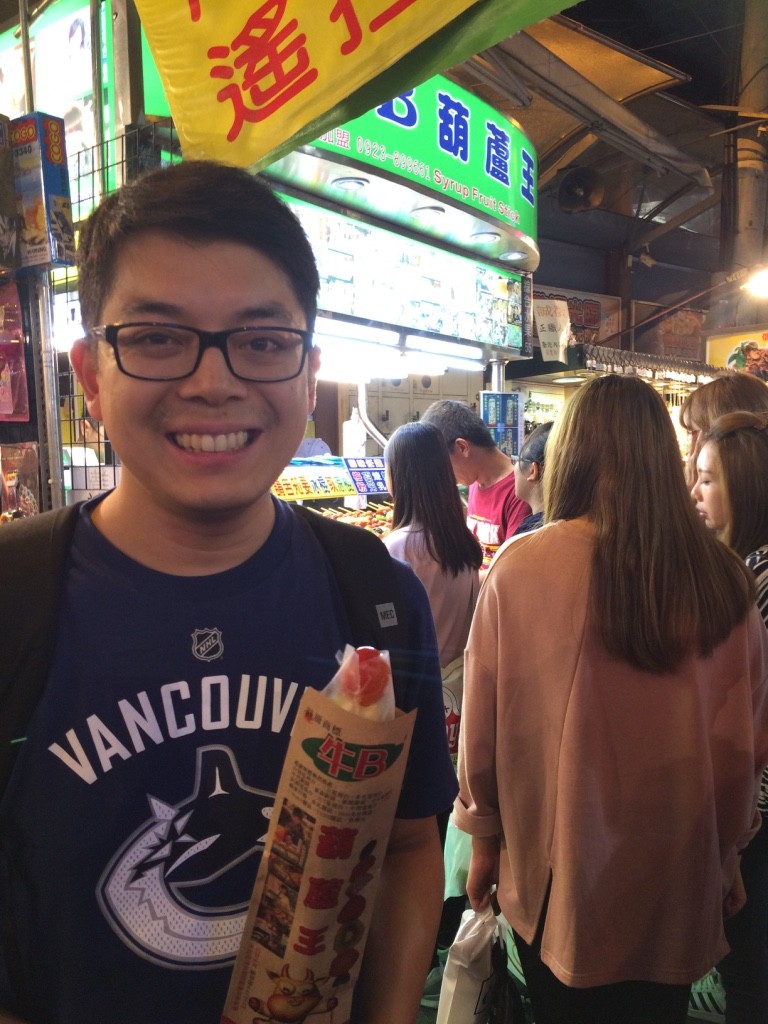 We didn't really try any other food because we were full from that chicken. I really wanted something refreshing and we past by a watermelon juice stall. Watermelon is my favourite fruit so this was a perfect way to end the night.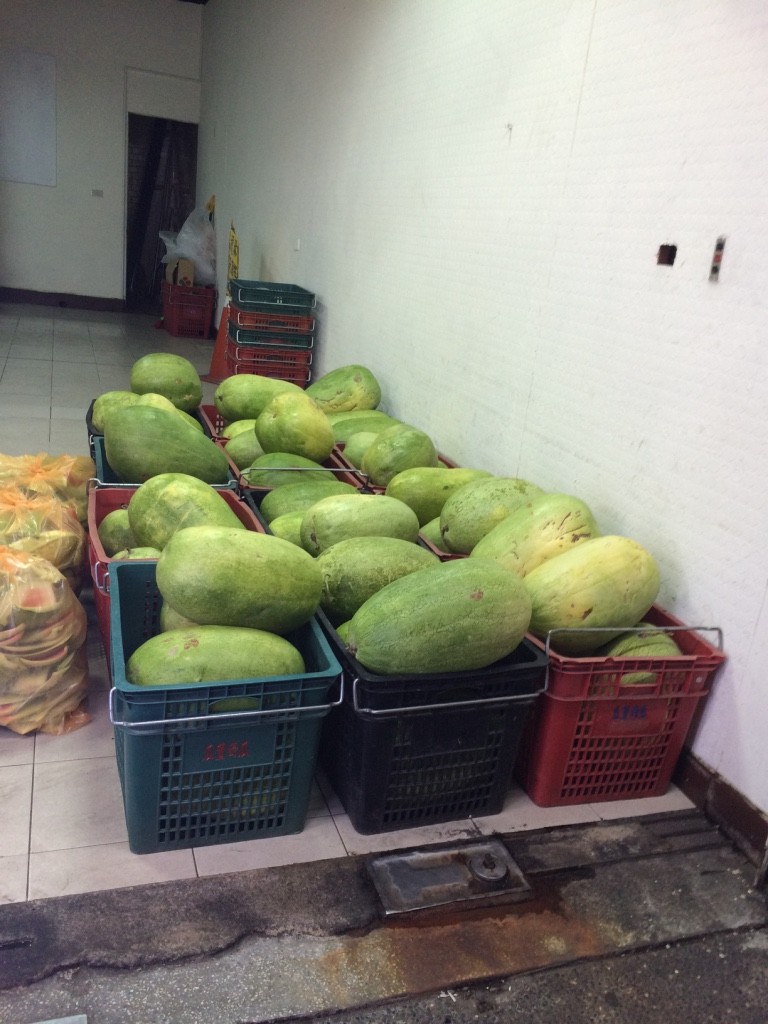 At this point we were fading and our legs hurt.  We found a bus that would go back to the train station.  The bus was packed with university students and it took about 45 minutes.  We stood the whole way which was a bit painful for me and we realized how much we walked.  We finally got off the train and couldn't wait to wash up and get back to the hotel.
Our total steps today were 25,500.  This wasn't close to the 44,000 from the other day, but considering we weren't doing too much walking until later afternoon, it definitely felt worse.
Tomorrow we're going to pack up, make a stop at Miyahara before getting back on to the train and heading down to Kaohsiung.  We booked a hotel last night for $55 CAD on Expedia, good location and decent reviews. We were debating between staying one or two nights there because we were waiting to hear if Tim's relatives would be in Taitung and Hualien (where we planned to visit later in the week).  It turns out no one will be in Hualien for us to visit, so we may go to Tainan for a night.  Tainan has a lot of sights Tim's Mom suggested us to visit.  Tainan is also where they recently had the 6.4 magnitude earth quake a month ago.
Any how, looking forward to seeing different cities in Taiwan. So far Taichung and Taipei feel same same, but different.