April 14, 2016
After such a rainy night, we woke up to blue and sunny skies. Our plan for today was to visit Nara, a small city that is about 30 minutes away from Osaka. After Kyoto, Nara has the most historical sights (temples and shrines) in Japan. But more importantly (for me), Nara is home to a lot of wild (but very tame) deer that roam around the parks. I had been waiting to go to Nara for a while and was quite excited to see the deer after getting a small taste of it while in Miyajima.
While we were getting ready to head out, I received an email from an old manager of mine from EY. He had just gotten back from Japan (Kansai region, where we are now) and told me about a cherry blossom festival hosted by the Japan Mint (in Osaka) that should be in full bloom right now. It sounded interesting because the Japan Mint has over 100 different breeds of cherry blossom (and over 300 trees overall) that line the river walkway. We looked online and saw that the last day of the festival was today, so we decided to check it out before heading to Nara.
When we arrived at the train station closest to the Japan Mint, there were police all over directing traffic. We thought there was a police incident since they weren't letting pedestrians through on one side of the bridge. We later discovered that the reason why there was crowd control and so many police officers around was because of the cherry blossom festival.
When we made it to the grounds, it was quite crowded (but not too crazy). The cherry blossoms had fully bloomed and some already had quite a bit of green to them. They all looked so beautiful and I liked how the walkway was one way so you could walk in sync with everyone else down the 500m cherry blossom walkway. We spent a lot of time stopping and taking pictures of the beautiful blossoms and looking at all the different types that we haven't seen before. We each took a lot of pictures (Tim took over 100 pictures!).
We're lucky that we happen to be in Japan for their sakura season as many people purposely plan to come to Japan specifically for their blossoms. Japan during April just fit into our trip planning perfectly so that's why we're here.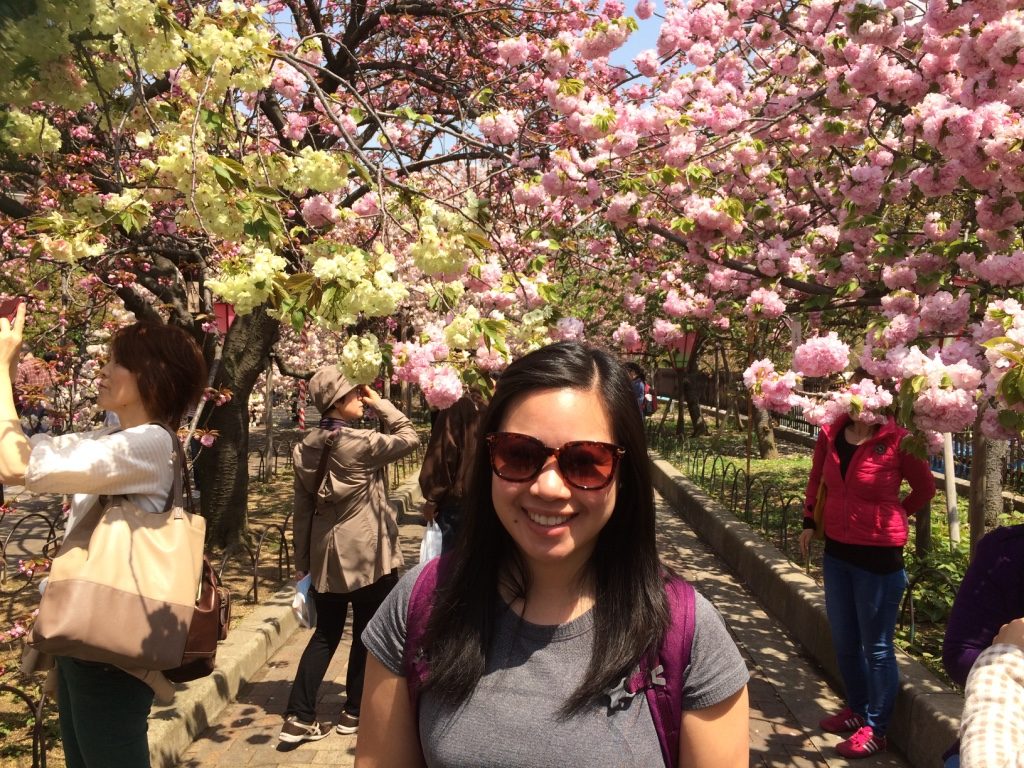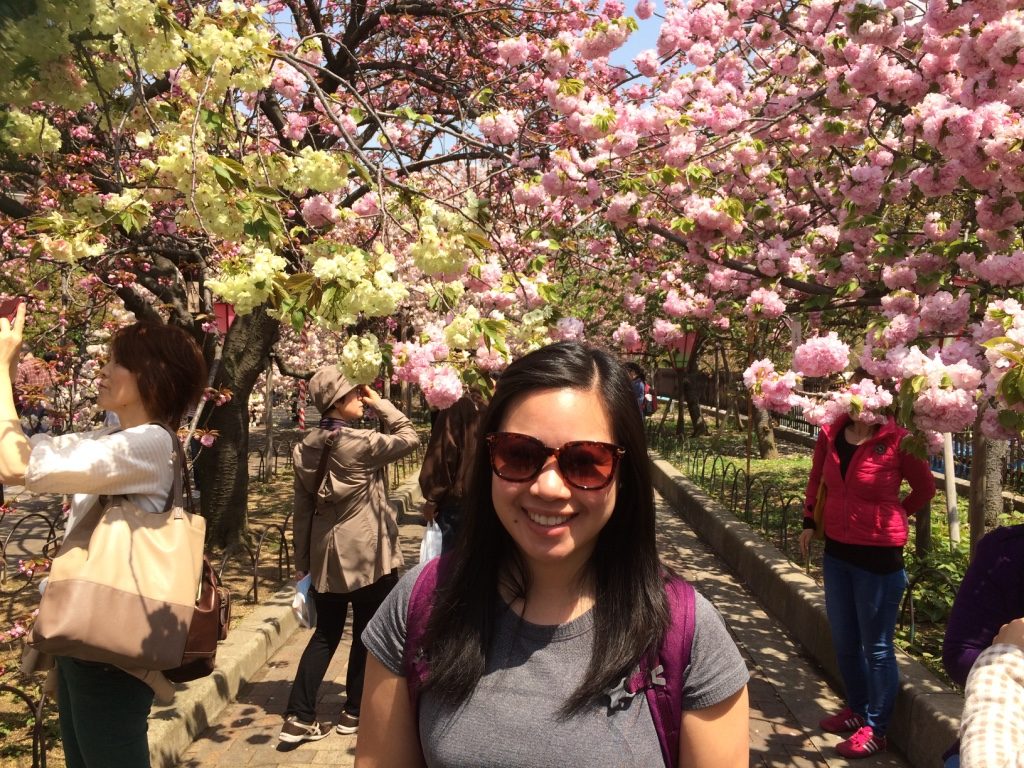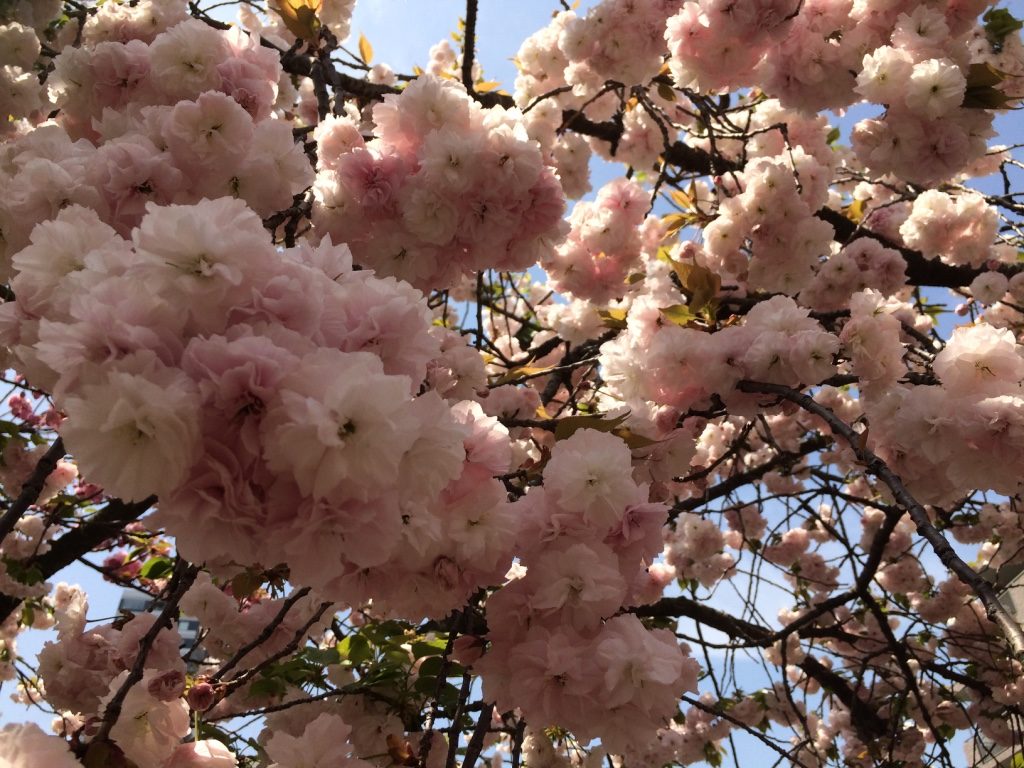 We're happy that we got to catch the last day of the festival and lucky that my old manager emailed me this morning to let us know or else we wouldn't have even known it was going on in Osaka (we didn't do much research).
We had a few hours to go to Nara before we had to come back to Osaka to meet Tim's Great Aunt for dinner. We took the JR train to Nara Station and walked towards Nara Park to see the deer and also some historical sights. My first impression of Nara is that it's a very laid back town. I think because when we got to the station and walked out, I didn't see a sea of people like in Kyoto. Even the main walking street to Nara Park didn't have that many people walking along it, which was nice and relaxing.
When we made it to Nara Park, there were a lot of deer around. I kept wanting to stop and take pictures and pet them, but Tim kept saying there will be more as we go on so we don't have to stop at each spot. He wanted to go to Todai-ji, a wooden temple that until 1998 was the largest wooden building in the world (Tim: pretty impressive for something built in 1709).
On our way to Todai-ji, there were crowds of deer, just roaming the park, resting in the shade, or chasing down people who would feed them. Around the park, there are vendors who sell deer food (stacks of round crackers) for 150 JPY = $1.75 CAD. My observation of the deer is that they're very calm, until they see you have food and then they will follow you around and sometimes even tug at you if you don't give them the crackers. Some people start to run away from the deer, which make the deer chase them… We saw a lot of Asian tourists hold the crackers and walk around with them holding them up high (teasing them), which made the deer more annoyed and more aggressive.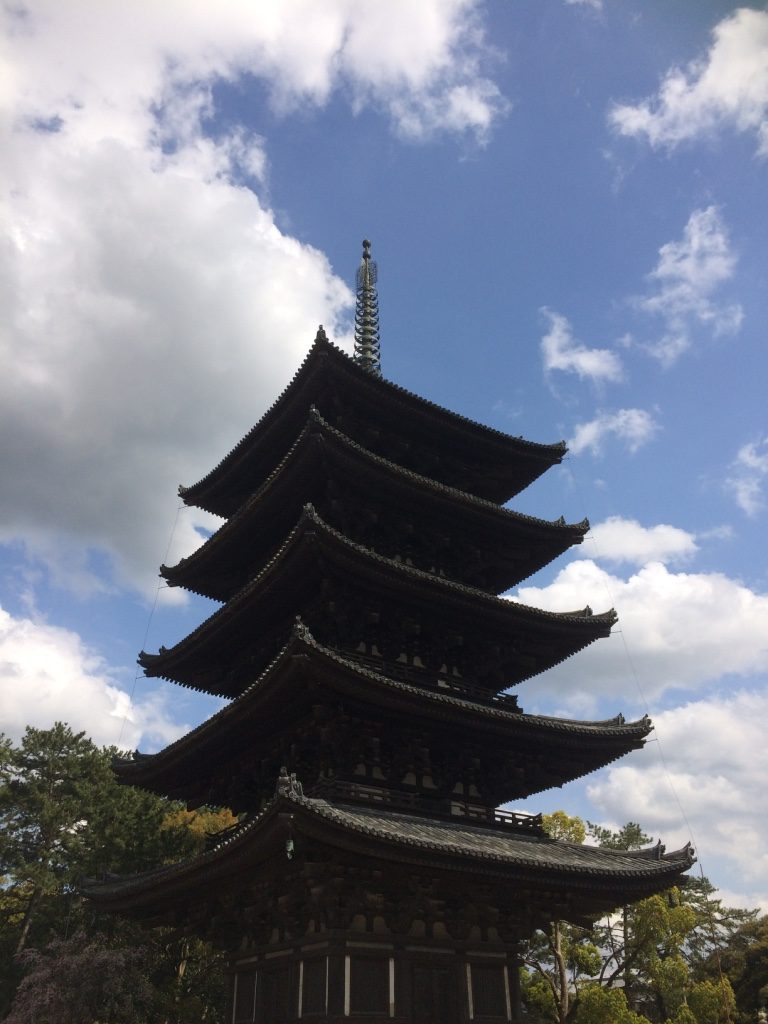 After walking around for a bit, I decided I wanted to try to feed the deer. I was a bit hesitant since I saw other people who fed them being a bit harassed by some deer in the process. I also figured they were teasing the deer so that's why they were being aggressive. We bought a stack of crackers and the plan was to just hold on to the stack as we made our way back and we could feed deer along the way. Well, that plan didn't last long as the deer knew I had them in my hands and followed us down a path. As soon as I turned around and tried to get the paper off that wrapped around the stack, they became aggressive and started to nibble at my shirt and backpack. I was panicking a bit and tried hard to get the crackers out as quickly as possible. One of the crackers got stuck to my shirt on my stomach and a bunch of deer tried to bite it off. Tim was taking a video of me the whole time.
Tim also decided he wanted to feed the deer. The deer seemed to have more respect for Tim and weren't so aggressive with him while he was feeding them. We have videos of both our feedings, it's quite a drastic difference.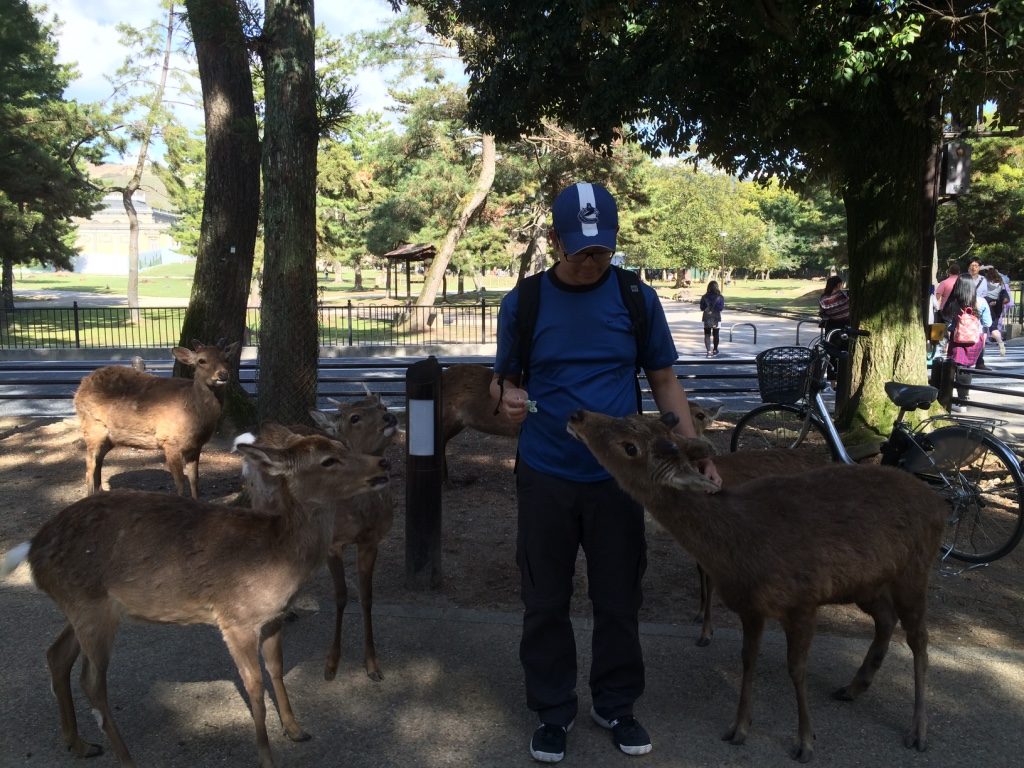 Despite that semi-traumatizing experience of feeding the deer, I had a lot of fun in Nara. I enjoyed the peacefulness of the area and the deer were pretty cool. On our way back to the train station, we stopped by a takoyaki stand and shared an order of six.
We got back to into Osaka just in time to go back to our room to change (needed to change shirts after mine had deer saliva all over it). We met 7 Yi-Ma in our lobby downstairs and went for dinner in the department store top floor again, but this time to a traditional Kyoto style restaurant.
The restaurant is called Minokichi and is one of the oldest and historical restaurants (opened in 1716) in Kyoto (with a branch in Osaka). 7 Yi-Ma treated us to a very delicious and unique seven course meal. Everything was so beautifully put together and unique in flavours. We haven't had such a traditional Japanese meal before, so it was a nice change from what we're used to eating as Japanese food.
Second course was a special (Tim: white miso) miso soup that I forgot to take a picture of.
It was a wonderful meal and we're so thankful for 7 Yi-Ma for taking us there and for being such a gracious host to us while we're in Osaka. We'll see her again on Sunday, before we leave for Tokyo.
After we finished dinner, we bought some yogurt from Family Mart for our breakfast tomorrow and just relaxed for the rest of the night.
Steps for today: 21, 500