June 22, 2016
It was our last morning on the boat and we were making our way back to the mainland. No one wanted to do tai chi in the morning so we got to sleep in a bit and have breakfast a tad later than yesterday. Breakfast was the same as yesterday except we also had some fried noodles which were really good. We wouldn't be eating until we got back to Hanoi so we knew to eat a bit more.
After breakfast and chatting to the Aussies for a while, we all headed back to our rooms to pack up. Our two nights here flew by! We had a great time on the cruise and were really happy we opted for a smaller ship. Everything was very personable and we got to meet a lovely family along the way. The cruise was my favourite part of Vietnam so far.
When we got to shore, we said our goodbyes to our new friends and went into our separate shuttles back to Hanoi. We didn't book or pay for a private car but our shuttle bus ended up being private (lucky us)!
We got back to our hotel in Hanoi (same hotel as before) at around 2pm. We checked in and then headed down the street for lunch. Tim wanted a banh mi that wasn't Banh Mi 25. We walked two blocks down from our hotel and found a place that served banh mi but it seemed more like a meat shop. We ordered a pate and ham & pate banh mi. It was basically just the meat in the baguette – no veggies and no frills. They weren't cheap either, it was 45,000 VND each = $2.58 (okay, it's not that expensive, but expensive for Vietnam). The meat was actually refrigerated like a deli (which was good) and very good. I just wished they had pickled vegetables in it – would've been perfect. Tim really liked the pate, said it was the best one yet in Vietnam.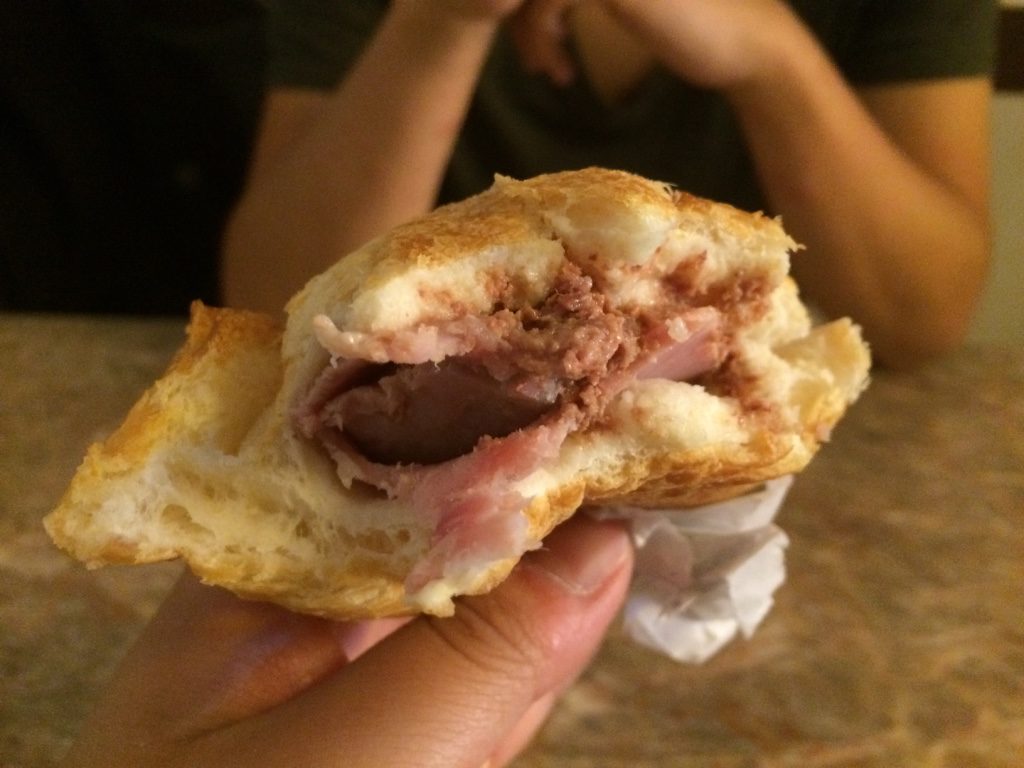 After lunch we grabbed an egg coffee (Hanoi speciality) at a nearby cafe. We sat and enjoyed our first one. It was like a thick egg nog with espresso. It was tasty and was the first hot coffee I've had in Vietnam.
We went back to the hotel, caught up on our blog, and chilled out for a bit. We're leaving for Laos tomorrow and are running low on our sunscreen supply so our errand for today was to get more sunscreen and mosquito repellent. There aren't many London Drug type stores at all in Vietnam so we knew it would be a bit difficult to find sunscreen and mosquito repellent. I saw a pharmacy earlier in the day so we went there but they basically only have prescriptions and nothing else. We continued on and went back to the supermarket by Hoan Kiem Lake and ended up finding everything we needed on their 2nd level. The sunscreen selection is pretty small. The options are expensive and the bottles are small. We bought the biggest bottle they had (70g) and the only mosquito spray they had. Oh well, beggars can't be choosers.
For our last dinner in Hanoi, we decided to go for Pho since we hadn't had it yet here. We decided to try Pho 10, which was across the street from our lunch banh mi restaurant. Pho 10 is a no frills pho restaurant with disinterested staff and service. Pho was good though. The beef I had was pretty tender.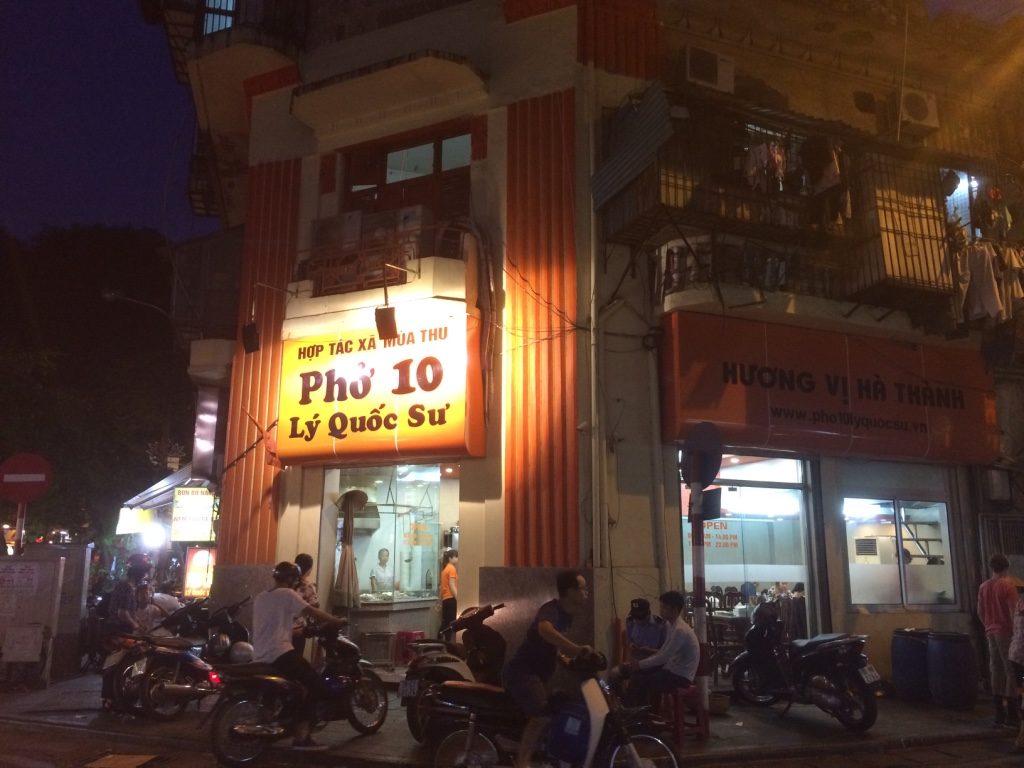 As much as we're both enjoying all the food we've been eating in Asia, it's also reconfirmed what we already know – Vancouver's Asian food is really good. I don't think we've had something in Taiwan, Japan, Korea, Singapore, or Vietnam that I thought blew our minds and was way better than at home. The main difference is the food in Asia is cheaper (sometimes a lot cheaper).
After dinner, we went to a smoothie place down the street from our hotel that we passed by each day. We ordered smoothies (sinh to) and sat under the fans for a bit. The family who ran the smoothie shop was eating dinner while we were there. I would be happy to go again tomorrow before we leave for Laos.
Steps today: 5,500