March 4, 2016
So we did what we said we were going to do. We woke up at 4:15am (without an alarm), got ready and left the apartment around 5:30am.  It was about a 30 minute walk to get to the base of Elephant Mountain (which has the best views of the city and Taipei 101).  As we were walking to the base, some food vendors were prepping food for the day.  We noted which vendors to go back to for breakfast.  I guess it shouldn't surprise me that a lot of people start their days at 5am, I've just never been one of them.
We got to the base of the mountain around 5:50am.  We read online that if you're in good shape can get to the top in 15 minutes.  I think if you're in good shape you could actually get to the top viewing point in 10 minutes or even less if you sprinted up.  We got to the top in 15 minutes, which, shouldn't be that impressive because a man that looked like he was in his 80s with a cane was inching up on me as I was huffing and puffing up the stairs (Clearly I'm out of shape). FYI, we beat him up the mountain.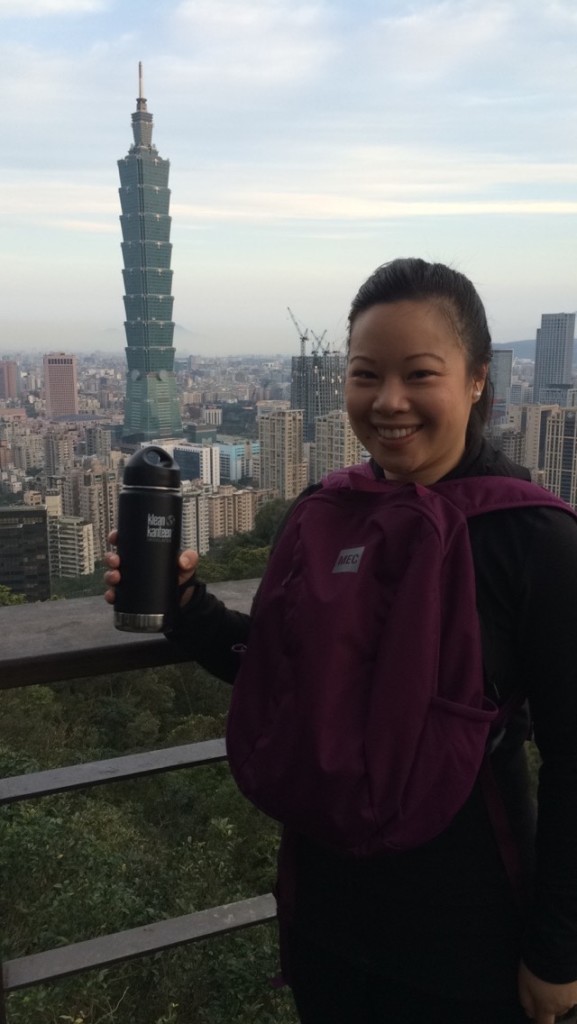 After taking a bunch of pictures at the viewing point we walked around other trails.  There are a few other trails around Elephant mountain, called the Four Beasts Mountains.  We didn't do any of them, we just walked around a few other trails and saw a lot of seniors working out.  The majority of them were super fit. This guy in his 70-80s was consecutively doing curl ups while chatting up the ladies close by.  Another interesting thing to note is that there were a lot of old men who would perch on viewing points and yell.  Then other men from other viewing points would "call back".  I wanted to join in too.  I just "roared" at a squirrel that got scared and ran away.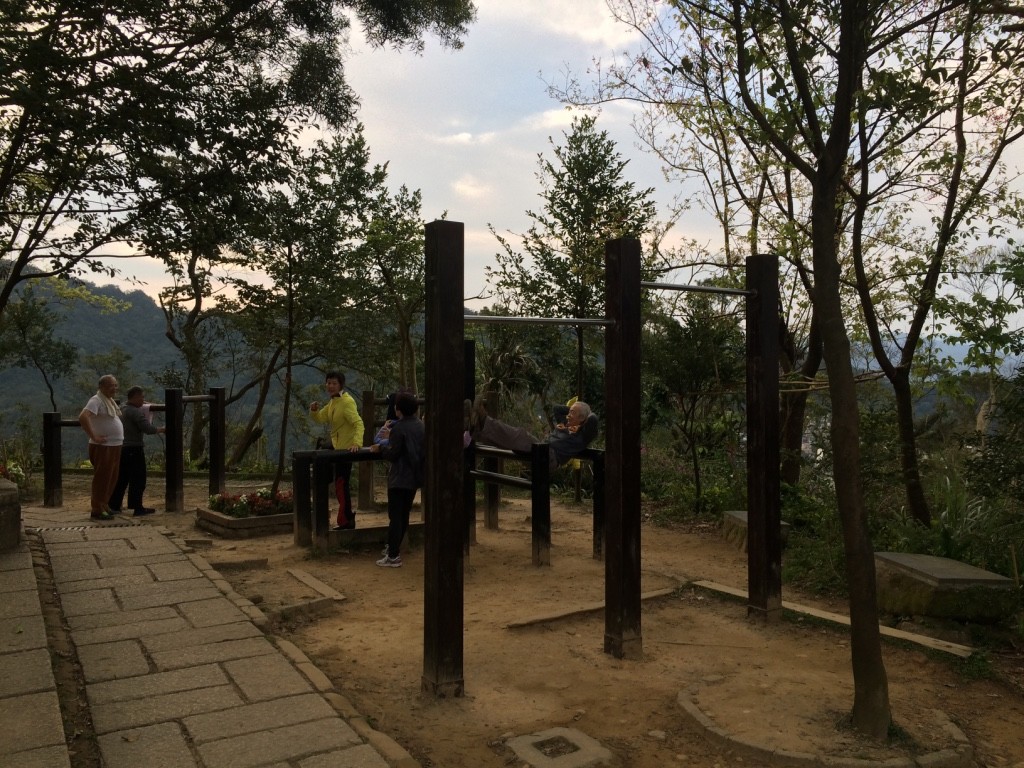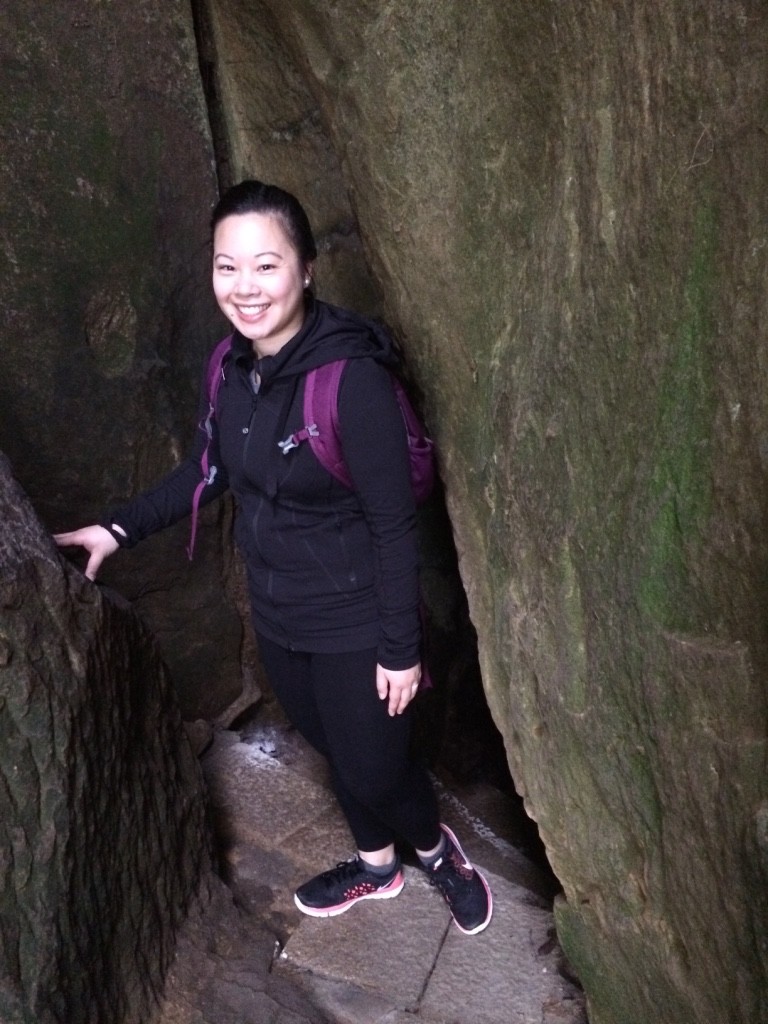 After we made our way down from the mountain, it was about 8am.  We went back to a fairly busy area called Wu Xing.  We walked past a "rice ball" breakfast stall that had a line up.  We decided to try it out and were not disappointed! This was exactly what I was craving while huffing up the mountain.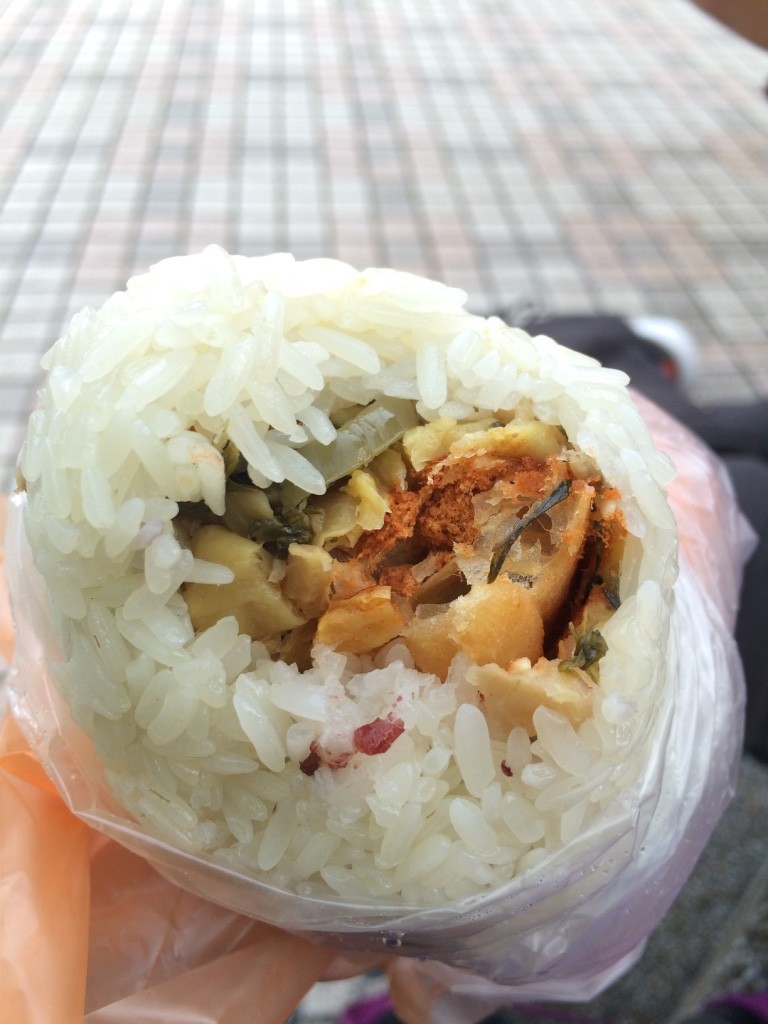 After we finished eating, we walked down "Wu Xing Square" which was an open market full of everything: meat, poultry, seafood, produce, dumpling makers, clothing, pretty much anything you can think of.  This was place was bustling for 8am!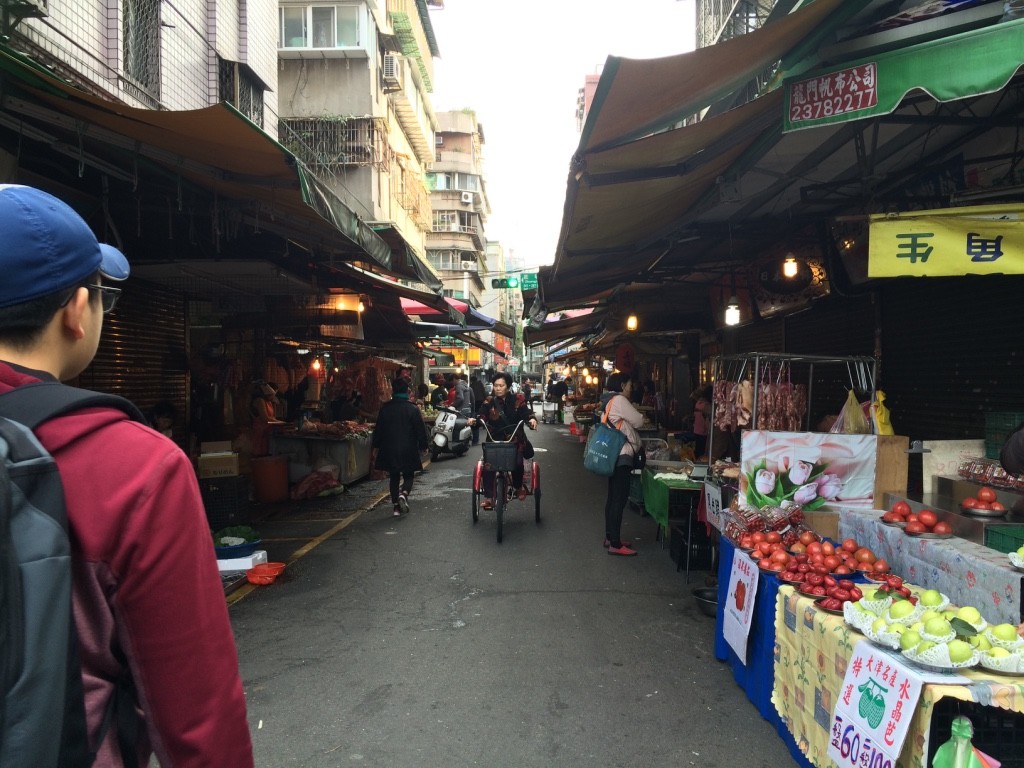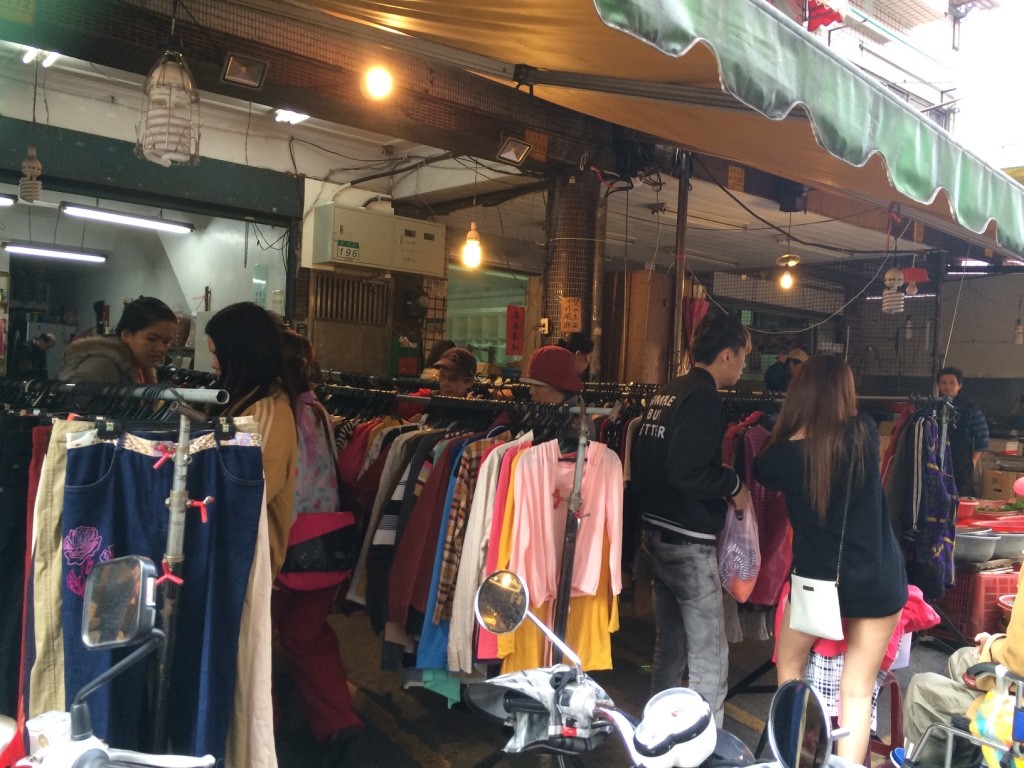 We walked up and down the block and decided to have "oyster vermicelli" soup.  The soup is a thick starchy broth with thin noodles, oysters and large intestine.  I mostly just drank the soup with noodles and oysters, Tim ate the large intestine. I really enjoyed the soup, I could probably do without the large intestine.
After resting at the apartment for a few hours.  We decided to check out "Lin Dong Fang", a beef noodle restaurant that was suggested on CNN's Taiwanese food list (also vouched by other friends).  It did not disappoint! I don't have the same nostalgic feelings towards beef noodle as Tim does, so usually I don't order it; but I have to say this one lived up to the hype. The noodles were nice and chewy (which is the way I like) and the meat was very tender. I ordered just beef and Tim ordered beef and tendon.
We heard from Uncle Albert that there was a lantern festival going on in Taoyuan and he suggested we check it out as it was ending this weekend.  We decided to make our way to Taoyuan tonight so after lunch we walked toward Taipei Main Station to catch the high speed rail train.
On our way to the train station, we came across a huge Disney Tsum Tsum statue in front of a complex called Huashan Creative Park. We decided to check it out and saw there was an exhibition going on.  We were lucky to have been drawn in to check out the area because we had no idea what this "creative park" was.  It was a pretty unique place with different exhibits and independent artist boutiques and hipster restaurants inside old buildings.  The feel of the area reminded me a bit of the Distillery District in Toronto.
We made our way to the Taipei Main Station area and ventured around the area with the intent to get back to the station around 4pm to take the train to Taoyuan.  We were craving shaved ice since we haven't eaten that yet.  We found free wifi at Shin Kong Mitsukoshi department store, so we stood there for a while seeing if there was anything close by.  Tim found a highly rated place on trip advisor that was about a mile away.  We walked there only to discover it was closed.  It was pretty disappointing.  We'll save that place for another day!
We walked back to the train station slightly disappointed (first world problems) and bought our train tickets to Taoyuan.  Taoyuan is where Taipei's international airport is, which is about 45km from Taipei.  We bought the high speed rail ticket which costed $6 for a round trip and would only take 20 minutes.
As soon as we stepped outside the train station in Taoyuan, we were surrounded by the Lantern Festival's exhibits.  It was about 4:30pm when we got there so it was still bright out.  We went to the food areas to eat an earlier dinner so we didn't have to fight the crowds when it got dark. I won't go into too much detail about the food, I'm getting a bit nightmarketed out. We had Taiwanese sausage, some BBQ'ed pork belly, squid and this drink with two scoops of this slushy ice in it. The drink and BBQ pork were my favourite.  We went back for one more drink at the end of the night! We spent 275 NT or $11 at the food stalls for dinner.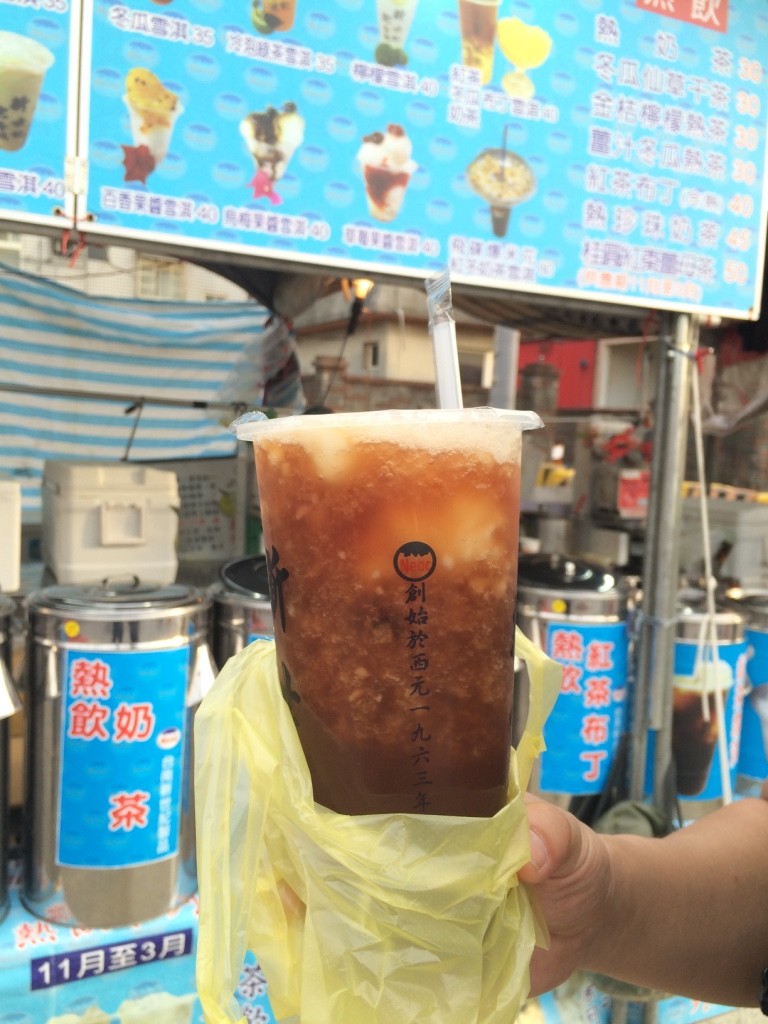 We were planning on staying at the festival until the fireworks at 8pm.  As soon as the sun set, the lights all came on and the whole area came to life.  I loved all the hanging lanterns and I'll share some of the lantern displays I liked the most.
We were worried that there would be a mad rush to get back to the train right after the fireworks ended so we made sure to stay close to the exit.  We estimated that there must have been over 50,000 people there (the grounds were massive).  After looking at the majority of the lantern exhibits (we didn't look at all of them, there were probably hundreds), we were feeling pretty drained. It was 8pm and no fireworks came on, Tim asked one of the security guards when the fireworks were starting and he said they were cancelled for tonight but would be on tomorrow.  That was let down as we were waiting until 8pm for the fireworks! Every half hour the huge monkey in the middle of the festival "came to life" and lit up and did a slow 360 degree rotation to everyone's excitement (except mine, the monkey creeped me out).
I wished the festival was on for another few weeks, I think Nate would have really like it! This was the first time that we saw so many kids and strollers.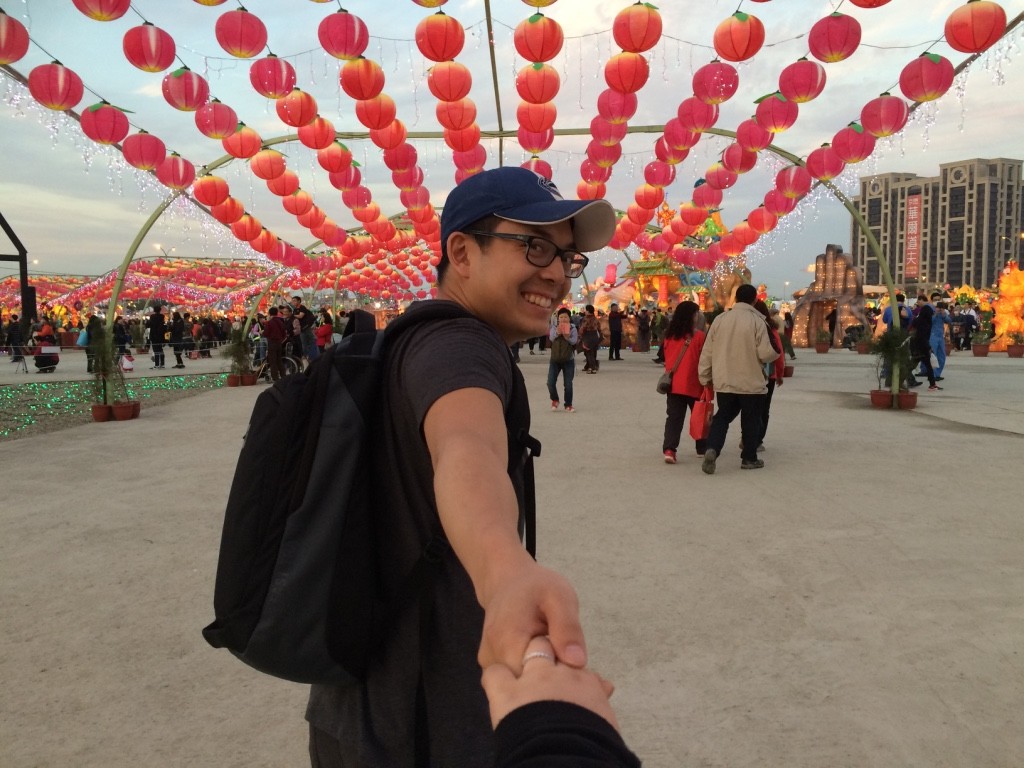 After discovering there were no fireworks we left and feeling more drained than ever.  Luckily leaving the festival was super organized because at that point I don't think we could've handled it.  This was the latest we've stayed up since being here and we didn't really even have an afternoon break! We both fell asleep on the train ride back to Taipei.  When then had to transfer and take the MRT back to the apartment.  We both decided that tomorrow is going to be a chill out day and my post will likely be a lot shorter.  I'm finding it hard to be able to just relax and adjust to the fact that we'll be here for a month.
Tim checked our steps for today, and it's an all time high 44, 500.  No wonder we're beat!