June 18, 2016
This morning, we were woken up by loud speakers blaring Vietnamese music outside. I checked the time and it was only 6:30am! The music went on for a while and then some repetitious ads came on after. We hadn't heard these scooter loud speaker ads since we were in Saigon. We slept a bit more then headed upstairs for breakfast.
Breakfast was served on the top floor of the hotel and the breakfast room only has 4 tables. They had some food set out as a buffet so we grabbed plates and chose a few things. When we sat down we noticed there was a breakfast menu with western and Vietnamese choices. The lady came by and asked us which dish we wanted for breakfast. I was surprised they had a la carte choices for us as well. I ordered beef pho and Tim ordered French Toast with honey. Both dishes were pretty good, but the pho was better than the French Toast (naturally).
After breakfast we went back to our room and FaceTimed with my family as they were singing happy birthday to Nate. We'll be home in exactly one month!
We got changed and made our way towards the French Quarter. We walked along the Hoan Kiem lake, which was nice and shaded and lined with large trees. The streets in the French Quarter are nice and clean. The sidewalks are wide and easy to walk on vs. the the non-existent sidewalks in the Old Quarter. There's fancy hotels, luxury stores, and the Hanoi Opera House.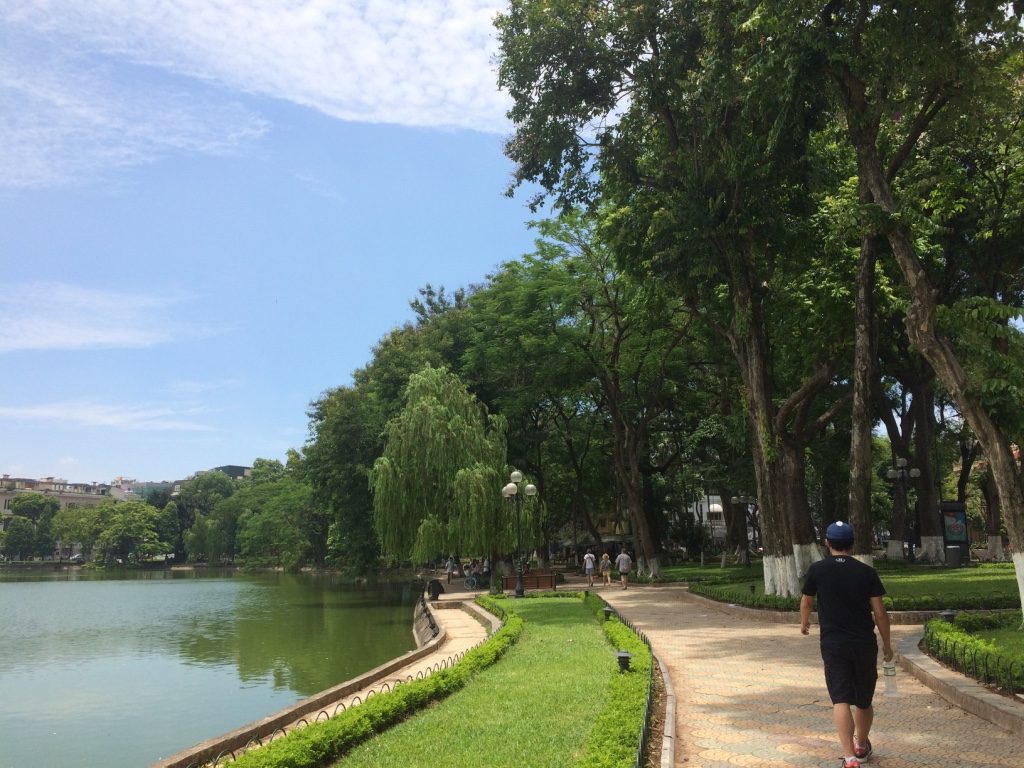 We found the ice cream place, called Kem Trang Tien, that Tim found while looking online. The store was quite large with different areas: one for single sales and one for bulk sales. The ice cream is served in popsicle form and we had to figure out what flavours they had. We were standing there for a while trying to Google translate flavours and decipher what the pictures were on the packaging. We ended up ordering a coconut (7,000 VND = $0.40 CAD) and a sticky rice (8,000 VND = $0.46 CAD) ice cream. Both were really good and quite refreshing!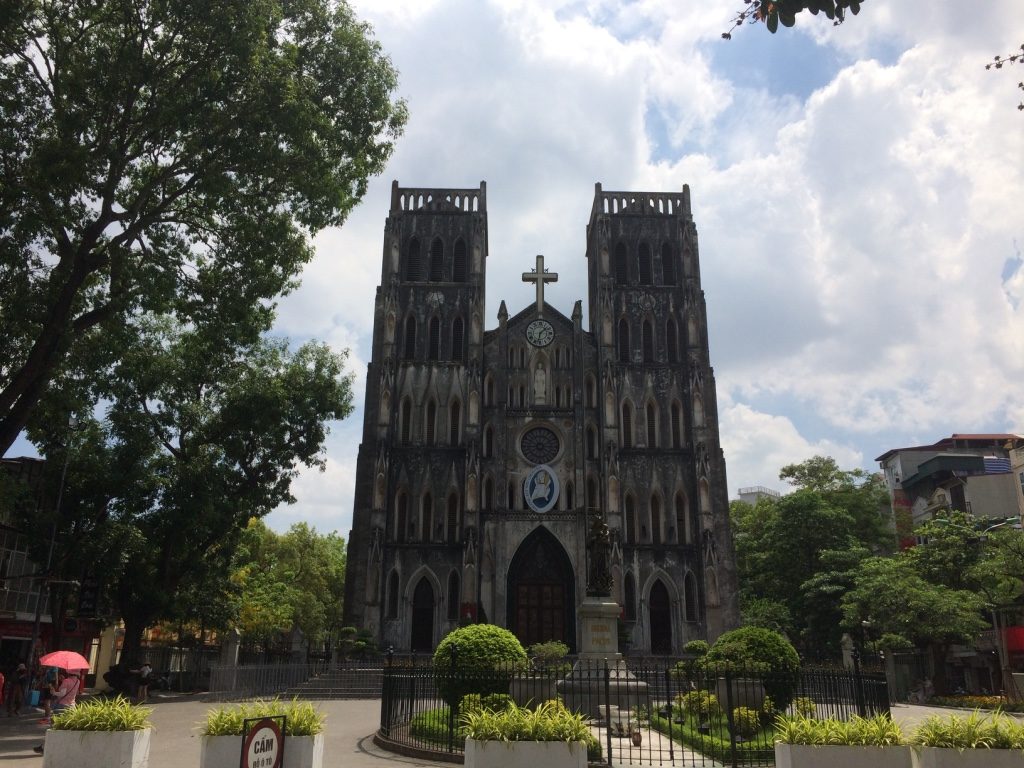 We walked back towards our hotel area and passed by a Cha Time (bubble tea chain) on the way back. We went inside and the air conditioning was too good to leave. We shared a roasted milk tea with pearls (49,000 VND = $2.80 CAD). Cha Time had free WiFi so we did a bit of research on what we wanted to have for lunch.
In Saigon and now in Hanoi, we noticed that there were "doner banh mi" stalls around the city. We both really like doners and shawarma so we were pretty excited to see what a doner banh mi would be like. We looked up a place and then made our way there after finishing our bubble tea.
The stall we went to didn't have a name but it's outside a Vietnamese bakery. When we got there, there were locals waiting for their doners, which is a good sign! He ran out of baguettes on the order before us so started to use the flat french bread for our sandwiches. After he made the sandwiches he would put them in a panini press contraption to toast the sandwich before he served it to us. It did truly taste like a mixture of a banh mi and a doner. It was interesting and tasty but it wasn't my favourite. I'm glad we tried it though, I think there could be some improvements to it to make it taste even better.
After lunch, we walked back to the hotel and stayed in for the rest of the afternoon to get out of the heat. We finally booked some of our Laos portion of the trip!
For dinner we went to a restaurant called "Highway 4", which is a trendy Vietnamese restaurant in town. There are a few locations in Hanoi but we went to one that was closest to our hotel. We walked to the restaurant and got seated right away. We ordered two drinks, morning glory vegetables, chicken wings, pho cuon with beef, and crab spring rolls (362,000 VND = $21 CAD). The food was good but not worth the prices. I was comparing it to Morning Glory and we both agreed our dinner in Hoi An was a lot better and the service was better too. On our bill they charged us for two cold towels for 2,000 VND each. We told them we didn't get cold towels and they said the napkins were it, but we argued saying those aren't cold towels so they took it off the bill. Always good to double check your bills here!
After dinner as we walked back to the hotel, it started to get really windy. I knew it was going to start to rain so we began walking faster and faster. Sure enough, the rain started to come down really hard.
When we got back to the hotel, we watched the fourth installment of the O.J. Simpson documentary. This one was pretty graphic and frustrating to watch. Even though we all know the outcome of the trial, it was frustrating to see how the trial was handled and how dumb the jury was.
Steps today: 12,000