May 21, 2016
Today was the first day in a few days where we didn't have anything planned for the day. We already knew the weather was going to be bad so we had a restful day ahead of us.
We took our time waking up and went downstairs and had a leisurely breakfast. We haven't had a free breakfast in a hotel since Taiwan. They have all your typical western breakfast items, fresh fruit, and even some Asian items like gyozas, miso soup and congee. I tried the congee with Chinese doughnut and they were both pretty horrible. Other than the bad Asian options, everything else was good.
We spent most of the morning and early afternoon catching up with Masterchef Canada and the Mindy Project while finishing up some of my blog posts for the last few days. Tim worked on updating our spending and finance situation. The rain was coming down really hard and we could see from our balcony that a lot of people walking along the esplanade were getting caught in sudden downpours throughout the day.
In Cairns there, isn't much to do when it rains. The guy at the front counter asked what we had planned for today and he suggested watching a movie at the mall. I didn't even know Cairns had a mall! We walked to Cairns Central and killed a couple of hours walking around. We went to an Australian Target for the first time and it was really nice. Not to say the ones in the states aren't nice, but the one in Cairns looked a bit fancier. The prices were pretty decent as well and their home decor section would be stuff that I would buy for my home (if we had one).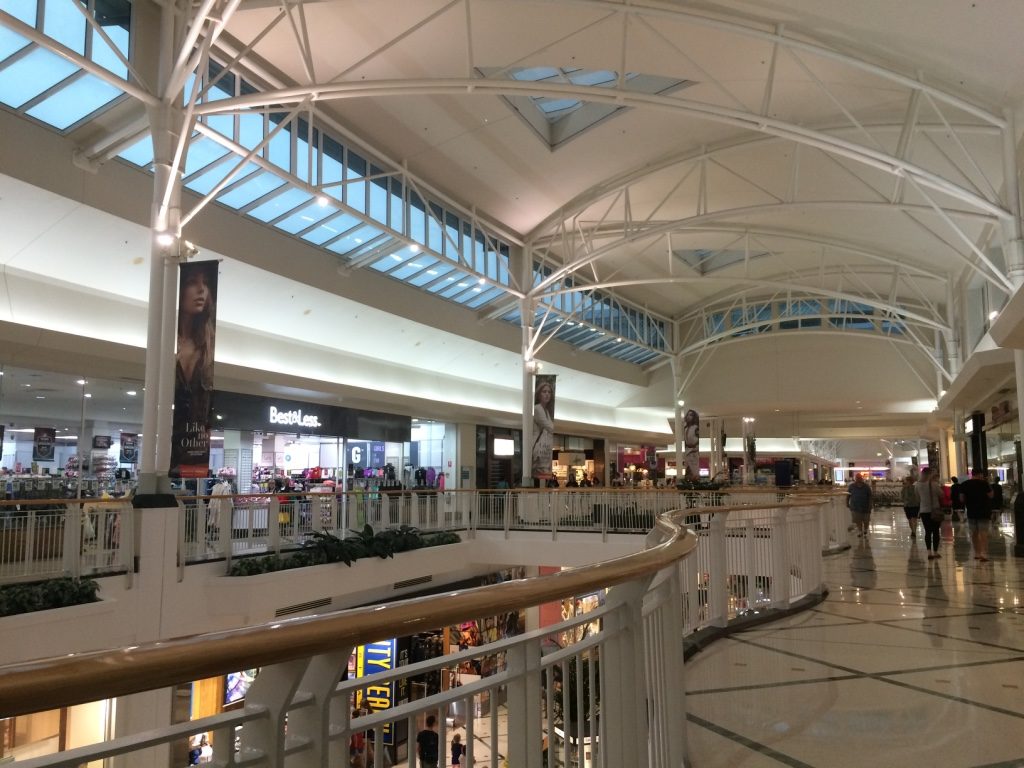 After browsing through the mall, we went to the food court to get a late lunch. We went around to look at all the options and decided to go to Hungry Jack's. Since we're in Australia and we don't technically have Hungry Jack's in Canada (although it's just a Burger King) we got a Whooper meal and an extra Whooper Jr. burger to share. And yup, it tasted just like Burger King.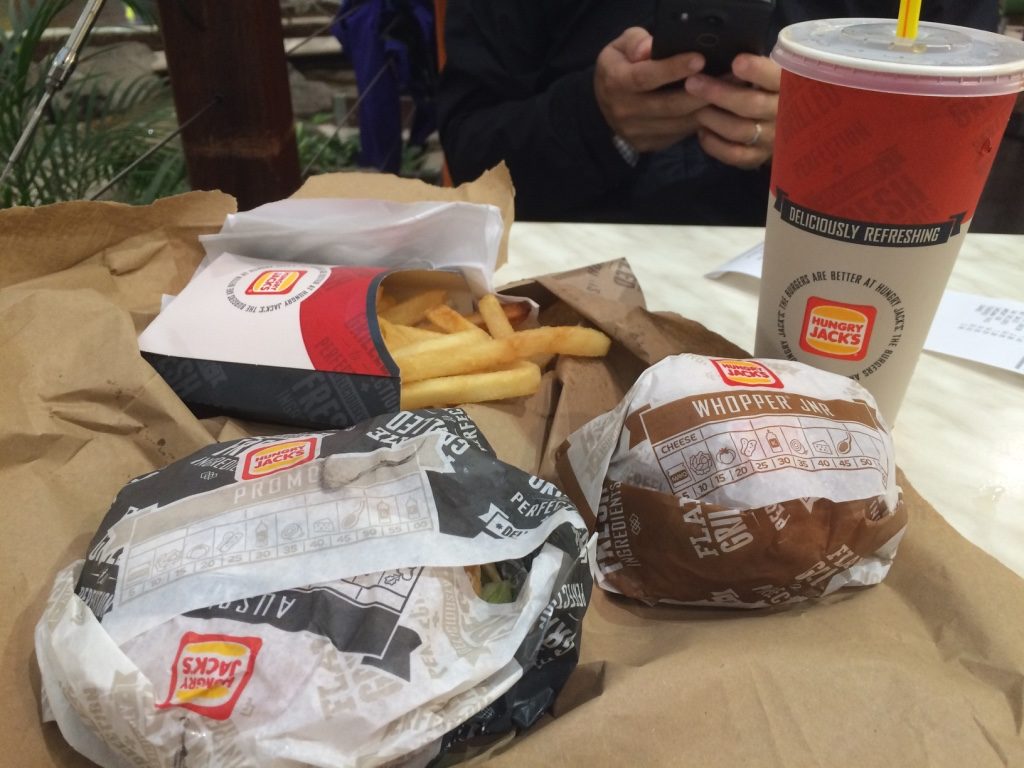 Before heading back to the hotel, we went to Coles (supermarket) to pick up some snacks and bottled water for our upcoming three day road trip down to Brisbane. While walking back to the hotel, the rain was coming down even harder than before. Luckily we had our rain jackets and umbrellas so we were well prepared for the heavy rain. On the bright side, at least it was still quite warm out (25°C).
When we got back to the hotel, we continued with our work and watched Fresh off the Boat in the background. We headed back out to town for a late dinner at a ramen place called Ganbaranba Noodle Colosseum. It was also another restaurant recommended by Chloe. The restaurant was located close to all the Japanese and Asian shops I mentioned a few days ago. When we got to the restaurant, we had to wait for about 20 minutes for a seat. The restaurant was run by Japanese people and, while sitting at the counter listening to all the staff interacting and speaking, it felt like we were back in Japan. Even when we went to pay at the cashier, Tim asked for a "receipto" and said "arigato" to the lady (he was on cruise control).
I ordered a cold ramen and Tim ordered a garlic tonkotsu broth ramen. His soup base was very garlicky, which he likes, but the tonkotsu tasted more like shio (salt) than pork bone. I liked my cold noodles better than his ramen (Tim: I liked her cold noodles better too). The ramen was good for Cairns and the prices were very reasonable for Australia which was great. Unfortunately we've both been spoiled by being in Japan recently and for even having Vancouver ramen standards (we're lucky to have such great ramen at home).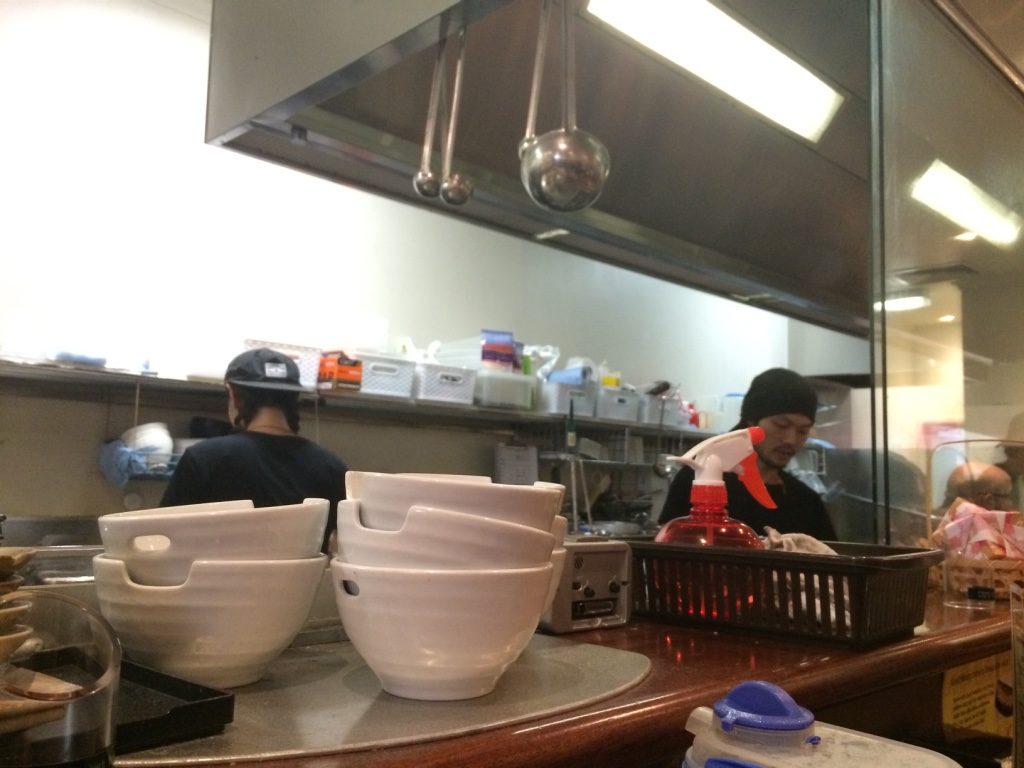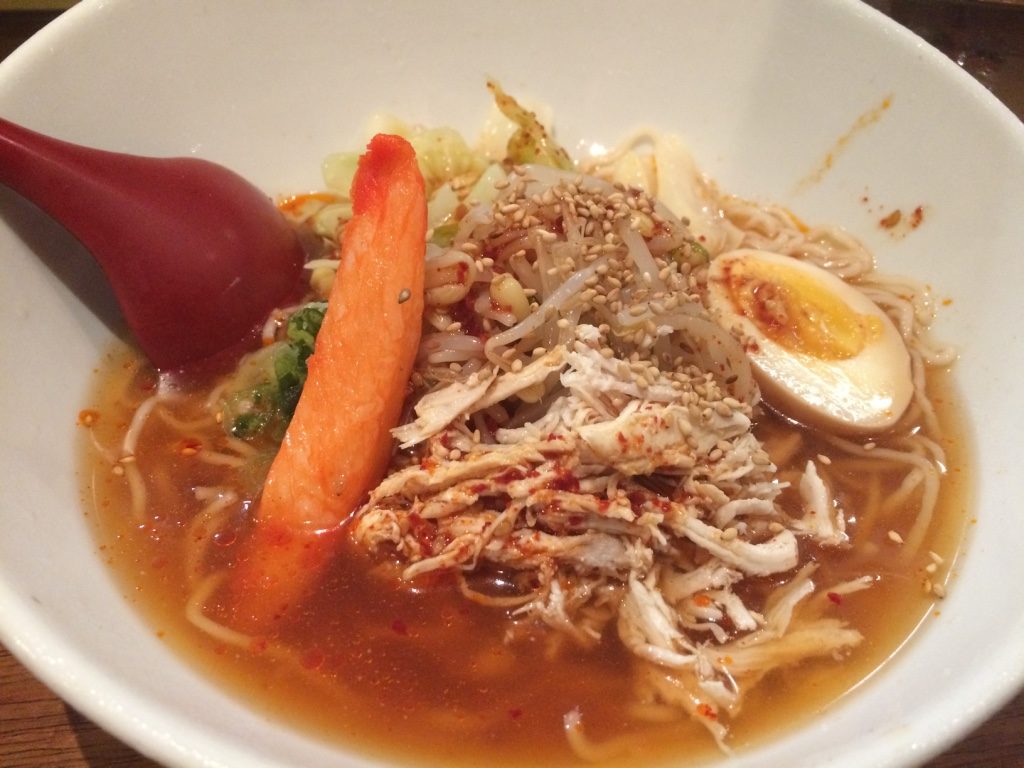 After dinner we walked back to the Night Market to look for a hat that Robin had bought from there but then lost. We managed to find the exact hat but they only had small sizes left. We made our regular stop at Gelocchio for our last night of gelato. We tried their caramel Himalayan salt in a cone. It was delicious. I think my favourite is the lemon and basil gelato.
Tonight's our last night here. We rented a car and are planning on leaving Cairns at about 10am tomorrow. We have about a 8-9 hour drive to our first stop on the east coast to a town called Mackay.
Steps today: 13,000