June 5, 2016
Last night, we slept for most of our 7 hour red-eye flight from Melbourne to Singapore. They served two meals during the flight – a snack at 2am and a large breakfast two hours before we landed. We landed at Changi Airport just after 5am (Singapore is two hours behind Melbourne). Our connecting flight to Ho Chi Minh City (HCMC) would leave Singapore at 5:25pm, so we had around 12 hours for our last partial day in Singapore. With the way our flights worked out (Tim: i.e. how I planned and booked the flights) and since we wanted to fly Singapore Airlines, it was great we were able to spend ~35 hours in Singapore for "free".
We took our time leaving the terminal since it was so early. We went to the washroom and both washed our faces and brushed our teeth. By the time we left the airport it was around 6:30am and we headed to the City Hall SMRT stop in the city. The train connecting Changi to the downtown core makes it really easy to explore the city on a layover. The train ride takes about 20-30 minutes.
We walked towards Collyer Quay to see the Merlion and views of Marina Bay Sands when it's quiet. The city was so peaceful at 7am on a Sunday morning. There were a handful of people by the Merlion with their tripods trying to catch the sunrise, but unfortunately it was really cloudy so there wasn't much to see. Given Singapore's blistering heat, it was good the day was mostly overcast.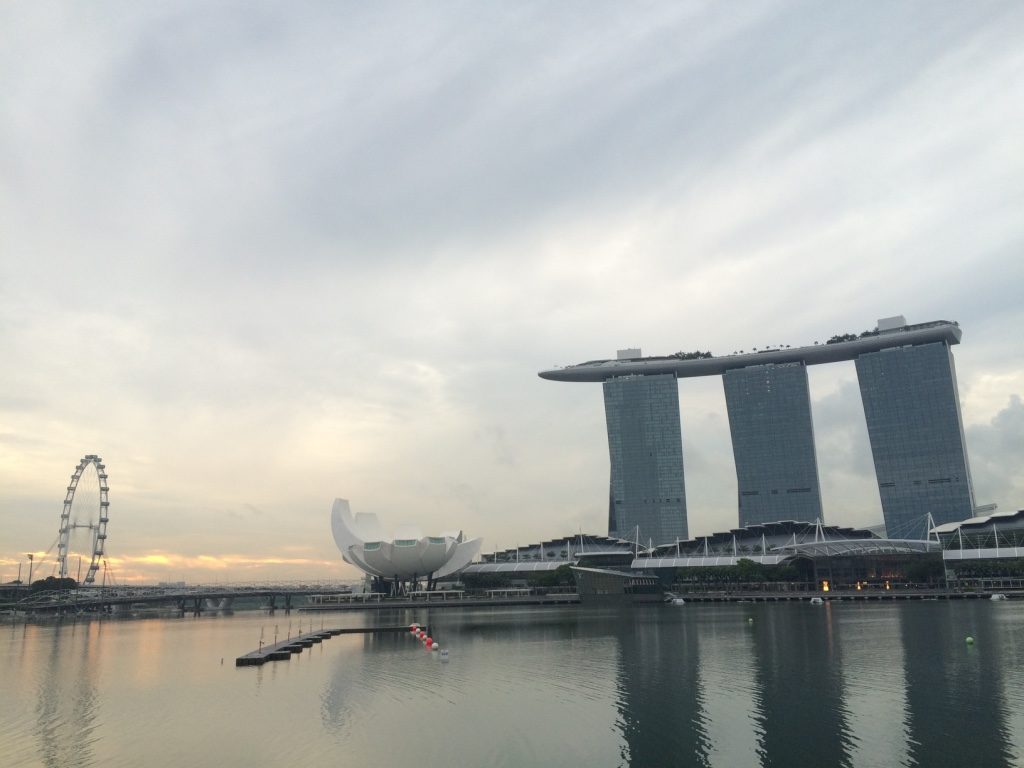 Our only plan for the day was to eat chili crab at Jumbo Seafood for lunch so our day was pretty relaxed. Since they didn't open until noon and it was 7am, we went to look for a small breakfast at the La Pau Sat Hawker's Market in the CBD. Online it says the market is open 24 hours, but I think it just means they don't technically shut down the market. Vendors can open whenever they want. There were a few stalls open for breakfast and some that had some Chinese BBQ that didn't want to serve it even though they were open.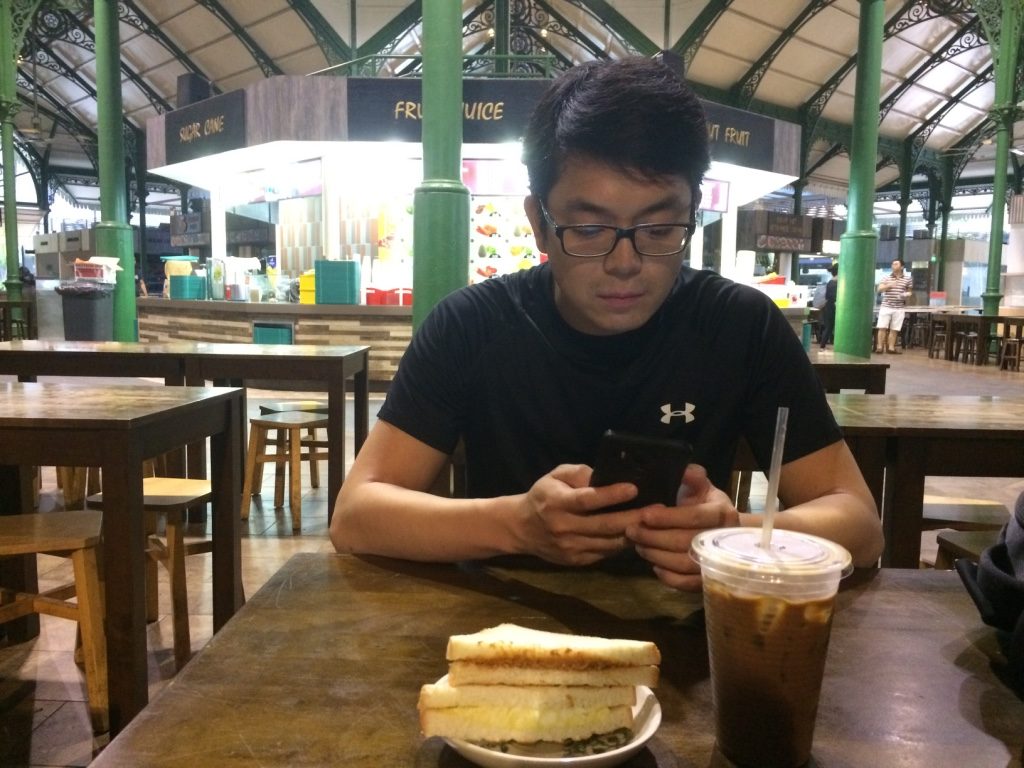 We shared an iced coffee and a toasted breakfast sandwich (egg salad half and a Singaporean spicy tuna half). The coffee was good but the sandwich was pretty mediocre. I went to one of the Chinese BBQ stalls to order BBQ duck with noodles, but the vendor said "not yet" and there were no noodles for it. I couldn't really understand what he was saying. My general consensus of the hawker's market vendors are that they are fairly rude. I think this is just the way they are in general, but it's very harsh and abrupt. For example, when I got to the stall, the guy says "what do yo want?" (in not a very nice tone).
Anyhow, we left La Pau Sat and walked towards Marina Bay Sands to check out the Gardens at the Bay. We didn't get to walk on that side of the bay in May, so it was nice to be able to see it today. The Gardens at the Bay grounds are quite large. Most of the gardens are free to walk around but there are some parts that require admission like the Flower Dome, Cloud Forest ($28 SGD for both), and the walk between the Supertree Groves ($8 SGD). We didn't end up going into any of them and just walked around the grounds. We heard that the Flower Dome and Cloud Forest are really cool but we didn't think spending $56 SGD was worth it for us today. Maybe in the future when/if we come back.
After taking our time in the gardens, we walked towards Clark Quay for lunch. Jumbo Seafood is a famous Singaporean restaurant that specializes in chili crab. I didn't know what to expect but just knew that it was something that we should probably eat. We didn't get to have it in May and when we asked Marcus if we should eat it (Marcus is Singaporean) he said we have to eat it and order the fried bread (mantou) to use to dip in the chili sauce. So we did as the Singaporean said and ordered one chili crab and 8 pieces of mantou (we ordered 4 at first then wanted more).
There are actually two Jumbos around Clark Quay's river walk and we went to both of them to see if they had a table. One of them said without a reservation there was no room so we went to the one we originally thought we would go to. The hostess said if we wanted a seat inside the restaurant as opposed to sitting outside in the heat, we had to share a table with others so we agreed. We were seated with four other people. Two girls and another couple. They brought out a dish of peanuts and filled our cups with tea. We later found out on our bill that the peanuts and tea were $1.20 SGD pp. I know Tim doesn't like to eat crab (only due to the effort outweighing the reward) so I was happy he was willing to try it out. The crab came covered in a sweet and spicy chili sauce. It was really good. Are there any places in Vancouver who do chili crab? Marcus' suggestion about the mantou made it even better. The mantou were super fresh and were cooked perfectly. We could've ordered more but we were both full so eating more mantou with the chili sauce would just be pure gluttony.
After lunch we made our way back to the City Hall SMRT stop to get back to Changi Airport. We were starting to get tired so heading to the airport earlier sounded like a good idea. When we got to Changi we used our Priority Pass membership (4 free lounge visits courtesy of the BMO World Elite Mastercard) to get into the SATS Premier Lounge in Terminal 2. We had 2.5 hours to kill so sitting in the lounge and showering was good use of the pass.
The Stats Premier Lounge had Singaporean/Malaysian food, drinks (alcoholic and non), and sandwiches. Since we just had a sizeable lunch, we didn't eat anything until we were about to leave. I tried a small bowl of laksa, which they make for you on the spot and Tim had spaghetti and meatballs.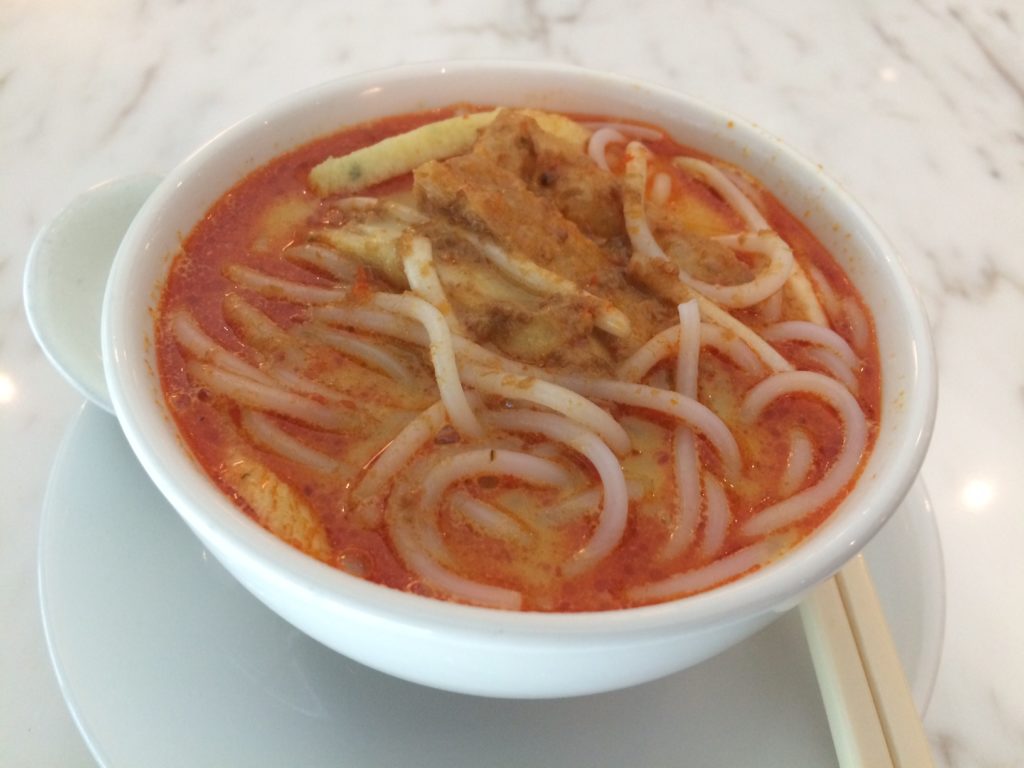 We headed to the gate to board our flight to HCMC. The flight was only an hour and 45 minutes.  They served us a meal and it was basically time to land. Our descent down into HCMC was a bit scary because when we were going through the clouds the plane was going up and down sporadically. I was squeezing Tim's hands and some people were yelping every time the plane made a sudden movement. However, the 10 year old girl in front of us was having the time of her life. She was saying it was like a ride and how it was so much fun. At least someone enjoyed it.
We passed through customs without any issues as we got a 3 month multi-entry visa before we left home. Vietnam is the only country we've been to on this trip that didn't require a form to be filled out upon arrival. I guess they don't care about any details about your trip in the country. We got our bags and headed out to take a taxi to our hotel.
There were a lot of stands with taxi signs before you get outside. We didn't stop to see how much they would've cost. But according to Lonely Planet, they are usually flat rates and would cost 300,000 VND ($17 CAD) for a trip into the city. We lined up at the taxi queue and didn't recognize any of the taxi names. I was looking for the two legit taxi companies that were deemed as being "ok". We thought since the taxi queue at the airport should only have legit taxi companies, we lined up. We told the taxi driver to turn on the meter, which he did.
When we got to our hotel, he said the ride was 400,000 VND plus the 10,000 airport fee (which was expected). I know this was a lot higher than what Lonely Planet and the airport website said a metered cab was supposed to be (average 180,000 VND). But since we had our luggage in the back, what are you supposed to do when you don't agree with the price. (Tim: The meter actually said it was supposed to be around 150,000 VND plus the 10,000 airport fee, but he quoted the 400,000 price using the timer that ticked up instead of the actual fare meter… e.g. the car was idle for 4 minutes during our ride). Anyway, we learned our lesson. Only stick with Vinasun or Mai Linh Taxis. I thought seeing the legit taxi company cars would be more obvious, but there was a sign saying you can't pick which cab you want (so what are you supposed to do?!).
We're staying at the Platinum Hotel for 3 nights. It's located in District 1, which is where the bulk of the touristy things are in HCMC. The staff was friendly when we arrived and gave us a welcome drink. The lady showed us to our room. It's fairly small and clean enough. We're only paying $35 CAD a night so I guess my expectations shouldn't be super high.
We're both really tired. Our June 5th has been a pretty long day. We were in 3 cities today, making our way back to the Northern Hemisphere – getting closer and closer to home. HCMC is 3 hours behind Melbourne.
Steps today: 26,000