April 2, 2016
After a long day yesterday, we slept really well last night. Our plan for today was to hang out in the university areas: Ewha Womans University and Hongik University's Hongdae area. It was another nice and sunny day in Seoul – around 18 degrees Celsius!
Since it was a nice day, we decided to walk to Ewha Women's University, which took around 30 minutes. On the way to there, we passed by a wedding dress street (reminded me a bit of New Westminster) and a furniture area. Seoul is hilly compared to Taipei, so walking around was more of a workout than walking around was in Taipei. The street leading up to the main gate of the Ewha Womans University was full of vendors, mostly food and sock vendors. Chicken galbi skewers are popular in this area (and were also recommended by a friend) so we decided to try a couple. The prices around this area were cheaper than the Myeondong food vendors.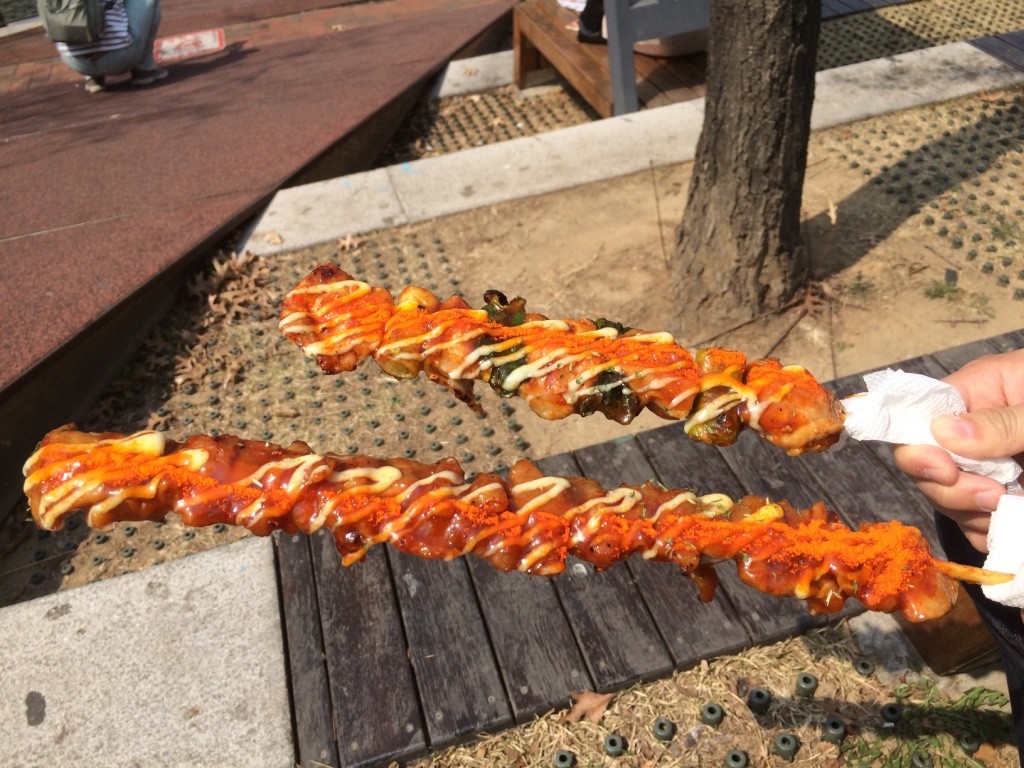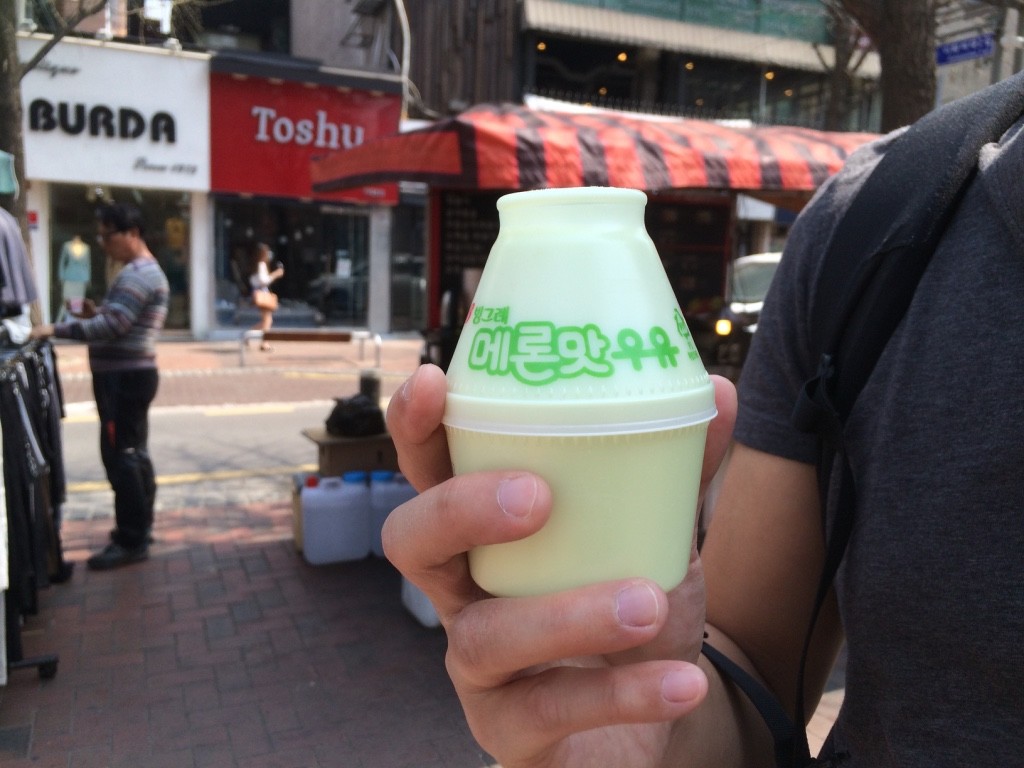 Ewha Womans University area was a neat area that had a lot of shopping leading up to the university grounds. We would probably go back if we have time to eat as it seemed like restaurants and food stalls were priced more for students rather than tourists (unlike in Myeongdong).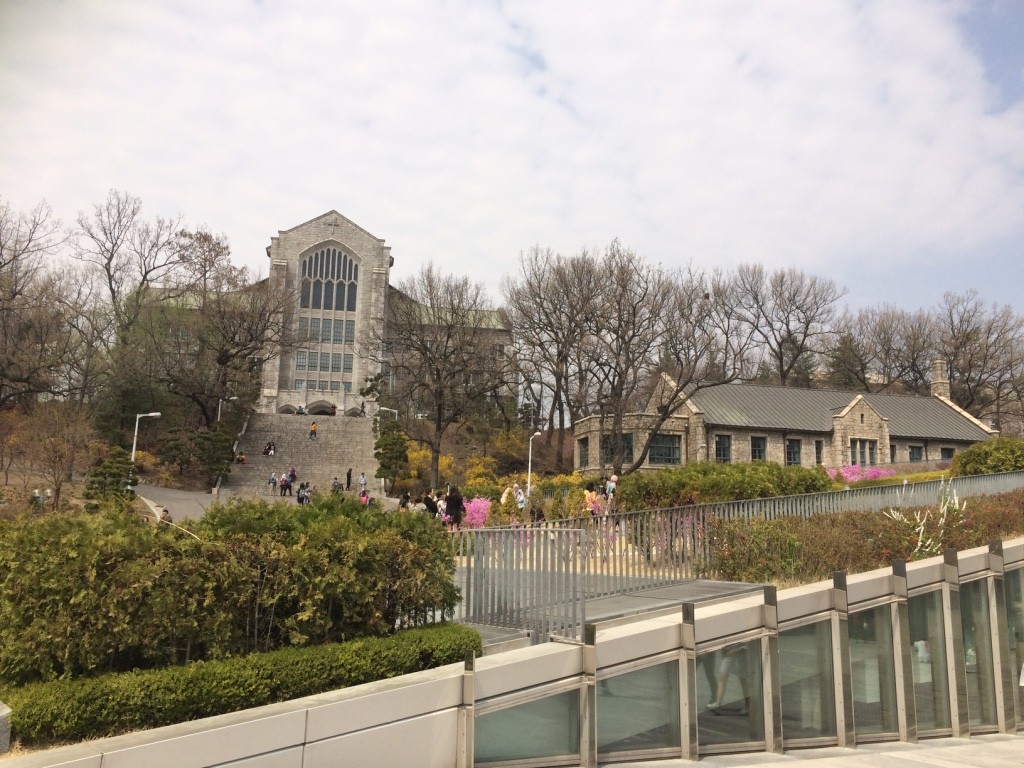 Close to the university is another street of interest called, Sinchon Street. This area is also full of shops and is full of lots of young locals shopping on a Saturday afternoon. Comparing the areas we went to today to Myeongdong, there are definitely more locals rather than (Mainland) tourists.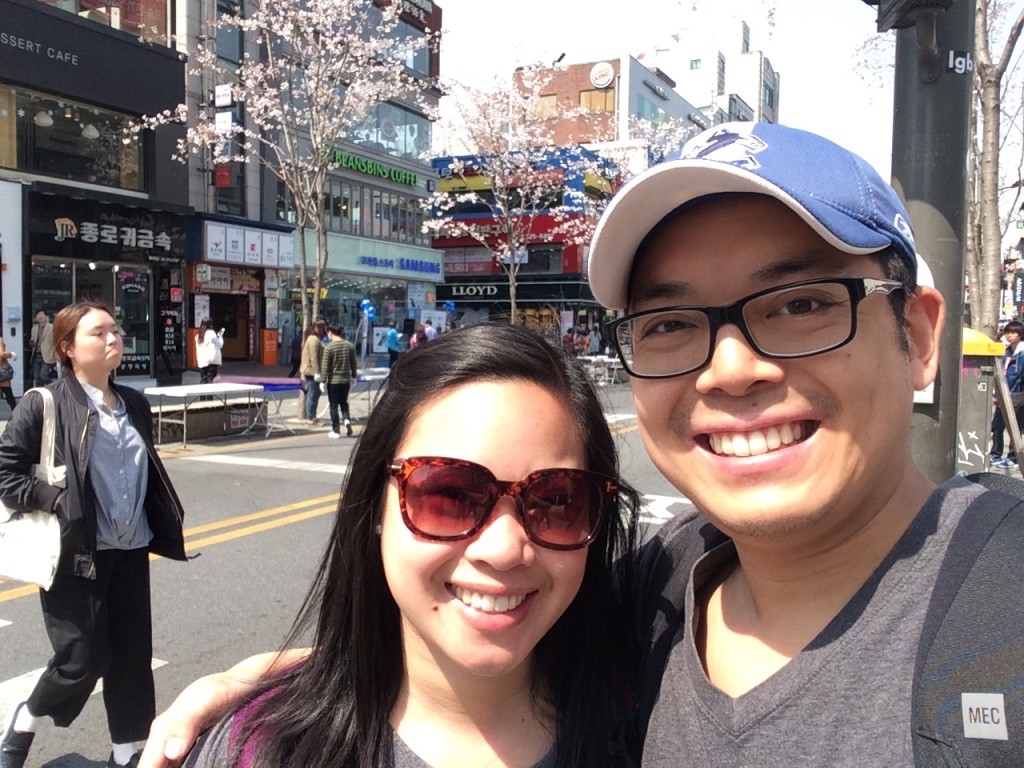 There's literally the same beauty/cosmetic stores in every area you go to Seoul. I think Myeongdong has about 2-3 Etude Houses within a few blocks of each other. When people go to Korea, they always bring back face masks and stock up on creams and cosmetics. Today, I was feeling really overwhelmed with the shopping streets in Seoul. I'm going to have to do research on which store is the "best" and if there's any "must buys" from them, since they basically all look the same to me. (Tim: and perhaps they are pretty much all the same?)
After Sinchon, we made our way towards Hongik University. The area around it is called Hongdae. It is a popular area for young people, and has a lot of restaurants, clubs, and cafes. The street also has a lot of street performers, which I have a lot of pictures and videos of. This was probably the most fascinating part of Hongdae (to us at least). Our friend, Sabine, said she liked to hang out in Hongdae and I can see why!
We spent most of the afternoon and early evening in Hongdae walking up and down the streets and watching all the street performers. Our favourites were the groups of boys dancing in front of mobs of screaming girl groupies. (Tim: Imagine groups of guys casually doing dance routines from boy band music videos)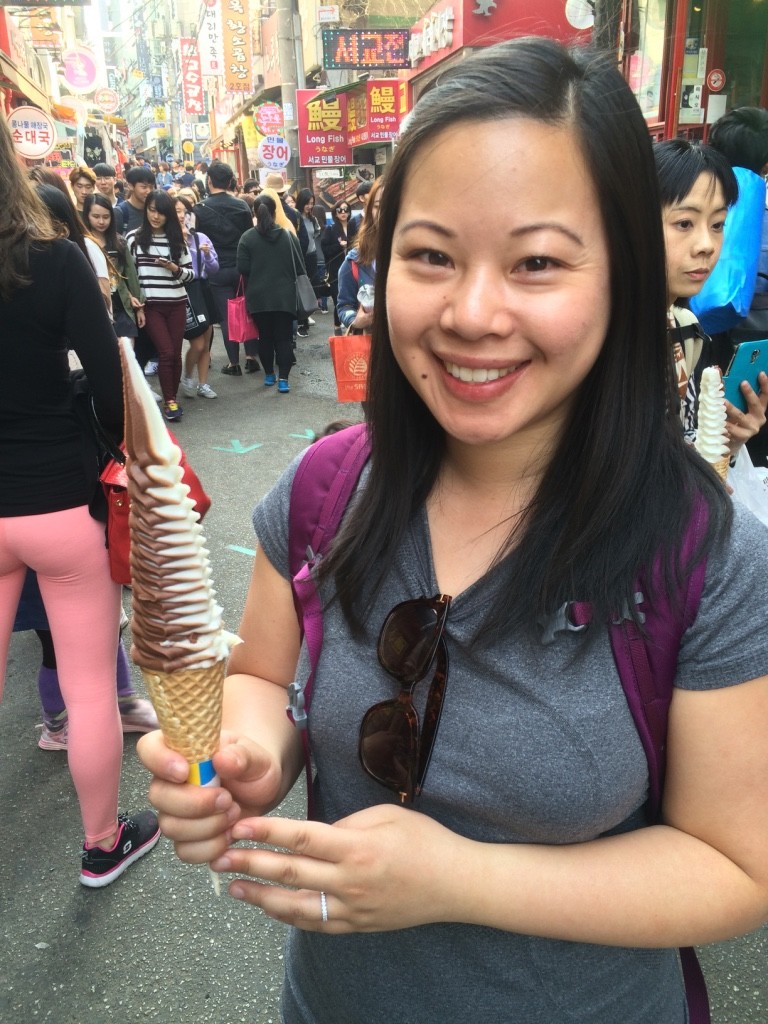 After walking around Hongdae for a while, we decided to eat an early dinner in the area. We passed by some places during lunch that were pretty busy so we went back to one that served pork hock. The restaurant is called "Myth Jokbal". It has two seating areas and considering it was only about 5pm, it was almost full. We decided to order the pork hock and a salad (which looked pretty good and we hadn't had a salad in a while). When we ordered, the waiter said the pork hock comes with the salad and a kimchi type hot pot soup with noodles. The food came and the portions were huge. I think Seoul would be best if we came with other people or if their portions were half the size and half the price.
Everything was very tasty – I really enjoyed the salad. It felt good to eat fresh vegetables like that as it's been a while. The pork was very good, but for pork hock I actually don't enjoy all the fat so I stuck to more of the meaty pieces and Tim ate more of the fat. I was surprised at how many tables were all women sharing such a large portion. The ladies beside us ordered the same thing but had two bottles of beer and ordered soju while taking their time eating the pork.
After dinner we planned to head to the Dongdaemun area, which is an area that is famous for being open very late and some malls are even 24 hours! But before we left Hongdae, we were mesmerized while watching some of the dancers – especially the group that seemed to have the most groupies. Young girls were going crazy for them and even boys in the audience were dancing along and singing.
We finally left the area around 8pm and took the subway to Dongdaemun (History & Culture Park station). When we got out of the station, it felt like we were transported to the future. Dongdaemun area is extremely modern and with all the tall buildings and bright lights it was a totally different scene from the university area, which was a lot older.
After the DDP, we walked down to Seoul's Eastern gate. We are staying close to the Southern gate. There is also a part of the Seoul city wall across the street from this gate which you're allowed to climb up and touch.
The main reason why most people go to Dongdaemun is to go shopping late at night. We decided to check out the mall, Doota, because I read that it has more unique Korean brands that you don't usually see on the street or in other malls. It was 7 floors of small shops on each floor – the mall was really warm inside which made for an uncomfortable shopping/browsing experience.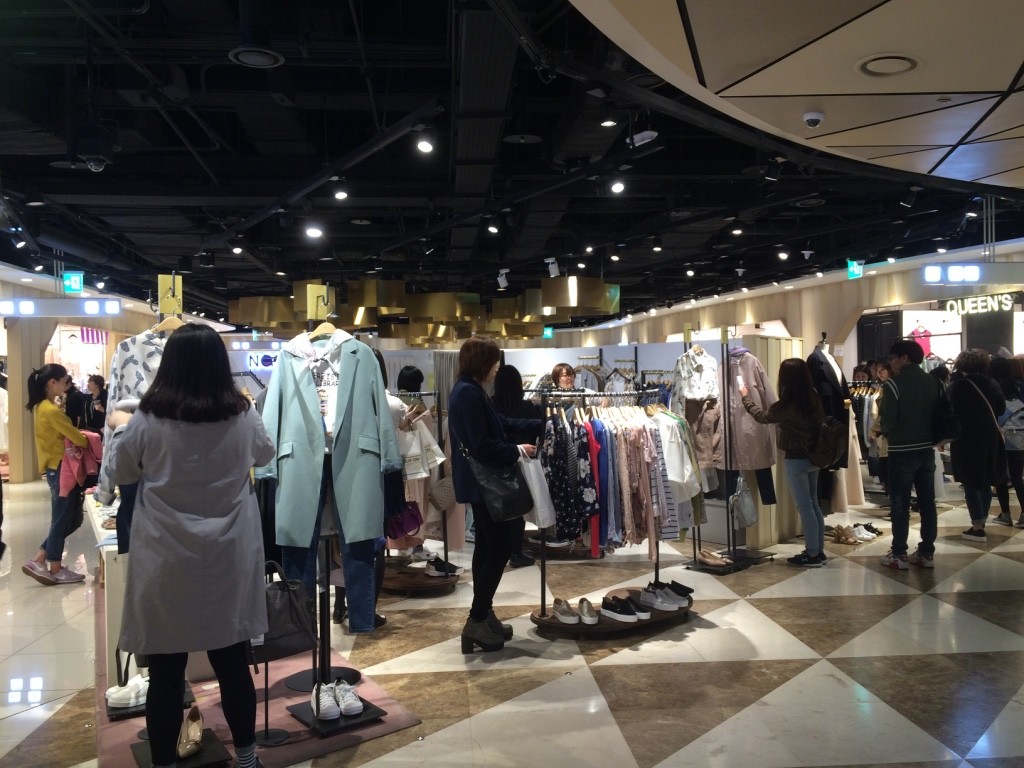 We were feeling really tired after another long day and took the train back to our hotel at 10:30pm. We passed by the street where we had fried chicken last night and it was pretty dead. We have come to the conclusion that this area is only really busy during weekday nights when the businessmen are out.
Tomorrow we're planning to go to check out another neighbourhood in Seoul, the island of Yeouido. They host the cherry blossom festival here in April, hopefully some have bloomed already.
Total steps today: 32,000