May 24, 2016
Finally! We didn't have a 9-hour car ride ahead of us for the day. We packed up and went for a quick morning walk across the street along the Noosa River. I had no idea the river was across the street from us because when we got into Noosa, it was dark. The sun was shining and it was already about 27°C at 9:30am. There were a lot of people getting their morning walk and run in and there were a few yoga classes going on.
We went back to the room, checked out, loaded up the car, and made our way to Noosa Beach. We planned on having breakfast and spending the morning at the beach before we headed south to Brisbane. Noosa Beach was only about a 5 minute drive down the road from the motel. We found parking on Hastings Street, which is a nice street with lots of restaurants and stores.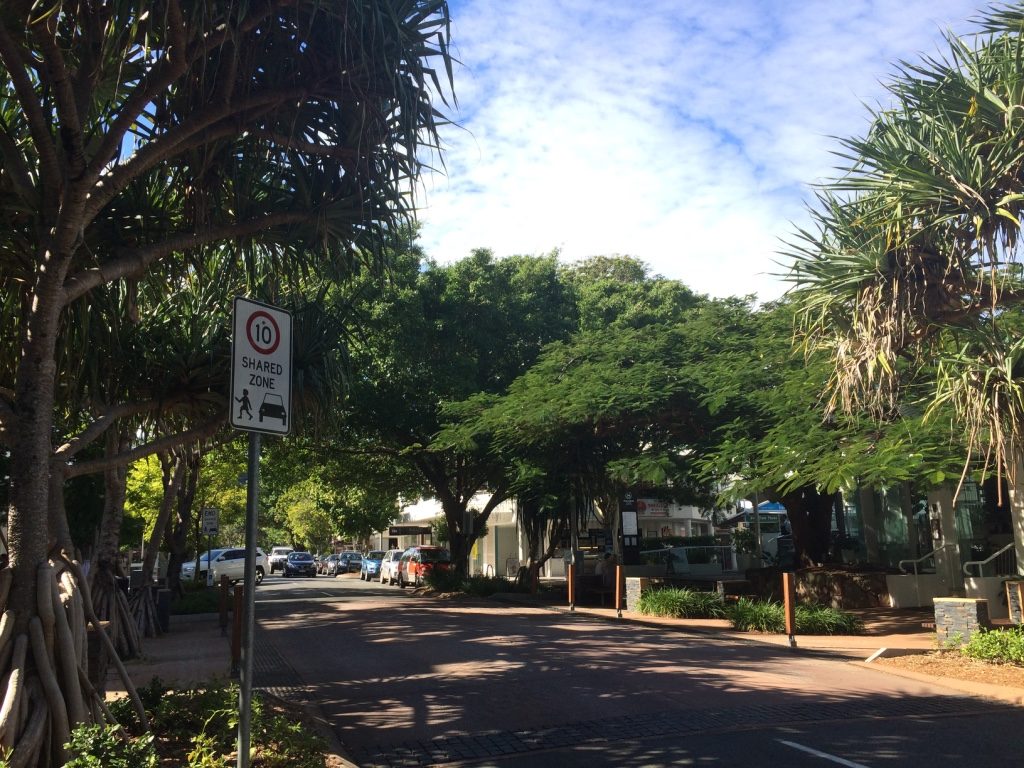 We walked up and down the street to see what our choices were for breakfast/brunch. We ended up picking a restaurant called, Aromas, which had a good breakfast menu and had some pastries and sandwiches in the display cases. I ordered a salmon and avocado sandwich on rye ($9.50 AUD = $8.95 CAD) and Tim got their sausage crumble on poached egg ($16 AUD = $15 CAD). Both items were tasty and the cafe was a nice setting for people watching.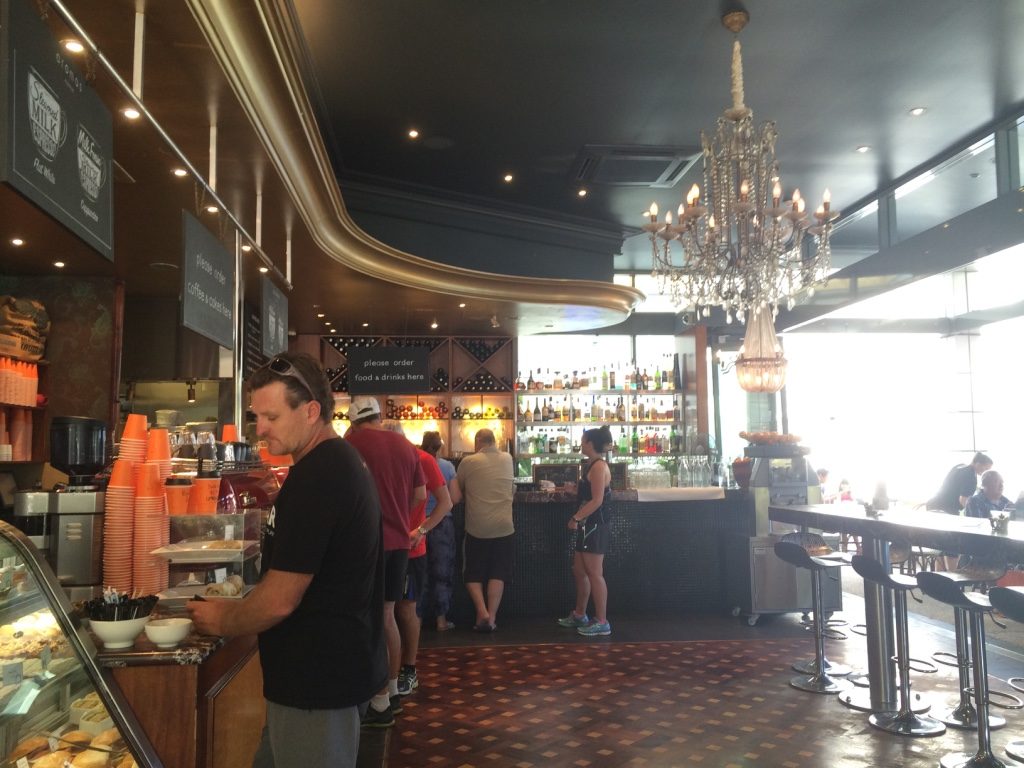 After brunch, we walked down Hastings St. all the way to Noosa Park until we got to the end of the beach. Noosa is known for having very calm waters making it ideal for paddle boarding and for beginner surfers.  We saw a lot of paddleboarders out around Sandy Cove. We also overheard some talking about how there was an eleven food shark out there. We continued to walk along the Noosa Beach until we got back to where the hotels and businesses around Hastings St. were. Next time we'll have to spend more time in Noosa and just have a full beach day. Like the sand we felt in Adelaide, the sand was like powdered sugar. It's some of the softest sand I've ever felt before. The water was a lot colder compared to the water we went snorkeling in. It wasn't freezing by any means but it was definitely not 28°C.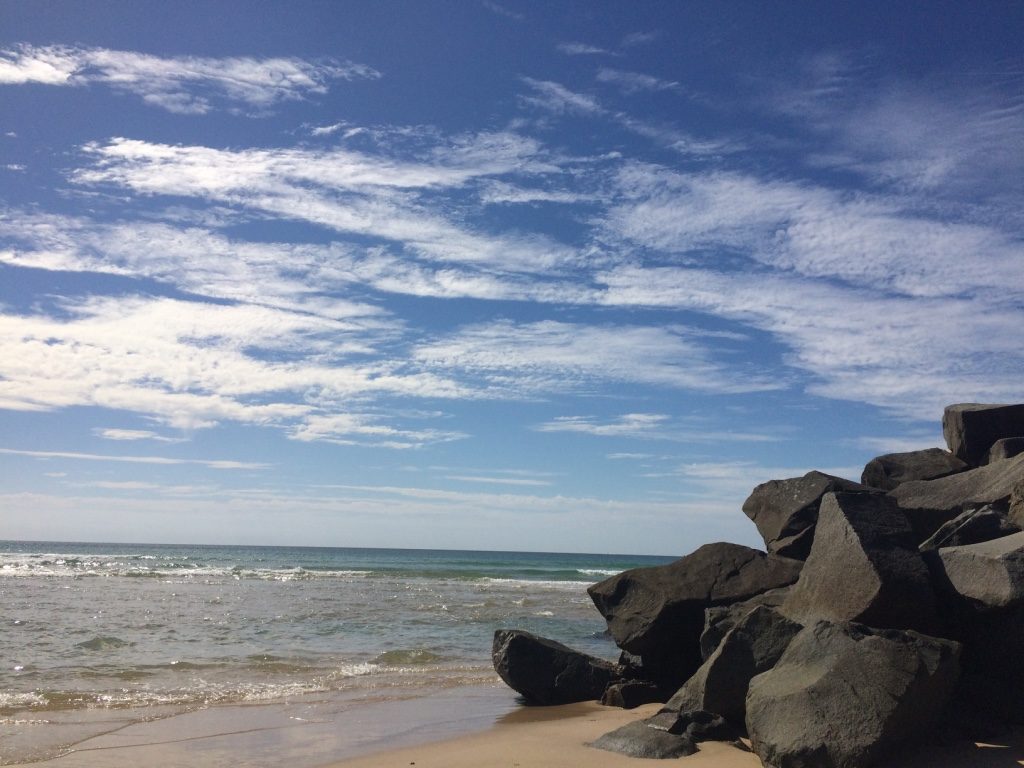 After hanging around the beach and walking in the water, we made our way back to Hastings St. and got a smoothie from a Jugo Juice/Jamba Juice/(Tim: and Booster Juice) type of store called Boost. It was the perfect day for a fresh fruit smoothie and it was exactly what I had been craving. We got back into the car and headed on the more scenic drive down the Sunshine Coast towards Brisbane.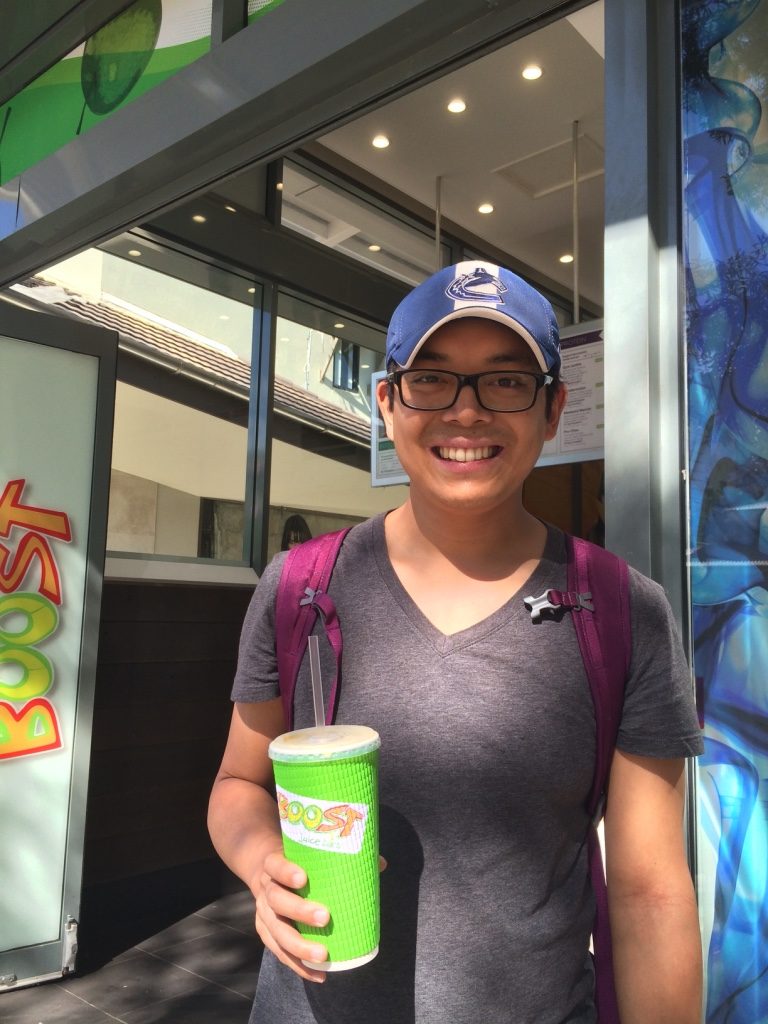 Originally Tim had squeezed in 9 hours of driving each day so we would have a full day to go to the Australia Zoo (Steve Irwin's Zoo), which is about 40 minutes from Noosa. There was some miscommunication about who really wanted to go. Tim was under the impression that I really wanted to go but I thought I had just mentioned that we would pass by it on the way to Brisbane. The only reason why I would be interested in going was because the zoo is linked to Steve Irwin. But since we went to Cleland Wildlife Park in Adelaide, I was pretty satisfied with my experience there and I did't think anything else coul top it. Plus the admission is $59 per person and I didn't want to go that badly. It worked out because we got to have a more leisurely morning in Noosa and spend the afternoon in Brisbane before it got dark (at 5:30pm!).
Along the Sunshine Coast, some parts were very scenic. We stayed on the coastal beach roads until we got to the Sunshine Airport, then we headed for the more direct route to Brisbane, which was a little less than an hour away.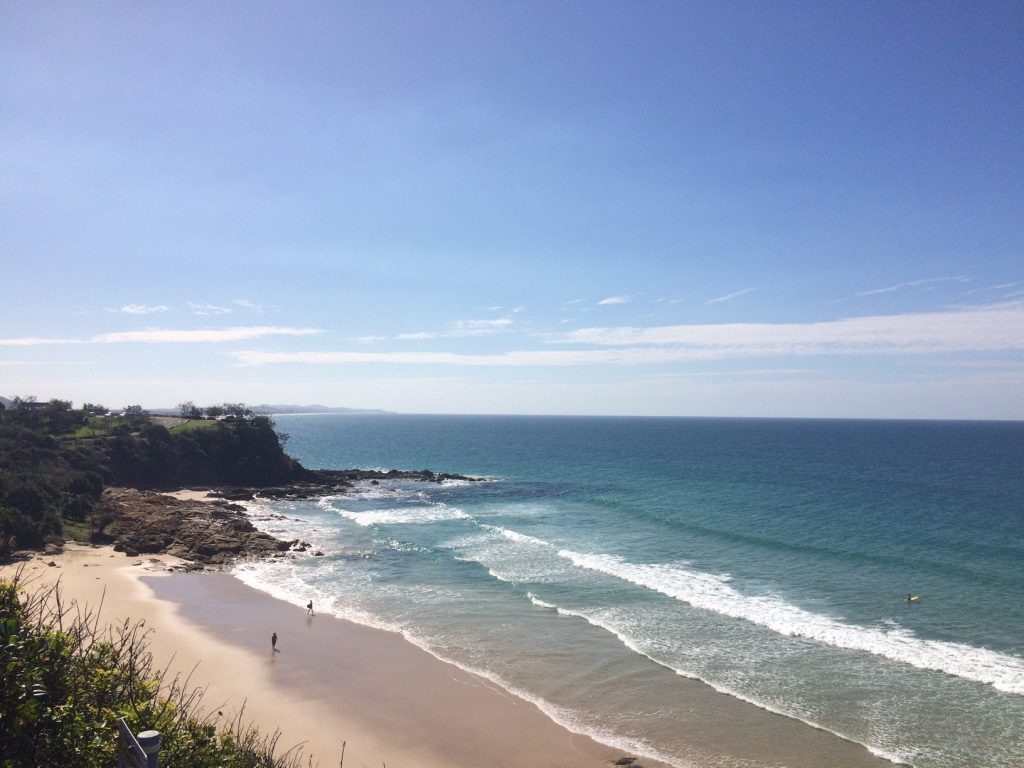 Before we knew it we were in Brisbane. I got used to long drives that today was a breeze. I'm glad we got to spend at least one day in Brisbane while in Australia. It's not on many people's radars since there aren't many tourist sites to see in the city, but I was still very interested in visiting. A good friend of mine did her Masters here so when we arrived I messaged her that I was thinking about her. It's too bad I didn't get my travel bug before she left. It would've been nice to visit her while she was living here.
We checked into the Ibis (Tim: "Style") Hotel in Brisbane's CBD (Central Business District). It's our second time in an Ibis and we're both very happy with their rooms and their very comfortable beds. Considering the hotel is in a prime location downtown, the price is really good at $117 CAD/night. The downside of being in a prime location downtown (with a car) is that we had to pay for parking. Luckily Ibis said they will validate the parking, but it will cost $35 day. When we drove down to the Myer's shopping parkade, we saw the regular price for more than 3 hours is $55. So we'll take the $20 off.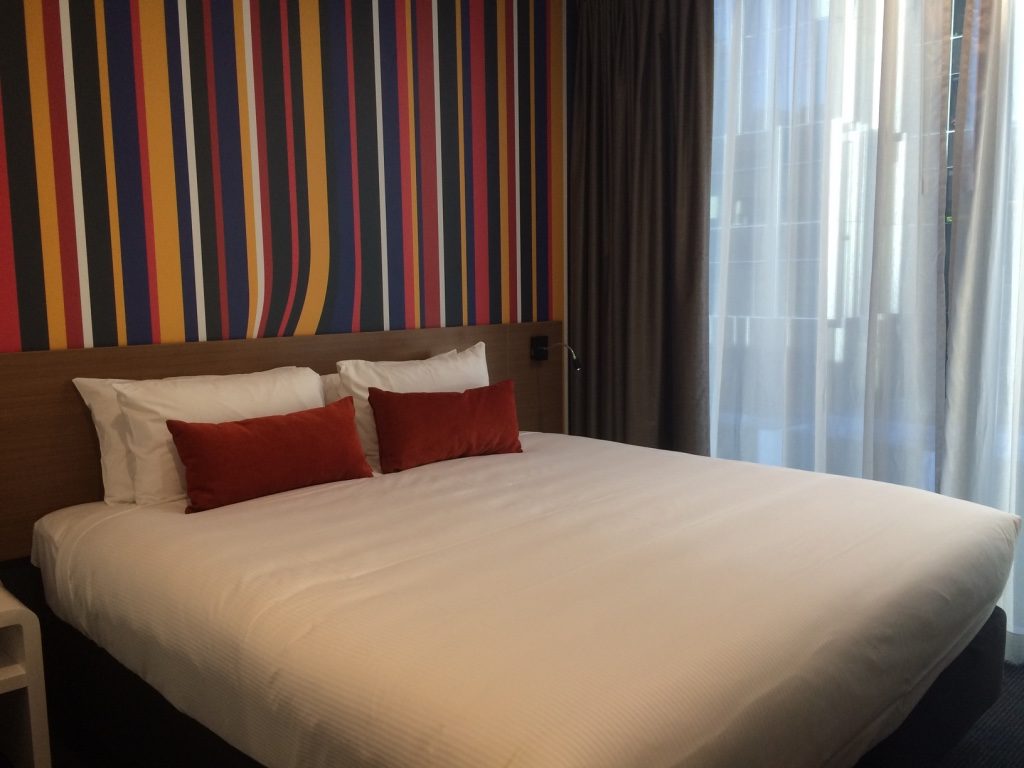 After we settled in for a bit, we went straight out to take advantage of the sunlight. We walked across the bridge to South Brisbane, along the river on the south bank, and across the pedestrian bridge straight into the Botanic Gardens. It was a really nice walk, and the weather couldn't have been more perfect. My first impression of Brisbane was that it's a very active city. There were so many people going on runs and tons of people riding their bikes for leisure and to commute. It seems like the city is very accommodating to cyclists which is great. I love cities that have pedestrian only bridges going over rivers or canals. I wish Vancouver would put one over False Creek.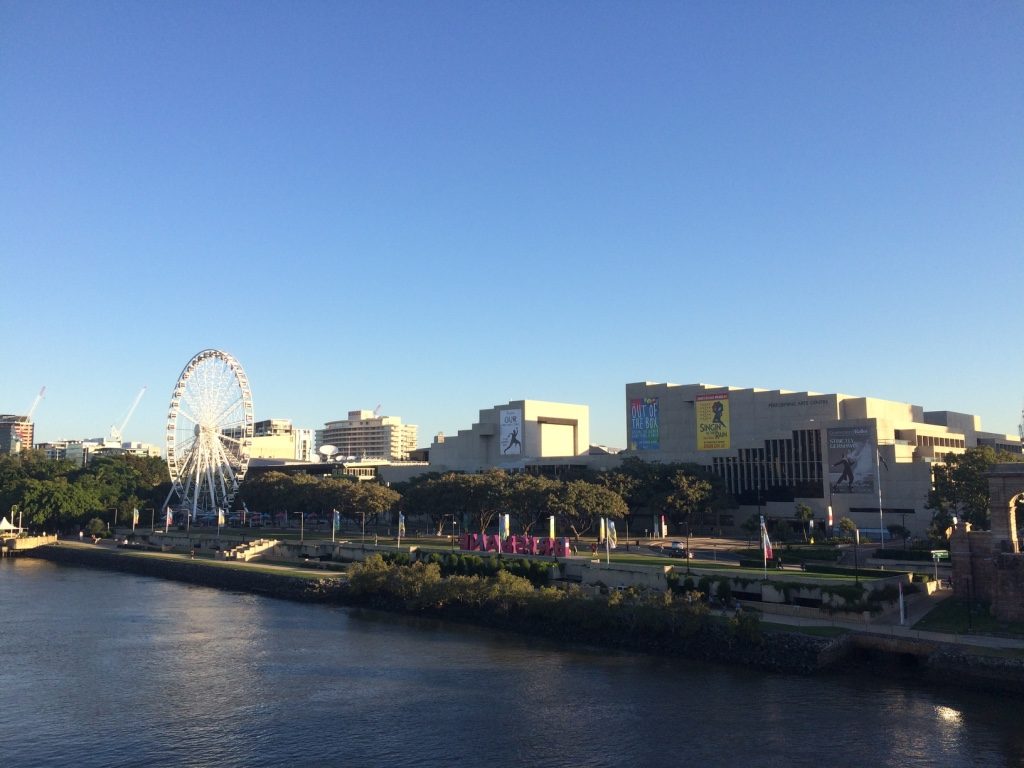 When we got back into Brisbane's CBD, we walked through the Botanic Gardens and back on to another river walk way. By this time, it was getting darker and we were looking for something to eat for dinner. There were a bunch of restaurants around Edward's Pier which didn't open until around 5:30pm, so we continued to walk towards the pedestrian only shopping streets.
Like Rundle Mall in Adelaide, Brisbane has a pedestrian only shopping street called Queen Street Mall. It was larger and had higher end stores than Rundle Mall. We walked through trying to see what restaurants were around but nothing really caught our eye. When we got to the end of the street, Tim wanted to check out the City Hall building on the corner and low and behold there was a food market set up. There were all these food tents set up in the middle of King George Square (later we learned it was called "The Paper Plate Supper Club"). We walked around and found there were a lot of delicious options so we decided to have dinner there. I had Malaysian food (chicken satay with nasi lemak) and Tim had Vietnamese food (a vermicelli bowl with chicken and spring rolls). Both were really good and satisfying. It was our first proper dinner in a while.
After dinner, it was still early (around 6:30pm) but it felt more like 9pm. We're so used to the sun setting at like 9pm when it's warm out, so I think that's why it being dark at 6pm is weird for us. We headed to ANZAC Square which has a memorial dedicated to Australian and New Zealanders who fought during WWI. This memorial was one of the nicer one I've seen in a city.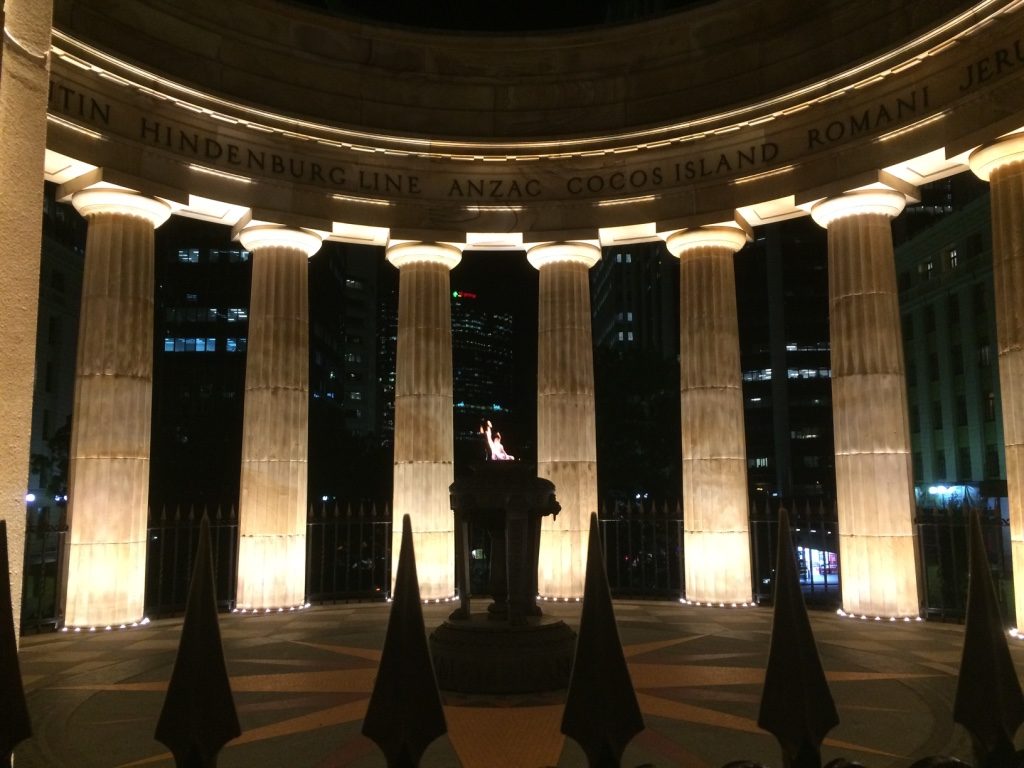 We walked back up Queen Street Mall to get back to our hotel and we called it an early night. We did a quick overview of Brisbane and we liked it. It's a very relaxed big city which are usually my favourite places.
Tomorrow we're flying to Sydney! Looking forward to finally seeing the city for myself. We'll be meeting up with a couple of friends there so it'll be great to see some more familiar faces.
Steps today: 22,000