June 23, 2016
Today we were flying to Luang Prabang, Laos at 6:50pm, so we had a pretty full day in Hanoi before we had to go to the airport. We had a leisurely and large breakfast upstairs. I ordered Vietnamese fried rice and it was a lot larger than I expected, so that was basically our early lunch.
After breakfast we went back to our room and started to book flights and some hotels for our last 3 weeks on the road. We'll be going to Vientiane, Phnom Penh, Siem Reap, Kuala Lumpur, Penang, and Phu Quoc before making our way back to Saigon (then home!). We've booked all our flights until KL, we'll do the rest in the next couple of days.
Since we didn't have to leave for the airport until later in the afternoon, we asked for a late check out and we didn't head out into town until 1pm. I think if we asked for even later they probably would've given it to us. The staff at the hotel was really accommodating!
We finally checked out and headed out for lunch. We hadn't eaten any food in Hanoi that we really wanted to have again, so it made deciding what to eat for lunch a bit challenging. Tim is always down for eating more banh mi so we decided to try to find a new place.
We walked through the old town and close to Hoan Kiem lake to see what we could find. We found a Banh Mi shop called, Banh Mi Pho Cho. It looked promising. We ordered two sandwiches and took a seat. I ordered a roasted pork sandwich and Tim had the classic deli meats and pate banh mi. Both our sandwiches were pretty mediocre. I can see now why Banh Mi 25 is supposedly the best banh mi in Hanoi, there isn't that much competition for good banh mi in Hanoi's old town.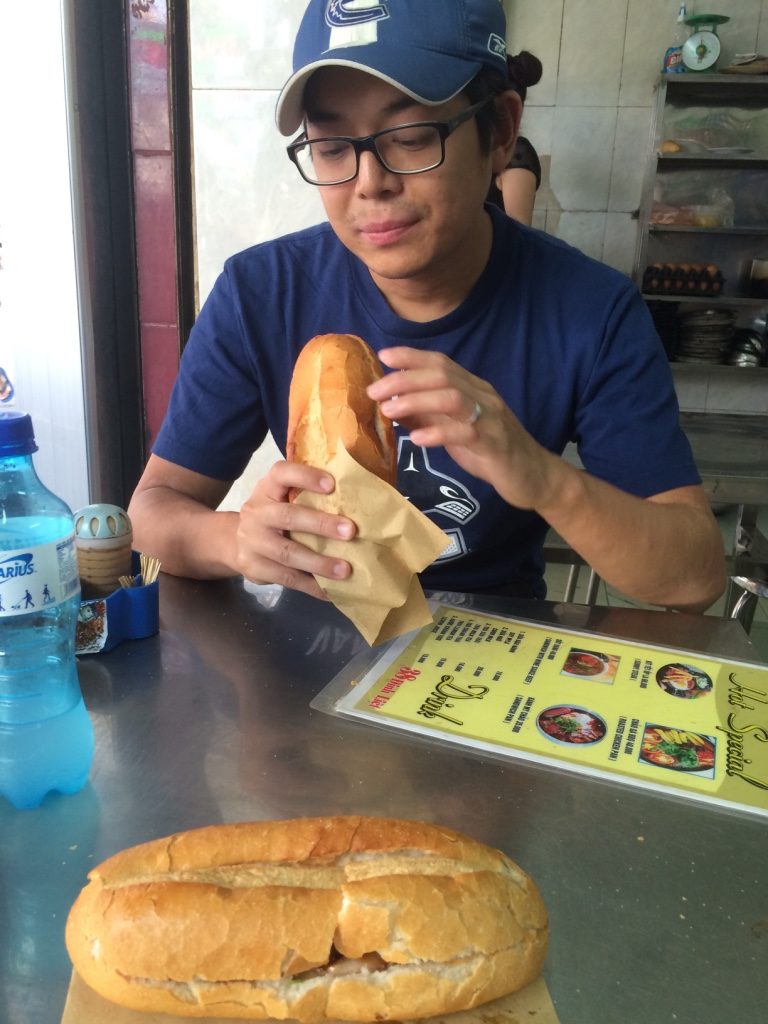 We walked through old town and decided to go to Cong Caphe to escape the heat for a bit. We are usually indoors during mid-afternoon so it was especially draining being in the sun during mid-day. We wanted to go to Cong Caphe since we weren't going to be having it again (unless Saigon has one, but we may not have time to go). We ordered a coconut coffee and a frozen lemonade (the exact order we had the first time we went). Both were delicious as usual and we got to spend some time watching over Hanoi's hectic streets.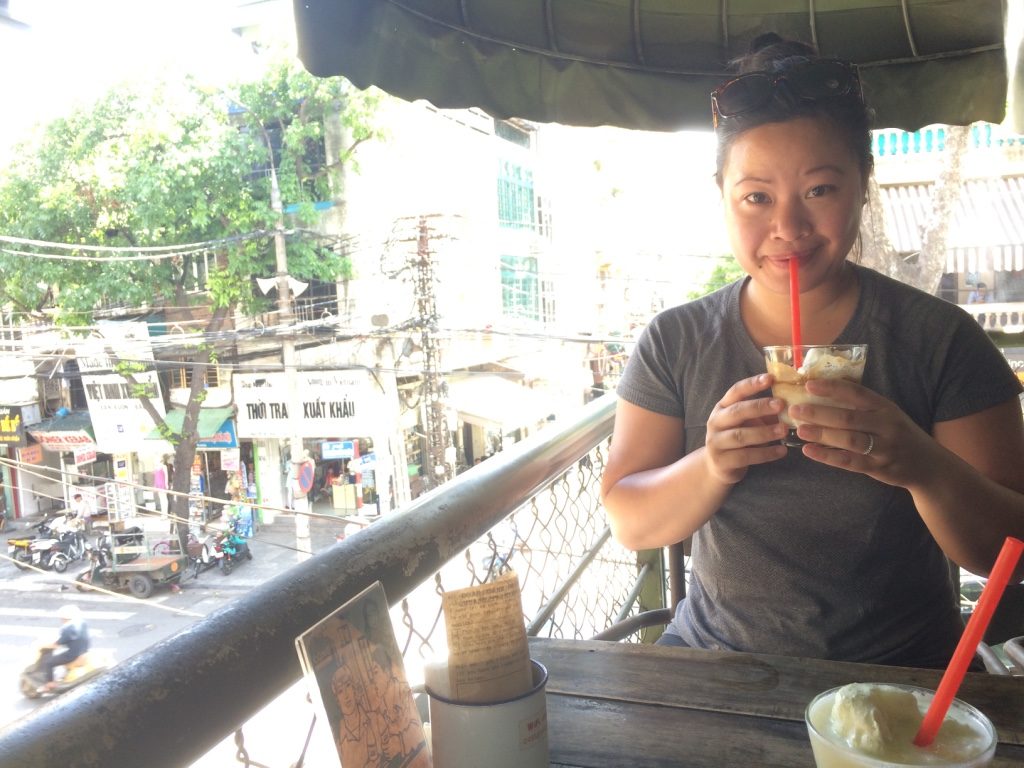 We walked around Hoan Kiem Lake, which was nice because it was mostly shaded by all the trees. After we made a loop around the lake, we made our way back to the hotel to cool down a bit before the car took us to the airport. The hotel manager and staff were nice and gave us cold towels (seeing how much we were sweating) and cold juice while we waited for our car. The manager also gave us a Vietnamese lacquered plate as a souvenir – that was really nice of him. Then about 5 minutes later he asked us if we would write a review on Trip Advisor for them. I was going to write one for them any way, but for a small business, I can see how good reviews on Trip Advisor are basically their life blood if they're in the tourism industry. I told him that's how I found this hotel, through Trip Advisor, so obviously I was going to pay it forward.
Right at 4:30pm, our car came to pick us up and we said bye to all the staff at the hotel. It took about half an hour to get from Old Town to the airport. There's a lot of traffic trying to get out of the city, but once you get on the highway it's smooth sailing.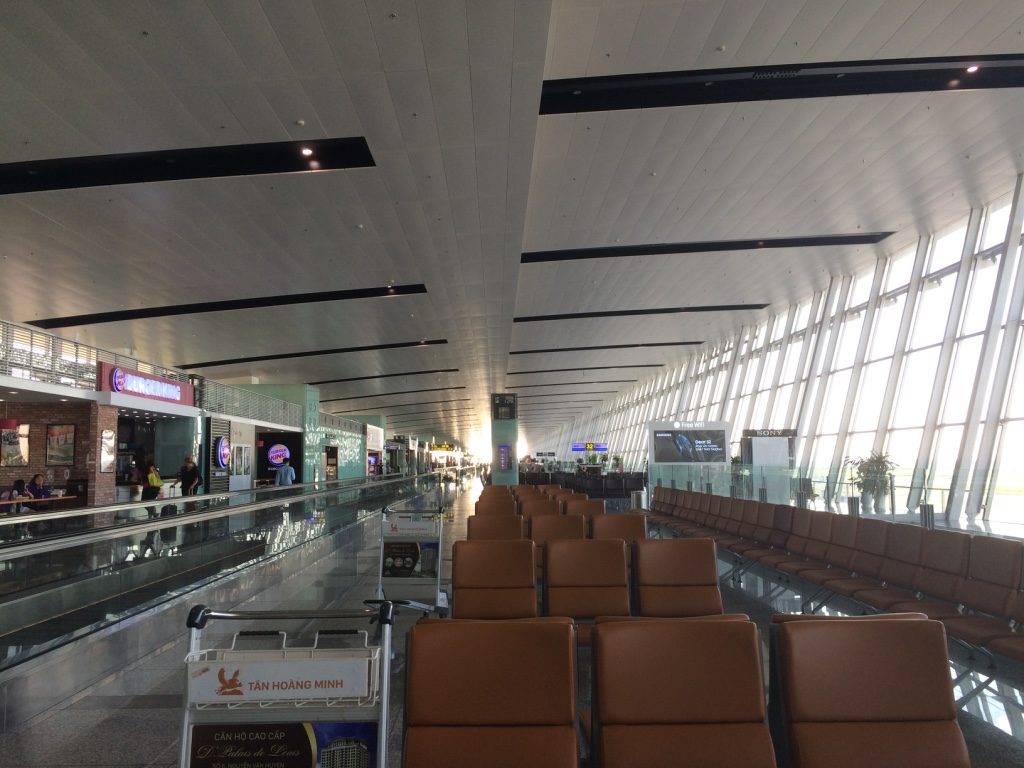 We arrived at the international terminal and it was a lot nicer than Hanoi's domestic terminal – mainly because it's newer. The airport was pretty dead. There were a few flights leaving for Seoul, Taipei, and Hong Kong. The Lao Airline counter was not busy at all. It seems like the majority of the passengers on this flight to Luang Prabang are westerners and only about 10% Laotian.
Once we got through security and Vietnamese exiting customs, we walked around the departures terminal and ended up getting Popeye's for late lunch/early dinner. The international terminal prices are all in USD and are a lot more expensive than the domestic terminal.
As we neared our boarding time, we weren't boarding and I knew our flight was going to be delayed. Sure enough, we heard an announcement saying that our flight was delayed from 6:50pm to 7:10pm. Then 7:10pm quickly came and went and we still hadn't boarded. Another announcement came on saying that the flight has been delayed to 8:40pm due to technical issues. They gave us a small sandwich and some water, which was probably what we should've eaten on board as our dinner. We finally boarded close to 9pm.
The plane was pretty small. It's the type of plane you would fly from Vancouver to Seattle (Tim: Actually, it was an ATR 72 and I think it's bigger than any plane I've been on from Vancouver to Seattle). The flight time to Luang Prabang is only an hour and a half (thankfully). When we arrived at the airport, we were the only flight that was there. It seemed like the only people working at the airport were the customs officers.
Laos requires a visa upon arrival so we tried to walk faster than the majority of the plane since we knew that 90% of the plane would need a visa. Depending on what country you're from, you have to pay any where between $30 USD – $42 USD for the visa. Lucky for us, Canada is the only country that is $42! Even Afghanistan is $40 USD. Most other western countries are $30 USD. There was a big chart at the visa line with a list of all countries and their prices. Since we landed after normal work hours, it was an extra $1 USD to process. We had passport pictures printed at Costco before we left for the Laotian and Cambodian visas, but had we known that it would only cost an extra $1 USD for them to just photocopy a picture for you, we may have considered that.
After the visa line we took our passports to the customs line. They were having technical difficulties with their computers so we had to wait longer in that line. Finally, we got through, grabbed our bags and the hotel car was waiting for us outside. Lucky our hotel had free airport transfer because there were no cabs or tuk tuks around at all.
We're staying at "Le Bel Air Boutique Resort", which is about 5km away from the airport. We couldn't see much in the dark but Luang Prabang seemed very quaint and quiet as there weren't many scooters or cars on the street at night. The hotel looked very Thai or I guess very Laotian. The reception and restaurant area are all open air and each room is in its own villa area. We were brought to our room and were pretty surprised at how nice and large the room was. We're lucky it's down season because they had a "stay 3 nights, pay for 2" promotion, so we're paying $60 CAD/night. Hotels in Laos aren't as cheap as Vietnam.
After a really long day, we washed up and went to bed. Both really looking forward to exploring the city more tomorrow!
Steps today: 11,000