July 1, 2016
It's our last morning in Phnom Penh and our last breakfast at TEAV Hotel. I changed it up today and ordered a western breakfast and Tim ordered fried rice again. We booked a car to take us to the airport at 10:30am so we didn't have much time in the morning to do much besides pack and have breakfast.
Our flight to Siem Reap wasn't until 12:55pm, but with Phnom Penh's crazy traffic, it took around an hour to get to the airport. The airport is only 11km away! At one point we were stuck in traffic for about 20 minutes because there was construction on the road. We were flying on Cambodia's national airline, Cambodia Angkor Air to Siem Reap. Out of the domestic terminal, the 4 flights that were leaving around the same time were all going to Siem Reap. The only other city that flights fly to domestically is Sihanoukville (the south coastal city).
The domestic terminal was surprisingly nice and modern – very new compared to Laos and even Vietnam. There was free WiFi in the terminal and a good cafe called Blue Pumpkin, which apparently has the best ice cream in Cambodia. We saw a Blue Pumpkin store along the river yesterday but didn't try it so I'm glad they had it at the airport so we could try. Tim and I shared a coconut ice cream in a cone for $1.75 USD. The cone was really good. It wasn't a normal waffle cone, it was like an egg roll cookie cone.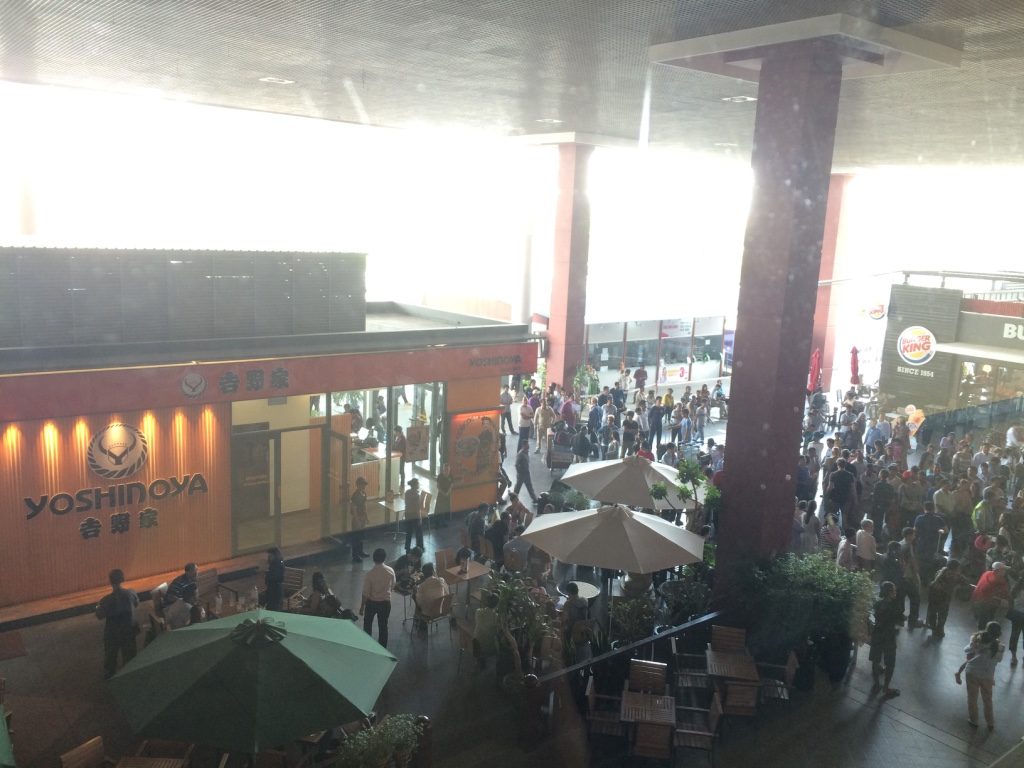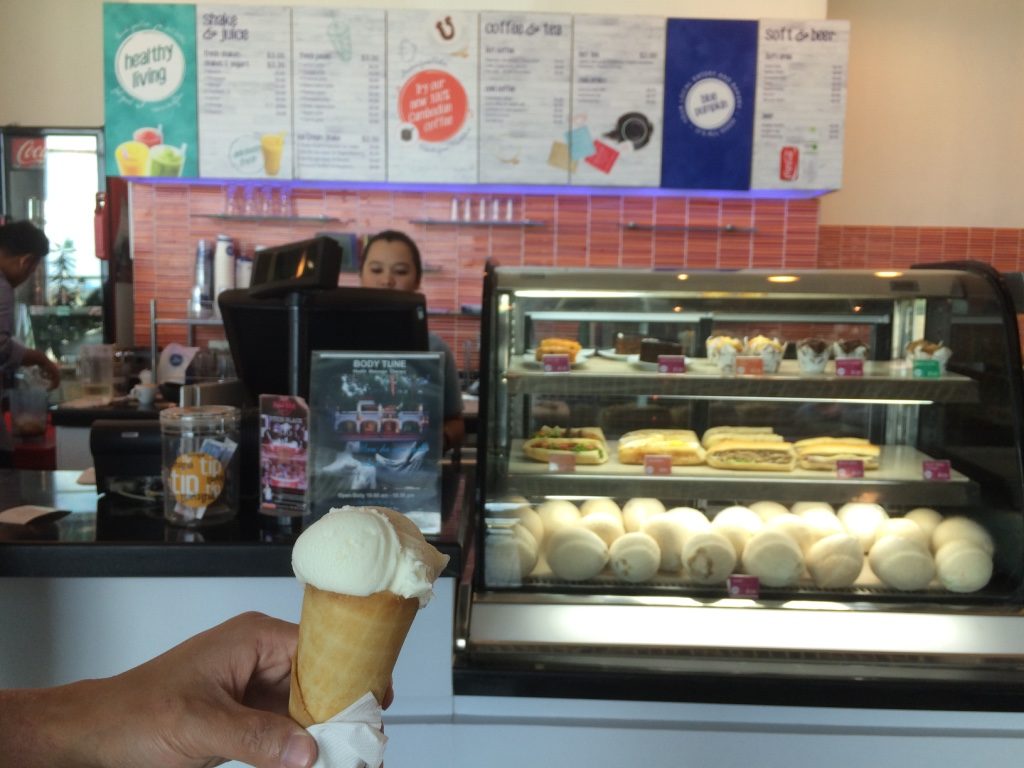 When it was time to board, the skies opened up and it was like the same downpour as we had yesterday. Since the plane wasn't right at the gate and we had to take a shuttle bus to take us right to the plane, a lot of people got wet until airport staff brought out large umbrellas. We also realized that departure times in SE Asia are more of an estimate of departure time and generally it's actually the time you board.
The plane was another smaller place – similar to what we took from Hanoi to Luang Prabang (Tim: ATR 72). The flight time was only about 45 minutes, but it felt like the longest flight ever because of the bad turbulence. There were a couple of times where the plane just dropped a bit and everyone (or a lot of people) on the plane yelped. I was one of them. I grabbed Tim's hand and held it pretty tight, said a prayer, and hoped we would land in Siem Reap safely. Tim said he wasn't scared. I hate small planes!
Obviously we landed safely, but seriously that was the worst flight I've ever been on. I haven't been that scared for a while. Tim said he was more scared on our honeymoon when our plane was trying to land in the Maldives. I don't remember that at all, but the way he describes it I suppose it was probably more of a true concern than bad turbulence. Basically right as we were about to land, the plane went full thrust and pulled up again because (as we were told later) there was a plane that didn't clear the runway. (Tim: So as Kait mentioned, it was significantly scarier for me because in my mind, being so close to touching down and then having the engines go full thrust and the plane pulling up made me think there was imminent danger. It was an abnormal occurrence and it was probably the only time I've been truly scared on a flight.  Planes don't crash from turbulence, so it's not a concern to me, other than spilling a drink. It's also good to remind myself that the tuk tuk rides we take are probably significantly more dangerous than any plane ride we'll ever take).
We collected our bags and someone from our hotel was waiting for us at arrivals. The hotel we booked includes free airport transfers which is nice. We were picked up in a tuk tuk and made our way to the hotel.
We're staying at Silk D'Angkor Boutique Hotel. It was really difficult to pick a hotel in Siem Reap because there are so many of them. The fact that there are so many hotels in Siem Reap was evident on our tuk tuk ride. All we saw were large hotels and resorts on the main road into the city. We got a pretty good deal on this hotel because it's rainy season. If we stayed 4 nights, we only had to pay for 3 and there was a 15% promo code I found online so it was $100 USD for 4 nights. The hotel is older and not as modern as TEAV but we have no complaints. At least we have a large window, which we haven't had in a while. We even have a view of the pool which is nice.
For the rest of the afternoon we decided to just relax and hang out at the hotel until dinner. I wasn't feeling 100% and Tim wanted to catch up on our personal finances so we did just that. We knew the next couple of days would be longer and more draining. We got changed and went down to the pool and hung out there for an hour or so. It was nice. Seems like the hotel clientele are all Caucasian. I haven't seen any Asians yet.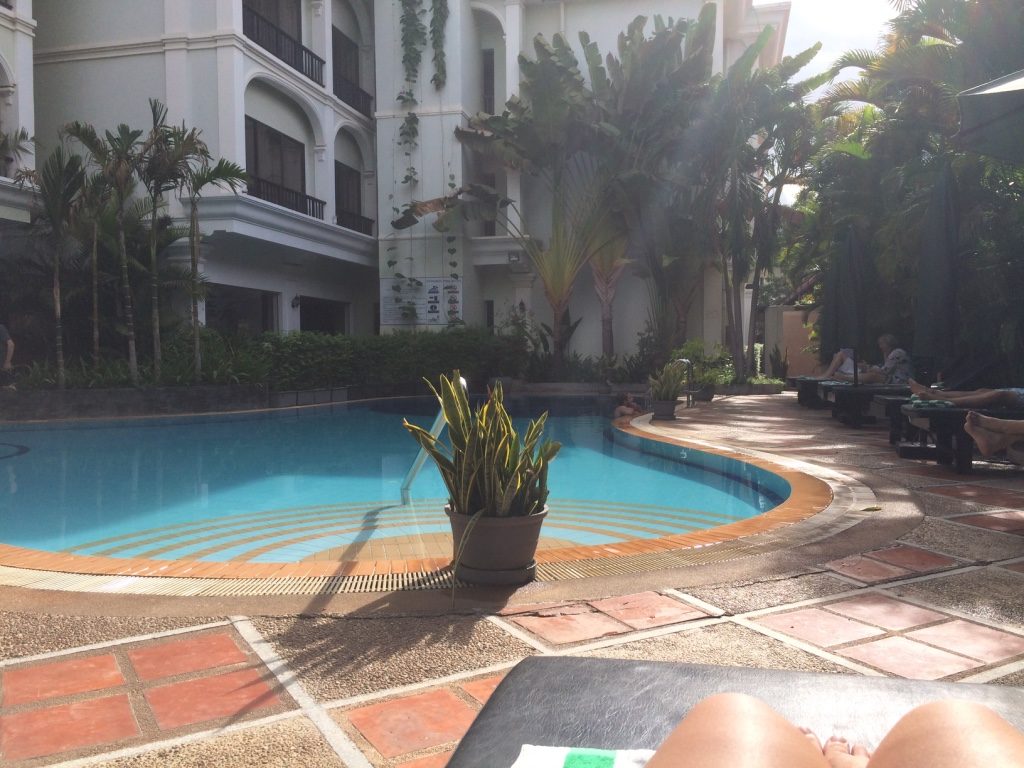 After we washed up, I looked up some restaurants for dinner and we took a tuk tuk to a restaurant called Lilypop ($2 USD ride). Lilypop served a mixture of Thai and Cambodian food and is actually run by a Belgian guy (with Cambodian cooks). The restaurant was already busy for 5:30pm so we grabbed a table outside. Tim ordered luc lac beef again and I tried amok chicken, which is like a Cambodian coconut curry. We also ordered green beans with pork to share. The best dish was my amok chicken. The beans were mediocre and Tim's luc lac was probably my least favourite of the ones he's had so far. The biggest kicker for us is that the rice they serve is brown! Maybe we aren't the restaurant's target market. They had mango sticky rice on the dessert menu and we got it to share. If there's mango sticky rice on the menu, I'll usually order it for dessert. This was probably the most disappointing dish for me. The sticky rice was way too mushy and had no particular taste. I have yet to have a really good mango sticky rice on this trip so far. I'll keep looking!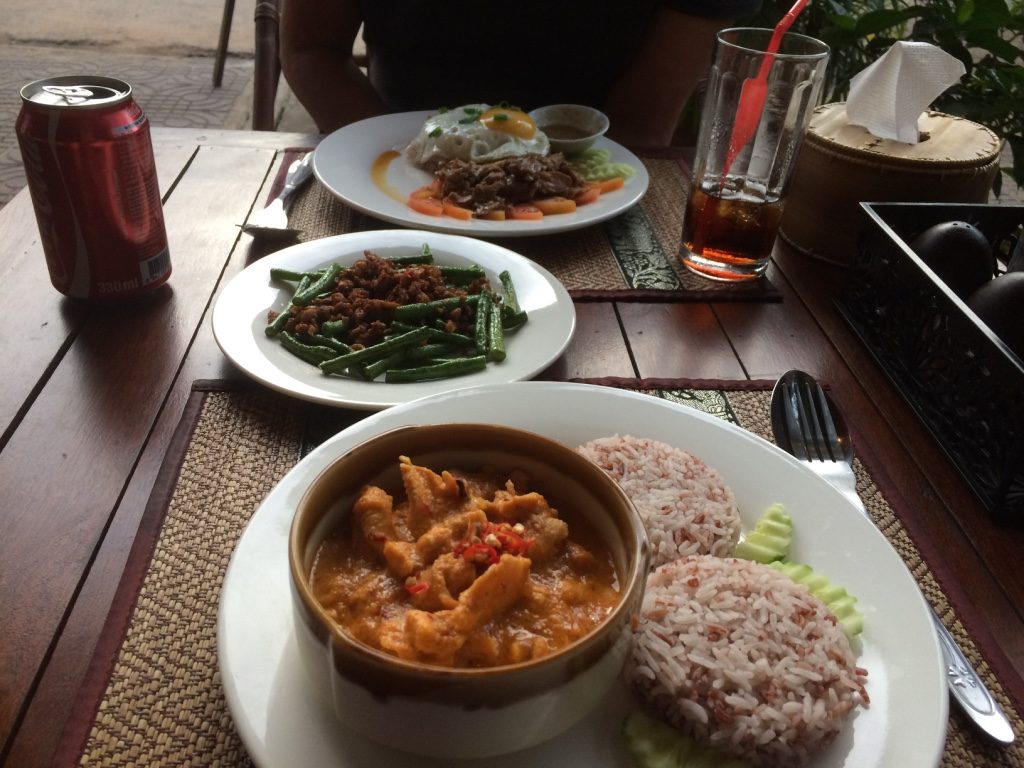 We didn't want to pay another $2 USD to go back to our hotel. Since the sidewalks here look pretty walkable, we just walked back. We'll explore more of the town another night, but I just felt like going to sleep early. Our hotel is close to a huge Duty Free store (DFS Galleria) with all the luxury brands. It's a bit weird to see such a high end complex in the middle of Siem Reap when everything else is very old.
We're looking forward to seeing some of the temples tomorrow! We hired a local tour guide for the next two days to take us around. My parents used him when they were here 4 years ago and had great things to say about him.
Steps today: 4,500