May 7, 2016
We landed in Melbourne just before 6am (Melbourne is two hours ahead of Singapore). It was still dark outside so we weren't able to see anything from the plane. It was my first time in the Southern Hemisphere, which was kind of exciting! Singapore was just barely north of the equator.
Before we left home we had to apply and pay $20 AUD for an "Electronic Travel Authority" (ETA) which is linked to your passport when you arrive. On the walk towards immigration, there were several "e-passport" kiosks for people who had chips in their your passport. I don't have the new Canadian passport yet, so mine did not work. Tim has the new one but he wasn't going to leave me behind (good husband). We lined up for about 20 minutes before crossing customs. The upside to having to wait in line, I got my passport stamped. However, since Tim's passport has the electronic chip, he did not.
By the time we got out of immigration, our bags were already on the baggage belt, quite lonely again. We hadn't seen our bags since Taipei, so I was happy to see that they made it to Melbourne (with Hello Kitty attached).
We made our way to the Skybus, which runs from the airport to Southern Cross Station in downtown Melbourne. The tickets are $19 AUD each way or $38 RT, so we just bought a one way ticket. The ride into the city was nice because the sun was rising and the city seemed like it was still sleeping. We arrived at Southern Cross Station around 7:30am and found WiFi outside Hungry Jack's (Australian's name for Burger King) and messaged Marcus. My first impression of Melbourne was that it looked like Toronto. I think it's because of the street cars (trams) and the older buildings.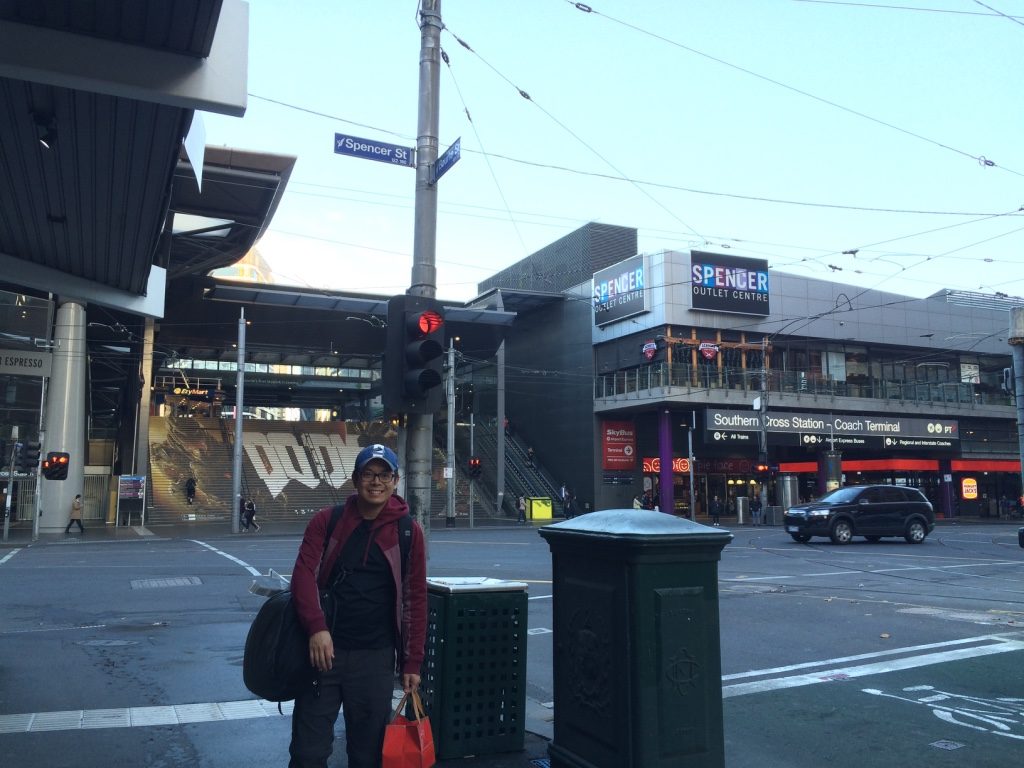 Marcus picked us up from the station and gave us a warm Australian welcome.  We made our way to his apartment, which was about a 10 minute drive outside of the downtown core. Marcus is a good friend and med school classmate of Jessica's (Tim's sister). I got to meet Marcus last year at Jess and Robin's wedding. He travelled all the way to Toronto from Melbourne and only had 4 days in North America. He told us we could stay with him any time we come to Melbourne, so we took him up on that offer a year later. His apartment and complex is really nice and quite new. He also has really good taste in furniture and decor.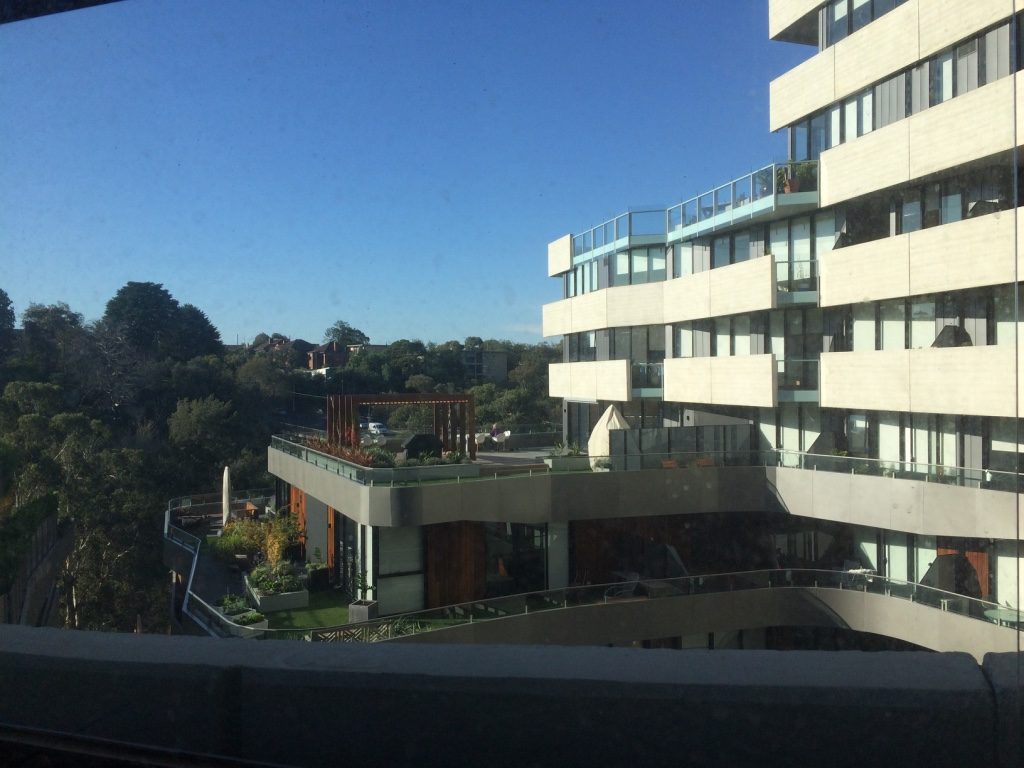 The first thing we did when we got here was shower. We were so sweaty from Singapore and hadn't showered for more than 24 hours, so I think we stunk a bit. After we showered, we ended up falling asleep for a couple of hours. Marcus knocked on our door around 11am and told us to get up. He was taking us to a chocolate festival. We said we were still feeling a bit tired but he insisted. He said when he has night shifts he forces himself to go outside the next day or else he'll feel groggy the following day (like us). We didn't argue with him. He's a doctor, so we listened. Lucky we listened because it was such a beautiful day – the sun was shining and it was about 23 degrees, with no humidity!
We met Marcus' partner, who was joining us for the chocolate festival. Marcus drove to South Yarra, to an area called Prahran. The chocolate festival was being held at the Prahran Market and when we went inside, there were only a few chocolate stalls, so everyone was a bit disappointed. It was the inaugural festival so it was a bit of a let down. The market was packed with people since it was a beautiful Saturday afternoon and it reminded me of Granville Island Market – lots of fresh produce, deli counters, and florists.
After having a couple of samples we went for lunch at a restaurant called, Oscar Cooper. While walking along Chapel and Greville St., and getting the vibe of Melbourne, I felt it was very hipster. I also noticed there were a lot of very attractive people here and it's very multicultural. It's been a while since we saw so many (actually any) guys who looked like they just went to the gym and were super buff.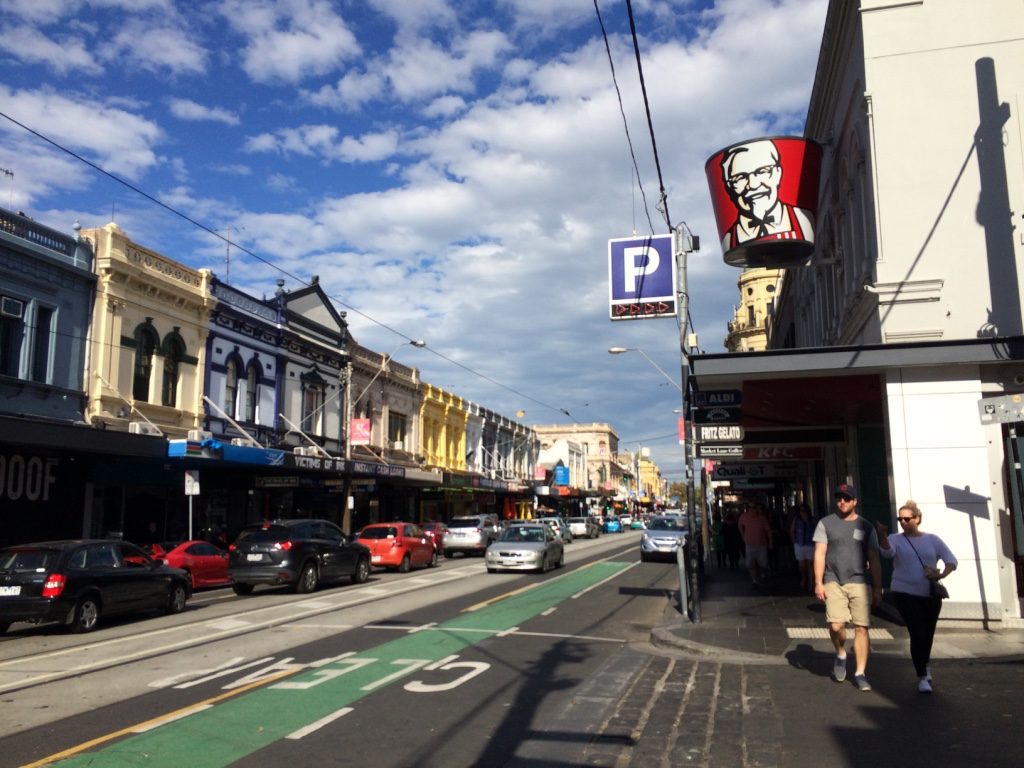 We got a seat outside, which was perfect on a day like today. Melbourne and Australia in general take their coffee very seriously and apparently there are no Starbucks in Melbourne any more (Tim: there are, just very few). Tim and I aren't coffee drinkers (as in we don't drink coffee every day, but will drink it once in a while socially) so when we told Marcus and Max that we don't really drink coffee, it was like blasphemy to their ears. I ordered a "flat white", which originated in Australia, and is like a latte except the foam that's poured over the espresso have very small bubbles (which appear to be more velvety than a normal latte). It was really good coffee.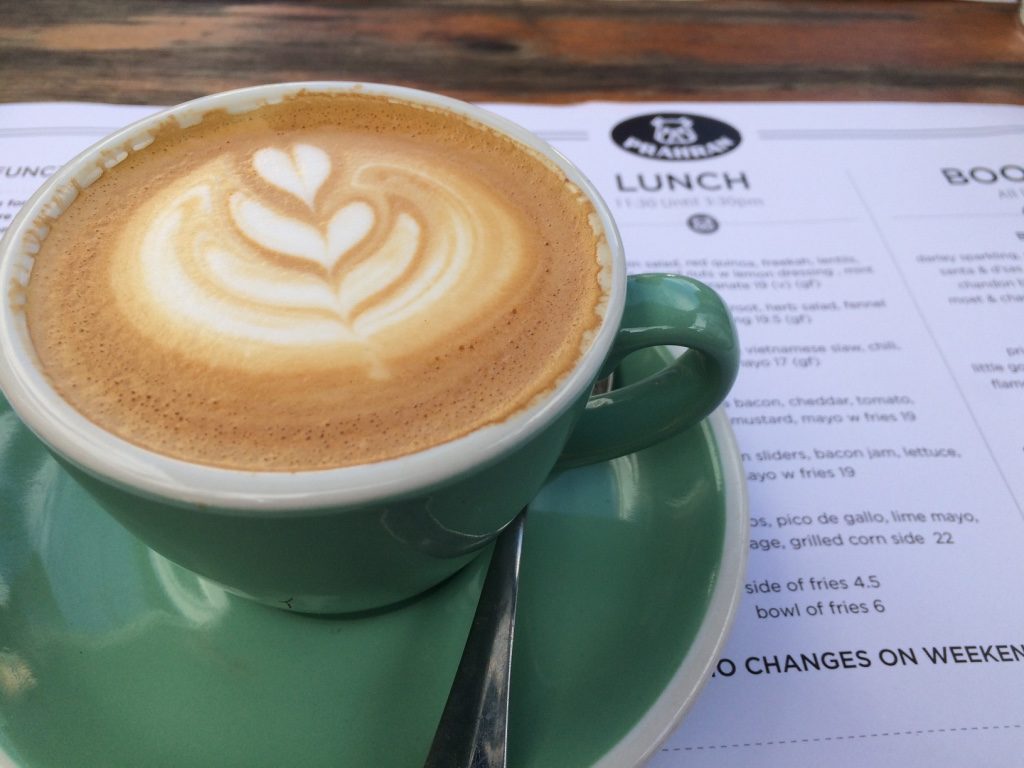 For lunch, Tim and I shared a hamburger and southern chicken sliders. Both dishes were really good, and it was nice to eat a hamburger that wasn't sweet teriyaki tasting. If the prices are going to be higher than what we're used to, at least the food is great. Marcus mentioned we were visiting from Vancouver and the waiter said he worked for Kit and Ace and helped open their Melbourne stores. Apparently Lululemon is extremely popular here, which isn't surprising.
We've quickly adjusted to the pricing in Australia after walking through Prahran Market and observing prices of food items. I think it helped that I had outrageous prices in my head before coming here so it hasn't been that difficult to adjust and often times I've been pleasantly surprised. Marcus secretly went off and paid for lunch, which was very kind of him.
After lunch we headed back to his apartment to relax a bit before dinner downtown. We sat in the kitchen and munched on some candy and cookies that we had brought from Taiwan and Singapore over a nice cup of tea. Around 6pm we headed out and took the tram to downtown Melbourne. We went to a couple of restaurants and they all had about 2 hour waits. There are a lot of Thai fusion places in Melbourne and they all seem very trendy. After being in Asia for a couple of months, it was the first time I felt unfashionable.
We ended up going to Longrain, which is a Thai Fusion restaurant. There was about an hour wait but we got to sit in the bar area while we waited. We ordered some drinks and shared some appetizers, which were all very tasty. We got seated at a long shared table and ordered two mains, a salad and two desserts to share. Everything was very delicious and I'm pretty impressed with the food here so far. Marcus treated us to a wonderful meal and is being such a generous host to us here in Melbourne.
After dinner, we walked around through Chinatown and around some streets downtown. There were a lot of people out and about and some of the streets reminded me of Granville St downtown. After walking around, we hopped back on to the tram and headed to the apartment.
Marcus and Max were telling us about this Chinese dating show called, "If you are the One". Apparently it's extremely popular in Australia and not just with Chinese audiences. We watched an episode and it was really entertaining. I don't think I've seen anything like it before.
The forecast for the rest of the week is rain. We're planning on checking out another market downtown and then meeting my cousin and her boyfriend for dinner. I think our time in Melbourne will be a lot more relaxed.
Steps today: 12,000