May 6, 2016
We had a good rest in Singapore at the Bliss Hotel. The bed was very comfortable, but if you're a light sleeper, I wouldn't recommend this hotel. You could hear everything in the rooms next door as well as what's going on in the hallway (a lot of people got up early, probably to catch flights). We washed up and headed out for the day at 10:00am. Our first stop on our day in Singapore was to go to Maxwell Food Centre for some Hainanese Chicken Rice.
Singapore is known for its hawker markets and this was a priority for me on our layover here. I love Hainanese Chicken Rice, and at home, my favourite is from Cafe D'lite in Aberdeen or Mamalee's in Kits (which used to be called Cafe D'lite), so that's what I was comparing Singapore's rice to.
Bliss Hotel is located right beside the Chinatown SMRT station, which is only about a 6 minute walk to the Maxwell Food Centre. The chicken rice stall that is the most famous is called, Tian Tian, and according to Trip Advisor, it opened at 11am. When we got to the market, we found Tian Tian and it was already open. There was no line up, which was surprising, but I guess it was only 10:30am. I ordered a medium sized chicken rice plate ($5 SGD = $4.75 CAD). We read online that Tian Tian had a former disgruntled chef who left them to open his own stall, called Ah-Tia, a few stalls down at Maxwell. We tried one from each stall to see whose was better. They tasted the same to both of us, the rice at Tian Tian was a bit softer (and better) than Ah-Tia (But Ah-Tia's set was only $3.50 SGD and it included soup).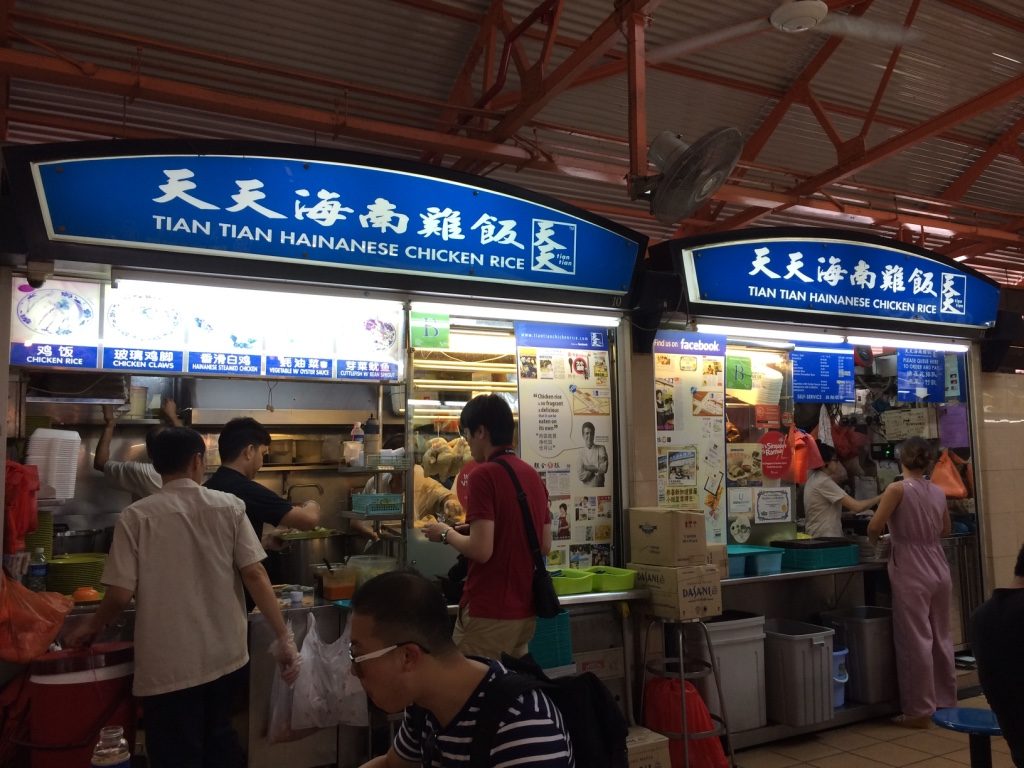 So what's our verdict on the chicken rice in Singapore? The rice itself was the best I've had, but I wasn't that blown away by the chicken. They served me all white meat so maybe it isn't fair to fully judge, but I actually like Cafe D'lite's chicken better. The white meat was juicy but it wasn't as flavourful as I would've hoped for and the chilli dipping sauce was very spicy (not a sweet and tangy spice like at home).  Maybe I hyped the chicken rice too much in my head, but in actuality, Vancouver does have some of the best food and I don't take that for granted.
Maxwell Food Centre only has ceiling fans so it was very hot inside. We had a bottle of free water we got from the hotel, and I drank it all in a couple of minutes. We saw a bunch of fruit juice stalls and got fresh watermelon juice for $2 SGD = $1.90 CAD.
After brunch, we walked towards the water to see Singapore's Merlion fountain. Singapore has some really interesting architecture which I really appreciated. Before coming to Singapore, I knew it was a city full ex-pats but I didn't realize it was so multicultural on its own. I would prefer to live in Singapore than Hong Kong, mostly because the city is quite attractive, clean, not as crowded, and everyone speaks English. I know you can move to Hong Kong or most cities without fluently speaking their native tongue, but I also understand that living in Hong Kong without being able to speak much Cantonese is restricting if you can't really communicate well with coworkers on a casual basis.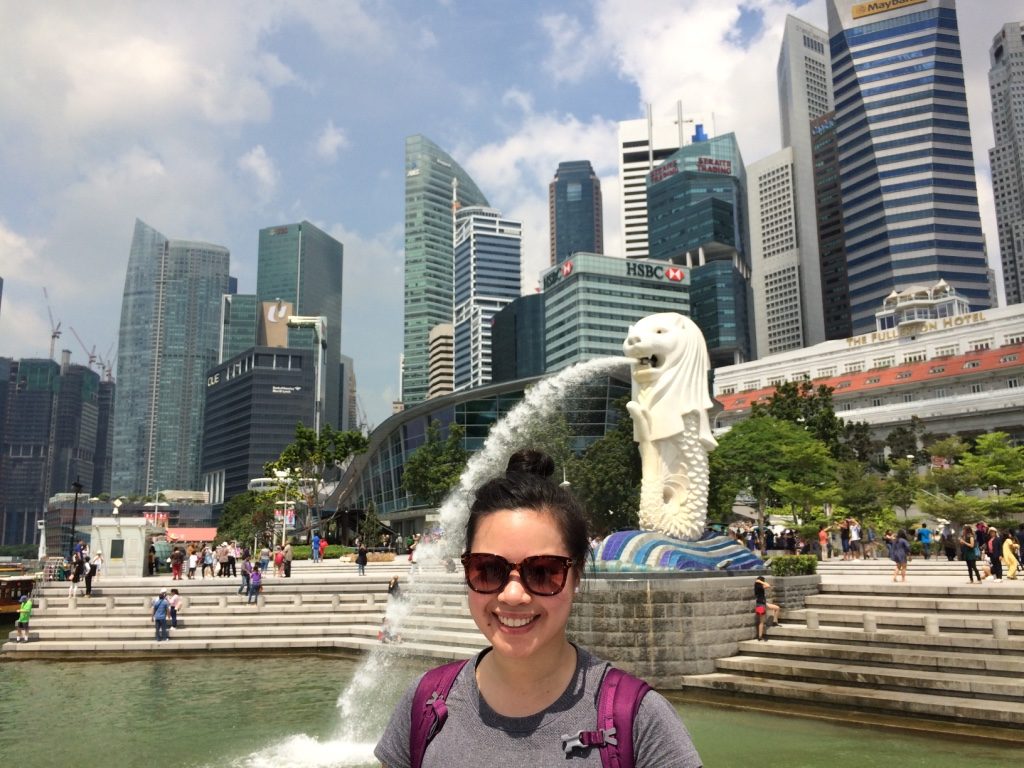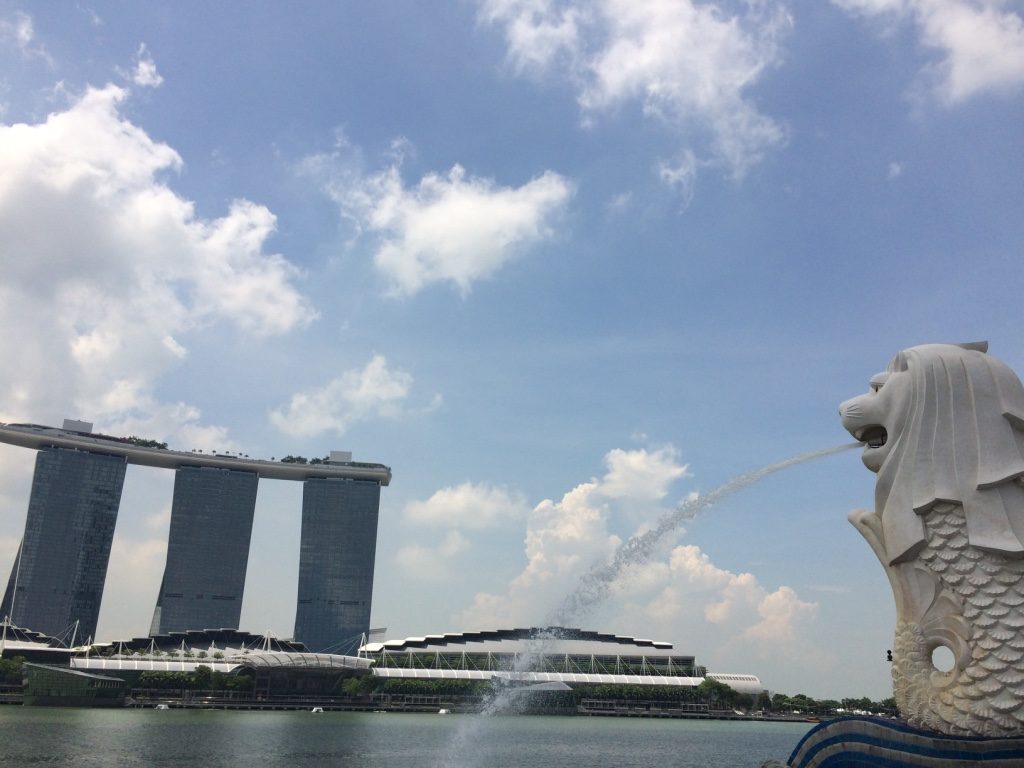 We took a bunch of pictures around Collyer Quay, which is where you'll find a good view of the Marina Bay Sands Hotel and the Merlion. The waterfront area was full of SE Asian tourists, mostly Thai. I think we got the most sun and truly experienced the Singaporean sun in those 15 minutes we were out. Any area with a bit of shade, there were people huddled together. For once, I saw the appeal of using an umbrella to block out the sun and I wished I had mine with me.
After we finished taking our pictures, we went to the Fullerton Hotel, which is across the street. It's a beautiful looking hotel that used to be Singapore's main post office. It felt so good to be in an air conditioned building. If you're ever needing a reprieve from the Singapore sun, I highly recommend hanging out in the Fullerton Hotel's lobby. They have free wifi and their washrooms are very nice.
After taking a break at the Fullerton, we walked down the street to another hawker's market, Lau Pa Sat. This market is located in the middle of the downtown/financial core and is a popular lunch spot for office workers. We went to Lau Pa Sat at basically the worst possible time, 12:10pm. Lau Pa Sat is a nice looking market, but like Maxwell, there's no AC. Since the sun had been scorching for a while now (34 degrees and humid), the the market was very warm. We did a few loops around the market to see what we were going to try. The main reason why I wanted to go to Lau Pa Sat was for their satays, but after we arrived I read that the satay stalls are only open at night (7pm and onwards) and are set up outside the market. I guess we'll have to come back to Singapore another time.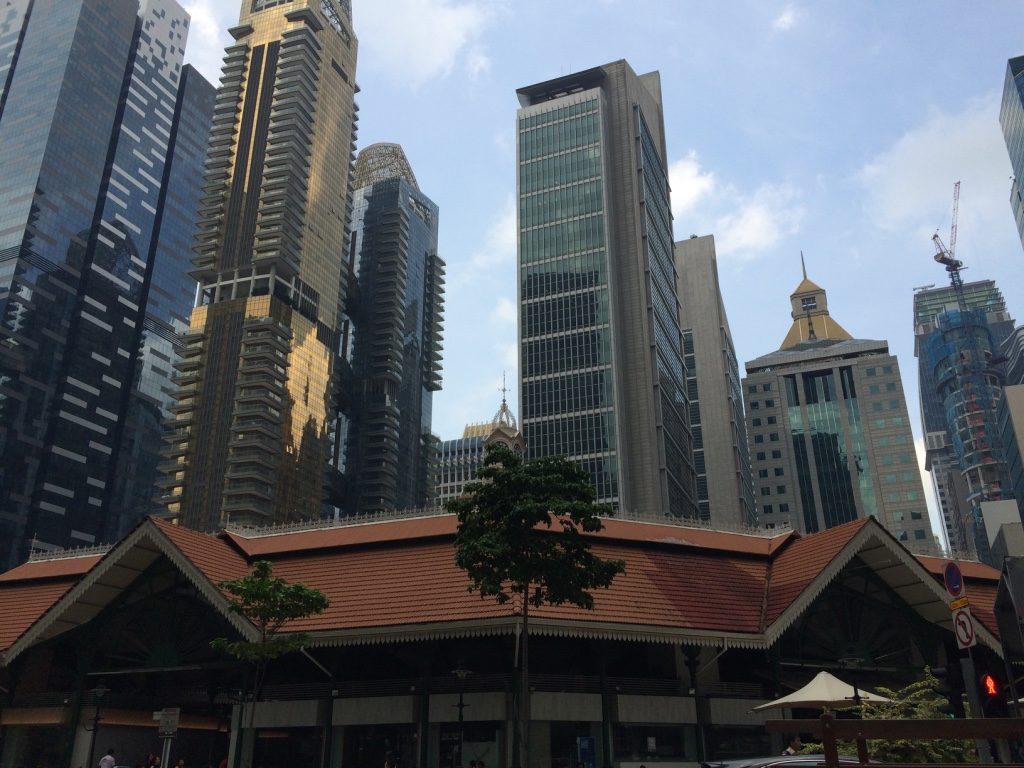 Our meal at Lau Pa Sat was by far the sweatiest meal we've ever had. I don't think I've sweat so much in my life while eating a meal. When I tried to put my elbows on the table, they would slip off because my arms were drenched. If we were to go back to Lau Pa Sat, I would try their Indian food, it looked really good.
After Lau Pa Sat, we headed towards Clarke Quay. There are shops in the area which we took our time to walk through (thanks to the strong AC). There are also a lot of bars and restaurants that aren't open until dinner. Clarke Quay area seems like it would be more fun at night time, so during the day it wasn't that interesting to walk around. You can take boat rides from Clarke Quay to Collyer Quay, where we were earlier.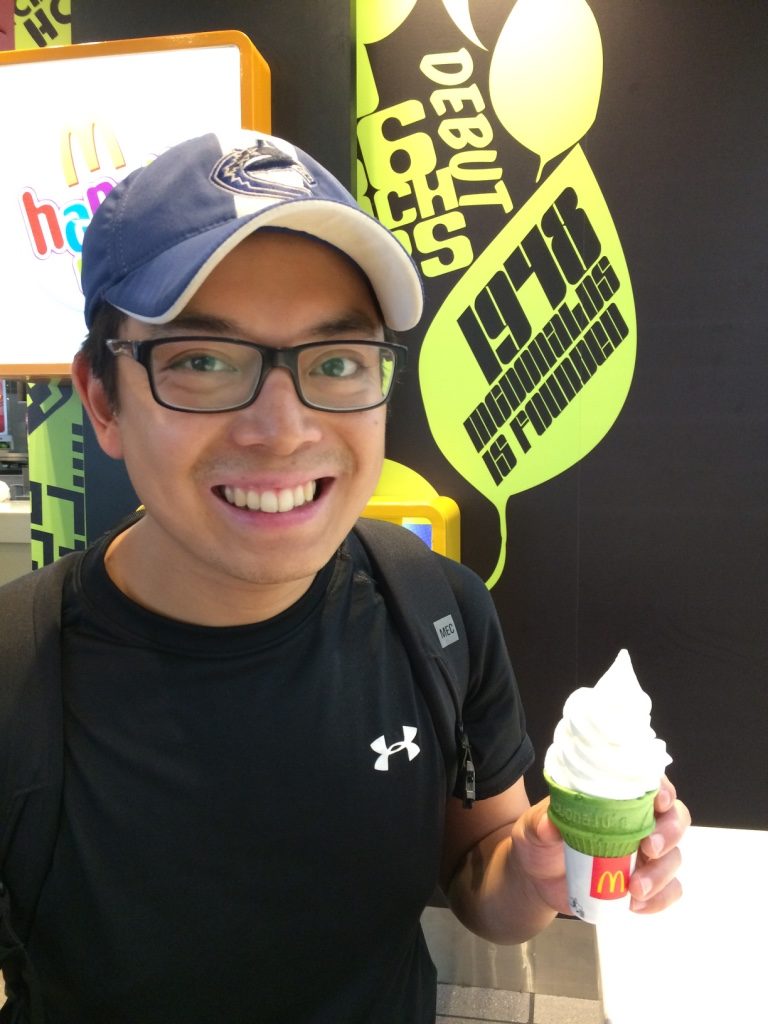 Down the street from the Clark Quay area is a fun and colourful building. It used to be the Singapore Police Station and now it's the Ministry of Culture, Community, and Youth. Inside the atrium area there's a brief history run down of the building and police history in the city. Apparently Singapore used to be a crime ridden city back in the day.
We had about 3 hours until we planned on going to the airport. At this point in the afternoon, we were both feeling really tired from the heat and walking around with our day packs (old Macbook Pros are not light). We hung around the City Hall/Raffles area and took refuge in Raffles City Mall, which had a lot of internationally branded stores. We decided to hang out at the food hall to relax and sit for a bit before picking one of the stalls to eat from.
I was excited when we saw the choices we had for dinner because there was a "HK Style BBQ" stall. I told Tim I had been craving Cantonese BBQ for a while, so this was perfect. Unfortunately, this did not satisfy my cravings. While it was good, it wasn't really the same. They poured a thick brown sauce on top of the meat and rice, which if I had known they did, I would have asked them to put it on the side. I think the sauce threw things off for me. Maybe I'll find some good BBQ in Chinatowns in Australia.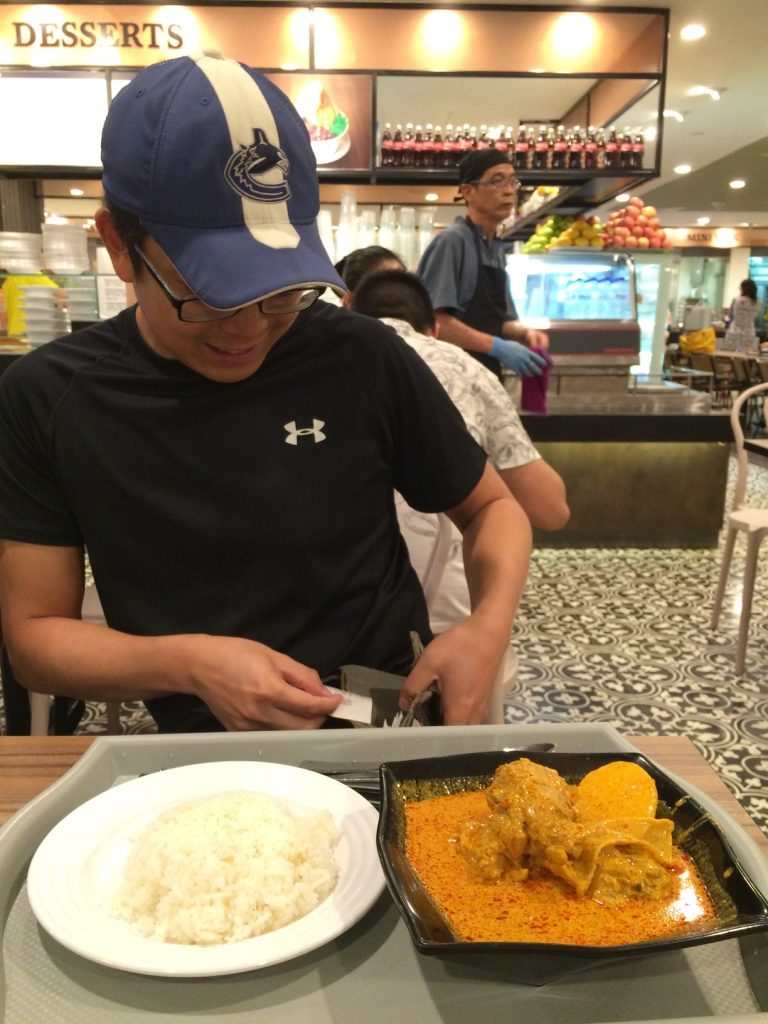 At around 6pm, we made our way to the train station across the street (City Hall stop) and headed to Changi Airport. It was rush hour on a Friday afternoon, it was busy but it wasn't too crowded. It's hard to identify office workers in Singapore because they are dressed fairly casual here. I think because it's so hot here, people just don't care.
We were flying out of Terminal 3 at Changi, which is different from the terminal we arrived in. Terminal 3 was much nicer and is the largest terminal at the airport. This was the first airport we've been to that you go through customs before you clear security. Once we got through customs, we were in the shopping area (which is pretty good) and we realized we didn't even go through security yet. At Changi, you go through security when you enter your gate area, right before boarding. It's a different system and one that I don't really get the logic behind. If you wanted to buy anything from duty free, you had to buy it at least 90 minutes before your flight because you couldn't take it through security with you. Also, people are waiting around any way and usually once you go through security and customs, you just need to relax before your flight. The way it is at Changi, you still have one more thing to line up for and another stage to deter you from buying a bottled drink from a restaurant.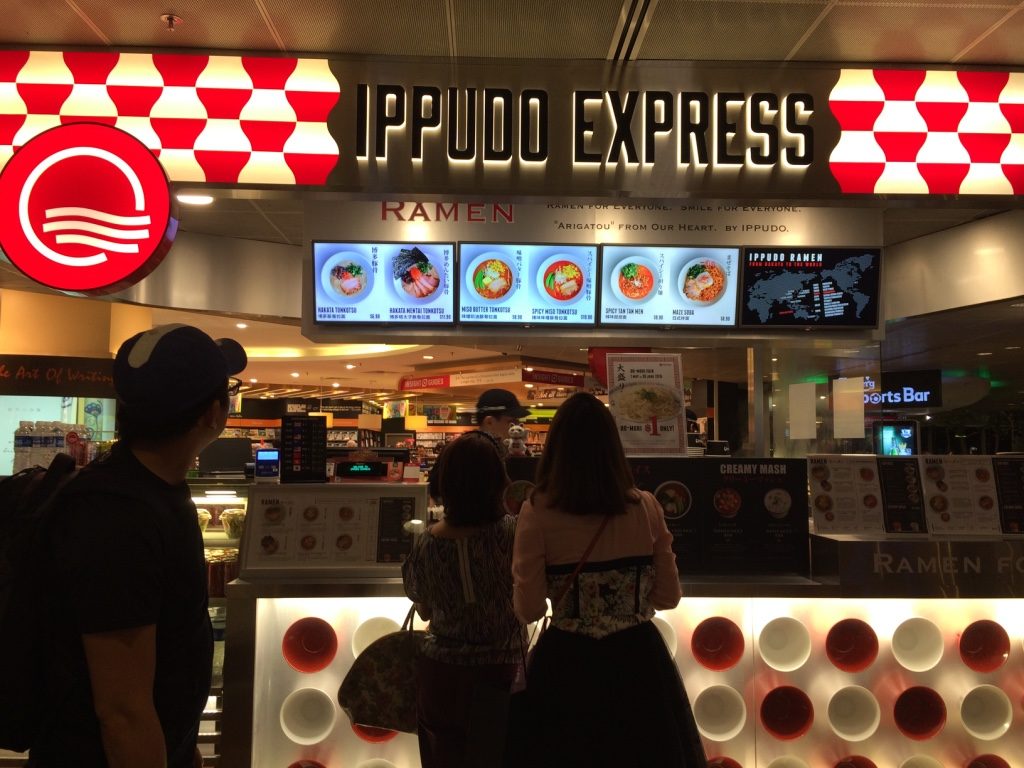 We boarded our flight to Melbourne and it left at 9:15pm. The flight was quite full and our seats weren't the best. We were in the middle of the plane right in front of one of the washrooms. The only upside was that no one was behind us. I was surprised that the flight time was only 6 hours and 20 minutes (online I read it was 7 hours and 20 minutes). I slept for most of the flight and only woke up when it was time for breakfast.
Singapore Airlines is really good. I would recommend it if you have the chance. They're part of Star Alliance and they don't charge fees the way Air Canada does (on reward tickets). It's too bad they pulled their Vancouver route a few years ago.
Steps today: 26,000