March 18, 2016
Today we planned on spending the day in Tamsui to visit Uncle Albert. Tamsui/Danshui/Danshuei (different spellings) is a seaside city located north of Taipei. It takes about 35 minutes from Taipei on the MRT to get there. The cost of going there from our MRT station (Daan) was 44 NT = $1.75 CAD, which is the most expensive MRT ride we've taken so far. Ideally, Tamsui is a good place to visit when it's sunny since a lot of attractions are along the waterfront. We had scheduled to visit Uncle Albert on Friday because the forecast had been for sun today, but the forecast changed to rain and even some thunder.
When we arrived at the station, Uncle Albert was waiting for us outside the gates. He led us down a street filled with food stalls and various snack vendors ("Tamsui Old Street"). As soon as we entered, we ordered fried chicken nuggets and UFO stuffed waffles (taiyakis). The fried chicken nuggets were from this place called J&G Fried Chicken (since 1973), the chicken was just fried so it was moist and perfectly seasoned with a bit of spice (Tim: I asked for less spicy).
Uncle Albert wanted to take us to a place on that street that served a traditional Tamsui dish. He ordered "a-gei" (bean curd outer skin with vermicelli inside) and fish ball soup.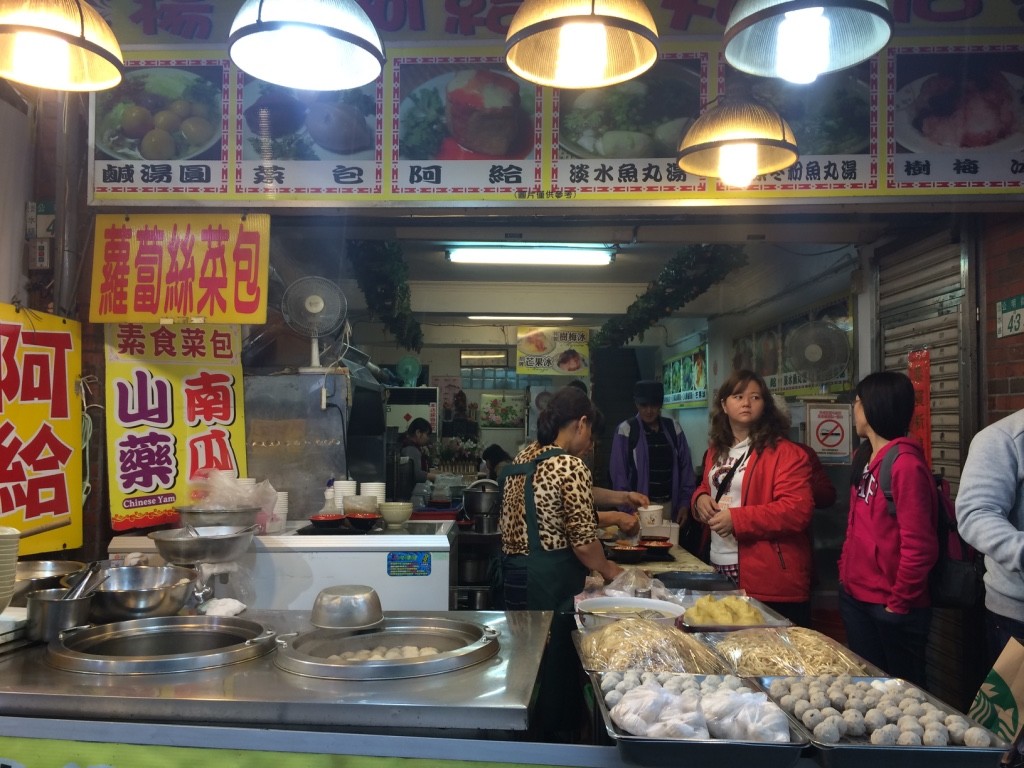 After we finished eating some snacks, we continued to walk in Tamsui's "old town". By now, the rain was starting to pick up and it became a downpour, my sister even bought a poncho for 30 NT = $1.20 CAD. Uncle Albert walked with us to Tamsui Presbyterian Church and then left us to get his car.
The Tamsui Presbyterian Church was founded by Canadian missionary, Dr. Mackay, the first missionary to serve northern Taiwan. Not only is Dr. Mackay an important figure in the Tamsui area but he is important to Tim's family. Tim's Great Grandfather was the Pastor at that church. As we waited for Uncle Albert to come back with his car, we went to a historical building next to the church where Dr. Mackay had run a dental practice. It is now a small museum and shop. The store attendants there gave us some tea and cookies as they explained more about Dr. Mackay.
After we spent some time around the church, Uncle Albert picked us up and drove us around to see other Tamsui sites – including Fort Santo Domingo and Fisherman's Wharf (where they have the "Love Bridge"). The rain wasn't coming down as hard as earlier so we got out and walked over the bridge and around the waterfront.
For dinner we headed to a mall close to the Tamsui MRT station. Uncle Albert picked "Thai Town" – which has multiple locations in Taiwan. It was a nice restaurant on the 10th (top floor) of the mall that overlooked the water. All the seats in the restaurant had a window view. If only it were a sunny day, the seating at the restaurant would have been awesome. The food and service were good – the prices were similar to back home ($10-$15 range per dish)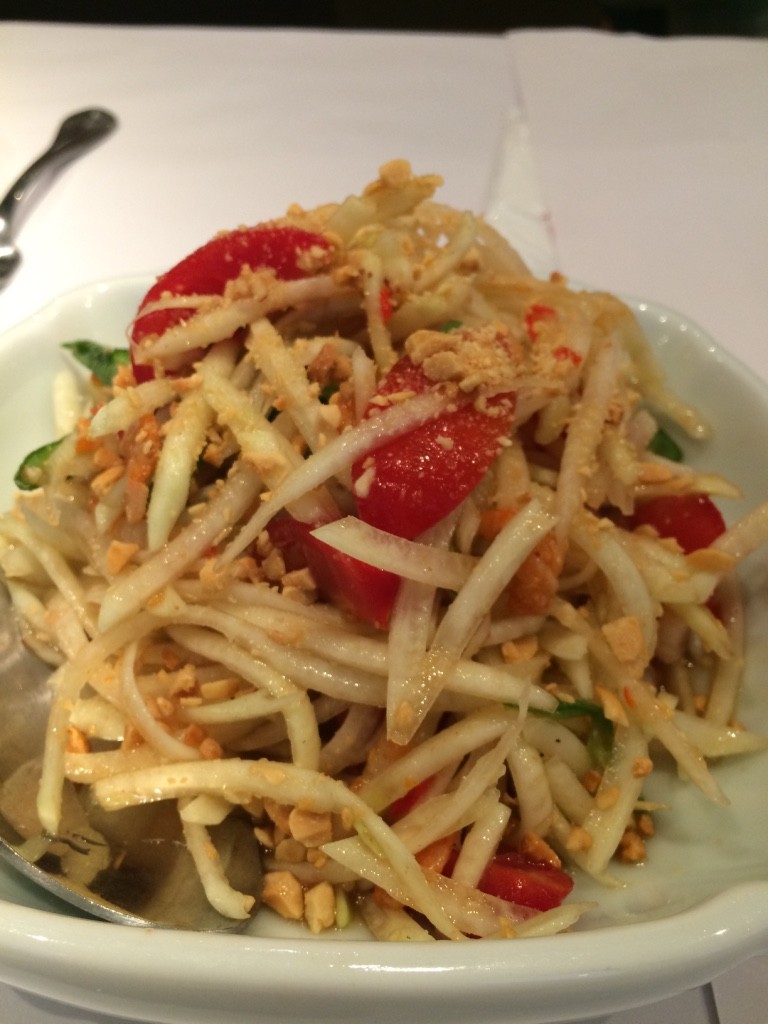 After dinner, we said our goodbyes to Uncle Albert and thanked him for being such a great Tamsui guide. We decided to head back to the market street to buy "iron eggs" which originated from Tamsui. They are small chicken eggs that have been cooked down continuously until they're the size of a quail egg. We decided to walk around a bit more and buy some snacks for later and for my sister to bring home. Nate had fallen asleep so my sister was free to actually look around. On top of the iron eggs to try tomorrow, we got more fruit (Noel loves the guava here), dried plums, this seaweed snack, mochis, and Mister Donut donuts at the MRT station.
Our conversation at the mochi stand was funny, my sister wanted to know what all the flavours were so she asked Tim to help her. Tim asked in Mandarin what the flavours were and the guy listed the six flavours fairly quickly. My sister asked for clarification from Tim on what one of the flavours was, Tim forgot and asked the guy to say the flavours again. When he repeated the flavour Tim wasn't quite sure, he asked the guy to explain again. Then the guy just said "that one's taro, black sesame, and green tea". We all had a good laugh because we were struggling to figure out some of the flavours and the whole time the guy knew the names of the fillings in English.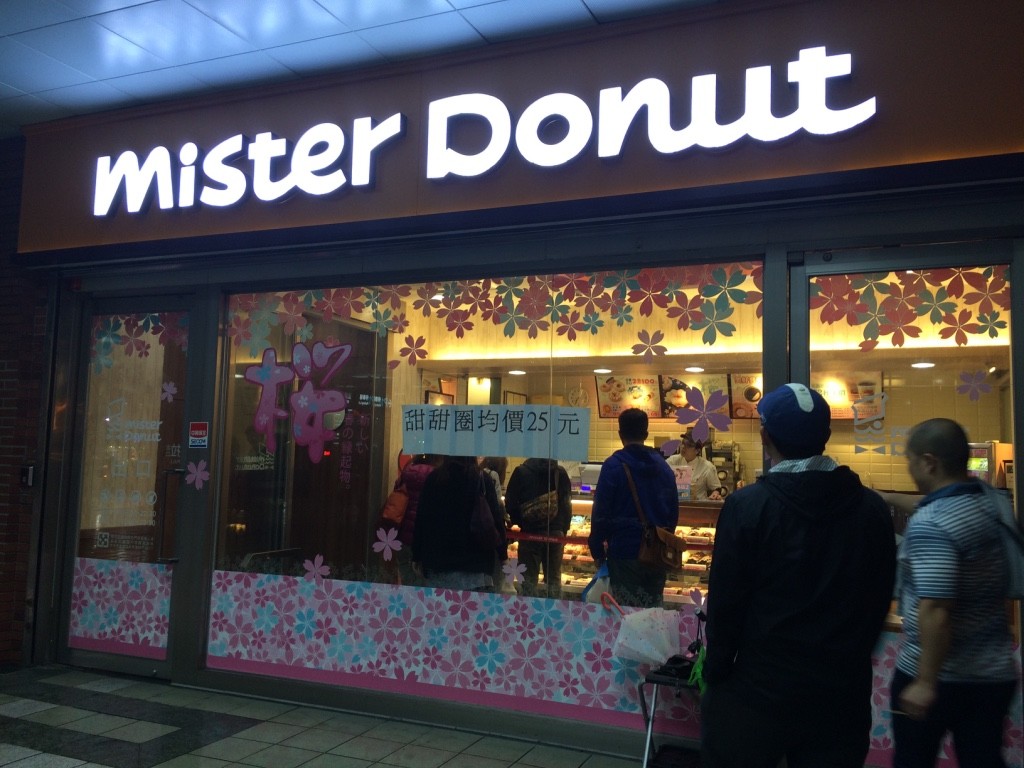 We were all looking forward to going back to the apartment and having a chill night – Netflix and trying out the donuts. The donuts were different than any other donut I've had before, it was a bit chewy (almost like they used a bit of mochi flour in them). They are apparently known for their "pon de ring" donuts so we tried a strawberry, plain, peanut & chocolate and a double chocolate donut.
Tomorrow, we'll probably do a bit of shopping and walking around the Zhongxiao Fuxing area. For dinner, we are meeting Auntie Sandra and family! They are in Taipei for the weekend from Hong Kong so it'll be nice to see them.
Our step count for today is 14,000.