July 6, 2016
Our first full day in Kuala Lumpur and we were ready to explore and eat! Before going for breakfast at the hotel, we booked our flights to and from Phu Quoc, which will be our last hurrah before coming home!
The hotel breakfast was nice and pretty normal. They had all the components for a full English breakfast, fruits, yogurt parfaits, croissants, and Malaysian noodles. We ate on the executive lounge floor but will go to the regular breakfast floor (bigger restaurant) tomorrow to compare the two.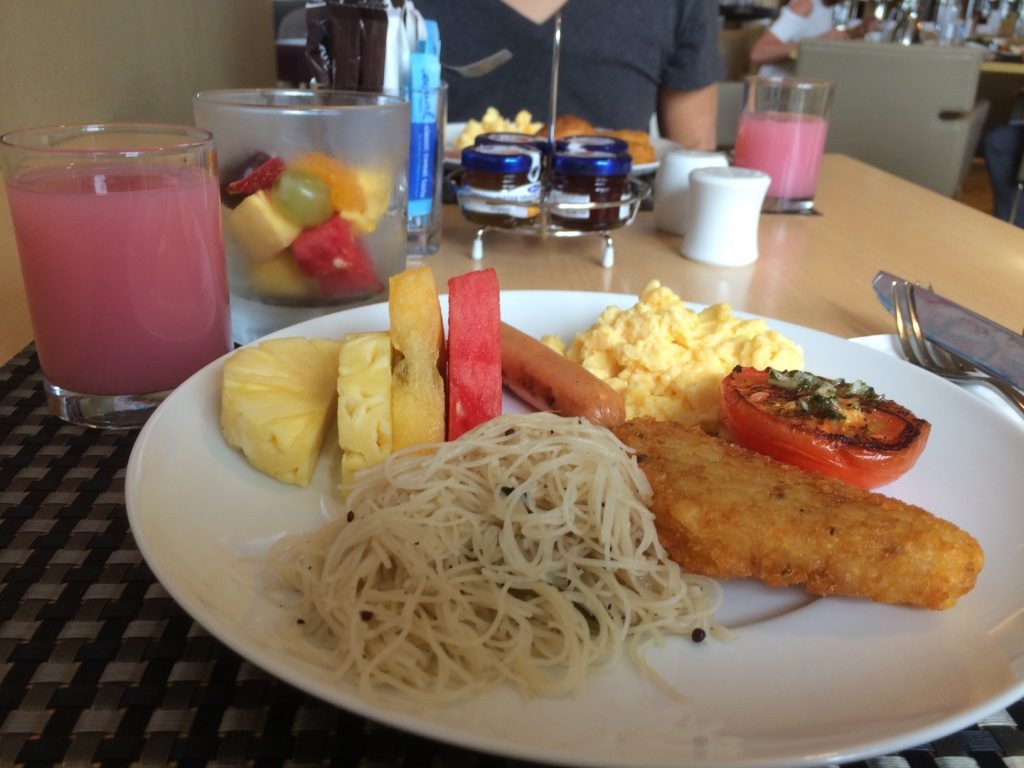 We planned on using the hotel's free shuttle to take us to an area called Bukit Bintang. It's supposedly another shopping area and close to Jalan Alor, a famous food street. The hotel shuttle dropped us off at the Pavilion mall in the Bukit Bintang area. We walked through the Pavilion and it was another nice mega mall. Can't get over how many large malls there are (so close together) in Kuala Lumpur. As we made our way towards Jalan Alor, we walked past a handful of other smaller (compared to the mega mall) malls.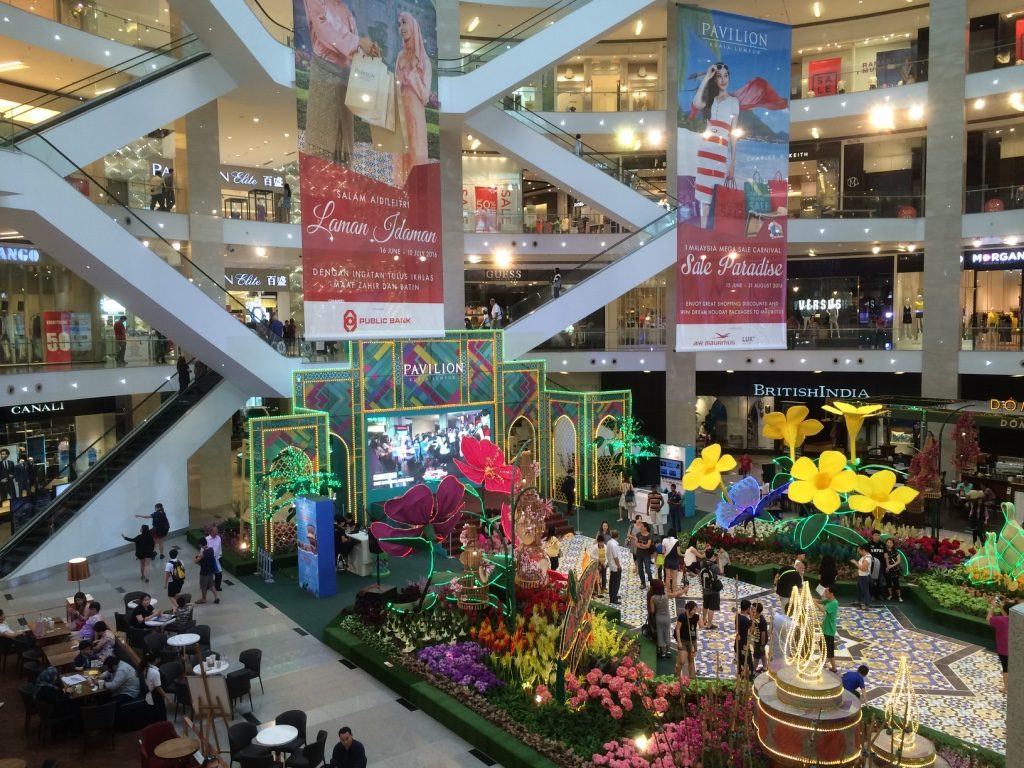 When we arrived at Jalan Alor, more than half of the vendors were closed. At first we thought it was because it's a holiday here "Hari Raya AidiFitri", which is the end of Ramadan and also a National holiday in Malaysia. But after doing some reading, we realize that Jalan Alor comes alive at night and is pretty dead during the day. We'll try going for dinner tomorrow night.
Since there wasn't much to see, we continued our walk towards a restaurant called Wong Kee which specializes in roasted and BBQ pork. It took about 20 minutes to walk there for Jalan Alor and when we got there, it was closed! Looking around at the stores around town, it was pretty clear that more than half of the businesses were closed for AidiFitri (which makes sense as ~60% of the country is Muslim). This was a disappointment as there wasn't much around where Wong Kee was located. We walked around a bit more and saw some stalls set up surrounding open air seating. We browsed a bit and decided to eat there for lunch.
All the stalls served Chinese Malaysian food in all its various forms. I saw Chinese BBQed meats (which I have been craving for a while) and I got a plate of roasted duck and pork. My meal came with chicken rice and soup. Tim was more adventurous and tried Malaysian dry noodles with ground pork, BBQed pork with fried garlic. After ordering from the stalls, you find a table in the seating area and pay after the vendor finds and serves the food to you. Food in Kuala Lumpur is very cheap. Tim's noodles were 6 MYR = $2 CAD and my lunch was 8 MYR = $2.65 CAD. While seated, a man from the beverage station went around asking if you wanted to order any drinks. Tim asked for a coke but I don't think he understood and brought some iced lemon drink. We were confused and the table next door ended up wanting the drink any how. Lunch was tasty and satisfying. It wasn't Wong Kee roasted pork but it was still very delicious!
After lunch we walked towards one of the Monorail Stations to take a train to Chinatown. The walk to Chinatown would've been about 30 minutes so we decided to take the train and to get metro cards (Tim likes to collect them) and see how their trains operated. We both bought MyRapid cards for 5 MYR = $1.60 (non-refundable deposit) and 15 MYR = $4.80 CAD mandatory credit. By using a MyRapid card you get a slight discount for each ride. Kuala Lumpur's transit system has different lines – Monorail, Light Rail Transit (LRT), Commuter Rail, and Airport Express.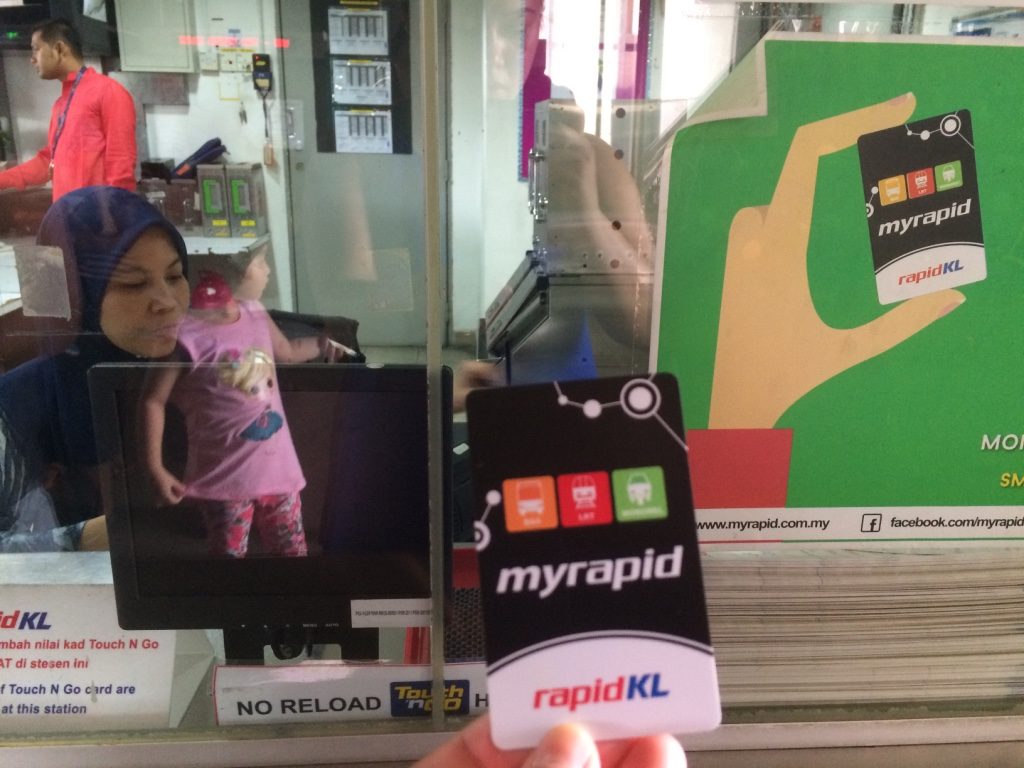 The Monorail trains only had two cars, which were surprisingly short. We stayed on the train for a couple of stopped and got off close to Chinatown. The Monorail stations are quite old and look like they need some attention. We walked towards Chinatown's Petaling Street, which is full of vendors selling counterfeit accessories, souvenirs, and typical SE Asian tank tops. Petaling Street was super crowded. It was probably the most people we've encountered while in Kuala Lumpur so far.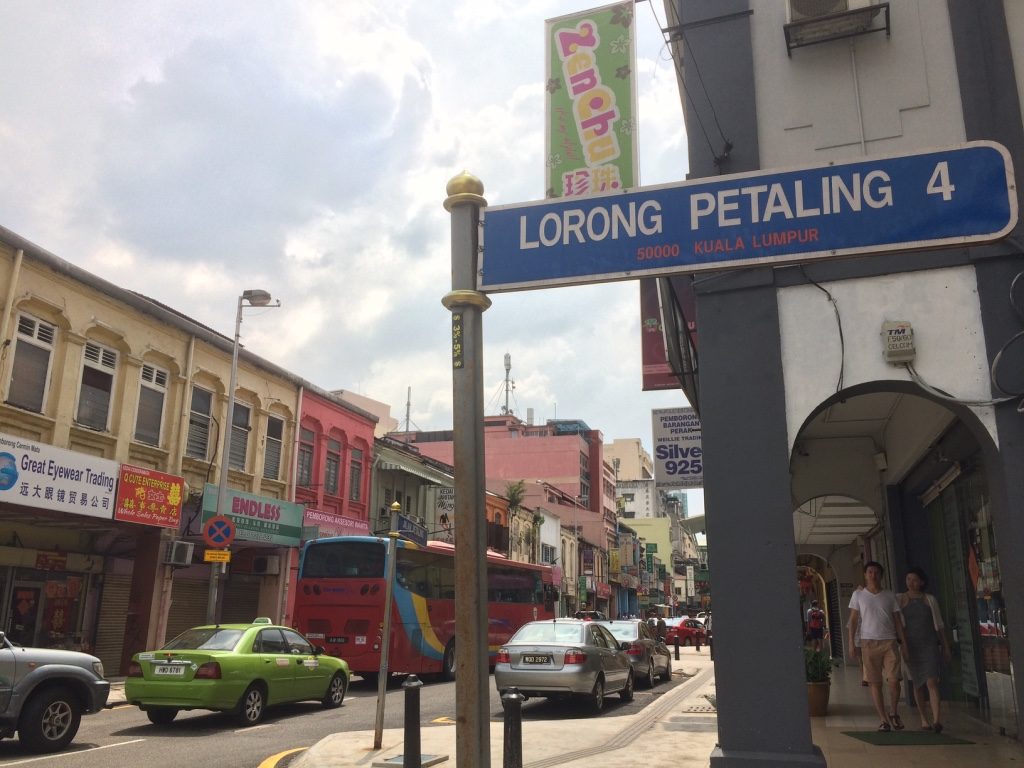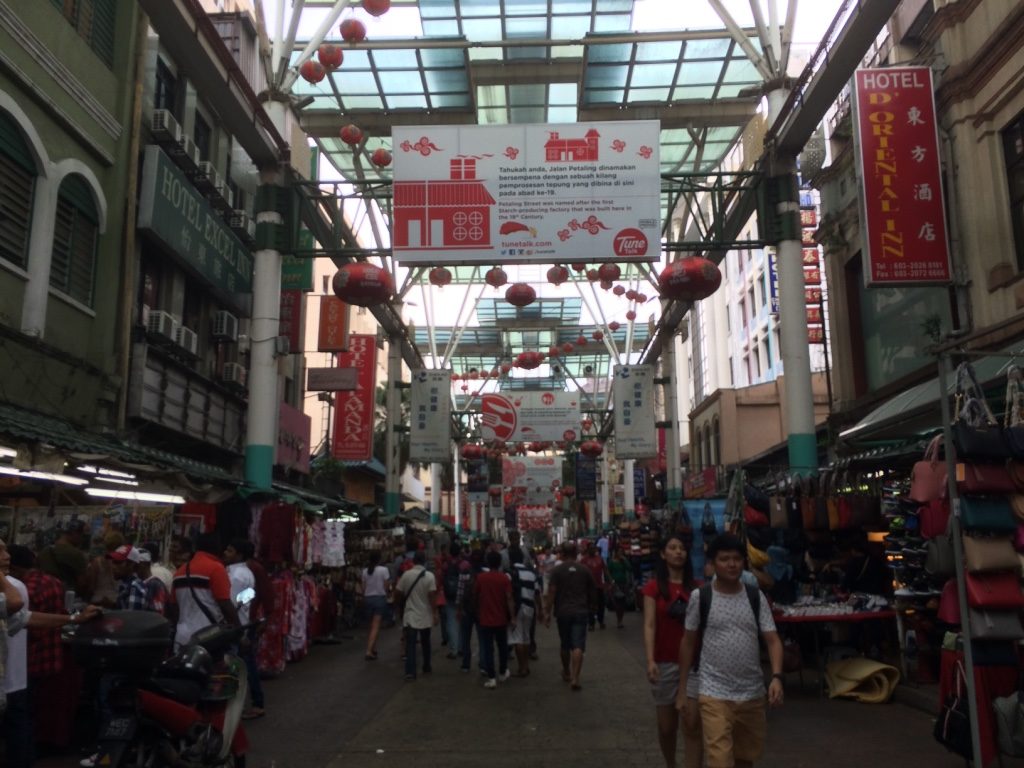 There were some food vendors that looked interesting and had long lines ups, including a tofu fa vendor. He worked alone (and quite efficiently) and served hot tofu fa and cold soya bean milk. He was really busy as his line was consistently long. I ordered a tofu fa with brown sugar and ginger syrup (160 MYR = $0.52 CAD). It would've been nice if the tofu was cold because it was so hot out already and having steaming tofu didn't really help. Tim doesn't like it so I basically ate the whole bowl myself. It was really good, I can see why he had a long line up. We walked around a bit more and didn't see anything worth buying. Tim got a soursop fruit smoothie (tasted a bit like guava) from one of the vendors (4.80 MYR = $1.55 CAD).
After Petaling Street, we walked to see a Hindu Temple close by. There was a wedding going on outside the temple so we just observed from across the street. Hindu Temples are often colourfully vibrant which I find really cool. On our way towards the National Monument we passed by another shopping area called Katsuri Walk, which is right beside the Central Market. The Central Market was full of more unique/hand crafty type of shops compared to Petaling and Katsuri streets. The market was also air conditioned which was a nice break from being outside.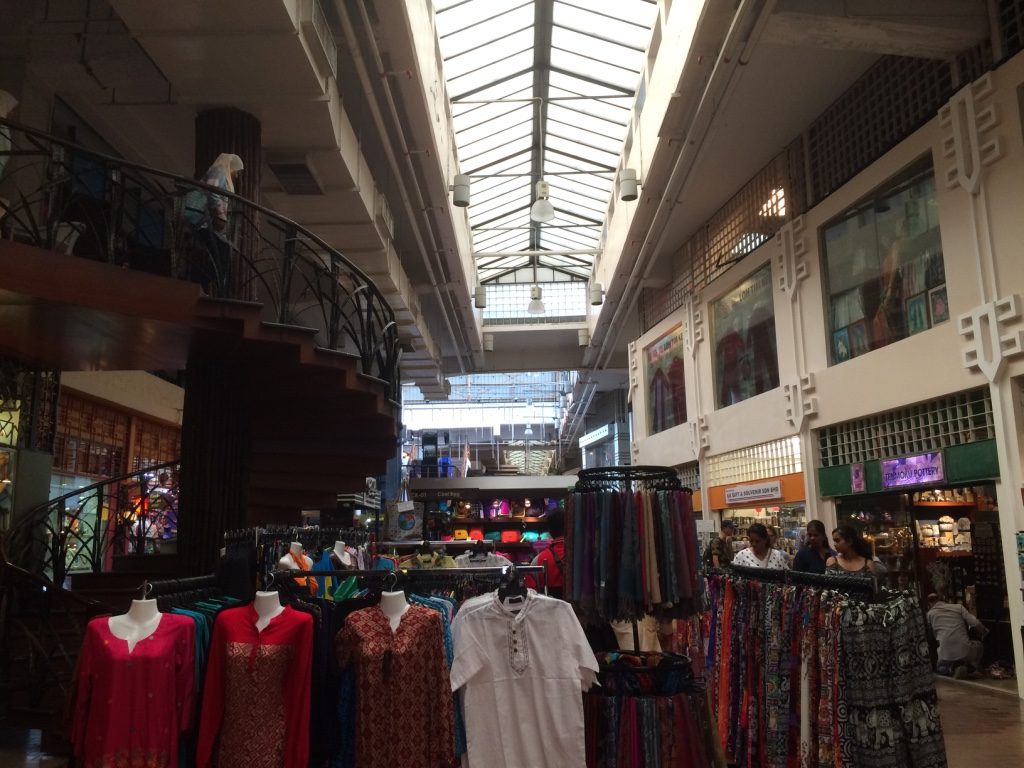 We continued on our tour of the city by walking towards the National Mosque. It was closed to tourists for today so we just walked around the front of the building. We stayed around the Mosque and rested for a bit. Kuala Lumpur is really humid and we had finished all our water so we were feeling a bit drained.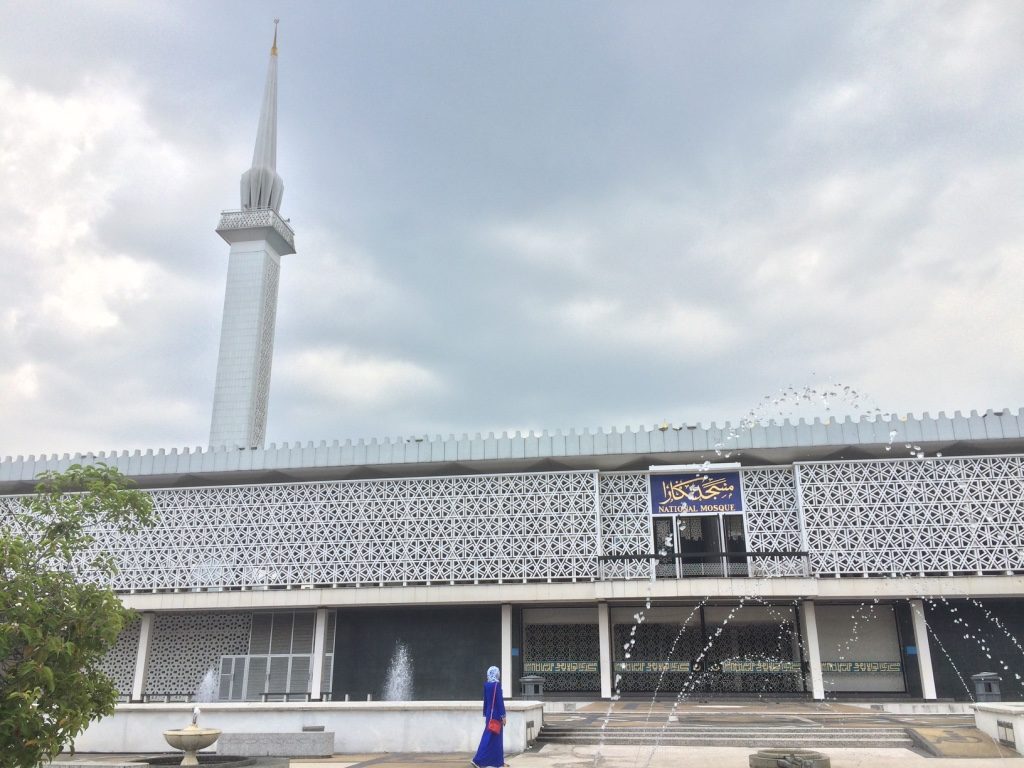 Our next stop for the day was walk to the National Monument. On the way towards the National Monument we passed by the Butterfly Park, Bird Walk, the Islamic Art Museum (closed today), and the Botanic Gardens (closed today). On our walk it started to rain and then quickly became a torrential downpour. We took refuge in an undercover seating area and stayed there for about 20 minutes before the rain stopped. As soon as it stopped raining, the sun came out and it felt even more hot and humid than earlier. Areas that had puddles of rain water were now steaming.
We eventually made our way to the National Monument and were there with bus loads of Chinese tourists. The National Monument is set on a hill and has pretty good view of some parts of Kuala Lumpur. The monument is dedicated to all the Malaysians who lost their lives in war.
We continued to walk along the back side of the monument area towards Dataran Merdeka, which is a square close to the Sultan Abdul Samad Building and the high Malaysian flag pole (where they raised the Malaysian flag for the first time). The Sultan building and the Textiles Museum buildings were really neat. I really like the Islamic Architecture as it's so different from other places in SE Asia. We hung around the area and took a bunch of pictures before finding a LRT Station to take us back to the hotel.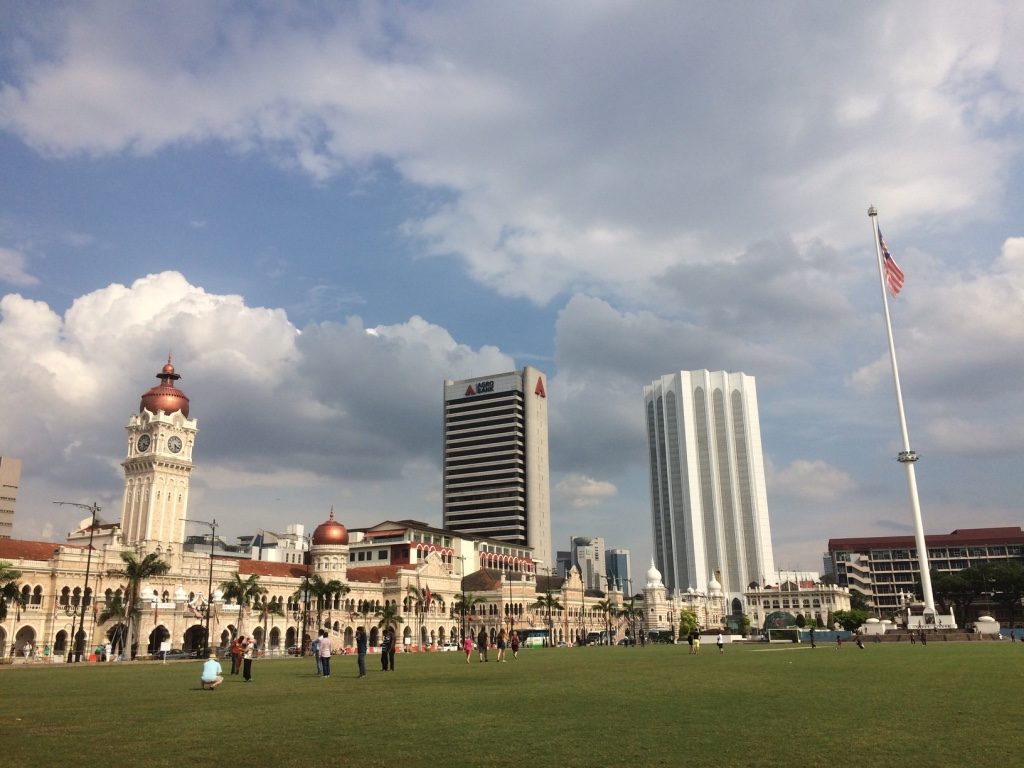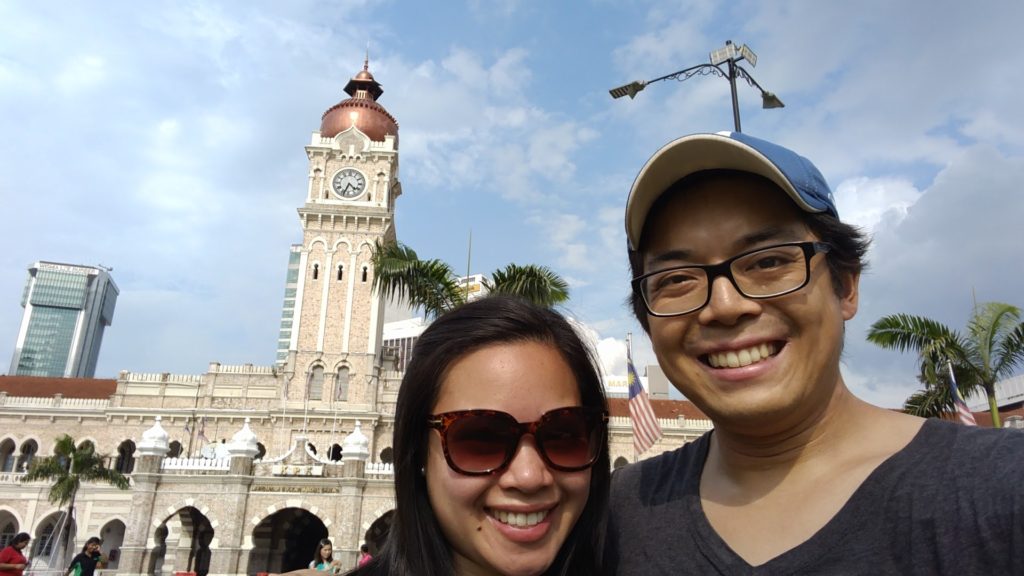 It was a pretty long afternoon of sightseeing. We were both wearing cotton today, which was a horrible idea when you're out all day walking around. The LRT Station was really busy, as it was right beside another Mosque. We took the LRT to Ampang Station and the ride was a very smelly one. Everyone was sweaty and smelly. Thank goodness there was strong air conditioning and ventilation on the trains. As our stop, Ampang Park, is one stop after the Petronas Towers (KLCC), the train pretty much emptied when we got to the KLCC stop.
We passed by Ampang Centre and it was all closed except for a few exterior Chinese businesses and McDonald's. We washed up and headed upstairs for cocktails and appies. The lounge was so much busier today than yesterday. The place was a bit of a gong show and at some point, it felt like more of a day care than a lounge. There were a lot more Asian families with young kids. The kitchen couldn't keep up with food, so it wasn't as relaxing as yesterday. For hot food today, they had beef rendang, sticky rice, and spring rolls. We both preferred the satay skewers from yesterday. We stayed for about an hour or so and then went back downstairs. I felt bad for the two regular staff working. They were so overwhelmed and they even brought servers from other restaurants up to help out.
One of our favourite Malaysian food that we usually order in Vancouver is roti canai. I googled where to find the best roti in Kuala Lumpur and a place called Valentine Roti came up. Valentine Roti is a 15 minute walk away from our hotel so we decided to try to see if they were open today. We walked along a fairly large road (with sidewalks) and when we turned the corner to where Valentine Roti was we saw a restaurant that looked closed. Again we were disappointed until we walked a bit closer and read the restaurant was called "Roti John". We walked a bit further down the road and saw a restaurant lit up and it was Valentine Roti! They were open and it was filled with locals. Turns out that the owners of Valentine Roti are Christian Indians, so they were open.
We ordered a regular roti, garlic roti, Valentine roti, a teh tarik, and a milo tarik. The roti all come with 3 types of curry for dipping, and they were all delicious. The garlic one had way to much garlic in it for me though (Tim liked it). The Valentine roti had meat, onions, and vegetables in it – it was super filling and tasty. There are so many different types of roti to order but the one we both liked the best was the regular roti, sometimes simple is the best. The restaurant clientele was mainly made up of large Indian families and a few tables of Chinese Malaysians. Happy we got to try authentic Malaysian roti at a place that is off the beaten track.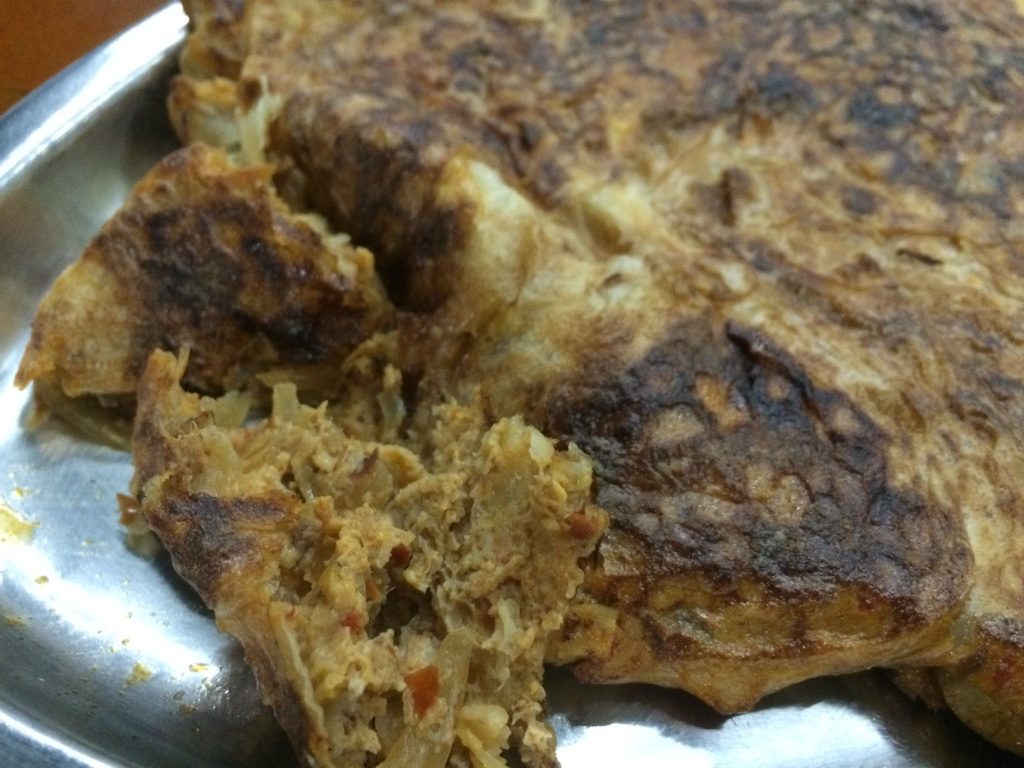 We walked back towards our hotel and planned to go see the Petronas Towers lit up at night but when we went to the overpass at our hotel, the doors were closed. We didn't realize it was already past 10pm, so we decided to just see it close up tomorrow on our last day in Kuala Lumpur.
Steps today: 28,000