March 11, 2016:
Today was our last morning in Taitung. We bought tickets for the train to Hualien at 9:39am . Tim's aunt picked us up from our hotel at 8:30am and dropped us off at the train station. She made sure we collected our tickets from the ticket counter, since this was the first time we bought tickets online. We said our goodbyes and said we'll be back soon.
While waiting for our train to arrive, we grabbed some breakfast from 7-Eleven. I decided to try a tea egg and a pudding (which is a popular snack in Taiwan, probably not a very good breakfast choice, but a delicious snack choice!).
The train ride to Hualien was 2 hours long. I finished up my blog from yesterday but after writing for a half an hour, I felt a bit train sick. I fell asleep for the rest of the train ride (I've been pretty good at sleeping most of the way), so I missed all the mountainous terrain on the way towards Hualien.
When we got to Hualien's train station, we wanted to go to the ticket counter to get tickets for Sunday back to Taipei. Tim's aunt warned us that the train is usually booked up from Hualien to Taipei, but we didn't realize how crazy it would be. Once we got to Hualien, the train station was a gong show and we thought, uh oh, we're in trouble. We had searched for tickets quickly while waiting at Taitung's train station and couldn't find any trains at a decent hour that were available.
The hotel in Hualien has a free shuttle service to and from the train station, so there was a van waiting for us when we arrived. Trip Advisor's reviews were right, East Town 26's service was really good so far. We were welcomed by the front desk girl and we were able to check in early (their check in time is 3:30, we arrived around noon). We got to our room and it was nice and clean and more modern than the last hotel we stayed in. The cheapest room (Tim: and only ones available) were single beds, so we just go that (we're roomies!).
Once we got to our room, we both got on to our laptops and tried to search for train tickets back to Taipei. We weren't having any luck, the website kept saying everything was full or that we've tried too many times for the same search. After about half an hour of trying we decided to go to 7-Eleven to buy the tickets. Most convenience stores in Taiwan sell rail tickets (at a premium, extra 8 NT = $0.30).
When we got to 7-Eleven, we took a look at the kiosk and realized that we weren't going to be able to buy tickets because it was all in Chinese with no English option. Feeling a bit defeated we turned to the lady behind us and Tim asked if she could help us translate it. She asked us where we wanted to go and she pulled out an app on her phone. We sat down with her and she reserved the tickets on her phone (super quickly) and she pulled up the tickets on the kiosk we were just at with a confirmation code. The kiosk then printed out a receipt that we used to pay at the
7-Eleven counter. Tim asked her if we could get a drink or anything for her because she helped us out, but she said she didn't need anything, she was just happy she was able to help us.
Unfortunately, the only time we could get that would get us back into Taipei before 3pm (we're checking into our Airbnb on Sunday) was if we left Hualien at 6:07am (not looking forward to Sunday morning, but beggars can't be choosers). We've learned our lesson about train tickets (especially the Hualien to Taipei route). We also learned that with that app, locals can reserve train tickets without paying for them right away.
With that out of the way, we decided to find something to eat. The lady at the front desk suggested a few restaurants she likes to go to. We stopped by one that looked pretty busy and promising. It looked like they specialized in steamed juicy buns. We got a seat and they handed us an order form in Chinese. Tim told the waitress that he couldn't read and that we'll just order 10 buns and hot and sour soup. We literally just looked at what others were eating and copied them.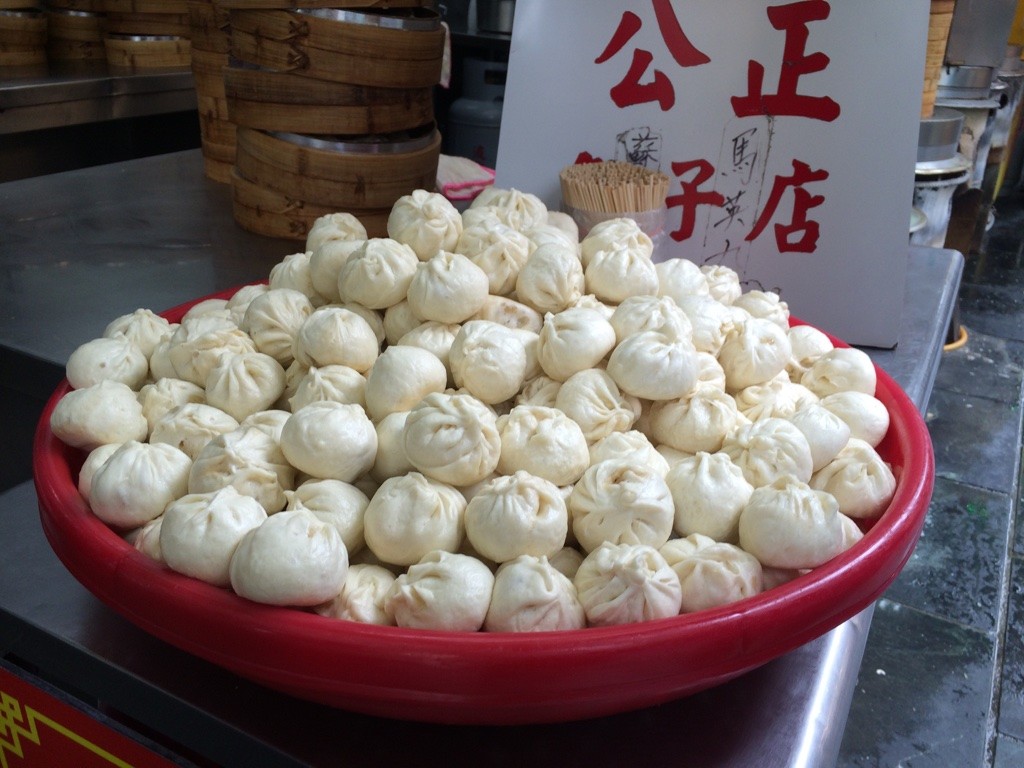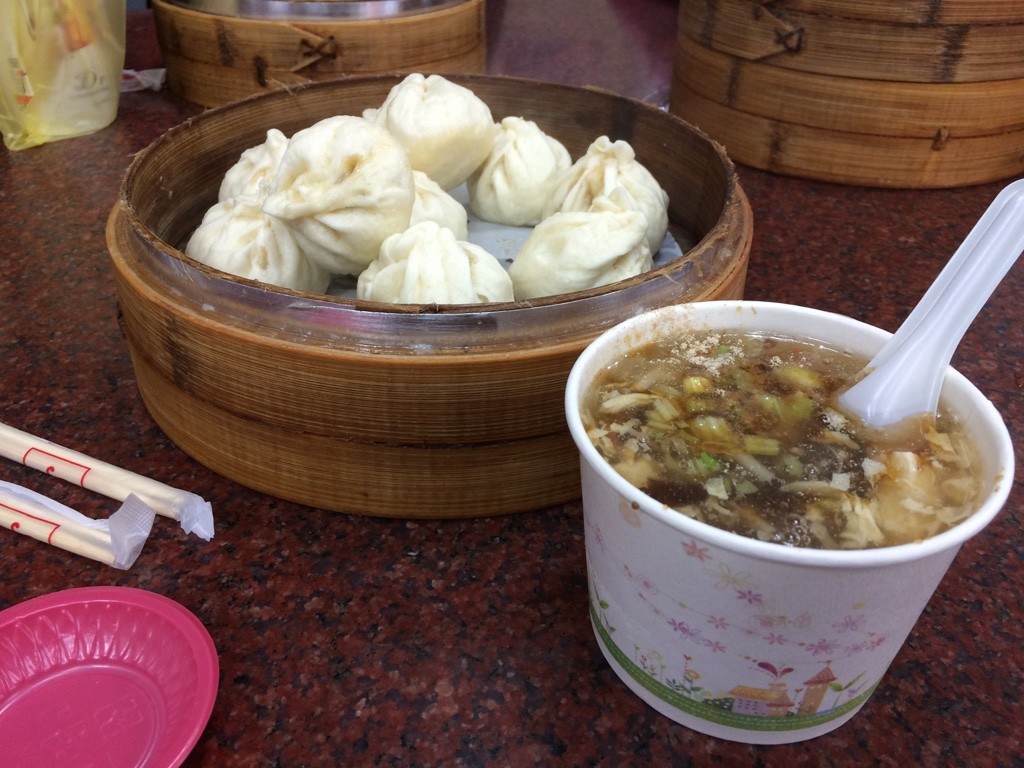 There isn't much in Hualien in the city itself in terms of "must see sights". Most people stay in the city so they could use it as a base to see Taroko Gorge National Park, which is exactly what we're doing. Although it was starting to rain, we headed to the coastline to walk around.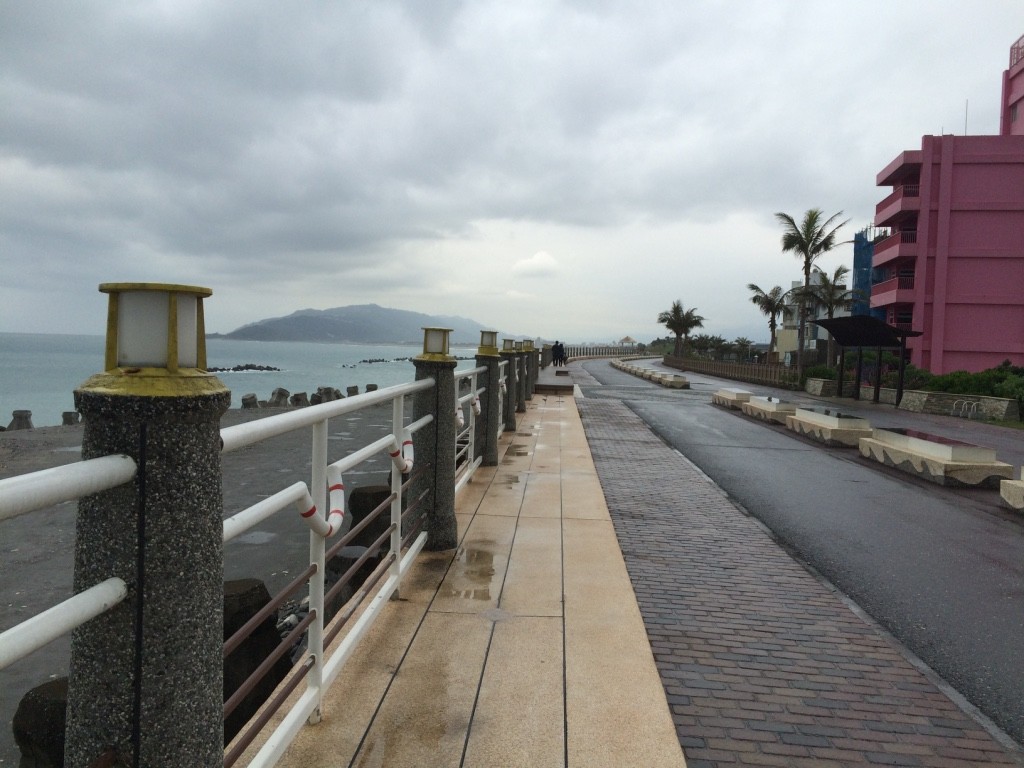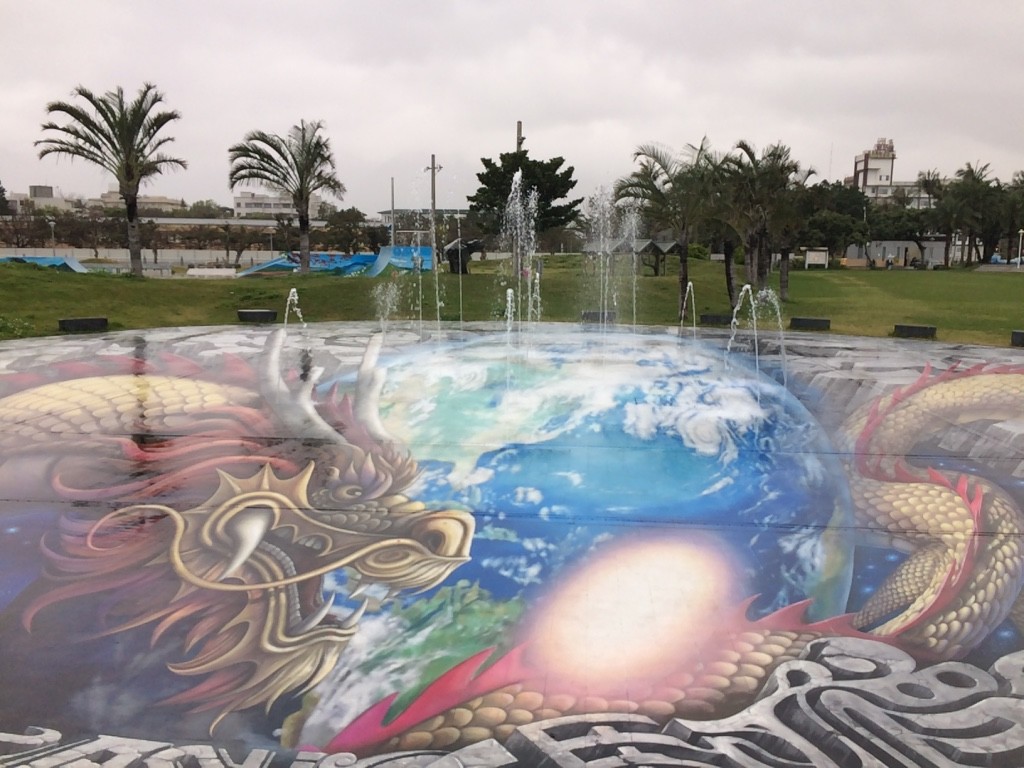 It started to rain a bit harder so we started to head back into town. I was feeling a bit tired and cold. Today was actually the first day that I felt colder than normal. The temperature in Hualien was around 15 degrees and dreary – felt like home.
When we got back into town, we looked for something to eat for an early dinner. I wasn't feeling that great and just wanted to take it easy tonight because tomorrow was going to be a full day of exploring the Taroko Gorge. We found a soup noodle restaurant so we decided to eat there. It was like Tawainese casual noodle restaurant. My noodles were okay, Tim seemed to enjoy his pork hock a lot more (Tim: The pork hock was good, but the noodles and soup weren't much to write home about). It was only 5pm and all I wanted to do was go to sleep.
After our early dinner we went to a bakery ("181 Bakery") that we had passed by earlier to pick up some buns to pack with us on our day trip tomorrow to the Gorge. The whole bakery smelled really good. They had samples in front of most of the items, so we were able to sample a few.
Because I wasn't feeling that well, we decided not to go to the night market tonight. On the way back to the hotel, we stopped by a bubble tea place to grab a milk tea for later. We headed back to the hotel around 6pm and since then, I've been writing today's blog post while watching "Fuller House" on Netflix.
We'll probably sleep early tonight as we have to get to the train station tomorrow around 7:30am to catch a bus towards to the Gorge. I'm looking forward to going back to Taipei and chilling out and spending time with my sister, Noel, and Nate.
Total steps for today was 15,000.