July 15, 2016
We woke up earlier today to get ready for our flight back to Saigon, which was at 10:25am. We had a fairly quick breakfast and made sure we each had one of the caramel flans for the last time – they were really good! After checking out, Billy was there to see how our stay was and send us on our way to the airport. We really enjoyed our stay at Daisy Resort, it was so relaxing and I appreciated how good/friendly the service was. If we ever come back, the island and the resort will probably be very different. There's already a resort being built right beside it! We left the hotel close to 9am, and got to the airport and checked in by 9:10am with just over an hour to spare.
The Phu Quoc Airport is quite new, built in 2012, so it's nicer than a lot of the other airports we've been to this trip. The majority of flights at the Phu Quoc Airport are domestic with some flights to Cambodia and Guangzhou (coming soon). There seemed to be flights to Ho Chi Minh City every half an hour.
Once we crossed security there were a few souvenir stalls, a cafe, and a Burger King. There was no free airport WiFi but there was WiFi if you buy something from the Burger King or the cafe. Since we had an hour to kill and I'm clearly addicted to being online, I went to see what the cheapest item at Burger King was so I could get their WiFi password. The cheapest menu item was an ice cream cone for 15,000 VND = $0.85 CAD, but unfortunately they didn't have any ice cream at 9am. We sat back down in front of the Burger King and that's when I saw a table leave and I spotted the pink receipt sitting on their table. Yup, I went to the empty table, like a scavenger, and took their receipt (I really don't have any shame in Vietnam) (Tim: I don't see what's to be ashamed of grabbing a receipt left behind to get a WiFi password). If you're at the Phu Quoc Airport, the Burger King password is "burgerkingpqc".
To our surprise, our Vietnam Airline flight boarded at the time it actually said on the boarding pass! Considering the airport is only 4 years old, you would think they would've built gangways. We all had to board a bus that literally took us 20 metres away. It seemed a bit silly, we walked farther to our plane in Australia.
We were seated in an exit row for this flight and when the flight attendant gave us the spiel about what our responsibilities are, she also said it's our responsibility to stop others from opening the door. We both feel like this isn't something that's told in North America. The flight was okay even though a baby was screaming for 80% of the flight and the little boy kept kicking my seat – lucky it was only 40 minutes.
We collected our bags and went out to the taxi stand to get back into town. We didn't make the same mistake as we did last time we took a taxi from the airport, and only approached the VinaSun taxi reps. There were a lot of other companies trying to get you into their cabs but we knew better! It took us almost an hour to get to our hotel, which is only 8km away (Ah, Saigon traffic!). After being in different parts of Vietnam, Saigon has the worst and most chaotic traffic out of all the places we've been to.
When we got to Platinum Hotel (same hotel we stayed at before), they seemed to have lost my reservation or not know where it was recorded (I had booked before we left Vancouver) because it took them a long time to find it even after showing them my Expedia itinerary. This turned out to be a good thing because they put us in a room on the top floor that was bigger than what I originally booked. It also has a view of the city instead of an old abandoned building which was our view the last time at this hotel.
We dropped off bags and went for lunch down the block at Marukame Udon (same restaurant as Tokyo and Honolulu)! Yes, we had Japanese food today. We had passed by the restaurant on our first day here over a month ago and kept it in mind just in case we got sick of Vietnamese food. The udon choices are different from Tokyo as they are more tailored for Vietnam. We both ordered what we thought was a zaru udon (cold udon that you dip), but when we got it, they were dipping noodles but they were still sitting in the warm water. The prices here are a bit cheaper than they are in Tokyo, but pricey for Vietnamese standards. The tempura selection had the standard Japanese options as well as fish cakes and sausages, which are Vietnamese influences. What they did have that I didn't see in Japan was a soft-boiled tempura egg (this was delicious!). Lunch was good and made me miss Japan.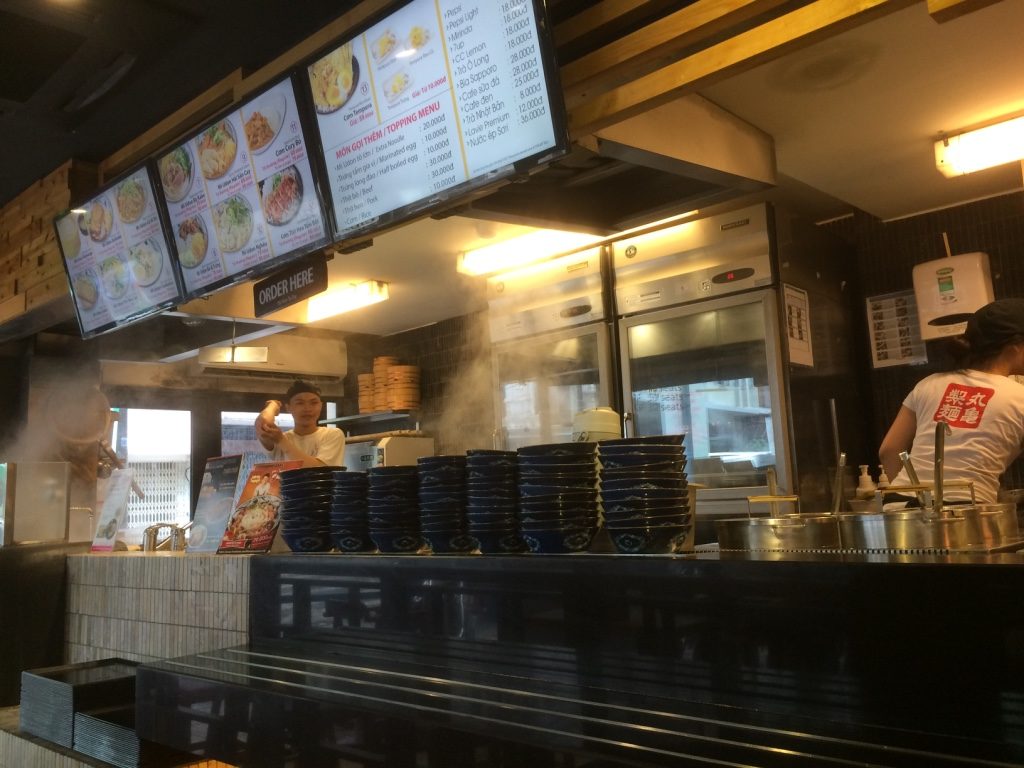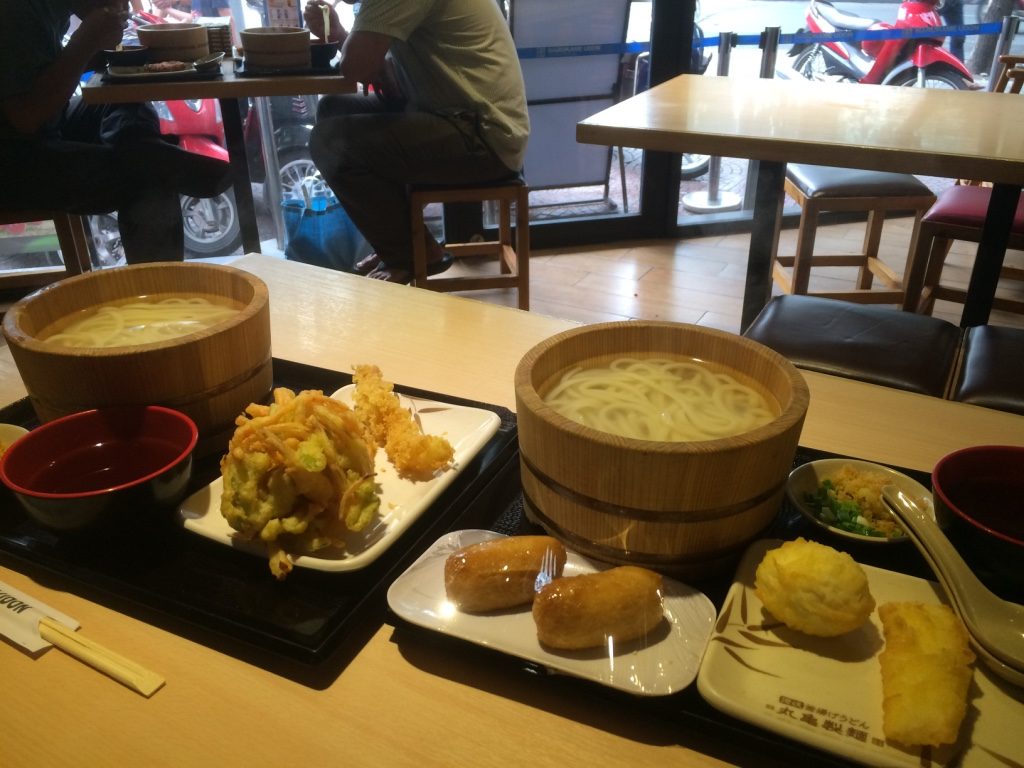 After lunch we decided to go to Ben Thanh Market to see if there was anything we wanted to buy. I was looking for a toddler tuxedo for Nate but unfortunately there was nothing at the market. There were a lot of tailor stalls but when I described what I was looking for they didn't seem interested in making one or giving a quote. They were probably like, why does a 2 year old need a tuxedo? My friend in Hong Kong said she know of a place that sells toddler tuxedos so I'll stop by quickly before coming home after our lunch together.
In addition to searching for a tuxedo, Tim was interested in buying some dry fit t-shirts. We remembered that Ben Thanh had the biggest selection out of all the markets we went to. But the biggest con of waiting to look here was that we had to deal with the overly aggressive Vietnamese vendors. Tim made the mistake of wearing his Under Armour shirt again so as soon as we walked through the rows of stalls they were attacking. We asked about prices and one lady said 450,000 VND = $26 CAD each, which is obviously outrageous for a fake dry-fit shirt. When we saw the price we were like no way, so Tim walked out the other exit of the stall and I tried to leave but the lady blocked me and another one grabbed my arm! Tim then countered with a lower price but they didn't really negotiate too much. I told Tim to come back for me and then he got cornered by another man and lady. They said they'd lower the price but considering how aggressive they were towards us we didn't want to buy anything from them.
While we were at the market, it started to pour outside. It was exactly what happened last time we were here! We tried to wait it out for a bit, but then we got sick of walking around the market, so we walked back to the hotel in the rain. We spent the rest of the afternoon updating our blog and map.
We walked about 10 minutes down Le Thanh Ton St. to Vincom Center, which is the largest mall in Saigon. Vincom Center is owned by Vin Group, which is owned by Vietnam's first billionaire (in USD). He owns a huge real estate company, resorts, and a telecom. We're going to be eating more carefully in our last days here. We don't want any stomach issues on our long journey home. When we go to Vincom Center, we walked around the mall a bit and then went downstairs to where all the restaurants were. They had a really good selection of Vietnamese, Japanese, Korean, and other Asian cuisines. There are a lot of Korean BBQ and hot pot restaurants and they were all busy (I guess it is Friday night).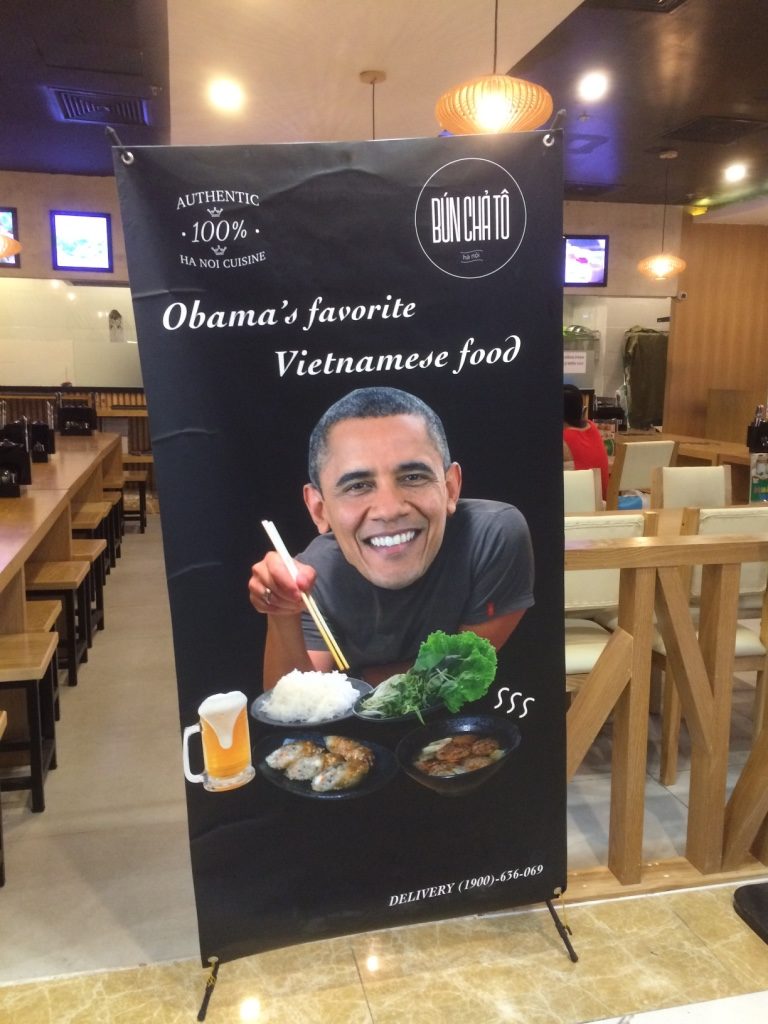 We decided to try "Hotto", which seemed like a Vietnamese rip off of Pepper Lunch. We looked at the Pepper Lunch menu and it was more expensive so we decided to give Hotto a chance, plus we've had Pepper Lunch a few times already this trip. I ordered the most comparable menu item to Pepper Lunch and it was okay. Instead of just corn for vegetables they also give you cabbage and beansprouts. Pepper Lunch is better.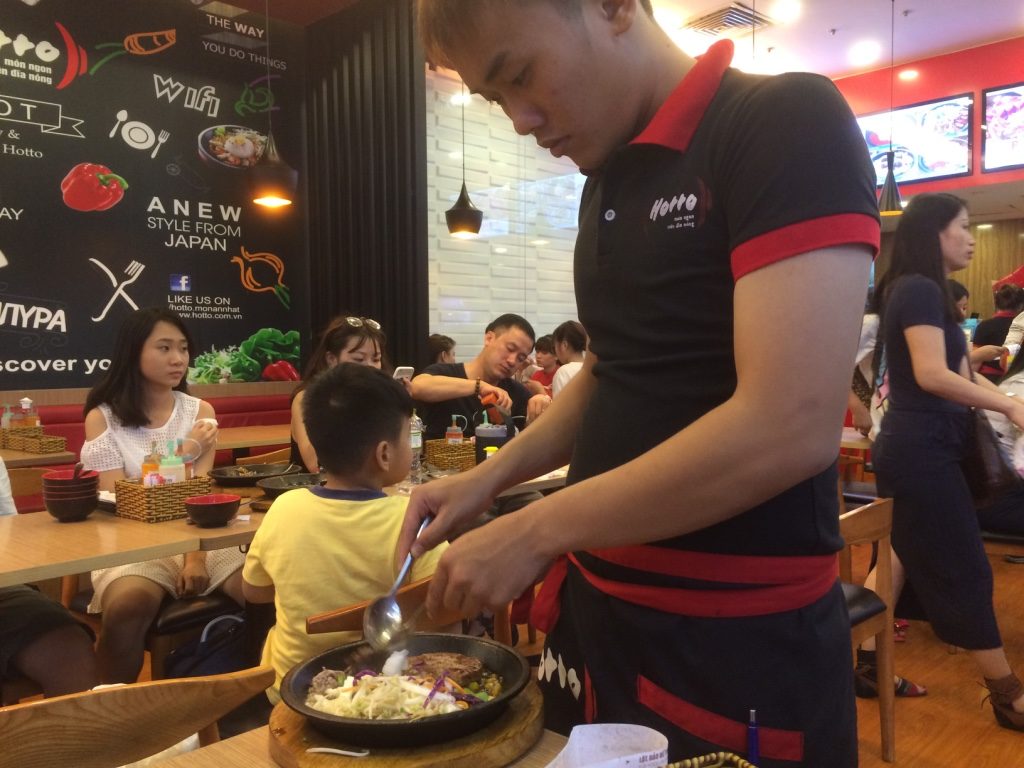 After dinner we went to Vin Mart, a grocery store, to browse around at all the snacks/souvenirs. I bought a couple of items to bring home, not as much as I would want because of capacity issues. I saw some Japanese tourists buying crazy amounts of jackfruit chips and these coconut chocolate chip cookies (they almost cleared the shelves), so I copied and bought a pack of cookies too (they're only $0.50 CAD).
We walked back to the hotel and called it a night. We'll take it easy tomorrow and probably go for a nicer dinner for our last night in Vietnam. Our flight on Sunday to Hong Kong is at 5:30am (so early), so we're barely going to be sleeping tomorrow night. Can't wait to come home!
Steps today: 11,000