June 8, 2016
Even after writing that today was going to be Day 100, Tim and I both totally forgot about it. I guess it wasn't much of a milestone after all. This morning we made a second attempt to find the Com Tam stall for breakfast. We walked to where the lady's stall should have been at around 8am and she was still not there. We think she is probably on vacation. Since we have a bunch of other days in HCMC, we can always try again then. We walked back to our hotel and ate breakfast at the hotel instead.
Our plan today was to get to Can Tho, a city about 3.5 hours away from HCMC in the Mekong Delta region. The hotel booked seats for us on the Phuong Trang bus. The tickets cost 100,000 VND = $5.65 CAD each. A cab took us to the Phuong Trang bus office where we would catch a shuttle that would take us to the actual bus station.
When we got to the Phuong Trang bus ticketing station, I was not expecting what we drove up to. The bus ticketing station was run down and full of people waiting for shuttle buses. Then when a shuttle bus would drive up, people would rush to the bus and try to get in before people even came out. It was pretty chaotic to say the least. Tim went to the ticket counter and showed them the slip of paper the lady from the hotel gave us and they issued our tickets. She told us to wait 15 minutes and then get on one of the shuttle buses.
We got on to the crammed shuttle bus with our large backpacks on our laps. After about a 10 minute drive we got to the HCMC's bus station and it was even more chaotic than the ticketing station. There was a large room of people waiting for their buses and there was no departures board or schedule of any kind. We stood outside so we could see the buses that pulled up since we couldn't understand the Vietnamese announcements and it didn't seem like there was much order. People would just run up to the bus and the bus would continue to move even when they were trying to load the bus. The buses also drove up really close to where all the people we standing.
We didn't take any buses when we went to Thailand so I can't really comment on how it was there, but this was definitely my most "roughing it" travel moment. I told Tim that I felt that way and he semi rolled his eyes at me. I think it also felt more chaotic for us because everything was in Vietnamese and when we looked around there were no other obvious tourists or westernized looking Asian people. In my mind I was expecting way more backpackers at the bus station, but I guess Vietnam is still nothing like Thailand in that sense.
We finally spotted our bus, loaded our bags, and got on the bus as it was moving to down the queue of buses. We were seated at the front of the bus which was good because we had a good view straight out the front. In hind sight, I'm not sure if this was a good thing or a more nerve wracking thing – but it definitely added to our entertainment for the ride. The bus was full and our journey to Can Tho would take around 3-4 hours. When we were all seated, the bus attendant came around and gave us a bottle of water and a wet wipe. There was wifi on the bus too which was a nice surprise.
About 5 minutes after leaving the station, the bus pulls over randomly (Tim: or not so randomly) and two guys jump on the bus. I guess they're friends of the driver? They come on the bus (obviously not paying for a ticket) and both sat on the steps right beside the driver and the bus attendant. I suppose this is normal practice in Vietnam.
Tim and I both fell asleep but were woken up to the bus driver honking like there's no tomorrow. When we woke up we realized there was also Vietnamese music playing quite loudly and music videos and concerts were being shown on the TV. Even when I tried to close my eyes, I would get very startled by the continuous honking (bus' horns are really loud, especially when they are leaning on it). From our four days here, it seems like everyone is just horn happy and it's more of a honk to say "hey, I'm here", not a "eff you" type of honk. Highway driving isn't much different from city driving as the bus weaved in and out of traffic narrowly missing scooters. Since we were up front, it was a bit nerve wracking and we had a lot of "wtf" moments. We are definitely not in a first world country any more.
After about two hours we arrived at a rest stop, which is a Phuong Trang bus stop. The building was full of food vendors and snacks. We shared a banh mi (15,000 VND = $0.85 CAD), which wasn't very good, and a sugar cane juice (12,000 VND = $0.68 CAD). Since the announcement for how long the pit stop was going to be was in Vietnamese and no one on our bus spoke English, we quickly bought our lunch and stood outside making sure our bus was still there.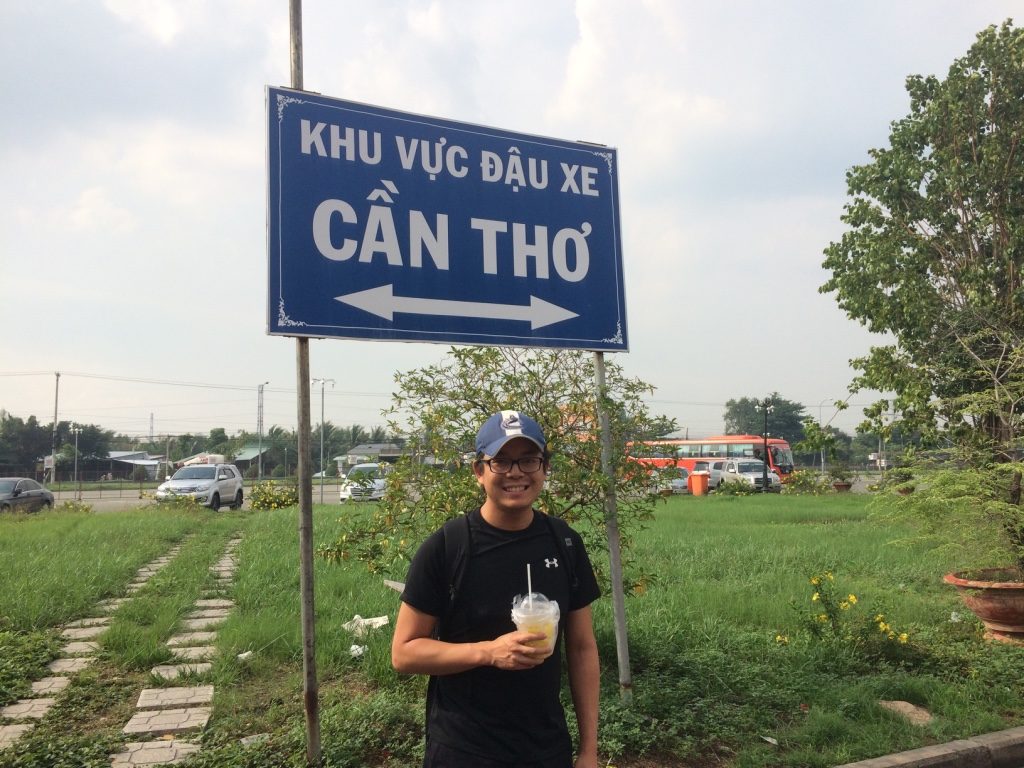 We learned later that the bus attendant would pretend to count that everyone is in their seats but in reality they had no idea and would just leave you behind. As we were leaving the parking lot, a frantic man came up to the front to tell the driver that we were still missing some people. That's when we the driver and attendant realized that they were missing 4 people! The bus driver reluctantly pulled over and the 4 ladies came running for the bus. When they came on the bus, the bus attendant and driver said a bunch of stuff in Vietnamese (that didn't sound like it was something nice) and the lady said something back (in an equally annoyed tone) then took her seat.
We finally arrived in Can Tho 3.5 hours after we left HCMC. Phuong Trang provides free shuttle transfers to your hotel or your final destination within the city once you arrive at the bus station. We waited about 30 minutes for a shuttle bus to our hotel. This shuttle bus was even more cramped than the one in HCMC. Luckily, we were the second ones to be dropped off.
We checked into our room at Hotel Xoai , and signed up for a "free" three hour food tour that started 6:30pm. We basically just got into our room and got changed and went downstairs to meet for the food tour. We booked the cheapest/smallest room here for $14 USD/night. The room was very small but very clean.
We went downstairs to meet the tour guide, Thoai. We read a lot of reviews about our hotel on Trip Advisor and majority of them raved about the food tour at the hotel. Since it's down season right now, we were lukcy and had a private tour with Thoai, a 28 year old Can Tho local. He was extremely friendly. knowledgeable, and his English was good.
The first stop we took was a "nem nuong" (BBQ pork sausage) restaurant, called "Nem Nuong Anh Map". Thoai ordered one order of nem nuong for Tim and I to share. It was our first time having a dish like this so we were excited to try it out. The waitress brought a dish of the BBQ pork sausage on a bed of very thin rice noodle patties, greens, and all the assorted fillings. We were supposed to roll everything up and dip it in the peanut sauce. There were so many different flavours and textures in the rice wrapper which was so delicious. I love all the fresh greens and herbs – it's very refreshing!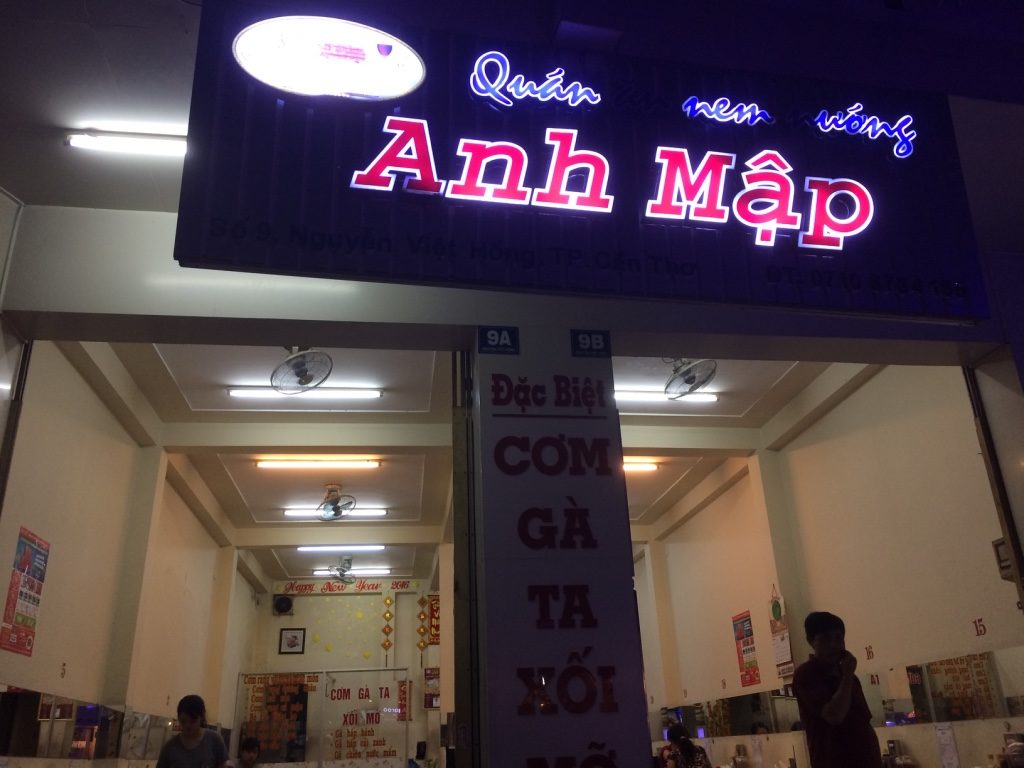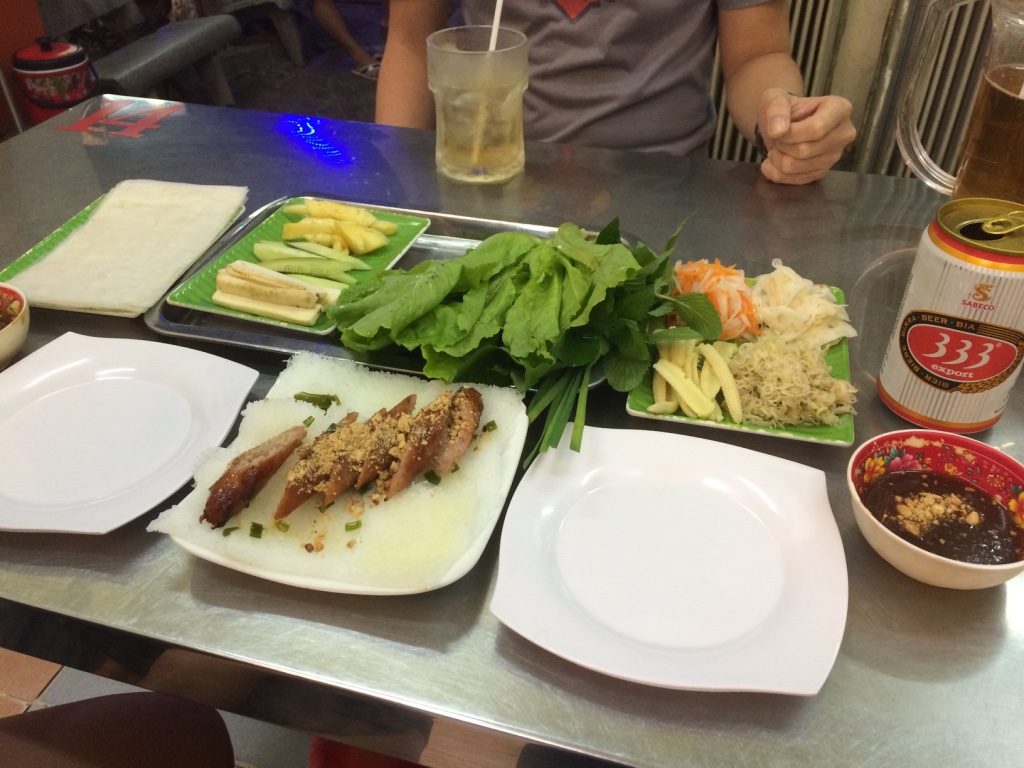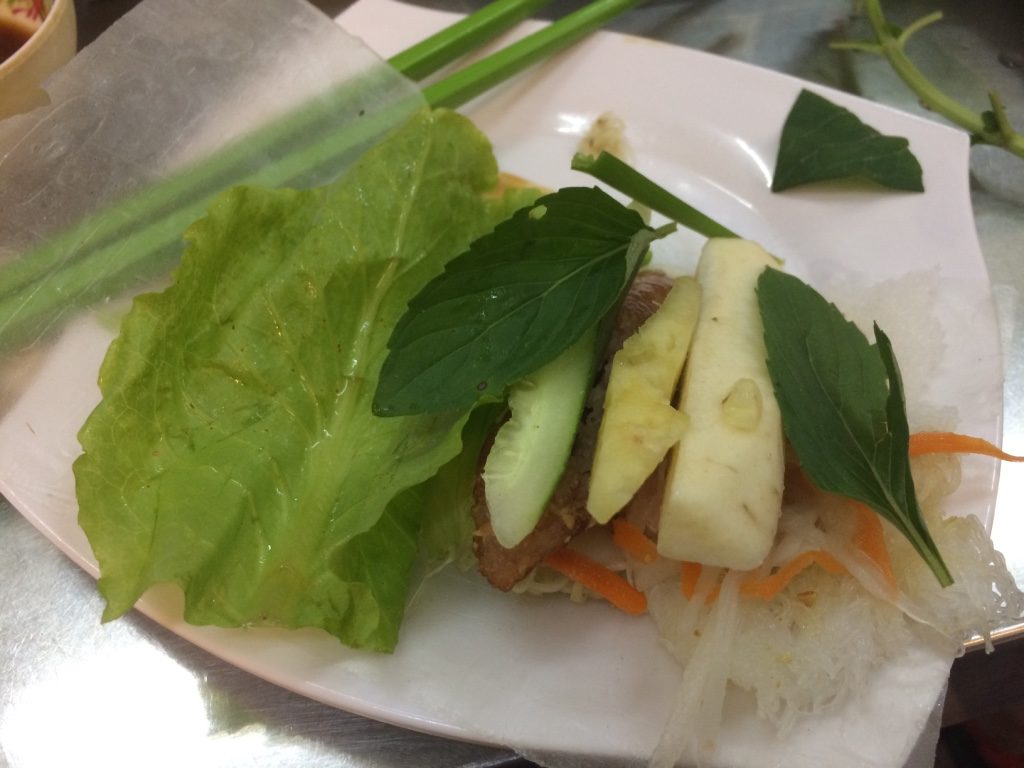 On our way to the next stop, we crossed a park that was filled with children and teenagers roller skating around and a zumba class going on. Since it's so hot during the day, it seems as though everyone comes out at night to enjoy the outdoors. Thoai said zumba is really popular right now in Can Tho and that only woman exercise in Vietnam (Tim: men just sit around and drink).
Our second stop was to eat a special "bean muffin" that's native to Can Tho. Thoai told us that only two restaurants in the city make these muffins and the one we went to is his favourite and the most popular. Since there were still other stops to go, Tim and I just shared one to try. The restaurant is called "Banh Cong Co Ut" and I think the muffin is called "banh cong co ut". The muffin is deep fried twice and is made out of green bean, taro, and shrimp. The muffin came cut into fours and Thoai told us to put it in a mustard green leaf, along with lettuce and pickled vegetables, then dip it in fish sauce. This was probably my favourite snack/dish so far.
Our third stop was a street corner restaurant called, "74". They specialize in claypot dishes and a Can Tho "special meat". Thoai asked us if we wanted to try the "special meat", we said sure but told him not to tell us what it was until after we ate it. In addition to the special meat, we tried the beef and egg claypot. The other choices were an eggplant or tofu. The beef and egg hot pot came boiling on a portable stove. Thoai stir the raw eggs around and covered it with a lid until the eggs were sort of a scramble. There was a sour and spicy dipping sauce to dip the beef in. The beef, onion, and egg were very flavourful and the beef was tender. Restaurant 74's patrons were mainly middle aged men drinking beer and having a claypot.
At this point we were pretty full. Thoai asked if we wanted to try an "egg coffee". We declined since we had to be up at 4:30am the next morning for our Mekong Delta tour. Thoai showed us where the egg coffee was for us to try tomorrow.
For dessert, he took us to a well known sticky rice lady who only sets up at night. She makes both a turmeric and black sticky rice and scoops both into a waffle (like a burrito), adds dried coconut, sugar, and a bit of salt. I really like mango sticky rice for dessert so this was something very different than what I was expecting. It was really good and Tim even liked the dried coconut in it (he usually isn't a fan of dried coconut flakes).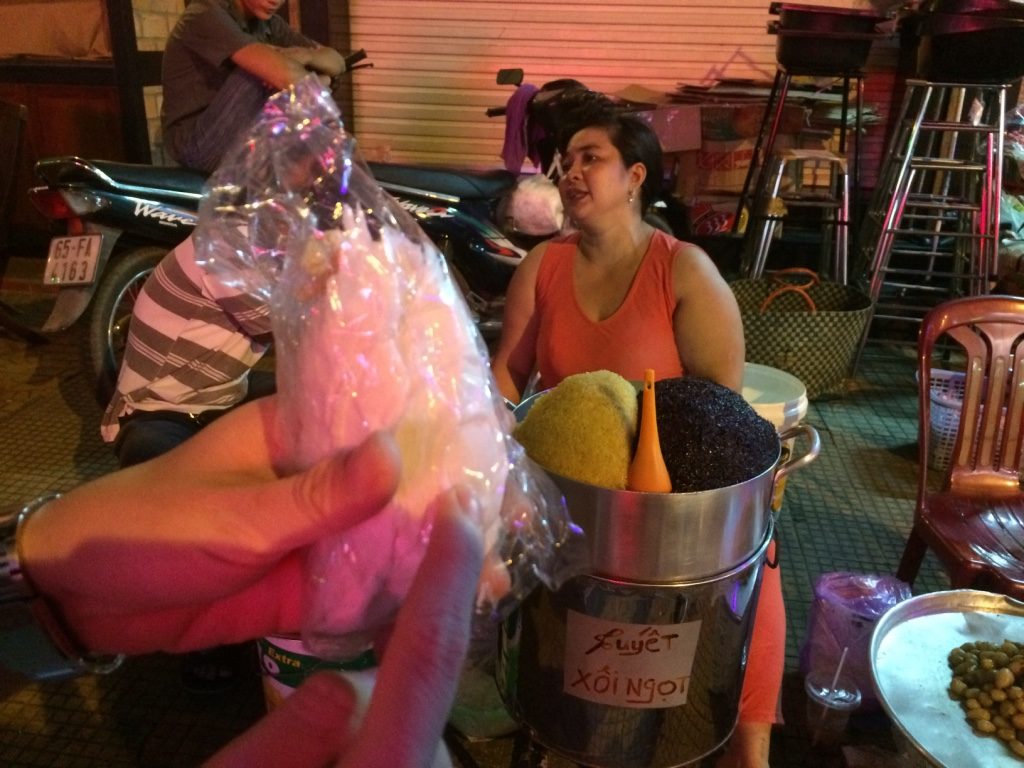 Our last stop on the tour was to grab a drink at a cafe. Thoai and Tim got beers and I tried a fruit smoothie. Thoai listed all the fruits and I tried one that I've never heard of before – sapodilla. They blended the fruit and added some condensed milk, it was delicious and refreshing. Thoai said a lot of people get the sapodilla smoothie with espresso. We sat on the street on plastic chairs and chatted for a while.
It was nice to be able to speak to a local (around our age) and ask what life is like living in Vietnam – more specifically (Tim: or more broadly?) a Communist country. He talked about the differences between the people in the north and south (people in the south don't call it HCMC, they still call it Saigon. But people in the north call it HCMC..makes sense), how hard it is for educated millennials to find decent jobs in Vietnam (without bribery), corrupt police, and their horrible hospitals (basically lack of trust in anything government related). He described their hospitals and how the only doctors who get jobs in hospitals are ones who have connections to someone in the government or who could pay the exorbitant bribes to get a job (nothing to do with skill). We told him that makes sense because Lonely Planet and our insurance says if we get injured/sick in Vietnam we should fly to Bangkok for treatment. He laughed and said people here don't even want to go to their own hospitals. Any how, we learned a lot from Thoai and it reinforced how lucky we are to be Canadians.
We walked back to our hotel and Thoai marked down more of his favourite places on a map for us. I'm happy we decided to take the food tour with Thoai. We got to try all this different food we wouldn't have found ourselves, learn more about Vietnam from a young adult's perspective, and learn how to pronounce some Vietnamese words.
It'll be an early morning tomorrow but we're looking forward to seeing the Mekong Delta.
Steps today: 11,000