June 9, 2016
Today was a long day. We set our alarms for 4:30am since we were getting picked up by the tour company at 5am outside our hotel. Luckily we were still slightly on Australian/New Zealand time and had been waking up fairly early any how, so it wasn't that painful.
We were taking a tour with EcoTours, which was recommended by Chloe. It made planning really easy having someone recommending tours or hotels to you. I had emailed EcoTours booking our tour and they were very quick at responding to confirm. They said they would pick us up at 5am outside the hotel. As we were waiting, a guy on a scooter comes by and asks us if we are waiting EcoTours. He then got on his phone to speak to someone. He was speaking Vietnamese so we didn't understand. Then a taxi pulls up and he tells us to go in the taxi to go to the dock and he will pay for it. We go into the cab and he drops us off at the water. The guy on the scooter pulls up behind and pays for our ride and leads us down to the dock. At this point I was thinking in my head, what if this is a scam and this guy just goes around to hotels picking up tourists who are waiting for a tour and pretending to be them? (Tim: paying for our cab would be quite the long con…)
We go down to the dock and there's just the two of us. I guess since it was a recommendation I didn't do much reading on Trip Advisor so I didn't realize the tours were very small and not a large group. Before getting on to the boat, I asked the guide more directly if this was Eco Tours and he said yes and he knew our room number that we had to send them just in case we didn't wake up I guess. Since he knew our room number at our hotel, I finally relaxed and went on the boat.
Our guide's name was Phi and our boat driver for the day was a middle-aged lady named My. Phi's english was not that great, compared to Thoai's (from yesterday's food tour) so it made trying to listen a bit hard. Maybe he was super sleepy when he approached us this morning but I think if he introduced himself and said right off the bat that he was from EcoTours then I wouldn't think he was so sketchy (Tim: The first thing he asked us when he pulled up was "EcoTours?"). It definitely took him a while to talk more (likely wake up). Our driver couldn't speak any English but she was very sweet, smiled a lot, and made us some really nice palm roses.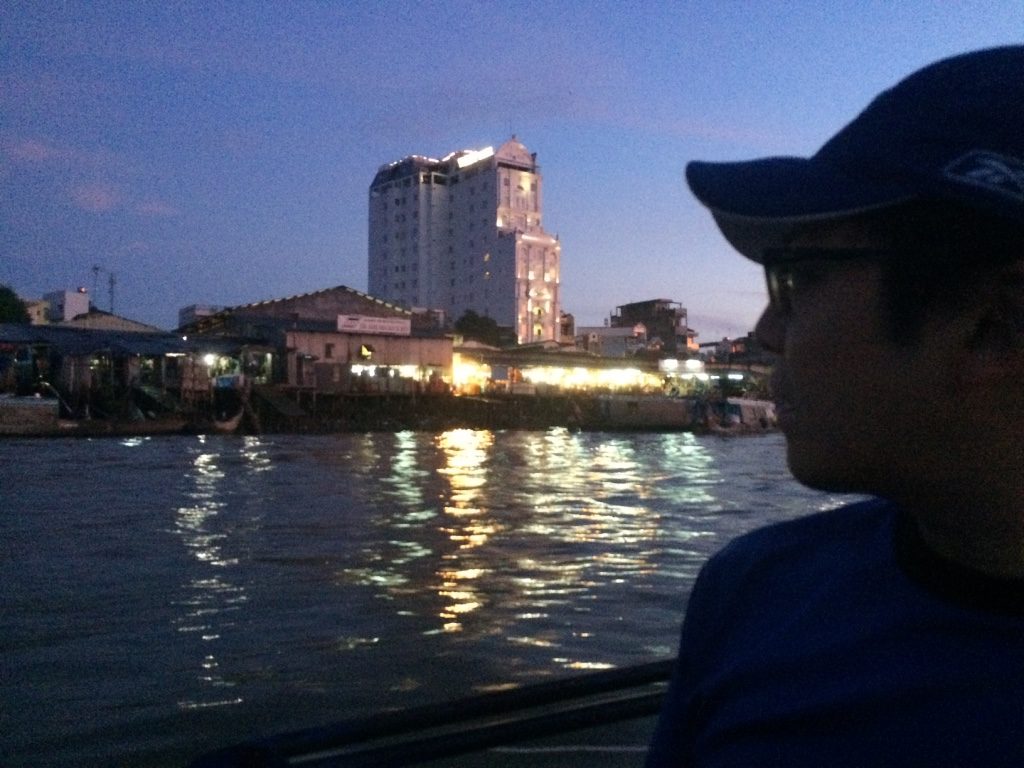 We signed up for the 6-7 hour Mekong tour, which takes us to two floating markets, a rice paper factory, rural countryside, and through smaller canals ($23 USD/person included all meals and snacks). Phi told us that it's a holiday in Vietnam today so the markets may not be as busy and the second floating market (the more local one) may even be closed. This was fine with us (we had no idea it was a holiday in Vietnam) since it was just nice to be out of the city.
Our first stop was the Cai Rang Floating Market. This is the biggest and busiest floating market in the area. This is also the floating market all the tours go to, so there were a lot of other larger tour boats there as well. Phi told us since the motors of boats are so loud, people can't scream out to show what they have so they put what they're selling on a pole to display it. We saw various fruit (durian, watermelon, green mango, jackfruit) and vegetable (mainly yams) vendors. Before getting to the floating market, Phi warned us that Vietnamese floating markets are not as pretty as the ones in Thailand because they haven't been built up for tourists (yet), where as the ones in Thailand are usually not actually functioning markets any more and vendors just want to sell to tourists. At Cai Rang, it's mostly wholesale vendors. He was right. The floating market wasn't "pretty" like the pictures I've seen from Thailand.
We had breakfast at Cai Rang in a restaurant on shore at around 6:15am. We ordered two bowls of soup noodles and ice coffees. It was all very tasty and a good way to start our day. After breakfast we continued on the Mekong to a noodle factory where we got to watch how they made rice noodles (for pho!). It was interesting to see how they made the noodles and it seemed like a very tedious and primitive way to do it. Phi said they make on average 700kg/day. Since it was a holiday week, he said they were probably making less than 700kg, but they usually make more the previous few days to ensure they had enough for their customers. The sheets of rice paper looked light, but after holding one they were heavier than I thought (3 sheets = 1kg).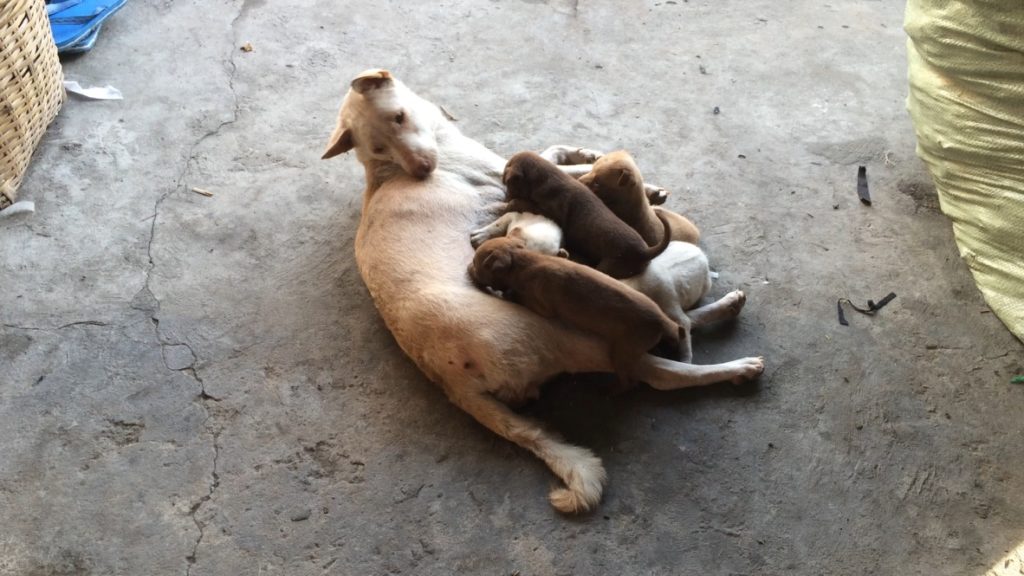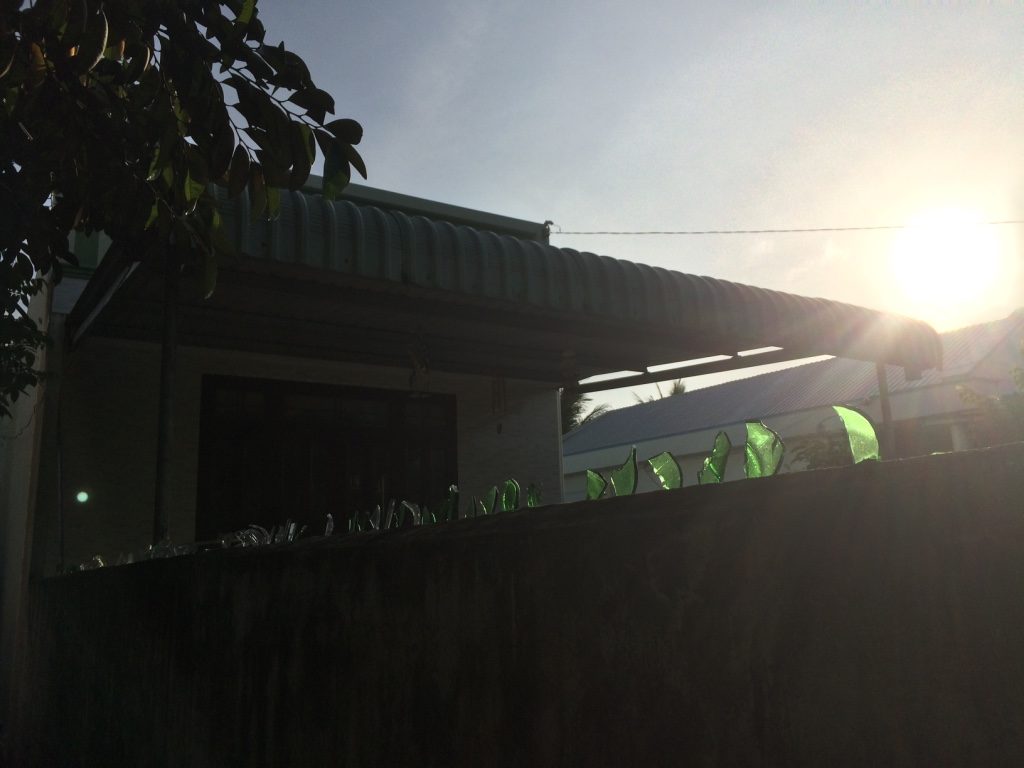 After we left the factory, we got back on to the boat and continued on to the Mekong and made our way to the second floating market, Phong Dien, to see if they were open. Phong Dien is a local floating market, where vendors are mainly all from the Can Tho area. As compared to Cai Rang, where vendors come from all other areas (which is why it's bigger). You can tell where the boats are from by their initials on their boats, as it tells what province they're from. The only thing that was open was a cafe, where Phi bought us drinks. Tim got another ice coffee and I got a coconut.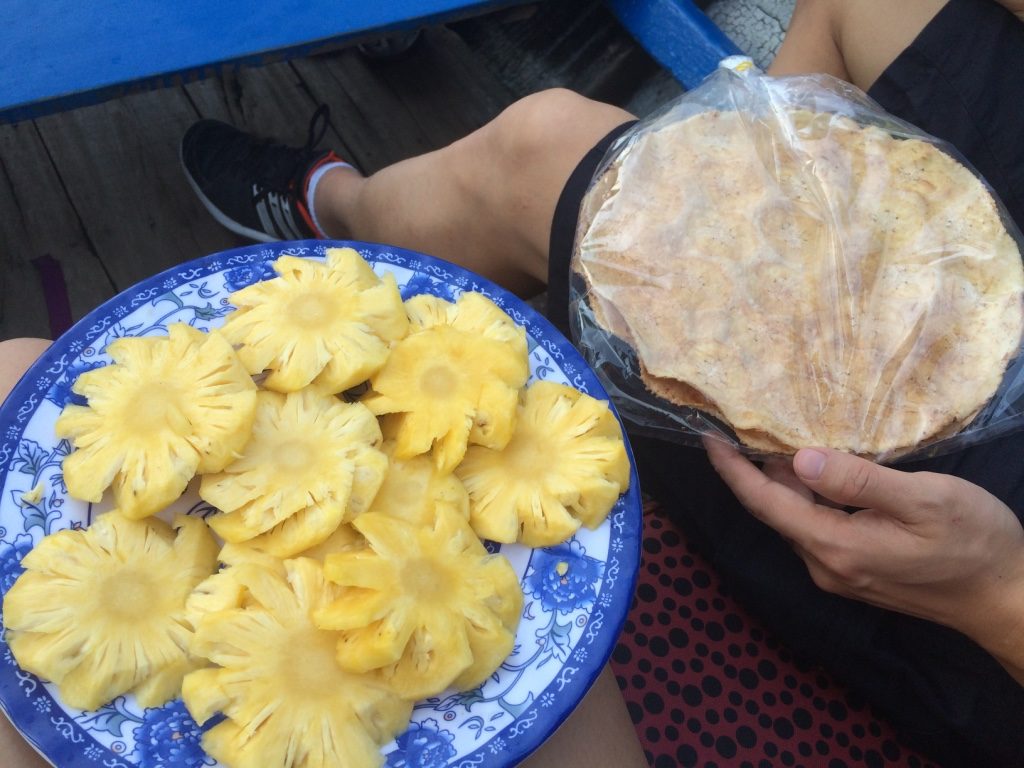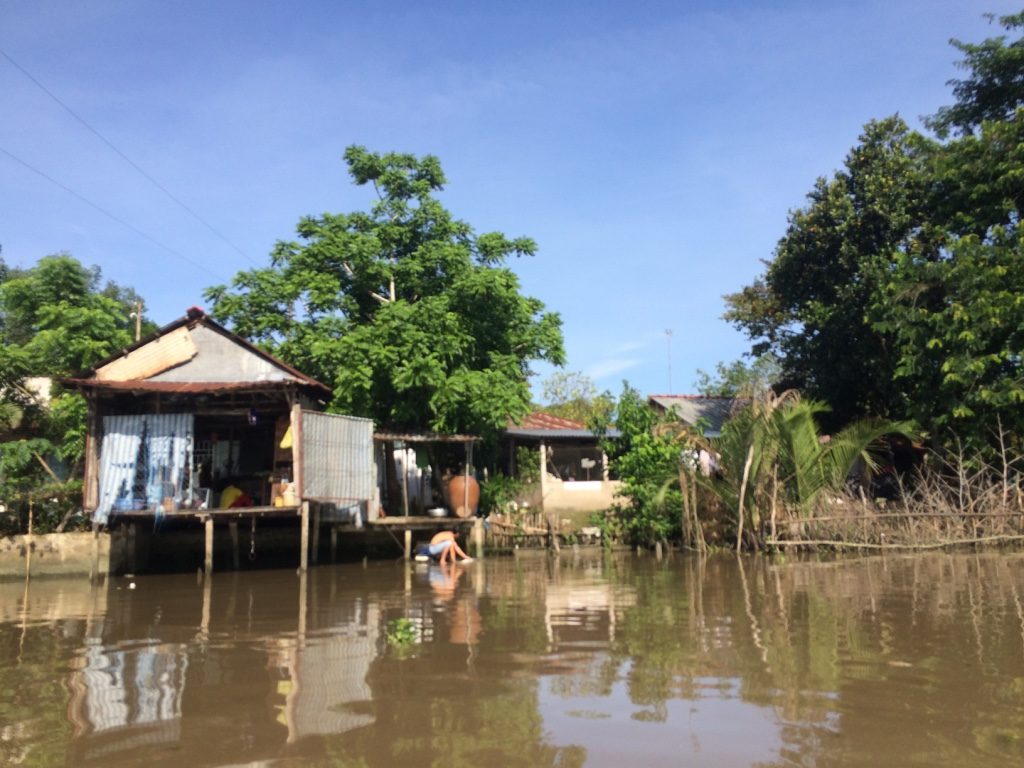 We continued down the Mekong and got into smaller canals which was really nice and calming. It was still really early so the sun wasn't crazy hot yet. They gave us "rice farmer" hats to wear, which saved me. They also said they could put the top on the boat up if we wanted to, but as westerners who think we really like the sun/want to tan, we said to keep it down.
Our next stop was to walk around the countryside. The walk along the country was nice. We saw a few houses built out of water coconut leaves (apparently they last for around 2 years), some locally grown fruit (jackfruit, green mango, coconut), and a lot of roosters. Apparently cock fights are extremely popular in Vietnam and people can sell their roosters for a lot of money if they win fights, so a lot of people in the country raise them to be fierce fighters. After about 30 minutes walking along the river, we got back on to the boat. Our driver had made us a bouquet of roses out of palm branches. She's super talented! They were so pretty and perfect. In addition to the roses, she also made us bracelets, a grasshopper, and a crab during our tour.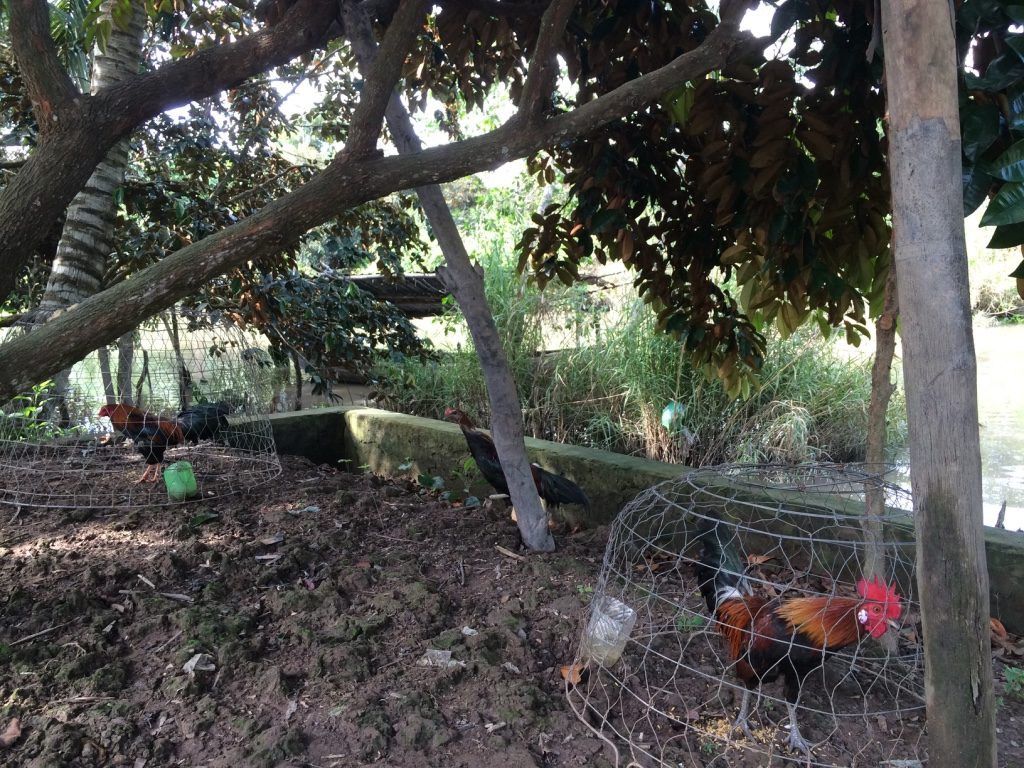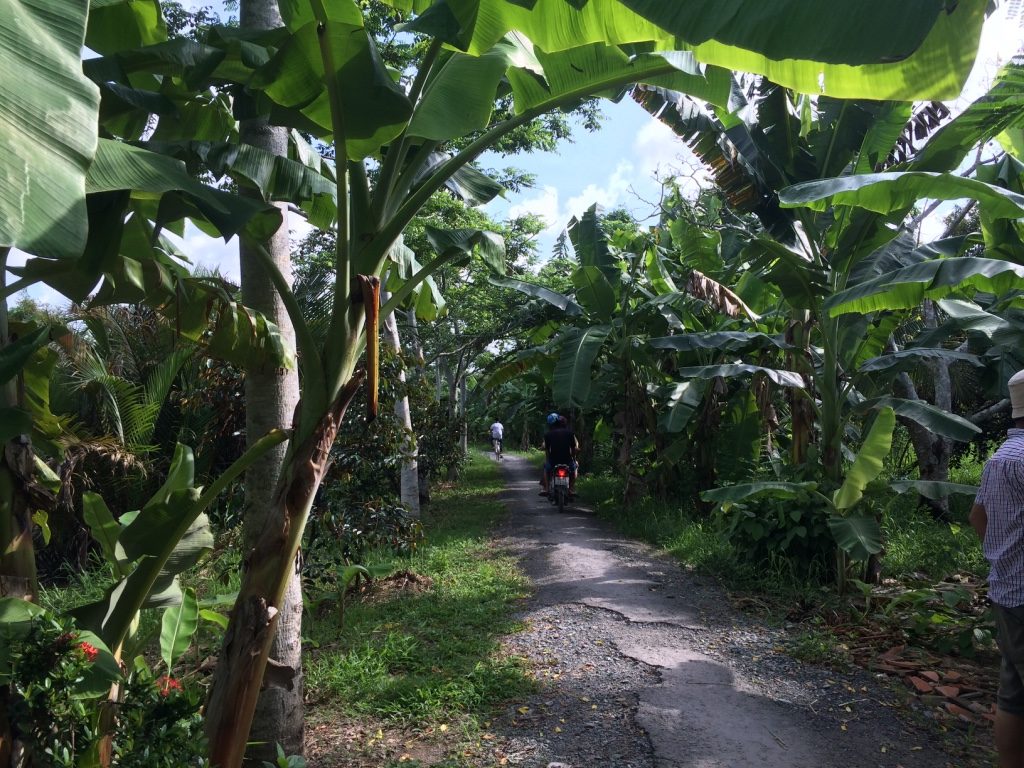 After the countryside walk, we continued on the smaller canals and eventually made our way back into town around 11am. The last leg of the boat ride was super hot. No wonder Vietnamese people wake up early and then stay inside for most of the day and then go back outside at night. I would too if I were a local.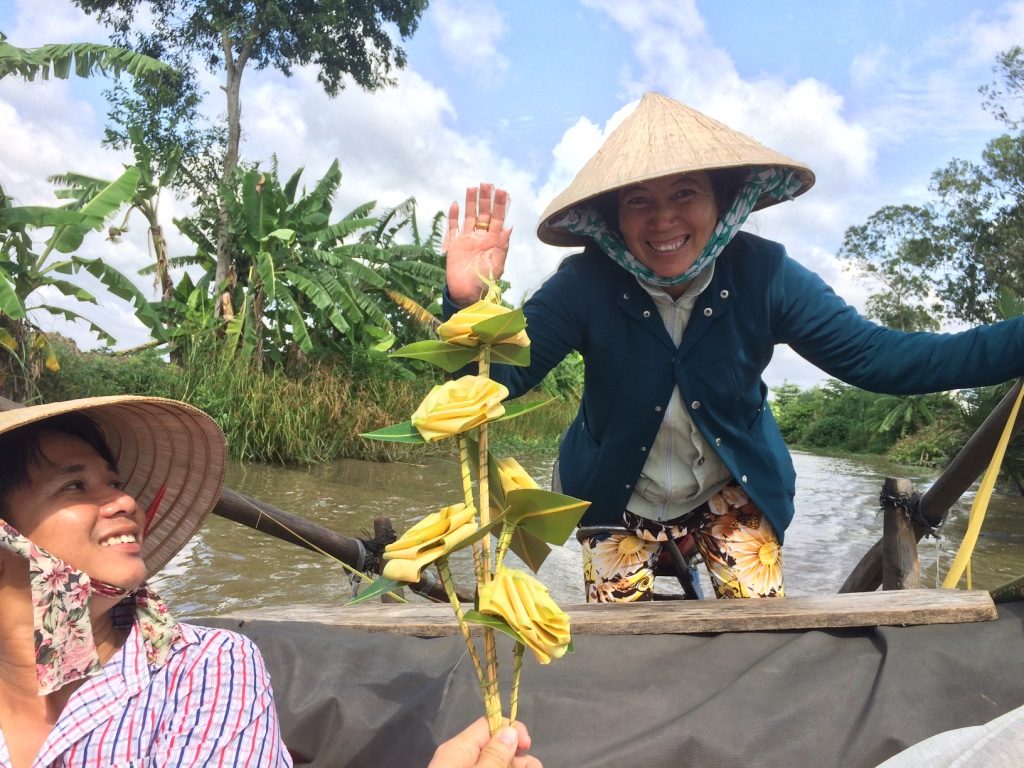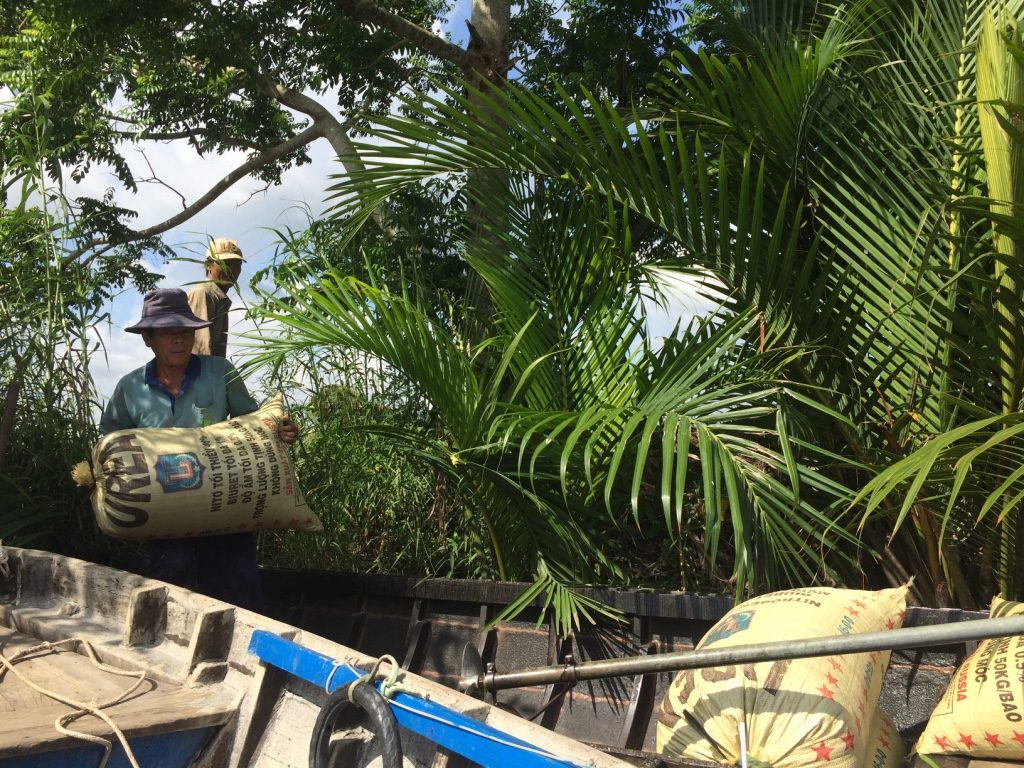 On the boat ride back, we were talking to Phi about real estate (typical Vancouverites) and asked how much things cost here. He said houses in the city are very expensive, and showed us his boss' house that's in a prime location by the river. His house was 17 Billion VND ~ $1 Million CAD. I was actually surprised houses in Can Tho could go for that much. He said the property he is looking to buy would be more in the $10,000 CAD range. He works two jobs, does the boat tours in the morning and then at night he works in the restaurant right on the river (the boss with the $1 million house's restaurant). We asked if people borrow money from the bank to buy houses and he said they try not to and rather borrow from friends or family. He said you have to pay a lump sum (Tim: bribe) in order to even get the loan from the bank (bribery is clearly a common occurrence in a Communist country).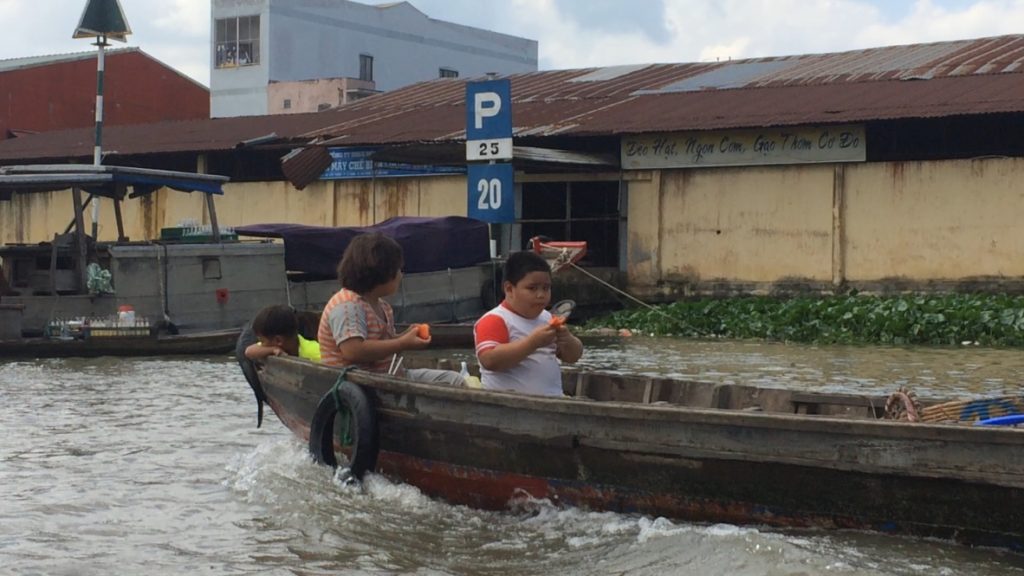 We got off the boat, said our goodbyes, and walked to find something to eat for lunch. Thoai had recommended a Com Tam restaurant to us during our walk which was close by but he said it was only open earlier in the day and at night. We tried our luck and walked past it and it was open! We both ordered the broken rice with grilled pork chop and egg. She gave us soup, which was quite flavourful. Our lunch was 58,000 VND ($3.30 CAD). We paid an extra 3,000 VND for the eggs ($0.17 CAD). When we got our food, they tried to show us what sauces to put on (kind of like we were playing charades showing what the sauces would taste like through animated facial expressions). Tim dumped a lot of fish sauce on his rice and they all laughed at him and said in Vietnamese probably something like, no that's too much! It's going to be too sour! (since they kept making a sour face). The man who was hysterically laughing showed what a reasonable amount would be to pour on the rice and I poured that amount. I would probably pour a lot like Tim on at home too. Lunch was delicious and definitely hit the spot.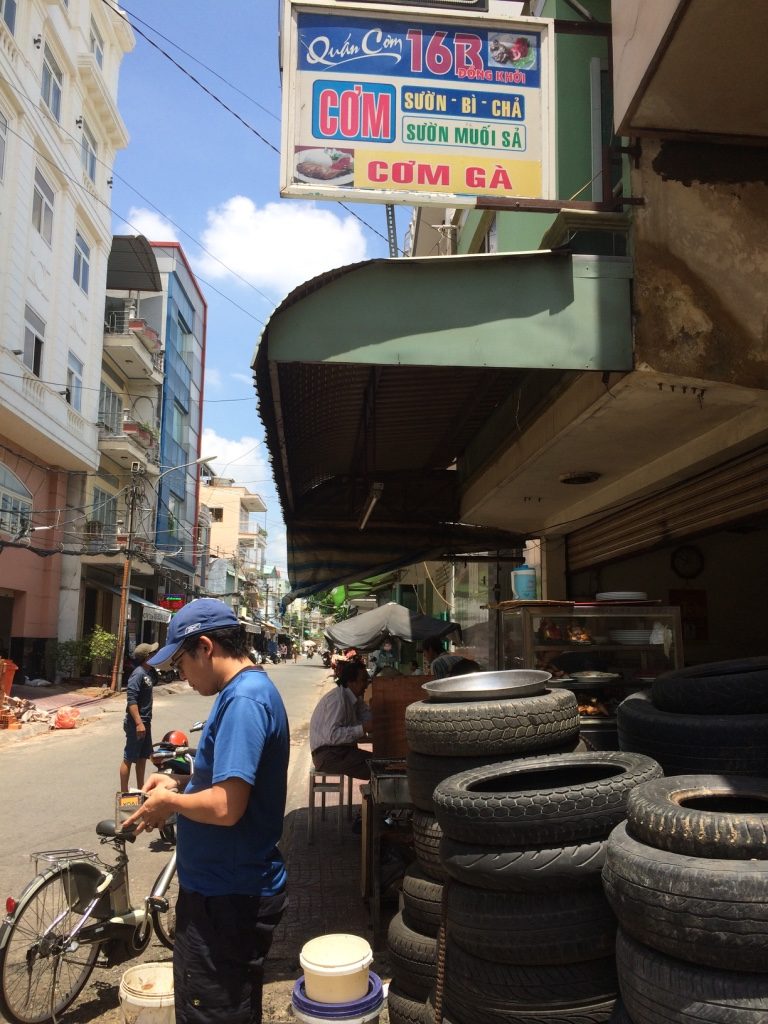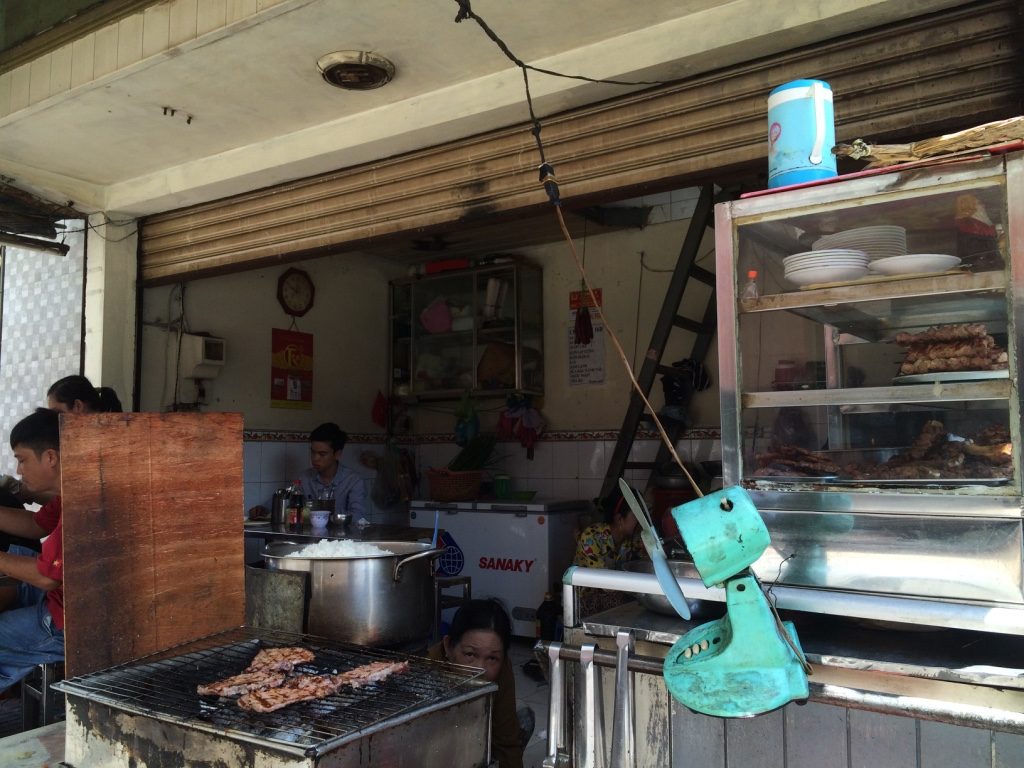 We walked back to the hotel and spent the remainder of the afternoon booking flights and hotels for an upcoming portion of the trip. It felt good to not do anything. We sat on the bed and were on our computers researching and planning while listening to rave music blaring from the stores downstairs.
When looking at our itinerary for the next few weeks, it made me a bit tired. This portion of our trip is probably going to be the most tiring part. Even though we aren't constantly "go go go", we do want to see a lot of things during the next month. If there were better intracity transportation between cities in Vietnam, Cambodia, and Laos, it would make things easier. I wouldn't want to take buses everywhere (I'm not a young backpacker any more, not that I ever was one before), so our only option is to fly. We'll see how our flight on Vietnam Airlines goes. They're part of Skyteam which is comforting, but overall, the three countries we're going to don't have the best local airlines. At least in Thailand they have Thai Airlines and Bangkok Airways which are really good/reputable. I was really tempted to just skip over Cambodia and Laos, and spend a month in Bangkok or Chiang Mai and just chill. The compromise was to cut a few places out of Cambodia and Laos and spend about a week in a resort in Phu Quoc (Vietnamese island) before coming home. Biggest thing I've learned from being away for 3+ months is that traveling can be super tiring when it's longer than a 3 week vacation (Tim: 3 week vacations can be pretty tiring too). We both appreciate days where we don't do anything and catch up on North American TV shows.
Dinner time came quickly so we decided to check out the roof top terrace at the hotel to catch the sunset. It was just behind a building already but the sky still looked pretty. We decided to go to the Bun Bo Hue restaurant that was recommended by Thoai and the hotel for dinner. When we got there, we just ordered one bowl to share since we wanted to try to find other food to sample and didn't want to fill up on noodle soup. One bowl was 30,000 VND = $1.70 CAD. I like bun bo hue at home so I was excited to try it here. The soup and meat were delicious. I can see why this place was super busy with locals all the time. The bun bo hue's in Vancouver usually are already spicy but this one you can put as much chili as you want. I put in two small scoops and it was about as much spice as I like in mine. We'll probably come back for lunch tomorrow before heading back to HCMC.
We walked towards the night market and tried a couple of different items from stalls that seemed pretty busy. We tried a grilled spicy banh mi baguette. This is something that is from Can Tho but now can be found in other places in the south (said Thoai). They grilled the flattened baguette, cut it up and put a couple of sauces on it along with green onions and fried scallions (5,000 VND = $0.28 CAD). It was tasty but I probably wouldn't order it again. It reminded us of the green onion buns from Chinese bakeries at home.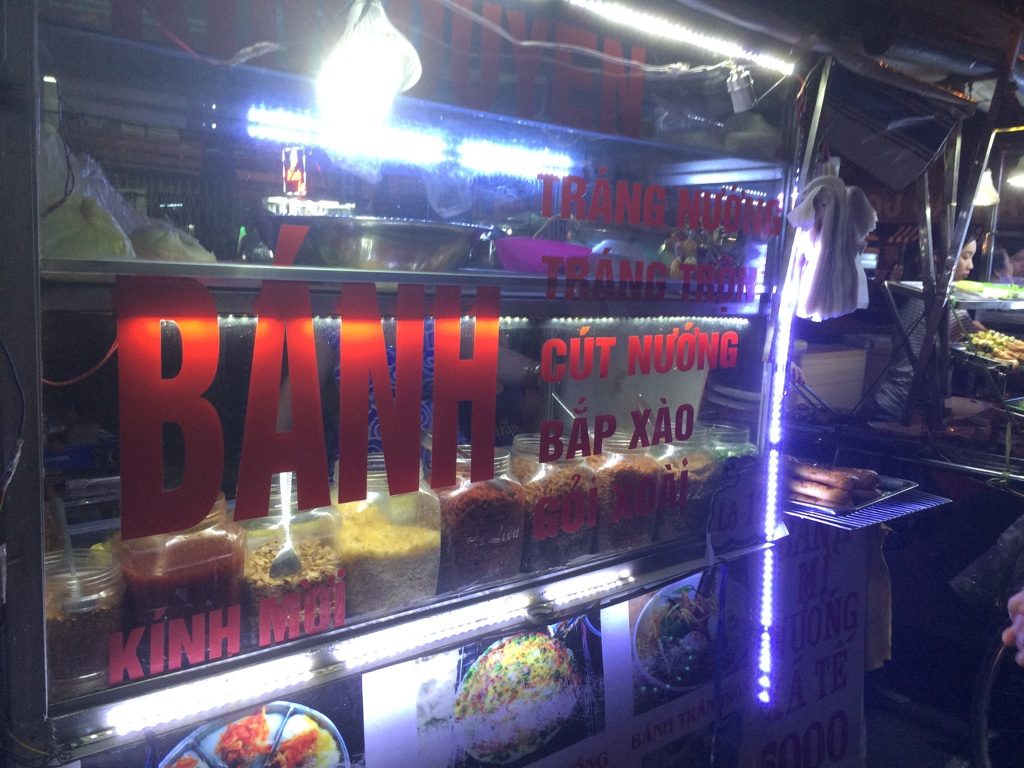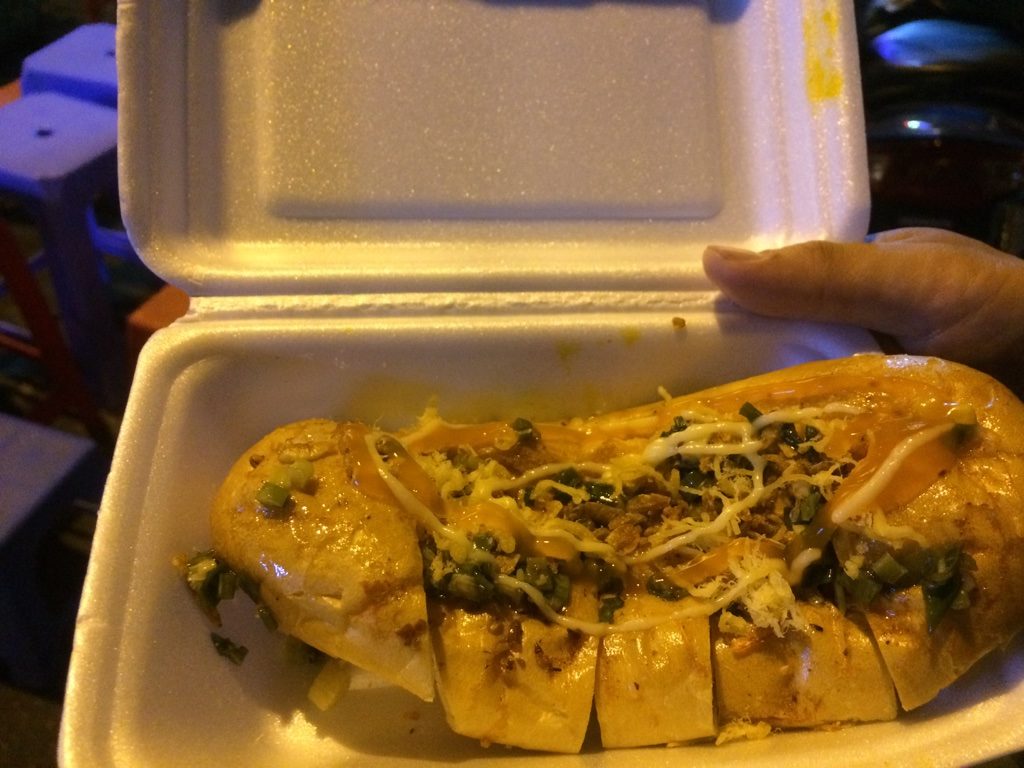 The other food we tried was a grilled rice paper. It seemed interesting and we saw a few stands selling the same thing. We just went to the one that had the most people lining up for it. They piled spring roll filling on the rice paper, broke two quail eggs on it, added some sauces, stirred the mixture around. Then they put the rice paper flat on to the grill. When it was done they folded it in an half and put it in a bag. This was pretty tasty (10,000VND = $0.57 CAD), but I think we both prefer our rice paper to be fresh or deep fried rather than grilled.
After the night market, we headed back to our hotel and called it a night. It was a really long day and we were tired. It'll be nice to sleep in tomorrow before heading back to the big city. I really liked Can Tho. It's still a big city but not as crazy as HCMC and the people here are very nice (didn't try to quote you a different price from locals).
Steps today: 16,000