June 26, 2016
After last night's thunderstorms, the internet at the hotel was down. We don't realize how reliant we were on WiFi until there wasn't any available (we're slightly addicted). We had to pay cash for the hotel because their credit card system naturally wasn't working either. After we checked out, we were driven to the airport (free airport transfers are the best!).
The Luang Prabang Airport was very small – the domestic and international departures are together and there are only 5 check in counters. There's no free WiFi available at the airport, although we did end up connecting to one (not an official airport WiFi) while at the check in area. Once we got to the gates, there was no more WiFi except if you were flying on Bangkok Airways. They have their own departure lounge for all their passengers. We walked around the lounge like stalkers trying to see if their WiFi password was written somewhere visible (I guess we are addicted), but no luck. While we watched people go into the Bangkok Airways lounge, we were reminded of how good that airline is from when we flew with them in 2013. Unfortunately, none of our flight routes have Bangkok Airways as an option this trip.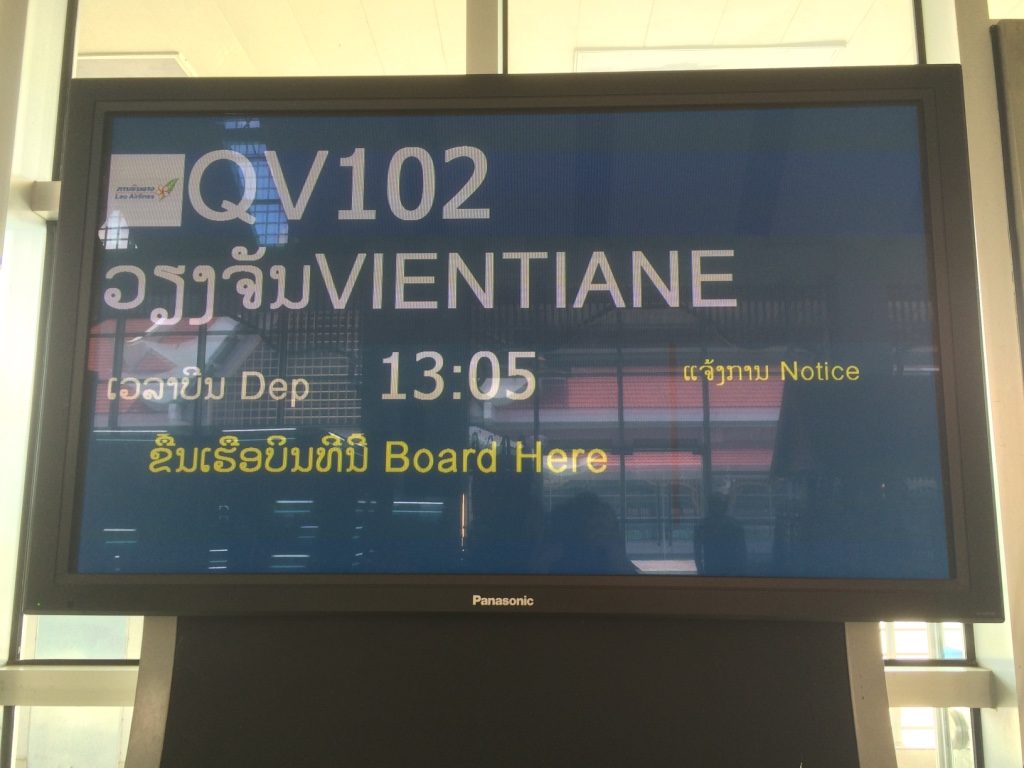 We finally boarded and I was pleasantly surprised to see the plane flying to Vientiane was a lot bigger than the one we flew from Hanoi (it was actually an Airbus!). The flight was quite full, mostly filled with locals and older western tourists. The majority of young backpackers would probably take the bus from Luang Prabang (7+ hour bus ride). The flight was only about 30 minutes, in which time they gave us a bottle of water and dried fruit chips. We landed in Vientiane and it looked like their domestic terminal needed a face lift. Apparently the U.S. government gave Laos money and cement to upgrade their airport but they used it on their "Arc de Triomphe" instead.
After we got our luggage, we went to the taxi counter inside the airport and paid a flat rate of $7 USD to get to our hotel. Having a flat rate into the city is so much better than having to bargain or worry about faulty taxi meters.
We arrived at our hotel, Le Luxe Boutique Hotel, which was located in the centre of town. The hotel was fairly new (or under new management) and was close to two expensive hotels, so I figured it was a good area to be in. Our standard double room was $60 CAD/night (down season has been good to us for cheaper rates in SE Asia). The only downside about booking the cheapest room is that there were no exterior windows. We have a window but it looks into the courtyard and we're on the ground level so that window is basically always closed.
After settling in and doing a bit of research on what to have for lunch, we set out to find a burger joint called Ray's Grille. It's rated #2 on Trip Advisor and the most recent review was from a fellow Vancouverite who has been in SE Asia for 8 weeks. The reviews for the burgers were consistently good so we wanted to give a shot. We've only been in SE Asia for 3 weeks and we're already craving a good burger.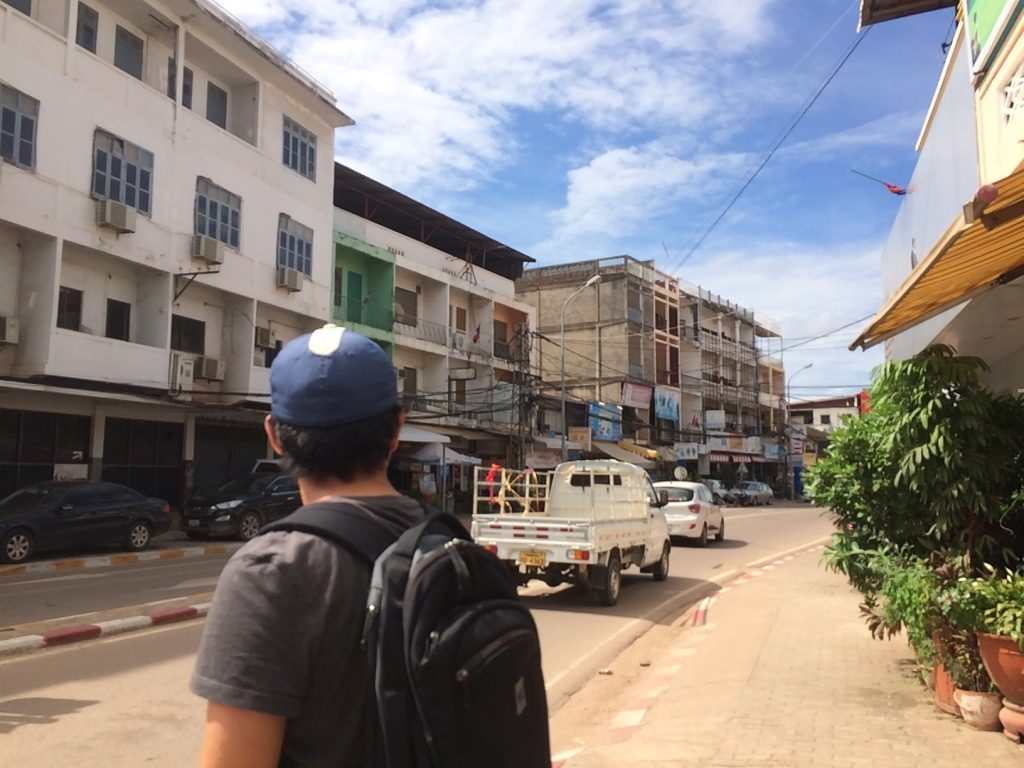 Our first impressions of Vientiane was that it's a very quiet and sleepy city. We've read Vientiane described as sleepy in Lonely Planet and that's actually a very accurate way to describe the city. There aren't many scooters or cars on the street (maybe because it's also a Sunday afternoon) and things just seem very laid back. The tuk tuk drivers are all in groups just chilling and whisper "tuk tuk" as you walk by. Even scooters stopped for us to walk across the street!
When we arrived at Ray's Grille, it was fairly late in the afternoon for lunch but it was still quite busy with 4-5 tables. The kitchen and grill are outside in front of the restaurant so we could see some of the action before going in. We both ordered bacon cheeseburgers (except I ordered the smaller version of it) with fries. As everything was freshly made to order, we waited anxiously as food for other tables passed by and it all looked so good. We got our platters and took our first few bites and agreed that the burgers were solid. Bun was good, patty was juicy, fries were perfectly cooked. No wonder so many people who crave non SE Asian food come here for a good burger.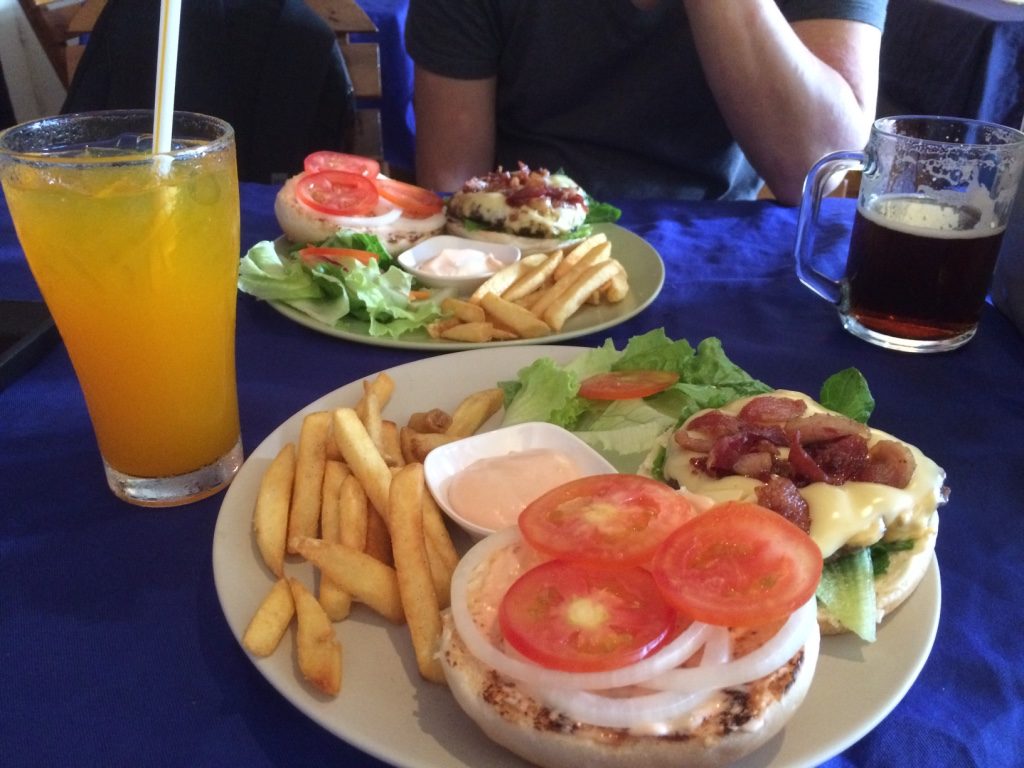 After our satisfying lunch we walked towards Vientiane's "Arc de Triomphe", otherwise known as Patuxai. On one end of Avenue Lane Xang is the Presidential Palace and the other end of the avenue is the Patuxai. This wide boulevard lined with trees and European lamps looked very French. The street signs in Vientiane all are "rues" and the shape of the street signs reminded us of France.
Vientiane seemed a lot hotter than Luang Prabang, so our walk around the city today was pretty draining. We tried to seek refuge for a bit in a mall on Avenue Lane Xang but it turned out to be more of a mall with make shift stalls and no air conditioning. We didn't stay there long. We made our way back to the hotel for the remainder of the late afternoon, or at least until the sun set. We stopped for some fruit shakes along the way – they're the best!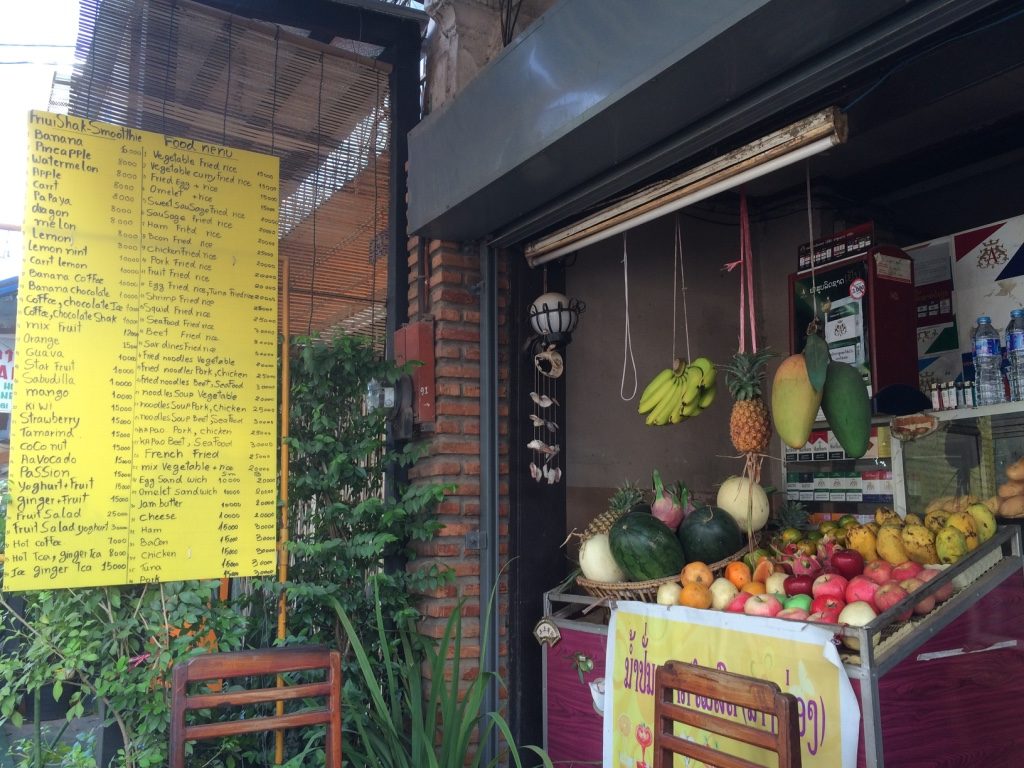 After taking a break in our room for a couple of hours, we headed back out for dinner. There's a night market along the river every day, and it's only a couple of minutes away from our hotel. We both expected it to be very touristy and full of similar items that we saw in Luang Prabang but we couldn't have been more wrong. The night market seemed like it was mainly for locals as it was filled with stalls of clothing, shoes, accessories, and counterfeit purses. There were only a few souvenir/Lao handcraft type stalls sprinkled amongst the rest. Lucky we ended up buying the blanket in Luang Prabang because we didn't find one here. So in this way, the night market was a bit disappointing.
We walked along the food vendors that lined the street outside the actual night market and didn't find anything we wanted to eat. There was more BBQ but I think we were thinking we've had too much of just meat for dinner. We continued along the road and saw some street side restaurants that looked promising. We sat down and ordered a pad thai, pork noodle soup, and a mango smoothie (all items were 15,000 VND = $2.38 CAD). The smoothie was in a larger cup and was the best mango smoothie we had all trip. I think we'll be going back for more tomorrow.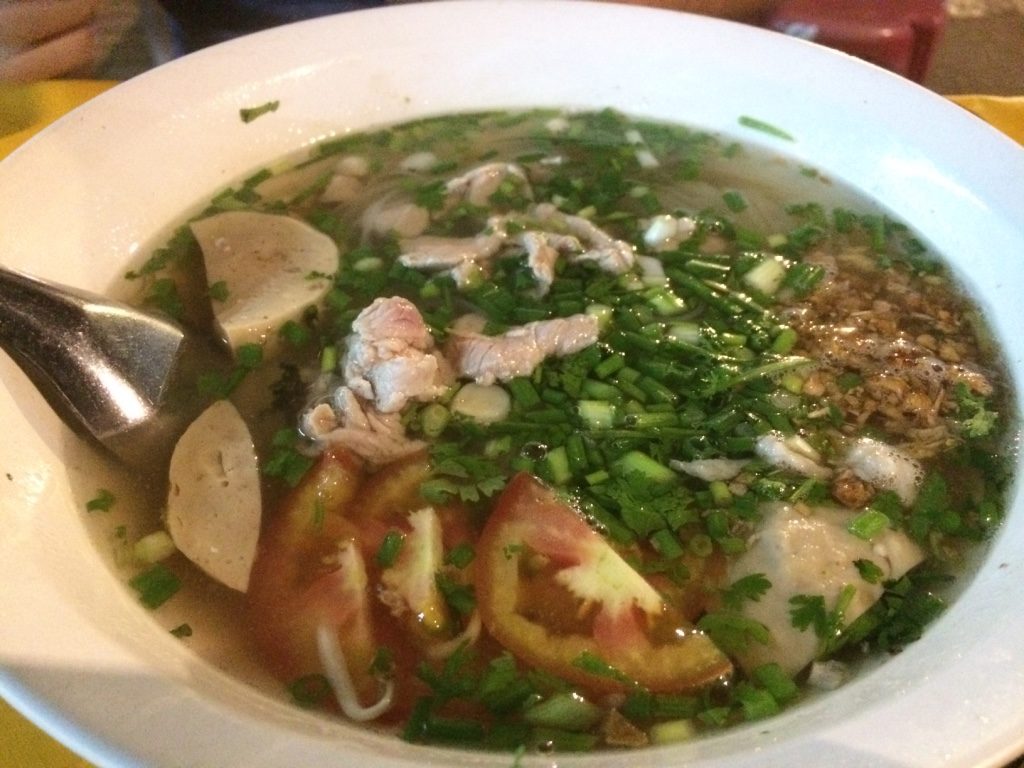 We have our first full day in Vientiane tomorrow. There aren't many "sights" to see in the city so I think the amount of time we have here is good enough. Vientiane has a very different feel from Luang Prabang but we're still enjoying exploring a new city together.
Steps today: 15,000