April 25, 2016
It was our first day in Okinawa and we didn't have firm plans on what we were going to do. Last night, we narrowed down what we wanted to see and what we could see, given that we didn't rent a car. Transportation outside of Naha (which is the main city in Okinawa and where we're staying) is not very convenient or cheap so if you're planning on coming to Okinawa and have a lot of plans to do activities outside of the Naha area, renting a car is recommended. We also looked into car rentals but they start at about $90 CAD a day, a bit too much considering our plans here.
Number one on both our lists for Okinawa was to just relax and visit the Okinawa Churaumi Aquarium, which is now the second largest in the world (was first before Atlanta's aquarium opened). After looking at ways to get to the aquarium, we discovered that a round trip bus fare from Naha to the aquarium (which is on the north end of the island and 90km away) would cost more than paying for a tour to take us there. So that's what we'll be doing tomorrow.
For today, we decided to head north up the coast of Okinawa to a town called, Chatan. It is about 15km north of Naha and is the most Americanized part of Okinawa (and likely Japan) due to the American military base in the area. There is even an area called "American Village" or Maihama which is an area full of restaurants and shops that are supposed to resemble an American outdoor mall. After reading about this area, it seemed interesting and not like any other place in Japan. In addition to sounding intriguing, it is also my old coworker's hometown, so that was an added bonus.
We walked to Naha bus terminal and caught bus #28 that headed north on highway 58. Although it's only about 15 km away, the bus ride felt really long. There is quite a bit of congestion getting out of Naha since it seems like the majority of its residents drive. For about 95% of our ride to Chatan, Tim and I were the only ones on the bus. When we weren't alone, there was only one other person.
Along the way to Chatan, we passed by many Japanese fast food chain restaurants: Sukiya, Yoshinoya, Mos Burger, CoCo Ichibanya, etc. This time, all these were stand alone restaurants and the majority of them had drive throughs. After being in denser cities for a while, it was interesting to see all these places as restaurants that you would drive to. We also noticed that there were a ton of pachinko parlours and quite large ones at that (they look like casinos). Gambling for cash is illegal in Japan, but they have these pachinko parlours where people play for balls which can be exchanged for tokens at the parlour. The tokens then can be exchanged for cash at a locations outside or around the parlour (sounds complicated). Historically, these pachinko parlours were run by the yakuza and I think the majority still are.
Finally, we knew we had arrived in the Chatan area as we could see the military base along the other side of the road. After about 45 minutes on the bus, our fare was 680 JPY = $7.75 CAD each. Bus fare is determined by where you got on the bus. You take a ticket with a number when you get on, and a screen up front shows the fare corresponding to the number on the tickets so you know how much to pay (the bus driver doesn't keep track so it's all honour system). The prices go up as you continue further on the bus route.
We walked towards the American Village area and saw signs for A&W and decided to go there for lunch. A&W has a strong presence in Okinawa and has been here since 1963. Unlike the A&W in Canada, the A&Ws in Okinawa advertise free refills on their drinks. Refills on fountain drinks at fast food restaurants outside of North America is rare, so this was a nice surprise (especially for Tim, who guzzles drinks).
Everything tasted really good and familiar, except the fries were a bit different. After drinking the root beer, it occurred to us that we haven't had root beer at all since being in Asia. The closest we got was drinking Sarsaparilla in Taiwan. Also, A&W root beer is only available in Okinawa and no other part of Japan. We went to a store that had an "only in Okinawa" souvenir section and cans of A&W were there. I have taken root beer, my favourite soda, for granted.
It was about 27 degrees today and humid. It was overcast for most of the day but when the sun came through the clouds every so often, it was really hot! It was the first time since Kenting that we were wearing shorts and t-shirts. We continued to walk through the American Village towards the coast to see the water and check out Sunset Beach.
We decided to keep walking north on the seawall to see what other beaches we would find. We ended up having to take a slight detour to a strip mall since the seawall didn't connect the whole way. We spent a fair amount of time in the supermarket since it was the first actual supermarket we have been to in Japan. It felt like we were in a Japanese Safeway. Fruit is still not that cheap here, but avocados are cheap (~$1 CAD each).
Tim spent a lot of time in the instant noodle section and I spent most of my time in the deli (gawking at the cheap and delicious looking sushi) and the snack aisle. And of course, the majority of items are cheaper there than it is at convenience stores. The grocery store was filled with American Moms grocery shopping with their children. It was only until we got to this store that we saw a lot of Americans. (You mean they don't just hang out in the American Village all the time?)
As we continued on the seawall north, we noticed a lot of Americans running along the seawall and Moms with a lot of children. It felt like we weren't in Japan any more. Suddenly, while we were walking, a military fighter jet took off and passed by. It was so quick and very loud. We were too slow to take out our phones to get a picture but then three more jets followed suit. It was pretty cool to see how incredibly fast they go. We saw about eight jets in total during our walk, it was pretty awesome. I guess this is a common occurrence in Okinawa, especially in the Chatan area. It was really cool to see and hear. We have pretty good videos if anyone wants to see.
We walked for about two hours before going back to the American Village. We decided to have taco rice for dinner since it's an Okinawan thing. I love making tacos at home, Tex-Mex/Old el Paso type of tacos. Usually when I make them we have a lot of leftovers so I started to make taco rice as our meal for the next day. So having taco rice in Okinawa felt like "home cooking" to me.
We both really enjoyed the taco rice. It "hit the spot" as Tim would say. It's easy enough to make at home, but now we could modify ours and make omutaco rice too. My regular taco rice also had Dorito crumbs sprinkled on top. It was a nice touch and good for texture, I would definitely copy it if I had Doritos lying around. Most of the clientele at Taco Rice Cafe were Japanese tourists and Americans who probably lived on the base.
We planned on watching the sunset at Sunset Beach before we headed back to Naha. The sun sets in Okinawa at around 7pm, so we had a bit of time to spare. We walked to a mall close by called, Aeon. It was a store full of everything – groceries, cosmetics, clothes and toys. We spent a bunch of time perusing the merchandise.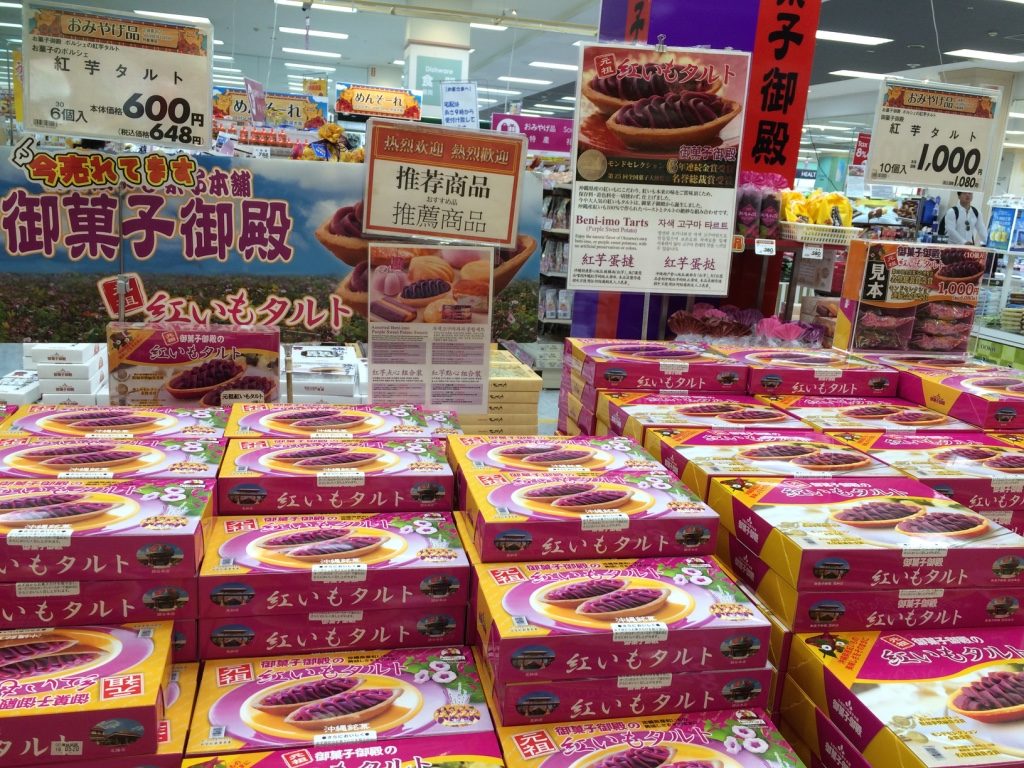 Considering today was a very overcast day, the sun was shining really brightly through the clouds as it was setting. When we walked back to Sunset Beach, it seemed like a totally different place than the beach we visited earlier in the day. The tide was in and the sun was shining. It was an amazing sight to see (I love watching sunsets).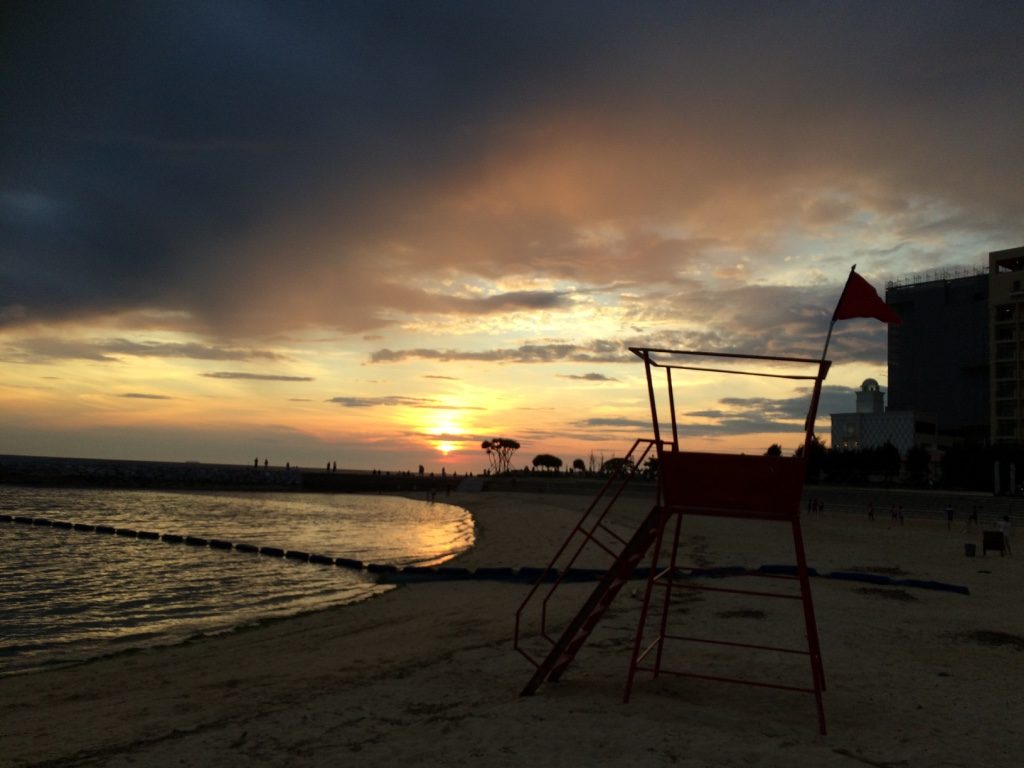 Finally, the sun went behind the clouds so we couldn't see it go below the horizon. Before leaving for Naha, we wanted to try ice cream from "Blue Seal". We saw a location when we first got off the bus and another one inside the American Village. Blue Seal is an American Okinawan ice cream company that was established in 1948, by an American based company. They built a factory inside a military base in order to supply the military with dairy products. In 1963, it moved out of the base and made its products available to Okinawans.
Tim and I shared a cone and picked the number one pick – "Okinawan salt cookies" (which was like vanilla with salted shortbread) and ube (taro). We sat outside on the balcony and ate our ice cream while staring at the lit up ferris wheel. It was a perfect way to end our day in Chatan.
We caught the back bus into town (this time from a stop further up) and it was 730 JPY = $8.30 CAD. The bus ride was about an hour long this time and we both fell asleep. It was a long day and the heat probably got to us a bit. Lucky we had a lot of water and drank Pocari Sweat.
I'm glad we visited Chatan. It was definitely an area that was very unique to Okinawa. We're not American, but as Canadians, a lot of things that they get nostalgic over, we do too. For a bit, I did feel like I was in Hawaii with all the American stores, Americans, and Japanese tourists (basically the same thing, right?).
Tomorrow, we have to wake up earlier to get picked up for our tour to the aquarium. Looking forward to seeing the northern part of the island and finally getting to see a whale shark (we didn't have any luck while we were the Maldives).
Steps today: 28,000