May 18, 2016
Today was our last day in Adelaide and we didn't have much planned except for going to the Central Market. We didn't have a chance to go during the week because they close on Sundays and Mondays. Adelaide's Central Market is the largest covered market in the Southern Hemisphere (Queen Vic in Melbourne was the largest open air market in the SH). It seems like there are a lot of "largest/best…. in the Southern Hemisphere" in Australia.
Since we were heading back downtown (or the CBD as they call it), we dropped Robin off at work before going to the Central Market. Wednesdays at the market are optional working days for the vendors, so only about 70% of the stalls were open when we got there. All the fresh produce looked really good and were nicely displayed. We found a charcuterie stall that looked promising. They had some delicious sandwiches so we decided to give it a try. The place was called Lucia's Fine Foods. They have different stalls (coffee, pizza, Italian groceries, and deli/charcuterie) all next to each other. We shared a prosciutto, mozzarella, and basil sandwich which was really good. I haven't had a sandwich like that for a while. I really missed (good) Italian food while traveling in Asia, so this was hitting the spot for me.
After walking around the Central Market, we saw that Chinatown was across the street. We did a quick walk down the main street (which is only a small block) and went in a couple of stores. They had a Gong Cha and CoCo bubble tea which are popular Taiwanese bubble tea chains. The passionfruit bubble tea we usually got in Taiwan for 45 NT = $1.80 CAD was $6 AUD = $5.67 CAD here (likely the same price in Vancouver).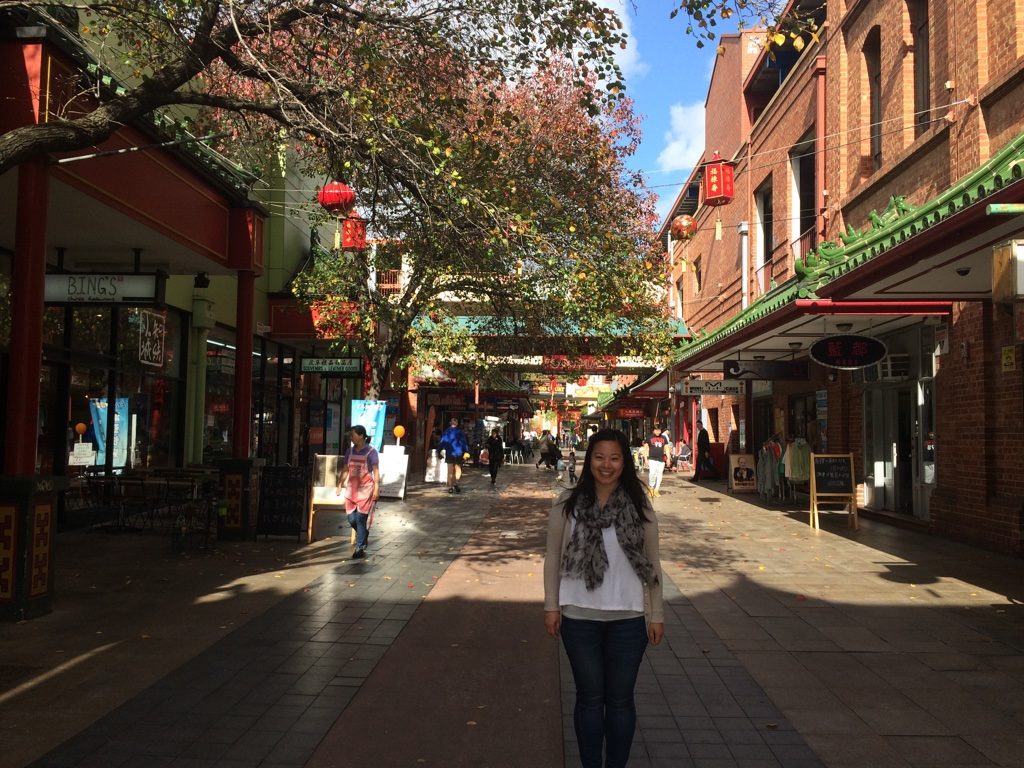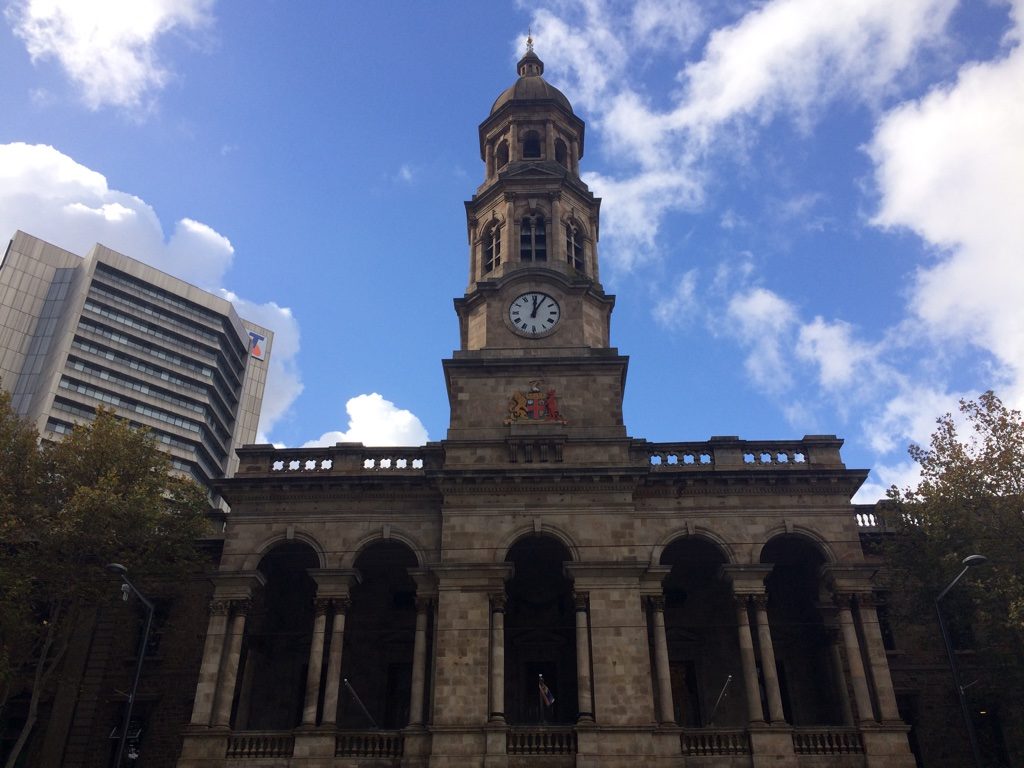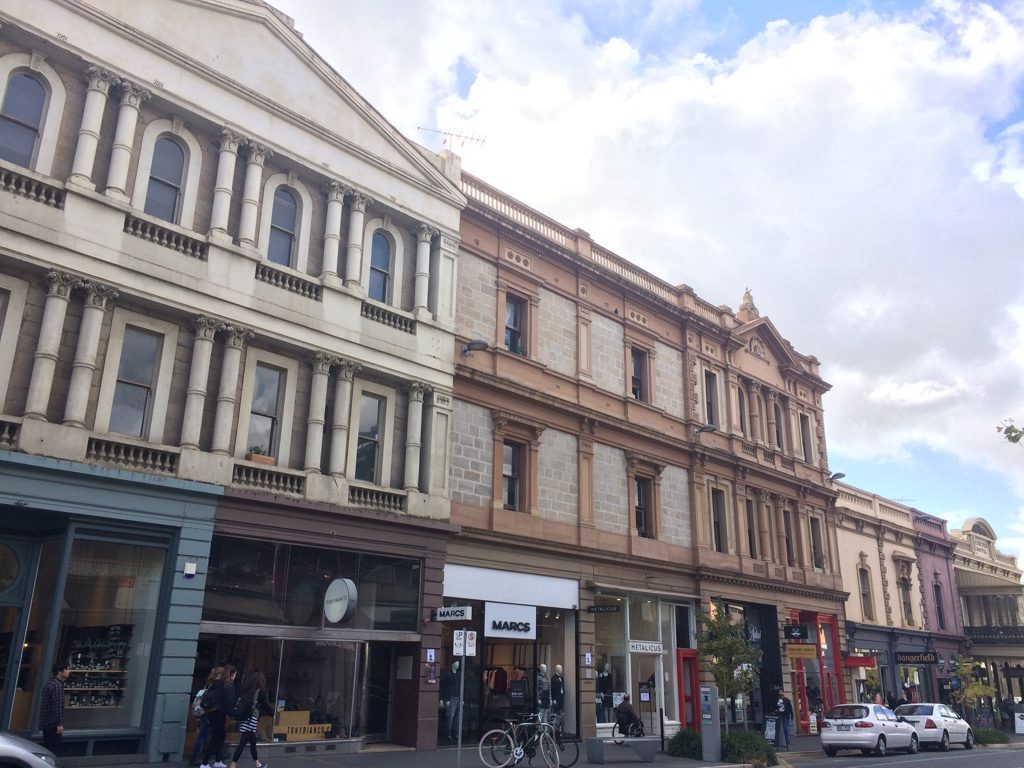 We walked back through Rundle Mall to make our way to Tandanya National Aboriginal Cultural Institute. Tim wanted to show me Australian Aboriginal art work so we went to Tandanya which had a free exhibit featuring some art and pictures from tribes in Queensland. The gift shop had a bunch of didgeridoo and boomerangs with Aboriginal carvings and paint.
We made our way back to the townhouse since Jessica took a half day off and was already home. She bought us some pastries from her favourite bakery close by called, Red Door Bakery. Tim's favourite dessert is creme brûlée, and she bought this creme brûlée tart that was really yummy. Actually everything she bought from that bakery was delicious. Next time we're in Adelaide I want to go there.
Jessica took us to another beach area called Semaphore. It's more of a local beach and not as touristy as some of the other areas. We walked along the super long jetty (think it was over 100m out into the ocean) and walked through the small quaint streets. It was a nice and relaxing afternoon just chatting and spending time with her.
We decided to have an earlier dinner since we would have to wake up fairly early for our flight to Cairns at 7:40am. Tim and I suggested Vietnamese again since there are so many choices in the Woodville area. Jessica suggested a more homey and family run restaurant in the area. The food was good but the style of Vietnamese food was different than NNQ and what we're used to at home. The vermicelli bowl's grilled pork was more soy sauce based and not as fresh tasting as the one at NNQ. Jess ordered this chive pancake wrapped in a scrambled egg that was really good. I've never had anything like that before and that was probably my favourite dish at this Vietnamese restaurant. While paying, the ladies asked if I was Vietnamese, and when I told them I was Cantonese. The lady started to say some things in Cantonese to me. After we left, we realized the bill total was a lot less than what it should've been. Maybe I got us a Vietnamese/Cantonese discount.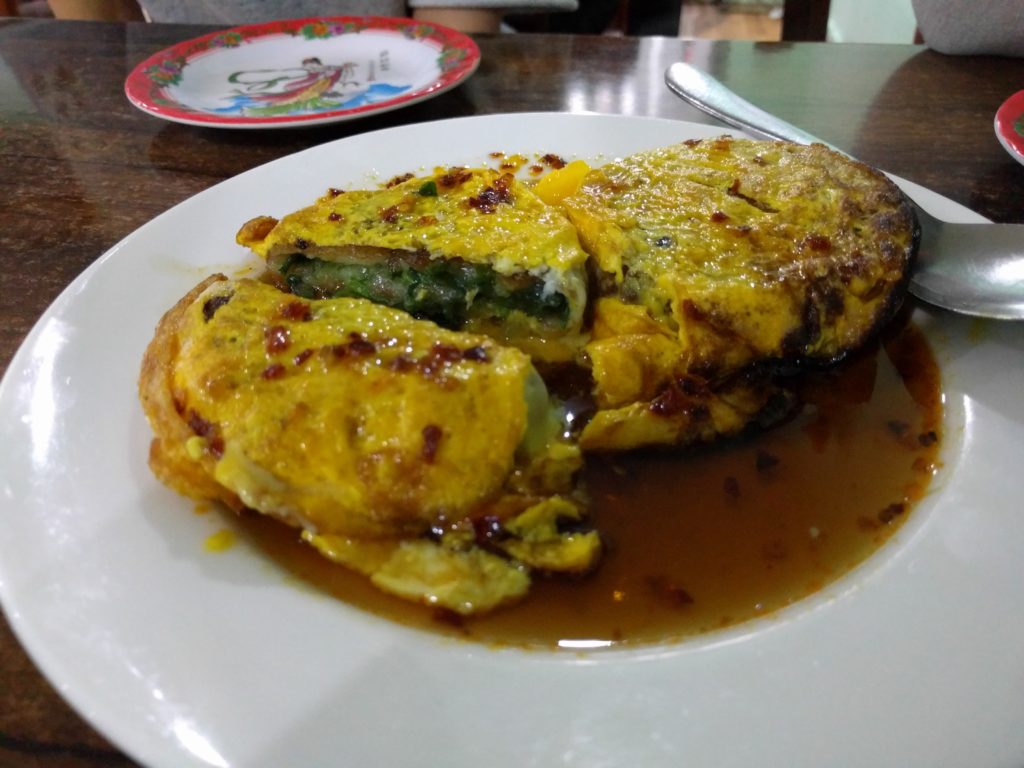 We got back home in time to watch Masterchef Australia and have the rest of the desserts. We packed up everything so we'd be ready to roll out of bed and leave tomorrow morning.
Steps today: 19,000