June 6, 2016
When you get one whiff of scooter exhaust, incense, and ripe tropical fruit all at once, you know exactly where you are – in SE Asia. It's our first time in Vietnam so we're both pretty excited to explore the country. Our last trip to SE Asia was a two week trip to Thailand 3 years ago and we both really loved it. We'll see what Vietnam, Cambodia and Laos do for us.
All we could hear from our room were cars and constant honking. If you're a light sleeper, HCMC is probably not ideal. It seems as though cars and scooters are really liberal with the horn. We fell asleep quite early last night and woke up naturally to the sounds on the street. We thought it was at least 9am, but it was only 5:30am! I guess we're a bit jetlagged.
We get free breakfast at the hotel so we went downstairs shortly after it opened at 7am. The breakfast was self serve and had congee, fried noodles, sauteed green beans, bacon, sausage, fried eggs, toast, and passionfruit. I also had a cup of coffee with condensed milk. I usually don't drink coffee but I really like Vietnamese iced coffee. The breakfast was better than I expected.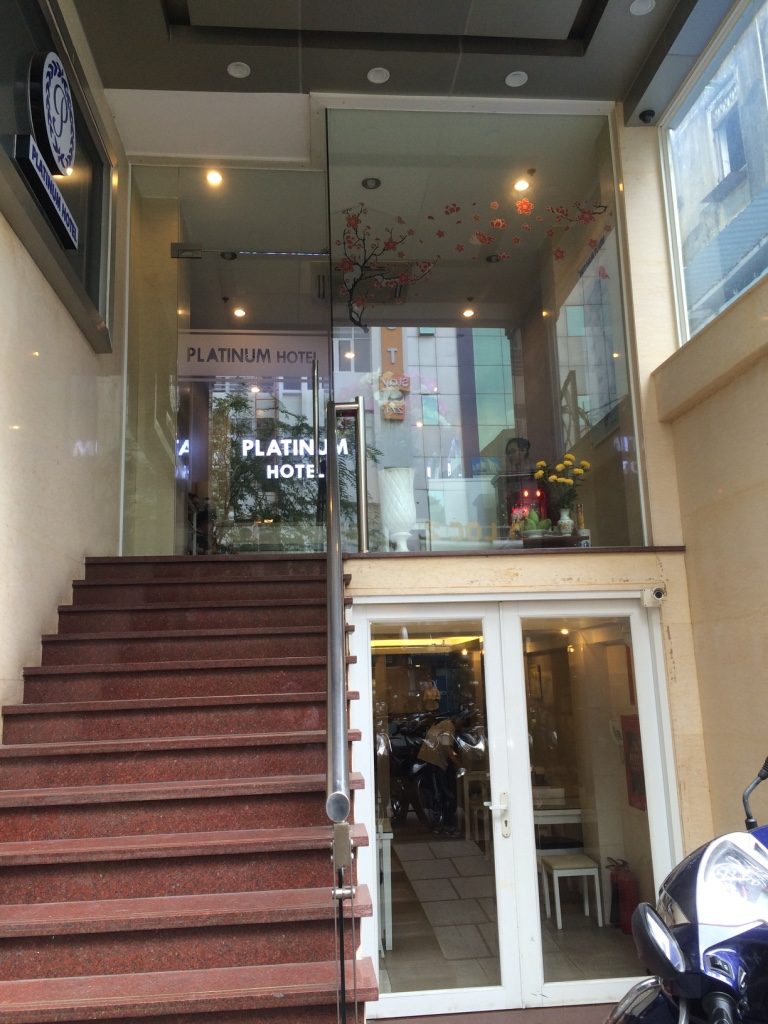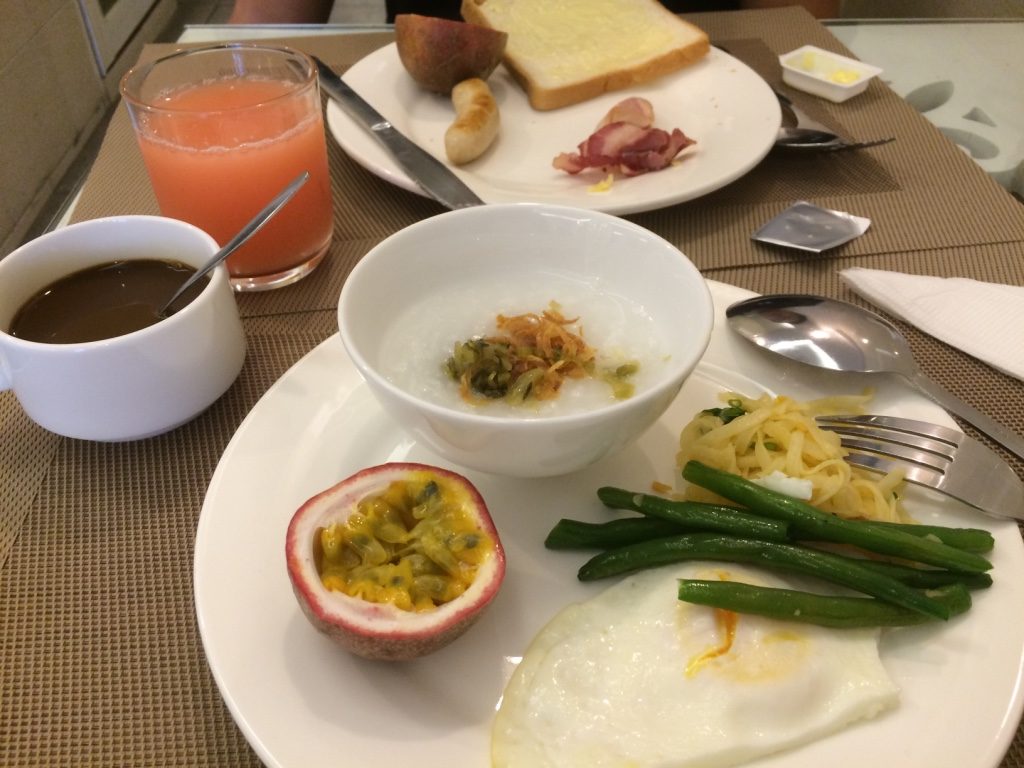 We left the hotel and walked towards Independence Palace (or also known as the Reunification Palace). As soon as we walked outside we could feel the heat and we started to sweat. Crossing the street in HCMC is a bit scary. Even if you have a right of way with a green crossing light, in HCMC, you don't have the right of way. Basically whenever we crossed the street today, Tim would be on the side to block me from oncoming traffic and I would just hang on tight. Even when cars see pedestrians walking they just weave around you dangerously and scooters don't stop on red lights. This is something I have to get used to. Bangkok was way more orderly in that way (in comparing SE Asian big cities). I don't remember being scared for my life while crossing the street in Thailand. This feels more like China in that sense.
After about a 10 minute walk, we made it to the Independence Palace, which was the home and workplace of the President of South Vietnam during the Vietnam War. At the end of the Vietnam War, a North Vietnamese tank crashed through the gates of the palace in 1975 during the Fall of Saigon on April 30.
Entrance into the grounds and building is 30,000 VND = $1.75 CAD per person. The palace is kept the way it was when Saigon fell to the North, which made it really interesting to walk around. It felt like we were stuck in the 1960's. While walking around, there were a lot of Vietnamese tourists taking pictures posing in front of many of the rooms. I was thinking that if I were south Vietnamese, it would be a bit sad walking around what the palace used to be given it's only been 41 years since the fall of Saigon. The sentiment from the commentary plaques around the palace was that the south was very grateful for being saved by the north from the Americans. But obviously we have to take those opinions with a grain of salt being in a single-party communist country.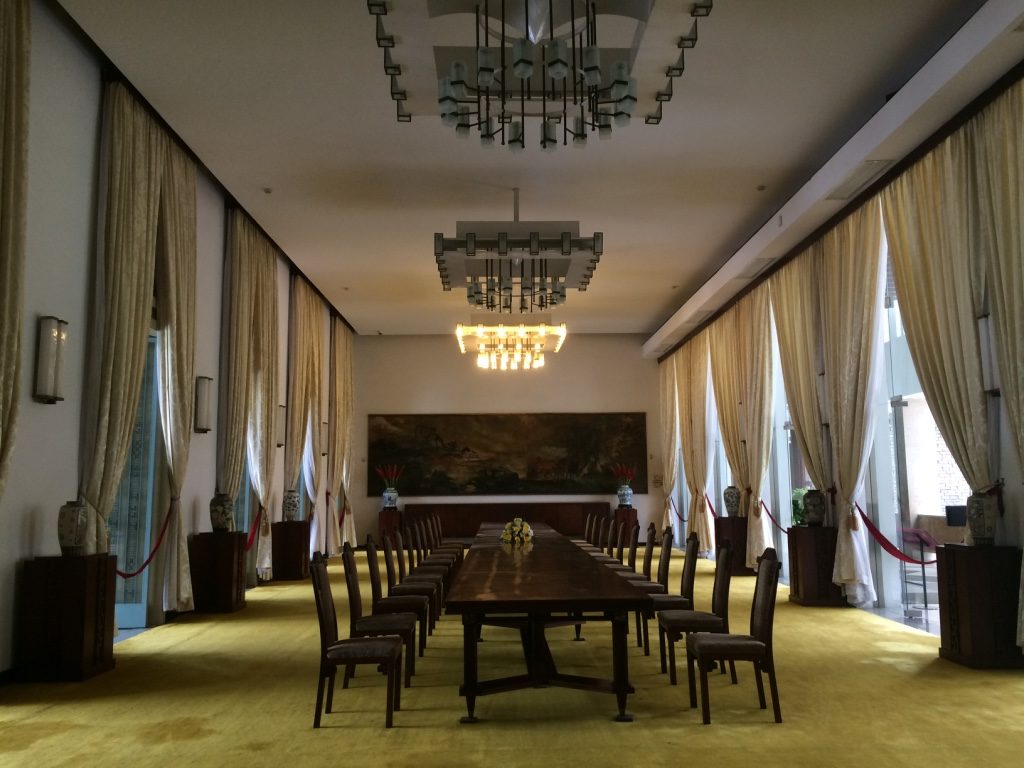 The bunker area felt a bit eerie while walking around as there weren't as many tourists in the basement while we were there. The palace was bombed during the war so the bunker was built in the palace basement by the Americans for the President. While walking through the palace, it made me want to read more about the Vietnam War since I don't know as much about it as WWII. We'll be going to the War Remnants Museum tomorrow and spending time learning more about the war.
After the palace, we walked to the Notre Dame Cathedral and checked out the Saigon Central Post Office. Our plan for lunch was to walk about 30 minutes to the Lunch Lady food stall that Anthony Bourdain went to on one of his episodes in Vietnam. We (I) was really hungry when we were at the palace so we went for a snack at Popeye's across the street from Notre Dame. We shared a meal, and the chicken was super juicy and delicious. The air con also felt heavenly. The crowds for lunch were starting to build up. The prices at Popeyes are a bit cheaper than North American prices but quite expensive for Vietnam.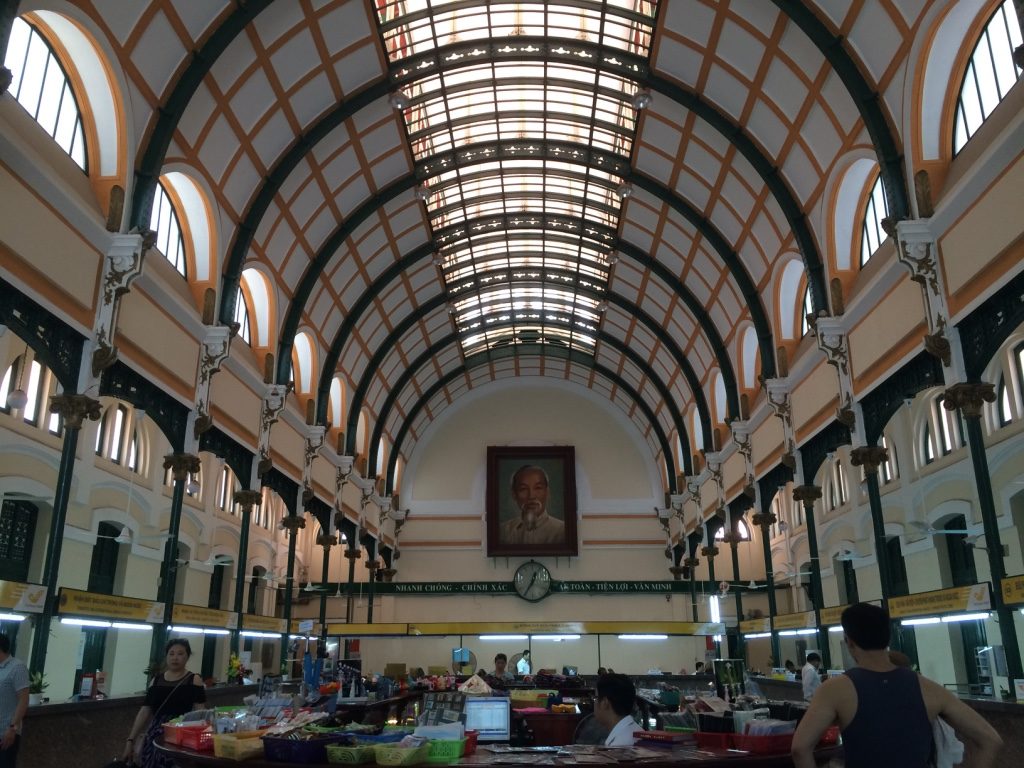 After a pretty hot walk through the city, we made it to the Lunch Lady. It was about 1pm, so the lunch crowd dissipated but the ground was covered with napkins and shrimp heads (remnants of previous lunchers). We sat down on slightly grimy plastic chairs and ordered two bowls of noodles. The lunch lady makes a different soup every day of the week and usually closes when she sells out. Today's soup was a sweet and sour tom yum type of soup (called Bun Thai) with lai fun (round rice noodles), seafood, and beef. While waiting for our noodles, people kept trying to put food on our table without us asking but we just said no to everything. We read from reviews that they'll put food on your table and you obviously have to pay for them unless you say no.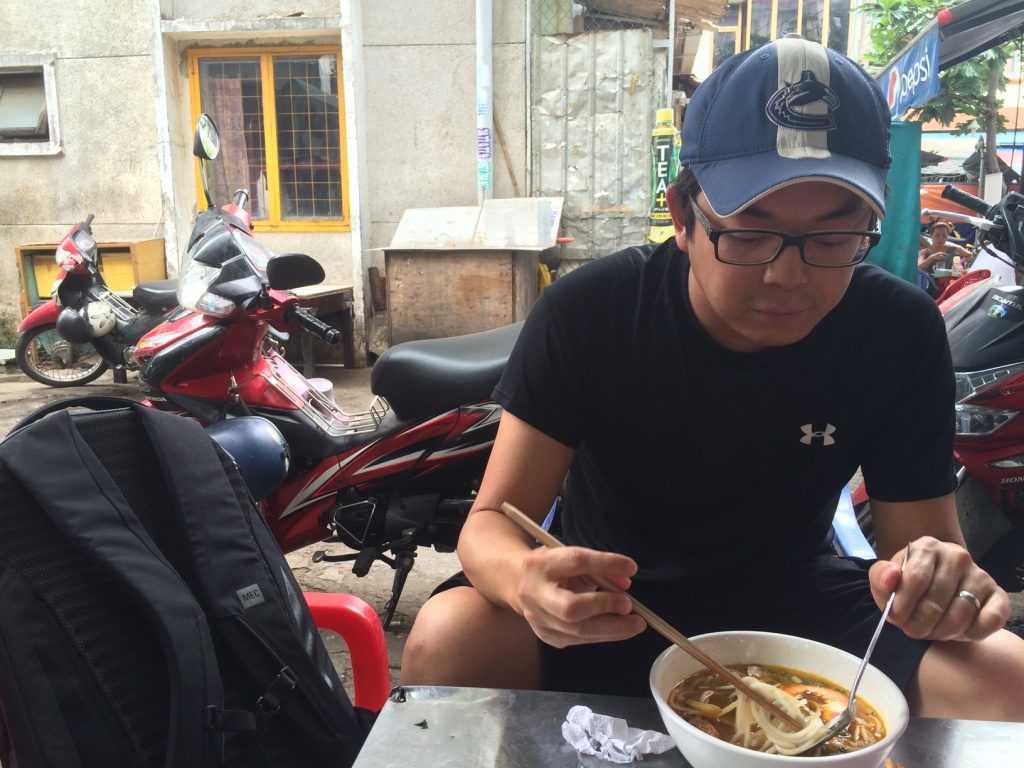 The soup was really good, I could see why Bourdain enjoyed his meal here so much. When we paid, the guy said it was 80,000 VND =$4.60 CAD for our two bowls. This is slightly more than what we thought it would be (we've adjusted super quickly since Australia) since Lonely Planet says street food is usually only 20,000-30,000 VND for a bowl of pho. Any how, when you convert it to Canadian, you realize how cheap it is. At first I thought we were charged more because we were tourists but I read online that 40,000 VND is right. They do have a smaller sized bowl that locals know as an option for 30,000 VND, but majority of tourists are just given the larger bowl.
On our way back from lunch, we came across a cam sanh (green peel Vietnamese orange) juice cart that had two scooters waiting for their order. The ladies on the scooter ordered 5, they drank 2 on the spot and took the rest to go. They smiled at us and gave us the thumbs up after Tim gave them an inquisitive thumbs up, so we ordered one to share. We asked how much it was and the lady said it was 10,000 VND = $0.55 CAD. This is one of the main reasons why I love SE Asia – cheap fruit and fruit juices. After she told us the price, the ladies conversed in Vietnamese. Tim joked around and said maybe they asked her why she didn't charge us more. She gave us the local prices and we saw the ladies pay 50,000 VND for their 5 drinks (Tim: I think Kait would enjoy herself more if she didn't think everyone was trying to rip her off :P).
We walked towards Dong Khoi, which is one of the nicest areas in Ho Chi Minh. It's where the Opera House, City Hall, and all the luxury stores and hotels are. We walked down the large boulevard in the middle of the street towards the Saigon River. When we got to the Saigon River, the walkway along the river wasn't very attractive nor was there much going on so we kind of took a peek and walked towards a market.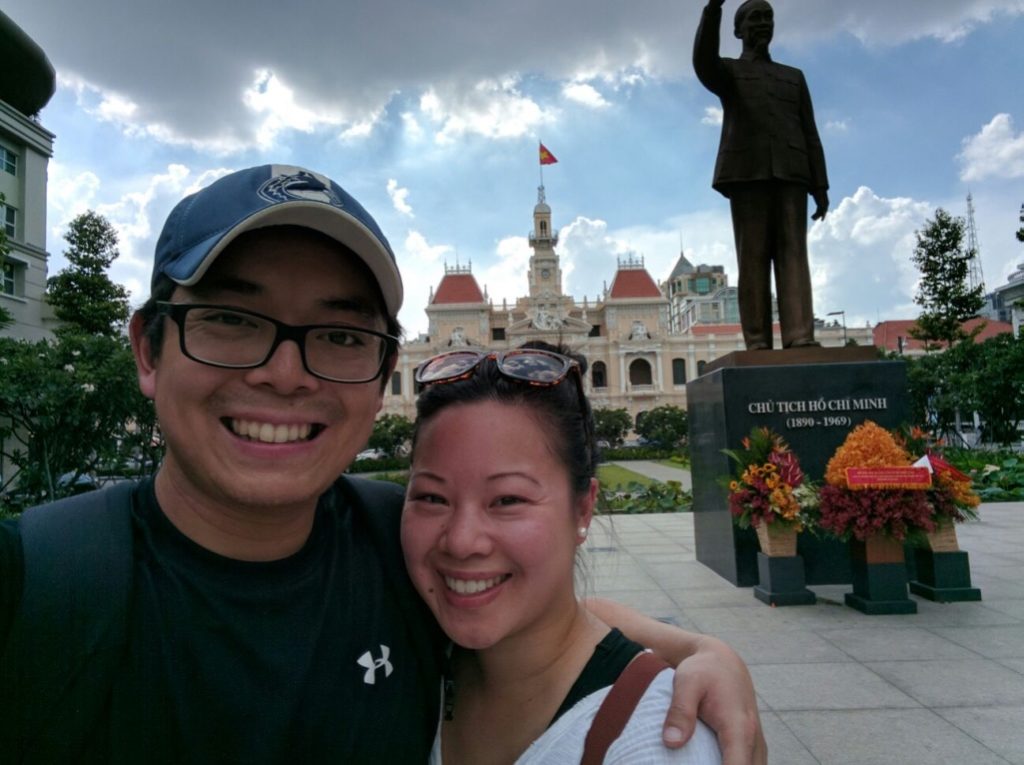 On the walk back, we stopped by Ben Thanh Market. Luckily we did because as soon as we walked in there was a huge downpour and we would've gotten drenched. The market was full of rows of t-shirts, purses, backpacks, coffee, fruit, and accessories. The vendors are pretty aggressive when you walk through each aisle. Even if you're not looking at anything at their stall, they'll try to pull you to look. Tim was wearing his Under Armour t-shirt and it seemed like all the vendors we passed by keyed in on it and showed him what other t-shirts they had that were Under Armour. We were curious about their pricing so we asked about a purse and they quoted us 750,000 VND and we said we weren't interested. Then they knocked it down to 500,000, then to 400,000 and when we started to walk away they said 100,000! So basically we're guessing that the prices they're willing to take are 10% of their initial quote.
When we passed by the food vendor area, Tim asked me if I wanted something to drink. The ladies in all the stalls got up and grabbed my arm and stuck their menus in our faces. All their fruit juices were 20,000 VND = $1.15 CAD and I guess knowing that we got our juice for 10,000 VND, I wasn't interested. When we got back to the hotel and I typed in the conversion and realized it was only $1.15 CAD, I felt super cheap.
The rain died down so we headed back to the hotel to relax and get out of the crazy heat. We both were super sticky when we got into the room, it was actually pretty disgusting. We heard some Aussies at the market say how they're sweating so much that it's dripping in their eye and making it burn. That's how we felt!
I searched online for "the best banh mi" in HCMC and wrote down a couple of places to try out. There was one only about 5 minutes away from us so we decided to give that a try for dinner. They closed at 8pm so we were cutting it a bit close at 7:30pm. We had to cross another crazy roundabout intersection to get there, which was scary at night. Luckily there were a few more people walking so we just used them as buffers.
The Banh Mi cart was called Banh Mi 37 Nguyen Trai. They specialized in a banh mis with grilled pork patties. When we got to the stall, there were several people infront of us waiting for their sandwiches. The bottle neck was the grill as they were waiting for the pork to cook. After about 20 minutes of watching the pork cook and the lady assembling sandwiches for others ahead of us, we got ours. After ours, there were only 4 more baguettes left and she had to turn away a lot of people who were coming after us. We felt pretty lucky! The banh mis were 18,000 VND = $1.03 CAD each. It started to rain while we were waiting so we took our banh mis back to the hotel to eat.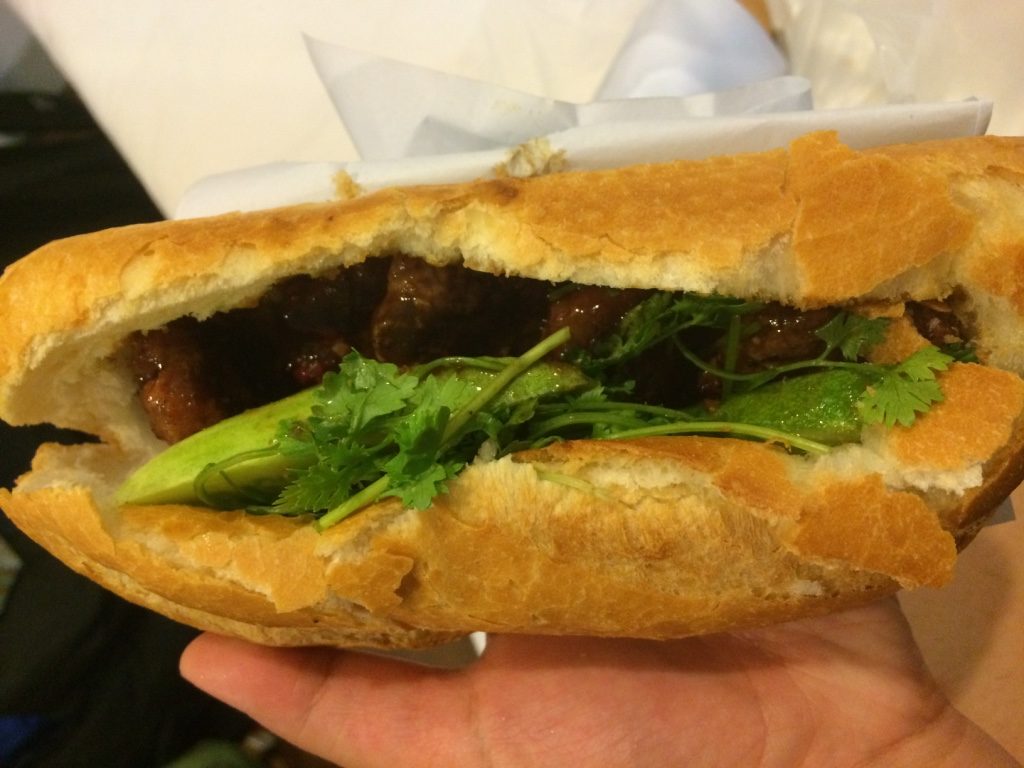 The banh mis were delicious but a bit spicy. I haven't had a banh mi with grilled pork patty before, so it was nice and different. Instead of mayo, she put a thick brown sauce that was a bit sweet on top of the meat, along with pickled cucumber and lots of cilantro. There's a more famous banh mi place down down the block that we'll probably try another day.
Steps today: 23,000