May 27, 2016
Three nights in Sydney was about right for the sightseeing but it would have been nice if we could just take it easy here and explore more of the surrounding neighbourhoods. Originally we had looked into hotel and Airbnb options and couldn't find anything decent looking for less than $200 CAD/night. But we got lucky with Central Station Hotel and their room rate ($95 CAD all in) for the night ended up being cheaper than a lot of the motels we stayed at on our roads trips.
For our last day in Sydney I wanted to check out Bondi Beach. You can't go to Sydney and not go to its most iconic beach (Tim: well, you could, but you'd be missing out)! We took the train from Central Station to Bondi Junction and from there we caught a bus to Bondi Beach (30 minutes). The weather today was nice and sunny but very windy (18 degrees Celsius, a very cold day by Sydney standards). Our friend, Julie, recommended a restaurant named Bill's to go to at Bondi Beach so we headed there after we got off the bus.
After looking online, Bill's has other locations around Australia and even a few in Asia – like in Tokyo. Tim ordered a wagyu burger and lemonade (lemonade in Australia are more like lemon sodas) and I had the calamari papaya salad with a hibiscus lime soda. As soon as we walked in you could tell it was a fancy brunch place and their clientele were affluent "Sydneysiders". We were seated sandwiched between two groups of women who were well dressed and talked like they were in Sydney's top 5% (just from my observations and listening to them talk. Tim was probably not paying any attention to them the way I was (Tim: true!)). The food came and while it was good, I didn't think it was worth the price. Also, in Australia since you don't tip at restaurants, service is often not really great. I don't mind at casual places but at a nicer restaurant, in my Canadian mind, I expect a bit more attention (I guess I'm a needy restaurant patron).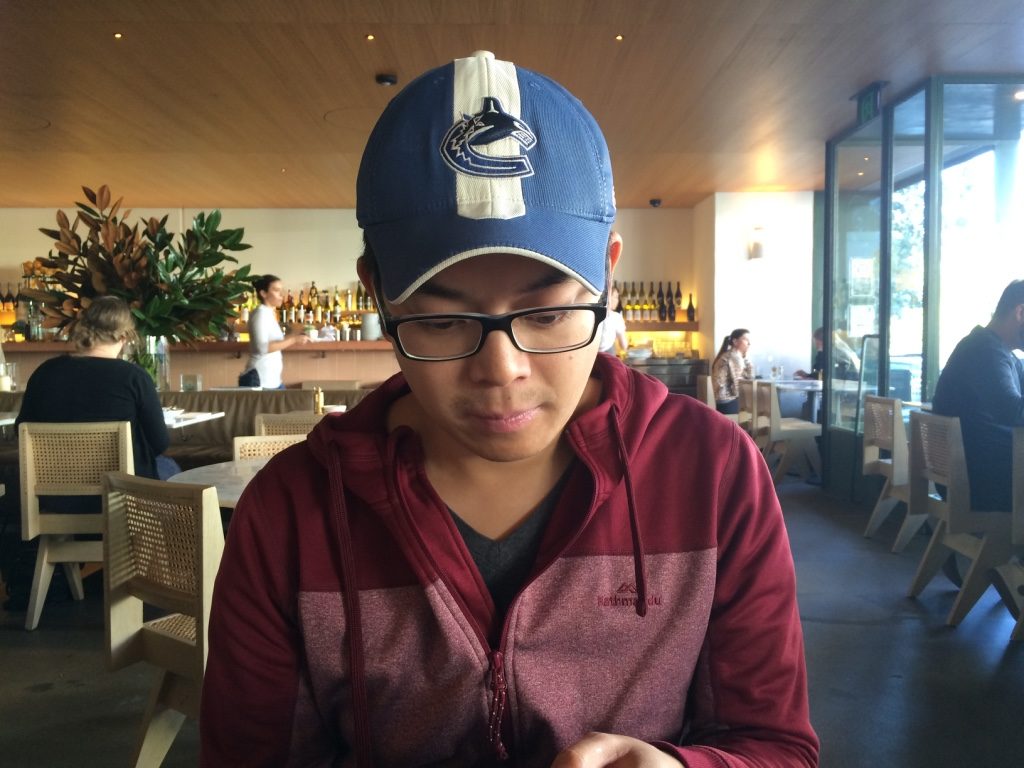 We finally made our way down to Bondi Beach and it was nice. It was too cold for people to be sun tanning, although there were a few people who were (probably not from Australia). There was a surf competition going on so we stood on the beach and watched for a while. The waves around Bondi Beach seem ideal for recreational surfing, not as crazy as the waves we saw along the Great Ocean Road, which were definitely for very experienced surfers only. We took off our shoes and walked the length of the beach towards the coastal cliff hike along the right side of the beach. There were some really cool rock formations and it was a nice and easy walk. At the beginning of the walk, you'll see a really nice public pool ($6.50 AUD admission) that juts out into the ocean and the waves sometimes splash into the pool. I think Bondi Beach would be more interesting and lively during the summer when the beach is packed with people.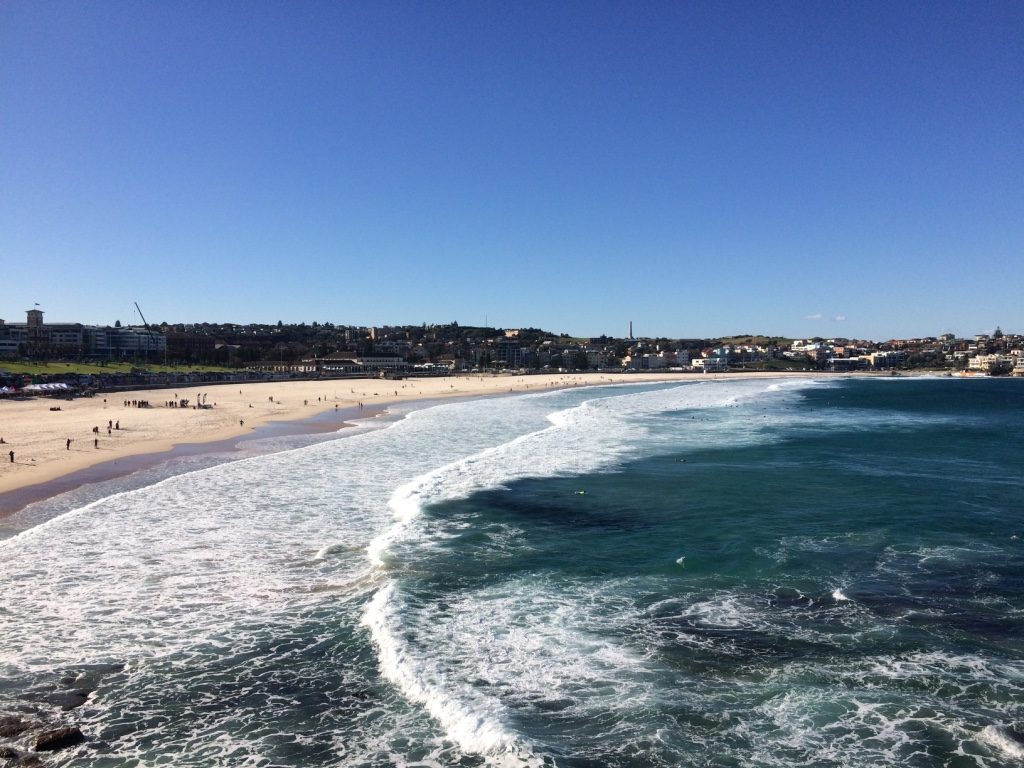 We caught the bus back and just took it directly to the Circular Quay (about 45 minutes) with the intention of going to Manly Beach on our beach tour day. When we got the Circular Quay, the ferry for Manly just left and the next one wouldn't be leaving for another half hour. It was extremely windy in Sydney's CBD and quite chilly. We decided to not go because we didn't want to feel rushed since we had dinner plans in the city in a couple of hours. We walked around the opera house again and then through the CBD back to the hotel. I think we were both fairly tired so it was nice to have a quick break before going out again.
We met my friend, Amanda, in an area close by called Darlinghurst. It was about a 25 minute walk and the area looked pretty nice at night. She made reservations at an Indian restaurant named, Malabar. We hadn't had Indian food since leaving home so it was a nice change of pace. She moved to Sydney in 2008 and I haven't seen her since graduating UBC so it was nice to catch up with her. She and Tim went to the same high school, but neither of them knew each other since they're two grades apart. We shared three different main dishes (butter chicken, goat, and paneer), naan, and rice, which were all very tasty.
After chatting for a while we headed towards the CBD for Sydney's "Vivid" festival. We were pretty excited to see Sydney come alive at night and see all the different lights and displays around town. The highlight was seeing the Sydney Opera House so colourful. There was a video being projected on the "sails" of the Opera House that was probably about 20 minutes long and just looped over and over to music. All (Tim: some) of the historic buildings around the CBD had cool projections or light show displays. It was all really awesome to see. We were expecting the crowds to be crazy but they were all very manageable. The city did a good job of keeping things under control. Vivid is on from 6-11pm every day from today until June 18th.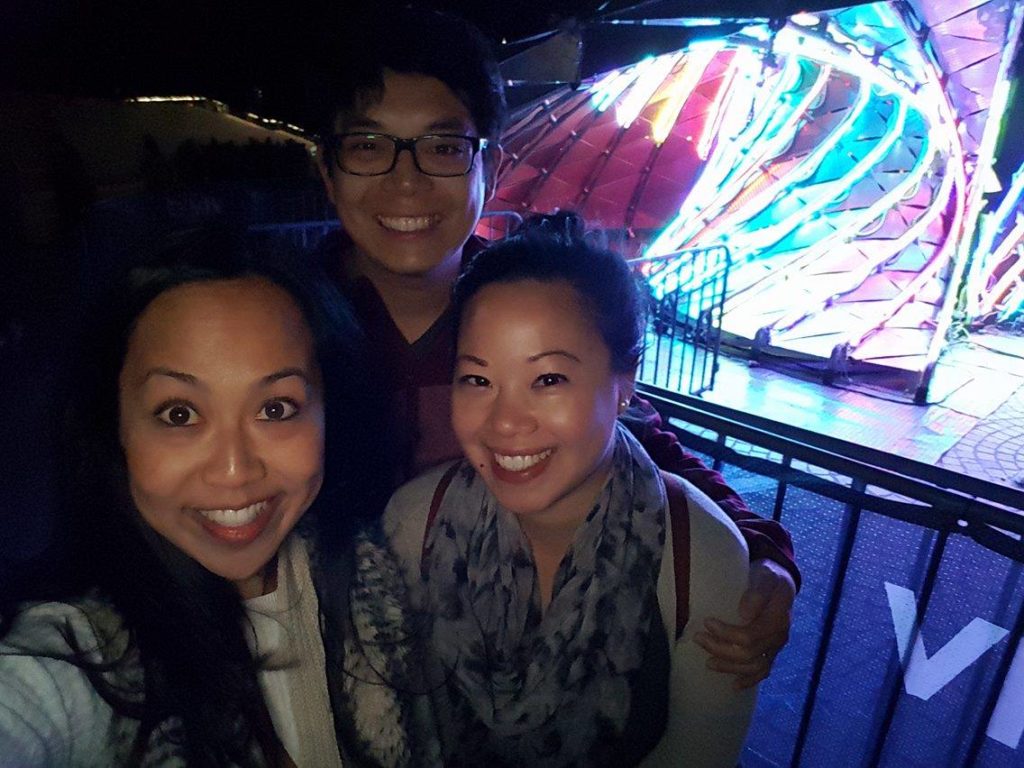 After walking around Circular Quay and through the Rocks area to see the different exhibits, we walked back to our hotel. It was great to see Amanda in Sydney, she is doing really well here and I'm always happy for her. She's doing something she's enthusiastic about and always looking for new business ideas. I also found out she's Toi San like me (Toi San pride).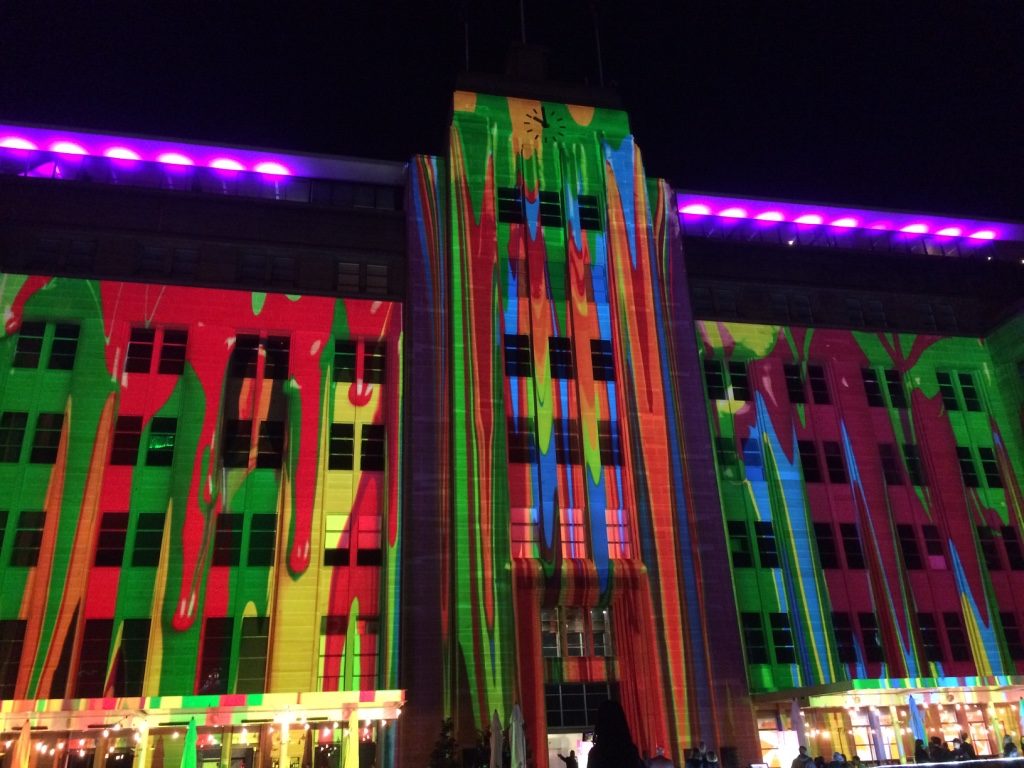 We had planned on having an earlier night but we got pretty carried away with Vivid that it was our latest night out in Sydney. By the time we washed up and packed up, we only had 4 hours until we had to wake up at 5am for our flight to Auckland.
Sydney is a beautiful city and it actually reminds me a lot of home. I can see why Sydney's real estate prices are crazy because so many people want to live there. Even walking around Sydney we overheard a few conversations of people complaining how they will never be able to buy a house in Sydney and it reminded us of Vancouver.
Steps today: 29,000