July 8, 2016
Packed up and ready to go, I was a bit sad to leave our room and the hotel. It was a really comfortable bed compared to Asian hotel beds that are fairly hard and the room in general was a lot nicer than what we've been used to. The hotel is what I'll miss most about Kuala Lumpur…
We decided to go for breakfast at the lounge instead of the main hall today to avoid any crowds. I think we both want a bit of peace and quiet before we made our way to the airport. As expected all the Malaysian tourists who were at the lounge for cocktails weren't there for breakfast. If you only want western choices then being in the lounge is better, but if you want more options, downstairs is better. I think if it weren't a national holiday I would have liked to eat downstairs everyday, but having to deal with the crowds negatively outweighed my desire for more food options.
After checking out, we made our way to the Ampang Park LRT Station to go to the airport. We asked the hotel how much a taxi would cost from our hotel to the airport and they said it would be around 150 MYR = $50 CAD using their services. They said a metered taxi would probably be around the same. We read that taking a taxi to the airport is more of a gamble because Malaysian taxi drivers are notorious for ripping off foreigners and there's no law that prohibits them to do so (as per WikiTravels) so they take full advantage. At least at the airport there was the voucher system so they couldn't play around with the meter.
Basically taking the express train to the airport was our best and safest bet. We still had credit on our MyRapid card so it was good we could use it to get to KL Sentral Station. KL Sentral Station is about 6 stops away from Ampang Park and cost 2.40 MYR = $0.77 CAD. When we got to Sentral Station there were signs for the KL Airport Express train which was easy to follow.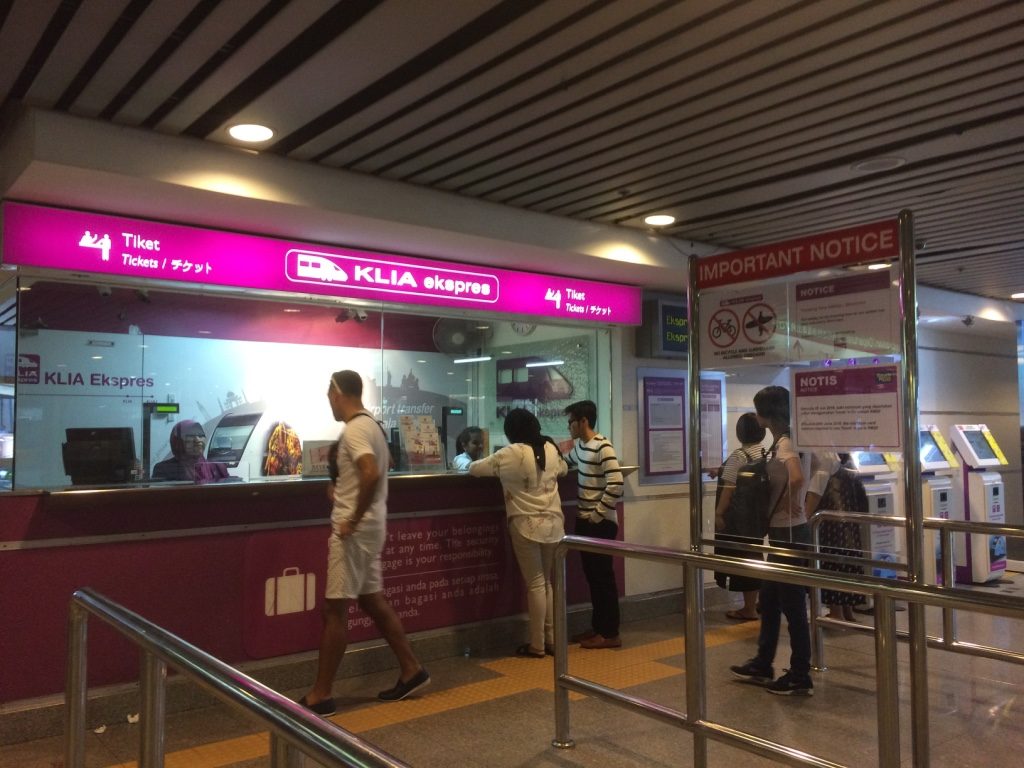 Tim read that using the kiosks to buy your tickets give you additional discount so we used one. But after punching in which terminal we wanted to go to the price wasn't discounted! After we went through the prompts and Tim paid (with his Mastercard), the price changed from 110 MYR = $35 CAD (for both of us) to 88 MYR = $28 CAD. We saw a sign later that if you pay with Mastercard you get 20%! What a pleasant surprise.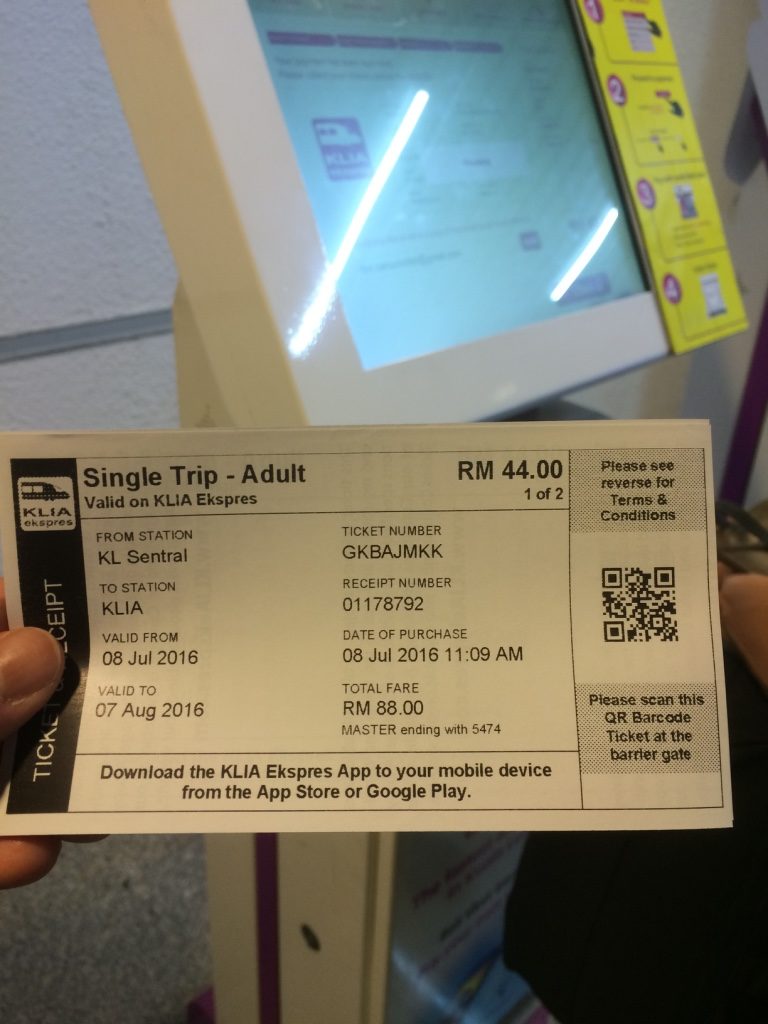 We boarded the train (which reminded me of the trains from HK Airport) and we were some of the few people with luggage. If you're flying Malaysian Air, Emirates, Etihad, or Cathay, you could check in and drop your bags in at Sentral Station. The train was spacious and comfortable – there's even free WiFi on board!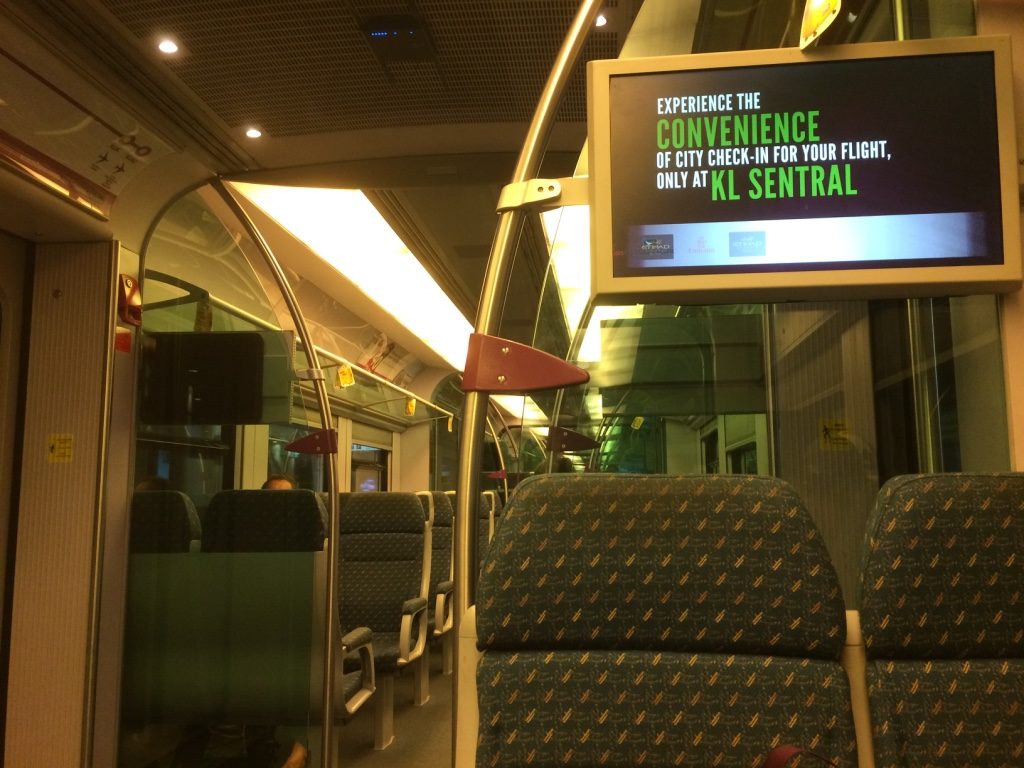 We got to Kuala Lumpur International Airport (KLIA) in less than half an hour after leaving from Sentral Station (we buffered a lot of time just in case). We were flying with Malindo Air (Malayian and Indonesian), a fairly new airline that's based out of Malaysia. Our flight to Penang was only 135 MYR = $43 CAD per person, which included bags.
KLIA domestic terminal is very modern, and it had a lot of stores and dining options after you cross security. We walked around and saw a fast food looking restaurant called Marrybrown. It looked like a Malaysian Jollibees, as the menu was mostly fried chicken. Apparently they have locations around Indonesia, Brunei, India, and Sri Lanka. Tim ordered a chicken meal and I ordered nasi lemak with chicken (or nasi Marrybrown as they call it). Their chicken was pretty good. I liked it better than Jollibees, but not as good as Popeye's!
We headed to our gate after lunch and found out that our flight was delayed because the plane that we were waiting to take hadn't landed yet. We didn't end up taking off until about 3:30pm, almost an hour delay. The flight was on a 737, which was a lot bigger plane that I was expecting for such a short flight. I wasn't complaining since I really do hate small planes. Our flight wasn't even half full, I wonder how Malindo is making any money with their cheap airfare (and baggage included).
The plane was nice. It had leather seats, in flight entertainment (I watched an episode of Modern Family), and more leg room than Air Asia. Malindo Air was recommended to me by my former manager, who is planning a Malaysia trip in the future. He's tall so the leg room matters more to him than it does to me. But I do appreciate the extra leg room to stretch out. They gave us water and some crackers for snacks, which was nice of them for a 40 minute flight.
We landed at Penang International Airport, grabbed our luggage, and bought a taxi voucher at the taxi counter. Since we're staying in Georgetown, it's considered zone 5, which is 44.70 MYR = $14.50 CAD. We took our taxi voucher outside and hopped into our cab which took us into Georgetown, ~18km away from the airport.
While driving into Georgetown, the city seemed quaint and charming. I liked it already! We're staying at Chulia Mansion, which is central to many of the heritage sites in Georgetown. The hotel has a lot of perks for guests – free drinks each night at the roof top bar, free ice cream and cookies everyday starting from 2pm, free breakfast, and 1kg of free laundry each day. As soon as we checked in, Tim wanted to go the kitchen and get ice cream (he loves ice cream). Overall, pretty happy with the hotel. The room is clean, the perks are nice, the location is central, and it was only $55 CAD/night.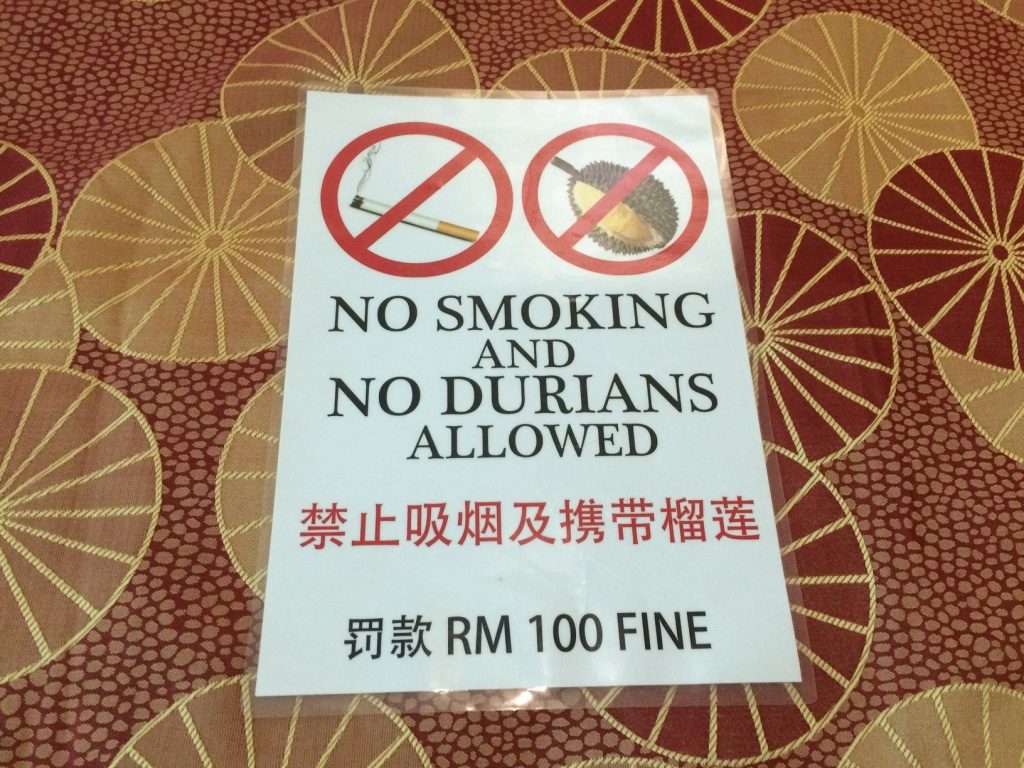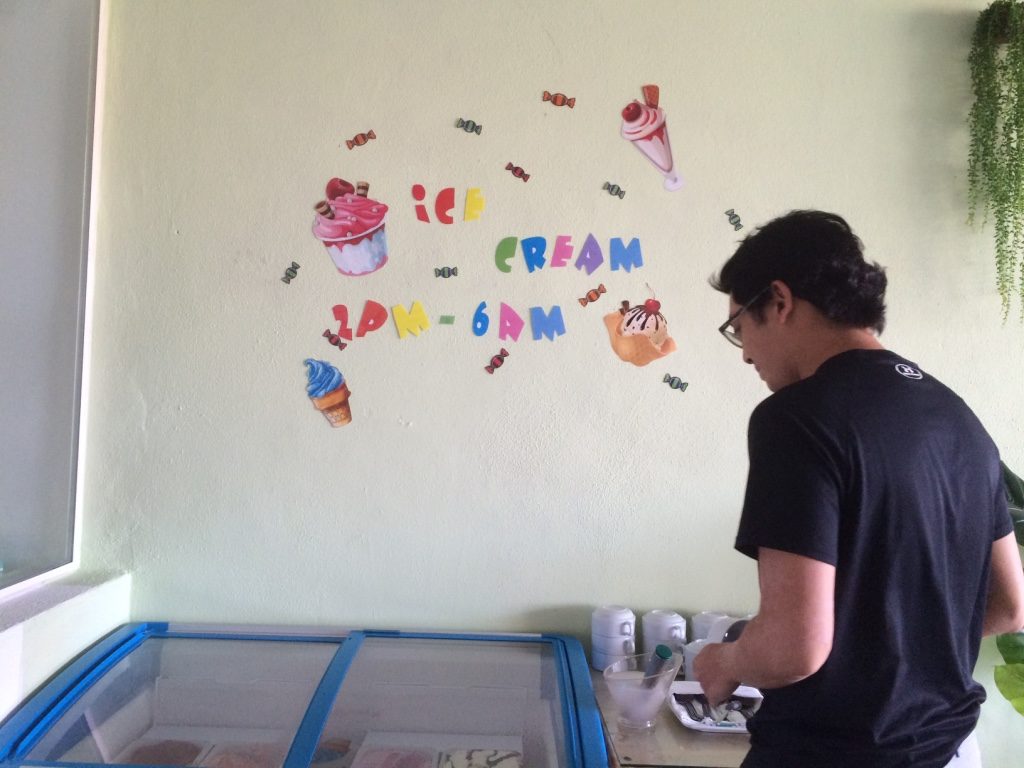 After our ice cream break, we walked around town to get a preview of the town. We walked past Lebuh Chulia's street vendors, which were all very busy serving dinner. All the food looked and smelled delicious. I'm most excited about all the food in Penang. We walked through Little India towards the Esplanade and City Hall. We both didn't sleep that well last night and with our long afternoon at the airport we were both tired.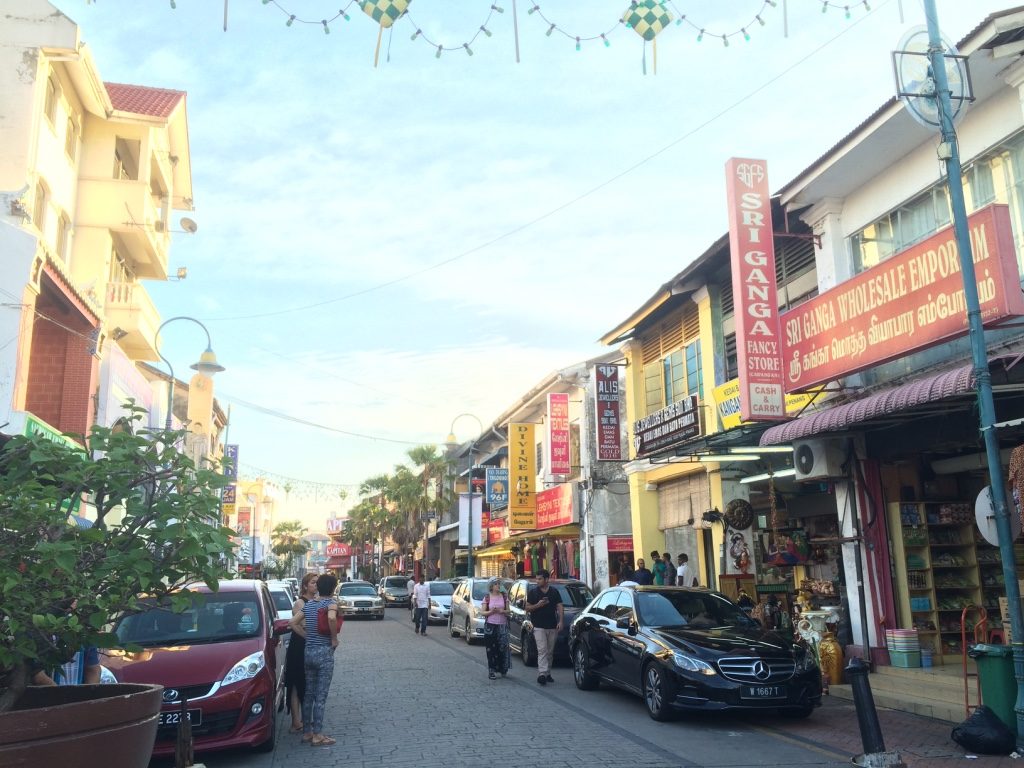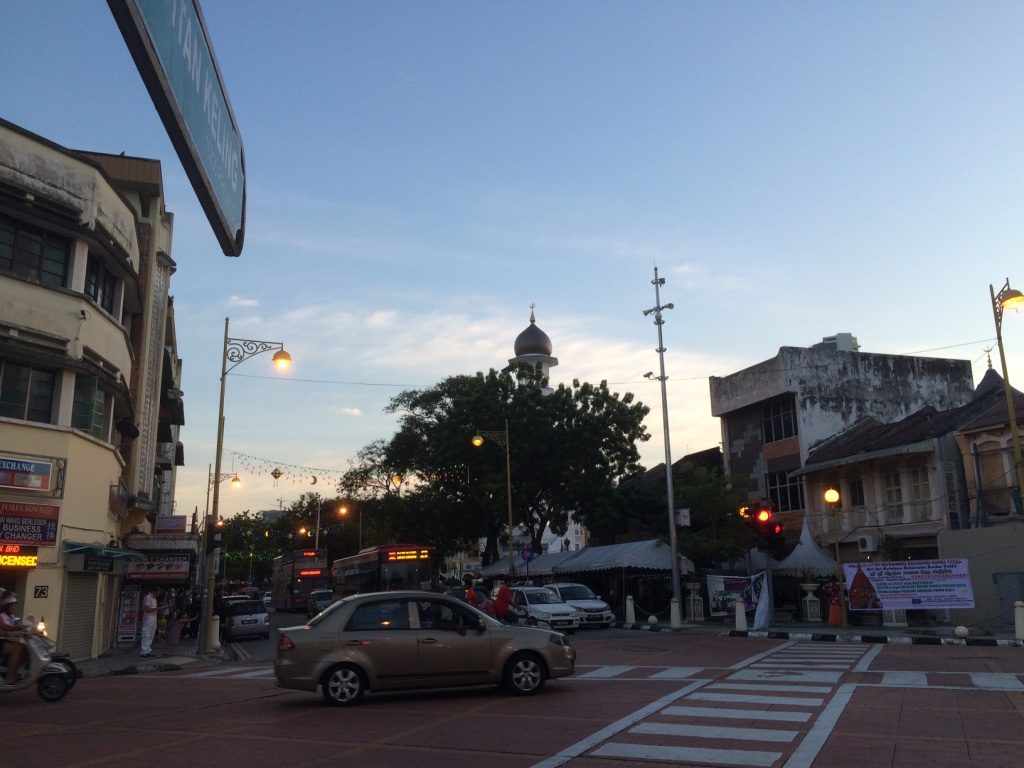 We walked back towards our hotel and I got a Malaysian wan tan mee (their version of wonton mein). The wan tan mee stall had one of the longest line ups and while watching the cooks put together a bowl, it looked good, so I ordered a small bowl (3.80 MYR = $1.25 CAD, large bowl is 5 MYR = $1.65 CAD). It's a dry noodle (thin egg noodle) with a dark brown sesame/soy sauce covering the noodles, slices of BBQ pork (char siu), vegetables, two boiled wontons, and one fried wonton. It was one of the best things I've eaten this trip. Tim's stomach wasn't feeling great still and he took a bite and agreed. I think we'll be back!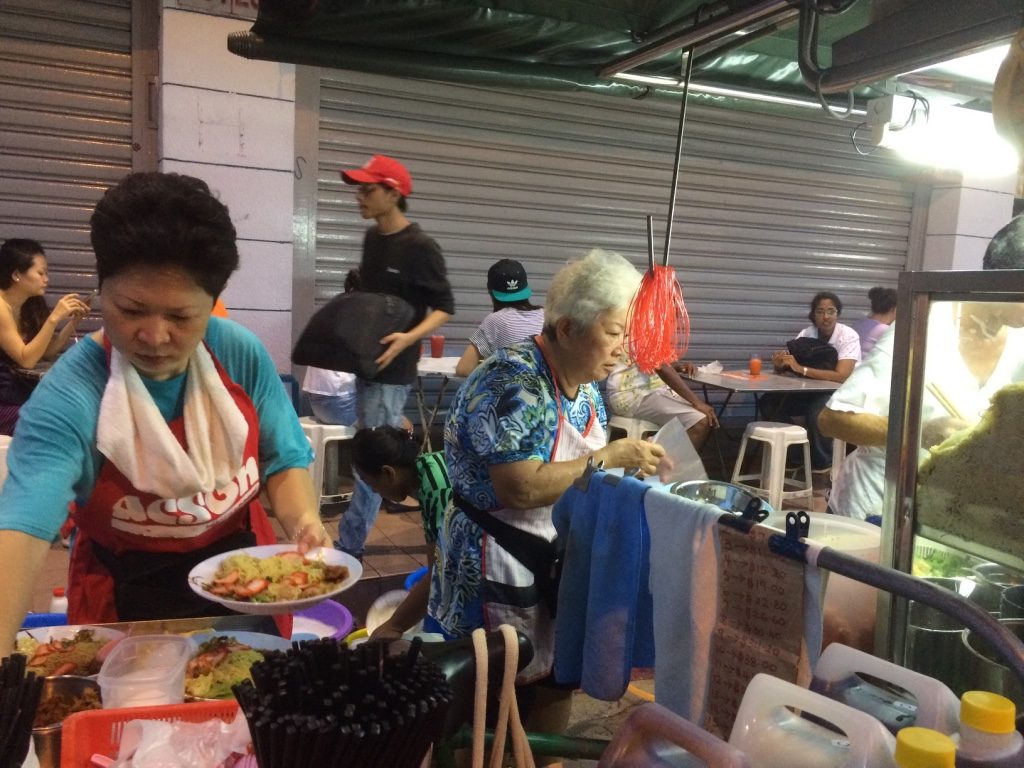 We came back to the hotel and washed up and then went upstairs to get our free drinks from the bar. They had a variety of alcoholic and non-alcoholic options (you get one free drink per night). At 8:30pm at the roof top bar, it's movie night. Tonight's movie was Pitch Perfect 2, which we saw together in theatres when it came out. We enjoyed our drinks and they gave us free popcorn while we watched.
Looking forward to exploring more of the heritage buildings and sights in Georgetown tomorrow. Hopefully Tim will feel 100% so he can eat all the delicious Penang food.
Steps today: 10,500