March 3, 2016
We woke up this morning at 4:30am and by the time we got ready to go it was about 8:30am.  We decided we should try to take advantage of our jet lag and catch the sunrise from Elephant Mountain (which has good views of Taipei 101) at least once this trip.  So we'll attempt to do that tomorrow! This whole waking up for the sunrise thing is a "Tim thing".  Before him, I wouldn't wake up to watch the sunrise and then when he visited me in Chicago on a work trip and made me wake up at 5:30am to watch the sunrise at "the bean" – which was actually pretty amazing! Anyways, the plan is to wake up early and hike up the mountain to watch the sunrise with Taipei 101 in the background. We'll see if that happens tomorrow.
Ok back to today.  Tim was looking at CNN's list of "40 Taiwanese foods we can't live without" to see if there was anything close to our walking route for the day.  He wanted to try the recommended place for braised pork over rice (similar to what we ate on Day 2 at Formosa Chang).
We took the same route as we did yesterday, passing by the Airbnb apartment we'd be staying at when my sister and Noel arrive.  As we walked past the apartment, we stopped by a food stall (which looked like a husband and wife team) with a lady rolling out green onion pancake dough. Tim ordered one and we sat down to wait for it.  The husband gave us free warm soy milk while we waited – which was very nice of him (so far, everyone we've encountered in Taipei have been so friendly). We ate our green onion pancake and kept walking.
I enjoy walking through all the small streets and alleys to see if there's any restaurants or shops that look popular among locals (line ups are always a good sign!).
We came across this place in one of the alleys on our way to the Taiwan Democracy Memorial Park.  There were two old ladies making buns and Shaobing (燒餅) in a stand up oven (bin), sticking the dough to the sides of the bin similar to a tandoor.  There were several locals waiting there for the bread to finish so we stopped to give one a try; we ordered one with green onion in it.  As we were waiting for ours to finish cooking, the lady grabbed a wet mop and stuck it into the oven (to my horror).  I don't know what she was doing with it as there was still buns in there! The mop looked pretty dirty.  Tim turned to me and was like, did you get a picture of that? I said no.  I guess I was a bit horrified at what was going on.  Two minutes later, she pulled our hot bun out of the oven and we continued our journey as we munched on it. I hope we don't get sick tomorrow.  Whatever doesn't kill you makes you stronger, right?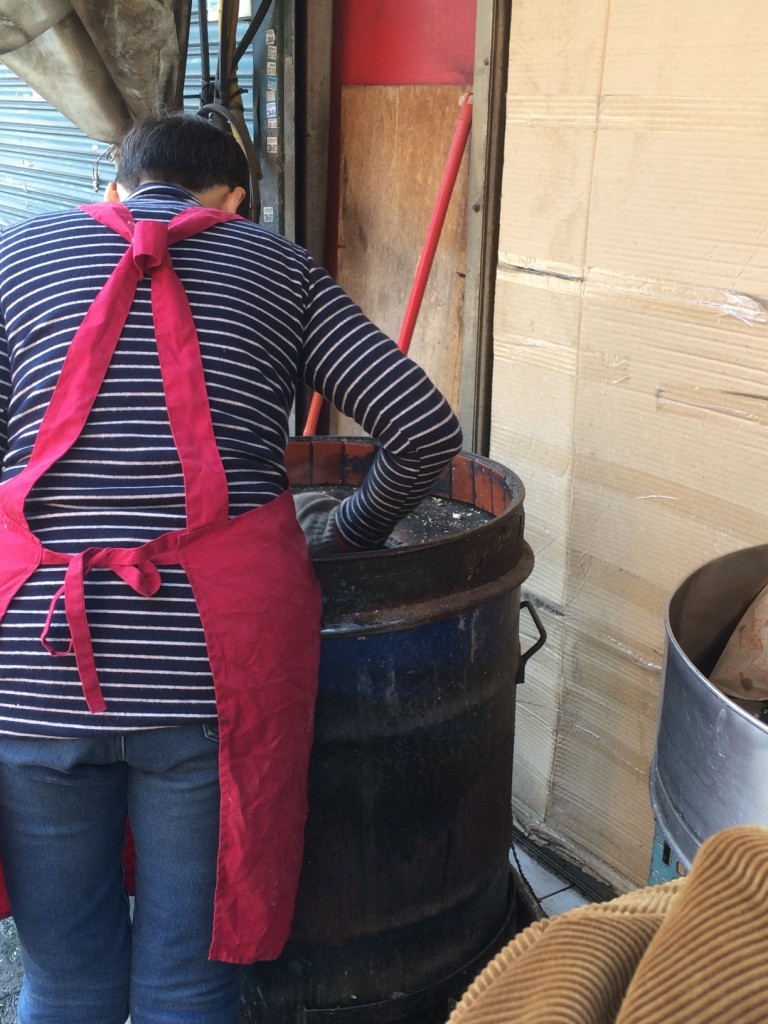 We made it to the Taiwan Democracy Memorial Park, which I thought was pretty impressive. It was only about 10am when we got there so it wasn't that crowded, just a few groups of Japanese school girls around.  We stood in the middle of the square taking pictures and selfies like everyone else under the beating sun.  It was only 10am and the sun felt a lot stronger than yesterday.  For some reason Disney has a Frozen exhibit in the middle of the square right in front of the actual Chiang Kai-Shek Memorial Hall.  It's been there since Christmas and is there until mid-April.  It's too bad that it's set up right in the middle of everything, it's a bit of an eye sore when taking pictures and each time we walked past it, we heard "Let it go" blaring inside.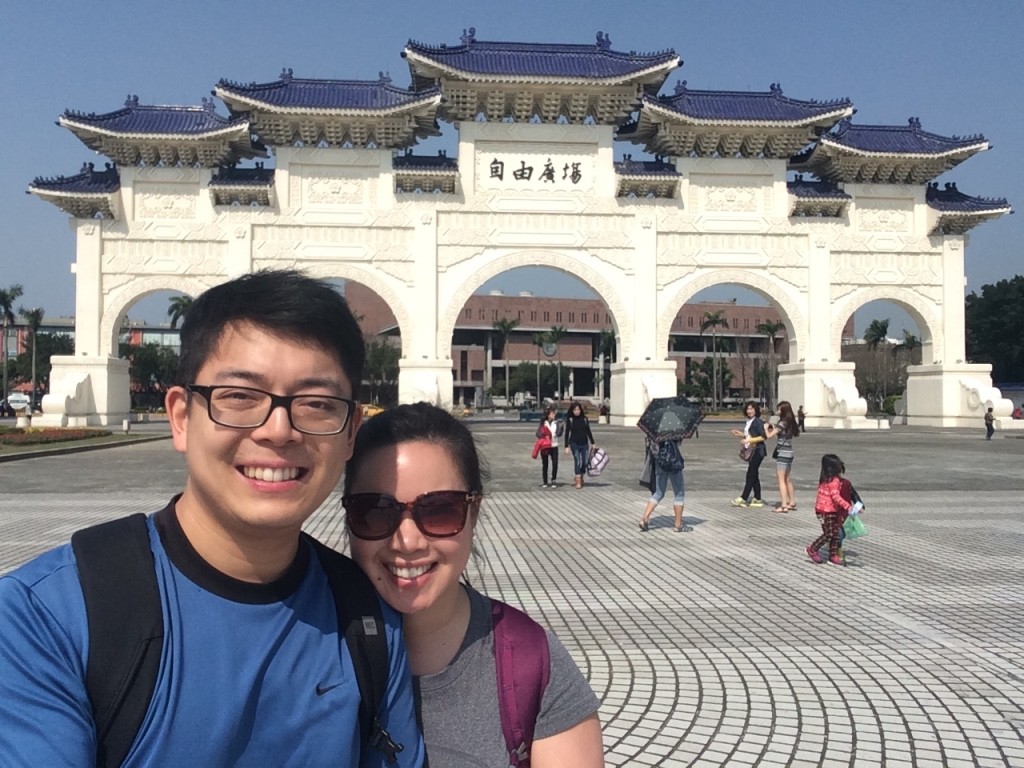 We basically just went to the Chiang Kai-Shek Memorial Hall today on the way to eat braised pork on rice.  Tim doesn't cook much Taiwanese food at home, but when he does, it's usually this dish.  He's made a few batches and they've all been really good (fatty but good).  We found the place, Jin Feng Minced Pork Rice , mostly due to the large amounts of people surrounding it.  We found an empty table in the back of the restaurant, sat down and stared at the order form for a bit.  Tim can speak Taiwanese and Mandarin but can't read and I'm… useless.  Luckily Tim recognized some of the characters and we ordered one large rice to share (large in Asia is half of a side order in America).  It was good, the fat made the rice taste velvety (those were Tim's words). (Tim: But they have mushrooms in their sauce, which I'm not a big fan of.)
At this point, the sun was feeling a lot hotter and I kept thinking about drinking bubble tea or having shaved ice.  I actually was craving a slurpee from 7-Eleven multiple times during our walk.  But there are no slurpees at 7-Eleven in Taiwan! (I know, I sound like an ignorant foreigner)
Finally, we made it to Ximending.  This area according to Tim is a trendy area and popular with "young people" – which makes us sound super old when we refer to others as "young people".  I guess we're not that young anymore.
This area is full of food vendors, chain restaurants, branded shops and nightmarket-esque stalls.  I enjoyed walking up and down the busy and flashy streets.  There were multiple bubble tea shops on each street, which made me really happy. We saw there was a "Hot Star Chicken", which is a Taiwanese chain specializing in deep fried chicken cutlets, and this location also served bubble tea.  We ordered a passion fruit drink with aloe and coconut jelly (95 NT = $3.80 CAD, Tim got up sold on adding aloe AND coconut jelly) then walked around Ximending before deciding we wanted to try the chicken.  When we ordered the chicken, the guy gave us a coupon for 5 NT off our drink purchase. (Tim: We should have bought the chicken before we got a drink). We then looked at the sign and it said "Buy meals get drinks with discount."  Apparently we can't read English either.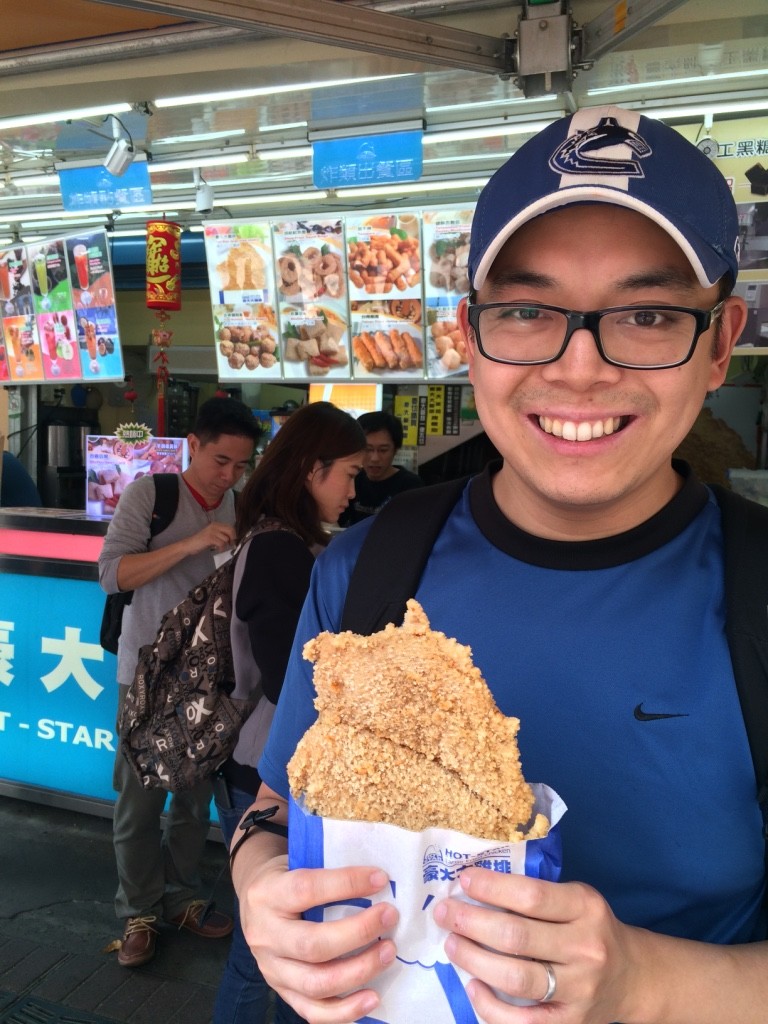 At this point, we were both pretty exhausted from the sun and walking (we're weak sauce).  We decided to take the MRT back to the apartment and rest.  We had plans to hike up Elephant Mountain this afternoon that's not happening.
At about 6:30pm, we were still feeling sleepy and knew that we had to get out of the apartment or else we'd both fall asleep and probably end up waking up at 3am.  We got changed and went out to the closest nightmarket to us, Tonghua/Linjiang Nightmarket, which was about a 5 minute walk.
The Tonghua Nightmarket has a good mixture of clothing and food vendors.  We started off by having an oyster omelet.  It was my first time having it.  The flavours were all really good, but I wasn't too crazy about the chewy starch part.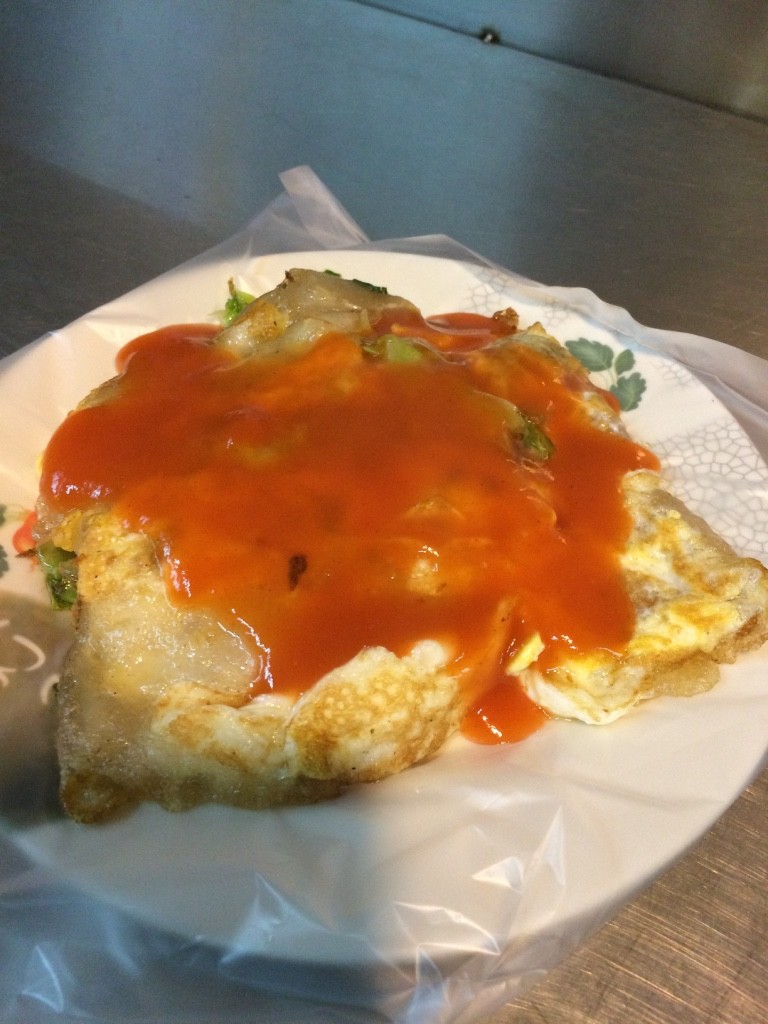 The next item on the menu was a deep fried green onion pancake with an egg.  This was actually really good, especially when you got to the yolk part.
For dessert, I ordered a "UFO disc" with creme brûlée custard inside. This was like eating a warm egg tart.

Tim's choice for dessert was "Masa's delicious spring roll" which was made up of cilantro (yeah, it was weird), ground up peanut brittle, 3 scoops of ice cream (pineapple, taro and red bean) wrapped up like a spring roll.  I was the first to take a bite, it was interesting.  I think the cilantro threw me off as I was expecting something savoury but just tasted ice cream.  I can see how it could be refreshing on a hot summer day.  Tim really enjoyed it!
Now we're back at the apartment washed up and ready for bed, at 8:30pm… stupid jet lag.
Steps for the day: 24,800