March 21, 2016
It was our last full day in Taipei (with my sister, Noel, and Nate) before heading south to Kenting. We headed to Ximending (west Taipei) to walk around and grab some snacks to eat.
The first stop was KFC. My sister and Noel hadn't tried their egg tarts before so we got a box of six (140 NT = $5.65 for 6). They were warm and delicious, if only KFC North America would serve these for dessert instead of deep and delicious cakes (although, deep and delicious cakes are (Tim: deep and) delicious too).
After walking through Ximending, we went looking for a store called Hakka Blue (the front of the store says "Art Yard"), that Tim's Mom had told us about that sells "xiao long bao" condiment sets and other crafts made in Taiwan. The store is located in a historic area in Taipei on a street called Dihua. It took about 20 minutes to walk to this area from Ximending. Dihua street reminded me of most cities' Chinatowns – cobbled streets full of dried fruit and herb stores.
Tim's Mom hosted an exhibit a few years ago called "Made in Taiwan" and she had these xiao long bao sets on display – this is where my sister fell in love with them. When we found the store, it was not only filled with those xiao long baos, but it had an assortment of other crafted items that were really neat. I could see why Tim's Mom really likes this store.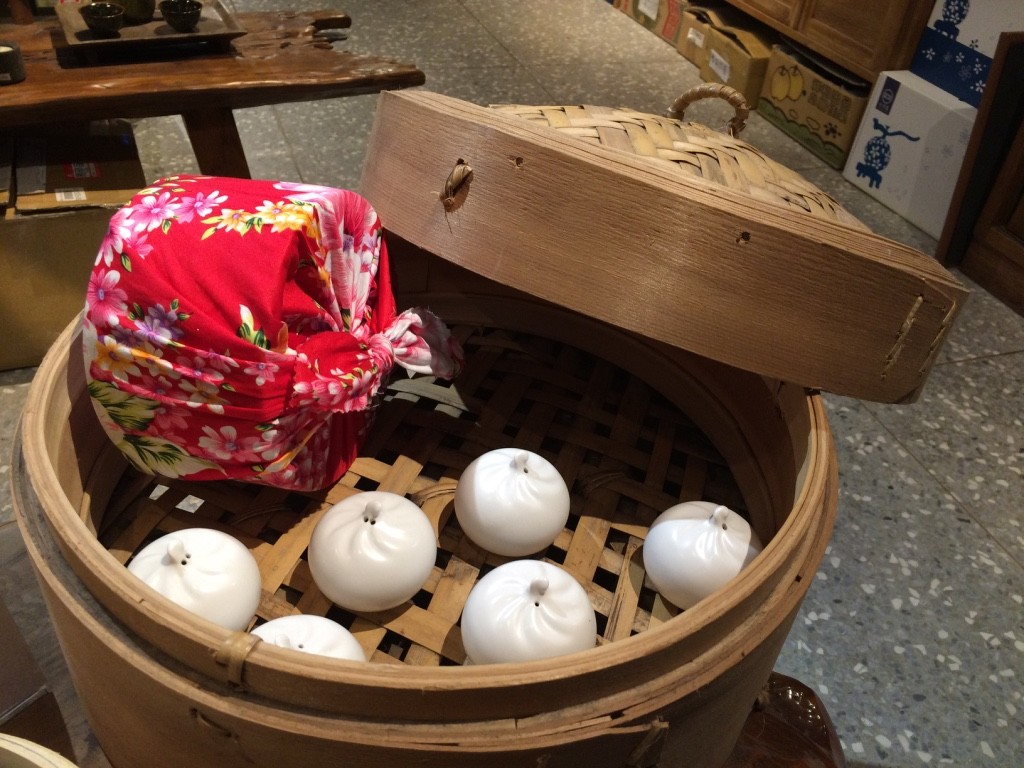 We made our way back to the apartment early in the afternoon since we had to pack and clean up before tomorrow morning. We had dinner at a place close to the apartment – a restaurant that is typically for late night eats but is popular for the normal dinner time crowd as well. I wasn't feeling 100% so I just had a bit of congee and went home and rested.
Can't believe it's already been a week since my sister, Noel and Nate have been in Taipei! Nate is finally feeling at home in the apartment and now we're leaving tomorrow. His favourite place in the apartment is on the balcony because you can see the MRT trains, buses, cars, scooters and a digger in the lot beside the building – it's a little boy's dream. Looking forward to going to Kenting tomorrow. It'll be a nice change of pace and scenery from the city and hopefully we will be able to see some sun.
Our total steps today: 18,000.