March 26, 2015
Today was our last day with my sister, Noel, and Nate here with us in Taiwan. We woke up to sun shining through the window blinds – which made for a good start to the morning and a perfect last day with them.
We walked to Daan Park one last time to play in the playground with Nate. I think we went there four times with them during their twelve day trip. It would have been more if not for the rainy weather and going to Kenting for three days. After the playground we walked through the park towards Yong Kang St. for lunch.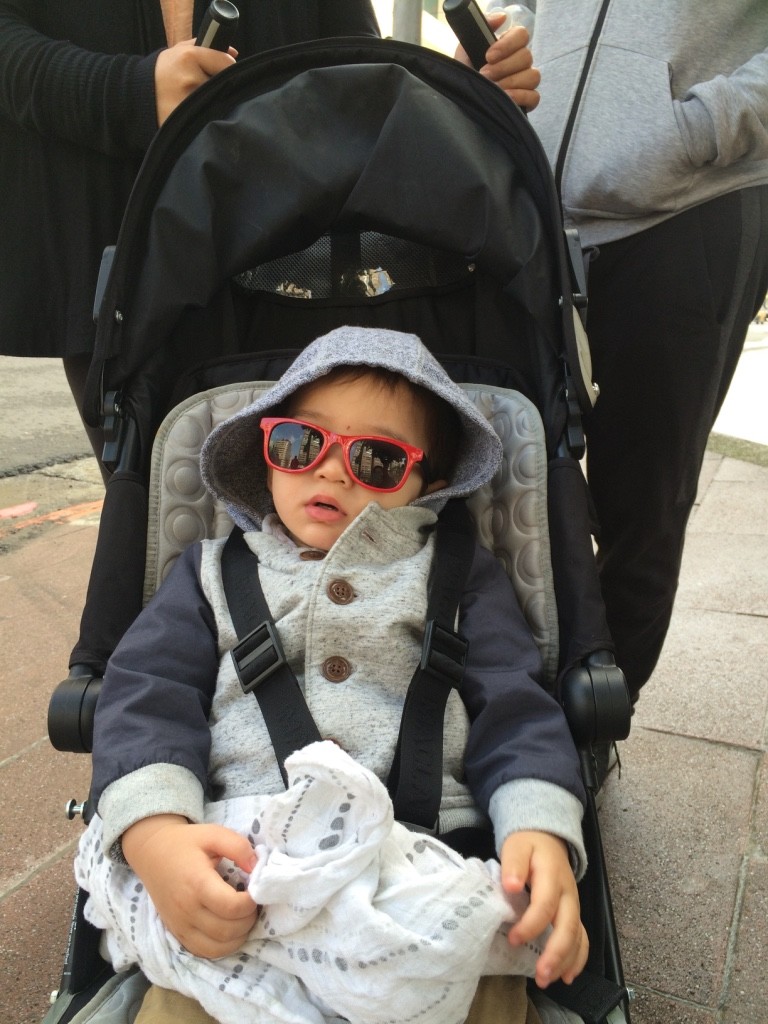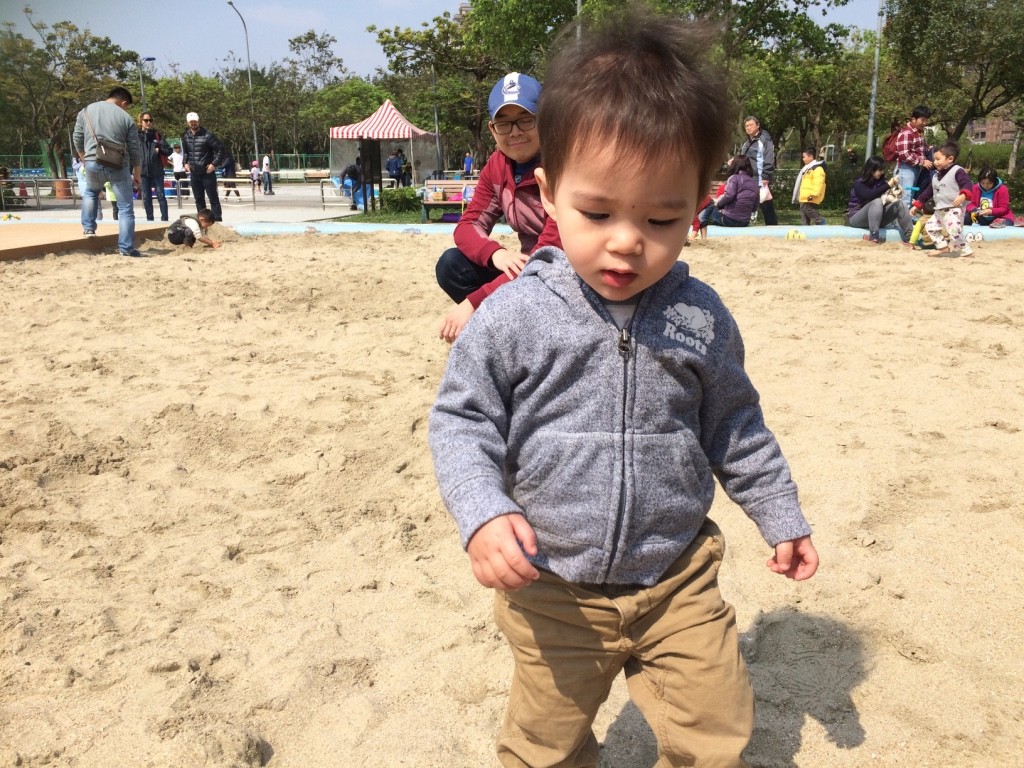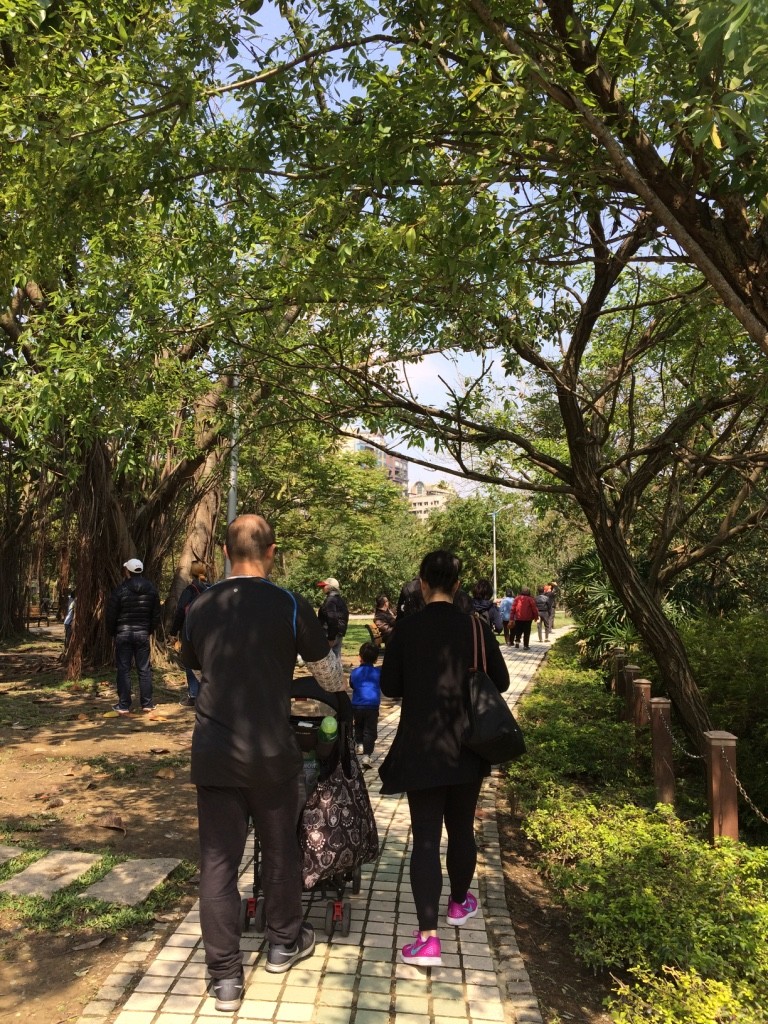 The plan for lunch was to go back to Yong Kang Beef Noodle since it was Noel's favourite meal of the trip. We made our way to Yong Kang St. around 10:45am and headed for the restaurant. There was already a line formed and the restaurant was full. They hadn't opened the upstairs section this time so we had to wait about 10 minutes before we were seated. Since we were on the first floor, there were no high chairs available and all the tables were way more cramped. Sitting downstairs is where all the "action" is but also made for a very different dining experience. My sister had to hold Nate while they both ate, which was a bit trickier, but Nate loved their noodles so he was happily slurping it down and wasn't fussy.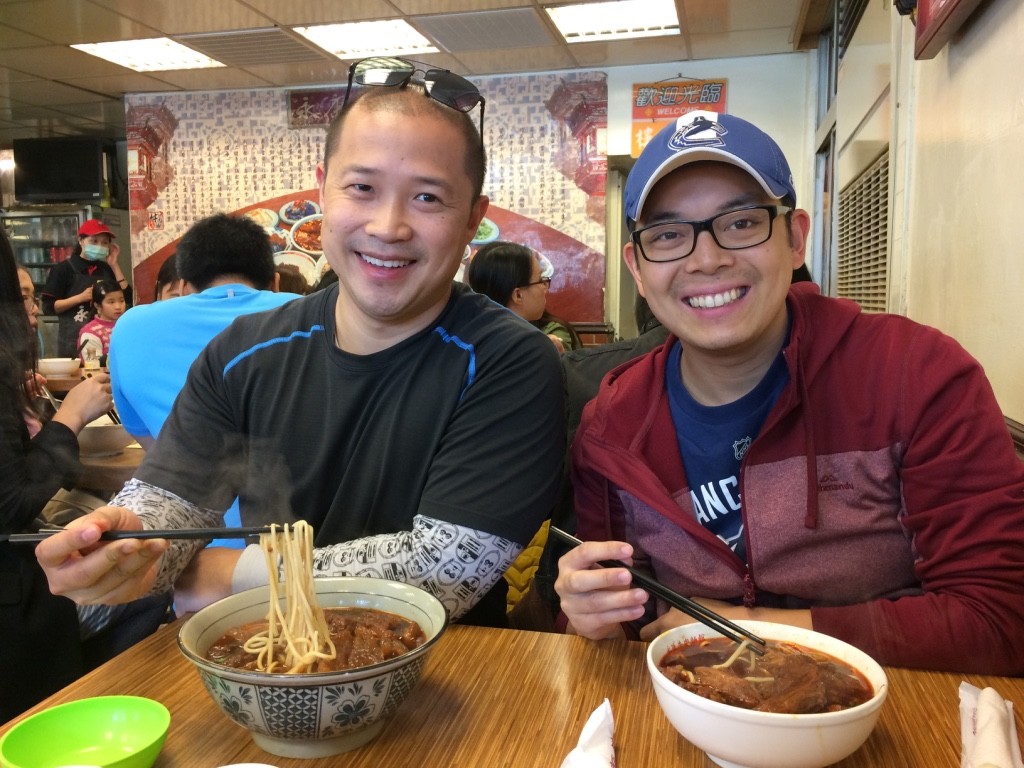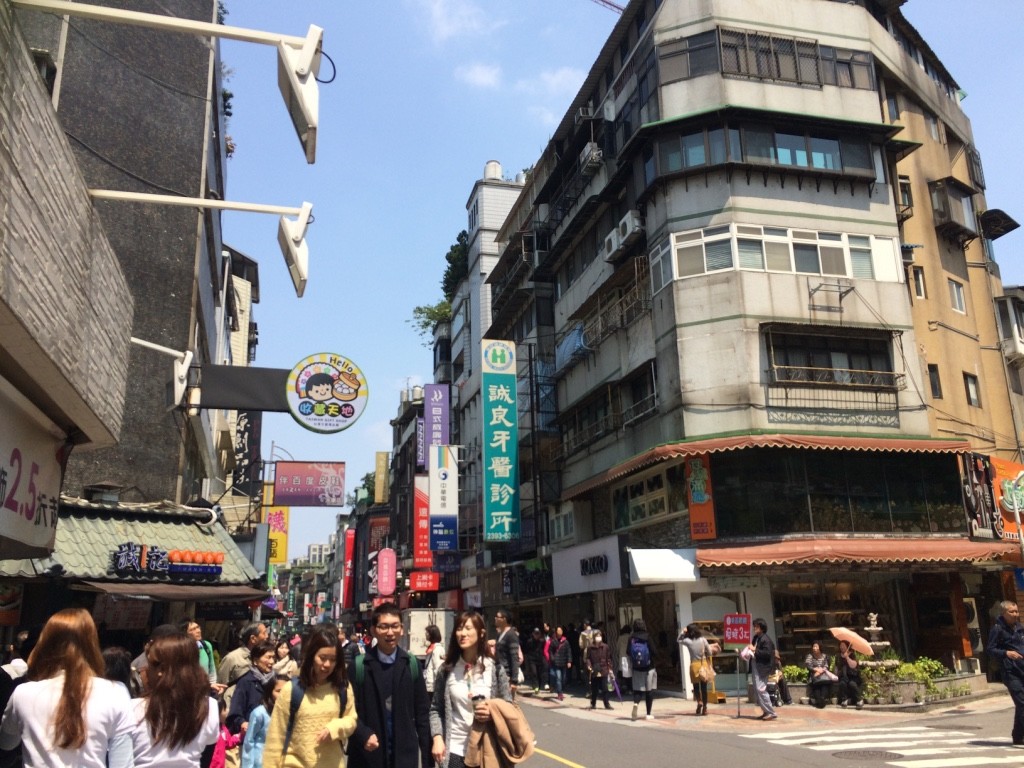 Next up on our agenda today was to visit SunnyHills pineapple cake shop. Pineapple cakes are the most common souvenir people buy when they're in Taiwan. There are so many shops around Taipei it's hard to sift through which ones are actually good. On our first trip to Taiwan, Tim's aunt bought us both Chia Te and SunnyHills to bring back to our families. Chia Te is the most internationally known pineapple cake shop and is often the only place people will buy their pineapple cakes from. After trying both of them, our favourite was SunnyHills. They use real pineapple rather than jelly or melon (which most places use), so depending on the season the cake filling may be tart.
At first, my sister and Noel weren't planning on buying any pineapple cakes since Noel isn't a big fan of them. He talked about how the first time he had a pineapple cake, it was so dry and turned him off from them. We tried to convince him that the SunnyHills pineapple cake were different than all the other ones he's had before.
I did a bit of research on the SunnyHills store as it's about a 15 minute walk from the closest MRT station in a residential area. Luckily we had google maps loaded on Tim's phone because you can easily miss the subtle signage. When we found it, it looked like a little oasis in the middle of the city.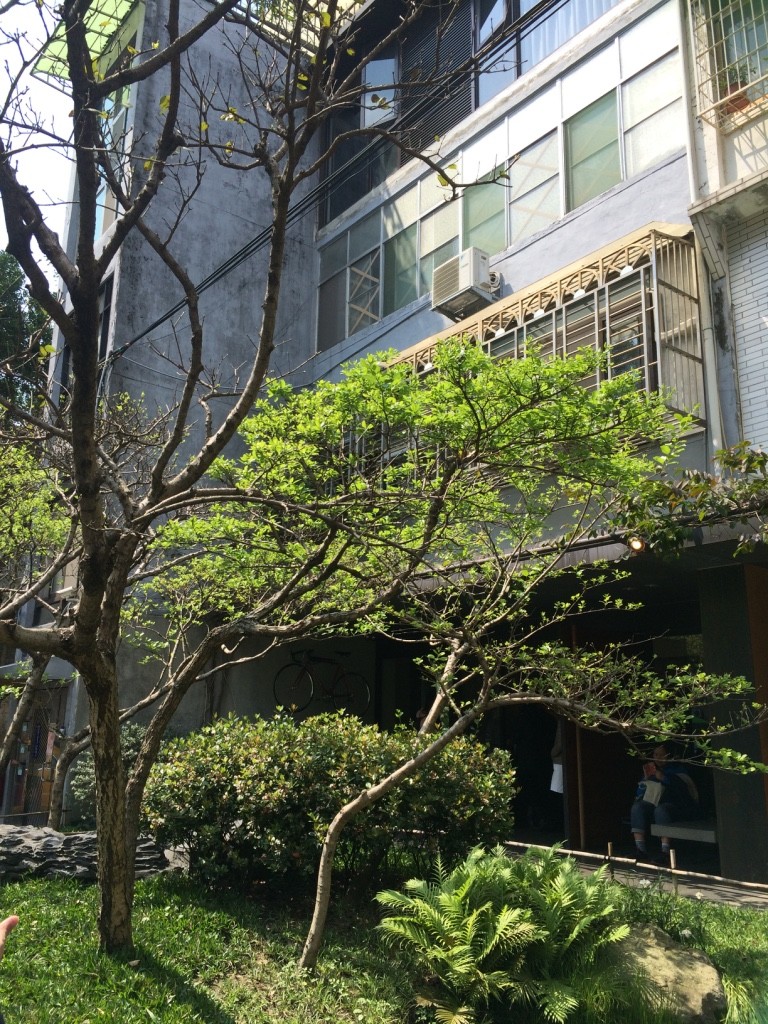 When we walked in, the very friendly and pretty ladies (Nate kept waving and saying "ni hao") at the store led us to a table to sit down. The front room was full so they brought us to the back room and we got to sit at our own round table for four people.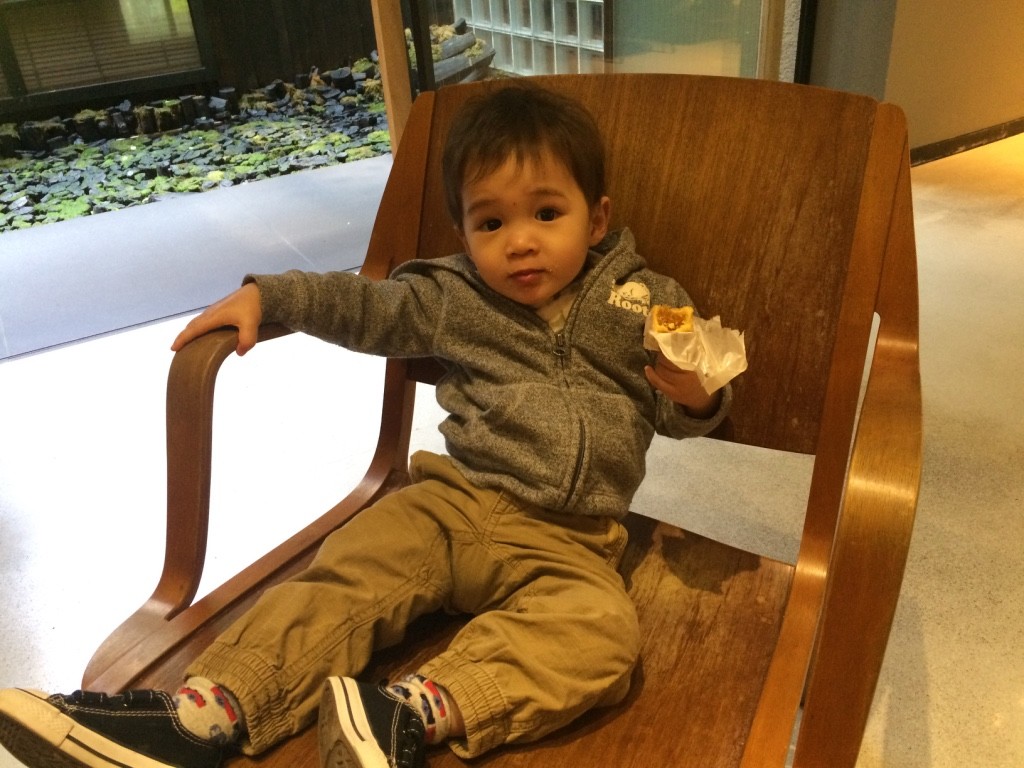 The ladies there were so kind and kept pouring us more tea, which was nice of them. Noel, the former pineapple cake hater, had a change of heart after trying them here. After sitting and relaxing for about half an hour, we went to buy some pineapple cakes. Each pineapple cake is 42 NT = $1.70 CAD, and buying them in boxes of 10 or 15 doesn't change the price per unit. Along with pineapple cakes they sell pineapple juice, honey cake (Castella cakes), and tea.
I would highly recommend anyone traveling to Taipei to go here for pineapple cakes. I have yet to try a better one. I haven't been to Chia Te yet to look around but I can only imagine it would be a gong show of a store as Trip Advisor reviews all say to go early to avoid massive line ups. SunnyHills was seriously such a calm and relaxing experience that I wouldn't mind just going there to have some tea and reading a book if they let people do that.
We headed out and decided to walk to our next destination – Breeze Shopping Center. The walk was about 30 minutes and it was nice because we were in a more residential area of Taipei. The streets were tree lined and very quiet. One of the major streets had multi-coloured pinwheels lining it, which gave it a community feel.
As we were walking along the "pinwheel street", we found a Cama Coffee (I call it Taipei's Starbucks). We have seen locations all over the city but my sister and Noel (who are coffee drinkers) hadn't had a chance to try one. Interestingly, as much as Taiwan is a very tea-centric country, Taipei has a lot of really great coffee shops all around the city. Tim and I don't drink coffee, but according to my sister and Noel, all the coffee places that they've tried were very good. Their iced Americano from Cama was 40 NT = $1.60 CAD.
We finally made it to Breeze Center, a mall filled with high end luxury goods as well as other stores. We were there for the other stores, like Muji, Uniqlo, and they even had a Maison Kayser (Paris bakery).
After a pretty full morning and afternoon, we made our way back to the apartment so they could do a final pack up before dinner and the airport. We planned on going to the Tonghua Night Market for dinner, since Noel wanted stinky tofu for the last time and my sister hadn't tried an oyster omelet yet.
We went to the night market around 6:30pm and it was already really busy (it's a Saturday night after all). Since Nate needed more of a sit down dinner place, we took them to Formosa Chang's on Tonghua St. first. Formosa Chang's is the fast casual chain restaurant that serves a good braised pork on rice. We ordered two large rice bowls, a stewed egg, a plate of vegetables and a pork chop for 242 NT = $9.80 CAD. After we ate at Formosa Chang's, we got our night market eats and headed back to the apartment with about 45 minutes to spare before Uncle Albert came by.
We're very fortunate that Uncle Albert has been so kind to us and to my family. Without even meeting them he offered to pick them up from the airport and now has dropped them off for their 11:55pm flight back to Vancouver. My sister and Noel said he parked and saw them off through the security gates.
Saying goodbye to loved ones, especially when we're away from home for 4.5 months is hard. As most people know I'm extremely close to my family and see them more often than the average person, so being away from them for so long is harder on me – that and I'm a pretty emotional person. Saying goodbye was a teary affair for me and my sister. I think Tim was worried about how much I was crying when they left (I'm better now).
It was great having my sister, Noel, and Nate here. Things started off a bit rocky with Noel and Nate not feeling 100% but after that initial hurdle, the days couldn't have been better (despite the rainy weather). It was awesome that they were able to come visit us in Taiwan and be able to meet some of Tim's family and learn more about Taiwanese culture. I'm happy that Taipei was so baby/toddler friendly and we actually learned a lot about what it would be like to be a parent in Taipei (I'll expand more on that in a future post). We all said we would come back in 10 or so years when we have kids – hope that happens!
Steps for the day: 24,000