June 16, 2016
This morning we had a few errands to run before heading back to Da Nang. We had to go back to Peace Tailors for a last fitting at 11am and we wanted to buy some more "backpacker pants/shorts". It wasn't a smart idea to have a Vietnamese iced coffee at dinner last night – I couldn't fall asleep for a while. Then I kept getting freaked out by all the noises I heard outside, so it wasn't a very restful night. We checked out of the hotel and left our bags in the lobby while we went back to the Ancient Town.
On our walk back to the hotel yesterday, we met a lady, "Mrs. Ha", who has a drink stall along the riverside close to our hotel. We bought drinks from her and she asked if we needed a ride to the airport tomorrow. We told her we were just staying in Da Nang for the night and she said she can arrange a driver to take us there for 250,000 VND = $14.57 CAD (45 minute ride). She showed us her appointment book and she basically seems to service a good chunk of guests from our hotel and the other neighbouring hotels in the area. We knew this was a pretty fair price since our hotel charged $19 USD for a ride to Da Nang. We walked past her this morning and arranged a ride with her driver to pick us up at 1pm to take us to Da Nang. At first I was a bit skeptical but she seemed trustworthy. To be sure, I Googled her and found other people saying how they used her for airport transfers and were very happy with her.
Our first stop was to get a banh mi for brunch. We ordered one grilled pork and one BBQed pork. We realize that depending on who makes it, they basically just put whatever they want in it. Either way, the banh mi is delicious. I really liked the grilled pork and their pate. I think the pate juice and their chilli sauce make the biggest difference and my grilled pork banh mi is my favourite so far on this trip.
We made our way to Peace Tailors. It seems like every day in Hoi An was similar. Walk around the Ancient Town, get a banh mi, and stop by Peace Tailors. When we got to the tailors, we went upstairs to try on our clothes. Tim's suit jacket still needed a bit of work so the lady (Sony) called the tailor to come to the store right away to fix it. She told us it would take 30 minutes – we later found out that meant 30 minutes for the tailor to come to the store, pick up the jacket, fix it, and bring it back. Luckily, they fixed Tim's jacket and we were on our way.
It's an experience in itself to get clothing made in Hoi An, so I'm glad we did it. Are they amazingly made and super cheap? Not really. They're okay. We're both satisfied with what we got but I probably wouldn't do it again, unless I needed bridesmaid dresses made. They basically have all different style of maxi dresses (like the J.Crew bridesmaid line that I had) there.
I found that having to go to the tailors every day (multiple times a day) made our time in Hoi An only about getting clothing made, which kind of took away from our overall time there (Tim: I always assumed that was the main reason for coming to Hoi An). It was basically what we (or at least I) thought of all the time. Like yesterday night, they told us to come back an hour later for our last fitting so we had dinner first. Our nicer dinner at Morning Glory should have been relaxing but I was more preoccupied about making sure we got back to the tailors before they closed for the night (Tim: me, not so much). So we basically ate quickly and left, even though it's a restaurant you should just relax and enjoy your time in. Also, trying on the clothes when we're both sweaty, red faced, and hair all disheveled doesn't make us feel very attractive in the outfits (which is why the pictures we took won't be posted here). We'll probably be wearing the dress and suit to a wedding this summer. Any how, I'm a bit relieved it's over and we can move on.
Before we left Ancient Town, we headed to the store where we got Nate's "backpacker pants" from. We grabbed a couple of shorts and pants (for lounging). Pants were only 60,000 VND = $3.50 CAD and shorts were only 20,000 VND = $1.16 CAD. We made our way back to the hotel by 1pm, although we were dripping in sweat when Mrs. Ha greeted us.
She walked with us to our hotel as her driver was parked off to the side. We thanked her for her help and were on our way. She said she just got back from helping some Americans staying at a hotel order four suits at tailor near by.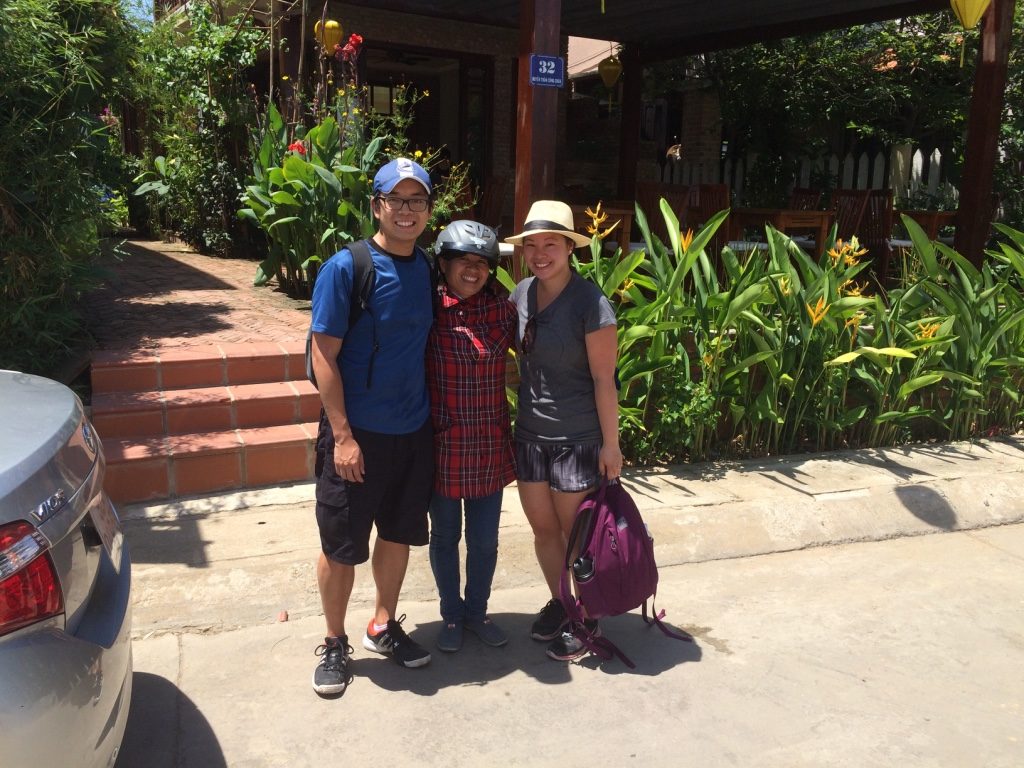 The drive back to Da Nang was a bit slower than the one we had to Hoi An. The driver wasn't as crazy of a driver as the hotel driver was. We made it to our hotel in the city, Orange Hotel.
We booked Orange Hotel ($52 CAD/night) on Expedia as it was highly rated on Trip Advisor. We actually wanted to book it for the first couple of days but the price went up quite a bit so we went to Hadana. It actually worked out well because we got to stay in two different areas of Da Nang (both sides of the river). As with all other Vietnamese hotels, they served us a welcome drink and gave us ice cold towels. The staff were warm and welcoming and even had their screen changed to say "Welcome Timothy Young-yi Chueh". They thought Tim was Vietnamese because he said "cam on" (thank you in Vietnamese) to the bell hop who took our bags in. He explained he wasn't Vietnamese and he only knows how to say thank you. The lady then also asked us if we are only staying for one night. Before I could answer, Tim started saying "dac biet" (which means special). Then he realized her question and laughed. He thought she asked if he could only say one word, so then he told her the other word he could say in Vietnamese. She didn't get the misunderstanding so I think she thinks Tim is weird.
We were shown our room and it was nice and clean. We have a "windowless" room (cheapest room), but it's okay, there's still some natural light coming in from a narrow window at the top of the wall. We settled in, did laundry, and then headed out for an early dinner.
The hotel suggested a Da Nang style noodle called, ba mua, so we went to a restaurant about a block away. I ordered the ba mua and Tim ordered the dac biet (his go to). The dishes were a dry thick rice noodle with an assortment of meat and seafood in a chilli sauce. As usual, they serve a plate of fresh greens and herbs for you to mix in with the noodles. The noodles were good but not our favourite. We both kept reminiscing about the cao lau from yesterday.
After the noodles, we quickly walked through the Han Market, which has an assortment of produce, dried goods, clothes, and souvenirs. We didn't linger too long since we weren't planning on buying anything and we got the gist of the market. Ladies in the market were also very aggressive so we didn't really want to be in that environment.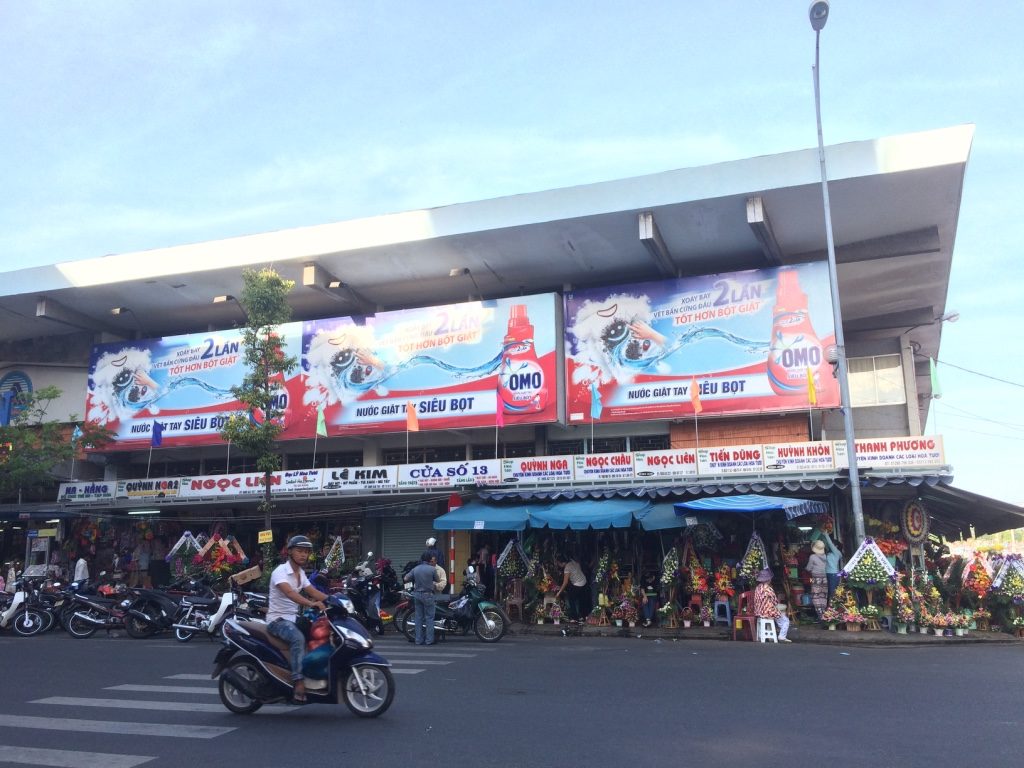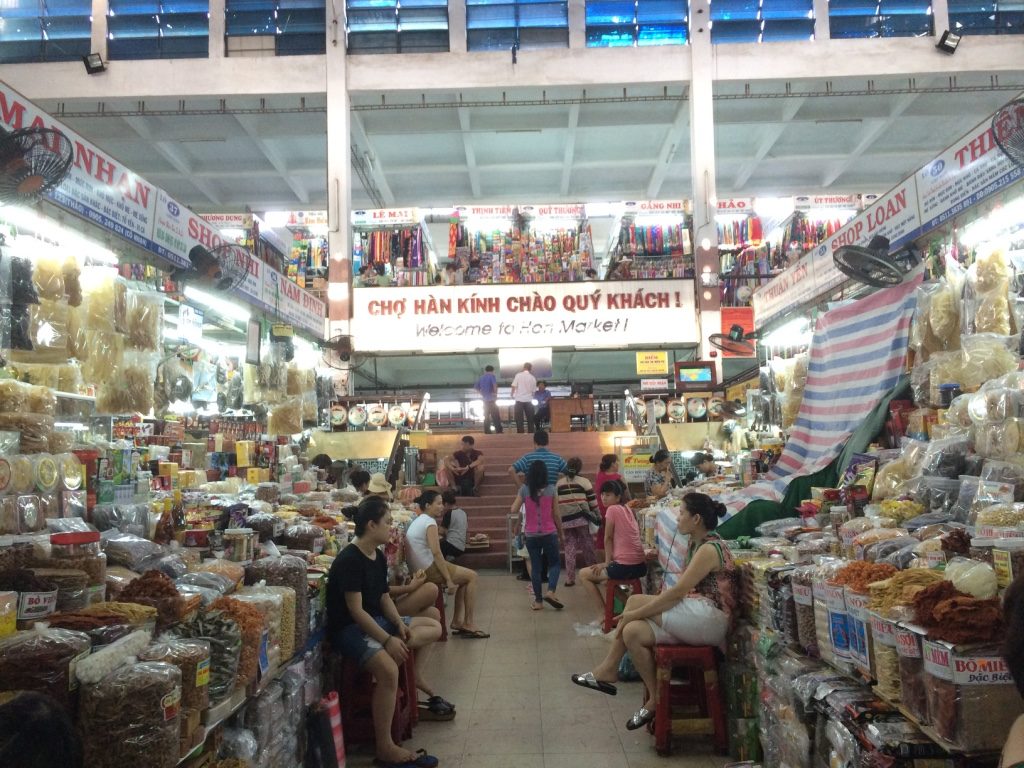 We planned on going back to Cong Caphe to have a drink and relax for the rest of the afternoon. The cafe was a lot busier today than it was when we came a few days ago. We sat on the second floor at the counter overlooking the river again. We both ordered a coconut drink – one with coffee and a cocoa one. The coffee one is still the best.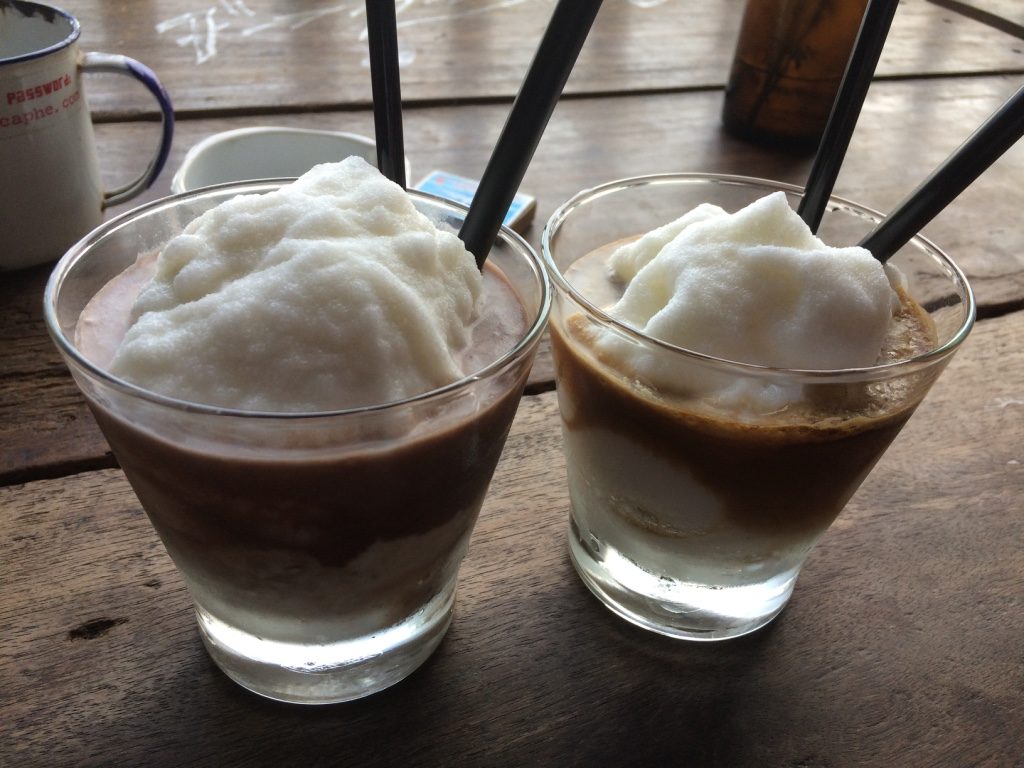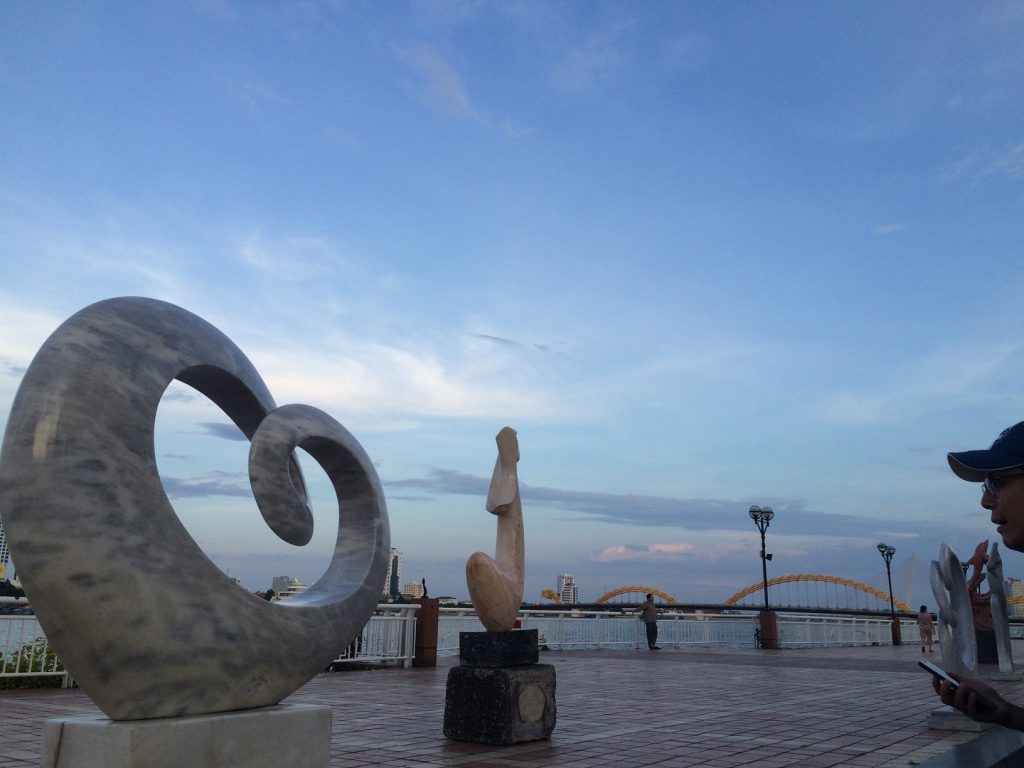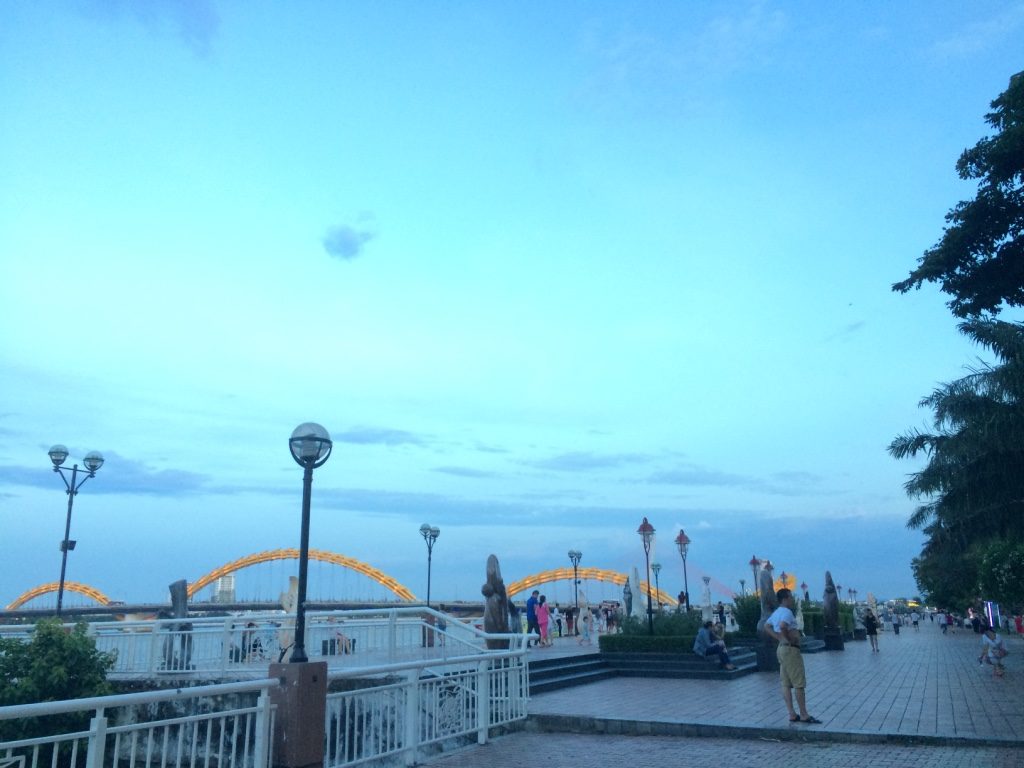 We're taking tonight pretty easy. We have to start planning the rest of our SE Asia portion of our trip. We have everything booked until we get to Hanoi, but then it's a fairly blank slate. Looking forward to exploring Hanoi tomorrow!
Steps today: 12,000