June 17, 2016
We set our alarms for 6am, so we could have a quick breakfast at the hotel before we made our way to the airport for our 8:10 flight to Hanoi. I read a lot of good reviews about the hotel's breakfast buffet so I was looking forward to trying it, even if it was a quick breakfast.
Breakfast at the Orange Hotel was served on the top floor (seems pretty common for hotels here to have their restaurants on the top level). We're not early birds so we were quite surprised at how many people were there for breakfast at 6:30am. The breakfast spread was pretty impressive and nicely laid out. As we were leaving they were bringing out more food and even some crepes!
We took a cab to the airport and it cost 61,000 VND = $3.50 CAD (15,000 VND of that was the ticket it costs for cars to go into the airport area). When we got to the Vietnam Airlines check in counter, there was quite a long line, but it went quickly. I was a bit nervous because we were cutting it pretty close, but when I saw people were still checking in for 7:45am flights it made me feel better. There's not much in the Da Nang domestic terminal. Some souvenir shops and a "Calvin Klein Nike" store. I've never seen fake stores at airports before!
We went to our gate and had to take a shuttle from the gate to the plane. The flight to Hanoi was a larger plane (Tim: A330) than what we took to Danang and it was quite full. Our flight was scheduled to leave at 8:10am, but we didn't leave until around 8:40am. The flight to Hanoi was only an hour, so we landed at the scheduled time.
While sitting on the plane, we were surrounded by a couple of men who had to clear the phlegm in their throats every 5 minutes (it seemed). It wasn't a very pleasant environment. I'm looking forward to being back home in a month.
We arrived in Hanoi and it was overcast and only 29°C (we haven't been below 30°C in a while). Once we got our luggage, the hotel driver was waiting for us at arrivals. Hanoi's international airport is about a 30 minute drive from Hanoi's Old Quarter/City Centre. The highway into the city seemed newly paved and there wasn't much traffic. It was only until we got close to the city's core that Hanoi seemed more like any other city in Vietnam. The Old Quarter's streets had a more small town feeling to them than the streets in Saigon.
When the car got close to our hotel, three hotel staff members came out and greeted us and took our bags. The hotel's entrance was in a small alley so cars can't go through. We're staying at the Golden Moon Suites & Travel Hotel for $31 CAD/night. They gave us welcome drinks, a cold towel, and bananas. Since we got in so early and check in time wasn't supposed to be until 2pm, they said our room probably wouldn't be ready until 1pm. We said that was fine and asked for the WiFi password and sat on the couch for a bit before we headed out for lunch. I guess since we were sitting there for a while regrouping, the manager said they actually have a room ready for us now.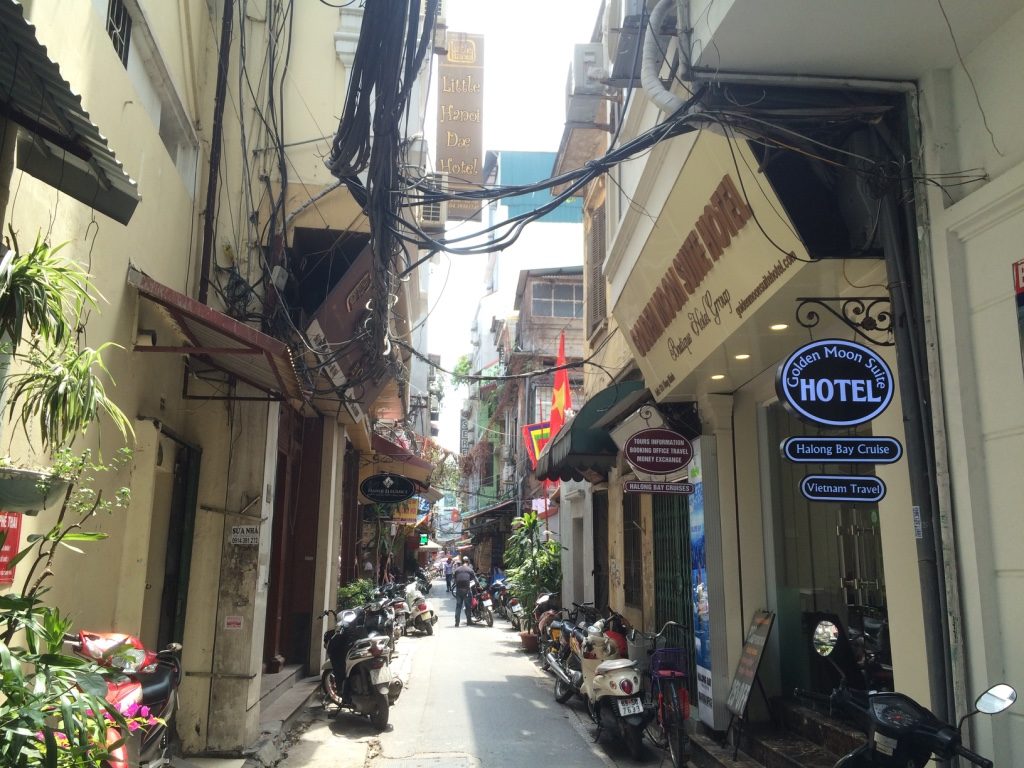 The room was clean and nice enough for the price (also includes breakfast this time). The only complaint is that the internet is a bit inconsistent – which makes streaming or FaceTiming choppy. We dropped off our bags, changed, and headed out for lunch.
For lunch we walked to a restaurant, called Xôi Yến, in the Old Quarter that is well known for their sticky rice (Tim's friend Michael recommended it and Bourdain ate here too). When we arrived at Xôi Yến, we saw there was a Cong Caphe across the street. This was the second location we've seen in Hanoi so far, so if we're craving the coconut coffee, we have options!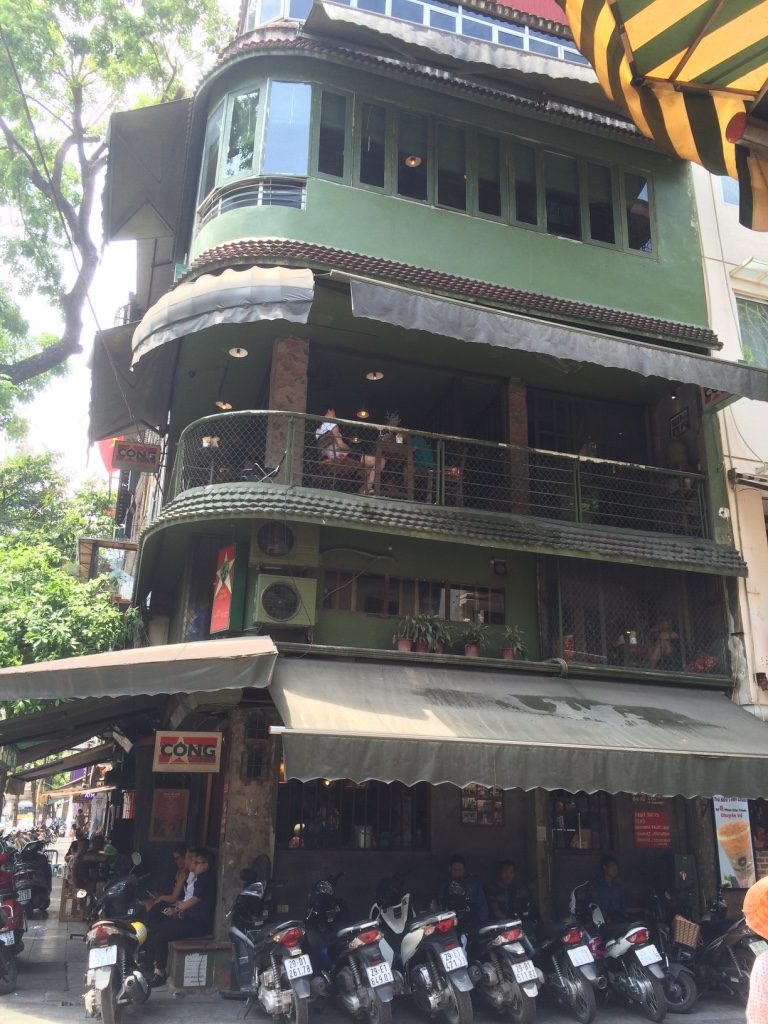 At Xoi Yen, you pick the type of sticky rice and you can choose to add toppings to it, such as: chicken, pork, deli meat, eggs, the list goes on. We both ordered a bowl of the sticky rice with "fried shallots and fat". I ordered grilled pork (char siu) and Tim ordered the boiled shredded chicken. The bowls came compactly filled with sticky rice, a layer of mung bean paste (that we thought tasted like a layer of baked yams), and fried shallots. The rice and toppings were tasty, but I didn't ration my meat well with the rice so I had almost half my rice left without any toppings. If you know me, I only really eat my rice if it has something to go with it. It's very filling lunch and I didn't finish my rice and Tim was too full to eat mine. I would go back to try other toppings but I wasn't that biggest fan.
After lunch, we grabbed a quick snack to bring back to the hotel for later at Circle K and walked back to the hotel. I had a pretty bad headache and the sun was at its peak for the day, so we went back to our room and rested. I ended up taking a nap and felt a lot better in the late afternoon.
For dinner, we had a few options in mind but wanted to just find something fairly close by. I looked up some options on Trip Advisor and found a banh mi stall, Banh Mi 25, that was very well reviewed by the majority. The pictures made the stall seem very trendy – they even had branded stickers for their paper wrapping. When we got there, the crowd was mainly caucasian tourists, which was expected since it seemed the stall catered to tourists as their menu was in English. The prices were fair, so we decided to give it a shot (ranged from 15,000 VND to 25,000 VND). Tim ordered a pate banh mi (he wanted ham as well but they were out since it was the end of the day) and I ordered the grilled pork with pate. The girls working were nice and friendly and we grabbed a seat and waited for our banh mi.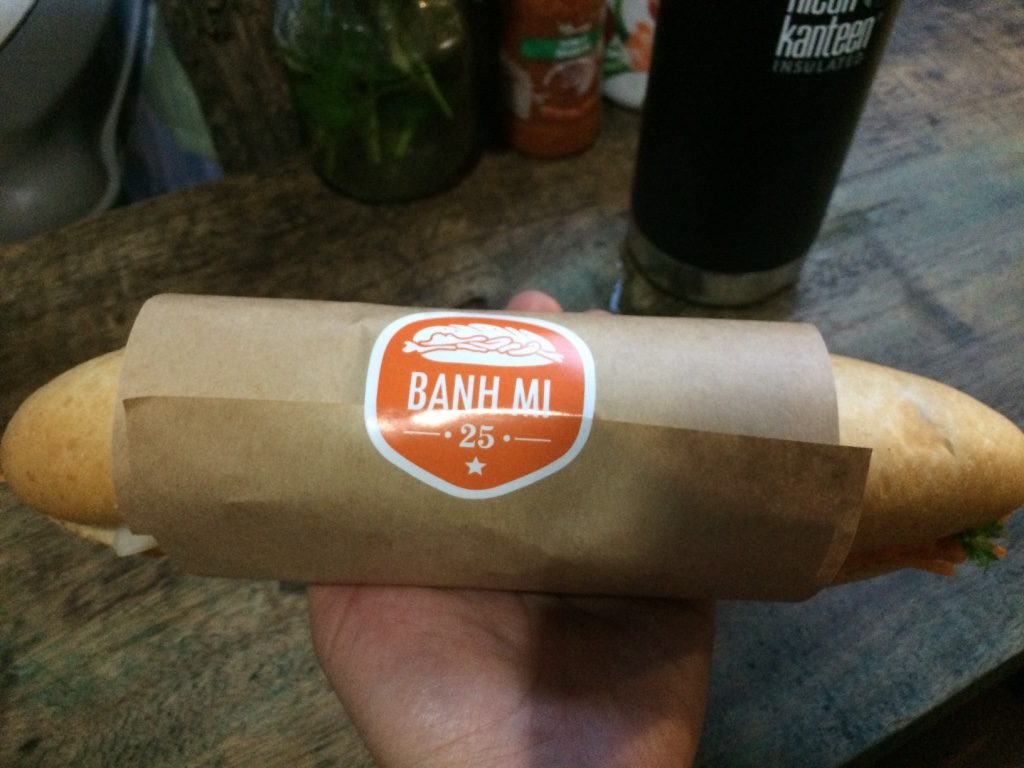 When we took our first few bites, we both looked at each other and recalled one of the negative reviews from a guy from Seattle saying that there's not much flavour in the meat or the vegetables (not pickled enough). We agreed that there wasn't much going on in this banh mi besides the bread being good. They had hot sauce on the table and we both added a lot to get more flavour out of the sandwich. It was the most underwhelming banh mi we've had so far in Vietnam. I guess it gets pretty good reviews because it's like banh mi for beginners, since the environment is very friendly and comfortable (everyone was very nice!).
We headed back towards the hotel and bought some lychees from a lady on the street for our dessert. There was a lady ahead of us on a scooter who bought 1kg for 50,000 VND = $2.88 CAD and we bought 25,000 VND = $1.44 CAD worth. They were delicious and sweet (lychee is one of my favourite fruits), we put them in the fridge before we dug into them.
We had another chill night, watching part 3 of the OJ Simpson documentary and then got to FaceTime Nate for his birthday! It's funny, he doesn't even know it's his birthday. Can't wait to celebrate with him again when we're back home!
Steps today: 8,500