June 28, 2016
Today we flew to Phnom Penh! A new country for the next week. Our flight was at 11:50am, so we didn't have much time to do much other than have breakfast and pack up. Tim went out to the main street to find a tuk tuk that would take us to the airport. We paid 50,000 LAK = $7.95 CAD to get to the airport.
The Vientiane international terminal is pretty small and old. There wasn't much there in terms of restaurants or stores. The best food option was probably the Dairy Queen at the departure check in, but once you got past customs, there was not much available and everything was 4 x the price as it would be on the street. We spent some of our last kip at the departure gates on some ice cream bars.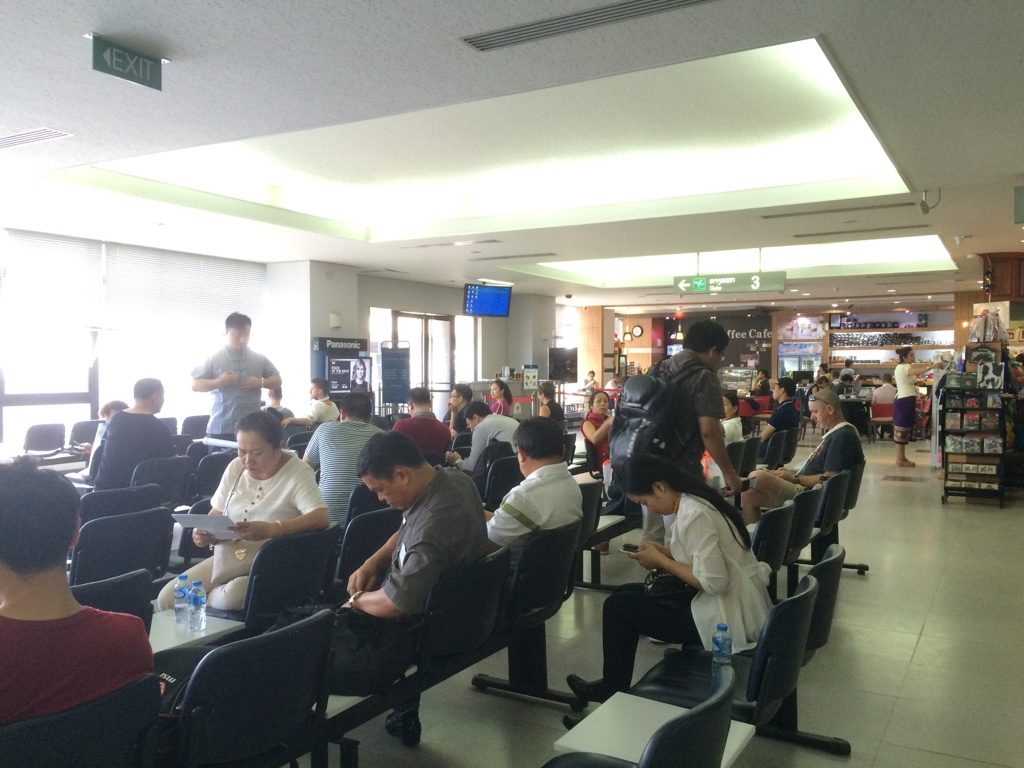 Our flight to Phnom Penh was a code shared flight and operated by Vietnam Airlines. The final destination for the flight was Ho Chi Minh City. It seemed like the majority of passengers were going back to Vietnam. They served a small lunch and gave us drinks. The meal was a salad, Vietnamese deli (mystery) meat, and a piece of cake. The flight to Phnom Penh was an hour and 10 minutes, which went by pretty quickly.
We arrived at Phnom Penh's airport and it was quite modern. Once we got down to the arrivals area, customs officers directed passengers who required visas to fill out visa application forms. We lined up and got our visas and paid $30 USD each (same rate for all countries if you're entering on a tourist visa). Tim paid for both our visas and gave the custom's officer $100 USD. The custom's officer only gave him back $30 USD and Tim firmly asked for the other $10. You could tell from the officer's expression that he didn't accidentally forget the extra $10. Welcome to Cambodia! We purposely flew into Phnom Penh over Siem Reap because we read that the customs officers aren't as corrupt as the ones in Siem Reap. For the most part we didn't have any trouble and weren't asked for bribes of any sort while getting our visa.
Once we got our bags we walked outside to where all the drivers with signs were waiting. We saw Tim's name and went with the driver from the hotel. The hotel offered the same rate as what we read a taxi would cost from the airport so it was a no brainer to just be safe and book the car. Our hotel driver came and picked us up in a Lexus RX 300 (SUV) and we realized that particular Lexus is very common in Phnom Penh. Phnom Penh streets are very congested with scooters and a lot of SUVs! It was more reminiscent of Vietnam traffic and we knew while walking around we had to be on high alert again. Tim said we shouldn't have gone to Laos until the end because it made us "soft".
After about a 30 minute car ride through lots of traffic, we arrived at our hotel. We're staying TEAV Boutique Hotel, which is a fairly modern boutique hotel in the middle of the city. We're paying $45 USD/night, which is a bit discounted for the slow season. The staff came out and greeted us, checked us in while giving us cold cranberry juice and ice cold towels.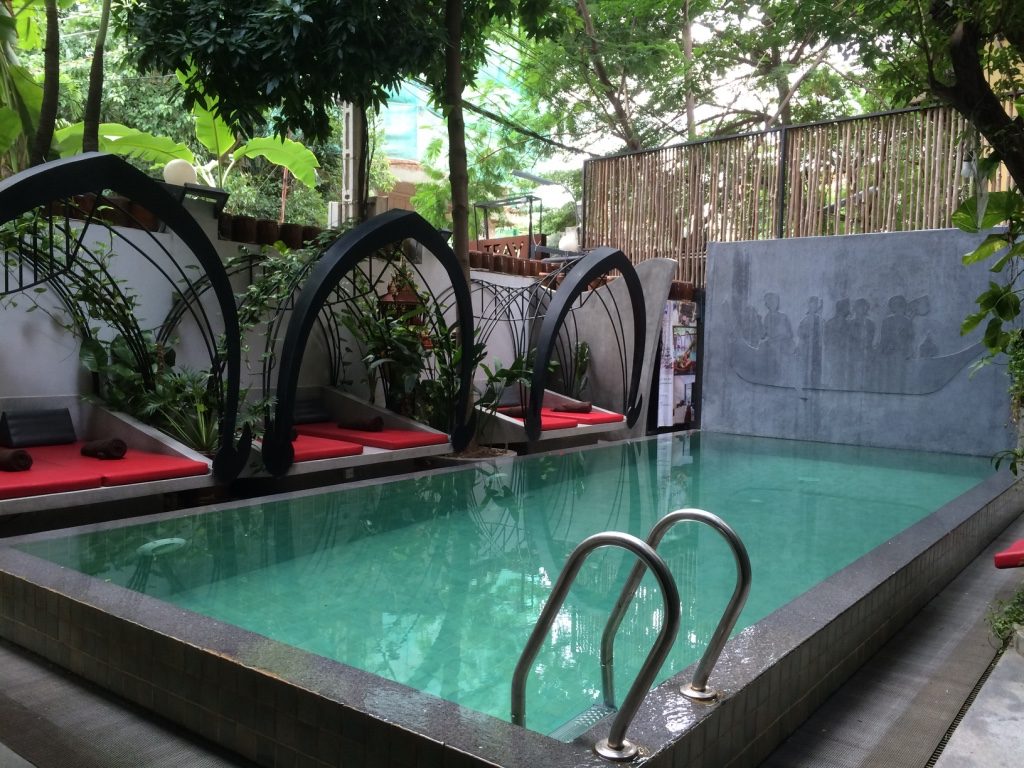 We were shown to our room and it was indeed very modern inside. Concrete floors, high ceilings and it smelled like lemongrass oils (the kind you smell when you got to a spa in SE Asia or a Thai spa in Vancouver..so good!). We settled in and planned to just walk around our surrounding area called the "BKK" district of Phnom Penh. BKK is where the majority of hotels are located as well as many restaurants.
We walked to the Independence Monument to take some pictures then made our way into the BKK. We were surprised to see so many foreign based restaurants and coffee shops. There are a lot of Korean and Japanese chains that we recognize. We have also noticed that in Laos and now in Cambodia, there are a lot of signs and plaques with Japanese flags on them thanking them for their contribution. Apparently Japan has invested a lot in Laos and Cambodia's development (even buses in Vientiane say they were all donated by Japan).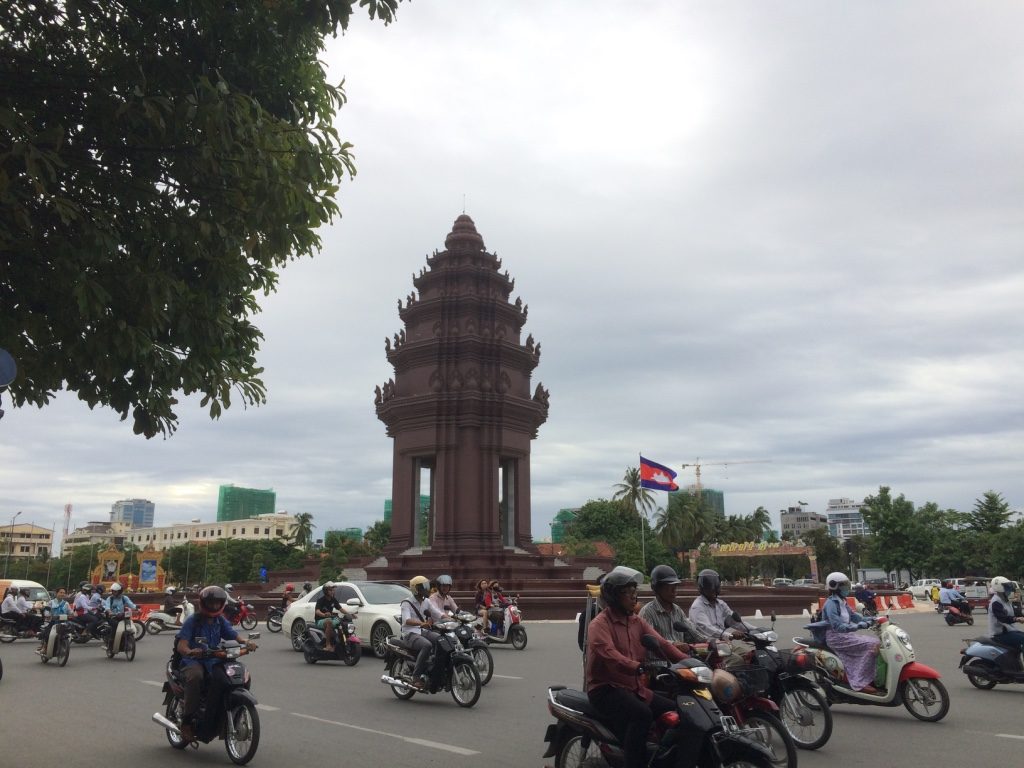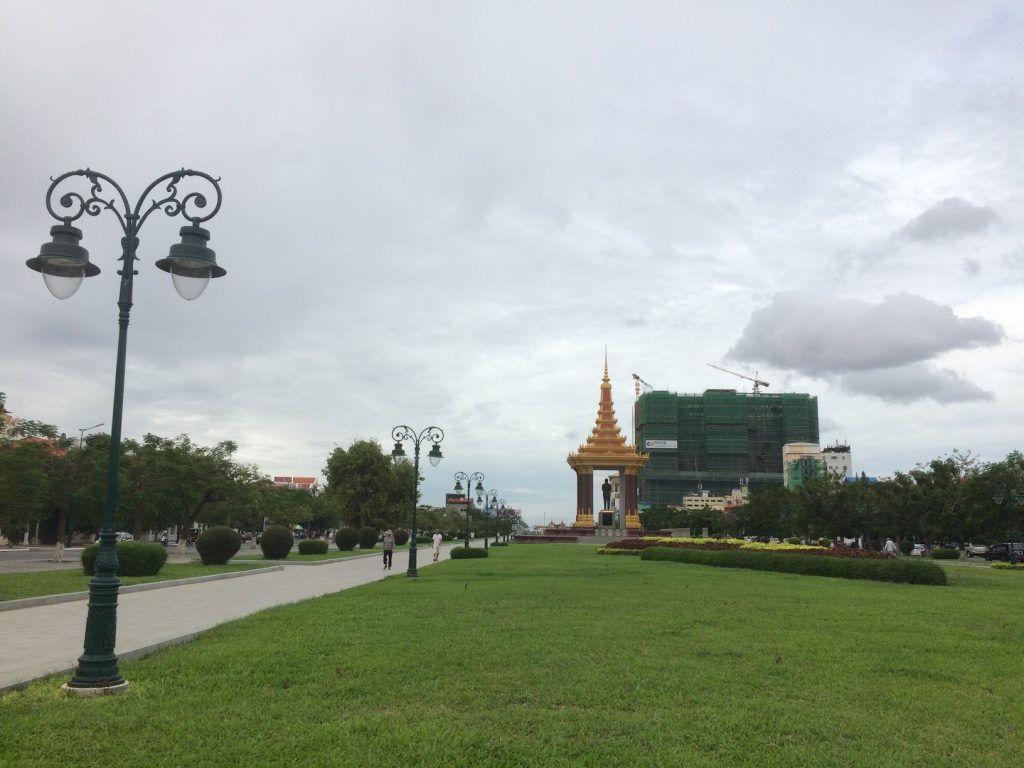 While walking around BKK, we decided to go to Bon Chon for our very late lunch. Bon Chon is a Korean fried chicken restaurant that has locations all around the world. The first time I ever had Korean fried chicken was in New York, probably 10 years ago, and it was from Bon Chon. It was the only restaurant back then to serve it and I was hooked. It was the best fried chicken I've ever had and every time I went to visit my sister we always got it delivered. So it definitely bring back a lot of good memories. I wished Vancouver had a Bon Chon. There's some places downtown that serve Korean fried chicken but it's not the same.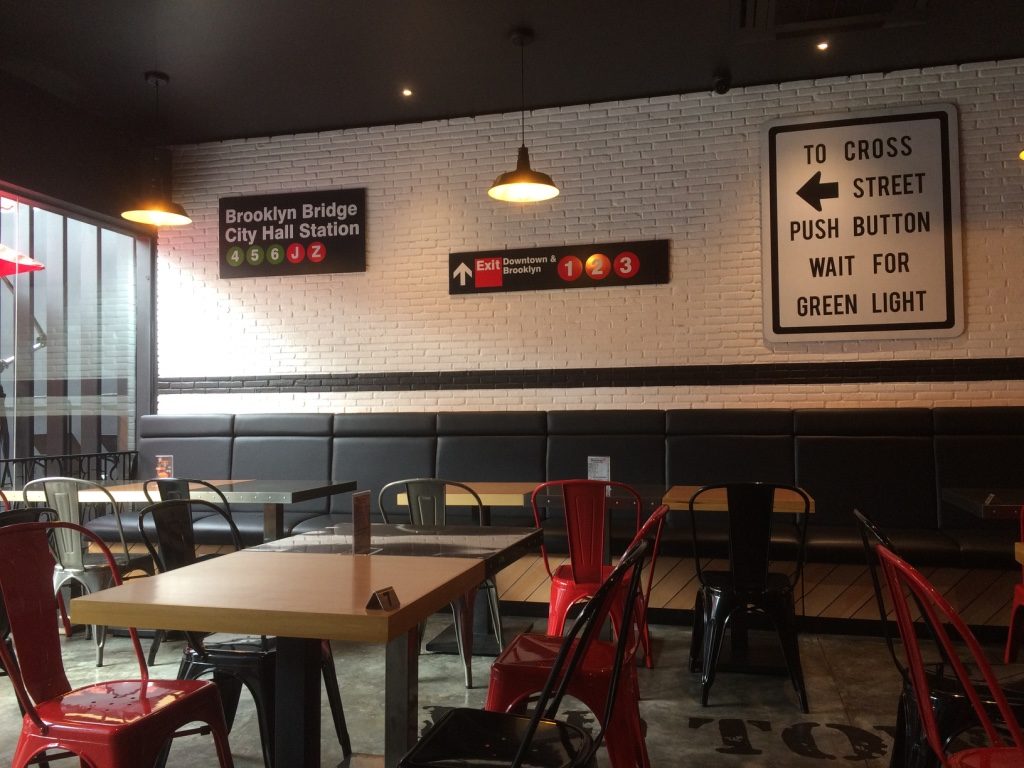 We ordered garlic fries and a medium combo to share. Prices in Phnom Penh are all in USD. If change is under $1 USD, they give Cambodian Riel back. It's a bit confusing and I'm not sure why they have to use both. Seeing as prices are quoted in USD, food in Cambodia is probably going to be more expensive compared to Laos and Vietnam. But I suppose going to Bon Chon for our first meal wasn't exactly a good representation of what prices are like in Phnom Penh.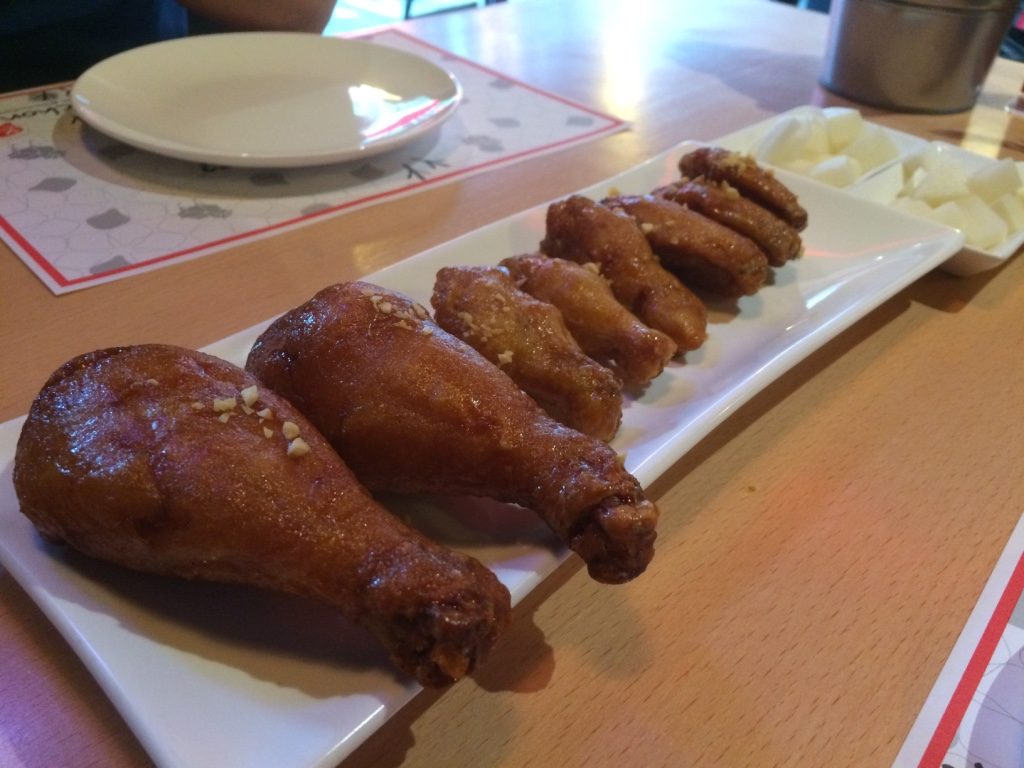 I haven't had Bon Chon for a while and it was pretty darn good. It was very juicy and the skin was so crunchy. Being a nicer restaurant in Phnom Penh, the service was really good. It was definitely not a cheap meal by Cambodian standards and since we've been in SE Asia for a few week, I felt a bit guilty for having such an expensive meal. Our lunch was $15 USD (how things quickly change from being in Australia).
After Bon Chon, we walked towards a large mall called Aeon Mall (which is a Japanese branded mall). We walked for about 20 minutes and finally got there. It doesn't seem like many people walk in Phnom Penh. There weren't many tourists or locals walking. I guess everyone is in a tuk tuk.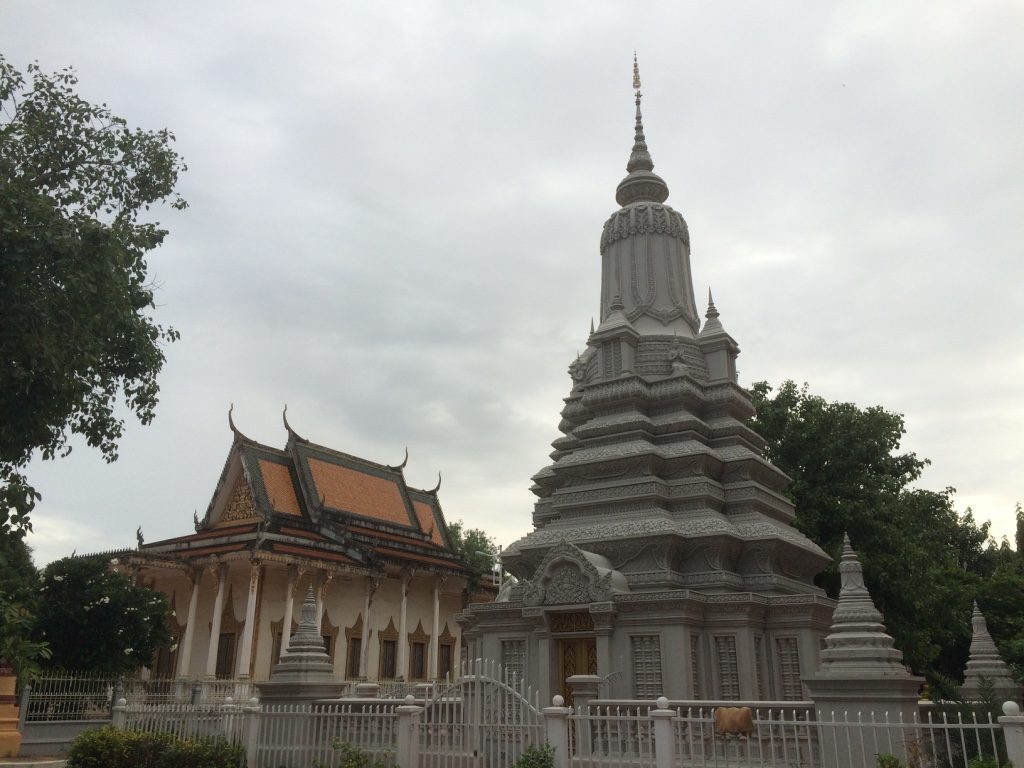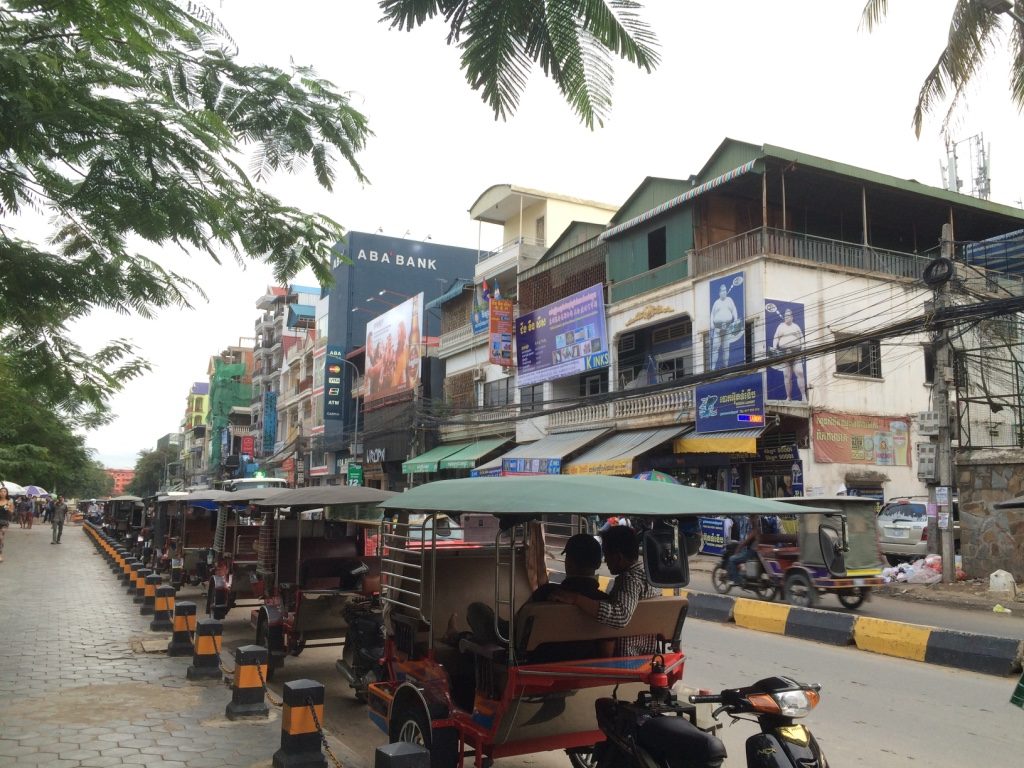 Aeon Mall Phnom Penh is huge and it's really nice. The mall is celebrating its 2 year anniversary so it explains why it looks so new and pristine. There's a large department store with a supermarket on the bottom level (Japanese style), a movie theatre, a great selection of restaurants, and a bunch of pretty good clothing stores (like Mango from Spain).
We walked around the mall to see what options we had for a light dinner and ended up eating at Pepper Lunch. It's a casual Japanese restaurant that has locations all around Asia and North America (including Vancouver). Pepper Lunch seemed like a very popular place amongst locals. We shared a beef and egg on rice combo. It was pretty good. The Pepper Lunch in Richmond has been opened for a couple of years now and I haven't even been to that one yet!
After Pepper Lunch, we went downstairs to the supermarket to browse around. Tim bought a few Cambodian beers and I got a bag of green basil Lays chips. Prices are still fairly cheap, just not as cheap as Vietnam. We walked back to the hotel to plan out our day tomorrow, catch up on blogging, and watch TV shows (Tim couldn't wait to watch Game of Thrones).
We're in for an emotionally heavy day tomorrow as we plan on visiting the killing fields and learning more about Khmer Rouge.
Steps today: 15,000