July 5, 2016
Our alarm went off at 5:30am this morning. We got ready, ate a quick breakfast, and took a tuk tuk to the airport (free airport transfers from the hotel). The tuk tuk ride from our hotel to the airport took around 20 minutes. There's a lot of people on the roads at 6:30am in the morning – including kids going to the school. They start early!
Our flight on Air Asia to Kuala Lumpur was at 8:35am and it seemed like a popular flight. There were a lot of western tourists on our flight and it was almost full. After security, we had to go through customs to get our exit stamp. The customs officers at Siem Reap all seemed very very grumpy and rude compared to the ones in Phnom Penh. I've read that they are more corrupt than in Phnom Penh – I believe it!
Siem Reap's departure terminal had a food court, coffee shops, a few shops, and had free WiFi. Of course everything at the stores were more than double the price than they would be outside of the airport. We boarded our flight, and I was happy to see a larger plane (Airbus A320). Tim and I didn't check in online and didn't preselect our seats (we didn't want to pay extra) so we were seated behind each other. It ended up not being a big deal because the couple beside me moved to an empty row in the back and then Tim moved back to sit with me.
Air Asia is a discount carrier so it's basically a no frills airlines. You can pay for food and drinks but we didn't. Their Air Asia magazine had an extensive article about food in Kuala Lumpur and while taking notes on restaurants, I was getting really hungry. I really like Malaysian food!
The flight was around 2 hours and was a quiet and smooth flight – thank goodness. Right before we landed, the flight attendant went through the cabin and sprayed (we think) a type of insecticide – everyone covered their nose and mouths. We landed in Kuala Lumpur 20 minutes ahead of schedule. KL is 1 hour ahead of Siem Reap. We haven't had to adjust our clocks for a while. The KL airport was really big and all the Air Asia flights land in the same terminal. We had to walk quite a ways to get to customs and to our bags.
When we approached the customs area, it was a gong show. A bunch of other Air Asia flights just landed so the area was chaotic and pretty disorganized. There weren't any airport workers directing people on where to go or how to line up, so it was a big mess of people. It was nice not having to get a visa to enter a country for the first time in a month (and not worry about corrupt officers) (Tim: and not even having to fill out an arrivals form).
Our bags were already out when we got to baggage claim. Our next errand was to get Malaysian Ringgit (MYR).  We didn't plan on coming to Malaysia on this trip so we didn't really prepare any cash in advance. We found a Maybank ATM before exiting and took out some money there. They had a Kuwait Bank but I remember seeing a lot of Maybanks while we were in Singapore and figured it was a good bank to withdrawal money from.
Before exiting arrivals, we had to put our luggage through security. Malaysia seems very strict on what you can and cannot bring into the country. Once we got through, we went to the taxi counter in the airport and bought a ticket for cab fare to our hotel. The ticket was 85.10 MYR = $27 CAD. We thought it would be a bit cheaper (around 78 MYR) but when the lady typed in our hotel it came out to be more. It's an automated system so can't really argue about the price. The other option to get into town is to take a train to KL Sentral Station (yes, sentral, not central) and then transfer to connect to another train to our hotel. Since there's two of us, it was cheaper to take a taxi (express train is 100 MYR round trip or 55 MYR one way per person).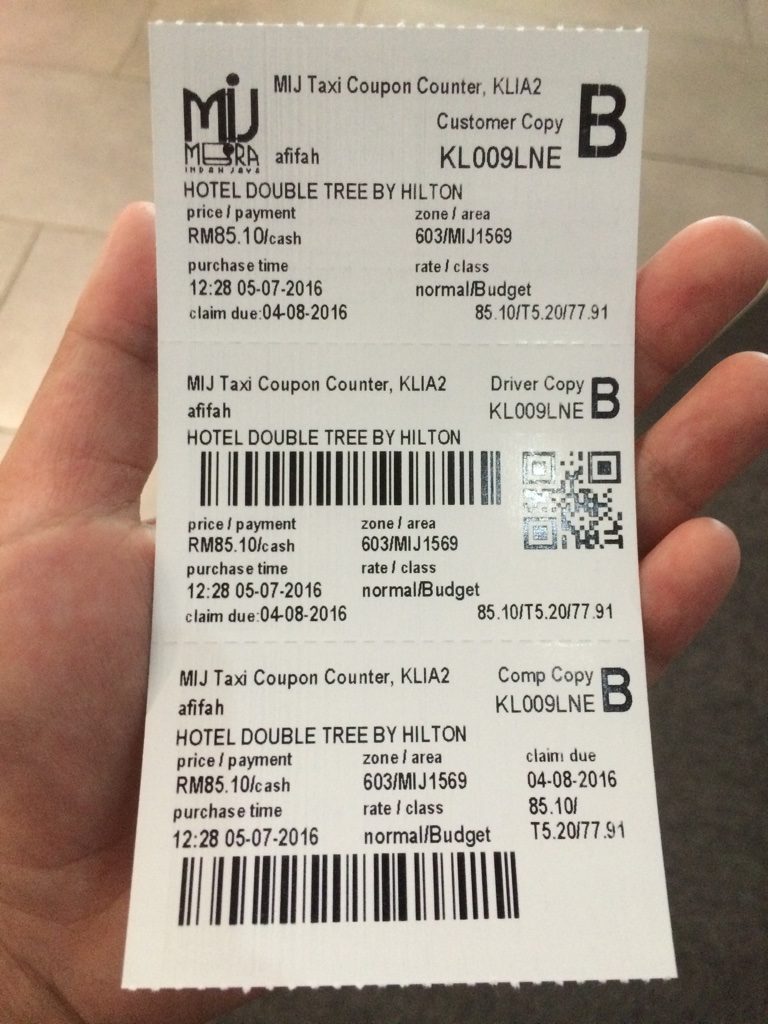 We went down to the taxi area, which was a bit of a trek in itself. You go through a mall to get there. After being in developing countries for a month, it's quite a change to see a mall with western stores and brands again (that are real). The cab ride to our hotel took about an hour. The city centre is pretty far away (around 60km). Tim had our hotel starred on Google Maps and we could see how sprawling Kuala Lumpur is.
We're staying at the Double Tree Hilton which is attached to the Intermark Mall. Tim used his Hilton Honors points for our three nights at 10,000 HH points/night, making the redemption value really good (room per night here is around $150 CAD/night). We haven't stayed at a western branded hotel in Asia since Osaka (Sheraton). It'll be nice to have some western luxuries for a couple of days. When checking in, they upgraded us to an executive level floor (33rd floor out of 34), which is nice. The redemption room was supposed to be two twin beds but the upgraded room had a king size bed. We also get free breakfast and free drinks and snacks every day from 5:30-7:30pm. Yay for all of Tim's work travel benefits. We better take advantage of his Hilton status while he still has it. There's basically no chance he'll be able to maintain his status for next year.
Our room is quite nice and has a city view. We were hoping we would be able to see the Petronas Towers but we couldn't (Tim: just barely couldn't). We settled in and went out to find something to eat for lunch. The Intermark Mall (also an office tower for JP Morgan and other businesses) is connected to another mall and the metro station via a covered overpass. We walked to the Ampang Centre in search of food. We walked through and saw the majority of the clothing stores were for Muslim women (~62% of Malaysians are Muslim). Today is the last day of Ramadan so there are a lot of decorations all around the city celebrating. There was a Malaysian cafe that looked decent but Tim wasn't feeling it. I think it's because he saw the "golden arches" close by and wanted McDonald's. He said we could have McDonald's for lunch and find something Malaysian for dinner. So off to McDonald's we went. (Tim: we also went to the food court in search of food, but being Ramadan, literally everything was closed except for one Vietnamese stall).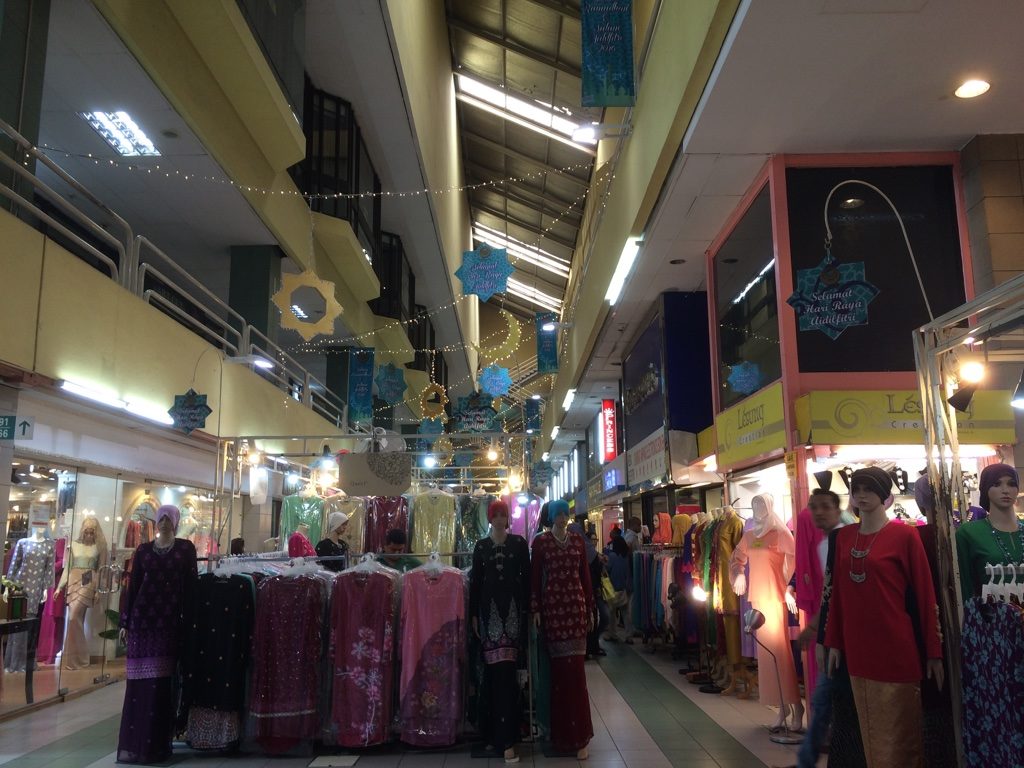 On the McDonald's door they had a notice saying that it is against the law for any Muslim person to eat at McDonald's during Ramadan. McDonald's also had decorations all around for the end of Ramadan. Prices were half the price of Australia and a bit cheaper than Singapore's McDonald's prices. We ordered a McChicken and a Big Mac meal. Malaysian McDonald's has some pretty interesting looking desserts (longan ice cream sundae, white taro pie) that I wouldn't mind trying while we're here. Lunch was pretty satisfying, although the McChicken didn't taste the same as home. We've noticed during our 4 months that Big Macs are very consistent across all the countries we've been to but McChickens can vary – and not in a good way.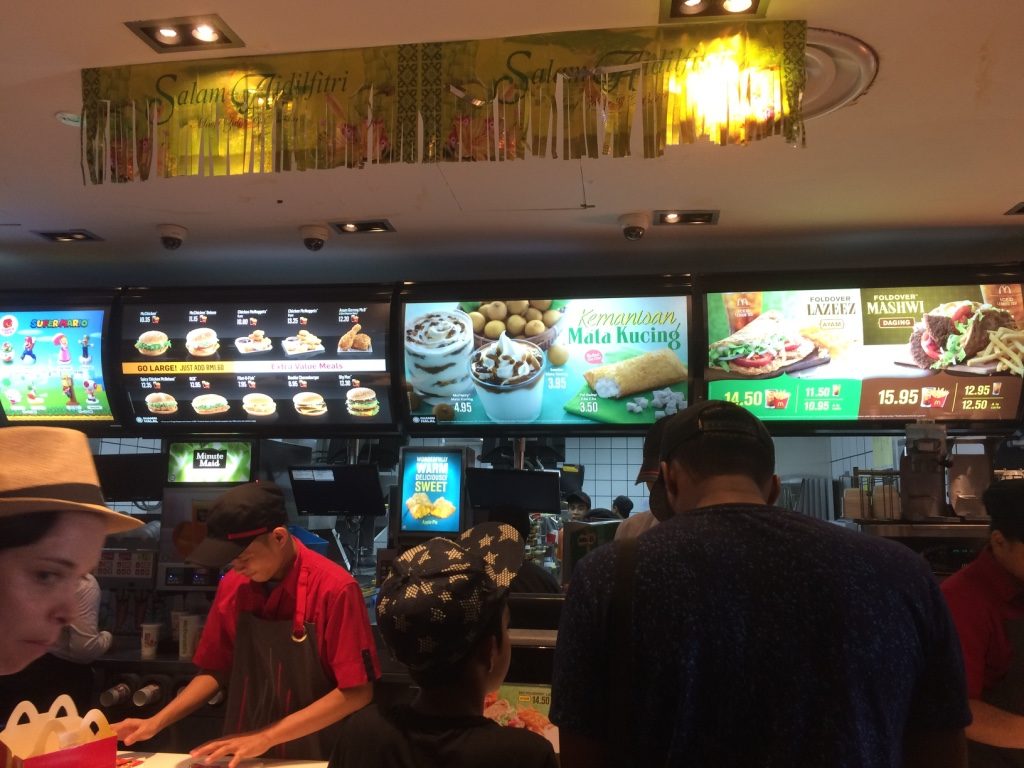 After lunch we walked towards the Petronas Towers. It's about a 10 minute walk from our hotel, and about a 5 minute walk from Ampang Park Mall. We went to the park behind the towers that had a good view of the towers to take some photos (along with a lot of other people). We walked around the water fountain area and went into Suria Mall, which is located at the base of the Petronas Towers. The mall is huge and was really crowded. They too had festivities for the end of Ramadan, with displays and performances in the centre of the mall. We walked around the mall for a while, only going through a few stores.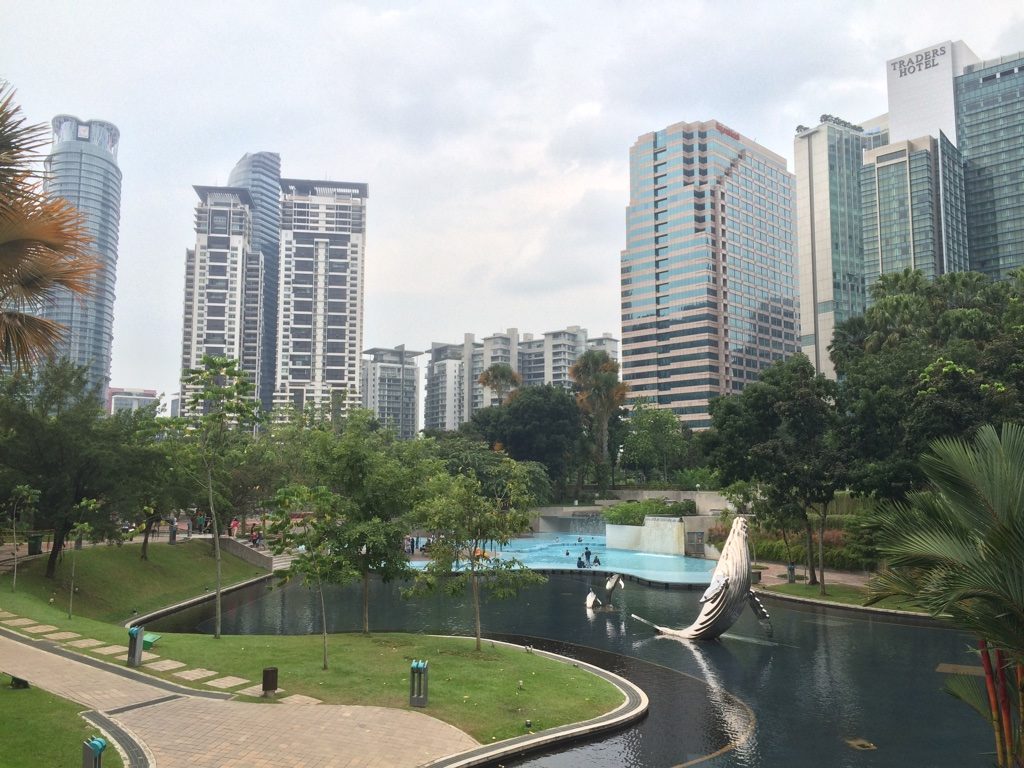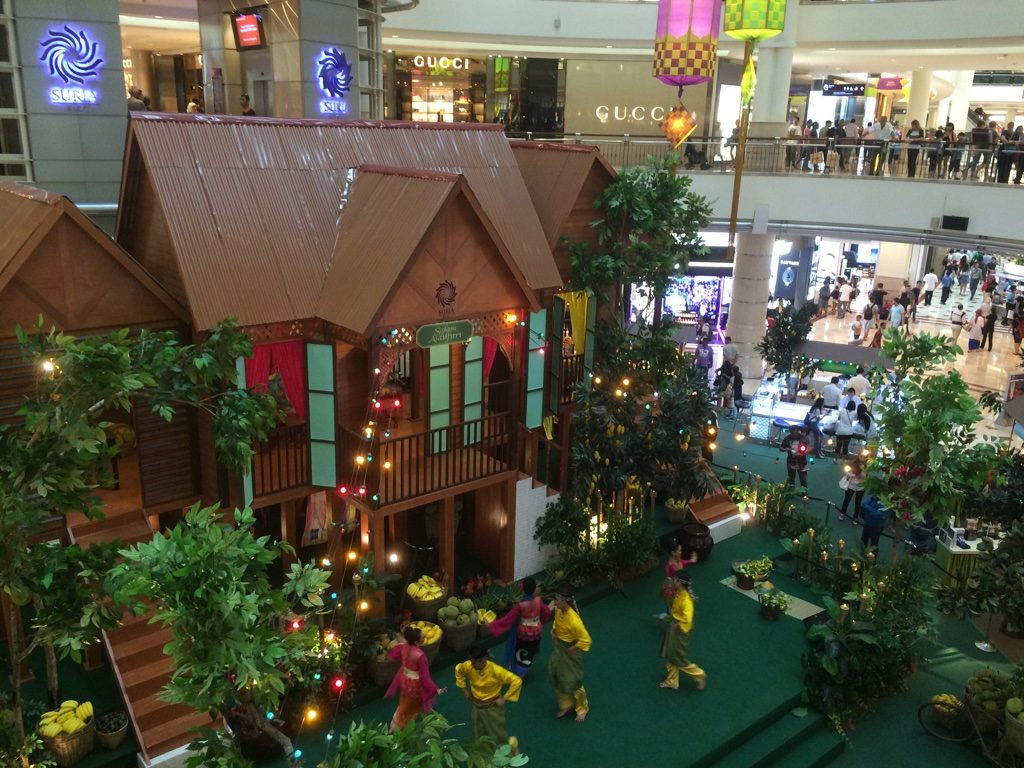 We made our way back to our hotel just before 6pm and went upstairs to the lounge for free drinks and food. We weren't sure if it was just going to be free drinks but we were happily surprised to see a nice spread of satays, samosas, chicken wings, sandwiches, fruits, and desserts. That was our dinner for the night. So basically we could eat breakfast and dinners here for free and then have nice lunches out if we wanted.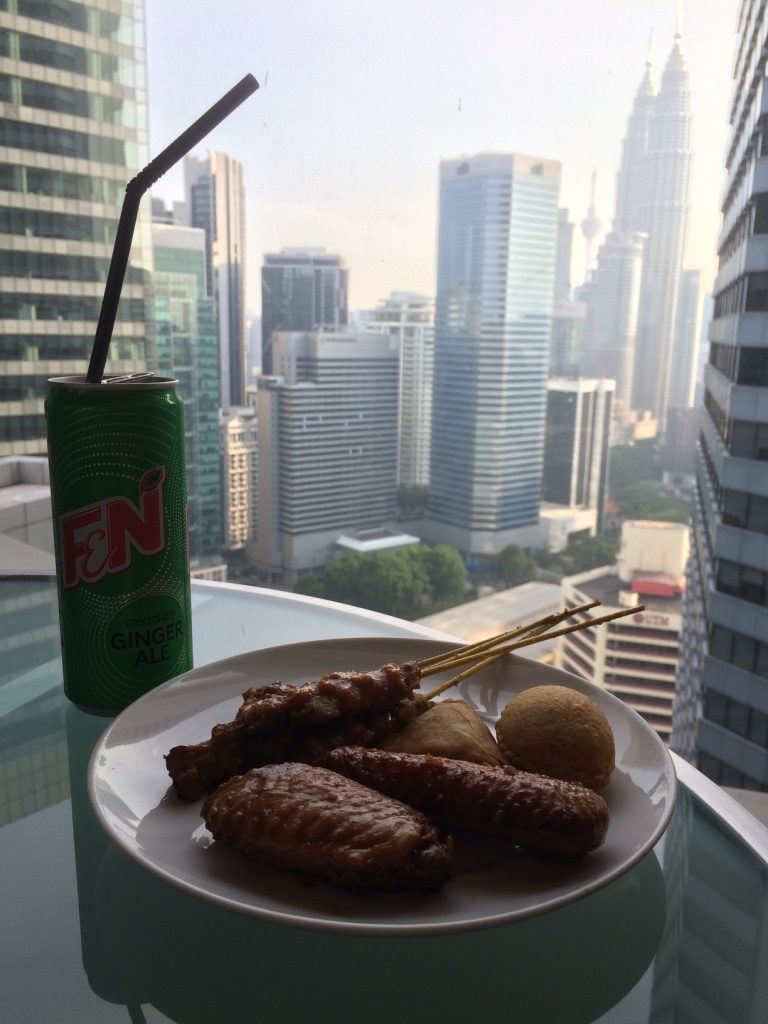 We spent the rest of the night booking the remaining parts of our trip (we'll be back in less than 2 weeks!) and going for a pretty quick swim at the pool. There's an outdoor pool that has partial views of the Petronas Towers, which looks pretty cool at night. We'll probably come back to the pool during the day when it's warmer. I've acclimatized and it felt cold when I came out of the pool, and it was 28 degrees.
Looking forward to exploring more of Kuala Lumpur tomorrow. Not sure what else there is to do here besides eating since we've seen the Petronas Towers (quite a bit) today. We have to do a bit more research tonight. There's fireworks going off right now from people celebrating on the streets with the end of Ramadan.
Steps today: 15,000