July 4, 2016
This morning was the only day we got to sleep in past 7am while in Siem Reap. We tried to take full advantage of the day of rest but still woke up around 7:30am. We had a more relaxed breakfast downstairs and planned out what we were going to do for the rest of the day. We had our temple pass for another day but I think we were templed out and just wanted to take it easy in town.
We took a tuk tuk to the centre of town to the Old Market. Like most markets in SE Asia, they had an assortment of souvenirs, local clothing options, and a wet and dry market – which is basically where all the action happens. As we walked down the rows of vendors, we continuously heard, "lady, want a scarf?" "buy something?". I think having started out in Vietnam, these fairly mild calls were not distracting or uncomfortable.
After walking around for a bit, we walked towards a massage shop that we looked up online before heading out. As I mentioned before, there are so many cheap massage shops littered around the Old Town, but a lot of them didn't seem too comfortable/relaxing (probably just good for a foot massage). Our massage shop was called, Lemongrass Garden, and it's located across the street from the Park Hyatt Hotel (looks like a really nice hotel in a very central location) on Siem Reap's "main street". For a khmer massage, it was $12 USD for 60 minutes. This was about $4-5 USD more than other roadside salons that didn't look very nice. It is also half the price of a more luxurious places, so basically it's more middle of the road.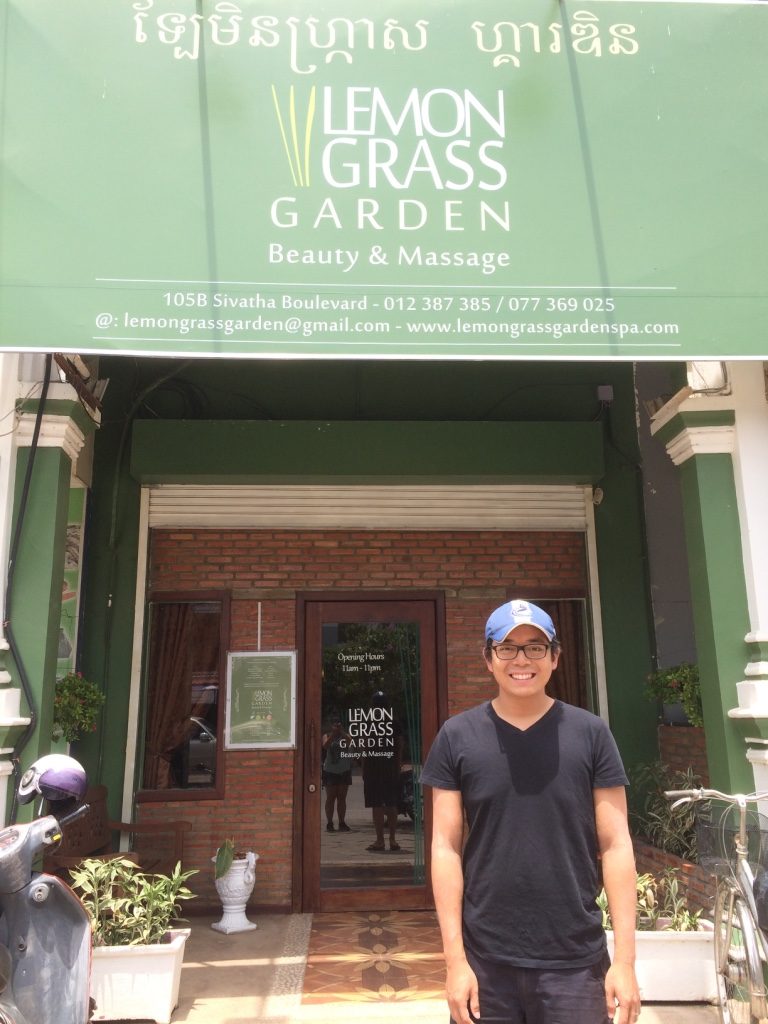 They gave us tea and a cold towel as we were deciding which massage to have. A Khmer massage is similar to a Thai massage – some stretching. Since it wasn't described as being as painful as a Lao massage, I decided to do a Khmer one as well. We were lead into a room where the masseuses rubbed and cleaned our feet. Tim's lady did his feet first, rubbing them with bath salts and spent probably about 8 minutes on him. My lady came after he was done and cleaned my feet but only took like 3 minutes. This was a very telling indication about whose massage would be better.
We were lead up two sets of steep stairs (I think all stairs in Cambodia are super steep) to our massage room. We got changed into the wide pants and shirt they provided. They had lockers right by our beds for our clothes and backpack. Overall my massage was relaxing but pretty weak (pressure wise). I enjoyed the massage in Luang Prabang more. I also felt very sticky from the mixture of sunscreen, mosquito repellant, and sweat on my body, so also felt bad for her touching me. As expected, Tim enjoyed his massage a lot more than I did. I have no major complaints though. It was relaxing and that was the point. After we were done our massage, we went back to the reception and they had another tea for us to drink before we paid. I would recommend Lemongrass if you get Tim's masseuse (Tim: Khouch was her name), she seems more detailed oriented.
It was time for lunch and we had a pizza place in mind. The original pizza place we wanted to go to yesterday but was closed on Sunday. It's called Belmiro's and it's owned by an American ex-pat from Boston. Yesterday we had Italian pizza, today we're having American pizza. The pizza prices were more expensive than Il Forno's but I suppose that's because their portions are a lot larger (American style). They have medium and large pizzas, so we ordered a medium with half pepperoni and half sausage and spinach. The pizza came and it was huge. Their medium was bigger than Il Forno's large. It was a thin crust New York style pizza. It was very tasty but we both thought Il Forno's had better crust. Since it was the Fourth of July, many Americans came into the restaurant and were wishing each other a "Happy Fourth". The restaurant even had a special menu for this week to celebrate. They were featuring Chili Cheese Dogs and Chicago style hot dogs.
After lunch we went to get fruit shakes from a place we saw that sold them for only $0.75 USD. We got a mango and pineapple shake and caught a tuk tuk back to our hotel. It was hotter today than the other days we've been here, so walking around wasn't very appealing. Siem Reap is definitely quite dead in the afternoons as most people are either temple hopping or probably indoors.
When we got back to our hotel, I was contemplating going for a swim but my decision was made for me when it began to rain quite heavily again. I guess this is rainy season for a reason! We stayed inside, booked our hotel for Kuala Lumpur, caught up on some blog posts, and made room for my photos on my laptop (I've taken over 20,000 pictures so far!). It rained for the rest of the afternoon so we were glad we were inside.
For our last dinner in Siem Reap (and Cambodia) we decided to go to Sinn Sisa Mouth Café again. The owners are so sweet and we both really enjoyed the food there. We guiltily had pizza two days in a row for lunch so we should have Cambodian food for our last meal. We took a tuk tuk to the restaurant and when we pulled up, the wife saw us, smiled, and waved at us like she'd seen a friend. I smiled and waved back in the same way as we went into the restaurant. Today was a lot busier than our first visit. There were about 5 other tables eating or waiting for their food. The table beside us was an Asian American couple and it seemed like they came there for dinner everyday that they were in Siem Reap. As they were leaving they commented on how great the food was and that they would see them again tomorrow. Good food at good prices along with Khmer hospitality goes a long way (and Trip Advisor reviews help too).
We ordered Amok fish (one of the most popular Cambodian dishes) and Tim got drawn in by another garlic dish – this time pork and garlic. The picture was a bit deceiving because it looked like the garlic was fried but it came out more of a stir fry, similar to his chicken from the other night. I really liked the Amok fish, very subtle coconut and lemongrass flavor and the curry had collared green type vegetables in it. The amount of curry they gave could've easily fed both Tim and I. The husband gave us a plate of bananas and dragon fruit this time for dessert. We paid and thanked them for a wonderful meal. If you're ever in Siem Reap and want Cambodian food, I would highly recommend it (I also wrote them a Trip Advisor review).
We walked to the night market after dinner because I wanted to check out the tank tops. I had a bought a few in Phnom Penh and sort of regret not buying more. The tank I got from Thailand 3 years ago is still in pretty good shape and the ones here are very similar. We didn't see many of the same type in Vietnam so I figure this would be my last chance to buy them before going home. We walked past many stores and then one man said, "all tanks and t-shirts $1!" (was pretty impressed with him, we heard him speak Korean, Chinese, and Japanese). On one hand, I was really happy that they were only $1 USD, but on the other hand, I realized my bargaining in Phnom Penh wasn't that great if he was already offering them for $1! It's okay. I was already really happy with my 3 tanks for $5 USD, so this is even better. We spent about 30 minutes in the store looking through each rack. Their organization system is not very good, but I don't know why that would surprise us. The women's t-shirts and tanks were a lot nicer than the men's. All the men's t-shirts were a cut out v-neck, which I can't picture many people I know wearing. Too bad they didn't just have normal crew necks like in Thailand.
We were followed around by a Cambodian teenager who was more interested in staring at himself in the mirror, doing his hair, and posing in front of the mirror than really helping us. But I guess his job was to just follow us around and collect money while the boss man drew customers in. Since things were so disorganized, we spent a long time going through the racks. We ended up buying 5 more tanks but as we paid the boy said to Tim, "you guys took a long time to look "(in an annoyed tone). At this point we were a bit annoyed with him too because he kept asking us how many we would buy and so we said probably 5, will you give us a deal? He said no abruptly and we asked why did it matter how many we would buy then. As he handed his boss the money, Tim asked him if there was a problem that we took so long to look? He scurried away and the boss man out front apologized on his behalf. He kept saying "sorry my friend" to Tim.
We took a tuk tuk back to the hotel and called it a night. Another early morning for us as we're flying to Kuala Lumpur tomorrow. We're both really excited to go to Malaysia for the first time. We didn't expect to go to Malaysia during our time in SE Asia, but this is a welcome addition to our itinerary.
Steps today: 6,500