May 30, 2016
Today, we were up and ready to go around 9:30am. Jess and Robin made us some cheese bagels for breakfast and we were off on our New Zealand road trip. Our plan for today was to go to Coromandel, which is a peninsula on the eastern side of the North Island. The drive was about 2.5 hours from Auckland (165km), which was much shorter than our drives down the east coast of Australia. We had some hikes in mind so we were hoping the weather would be cooperative. The weather was a mixed bag of sudden downpours and then bright blue skies, so we saw a lot of rainbows on our drive.
New Zealand is really beautiful because everything is so vibrantly green. There's so many rolling green hills and mountainous terrain, so I get why people say it's like Canada in a lot of ways.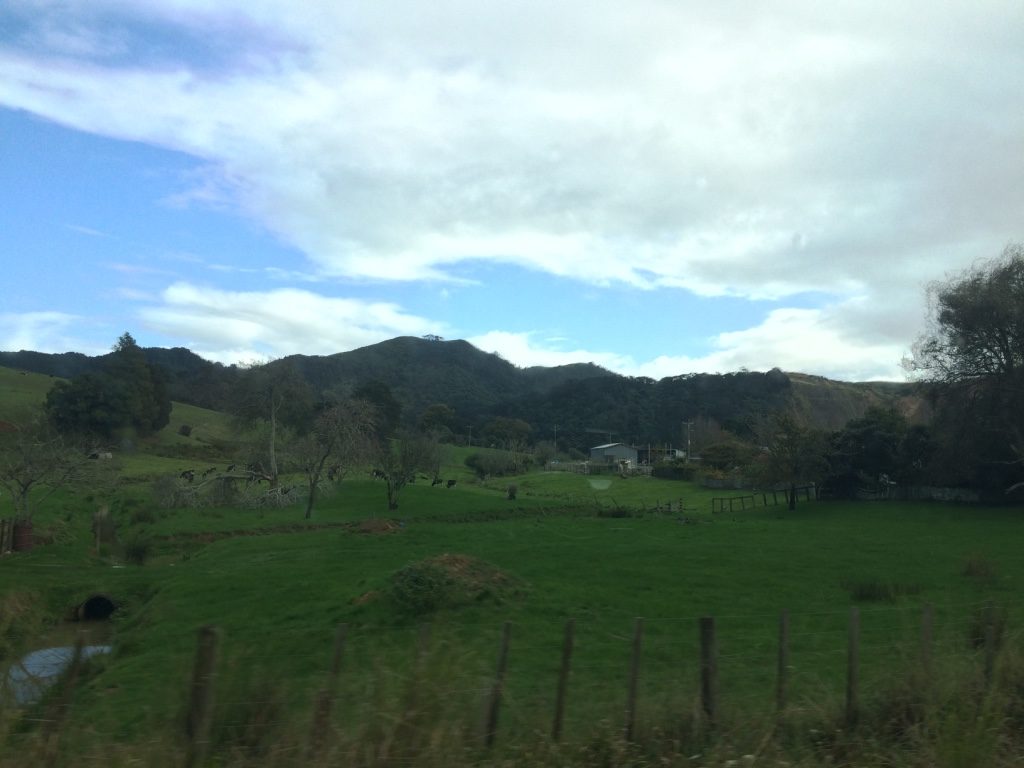 The drive to Cathedral Cove in Coromandel was like driving on the Sea to Sky, except a lot narrower. We were lucky that we missed all the rain by the time we got to our first stop. The hike to Cathedral Cove was only about 45 minutes, so not too long. It seemed like every portion of the hike to the cove was very picturesque. The combination of the bright green grass, lush forests, and the bright blue Pacific Ocean was breathtaking. The view of the smaller islands reminded me of home. It was sort of like all the islands around Howe Sound. We know we've taken living in British Columbia for granted because it's so beautiful there already and we haven't really explored it as much as we could. We've met other tourists during our trip, who after finding out that we're from Vancouver, go on about how beautiful it is and ask if we've been to all these different places on Vancouver Island. Then we both shamefully say no. I guess that'll be something we'd like to discover more when we're back.
When we finally made it to the beach, it was very beautiful. There were some tourists around but since it was down season in New Zealand (winter starts on June 1), there wasn't crowds. It made for a nice and peaceful time at Cathedral Cove.
The morning and early afternoon flew by as we were taking in all the beautiful scenery. We drove to a town called Tairua to see what they had for lunch options. After walking up and down their "Main Street", we decided to give Aaron's Kitchen a shot. They advertised fish & chips, burgers, sushi, and Asian food! We figured Aaron was Asian so we went to support him (Tim: I just wanted fish and chips)… Plus the menu looked the best.
The food at Aaron's Kitchen was actually really good. If you're ever in Tairua, I would recommend trying it out! We were quite pleased with our meal except Jess' veggie burger didn't have avocado because they apparently did not get any from their supplier. When we went across the street to the grocery store, we saw avocados were selling for $6 NZD each – no wonder they weren't in her burger.
After lunch we headed to Pauanui Beach for another hike. Since the sun was going to be setting soon we only got to do part of the trail and had to turn back before it got dark. The trail was along the coastline of the beach and it lead us to some really cool volcanic flat rocks that lined most of the beach at one point. This area was very peaceful and we caught the sun setting from here so it made for really nice way to end our day.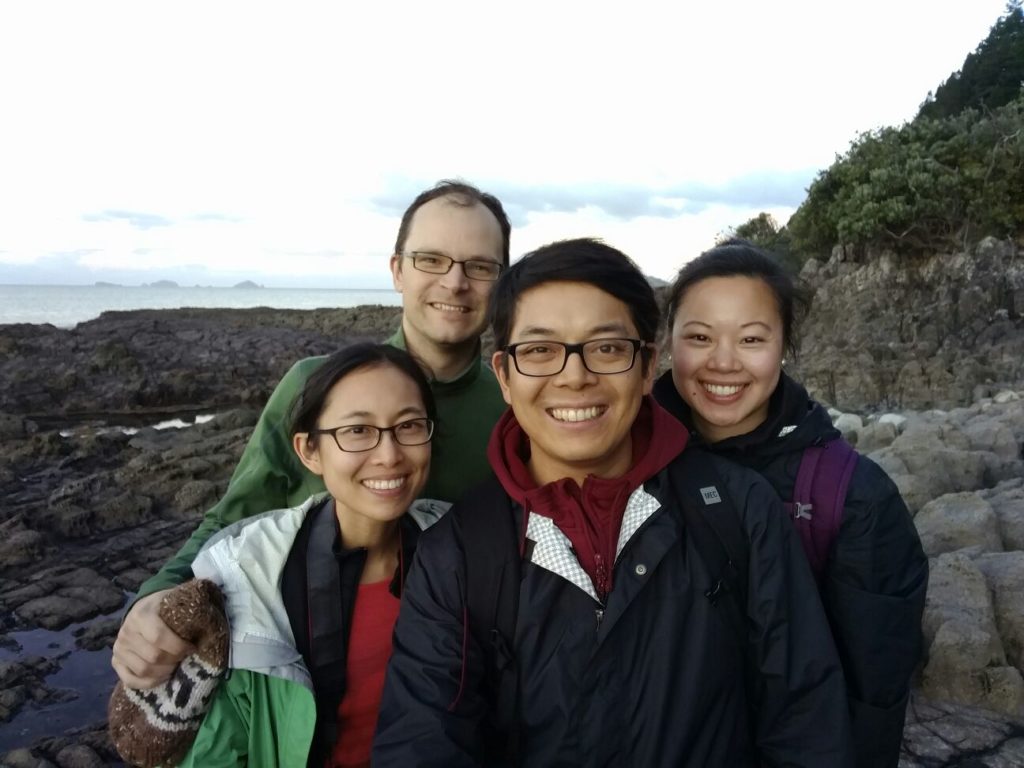 We got into the car and headed to our stop for the night, Rotorua, where we'd be spending the day tomorrow. The drive was pretty hard since the roads were super winding for most of the drive. Luckily, Tim was very alert and got us to Rotorua safely after 2.5 hours. We checked into Rydges Hotel (which is a hotel chain in Australia & NZ), dropped off our bags, and headed out to find dinner. Our options were quite limited since it was around 9pm already. We drove to the city's "CBD" where we found a lot of Indian and Thai restaurants. But we ended up going to McDonald's in the end.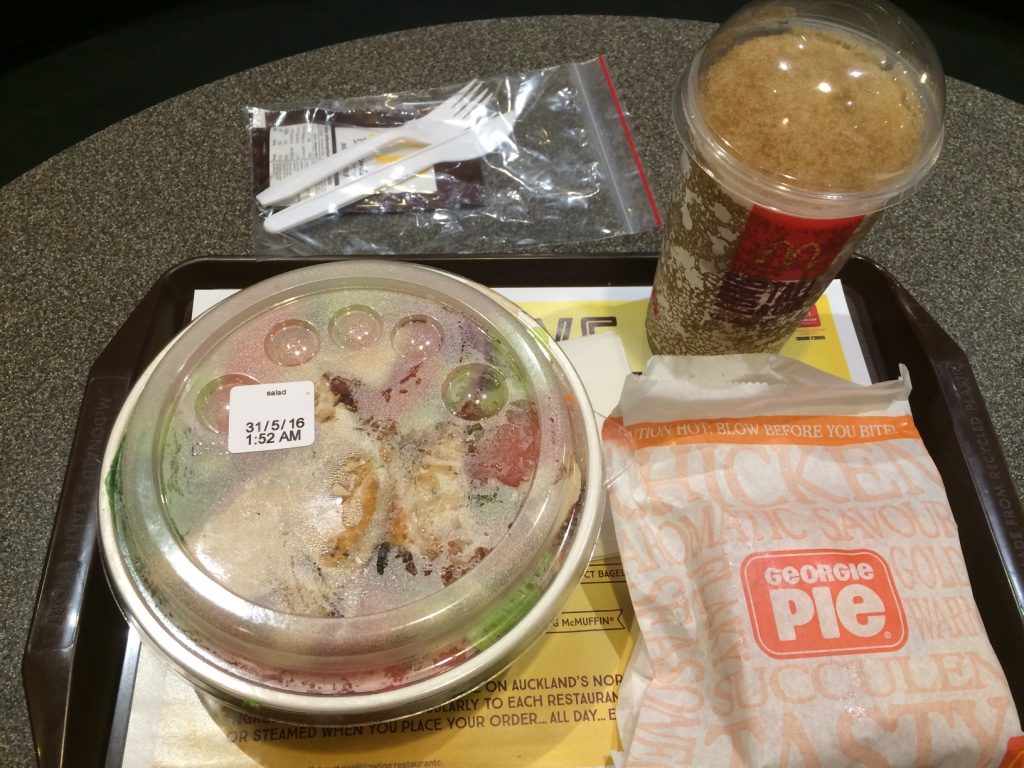 After dinner we came back to the hotel, washed up, and did a bit more research about what we're going to do in Rotorua tomorrow. The city is a hot spring so the city (and even our room) smells like sulphur (rotten eggs).
Steps today: 14,000