March 2, 2016
After our day of travel, we woke up at 6:30am, feeling refreshed and excited to explore! The first thing that came to our minds was, Taiwanese breakfast.  We're staying around the Daan and Xinye Anhe MRT stations so we decided to pick something close by.  I googled "The best Taiwanese breakfast in Taipei" (I know, my google skills are top notch).
永和豆漿大王 (English translation is "King of Soy Milk") came up as one of the top picks that was only about a 10 minute walk from us.  We left the apartment around 8am, and made our way to the breakfast place.  From the looks of it and the amount of locals inside, it looked promising.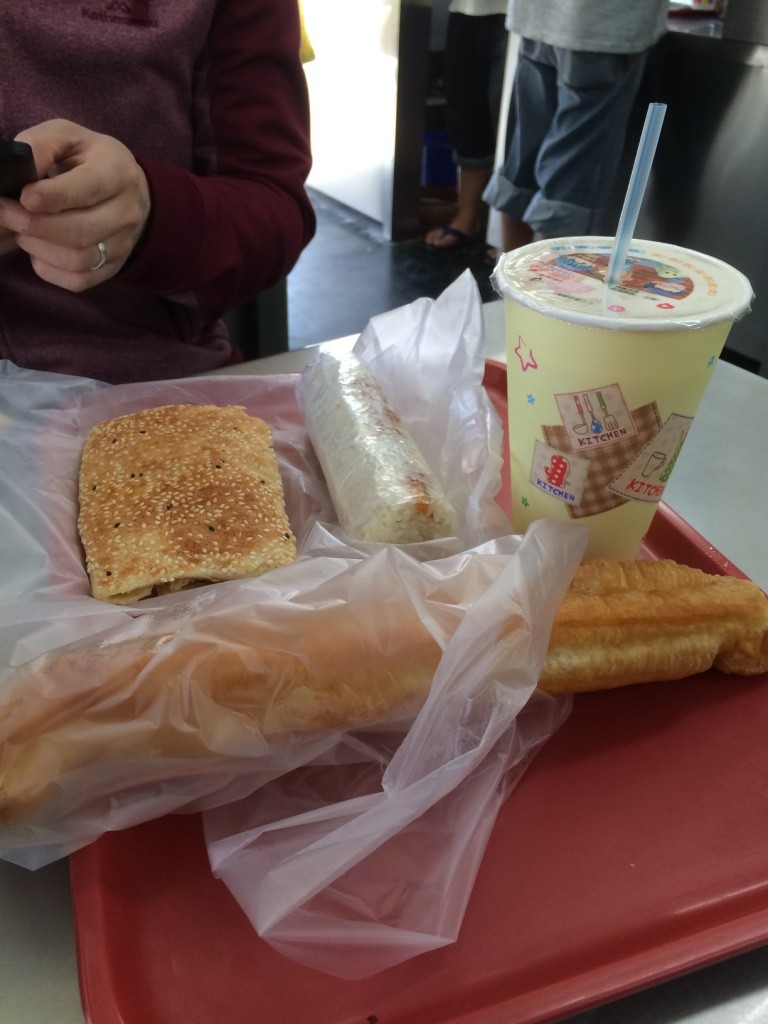 Everything hit the spot.  The Chinese doughnut was super light and just out of the fryer which made it super delicious.  I can see us going here multiple times during our time in Taipei. I have to keep telling myself that we're here for a while, so we don't have to eat everything in the next two days.
After breakfast we went to Daan Park (Taipei's "Central Park") and walked around and checked out the children's playground area.  My sister, brother-in-law, and nephew (20 months) will be visiting us in Taiwan in two weeks so I wanted to check out to see if it was "Nate friendly", and it was!
I always love to visit parks in the middle of the city, to escape the hustle and bustle.  Although Taipei is a pretty laid back city, there wasn't that much crazy hustle and bustle to get away from, but it's always nice to have that option. Tim and I said we could go running around the park together, we'll see if that actually happens…
We continued our walk to Taipei 101.  Last time I was in Taipei, we went at night so we didn't really get any good views or were able to go inside. When we got to Taipei 101, they had just opened the doors to the mall at 11:00am, it was like we were waiting for it to open like the several groups of Chinese tourists.  The mall is filled with multiple floors of luxury brands and free wifi!
Din Tai Fung also has a location at Taipei 101, so we decided to just go and have some xiao long baos.  We know we'd go again (likely to the original location) with my sister and Noel.  We didn't have to wait for a table, which was good but when we left the line ups looked outrageous (Tim: Actually, the sign said 5 minute wait).
We ended up ordering 10 XLBs (200 NT), Green beans with minced pork (110 NT), and Beef Noodle (230 NT) = 540 NT + 10% Service Charge = 594 NT = $24 CAD (Tim: Current "priciest meal" champ). Everything was good and the service was excellent – my tea cup was never empty.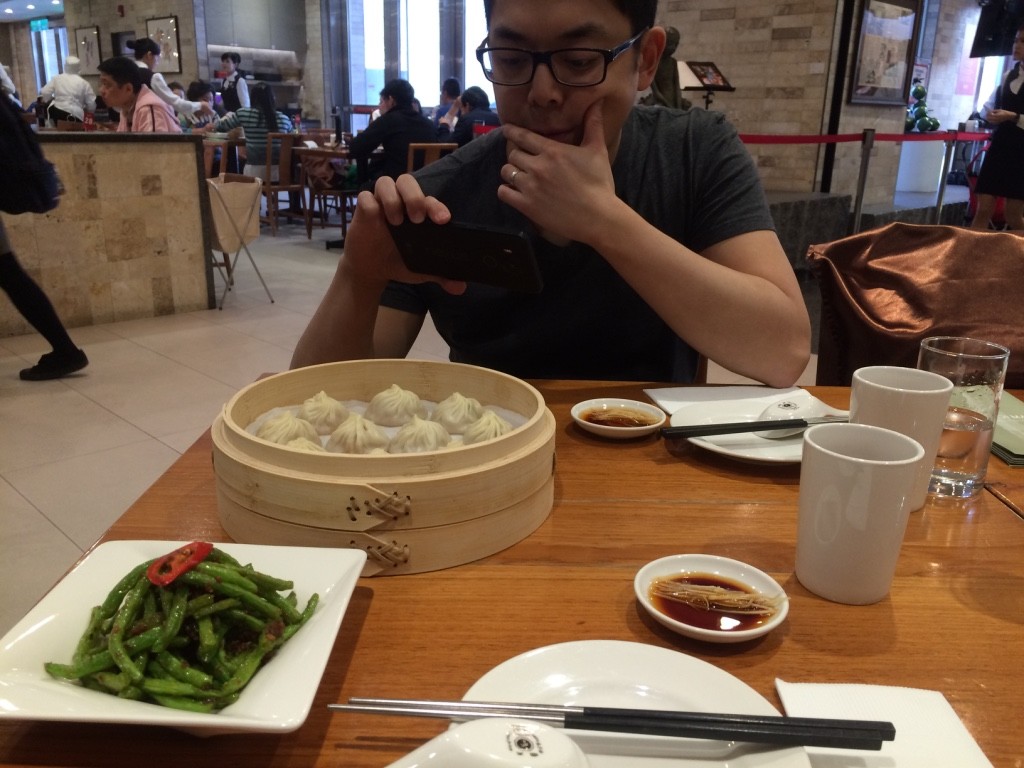 After our early lunch we walked around to the neighbouring malls and checked out Eslite 24 hour bookstore (8 levels) which was also filled with so many cool boutiques and restaurants within the store.  If this wasn't a backpacking trip for us, I would probably buy a lot from here.
On our way back to the apartment, we passed by the Dr. Sun Yat-sen Memorial Hall and decided to check it out.  It was filled with Chinese tourists – which was reminiscent of some of the temples we saw in Bangkok with all the tour groups being dumped there at once. Inside, they had the changing of guards in front of a huge statue of Dr. Sun Yat-sen.
At this point in the afternoon, it was about 25 degrees celsius and we were both wearing t-shirts and jeans.  With the sun beating down on us, we were warm (Tim was obvs sweating)! It was funny because we passed by so many people wearing parkas, wool jackets and 80% of people had scarves (it is winter I guess..). Even when we got back to the apartment, a lady talking to the doorman looked at us and said "they hardly have any clothes on, it makes me feel like I'm wearing too much" (this was Tim's English translation for me). Maybe we'll start to acclimate soon.
It was nice to relax in the afternoon – I started this blog and Tim caught up on the Walking Dead.  We started to get a bit sleepy but we had to get ready for dinner with Uncle Albert.
Uncle Albert picked us up at around 6pm and we headed to the Ningxia Nightmarket for dinner.  I was pretty excited for this because last time we were here, I was only able to eat one thing (stinky tofu) at the Shilin Nightmarket because we had a huge dinner beforehand.  We ended up starting off at a Taiwanese chain restaurant called "Formosa Chang" for their stewed pork on rice and a couple of other sides. We ventured back out to the stalls and Uncle Albert ordered us a bunch of things to share – BBQ steak bites, bacon wrapped chives and a shrimp paste patty wrapped in a spring roll but presented like a pancake. We also ordered a chicken thigh that was fried, grilled and glazed (delish!) and I got my favourite ai-yu jelly drink.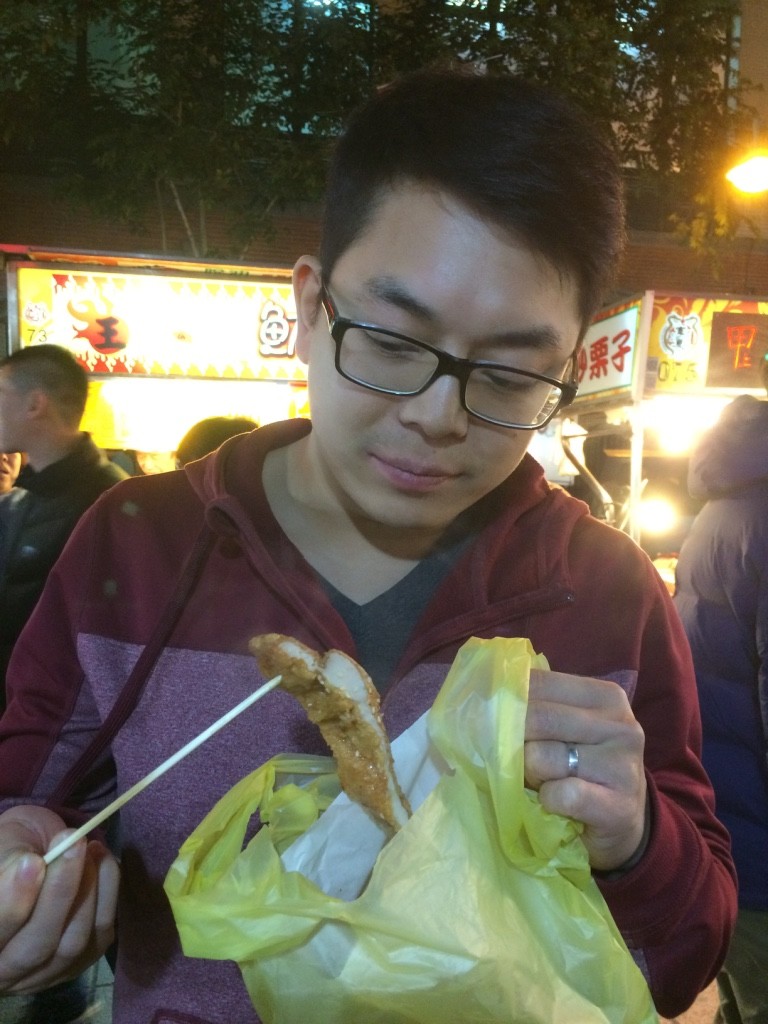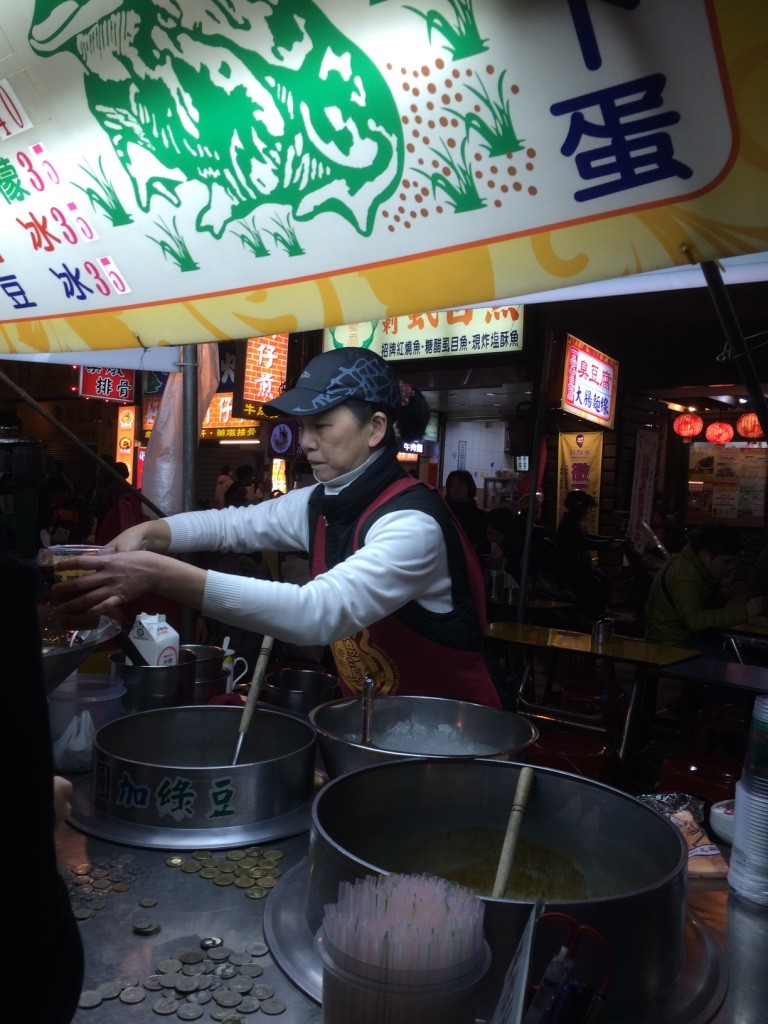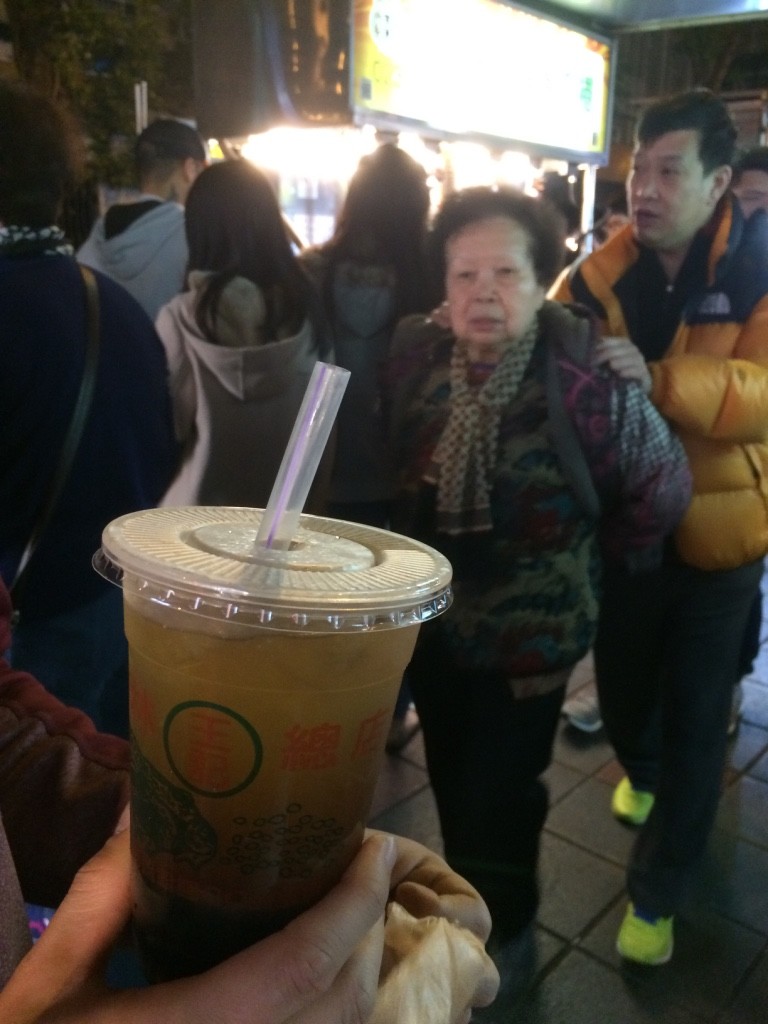 After our non-stop eating, Tim and I were fading.  It was 8pm and we both fell asleep in the car ride back.  We washed up and Tim tried to finish watching the end of Survivor and we fell asleep at 9pm.
I got woken up by a phone call and couldn't go back to sleep – it was 4:30am.  I started to write this blog post and catch up on what happened on the Bachelor on Monday (I knew Ben didn't love Caila… poor girl)
To offset everything we ate, we walked 24,761 steps yesterday. Yay!