May 12, 2016
This morning we finished packing up and went to the cafe downstairs for breakfast with Marcus. Our plan was to have breakfast at Kitty Burns and then Marcus would drive us to the Hertz downtown to pick up our rental car.
Kitty Burns is a very good looking cafe with lots of natural light, attractive pastries, and Melbourne coffee. Marcus said on weekends the place is packed and there are line ups for brunch. We grabbed a table and started with some flat white coffees (even Tim ordered one). They had cruffins (croissant muffins) that looked really delicious so we shared a lemon meringue and a strawberry mascarpone. They were as delicious as they looked. It was my first time eating a cruffin and it was awesome.
We also ordered off their breakfast menu. We ordered a chorizo burrata scramble and Marcus ordered a coconut chia parfait. I was impressed with the food here. Both items were very good. The coconut chia seed parfait was so beautiful, it even had edible flowers.
After an enjoyable and relaxing breakfast, we headed downtown to Hertz. We waited for a while for our car since they had issues with customers returning their cars late, so we waited for them to wash the car and fill up the gas. By the time we left Hertz it was about noon.
I'm happy that Tim enjoys driving and is comfortable driving on the left side of the street. I was in charge of holding Tim's phone for the GPS. Navigating outside of downtown and getting on to the right highway was the "hardest" part of my job today, the rest was smooth sailing. Turning right when driving on the left side of the street was the most tricky. I'm happy I'm not the one driving. (Tim: Melbourne CBD has a weird thing where the right turn lane is actually the far left lane. You pull ahead and to the left out of the way of traffic, and then when the light turns yellow, you can make your right turn).
Once we got on to the Great Ocean Road, it was amazing. The Great Ocean Road stretches for 243km along the south coast of Australia and is a war memorial dedicated to the Australian soliders who fought in WWI. We pulled over quite a bit to take in the scenery, take pictures, and watch all the surfers. The drive reminded me a bit of the Sea to Sky at home since the roads are winding and you have the water right beside you. The coast line on the Great Ocean Road was very "cliffy" and you have the huge waves crashing on to shore. Everything was so beautiful, despite the weather not being ideal.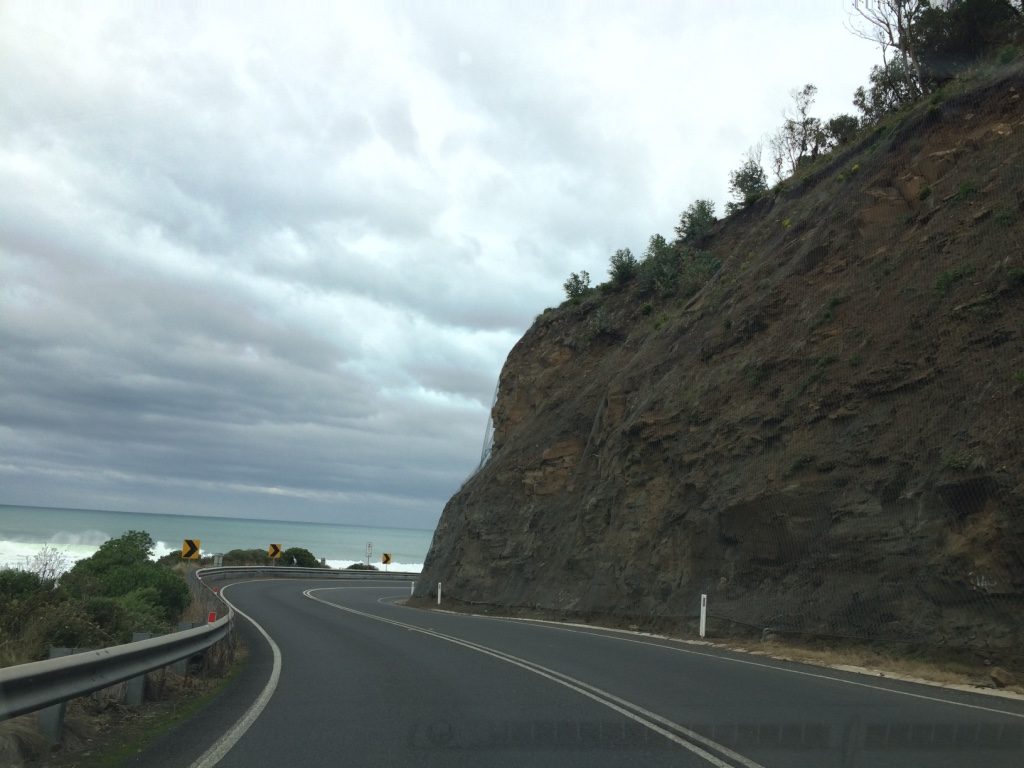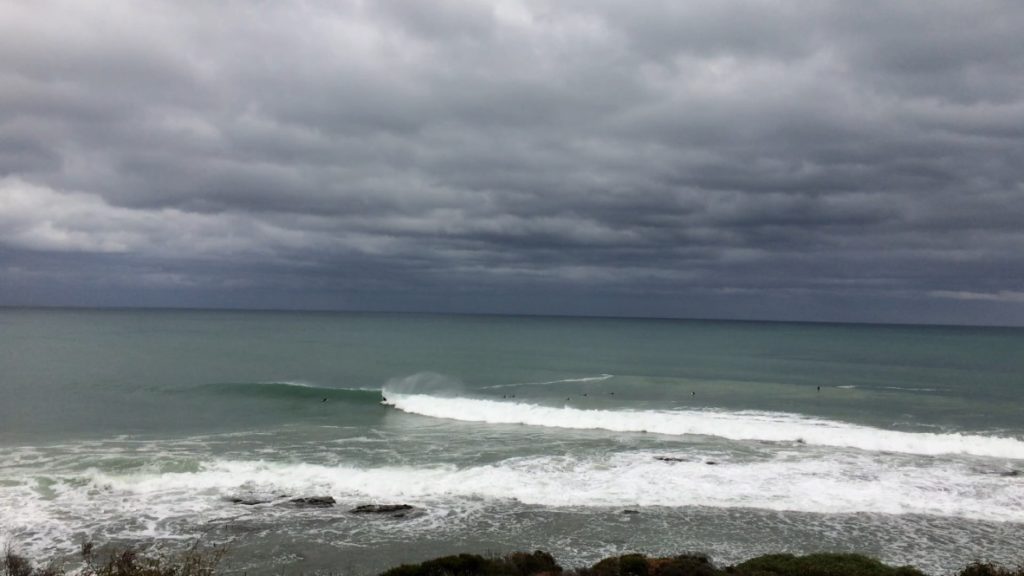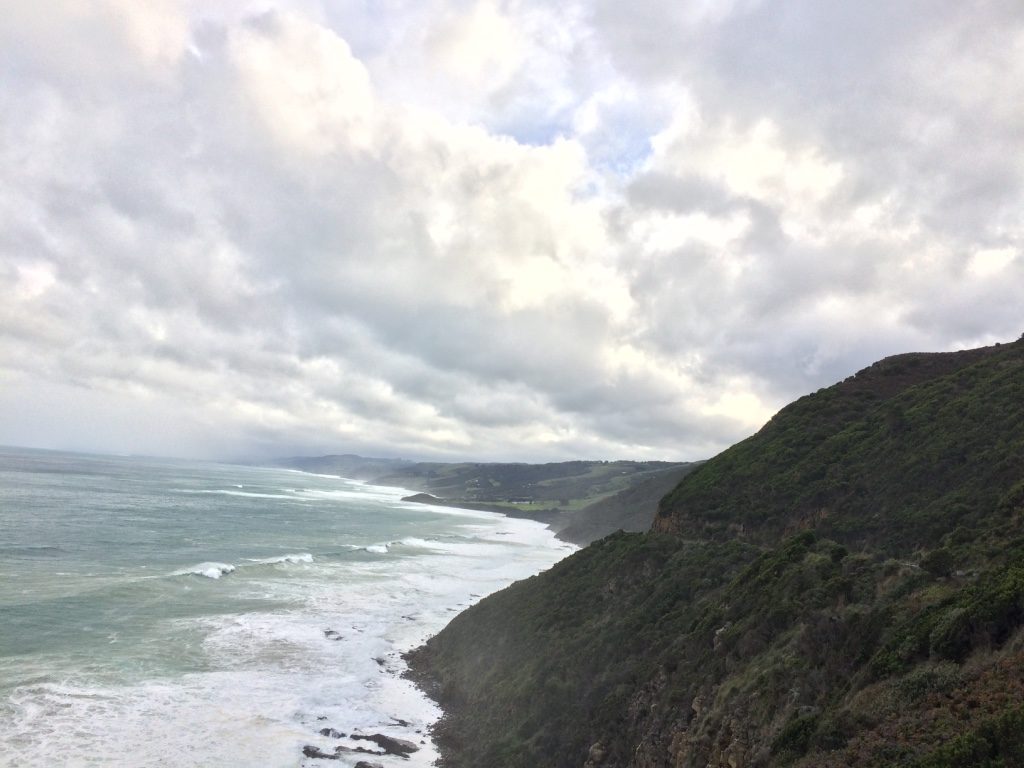 There are stretches of the Great Ocean Road that go inland where we saw lots of sheep and cows on rolling green hills and some stretches were just tree lined (like a rainforest). There was a stretch on the highway that turned off to go to Cape Otway (one of the most southern tips of Australia), which has a light house and according to the sign is the "most significant" lighthouse in Australia. So we made a detour of about 10km towards the coast to see the lighthouse. When we got there, we discovered it would cost $19.50 AUD each to go see it. It's a shame it isn't a national park and not private. We thought if they had admission it would only be like $5 AUD, not $19.50 AUD.
Our goal for tonight was to make it to a town called Port Campbell (228km from Melbourne). Port Campbell is the closest town with accommodations to the Great Ocean Road's main attraction, "The Twelve Apostles". We finally made it to Port Campbell just before 6pm. At that time the weather totally turned and it was windy and pouring rain. We passed by the Twelve Apostles on the way to the motel but the weather was bad and we had to check in before 6pm. So we'll just visit them tomorrow morning when it's light out and it's supposed to be sunny.
We checked into the motel, Port Campbell Parkview Motel & Apartments, just before the reception closed for the day. The man at the reception was very friendly and showed us to our room for the night. It's quite spacious and very clean. As there isn't much selection in Port Campbell for accommodations, the price per night of this motel was $119 CAD a night.
We settled in and headed into town (a block of restaurants and shops) for dinner. Tim was craving fish and chips and saw there was a decent place called "Frying Nemo" (haha) off Trip Advisor so we went there. It turned out to be a take out place (attached to a gas station…). We ordered fish and chips and a "Bay Pack". It was a good sign they were frying everything fresh so we waited for about 10 minutes for our order. Marcus taught us the term, "Bogan", which are Australian red necks. We sent him pictures of our dinner and called ourselves Bogan.
We brought our fish and chips back to the motel and were really shocked at how large the portion of fries were. We ate less than 25% of the fries in our order. Now our room smells like fries.
We're having a pretty early night since we're back on the road tomorrow and there's nothing to do in Port Campbell. Looking forward to seeing the Twelve Apostles and the other sites along the Great Ocean Road. Hopefully the weather will be nicer tomorrow and we'll see a bit of sun and blue skies – it'll make for much nicer pictures (Tim: overcast skies can actually make for better photographs!).
I'm enjoying our Australian adventure so far and being on the road with just Tim and I.
Steps today: 2,500 (Tim: our low for the trip)
(Tim: I just realized it's day 73 and we're already half way through our current trip before returning to Vancouver in July! Time really flies. It's a good reminder to try and make the most of each day and not take this time for granted).