March 31, 2016
I suppose the beds at Hotel Shin Shin are comfortable because we both slept in and with Seoul being one hour ahead, we didn't leave the hotel until about 11am! We did a quick look at the map and decided that we'd check out the Gyeongbokgung Palace, Insadong and Myeongdong shopping streets. The weather today was perfect, sunny and a high of 20 degrees Celsius.
The Gyeonbokgung Palace wasn't too far from the hotel so we started making our way there on foot. The walk there was a nice walk along Seoul's business district and we passed by City Hall. There were lots of high rises and businessmen in suits walking around. We've both noticed that the male to female ratio in Seoul's business district seems to be like 10:1 (Where are all the business women?).
Seoul is a very modern city, Tim described it well when he mentioned it felt a bit like Berlin.  Like Berlin, much of Seoul was destroyed during the Korean War and they had to rebuild everything in the last 50 years, making it a very modern city with lots of (destructive) history.
On our way to the Gyeongbokgung Palace, we came across a large statue of King Sejong. He is most known for inventing the Korean alphabet in the 15th century. Previous to his invention, Korea was using Chinese logograms to represent their language, which left some parts of the Korean language without appropriate written representation. Later in the day, we found out that up until a few years ago, learning to read and write Chinese characters was still in the school curriculum in South Korea, but apparently they are moving away from that.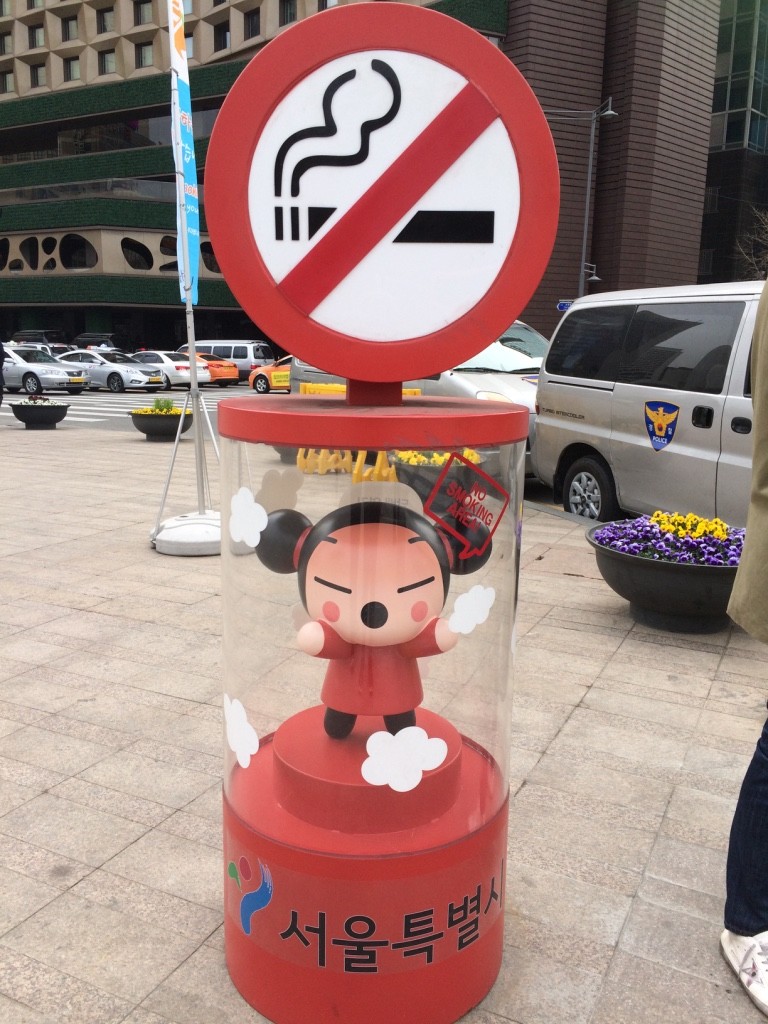 After going through King Sejong's museum (free admission), we made it to the entrance of Gyeongbokgung Palace. It was about 12:30pm, and we hadn't eaten lunch yet so we decided to get something to eat before heading in. Our good friend, Sabine, lived in South Korea for about a year, so we asked her for some recommendations. She told us there was a really good ginseng chicken place close to the palace so we made our way there for lunch.
The restaurant is called Tosokchon Samgyetang and it specializes in their ginseng chicken soup (Samgyetang). There was a huge line up when we got there around 12:45pm, but the restaurant is like a compound inside with different rooms, so the wait was only around 10 minutes. All the dining rooms required customers to take their shoes off before they sat down. We sat down and ordered their ginseng chicken and a roasted chicken. When the dishes came, we realized (again) that it was a lot of food for us.
Everything we had was really tasty, but we regretted ordering two chicken dishes because it was too much chicken (2 full chickens!). I regret not ordering a seafood pancake as planned. We decided we'd have a light dinner tonight!
After lunch we walked back to Gyeongbokgung Palace to spend the rest of the afternoon. Admission to the palace is 3,000 KRW = $3.40 CAD. Gyeongbokgung Palace was built in 1395 and was destroyed once during the Japanese invasions during the 1500s and then restored in the 19th century by the reigning king at the time. During the Japanese occupation in the early 1900's, they dismantled the majority of the palace only leaving a couple of the main buildings. That being said, much of the palace that stands today are not the original buildings. They plan to finish the entire palace as it originally was by 2045.
We walked around the palace grounds ourselves but then went back to the entrance to meet a guide for a free English tour. This ended up being really informative as there weren't many informational signs in English around the palace.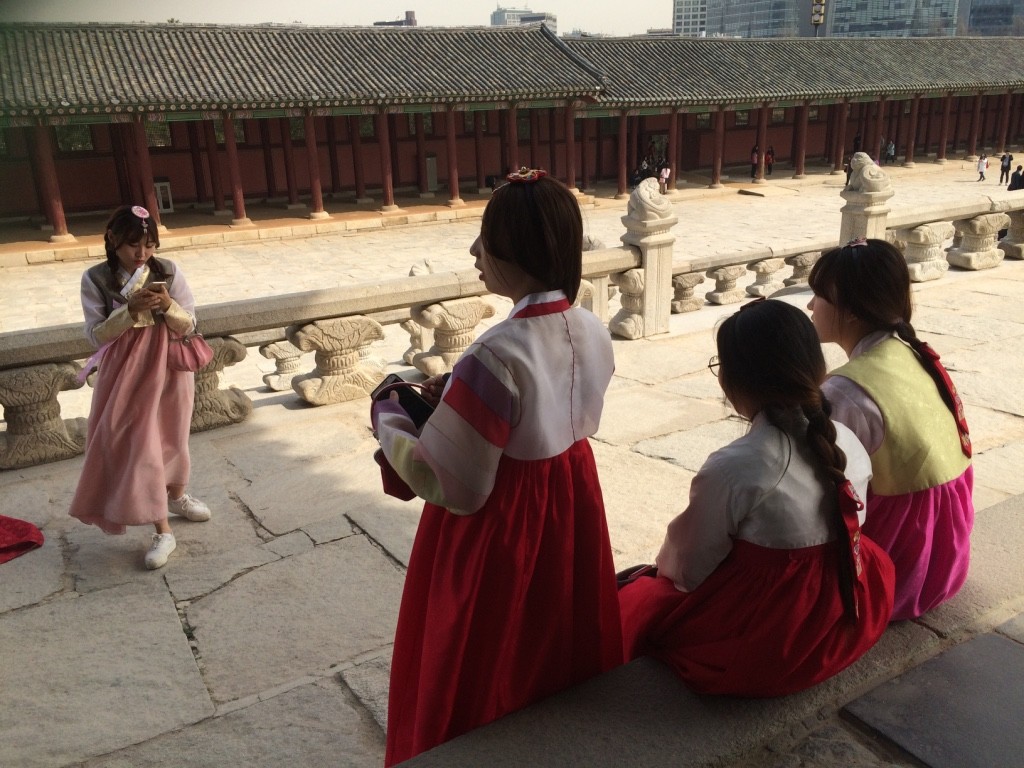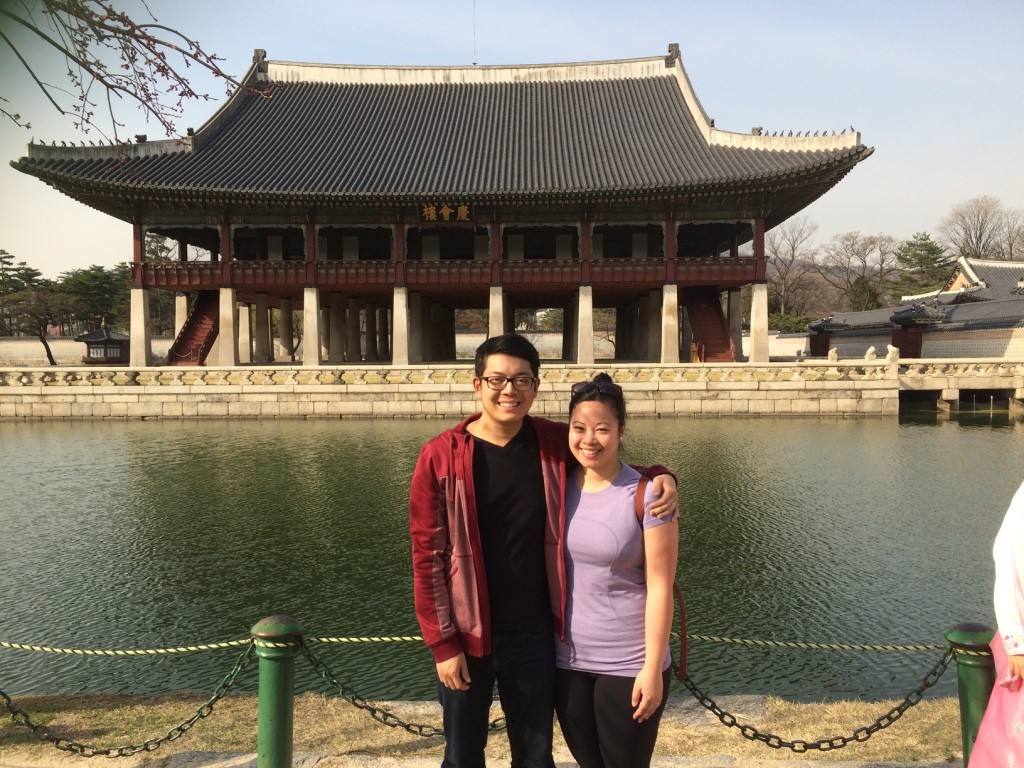 After the tour ended, we exited behind the palace to see the "Blue House", where the President works and lives. It called Cheong Wa Dae, but is nicknamed the "Blue House" because the roof is blue tiled. It is located right behind the palace grounds. When we went to take a look, there was a lot of security and secret service looking guys all around the grounds.
We eventually made our way to the Insadong area. Insadong is known for their arts and craft stores. There were a lot of art galleries and stores that sold Korean stationary. It was a neat street and I would like to go back and take a closer look at the stores another day.
After walking through Insadong, we made our way back towards our hotel by walking through the famous Myeondong shopping area. Before we got to the crazy shopping part of Myeongdong Street, we stumbled upon the Myeongdong Cathedral. It is the first Catholic church in Seoul and was built in 1892. When it was built, you used to be able to see the cathedral from most places around Seoul as it was built on a hill, but now with all the high rises it's no longer that visible.
Seeing the Cathedral was the calm before the storm as we made our way into Myeongdong's shopping area. Since being in Asia, I hadn't been in such a dense area with that many people. Even at Shilin Night market in Taipei, it didn't feel this crowded. Myeongdong is Seoul's shopping district filled with endless beauty product stores (you can buy face masks in bulk here), sock stands, high end brands and department stores. I can see why people just shop when they come to Seoul. Since this isn't really (Tim: "or not in the slightest") a shopping trip for us, I have to limit myself to socks and maybe some masks.
Along the streets were also food vendors, which was where we ended up having dinner. We had kalbi meatballs, japchae bulgogi and black soybean noodles. Everything was good, prices are higher than street food in Taiwan but I think we just have to get used to everything being more expensive here. We took out 300,000 KRW = $340 CAD for our 6 days in Seoul and have already used up a third. We'll have to take out more cash or start to use our credit card.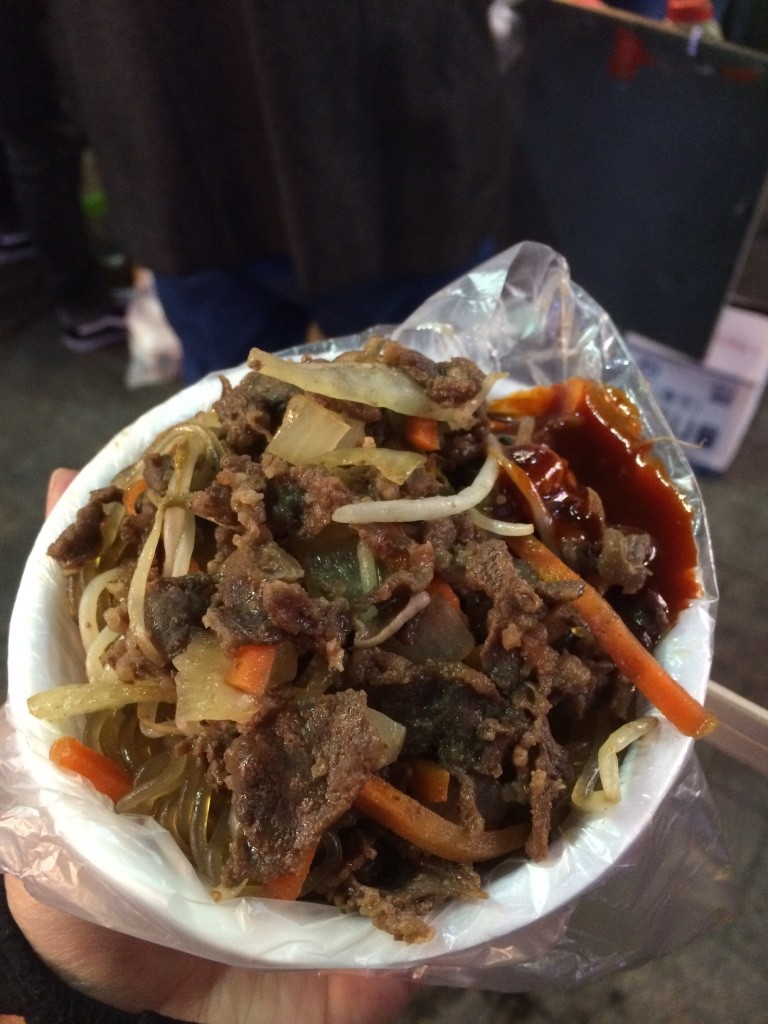 We called it an early night, getting back to the hotel around 8pm. We have an early morning tomorrow as our tour for the DMZ leaves at 7:45am. We have to take the train to the another area to meet our tour. We ended up picking Koridoor tours after reading their reviews on Trip Advisor. Looking forward to an interesting day tomorrow.
Total steps for today: 25,000