June 4, 2016
Today was our last day in Melbourne and Australia. Like yesterday, we basically had no plans for the day except to finish packing, plan SE Asia, and to watch the new(ish) X-Men movie. The past week in New Zealand was a lot of "go go go" so it felt really good to sleep in and not feel like we had to see something.
Marcus lives in a suburb of Melbourne called, Abbotsford (15 minutes from the CBD), and there's a really good cafe in his apartment complex that we went to for brunch once. The cafe, Kitty Burns, is really busy on weekends so Tim and I went down around 10am to have brunch for the last time. We shared a chorizo burrata egg dish (same as what I had a month ago) and a jelly filled donut. The donut was actually the main reason we wanted to go there for breakfast. The last time we went, they only had cruffins but we wanted to try their jelly filled donuts – more for novelty sake. Brunch was delicious. I'm going to make the chorizo scramble when I get home.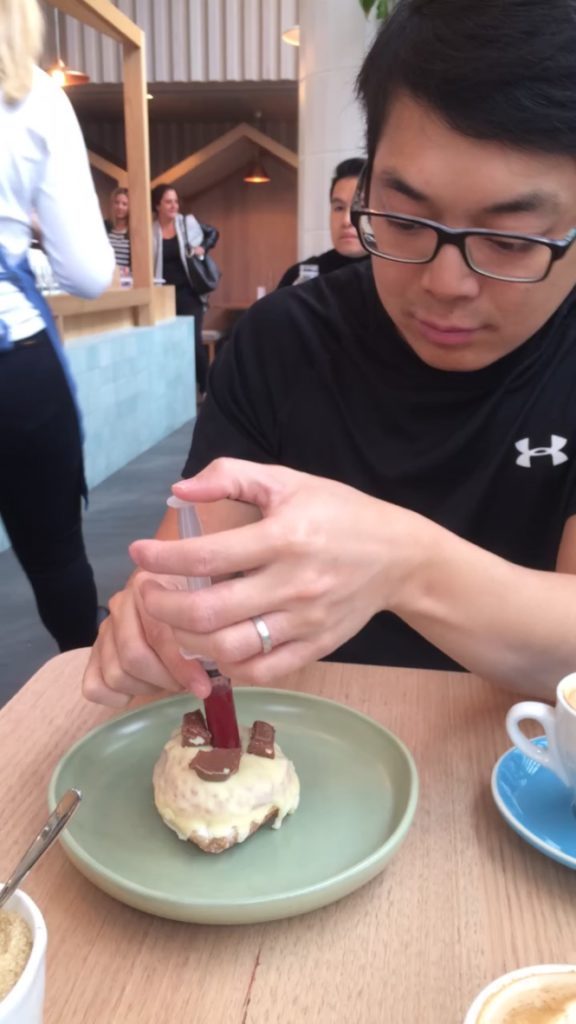 After lunch, we trip planned for the rest of the afternoon. We have a plan for the next month and a half but only have a couple of things booked. I think we'll be booking hotels and what not as we go along. I can't believe it's almost the end of our trip. Time truly did fly by. We'll be home in less than two months!
Tim really wanted to watch X-Men: Apocalypse when it first came out but Sydney's IMAX (largest in the world) at Darling Harbour wasn't playing it so we didn't watch it there, as originally planned. There's a movie theatre across the street from Marcus' apartment, so we decided to watch it on our last day. Regular price for tickets were $21 AUD but Marcus could get them for $13.50 AUD through his insurance provider (I'm not sure how that works), so he got us movie vouchers that we needed to show at the box office to redeem for tickets.
We got to the movie theatre shortly before the movie started at 2:20pm. When we got there, there was no staff at the ticket counter and only two guys at the concession, so we just lined up with everyone else. It turned out that only two guys were working that day. They were doing both tickets and concession at the same time. Also, there was no one there to rip any tickets, so it would have been very easy to sneak into the movies that day since they were short staffed.
There were about 30 minutes of ads and trailers before they started the movie. We both liked the movie and found it entertaining. After the movie, we went downstairs to Coles to buy some wet wipes, kleenex and a couple of snacks for SE Asia.
We got back to the apartment and decided to go for Pho for our last dinner in Melbourne. I know, why would we go for Pho when we're going to Vietnam in a day? Abbotsford is really close to the Vietnamese area of Melbourne, called Richmond, and we just wanted to have something quick before coming back and packing up. Plus, the weather today was super gloomy and rainy so noodle soup was perfect. We went to Marcus' favourite pho place on Victoria St., called I <3 Pho.
After dinner we headed back to the apartment, washed up, and finished packing. Marcus was appalled that we didn't buy anything for ourselves in Australia so he gave us an Aboriginal painting that he had. We told him we would hang it in our new home (that we'll have eventually) and he needs to come visit us.
We both found that spending a month in one country has made us feel more attached to it. We were both pretty sad to leave Australia (and New Zealand). It's so comfortable here and familiar, that going back to Asia, and South East Asia at that, will be quite a change. We saved the least developed/poorest countries for the end of our trip.
Marcus drove us to the airport and we said our goodbyes. It was so nice to spend time with him. He's so hilarious and I love listening to his stories and commentary on things. Hopefully he'll come visit us in Vancouver in the near future.
We're flying Singapore Airlines again to Ho Chi Minh City via Singapore. We'll have a 12 hour layover there to explore more of the city before heading to Vietnam. I really like Singapore. It's an Asian city that I wouldn't mind living in. I also really like flying Singaporean Airlines. They're definitely the best airline I've flown with. The service is really good and after flying budget airlines throughout Australia, flying Singapore Airlines again feels like such a treat.
Back to Asia we go!
Steps today: 5,000